35 Moonstone Engagement Rings You Can Buy Right Now
This mystical gem exudes boho-chic vibes.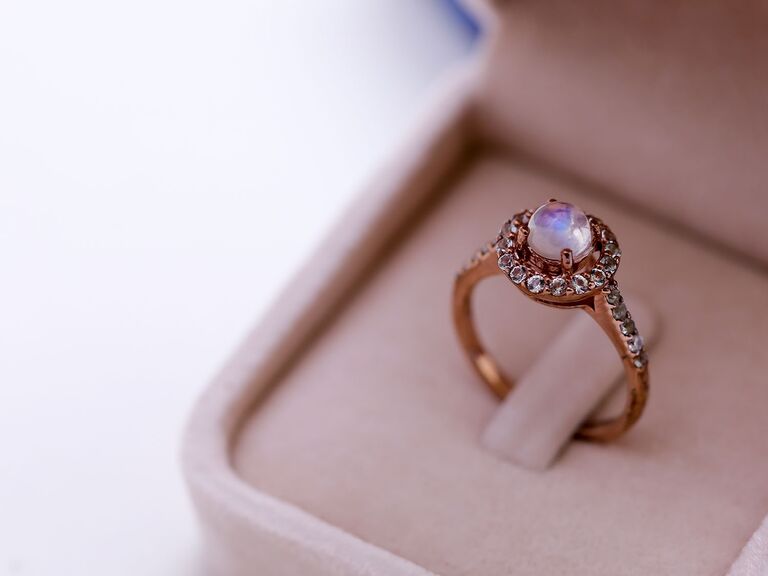 Unikyluckk/Shutterstock
We have included third party products to help you navigate and enjoy life's biggest moments. Purchases made through links on this page may earn us a commission.
If you love the look of a traditional diamond engagement ring but want a ring that speaks to your individuality, a moonstone engagement ring may be just the one for you. A moonstone is an iridescent gemstone that's part of the feldspar family, and looks very similar to an opal with its shimmery rainbow of hues. This mysterious gem—many believe it channels the feminine mystique—is softer than diamond, requiring regular maintenance and extra care.
We've rounded up a comprehensive list of moonstone engagement rings to comb through if you find yourself drawn to this beautiful gem. Combined with moissanite or diamond stones—or even on its own—moonstone is a perfect alternative to diamond in a bridal set, as many of these rings prove.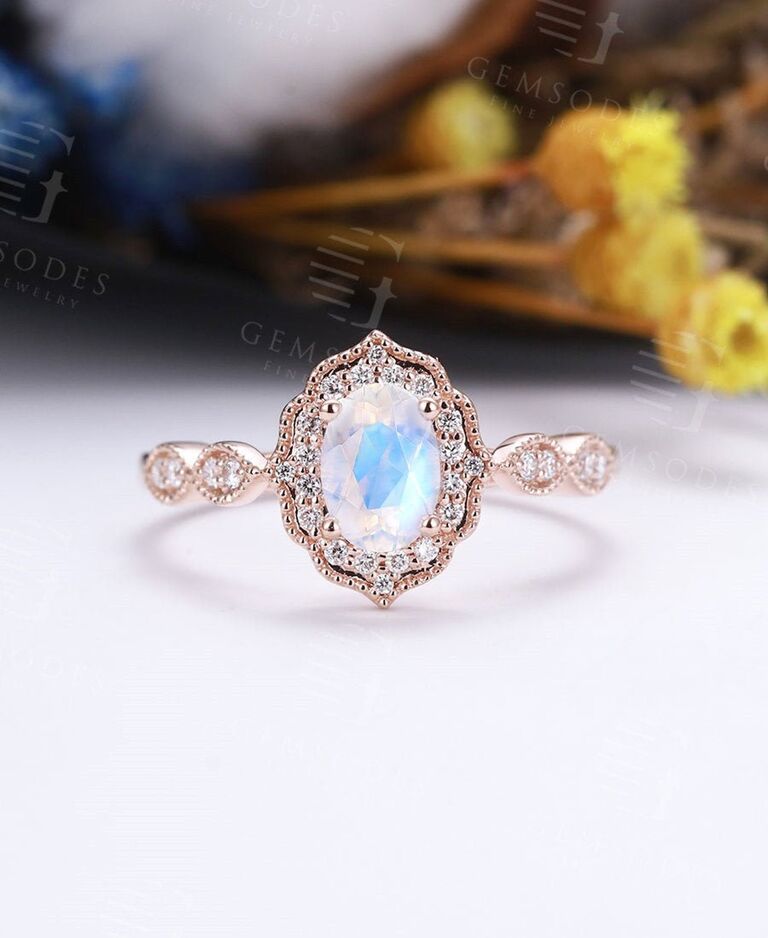 This moonstone ring is the height of vintage elegance, featuring a large center stone set against a diamond-studded rose gold band. No detail was spared on this regal beauty, available with real diamonds or moissanite gemstones.
GemsOdes vintage moonstone engagement ring, $544, Etsy.com
A shimmering moonstone combines with moissanite stones artfully arranged in a starburst pattern on this stunning ring. Choose from rose gold, white gold or yellow gold. For an even more dramatic effect, combine it with the stackable wedding band in a pattern that mirrors the ring.
Henry Rocky moonstone engagement ring, $860, Etsy.com
This hexagonal moonstone pops against a slim gold setting on this chic moonstone engagement ring. The minimalist aesthetic is subtle but sophisticated.
Claire Kinder Tuhla moonstone ring, $590, ClaireKinder.com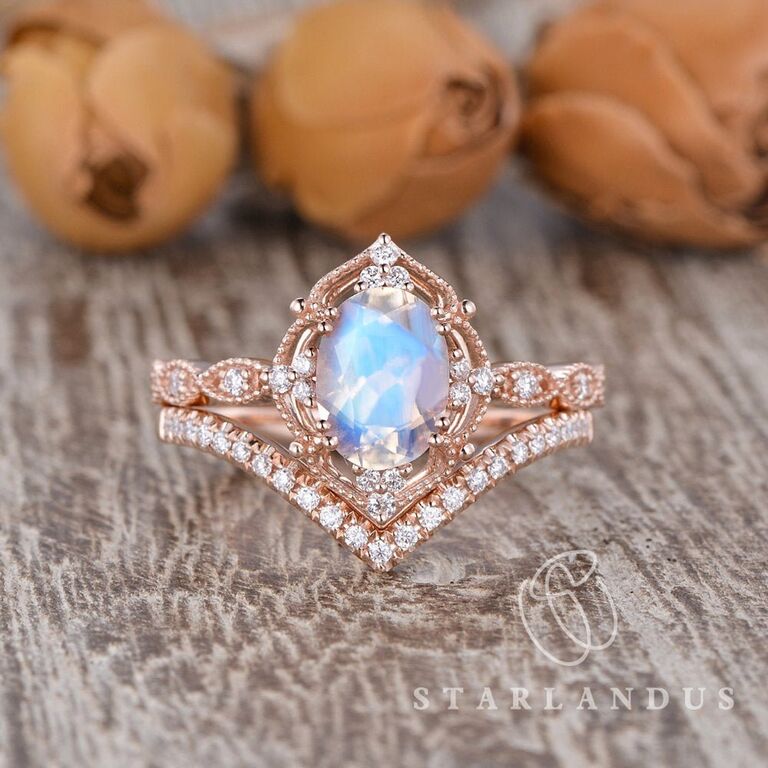 This Art Deco moonstone set in rose gold is sure to turn heads. The stackable set combines to create a dramatic piece, where channel-cut moissanite stones surround the center moonstone for a gorgeous effect, while a diamond-encrusted band dips gracefully to mirror the lines of the ring.
Starland US unique moonstone engagement ring, $730, Etsy.com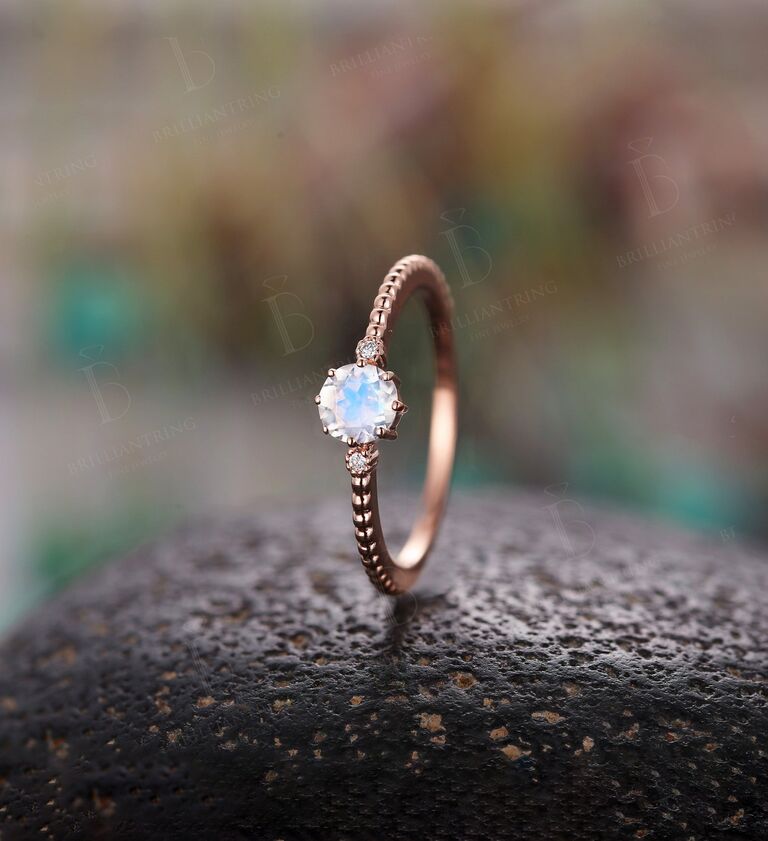 This modern moonstone engagement ring is simply stunning. A slim gold band has just enough detail to make it visually interesting, while the moonstone solitaire pops against two tiny moissanite stones. Choose from rose, yellow or white gold.
Brilliant Ring minimalist moonstone engagement ring, $193, Etsy.com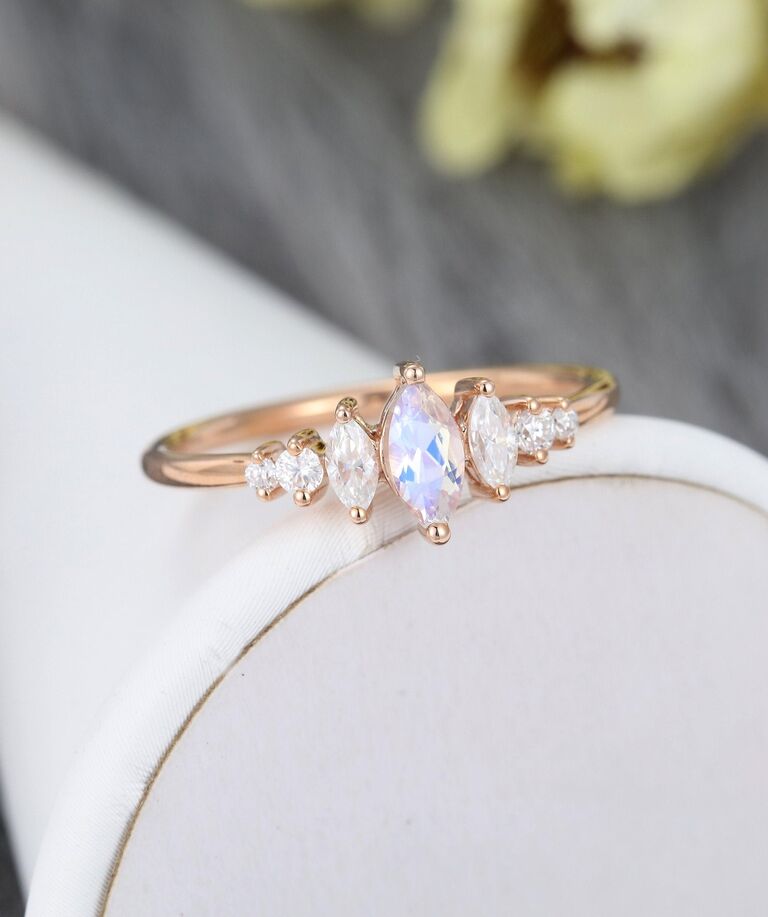 A channel of marquise-cut stones are the main event on this elegant moonstone ring. Dainty and fashionable, this combination of stones makes for a unique statement ring.
Amanda Fine Jewelry marquise-cut moonstone engagement ring, $257, Etsy.com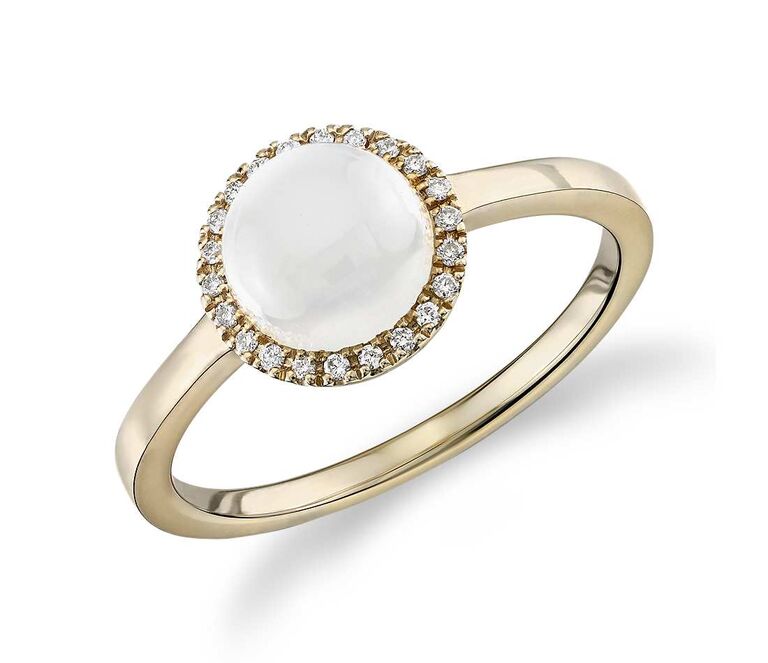 This stunning cabochon moonstone ring makes a perfect choice for an engagement ring. The ethereal stone is encircled by a halo of pave stones for a truly upscale elegant look.
Blue Nile white moonstone cabochon ring, $425, BlueNile.com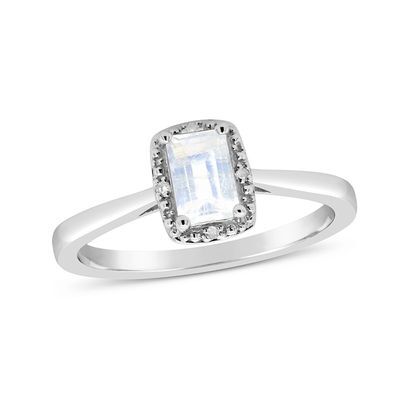 This luxurious moonstone ring may look pricey, but it's actually quite a bargain. Diamond accents frame the emerald-cut stone, which rests atop a gleaming sterling silver band for a traditional bridal look—it perfectly resembles a diamond engagement ring.
Zales emerald cut moonstone diamond accent ring, $80, Zales.com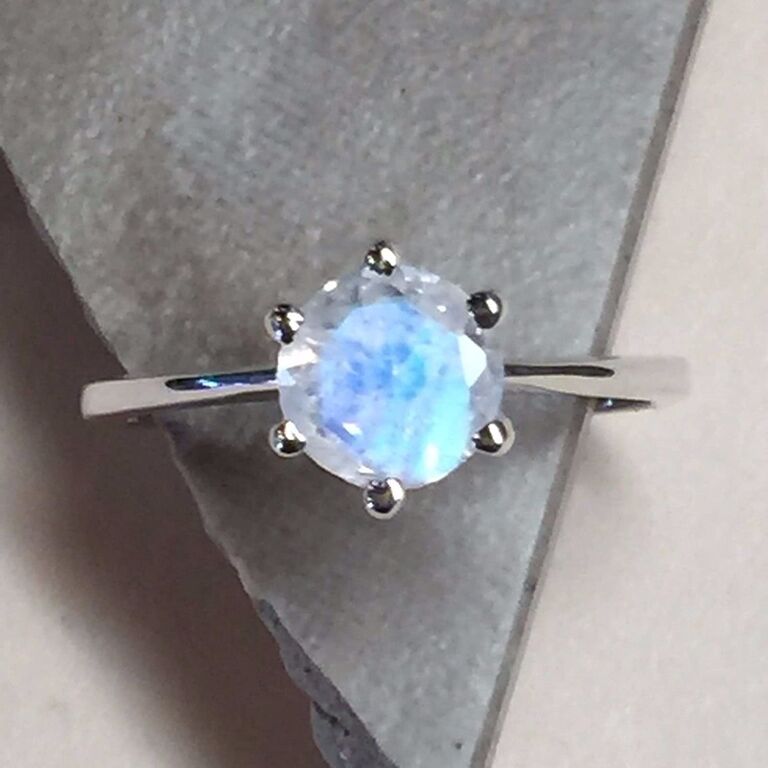 This stunning moonstone ring is made to look exactly like a diamond solitaire, with just a hint of rainbow colors that sparkle and shine. The 6-prong setting provides a secure place for this ample moonstone to rest, while the slim sterling silver band pairs perfectly with a wedding band.
Natural Rocks by Kala natural moonstone sterling traditional solitaire, $80, Amazon.com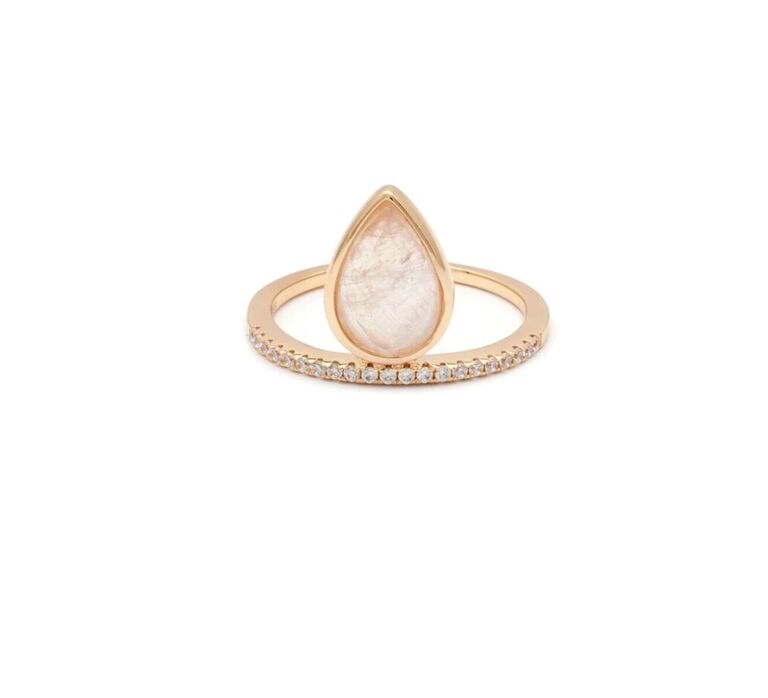 The unique shape of this gorgeous moonstone ring is what makes it stand out. An ample pear-shaped moonstone rests gracefully atop a row of micro-pave cubic zirconia stones for a cool, three-dimensional effect. This one-of-a-kind ring is a great choice for a moonstone engagement ring.
Melanie Auld gold vermeil teardrop ring, $65, MelanieAuld.com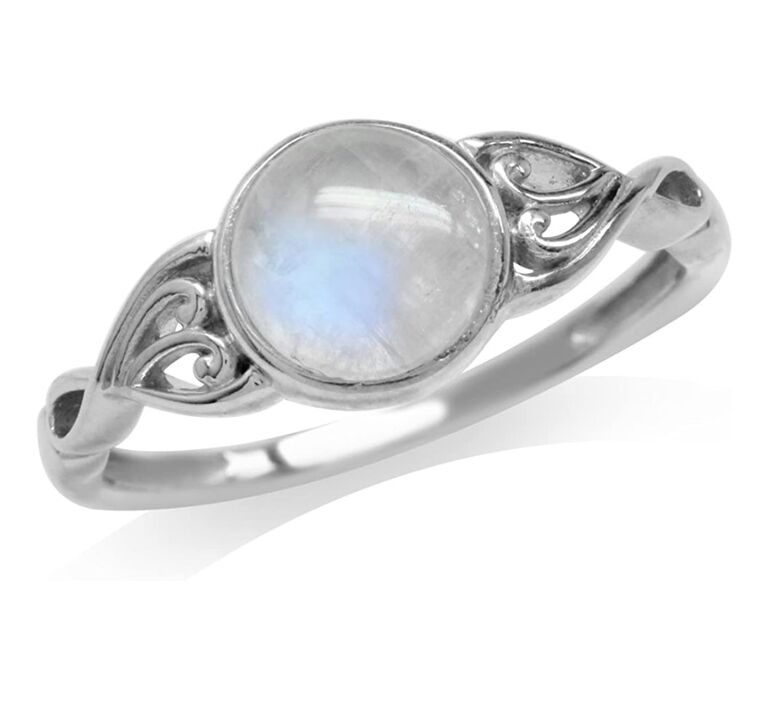 If you're looking for a beautiful ring on a budget, this is the one for you. Ornate details adorn the sterling silver band, lending a gothic vibe to this moonstone ring.
Silvershake 7mm natural moonstone sterling silver ring, $16, Amazon.com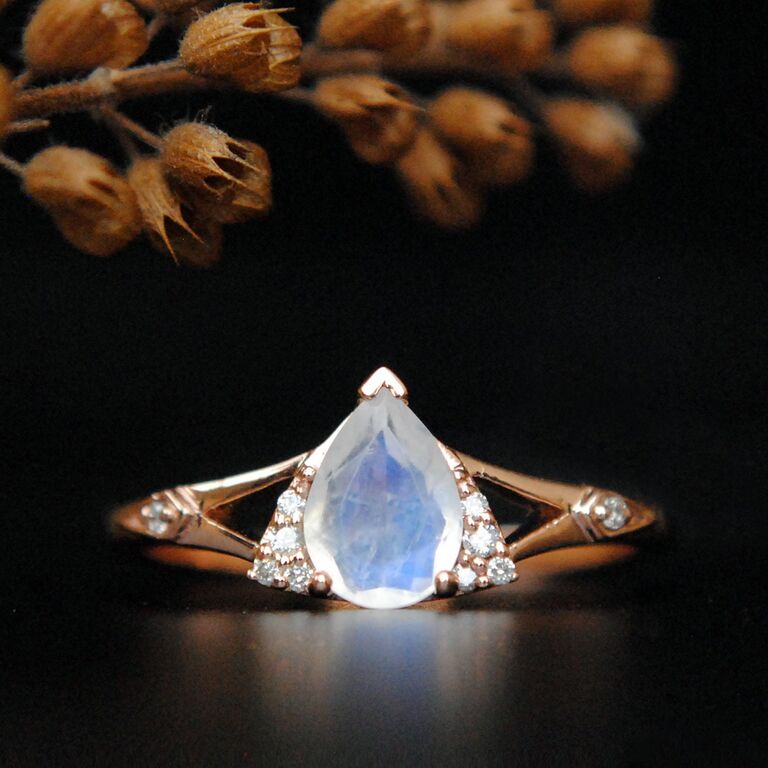 Channel the triforce with this dramatic pear-shaped moonstone engagement ring. Diamond detailing on the sides give the illusion of a triangle-shaped stone, while the split shank provides optimal support to the delicate stone.
Abhika Jewels rose gold pear moonstone engagement ring, $380, Etsy.com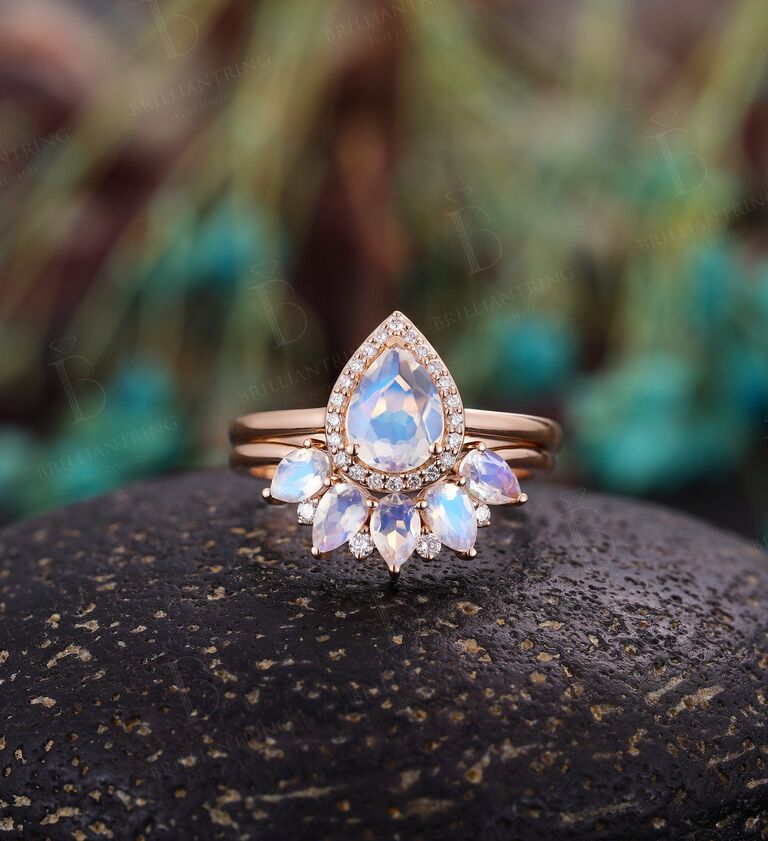 You won't be able to take your eyes off this stunning pear-shaped moonstone ring. The center stone rests amid a channel of moissanite stones, but the piece de resistance is the wrap-around band that adds dramatic flair. It's adorned with 5 additional pear-shaped stones arranged in a half-circle that perfectly accompanies the center stone.
Brilliant Ring moonstone engagement ring, $904, Etsy.com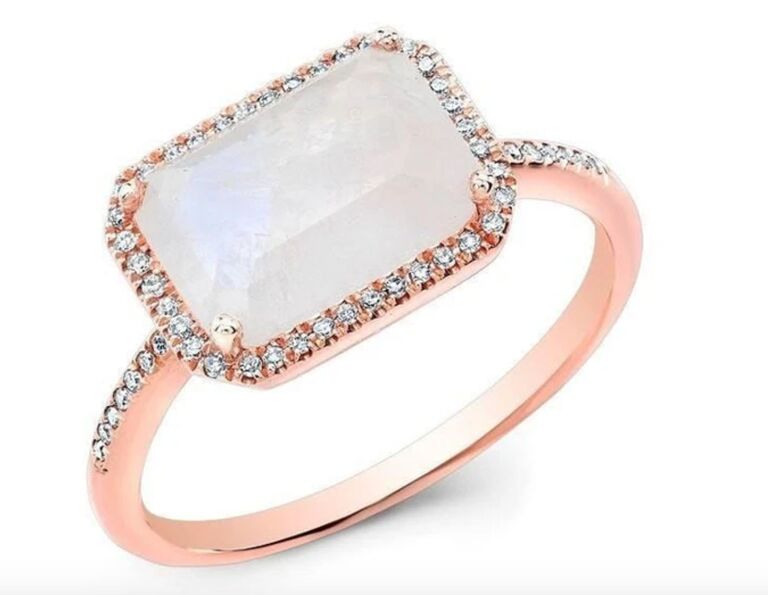 A unique rectangular moonstone gives this pretty ring a modern feel. A halo of tiny stones around the setting and on the band will dazzle when this ring hits the light.
Annie Sisteron 14kt gold moonstone diamond chic ring, $785, AnnieSisteron.com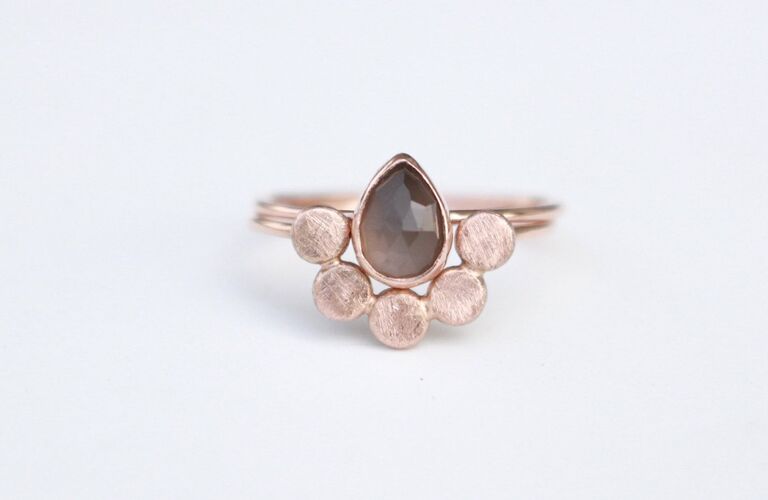 This gray moonstone and its rose gold setting combine to lend an earthy vibe we love. Wear it alone or glam it up with the corresponding wrap-around pebble ring.
Ana Kroll Jewelry 14K rose gold moonstone engagement ring, $420, Etsy.com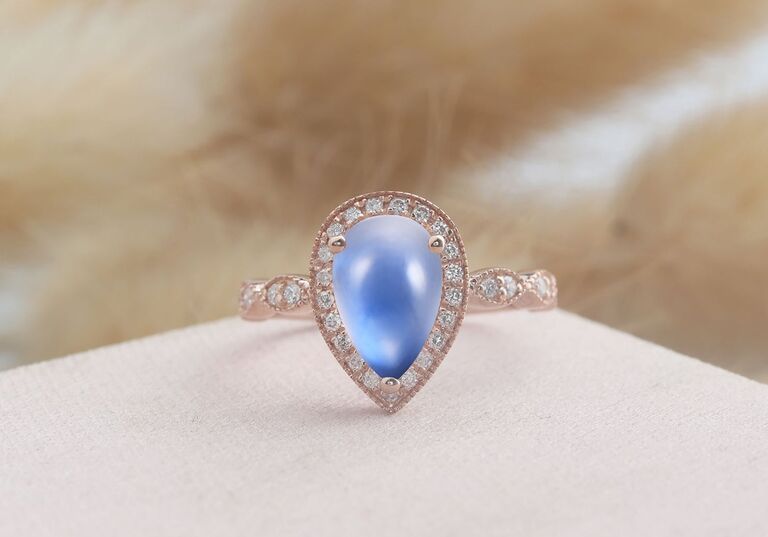 This stunning blue moonstone is artfully displayed against a channel of tiny diamonds. Brilliant diamond detailing on the band adds to the beauty of this moonstone engagement ring.
Newado Jewel pear-shape rainbow moonstone ring, $531, Etsy.com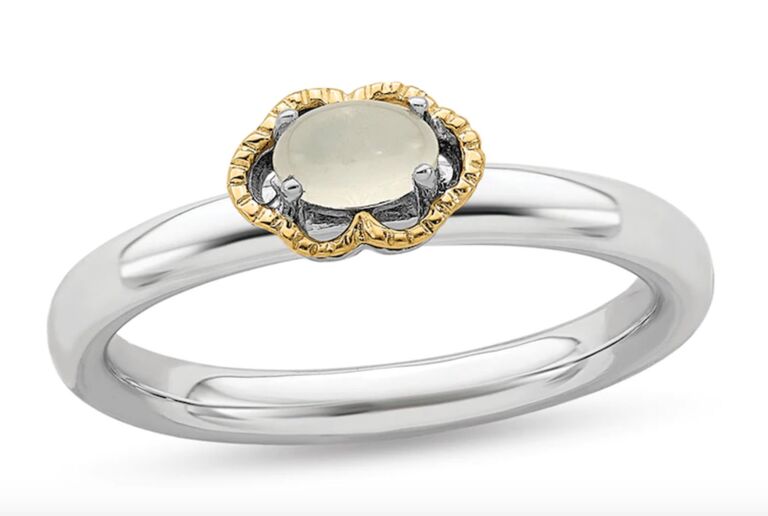 This simple two-tone moonstone ring has just enough sparkle to stand out on your finger. Here, a single moonstone is encircled in a scalloped frame of yellow gold, which stands out against the white gold band. No more fretting over mismatched jewelry!
Zales stackable Expressions oval moonstone scallop frame ring, $71, Zales.com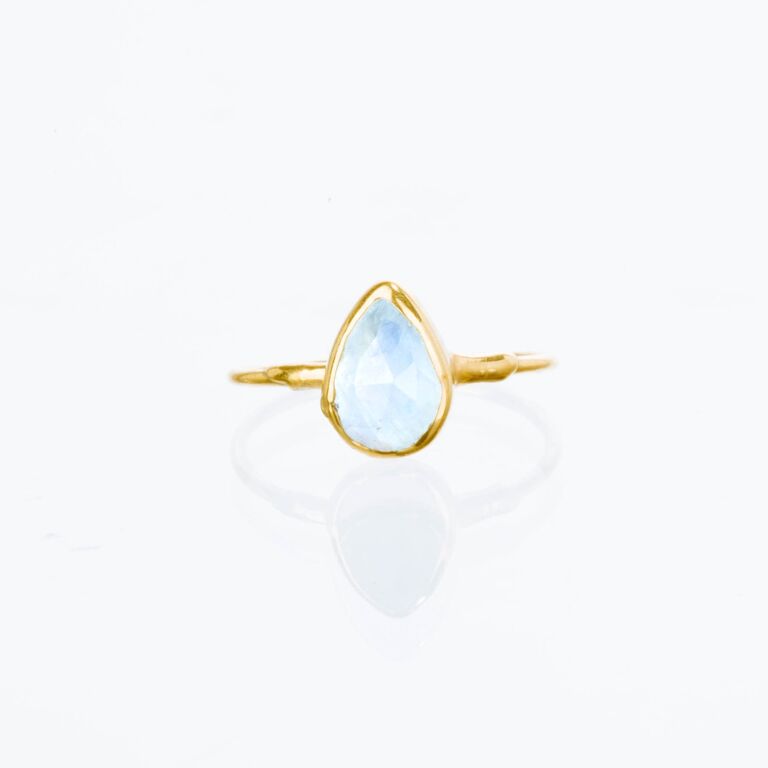 Looking for a moonstone ring that won't break the bank? We've found it for you! This pear-shaped moonstone ring combines simple elegance and a minimalistic style. Whether you choose white, yellow or rose gold, this inexpensive moonstone ring is a beautiful choice.
Ring Crush rain drop moonstone ring, $21, Etsy.com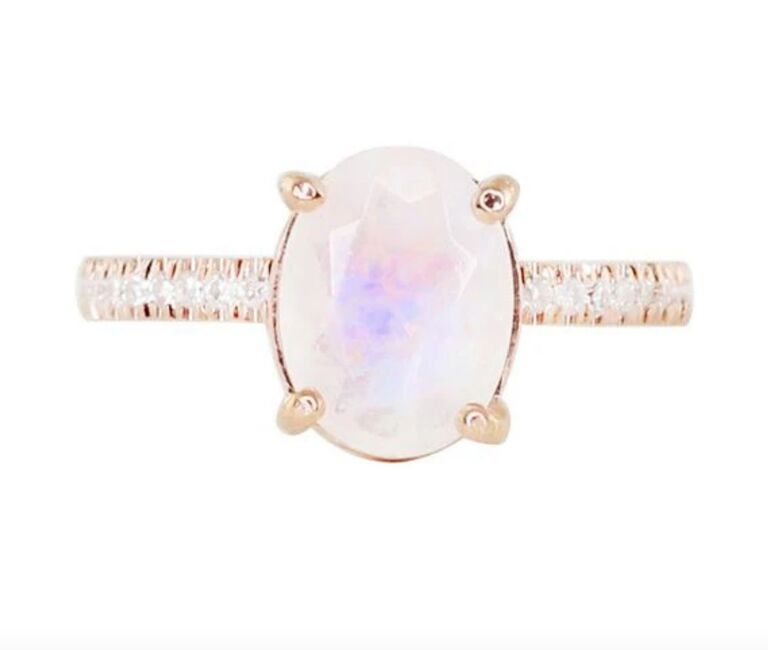 This stunning moonstone solitaire makes a perfect engagement ring. Here, the ethereal stone gets an upgrade with a fourteen-carat gold setting encrusted with diamonds.
Luna Skye 14kt gold and diamond solitaire moonstone engagement ring, $2,100, LunaSkye.com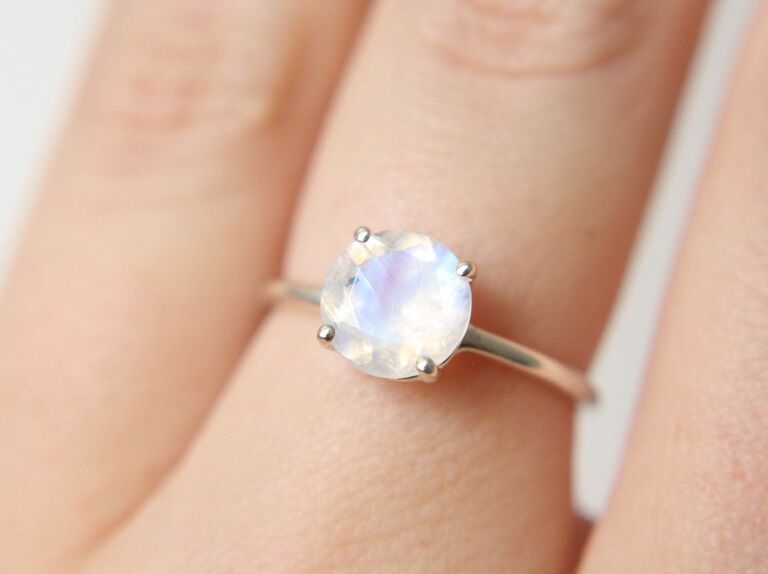 For an earthy spin on a traditional diamond solitaire, opt for this moonstone ring with a four-prong setting. The simple band comes in four options; sterling silver or yellow, white or rose gold.
The Bea Line faceted moonstone ring, $140, Etsy.com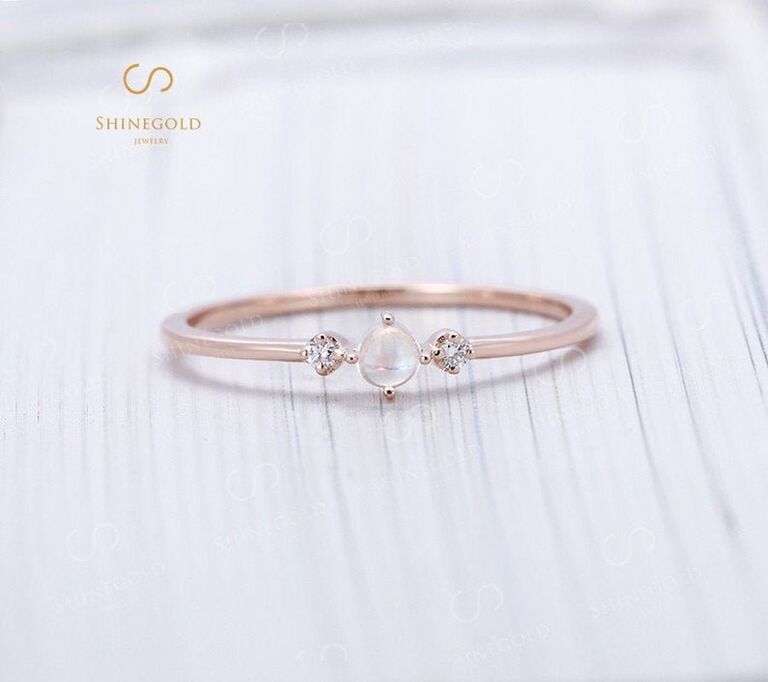 This dainty moonstone ring is picture perfect. A diminutive moonstone is set against two tiny diamonds for a sweet, simple look that pairs perfectly with a thin wedding band.
Shine Gold dainty moonstone engagement ring white gold, $225, Etsy.com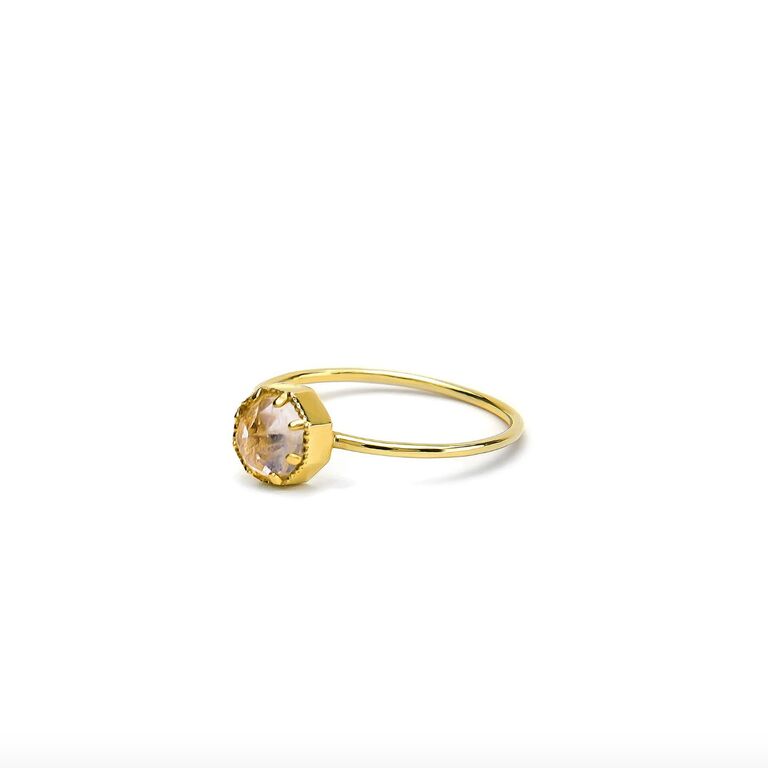 This unique moonstone ring is cut in a hexagonal shape and rests securely in a bezel setting. These elements combine to create a vintage look you'll love.
Grace Lee crown bezel moonstone ring, $385, GraceLee.com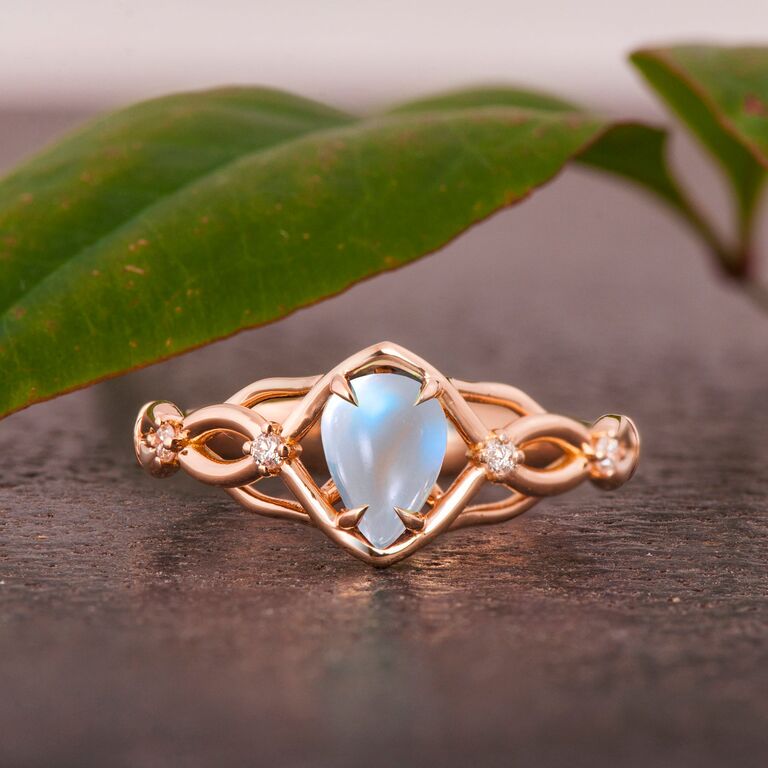 This Celtic-inspired moonstone ring is a show-stopper. Intricate detailing along the band converges with a teardrop-shaped moonstone in the middle. It's an engagement ring that's sure to turn heads.
Blossom and Such Celtic moonstone engagement ring, $780, Etsy.com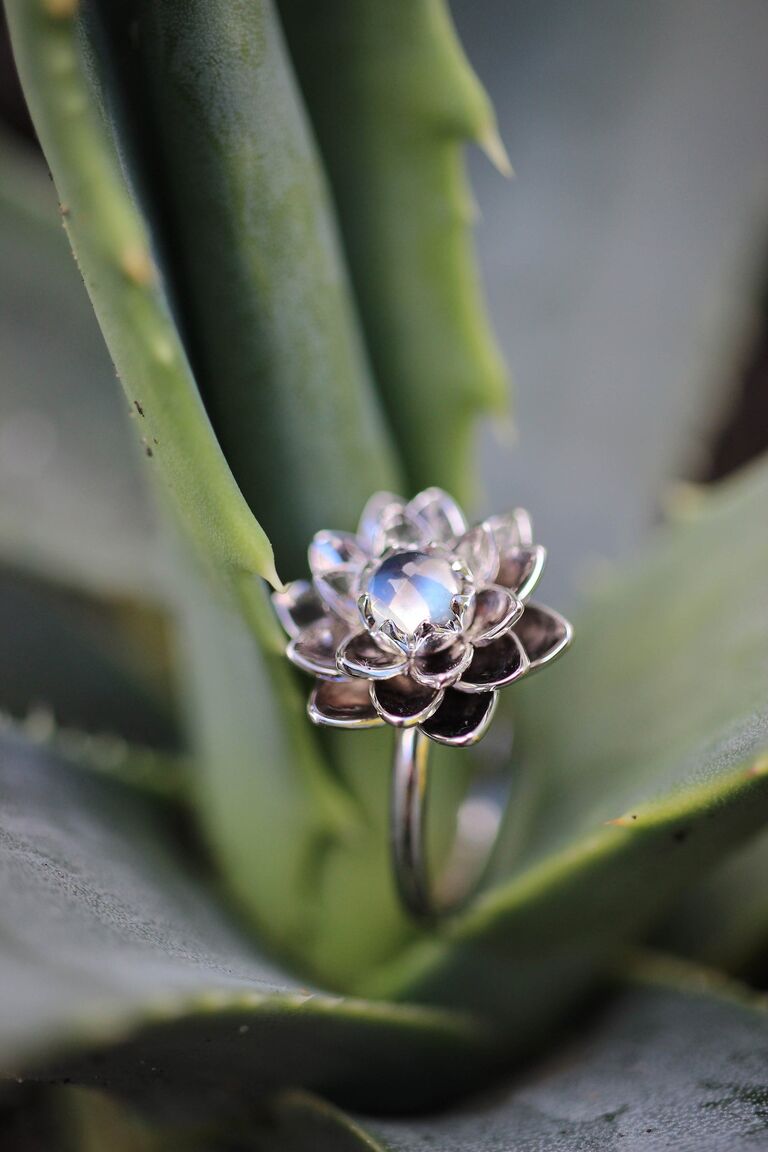 A moonstone peeks out from the petals of a lotus flower on this creative moonstone engagement ring. It's available in a variety of metal types and colors, all of which are simply beautiful.
Eden Garden Jewelry lotus flower moonstone engagement ring, $512, Etsy.com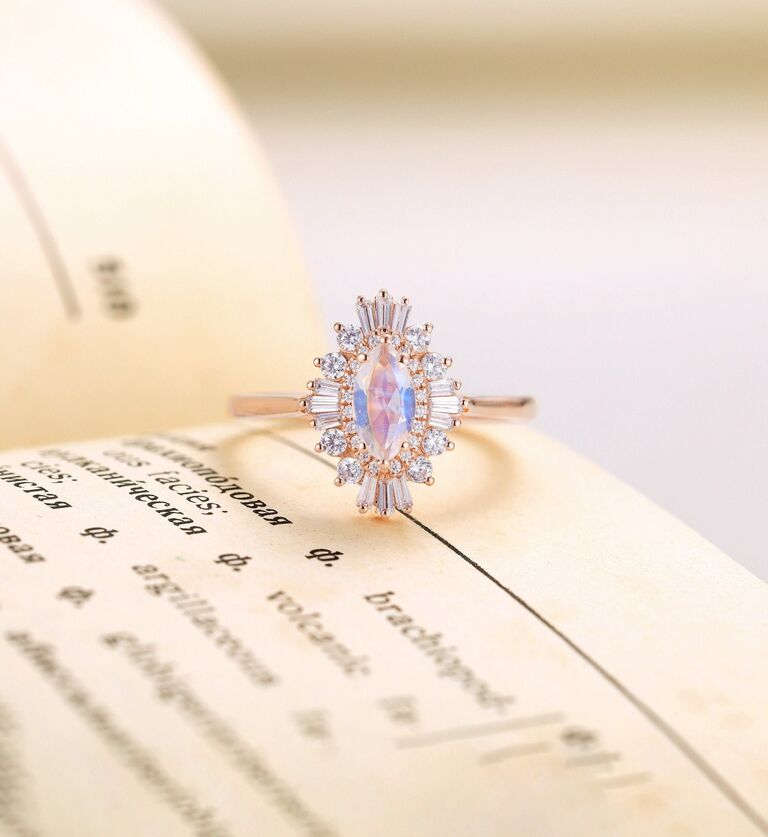 You'll turn all the heads when you show up wearing this gorgeous ring. A marquise-cut moonstone is surrounded by a dramatic collection of diamond baguette stones for a ring that sparkles and shines.
Reindeer Co. moonstone engagement ring, $524, Etsy.com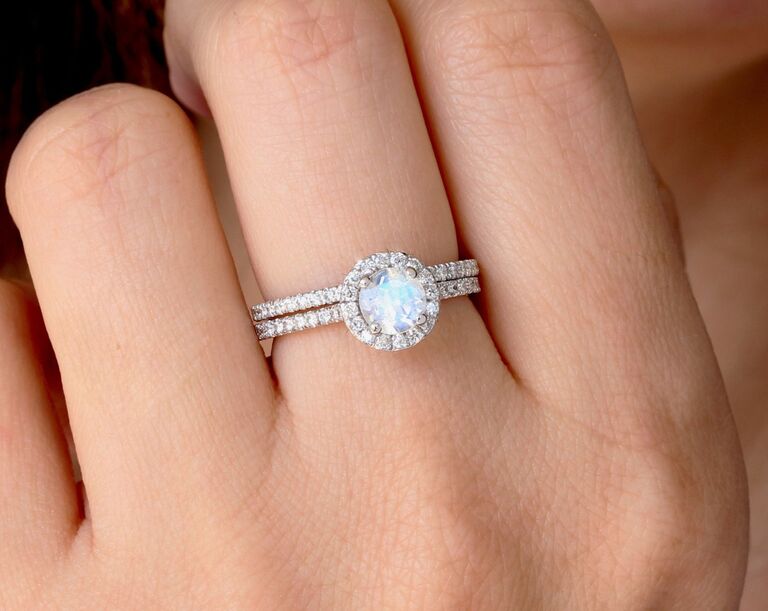 When it comes to perfectly wedding-ready jewelry, you can't beat this moonstone engagement ring set from Benati. A .8 carat circular moonstone is accompanied by a setting and a band that are both encrusted with diamonds for maximum sparkle.
Benati Jewelry set diamond halo rainbow moonstone engagement ring, $1,890, Benati-Jewelry.com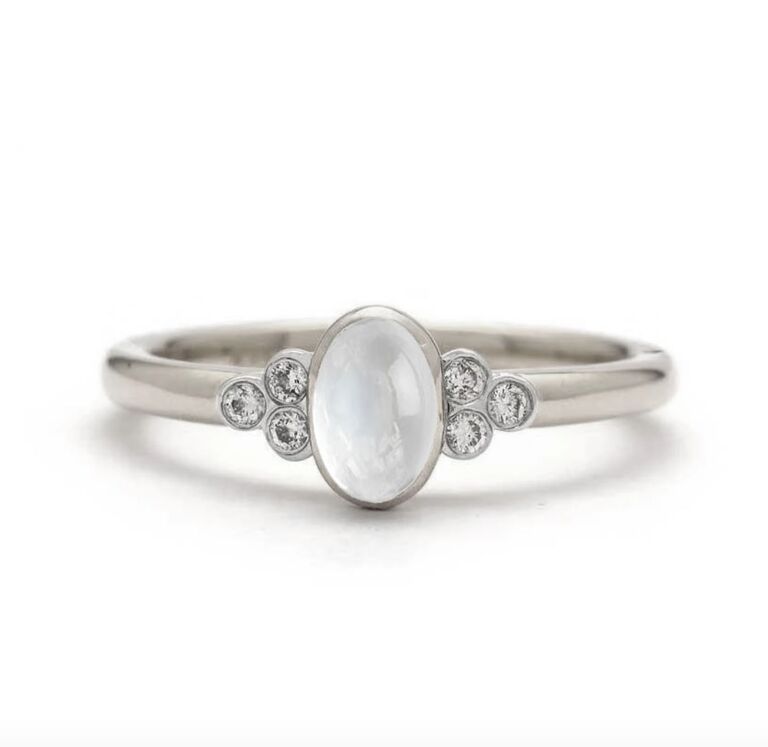 For a modern twist on a moonstone engagement ring, this chic offering from Juliet Oliver makes a great choice. An ethereal oval gemstone is centered between two diamond clusters on this simple yet stunning ring.
Juliet Oliver Aleah moonstone engagement ring, $450, JulietOliver.com
A basic moonstone gets a romantic upgrade on this heart-shaped bauble. The center stone shimmers among the halo of diamonds surrounding it, and the 14-carat white-gold setting is totally wedding-ready.
Moon Magic moonstone diamond ring - Enchantment, $749, MoonMagic.com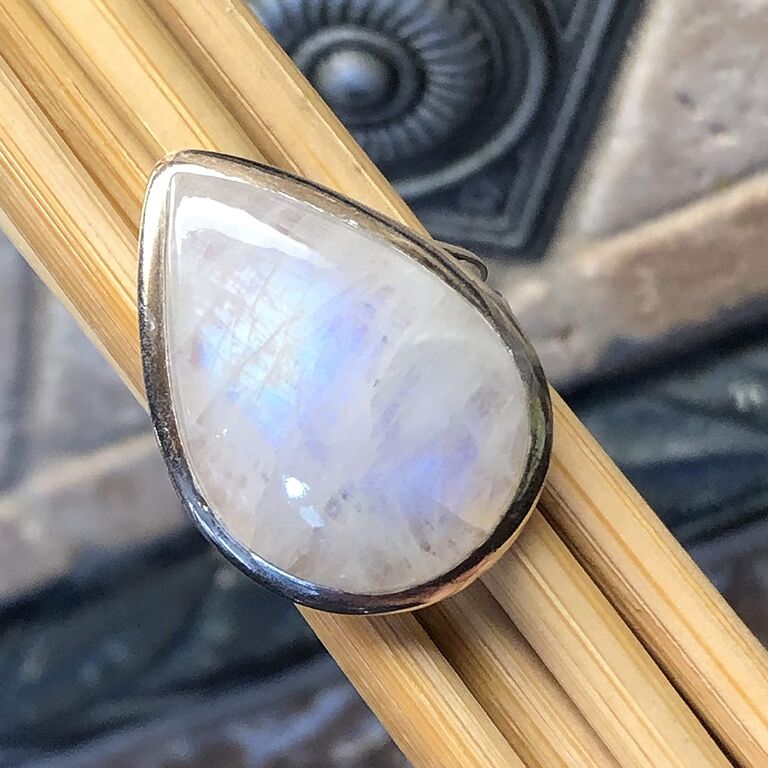 Looking for something super simple but elegant? We've got you covered with this ample teardrop moonstone ring. This fuss-free style allows the moonstone's beautiful colors to take center stage.
Natural Rocks by Kala natural rainbow moonstone ring, $90, Amazon.com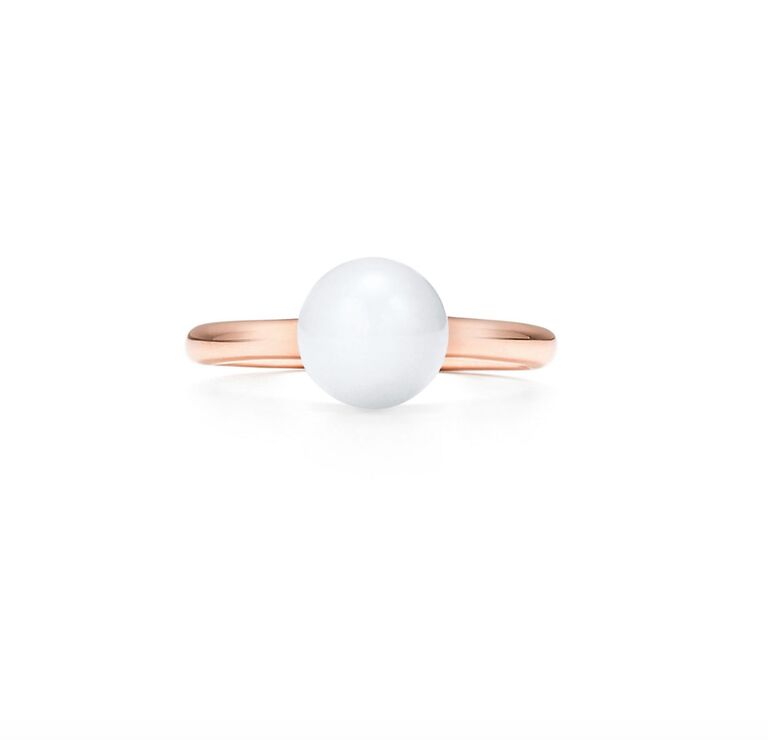 For an unexpected twist on a moonstone ring, this modern stunner from Tiffany's HardWear line definitely checks the box. Here, a ball-shaped gray moonstone pops beautifully against a feminine rose gold band.
Tiffany & Co. hardware ball ring, $550, Tiffany.com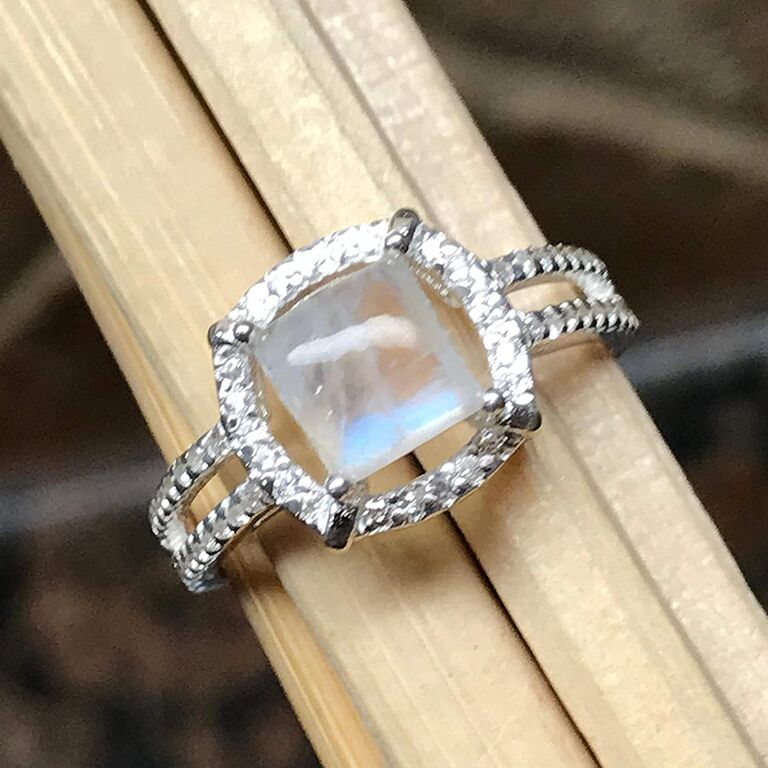 You won't want to miss this moonstone engagement ring! A square-cut moonstone is suspended by a four-prong setting, and wrapped in a square of diamond detailing. The split-6870z bnkjkm'/shank band mirrors the detailing for a ring that truly sparkles.
Natural Rocks by Kala natural rainbow square-cut moonstone ring, $150, Amazon.com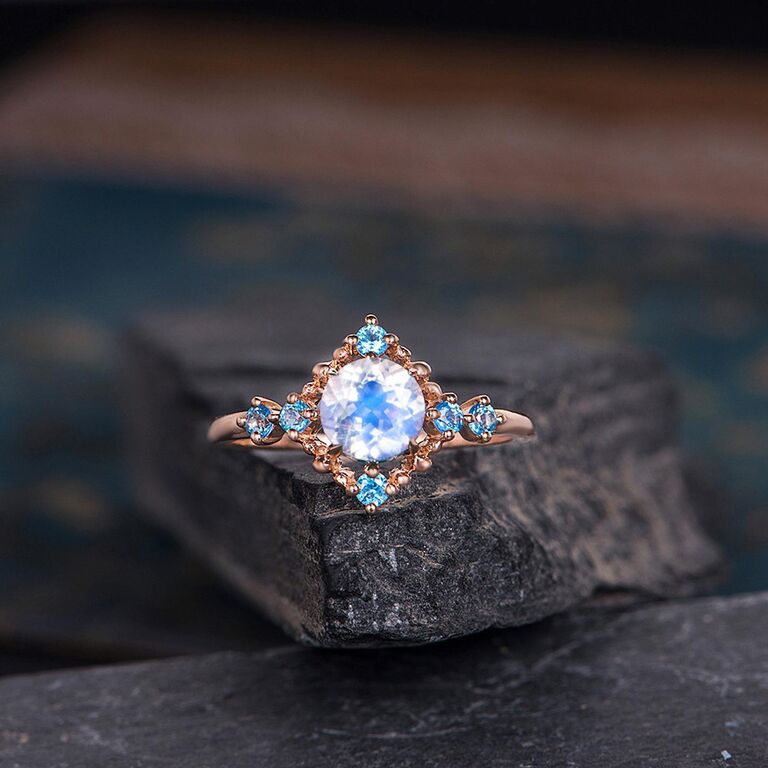 A beautiful blue moonstone is artfully combined with several blue topaz stones in this sparkly stunner. Not only does it make the perfect moonstone engagement ring, but it checks the box for "something blue" on your big day!
Szeki Studio moonstone and blue topaz engagement ring, $387, Etsy.com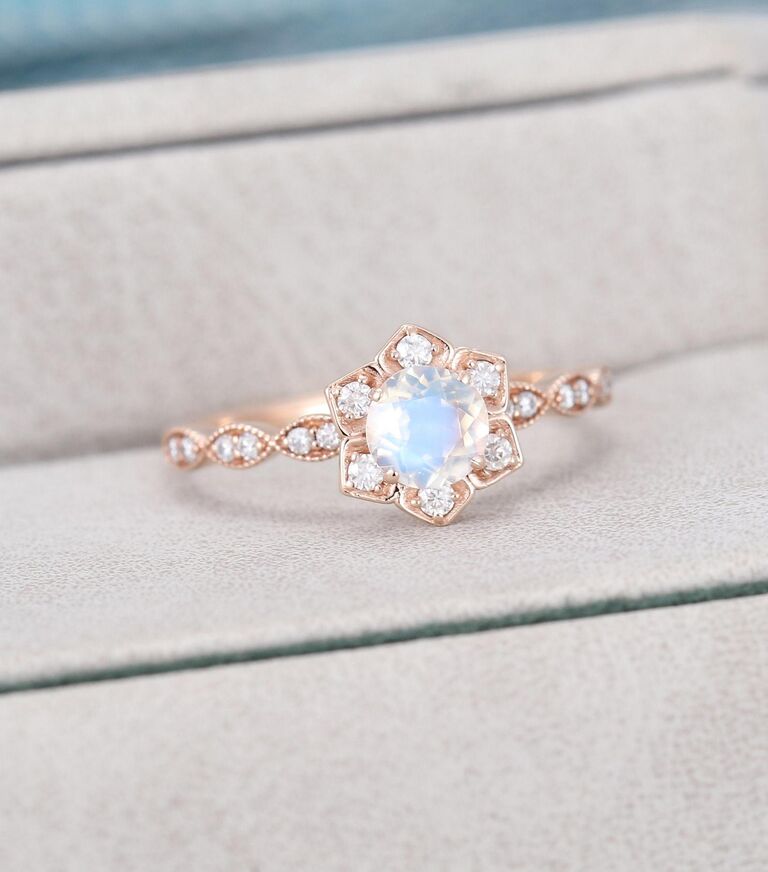 If you're a nature lover, you're sure to love this sweet moonstone ring. The circular gemstone is surrounded by several smaller stones to create a shape resembling a flower in full bloom. It's the perfect accompaniment for your spring engagement.
Mind Jewelry flower moissanite moonstone engagement ring, $333, Etsy.com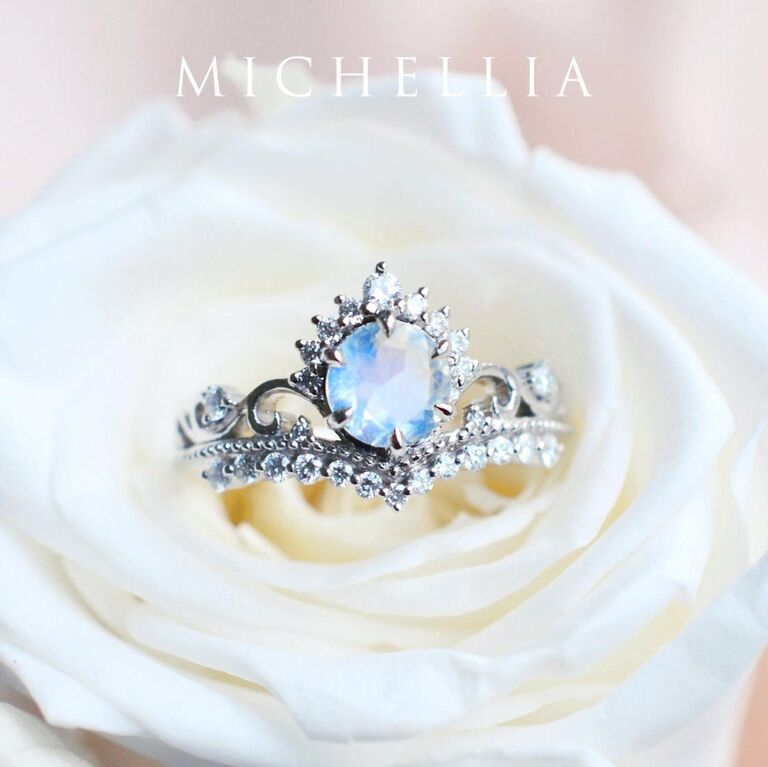 There's no shortage of sparkle on this gorgeous moonstone engagement ring. It's simply dripping in diamonds of all shapes and sizes. Between the stones and the intricate detailing on the band, this ring packs a seriously beautiful punch.
Michellia Fine Jewelry Theia moonstone engagement ring, $850, Etsy.com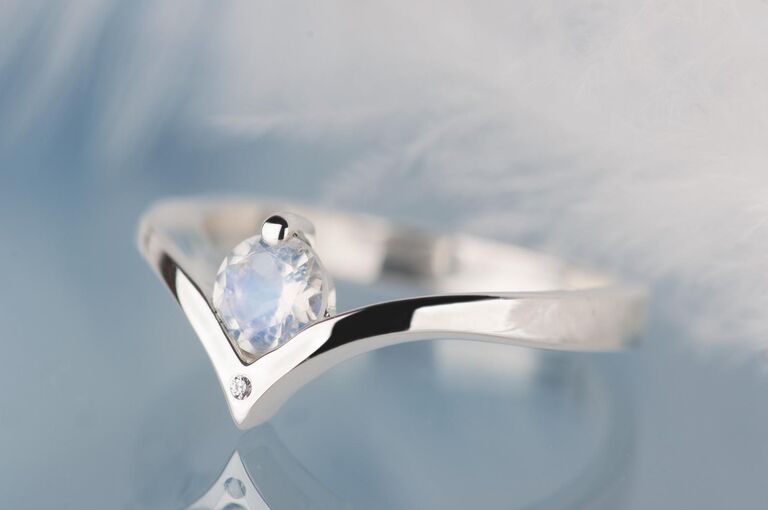 If a minimalist moonstone ring is what you're searching for, you can't beat this beauty! On the sterling silver band, a chevron shape gracefully dips, revealing a gleaming moonstone that's matched by a tiny diamond accent.
Slow Silver Jewelry minimalist chevron moonstone and diamond engagement ring, $175, Etsy.com