40 Sweet Wedding Ring Tattoo Ideas You'll Want to Copy
Here's everything you need to know about wedding ring tattoos (plus 40 pictures of ring finger tats to inspire your own ink band!).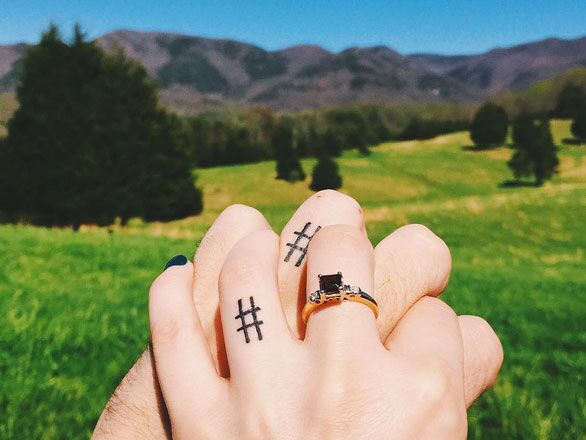 @JesGlearing / Instagram

Your wedding ring signifies one of the biggest and most memorable milestones of your life. The tradition of exchanging wedding rings is meant to symbolize enduring love, and as traditional vows say, 'til death do you part. So what better way to memorialize your commitment than with permanent wedding ring tattoos? Need some marriage tat inspiration? We've got 40 real-life wedding ring tattoo ideas to help you start figuring out what you want inked on your own digit.
In this article:
Reasons to Get a Wedding Ring Tattoo
There are a few great reasons to get a wedding ring tattoo, other than it being a creative and unique way to express your love and commitment.
Cost: A survey by The Knot shows couples-to-be spend an average of $5,871 on their engagement ring and $560 to $1,400 on wedding bands. Compare that with wedding ring tattoos, which usually cost between $50 and $2,000, even for complex designs. The simpler designs won't set you back much but will give you a reminder of your love forever.
Permanency: The main reason couples get wedding ring tattoos is usually to represent their forever commitment to their marriage—they're everlasting and cannot be lost, nor do they need to be removed for any task, like washing dishes.
Flexibility: You and your spouse can borrow from tradition with single band wedding ring tattoos, or you can create your own unique and meaningful design.
Convenience: If you are an active person or have a career or serious hobby that requires work with your hands, you may not be able to wear your wedding band for large chunks of time. A ring tattoo is an excellent way to showcase your marriage status even when you aren't able to wear a physical ring.
Finger Tattoo Tips
Finding the design you want for your wedding ring tattoo isn't the hard part—it's finding the reputable, experienced, licensed tattoo artist to ink your wedding ring tattoo. Here's how to find one:
Understand the laws in your state: Many states don't allow tattoo artists to ink above the neck, below the ankle or below the wrist, specifically because your feet, hands, fingers and, of course, your head, are the most sensitive places to get tattooed. So, check the laws in your state before you book your appointment. If your state does not allow finger tattoos, you may want to consider making the drive across the state border. Another option is to get matching wedding tattoos on a different part of your body. What you shouldn't do is get a tattoo from your buddy who inks up his friends in his garage. Don't get famous for a bad tattoo fail.
Find a reputable tattoo artist: Once you decide to get a wedding ring tattoo, research a tattoo artist with experience and a reputation for safety and sterility. Not every artist is adept at finger inking, and many don't do them. Not all tattooists are comfortable or capable of doing unique designs versus tattoo book designs they've practiced and done before, so if you're going for an original wedding ring tattoo design, do your homework to find someone who is comfortable with tattooing new designs.
Book your appointment early: The best tattoo artists are often booked weeks or even months in advance. Don't wait until the last minute to get your ink. Start calling around a few months before your wedding to book your appointment. Make sure to add this step to your wedding checklist.
No pain, no gain: Tattoo artist Mickey T at Outer Limits Tattoo in Long Beach, California, which was established in 1927 (making it the oldest tattoo shop in the US), says wedding finger tattoos are a grand gesture, but the process is a big one. Tattoo artists warn that finger tattoos are particularly painful, as our digits are one of the most sensitive parts of our body. "We tell our clients not to hold their breath so that they don't pass out," Mickey T says.
For the best results, get inked one week before your wedding day: Many states don't allow tattoo artists to ink above the neck, below the ankle or below the wrist, specifically because your feet, hands, fingers and, of course your head, are the most sensitive places to get tattooed. Your wedding ring tattoos will be red and sensitive for at least a few days, so for the best-looking result, get them done at least a week before your wedding.
Take care of your wedding ring tattoos: Follow your tattoo artist's aftercare instructions. Mickey T says to be extremely careful what you touch because tattoos are considered open wounds. Keep them clean and don't over moisturize. "Tattoos need to breathe and need air to keep them healing consistently," she says.
Finger tattoos "blowout" early: Even if you take care of your wedding ring tattoos properly, you may notice the ink-bleeding sooner than other large body tattoos. "Ring tattoos often look crisp in the beginning but start to spread faster than big body tattoos," says Mickey T. The cause of early "blowout" (when a tattoo spreads too much and can blend together) is because hands and fingers suffer hard wear and tear in our everyday lives. Take the possibility of a "blowout" into consideration when choosing your ring tattoo design. Will it still look good or be legible if the ink spreads?
Designing Your Own Wedding Ring Tattoos
If you and your partner want unique wedding band tattoos but aren't sure where to start, consider your shared hobbies, jobs, favorite things to do together, favorite places to be, shared passions or even nicknames for each other.
For example: If you're wine lovers, one band could be a bottle pouring wine, while the other's is a glass. Scientists? The mathematical symbol for eternity. Bird-watchers? A pair of doves. Avid Comic Con fans? Each get your favorite superhero.
If you're looking for something a bit more classic, traditional wedding ring tattoo designs are plentiful, and easily recognized as representing your forever love for each other.
"His" and "Hers" or "Mr." and "Mrs."
Words of commitment in your favorite fonts: Love. Unity. Forever. For life.
Show you're a permanent pair with "+" or "&" symbols
Each other's initials or names
The luck of the Irish: four-leaf clovers
Matching Celtic knots or traditional Celtic band pattern designs
Say how you're feeling: Blessed. Loved. Cherished.
Your wedding date in Roman numerals
Your love secured: a lock and a key
Scribe "Love" in your native language
A Psalm number reflecting your commitment
A diamond design
And our personal favorite: Tie the knot with an elegant, single line nautical rope or single knot, or a bow.
Still undecided? Get inspired by wedding ring tattoos from real couples below or ask your tattoo artist to see their portfolio of ring finger tattoos.
Get Inspired by These Wedding Ring Tattoos From Real Couples
Committed to wedding ring tattoos? The best place to start is seeing the possibilities. From classic to creative, get inspired by these 40 images of some of our favorite wedding ring tattoos that leave no guessing of your love for each other.
1. Commit the date you exchange your vows with compasses to ensure you'll never lose your way.
2. Show that your love's written in the stars with complimentary sun and moon tattoos.
3. Match your partner's design in this sweet way.
4. Ink a nautical-themed nod to your prized catch and eternal anchor.
5. KISS: Keep It Simple Sweethearts. Go for elegant and clean with "his" and "hers" initials. The bride's on the groom's finger, the groom's on the bride's.
6. Get creative with your own original wedding ring designs. They're less expensive to ink than having rings made to order.
7. Look for jewelry store wedding rings you love and re-create them with tattoo bands representing your permanent, lasting love.
8. Disney fanatics will love these sweet Mickey Mouse and Minnie Mouse designs.
9. Consider marriage a lifelong gift and tie a bow on your love.
10. Underscore the permanent promise you're making to each other with the ultimate sacred vow: "Til death do us part."
11. Lovers of Mexican culture? You may feel drawn to a Day of the Dead skull design.
12. Go halfsies. Create a connecting tattoo that when your fingers meet reveals your love message and partnership in marriage.
13. Unite with double-love ring tattoos that pair when you join hands.
14. A simple initial is still impactful for a sweet wedding ring tattoo idea.
15. Go nautical to show you're each other's anchor, happily tethered and stable through any storm.
16. If you're each other's king and queen, say it with a crown.
17. Show that in the presence of God you're committing to your pledge of marriage, love and your religion.
18. Star Wars fans? Declare your love with your favorite movie classic.
19. Dr. Who fans? The Tardis proves your love can travel through time.
20. Birds of a feather stick together.
21. This adinkra symbol hails from the former kingdom of Gyaman and underscores your vows by representing beauty, vigilance, patience and understanding.
22. Does your partner make your heart race? Consider a cardiogram representation of your love for each other.
23. Hold your love tightly in your hand. Chain link your ring to an inscribed medallion in your palm.
24. Does your loved one share a name with a leaf, flower or other object? Get a tattoo of the object as a sweet, subtle way to symbolize your union.
Delicate dot-work fern on the ring finger from this morning. His wife's name is Fern :) #tattoo #dotwork #colour #ferntattoo #weddingtattoo #lovetattoo
A post shared by Holly Robertson (@hxlly_x) on
25. Go the extra mile with an extravagant finger-to-wrist design extending your promise to love and cherish for life.
26. Molecularly bond your marriage.
27. Tattoo rings are inked forever. Show that your love is too.
28. Still want a diamond ring? Ink it.
29. Display your wedding date in Roman numerals.
30. Love you to the moon and back!
31. Let your ink rings represent how tightly woven together you are—and always will be.
32. Roman numerals are a classic way to show your wedding date.
33. If you're going for a minimal and simple look, thin lines are eye-catching.
34. These rings are fit for a king and queen.
35. Two lines for two lives intertwining.
36. We love these cute caricatures of a bride and groom.
37. Opt for eternity bands to represent your eternal love for each other.
38. Who says wedding ring tattoos have to be bands? These symbolic snowflakes are gorgeous.
39. Get your love locked up with this sweet key and heart wedding ring tattoo idea.
40. If you're tying the knot, you may as well tie a bow too, right? So cute!