33 of the Sweetest Anniversary Gifts for Your Girlfriend
Idea #34: An engagement ring.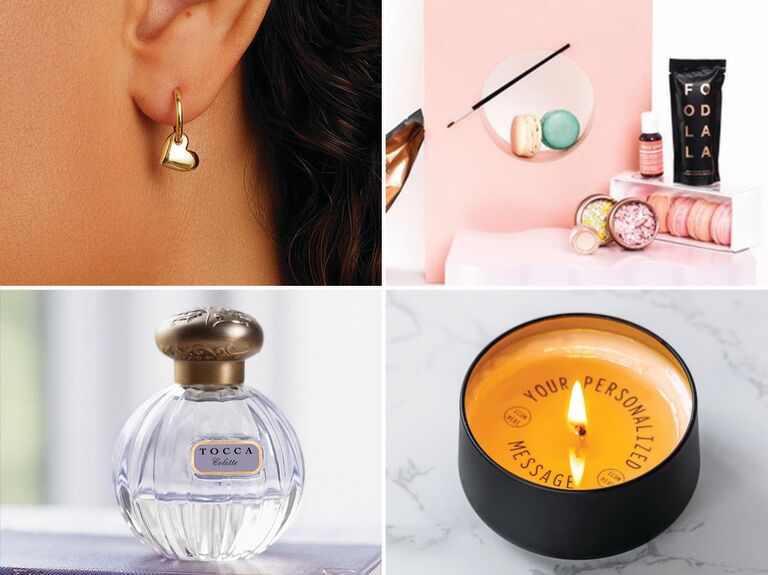 Photos, clockwise: Gorjana, Food La La, lumiplace, TOCCA
We have included third party products to help you navigate and enjoy life's biggest moments. Purchases made through links on this page may earn us a commission.
Whether you're approaching one month together or a few years, anniversary gifts for your girlfriend are a nice way to show her your appreciation. And after seven years of dating—and still no ring—I'm kind of an expert on what to get your girlfriend for your anniversary that'll make her swoon. In fact, some of the items on this list are ones I was actually surprised with (or explicitly asked for) myself, so, trust, these anniversary gifts for her are straight from an expert source. From cute and personalized to practical and luxurious, she'll love one (or all) of these ideas.
What to Get Your Girlfriend for Your Anniversary
You don't need to be a good gift giver to get your S.O. a meaningful present, you just need this list. Start with what stage your relationship is at to help you decide what kind of present to give.
One month: So, the relationship is brand-spanking-new. What's a one-month anniversary gift for your girlfriend that'll make her feel secure in your connection? Our favorite gift ideas for new relationships are experiences. They're a great way to spend quality time together and may even spark a new hobby for the both of you. One experience gift we particularly love is Food La La's at-home macaron baking kit for a sweet virtual cooking class together.

FEATURED VIDEO FROM THE KNOT

Three months: Having spent three months dating, you probably feel comfortable enough with your girlfriend to discuss more vulnerable topics. That's why we recommend a couple's game that sparks deeper conversations. Best Self Co.'s Relationship Deck is full of 150 prompts about your relationship as well as finance, health, work and personal growth, so you can spend your anniversary getting to know each other even better.

Six months: After half a year together, you know just how she makes your life better. Reciprocate with a six-month anniversary gift for your girlfriend that adds a bit of convenience and luxury to her everyday life. Think: a subscription of her favorite things, a cozy blanket or loungewear like Lunya's washable silk pajama set.

One year: You've spent one whole trip around the sun together, it's time to get sappy! We love personalized art to celebrate this milestone, like a framed picture from your favorite memory together, a custom illustration or Twinkle in Time's custom maps of the starry night sky from your first date.

Two years and beyond: Jewelry is a good anniversary gift for your girlfriend at any milestone, but especially when you've been together for a few years. While you may not be ready to give an engagement ring just yet, you still want her to have a daily reminder of your love. Insert: Made By Mary's Love Bar Necklace. The horizontal bar pendant is engraved with your initials for an everyday bauble that will pair nicely with her other accessories.
The Best Anniversary Gifts for Your Girlfriend
We get it—the pressure is on to find the perfect gift for your perfect gal. That's why we've rounded up the best gift ideas for your girlfriend that'll make celebrating your milestone extra special.
1. Lovebox Spinning Heart Messenger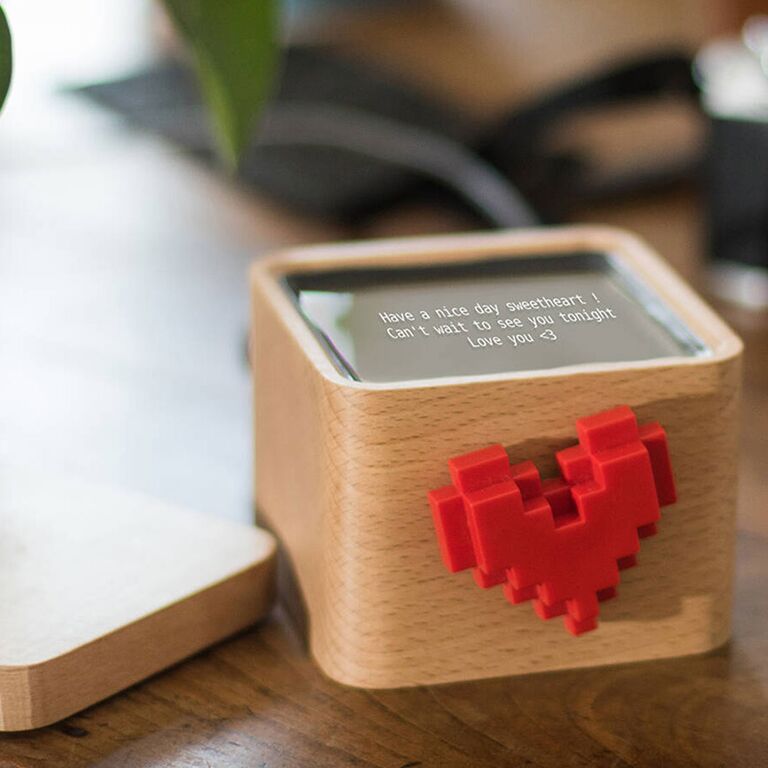 This gadget is a really cute and creative anniversary gift for your girlfriend. Using an app on your phone, you can send a message to the nifty little box. The heart on the front will start to spin to let her know there's a love note waiting. Trust us, it's way more exciting and meaningful than a text message. It works all over the world, so whether you're using this as a long-distance relationship gift or just a sweet memento to use before you live together, you can say "I love you" in a really unique way.
2. Couple's Initials Pendant Necklace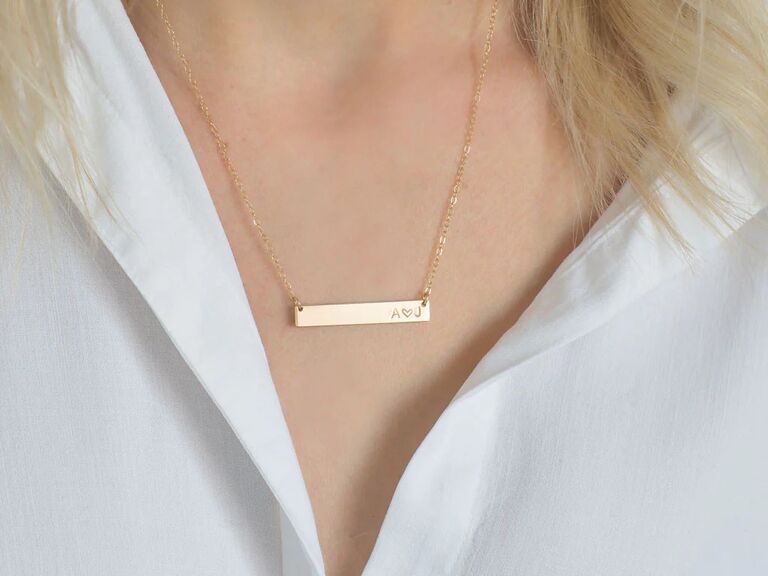 Jewelry is a classic anniversary gift for your girlfriend and you'll get extra brownie points for personalization. Inscribe this bar pendant necklace with both of your initials joined by a heart, plus sign or ampersand. The stylish and stackable necklace comes in gold, silver or rose gold.
3. Adventure Challenge: Couple's Edition
The Adventure Challenge: Couple's Edition is the anniversary gift that keeps on giving. The book is filled with 50 scratch-off date ideas designed for spontaneous couples. There's even space to add photos and notes next to every challenge for memory keeping. (Psst, snag the instant camera for easy scrapbooking.) As a recipient of the book, I can say it's worth the hype! It's an easy solution to the "What should we do this weekend?" question and makes it so there's no pressure on just one partner to plan dates. Make sure to use the code THEKNOT10 at checkout (since we know you're adding to cart) to get 10% off sitewide.
4. Washable Silk Pajama Set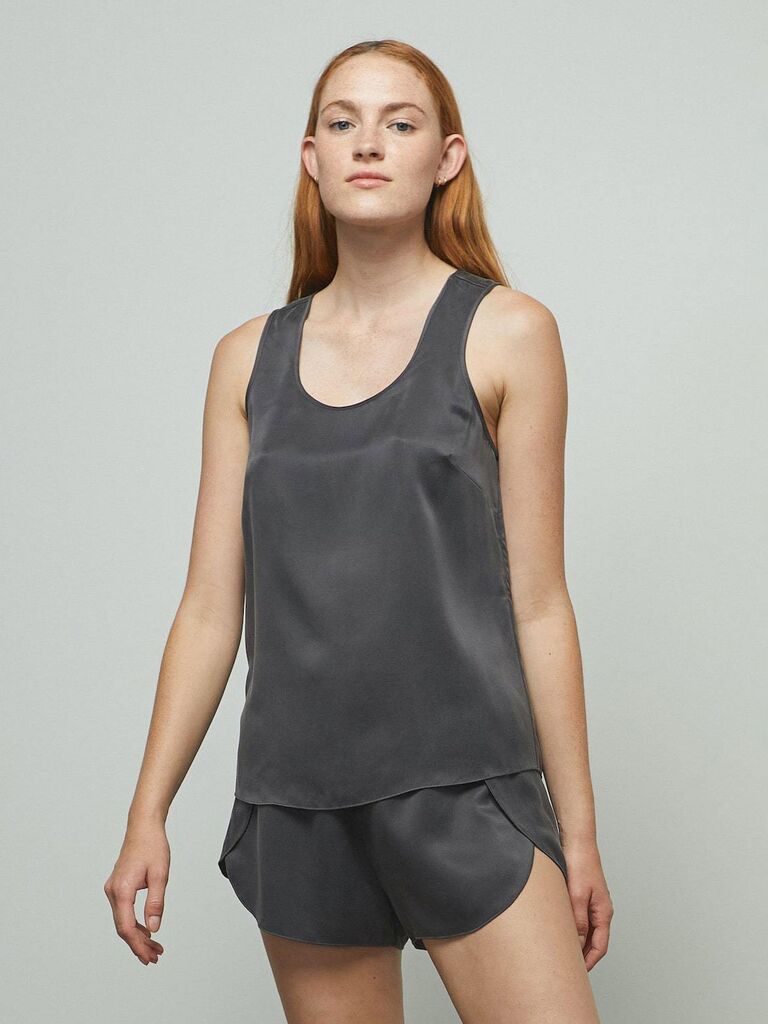 Our readers are obsessed with these buttery-soft, best-selling silk pajamas—and your girlfriend will be too. The splurge-worthy set includes a sleeveless top and breezy shorts for ultimate style and comfort. And they're machine-washable for convenience. They'll quickly become her new favorite bedtime outfit. (I'm asking for a pair for our next anniversary!)
5. At-Home Spa Gift Set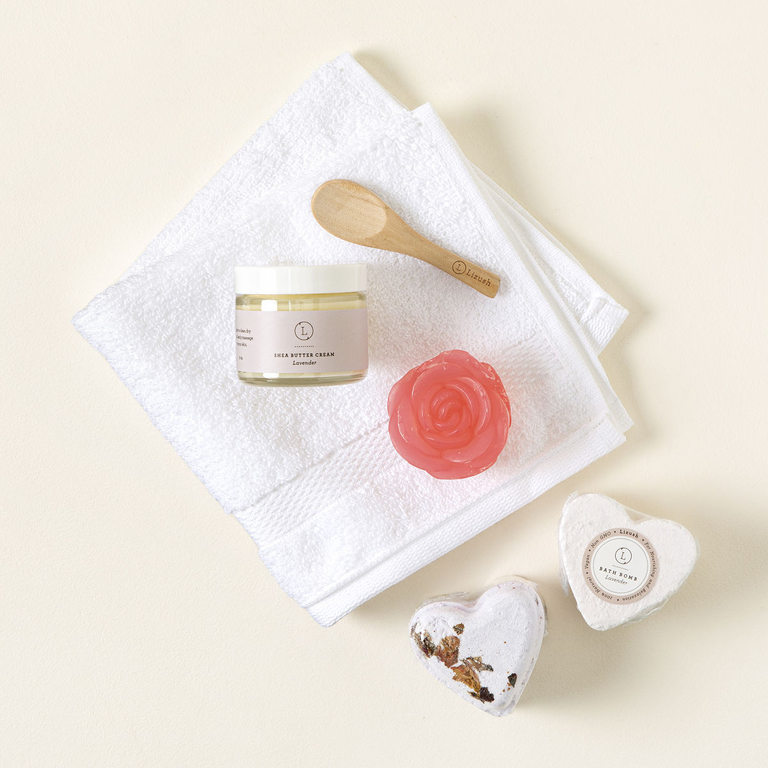 Your girlfriend has a generous heart, it's one of the things you love about her. But it means she's always taking care of others and rarely leaving room for herself. This anniversary, give your girlfriend some self-care goodies so she can have some well-deserved "me time." This lavender-infused spa gift set has shower steamers or bath bombs, shea butter cream, soap and a 100-percent cotton towel. Don't worry, even when you're apart she'll know you care, thanks to the heart-shaped shower steamers and rose-molded bar soap.
6. Bamboo Bath Caddy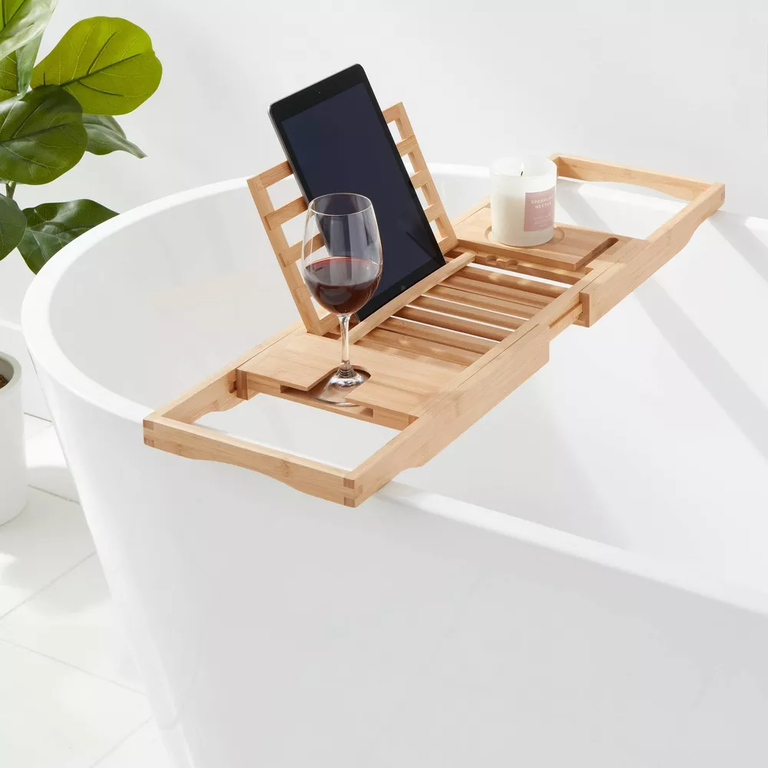 No bath—solo or shared—is complete without a convenient bath caddy. This one is made from bamboo wood and has an expandable design to fit any tub size. It won't just keep her bath essentials dry, though, there are built-in wine glass and candle holders as well as a foldable stand for reading. Pair the bath caddy with a romance novel from your girlfriend's TBR (to be read) pile to show how well you know her.
7. Cozy Cotton Robe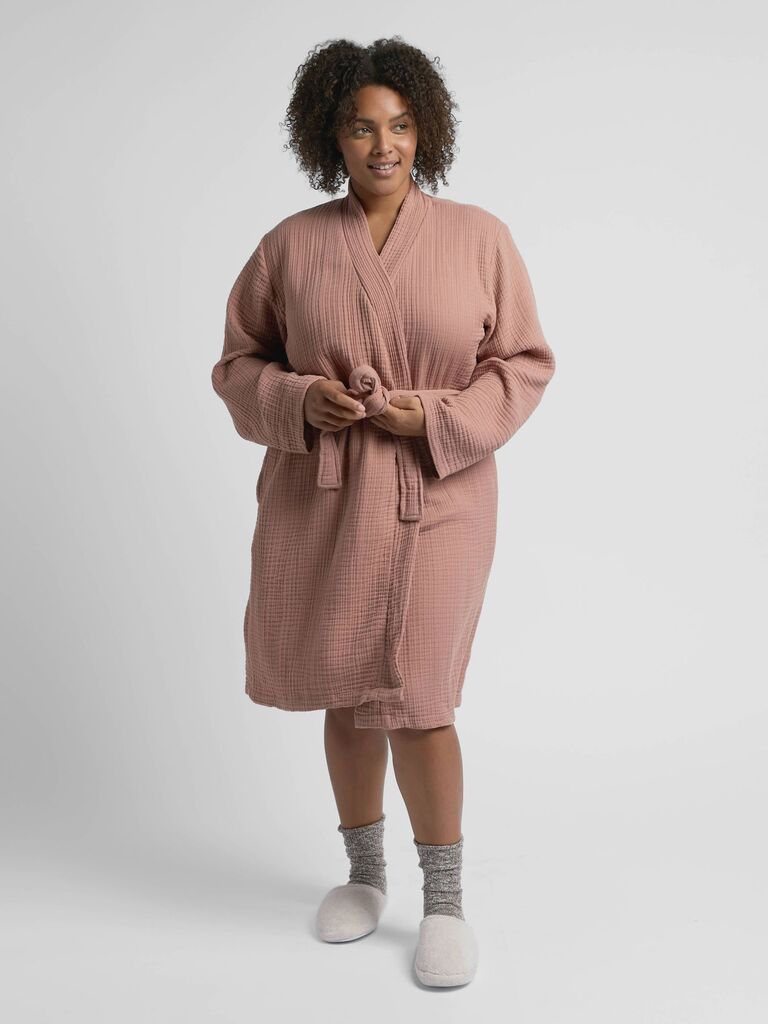 Her mornings, nights and weekends are about to get much cozier. Treat her to a snuggly robe made from spa-worthy Turkish cotton—she'll love having it handy for her wellness and self-care routine. (You can even buy an extra for yourself for an adorable matching couples gift.)
8. Allure Beauty Box Subscription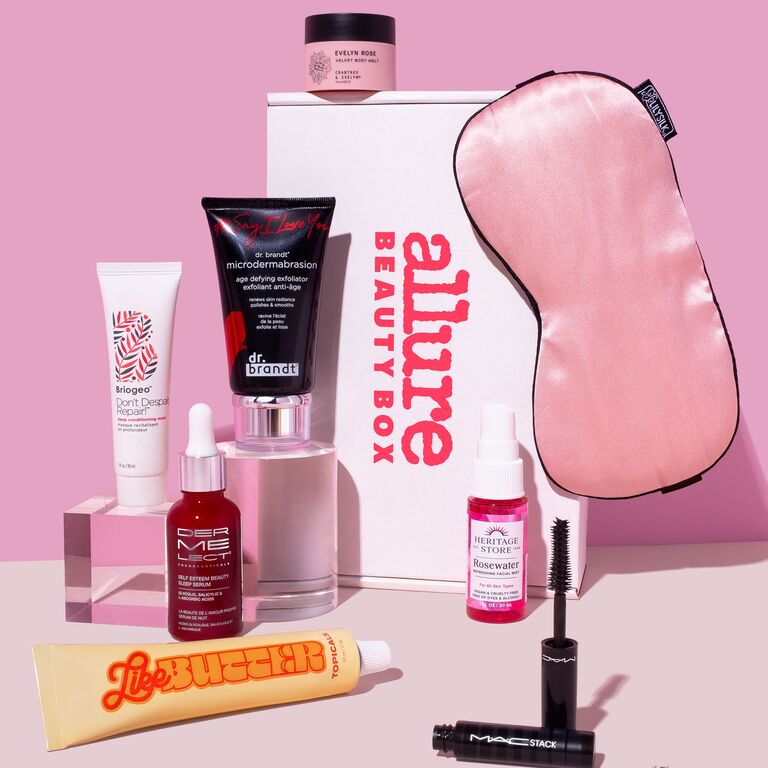 If you're wondering what to get your girlfriend for your anniversary, think about her hobbies and interests. If she loves all things makeup and skincare, she'll be eternally grateful for an endless supply of beauty products. Allure's Beauty Box is packed with expert-approved items at incredible value. Trust us, this is one of the best anniversary gifts for the makeup-obsessed GF.
9. Monogrammed Cosmetics Case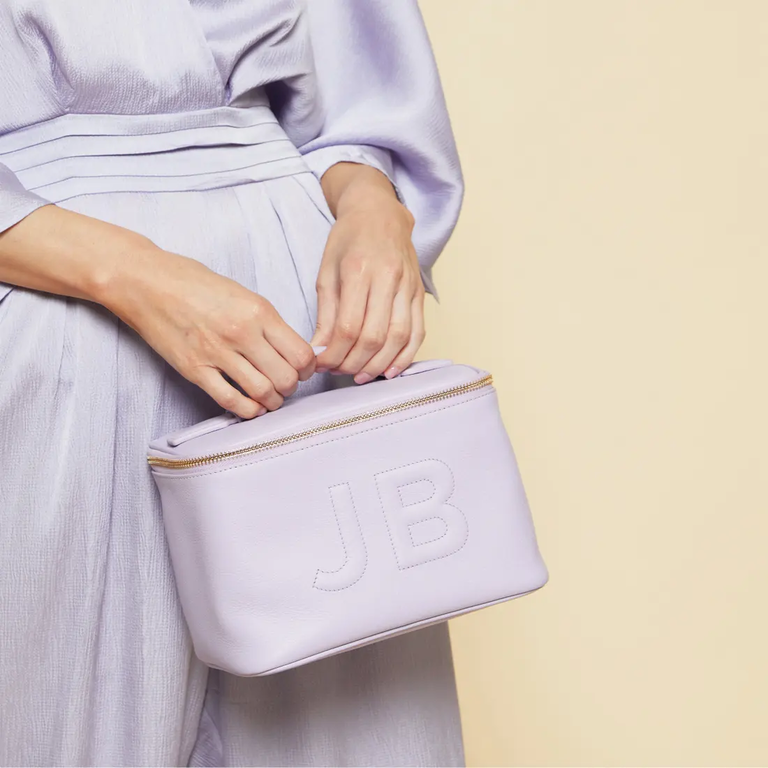 You love spending weekends together, but packing for each overnight is not easy—especially for your girlfriend who has a 30-step skincare routine. This anniversary, treat her to a vintage-inspired carrying case that can fit even her full-sized bottles of face lotion. It features a leather handle, a zip-around closure and lots of internal pockets to keep her organized. Best of all: The front can be monogrammed.
10. Enchanting "Galaxy" Rose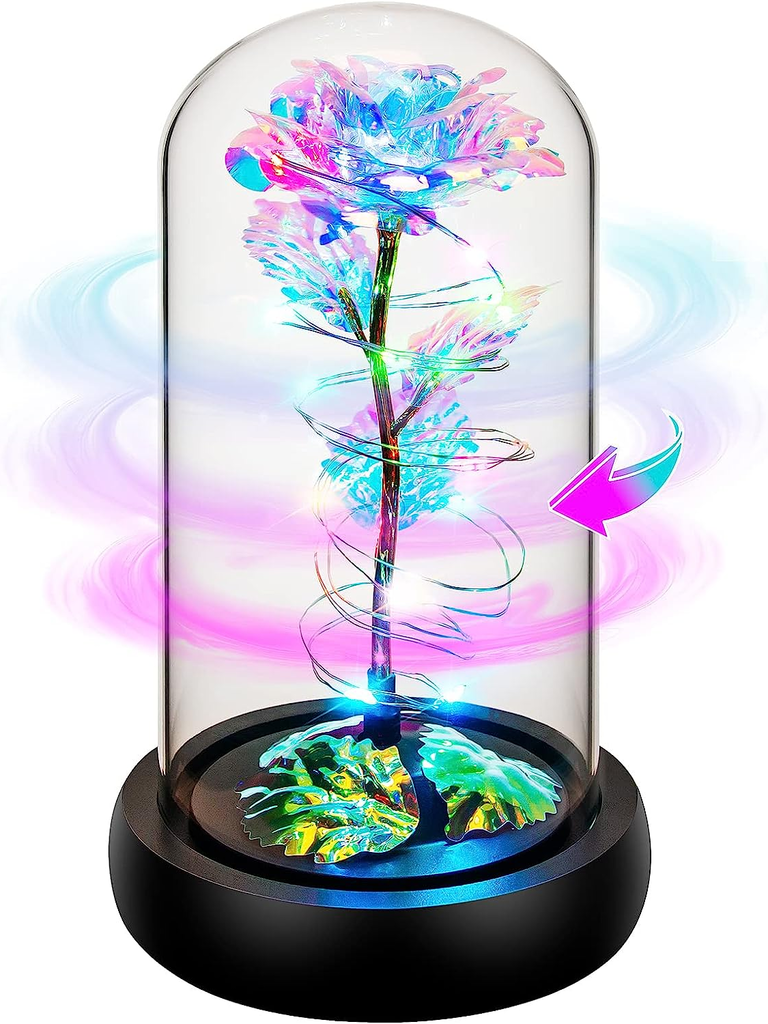 Surprise her with a romantic anniversary gift that'll make her feel like a princess. This everlasting rose has holographic petals and a gold-plated stem encased in a dome for an enchanting light. It's a present fit for a fairytale.
11. Velvet Weighted Blanket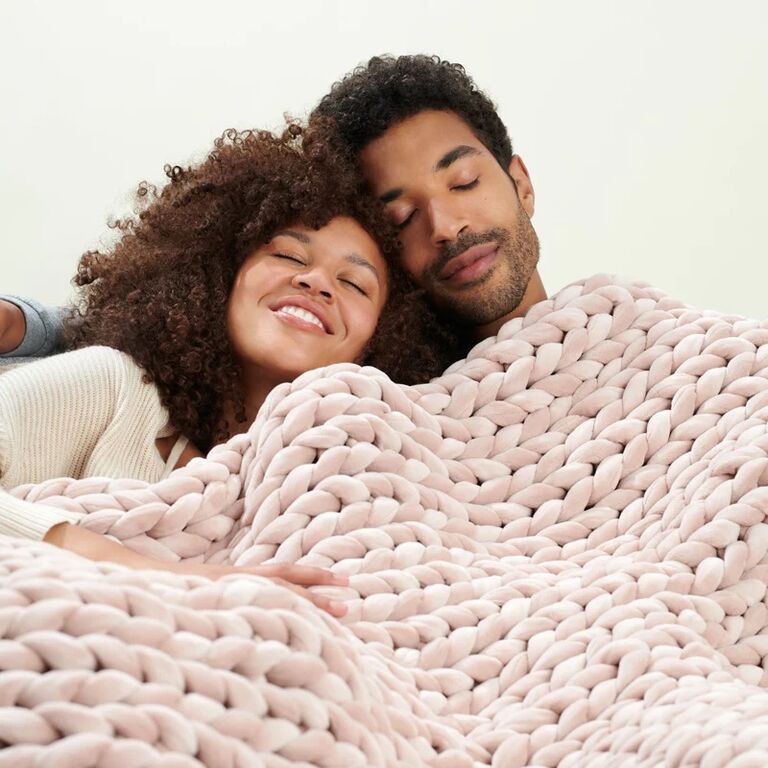 Your favorite pastime with your partner: snuggling and watching TV. Make it even more relaxing—yes, it's possible—with a weighted blanket. It helps stimulate serotonin (the happy hormone), reduce cortisol (the stress hormone) and increase melatonin (the sleep hormone)—cuz there's no doubt you'll fall asleep in each other's arms on the couch. It's an anniversary gift for her, but you're going to want one at your house, too.
12. Birthstone Tea Gift Set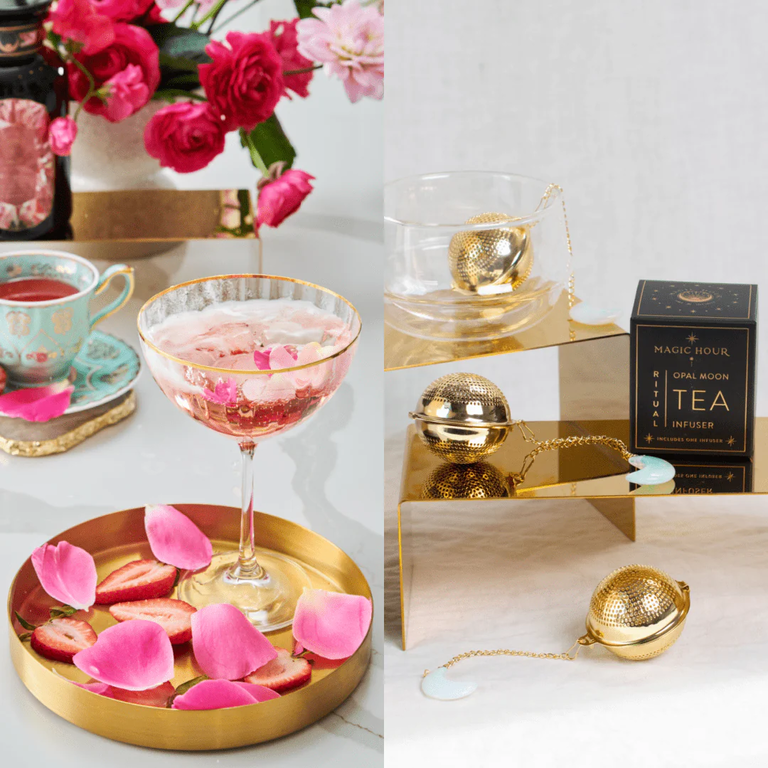 Tell her she's beau-tea-ful with a unique tea gift set. Each blend in Magic Hour's Gemstone Wellness Tea steeps to the hue of her birthstone, so it's not just delicious, but also personal. She'll also get a gorgeous tea strainer.
13. Hidden Message Candle
Yes, your girl would actually love another candle—especially one thoughtfully designed by you. First, choose between nine scents, like French Vanilla, Ocean Breeze and an alluring Love Potion. Then, write a short custom message that'll be revealed once she lets the candle burn for a few hours. You can even add some small characters like hearts, stars or flowers.
14. Luxury Lingerie Subscription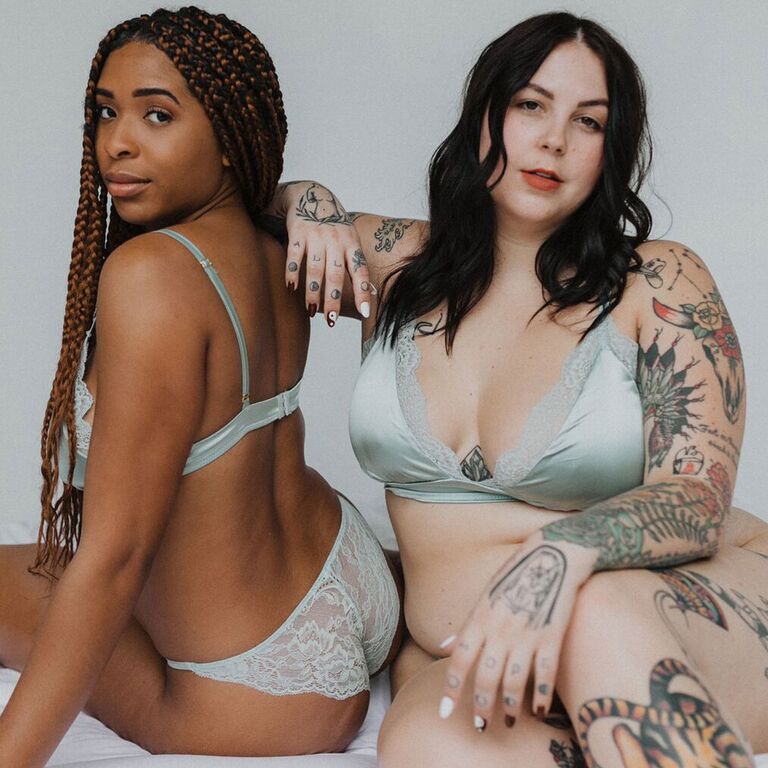 Here's an anniversary gift for your girlfriend that you'll both appreciate. Surprise her with a three-month, six-month or year-long lingerie subscription. Underclub makes the process really easy. Simply click on "Send as a Gift" and enter your partner's email, then your girlfriend will receive a link to a special style questionnaire. From there, she'll get designer underwear that's specifically tailored to her taste.
15. Heart Huggie Earrings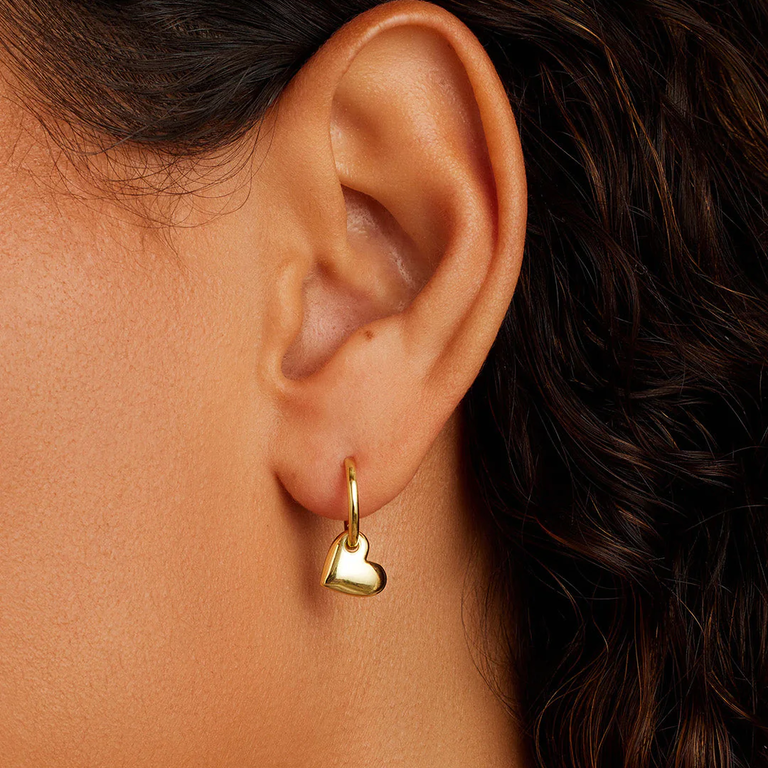 While heart-shaped necklaces can be a little er, cheugy, heart-shaped earrings are fun and cute. These gorgeous hoops are outfitted with 18K gold-plated brass heart charms to serve as a symbol of your committed love, which is just what you're looking for in an anniversary gift for your girlfriend.
16. French Macaron Baking Kit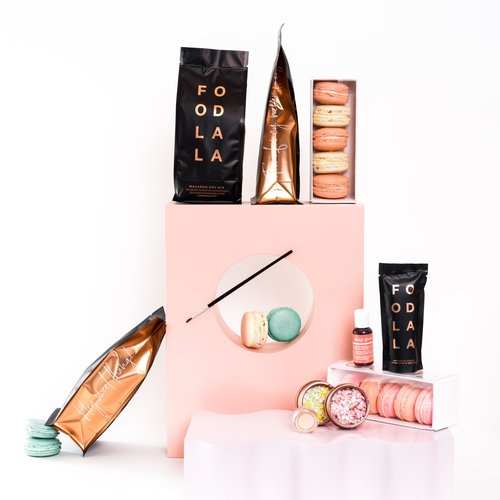 We've said it before and we'll say it again and again: Experience gifts are great for relationships new and old. If your girlfriend thinks she'll be the next Star Baker on the Great British Baking Show, she'll be excited for an anniversary date night making macarons. The kit includes all dry ingredients to make about two dozen macarons including sprinkles, gel food coloring and edible metallic paint. So even if they don't taste good, they'll look great.
17. Cute Ceramic Measuring Cups
Pro tip: Anything from Anthropologie will be loved by your girlfriend. They have some super cute home essentials, like these handpainted ceramic measuring cups with botanical motifs and shimmering tiles. They're perfect for any amateur baker–or someone who just really loves an aesthetic home.
18. Preserved Rose Bouquet
Flowers are a classic anniversary gift for your girlfriend and it doesn't get more romantic than this particular bouquet. The white hat box is filled with about 15 long-stemmed red roses preserved to last up to three years. Make sure to add a gift message that says: "Happy anniversary!"
19. Greeting Card Candy Bar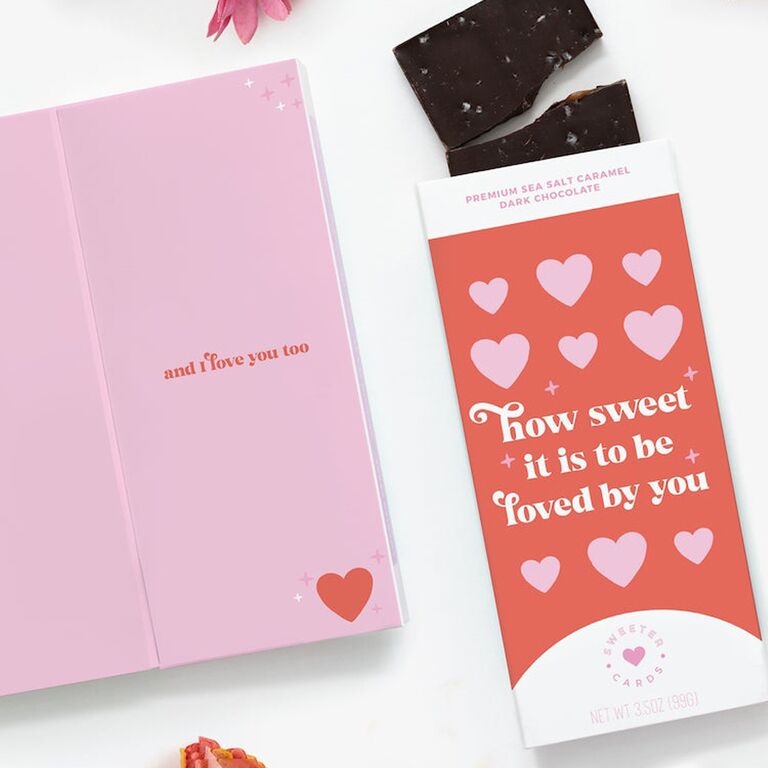 Searching for a small (but special) girlfriend anniversary gift? This delicious candy doubles as a greeting card. The "how sweet it is to be loved by you" card reveals a bar of caramel dark chocolate topped with Mediterranean sea salt—yum. Write a heartfelt note to accompany the treat. (And as our gift to you, you can take 10% off your order with the code WedSC.)
20. Sentimental Star Map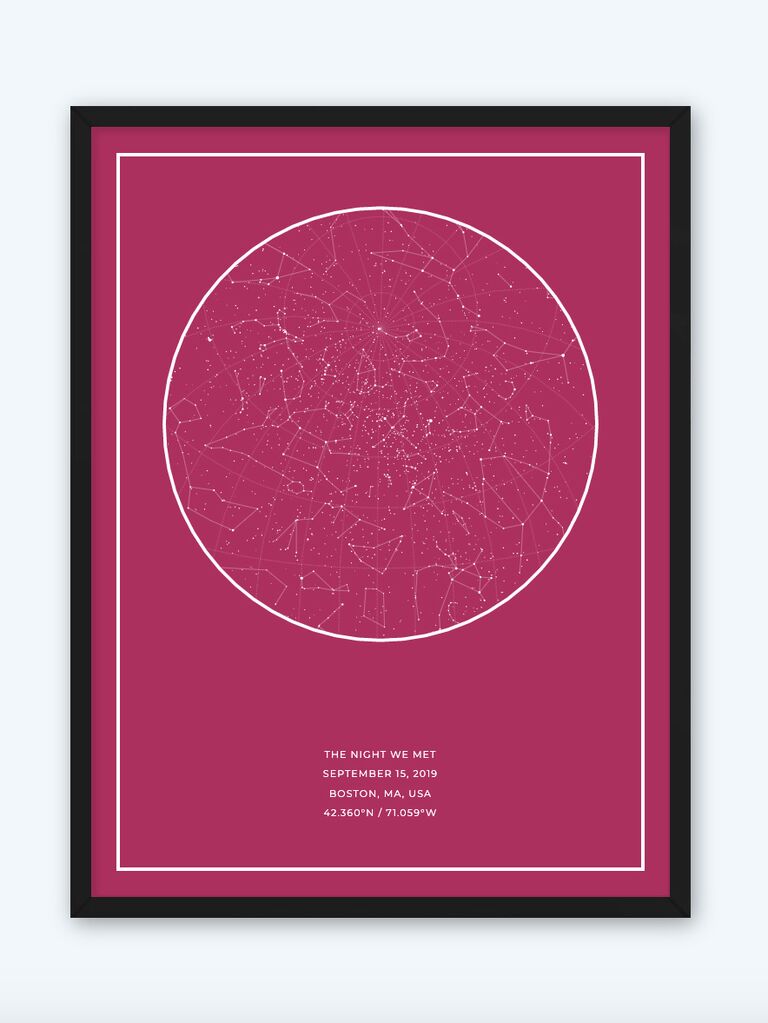 One of our all-time favorite things to get your girlfriend for your anniversary is a custom map of the very stars that appeared on the night of your first date—or another special day in your relationship. You can customize the color and design of the map, and for an extra-special touch, add coordinates along with a meaningful message. This creative where-we-met gift idea is bound to leave her starry-eyed.
21. Instagram Photo Book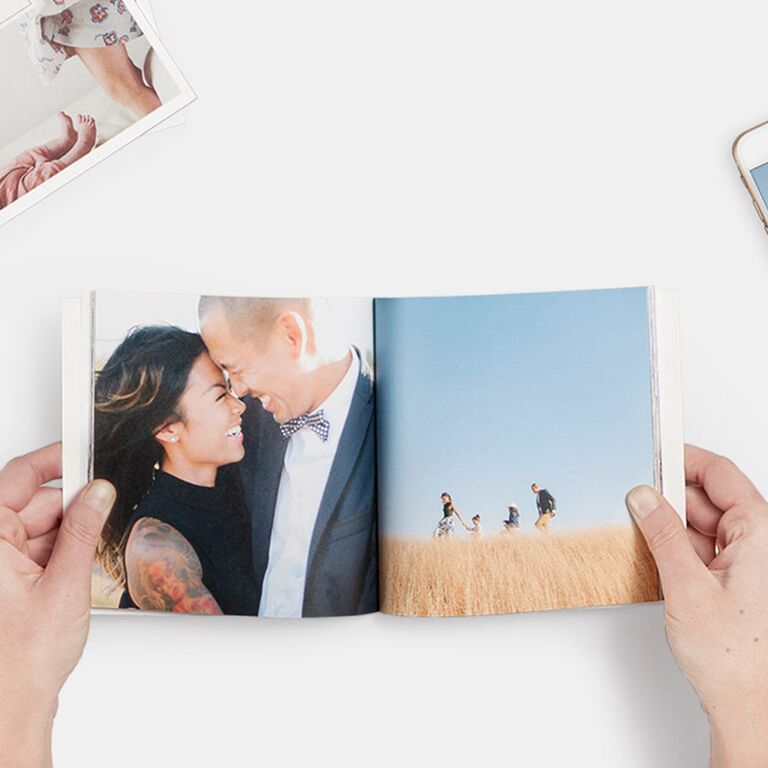 Get crafty with a slightly more DIY anniversary gift. This photo book is perfectly sized for Instagram photos, so you can add your girlfriend's favorite memories straight from the 'gram. It's such an easy-to-make gift, you could turn it into a yearly tradition.
22. Hanging Heart Planter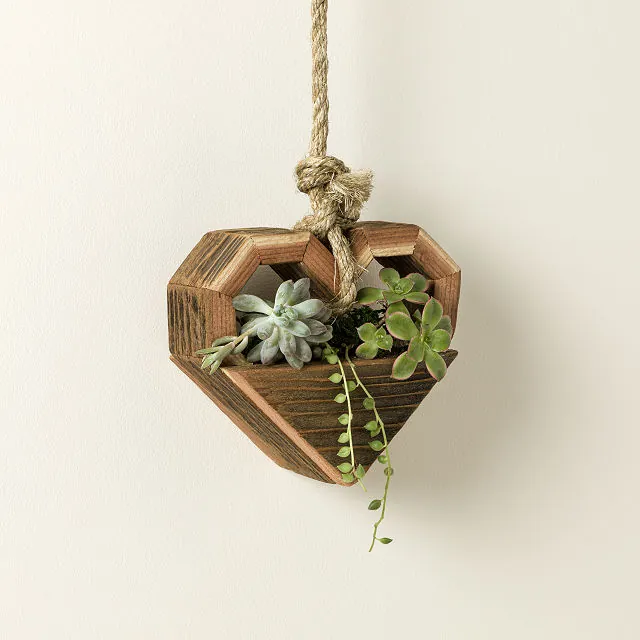 This one is for your plant-obsessed girlfriend. This heart-shaped hanging planter is absolutely adorable and it comes with a few small succulents, so she can put it to use right away. She'll also get a plant care guide, but if you think loving her is easy, growing succulents is even easier. Anniversary gifts for your girlfriend that relate to her hobbies show just how much you know her and support her interests—even if it turns her home into a jungle.
23. Custom Paint-by-Number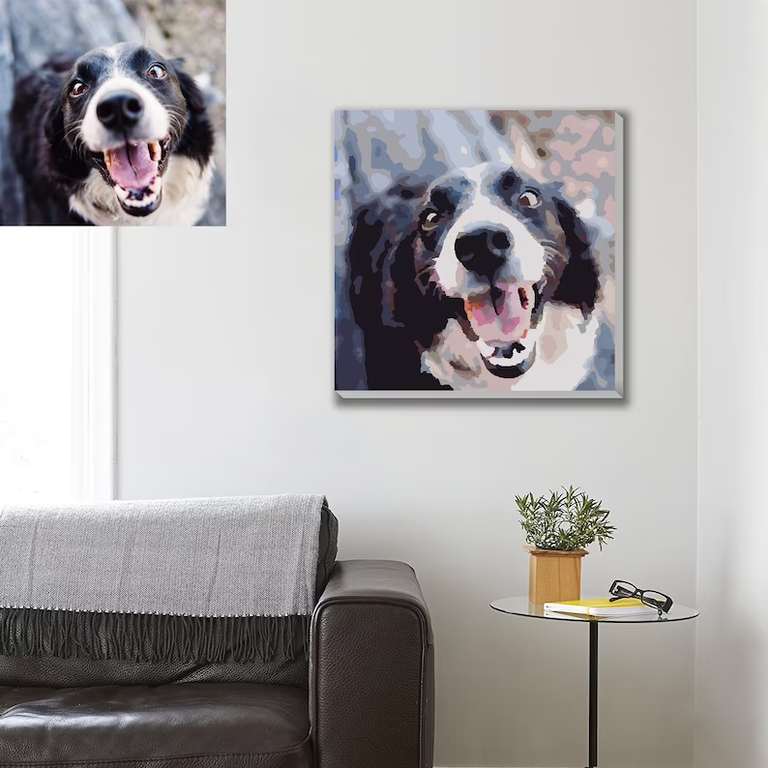 If she doesn't shy away from a little DIY, a custom paint-by-number is a cute anniversary gift for your girlfriend. Upload your favorite photo together—or a picture of her furry friend or a special scenery—then the Etsy seller will transform it into a paint-by-number. She'll get the canvas and wooden frame, plus her specific paint palette and some brushes to create a masterpiece. Pro tip: Don't choose an image that's too complicated. A year after receiving this gift myself, I'm still painting evergreen trees.
24. Personalized Reading Valet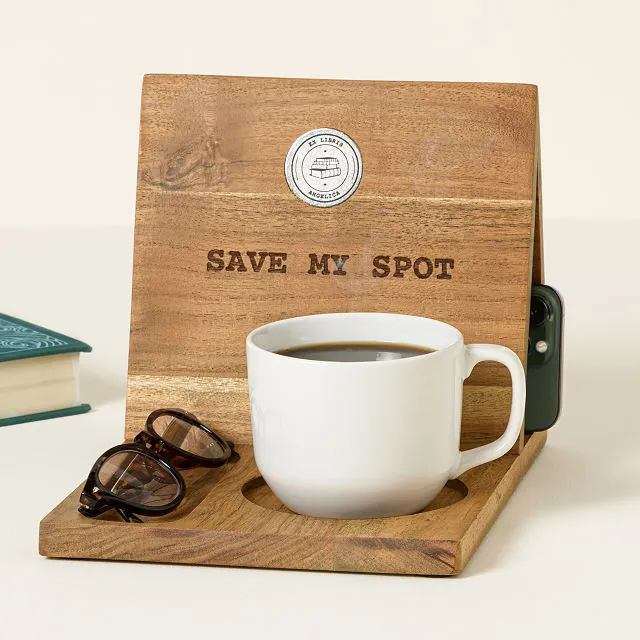 This one's for a reader. The wooden valet holds her place in a book—without cracking the spine (very important)—as well as has a dedicated spot for her beverage, phone and glasses. Best of all, though, it's stamped with a "bookplate" personalized with her name and a decorative icon like a monogrammed book or stack of books.
25. Conversation Deck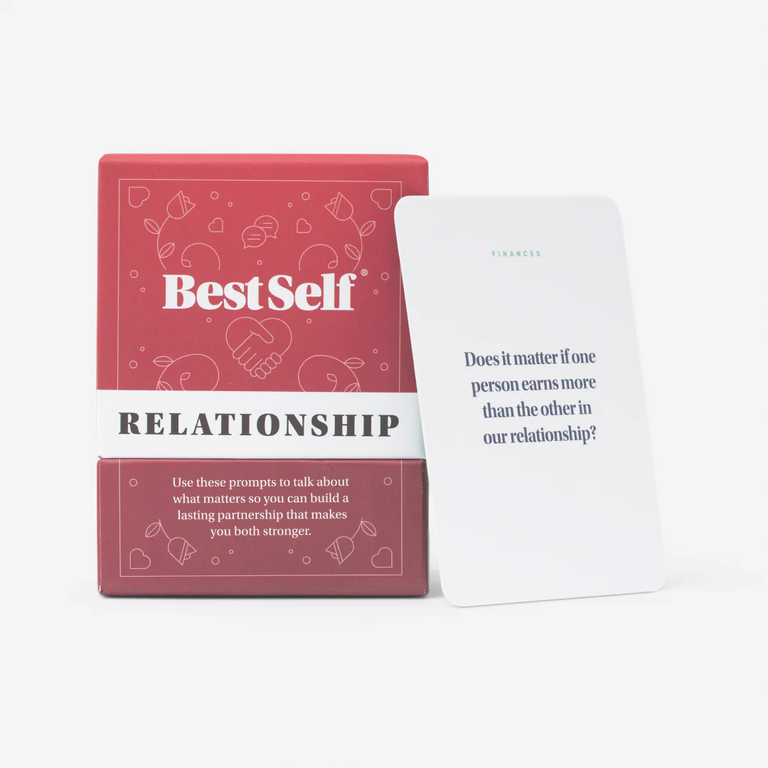 "You gotta dig a little deeper…" Whether you're celebrating three months with your girlfriend or three years, there's always more to learn about each other. This conversation deck is filled with 150 prompts to help you build a stronger connection. You'll talk about finances and work as well as personal goals and your relationship values. No more eating in silence before you flip on the TV.
26. Hunt A Killer Mystery Game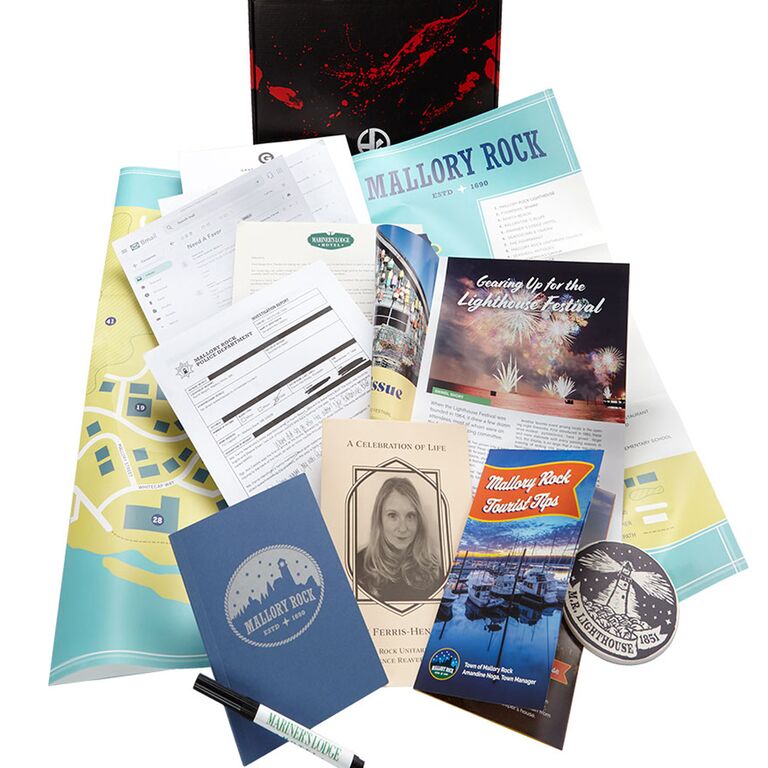 Speaking of things to do on date night, here's a fun gift for a true-crime fanatic: Hunt A Killer's murder mystery boxes. This unique subscription game unfolds over the course of six months—with new clues delivered each month. She'll be fully immersed as soon as she starts (and likely will pull you in to help her catch the killer).
27. Custom Beaded Bracelet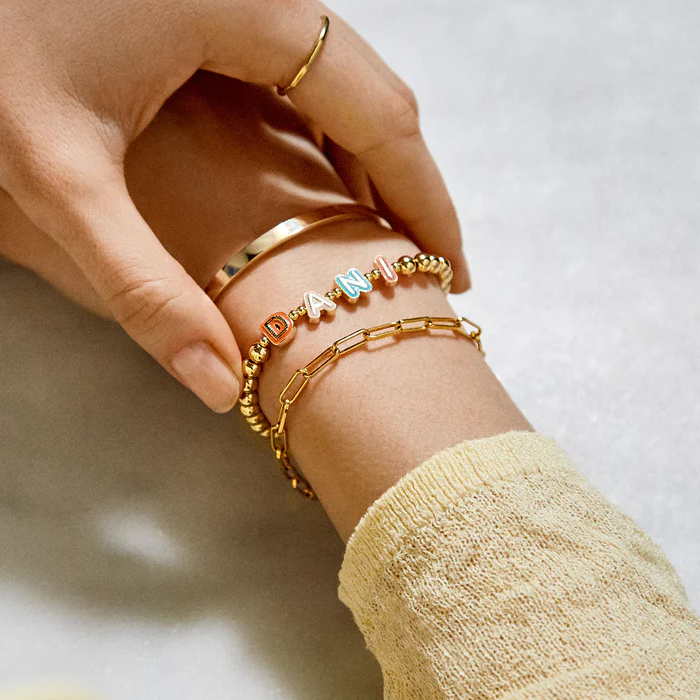 It's giving Era's Tour friendship bracelets—except she definitely won't want to trade this one. If your girlfriend loves to accessorize, this custom bracelet oozes personality. Add both of your initials, your anniversary date or a special saying (up to 12 characters long) in glossy rainbow colors. She'll want to wear this trendy piece every day.
28. A Sensual Perfume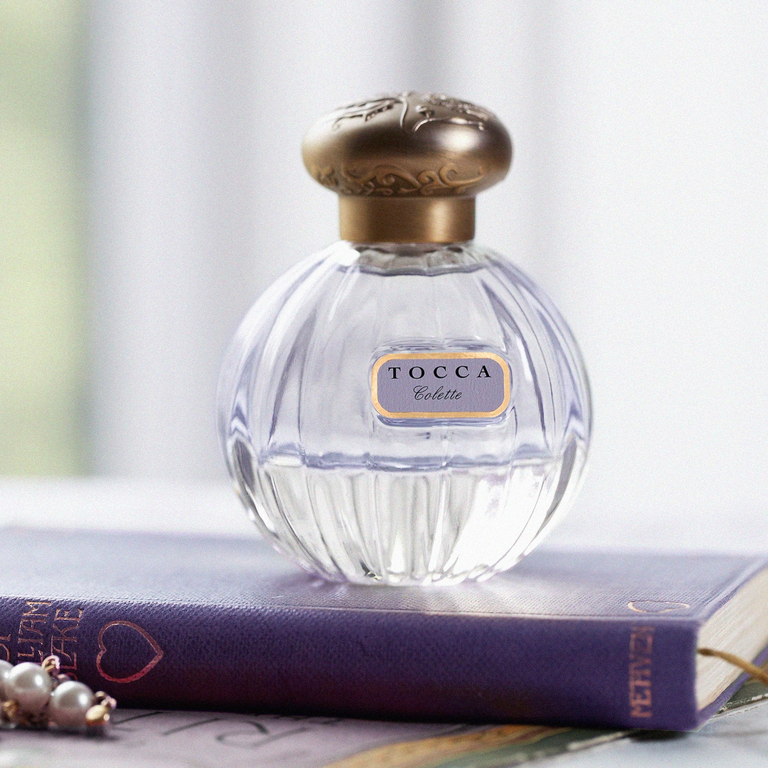 To be honest, my S.O.'s mother got this perfume for me, but I love it nonetheless and your girlfriend will too. Not only is the bottle très chic but it's a sensual blend of bergamot, violet, spicy pink peppercorn and warm sandalwood—Mmm, ahh! Tocca has other fragrances to browse to find a signature scent for your girlfriend.
29. Unplugged Cabin Getaway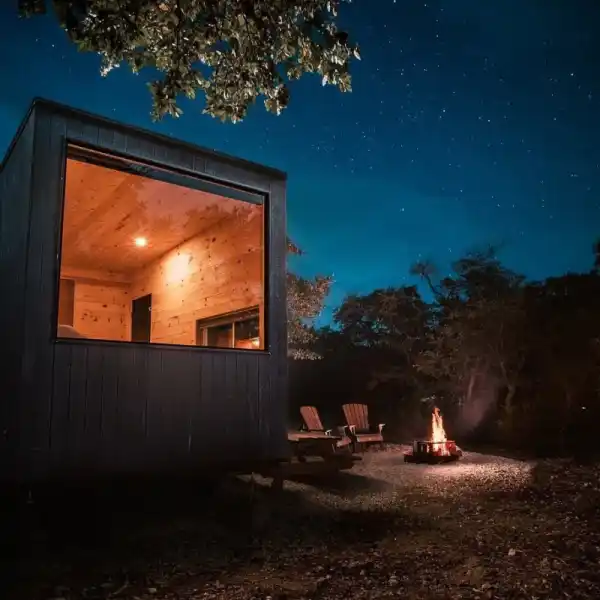 Surprise! This first-year anniversary gift for your girlfriend will take you both on a relaxing nature retreat. Getaway offers cabin escapes nearby over a dozen major cities. All you have to do is choose the location, cabin size and dates, then Getaway will send you the exact address and take care of everything else. Each cabin has a cozy bed, a small kitchen, a bathroom and a cute outside area with a fire pit (hello s'mores!). She'll be so excited to unwind with you and enjoy the healing powers of the great outdoors.
30. Chic Leather Backpack
Is your girlfriend obsessed with Chip and Joanna Gaines? You can shop Magnolia Market—their iconic shops in Waco, Texas—online! The associated shop Tried + True is just the place to find great dating anniversary gifts for her. This sophisticated and environmentally friendly leather backpack is dubbed Joanna's favorite and it'll be your girlfriend's too. It's big enough to fit a 13" laptop with additional interior pockets to store her phone, keys or wallet. She'll love sporting it to coffee shops when she works remotely or packing it for an overnight at your place.
31. Fill-in-the-Blank Book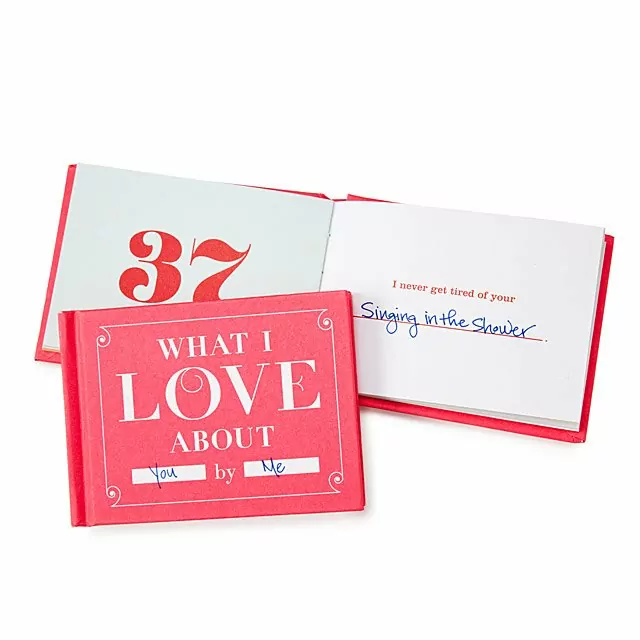 Whether you're stumped on a three-month anniversary gift for your girlfriend or want a little something to celebrate two years together, this fill-in-the-blank book will help you put all your feelings into words. Titled "What I Love About You by Me," it's filled with dozens of prompts about why you adore her. After all, every girl wants a love letter.
32. Embroidered Anniversary Sweater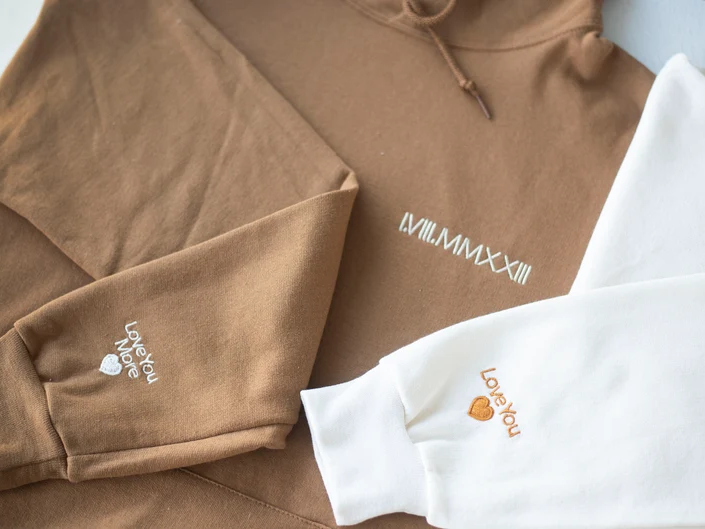 Matching couple outfits are back and in the coziest way possible. Gift your girlfriend a sweatshirt—we recommend buying it oversized—embroidered with your anniversary date for personal loungewear. You can even have the sleeve embroidered with your initials and a heart or a short saying like "I love you." Don't forget to grab one for yourself too!
33. Photo Collage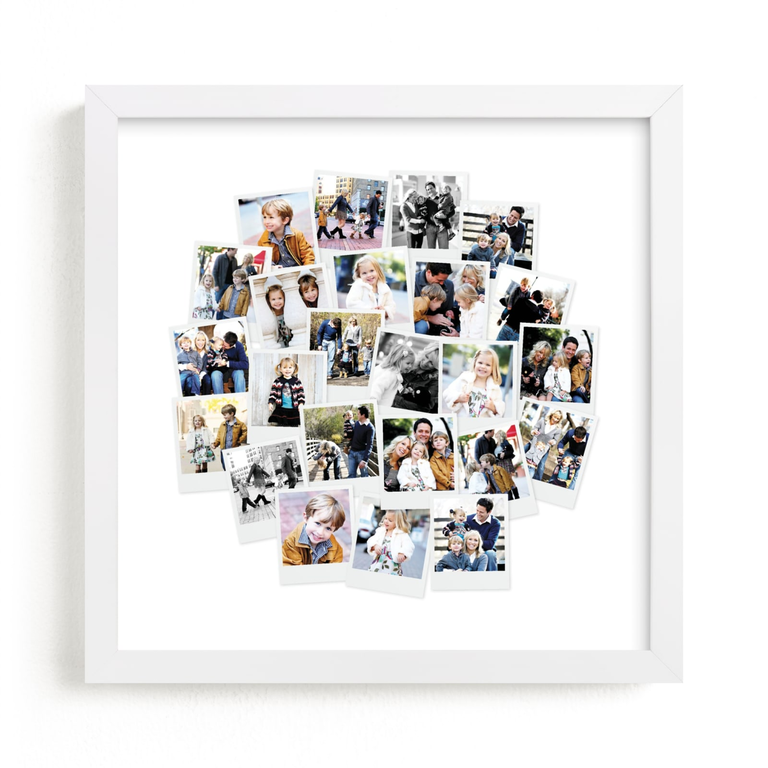 Sometimes the best anniversary gifts for your girlfriend are the most simple. Round up your favorite pictures together to turn them into a circular collage print on Minted. You can even get it framed.