26 of the Sweetest Anniversary Gifts for Your Girlfriend
Get her something she'll love, for the first anniversary and beyond.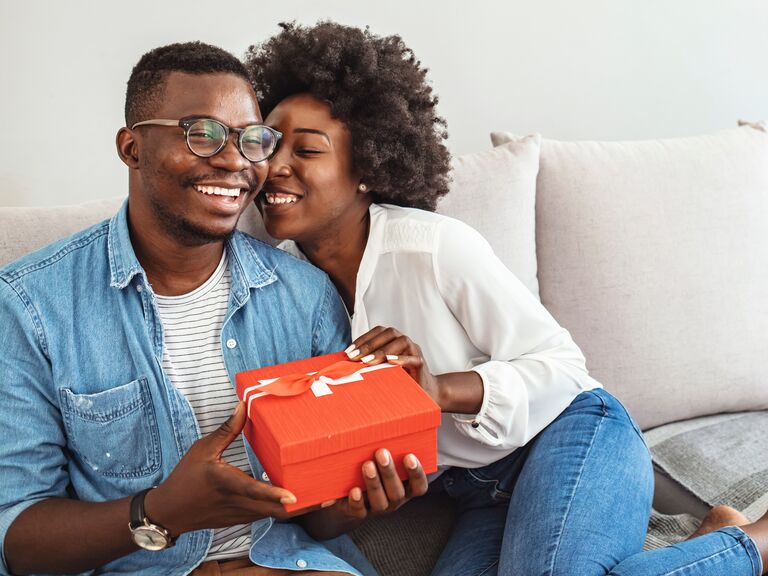 Dragana Gordic / Shutterstock
We have included third party products to help you navigate and enjoy life's biggest moments. Purchases made through links on this page may earn us a commission.
Maybe it's your first anniversary together, or maybe you've been together since freshman year, but it's totally normal to want to impress your girlfriend with a super-thoughtful anniversary gift. Unlike for wedding anniversaries, you don't have a theme to keep in mind. Instead, you can choose anything you know she'll love, whether it's a mug she'll use every day or something more sentimental. Whatever it is, you want it to express just how much you love her and all the joy she brings to your life. We've picked some seriously sweet and unique anniversary gifts for your girlfriend, to help you put a smile on her face. 

In this article:
Anniversary Gifts for Girlfriends by Year
If you want to pay tribute to a special anniversary, we've found the sweetest ideas to help you celebrate another year of love. These cute, custom presents symbolize specific milestones.
One-Year Anniversary Gift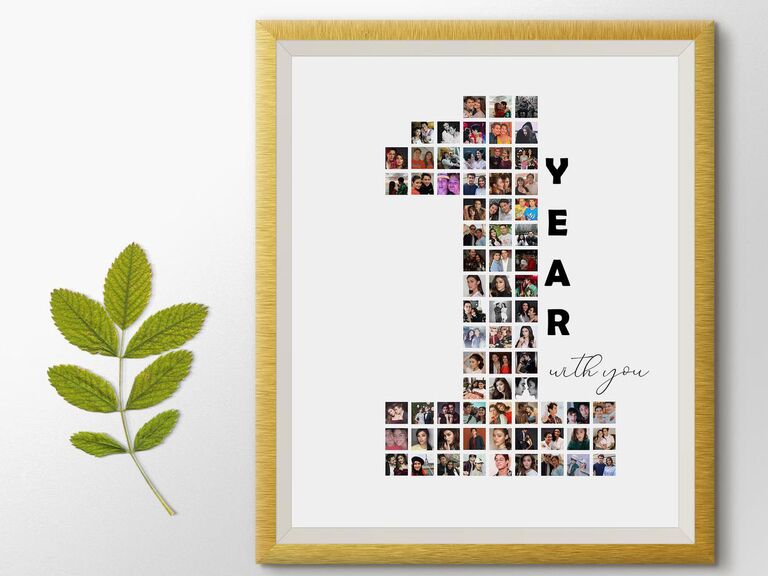 Searching for one-year anniversary gifts for your girlfriend? Honor your first anniversary together with a special memento. You can fill this collage (in its on-theme shape) with photos of your favorite moments together. Plus, it's a digital file that you print yourself, which is ideal if you're searching for a last-minute anniversary gift.
RaindropPRINTS custom 1st anniversary collage, $14, Etsy.com 
Two-Year Anniversary Gift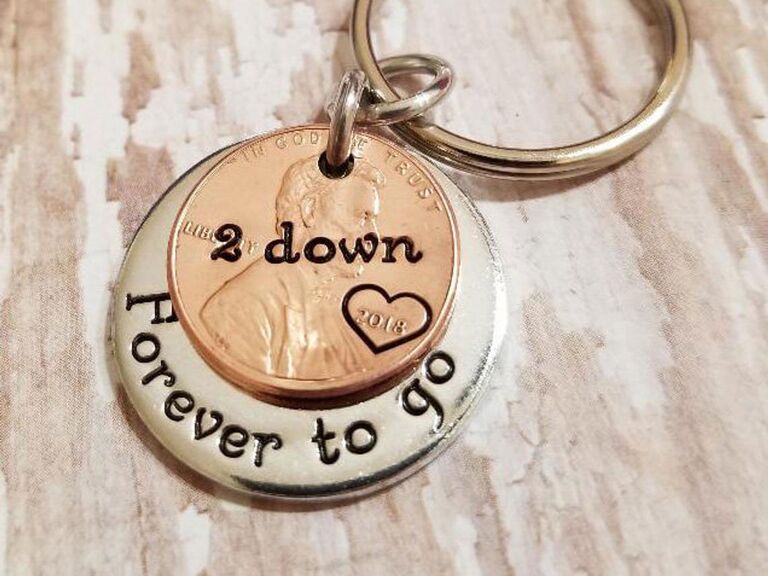 Give your girlfriend a reminder of your love she'll see every day with a customized key chain. This affordable two-year anniversary gift for girlfriends has the year you started your love story, along with a sweet "two down, forever to go" message.
Tucker's Trinkets & Treasures 2 Years Down and Forever To Go 2nd anniversary penny gift, from $20, Etsy.com 
Three-Year Anniversary Gift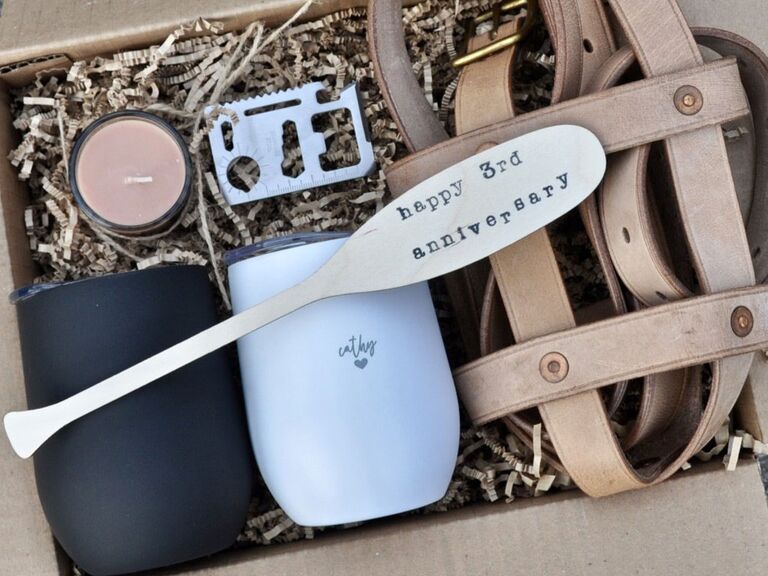 This three-year anniversary gift idea for girlfriends is basically a date night in a box, but with an edge. In it, she'll find a personalized stainless steel travel cup (plus one for you), a leather wine carrier and a hand-poured scented candle. There's also a wallet-sized multi-tool, which will come in handy if she likes to go camping or spend time outside. The cherry on top? The wooden keepsake that says "happy third anniversary."
Valley in the Pines third anniversary gift set, $88, Etsy.com  
Four-Year Anniversary Gift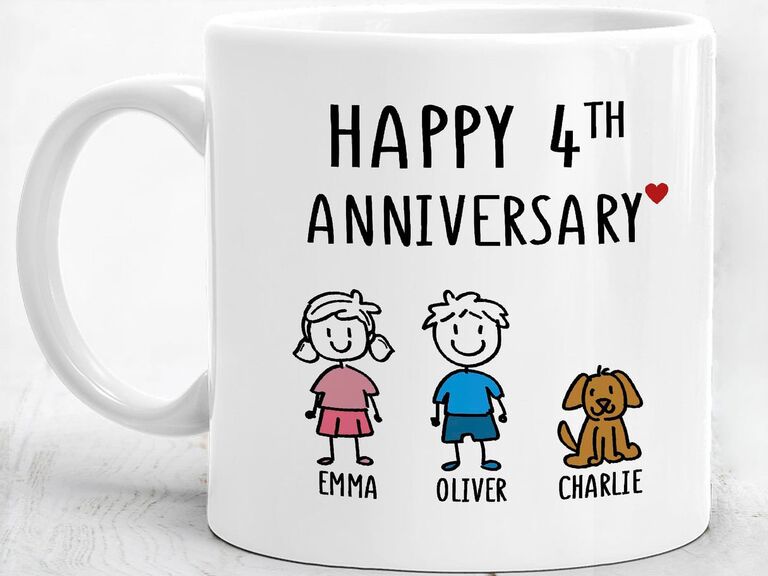 If you're searching for a four-year anniversary gift idea that your girlfriend will use all the time, look no further. This affordable ceramic mug can be customized to show a cartoon version of you and your girlfriend, along with any furry friends you might have. The anniversary well-wishes will make it something she'll treasure forever.
Whizk personalized 4th anniversary gift mug, from $22, Etsy.com 
Five-Year Anniversary Gift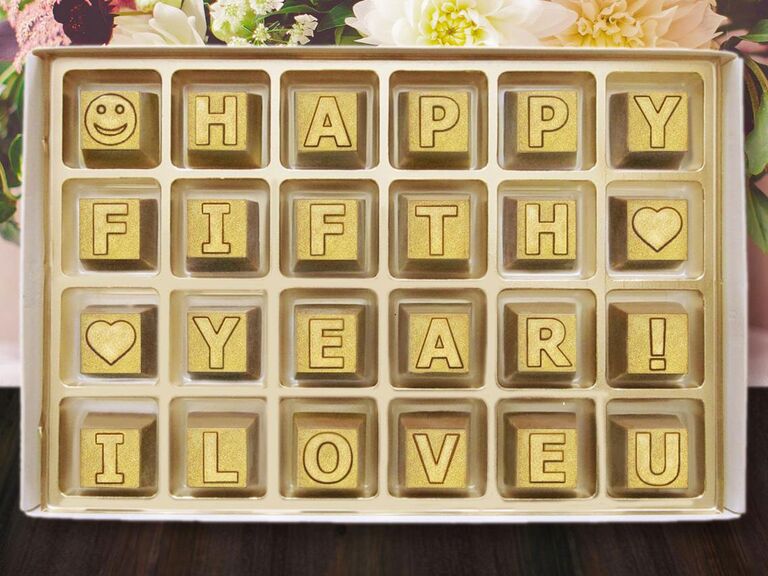 When in doubt, go for chocolates, especially if she has a sweet tooth. This yummy five-year anniversary gift for girlfriends comes with a celebratory message that she's sure to enjoy—if she can hold off on eating them for long enough.
What Candy Says Happy Fifth Year anniversary gift for girlfriend, $48, Etsy.com 
More Anniversary Gift Ideas for Girlfriends
There are so many choices when it comes to finding the best anniversary gifts for girlfriends, regardless of the year. No matter what you're celebrating, it's safe to say we've found the answer to your question, "What do I get my girlfriend for our anniversary?"
A Personalized Photo Magnet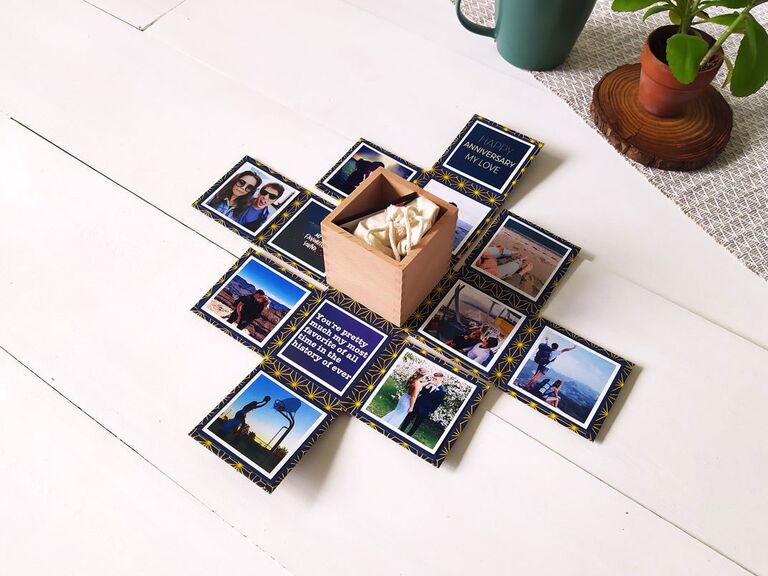 The combination of sentimental photos with a cute gift box makes this fun magnet a really good anniversary gift for girlfriends. She'll unwrap the box to find photos of you together from all the good times you've shared, along with some sweet messages. It's up to you to decide what to put in the box, but the magnetic packaging is something that'll take pride of place on the fridge.
LovinBox dating anniversary gift for girlfriend, from $40, Etsy.com
A Clever Vase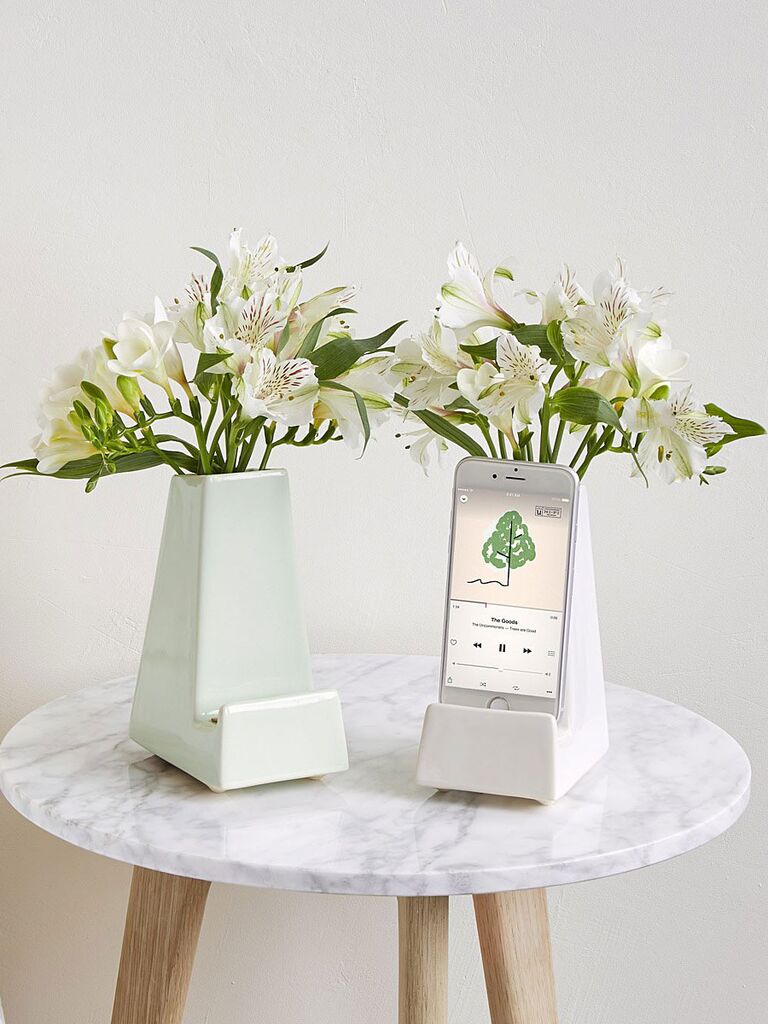 Help her dress up her bedside table. This stylish vase doesn't just look trendy, it's also super useful. Your girlfriend can prop up her phone, tablet or e-reader in the vase's groove, leaving her hands free to get nice and comfy. Want to go all out? Give her some fresh flowers to complete the vase. Speaking of flowers...
Heather and Myles Geyman bedside smartphone vase, $32, UncommonGoods.com  
A Colorful Bouquet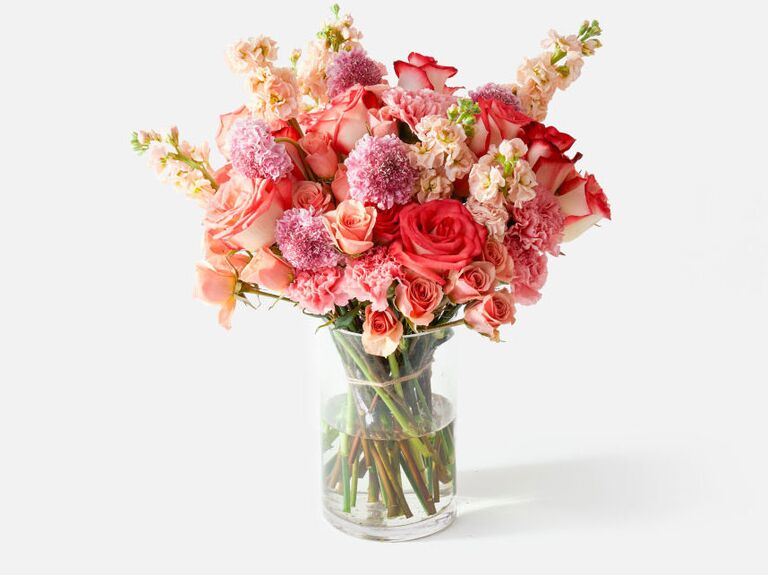 Flowers are such a classic choice when it comes to anniversary gifts, and if you can have flowers delivered right to her door? Game changer. We love this pick from UrbanStems for its lush colors that will brighten up any space in your girlfriend's home. 
UrbanStems Double The Pink Champagne, $102 (vase sold separately), UrbanStems.com
A Personalized Art Print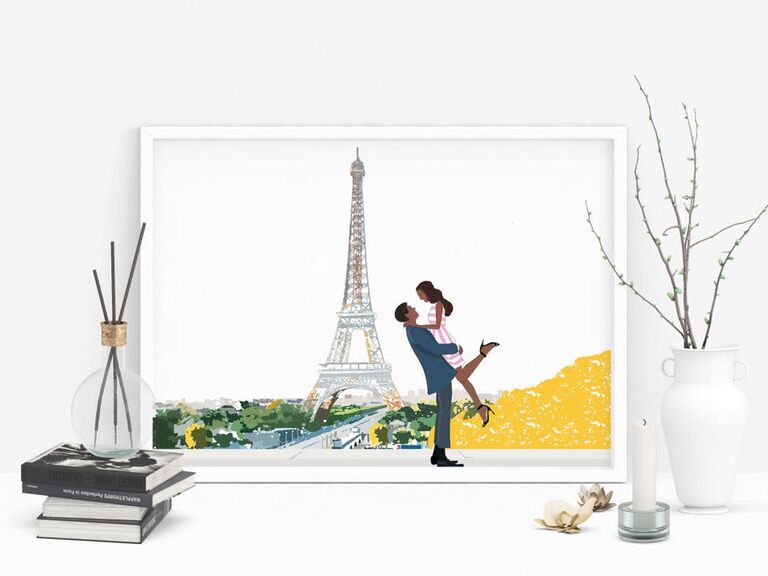 This print will evoke all sorts of romance, whether you've been to the City of Love together or not. The artist draws you and your girlfriend in front of the Eiffel Tower, and you can even add a personalized message to accompany the print—perfect if it's a long-distance gift.
Njeri Illustrated Love in Paris art print, from $30, Etsy.com
A Journal for Your Adventures
Any traveler worth their salt knows how fun it is to have a memento of their trips. That's where this handy journal comes in. Add your and your girlfriend's name to the cover, and fill out the pages together. Talk about a cute anniversary gift for her!
Journo Travel Goods couple's anniversary travel journal, $32, Etsy.com 
A Mini Photo Book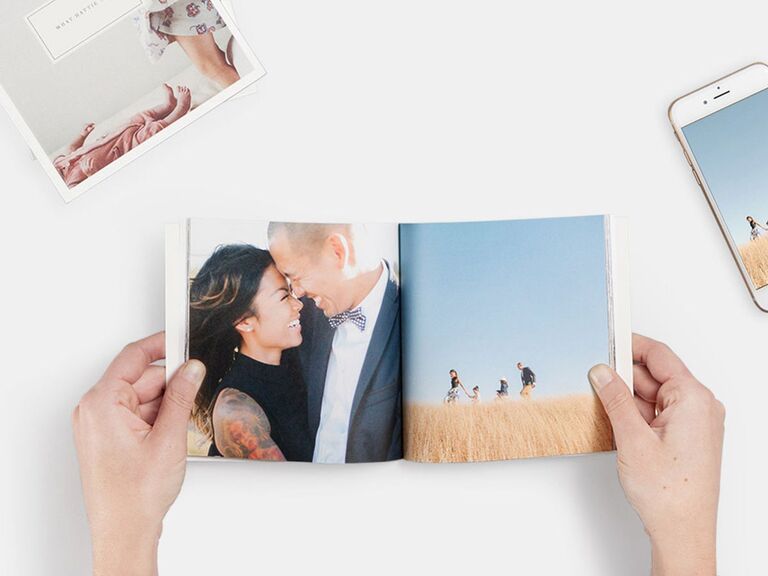 Get crafty with a slightly more DIY anniversary gift for your girlfriend. This photo book is made to work with Instagram photos, so you can add your girlfriend's favorite memories straight from the 'gram. It's such an easy-to-make gift, you could make it an anniversary tradition with your girlfriend.
Artifact Uprising Instagram-friendly photo book, from $15, ArtifactUprising.com 
A Print of Your Song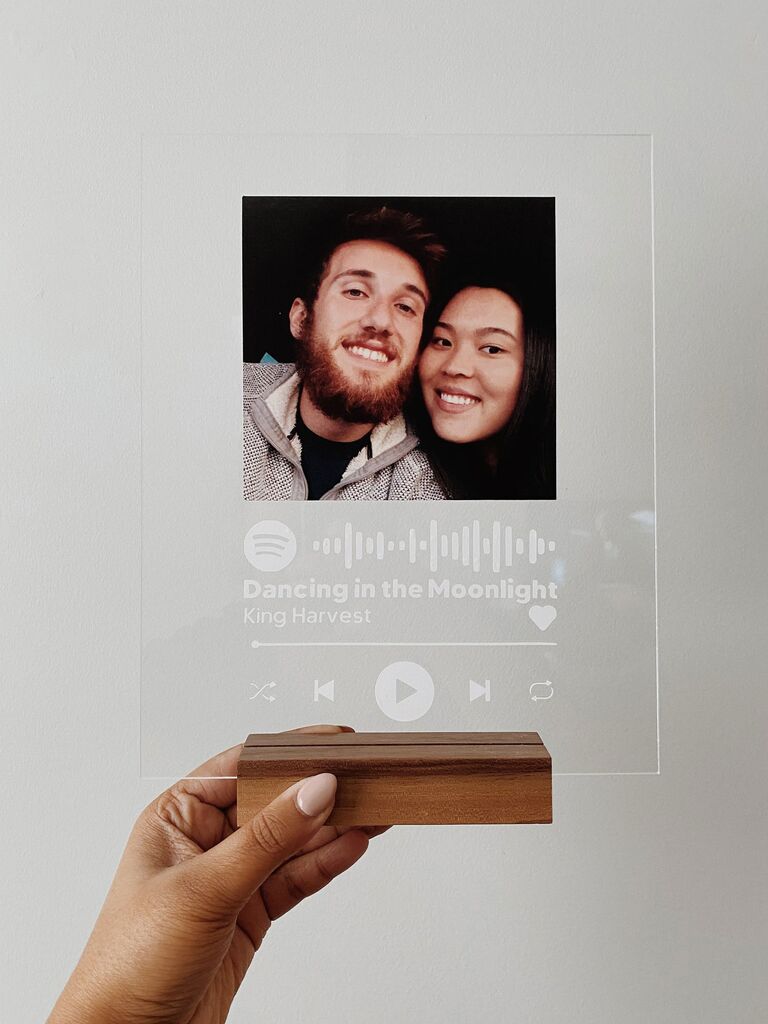 This anniversary gift idea for girlfriends is perfect for any couple with "a song." Add a photo of you together as the album cover, tell the seller the song title and they'll do the rest. The result? A totally unique anniversary gift that your girlfriend can scan to start playing your song instantly. It can even come with a wooden stand for easy display.
Prepped & Polished acrylic custom Spotify code with photo, from $26, Etsy.com
Digital Love Notes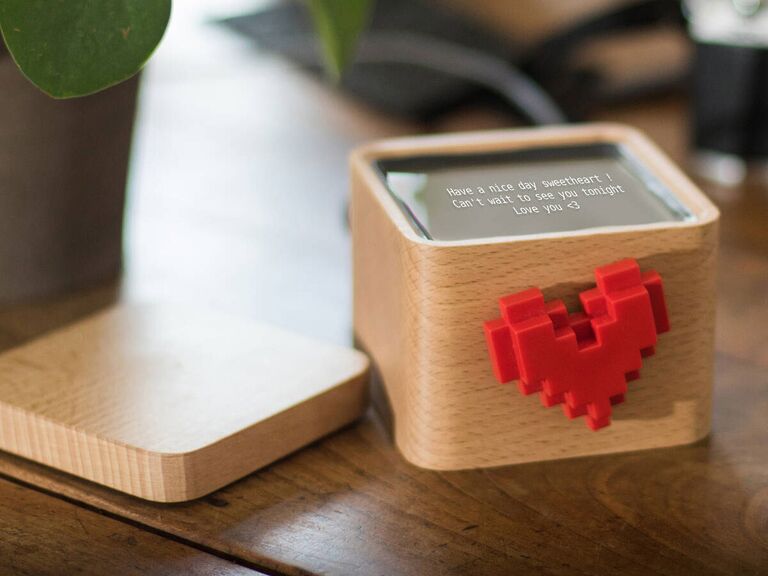 This gadget is an anniversary gift that keeps on giving. Using an app on your phone, send a message to this nifty little box. The heart will start to spin to let your girlfriend know there's a love note waiting for her. It works all over the world, so you can tell your girlfriend you love her no matter where you are.
Marie Poulle and Jean Gregoire Lovebox spinning heart messenger, from $100, UncommonGoods.com
A Year's Worth of Date Nights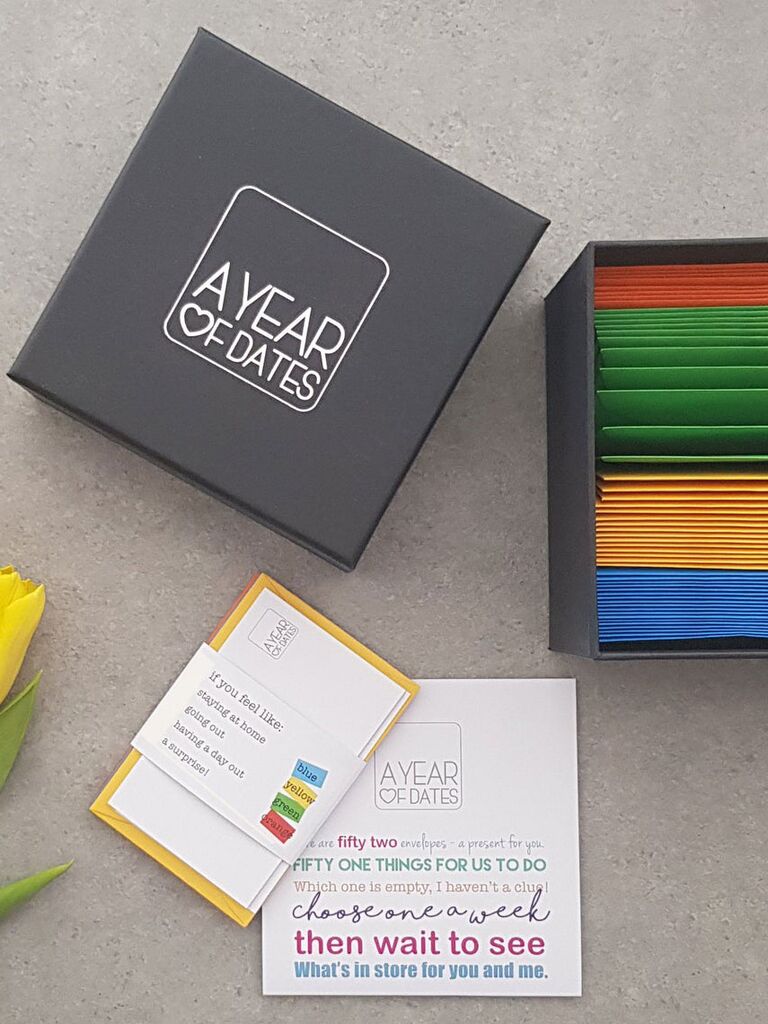 No more trying to decide if you should go for dinner or to the movies with this nifty anniversary gift for girlfriends. Once a week (or however often you want), pull a card from this box to see what your next date night will look like. It could be anything from Sunday brunch together, to taking a day trip out to the countryside. Most importantly, though, it'll make sure you always have time to yourselves.
A Year of Dates a box of date night cards, from $39, Etsy.com 
A Custom Star Map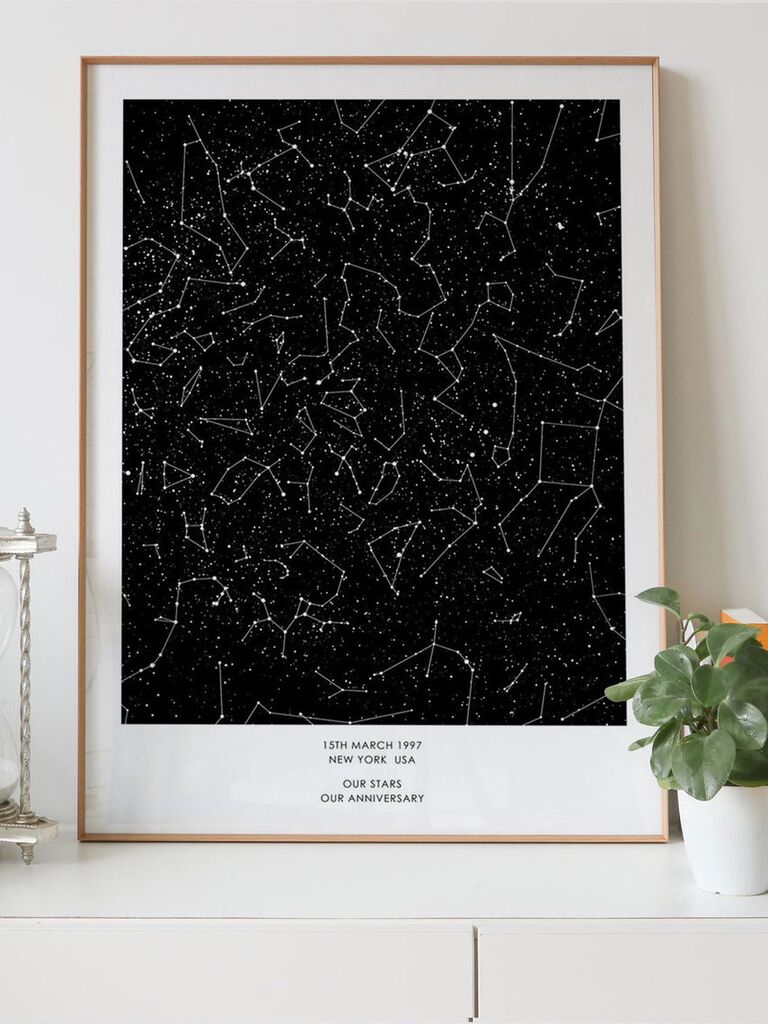 A gift of the night sky on the date you met is such a special anniversary gift for girlfriends. You can even choose to frame it and add a gift box, making it super straightforward. This thoughtful idea is bound to leave her starry-eyed.
23maps personalized star map by date print, from $9, Etsy.com 
A Comfy Robe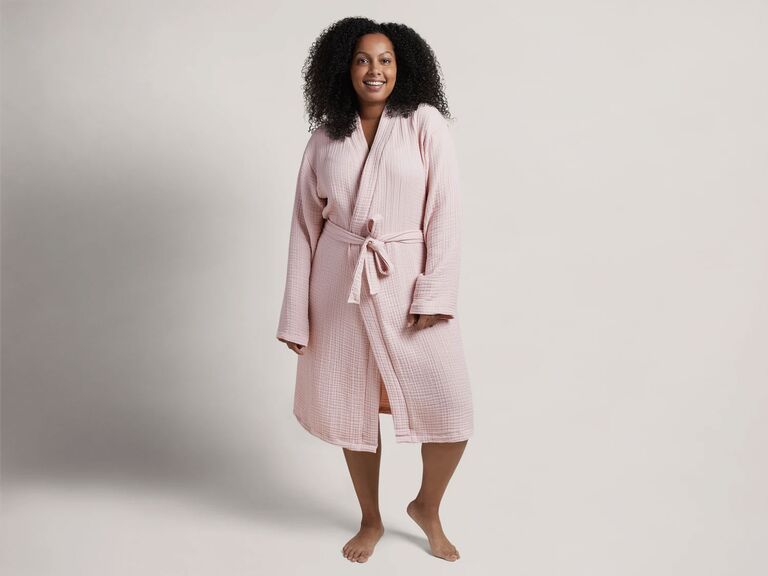 On the search for things to get your girlfriend for your anniversary that she'll use straight away? Her mornings and lazy days are about to get a whole lot cozier. Treat your girlfriend with an anniversary gift she won't want to take off by opting for a snuggly robe made from Turkish cotton. It's ideal for when she's taking some time for self-care.
Parachute Cloud cotton robe, $99, ParachuteHome.com 
A Funny Mug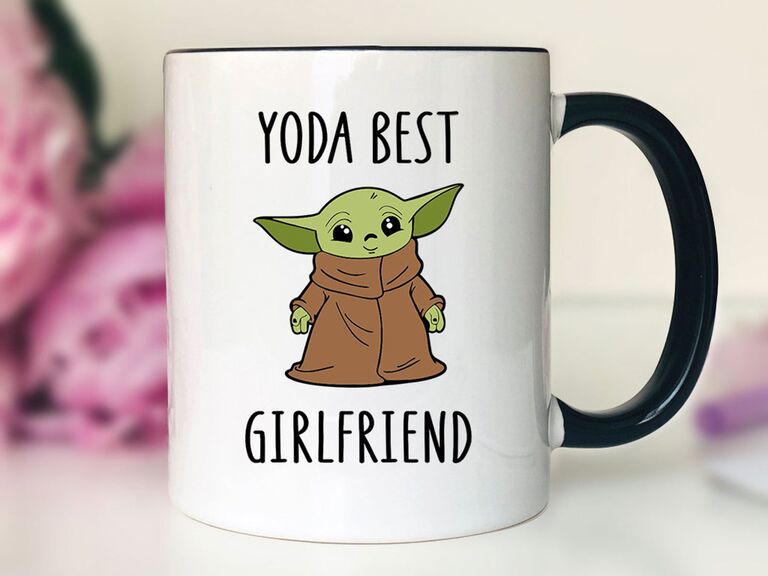 If she, like so many of us, is in love with Baby Yoda, then this clever mug (and its sweet message) will definitely make your girlfriend smile.
Family Tee Store Yoda Best Girlfriend mug, $22, Etsy.com
An Initial Necklace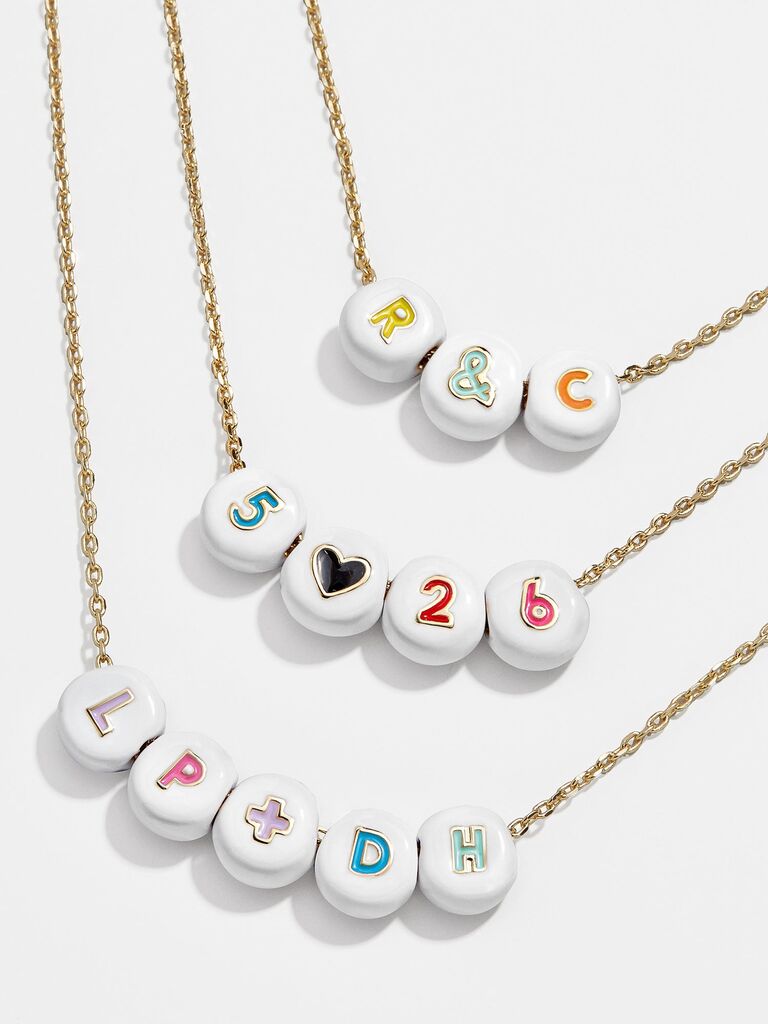 Does your girlfriend like to accessorize? Give her a cute anniversary gift that reflects that. Add both of your initials with a heart in between or your anniversary. Either way, she'll want to wear this necklace every day.
BaubleBar custom multi Pisa necklace, $36, BaubleBar.com 
A Pretty Makeup Bag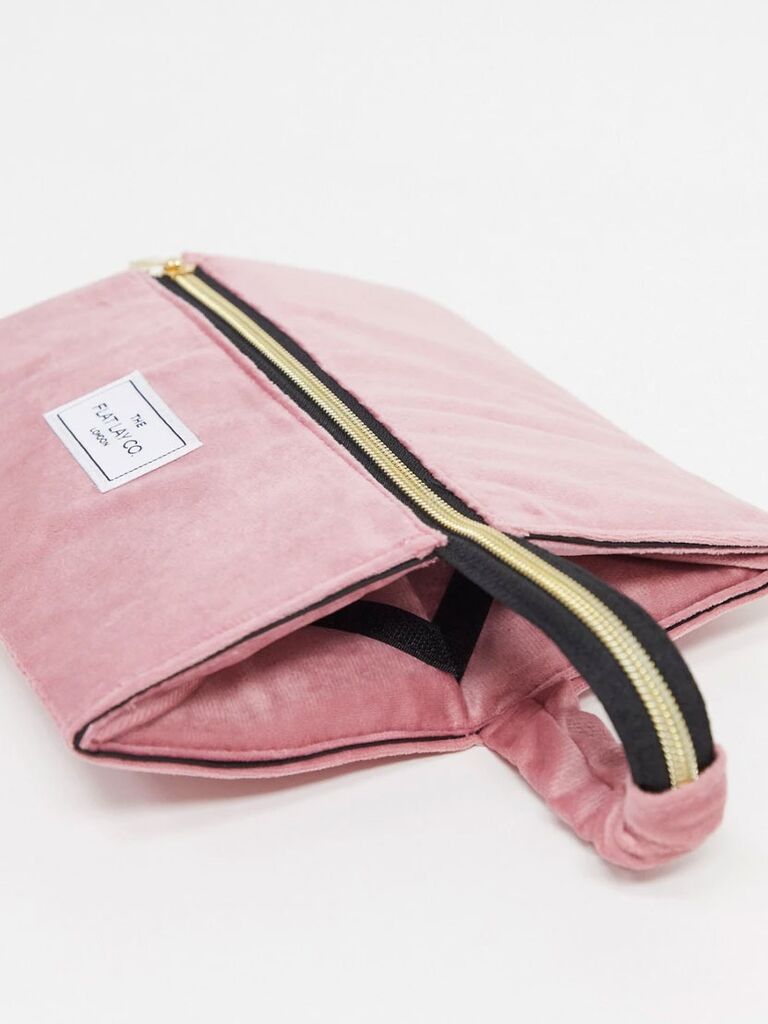 This makeup bag is made with people who have lots of makeup in mind, because it lets them see everything they have without needing a fancy dressing table. All your girlfriend has to do is set it on a flat surface, whether it's her bed or the floor, and she'll be able to find everything she needs. If you really want to blow her socks off, though, add some of her favorite essentials in  before you give it to her.
The Flat Lay Co. x ASOS open flat makeup box in Pink Velvet, $28, ASOS.com 
A Heart-Shaped Ring Dish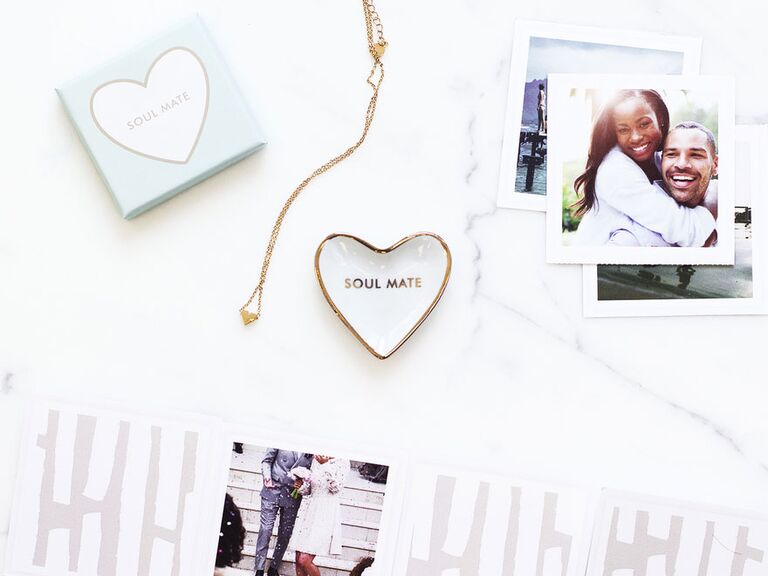 Even the packaging of this anniversary gift for girlfriends is a treat. You get to personalize it with photos and a message telling her how much you love and appreciate her. The dainty trinket dish, with its "soul mate" print, is just the cherry on top.
Fringe Studio soulmate tiny heart tray with personalized gift packaging, $17, Greetabl.com  
A Miniature Photo Album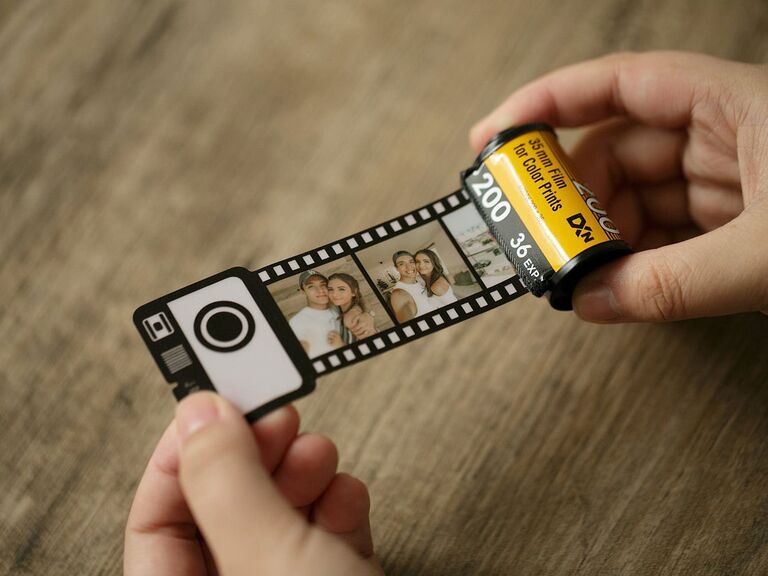 Photo gifts are always winners in our books, and when they have a retro flair like this option? Count us in. Your favorite photos together (you can pick up to 30) can be printed in full color onto a roll of film. To see them, your girlfriend pulls on a camera-shaped tab and she can watch your memories unfurl. Cool, right?
Spedear Gifts mini film roll anniversary photo album, from $29, Etsy.com
A Personalized Travel Cup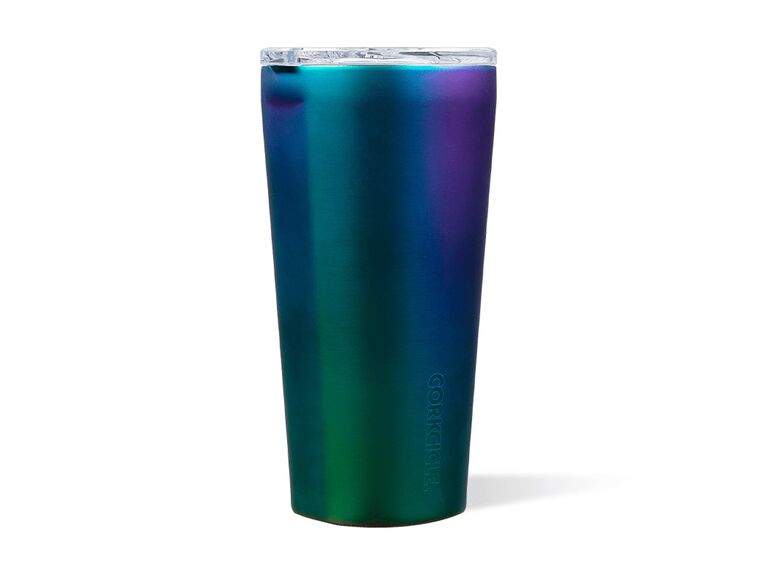 The shapeshifting colors of this travel tumbler are pretty enough, but you're also able to personalize it. Add your girlfriend's monogram, or maybe a small heart for a subtle nod to your anniversary. This is another anniversary gift she'll get so much use out of.
Corkcicle personalized dragonfly tumbler, $30, Corkcicle.com 
A Custom Blanket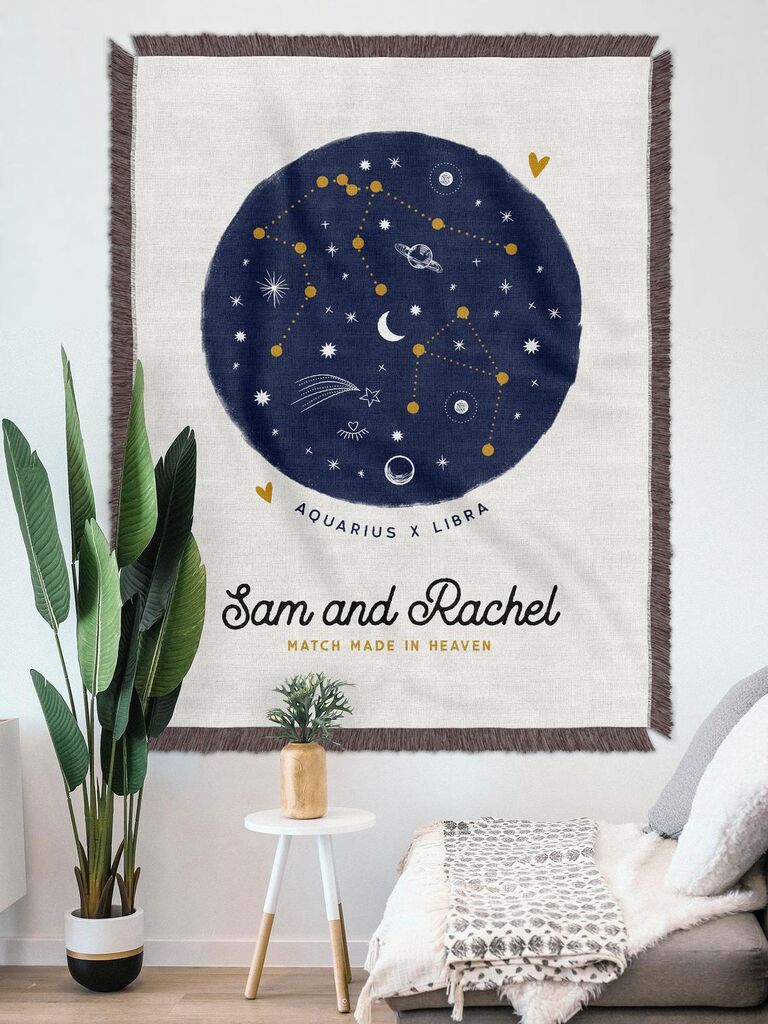 Cozy blankets are great gifts, especially if they're adorably personalized like this anniversary gift idea. Your girlfriend will love snuggling up under it, or hanging it on her wall so she can appreciate the zodiac design. The seller incorporates both of your zodiac constellations, making this a really creative anniversary gift for girlfriends.
Relatable Basic custom couple horoscope woven throw blanket, from $89, Etsy.com 
A Personalized Message from a Celebrity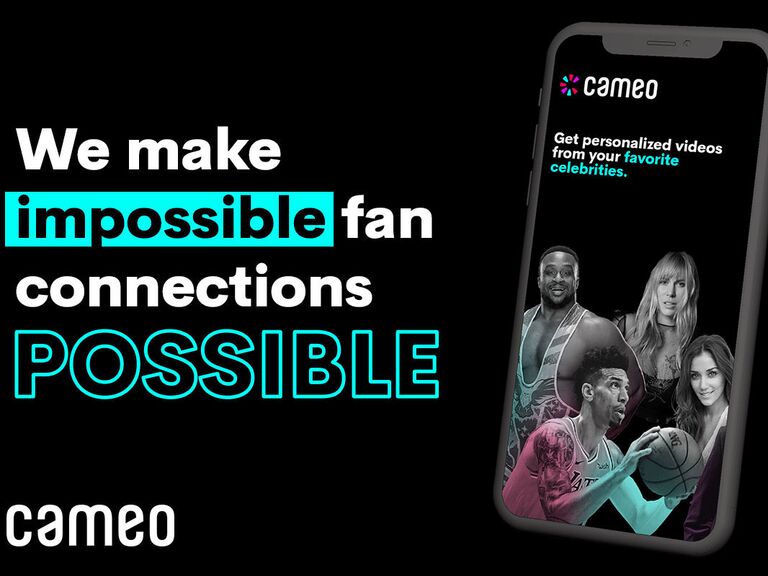 Now for a super-cool anniversary gift for girlfriends. This gift idea lets you request personalized video messages from celebrities, whether it's the rapper Snoop Dogg or Draco Malfoy himself, Tom Felton. It's an anniversary gift idea she'll remember for a very long time.
Cameo personalized video message from a celebrity, price varies, Cameo.com 
A Monogrammed Pouch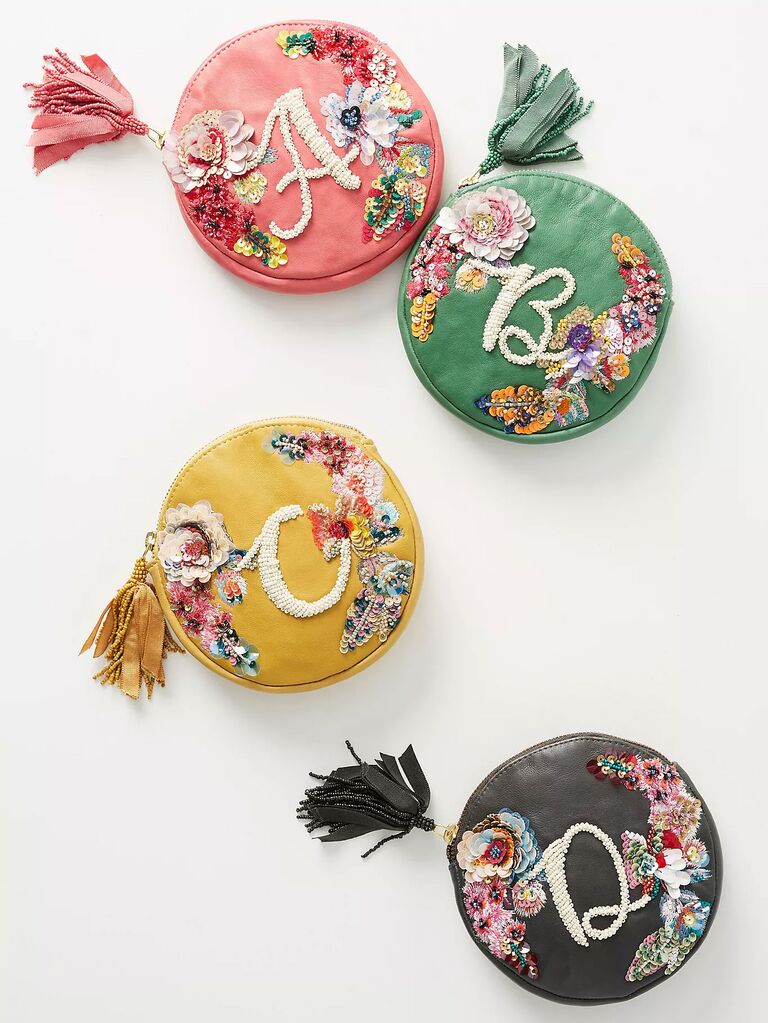 Do you want to get an anniversary gift for your girlfriend that'll make her life easier? This chic monogram pouch will help her keep all of her essentials together, and is perfect to keep in her bag or car.
Anthropologie embellished leather monogram pouch, $42, Anthropologie.com 
Matching Bracelets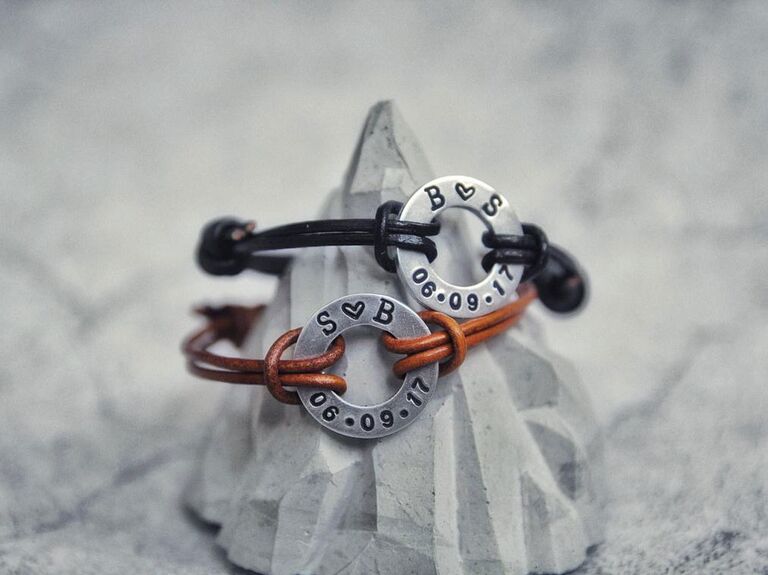 Whether it's a one-month anniversary or you've been dating for ten years, personalized gifts will always be a hit. These understated leather bracelets are subtle enough to wear every day, but there's still plenty of room for some sentimentality. You can add your initials with a heart in between, and the date your relationship began.
Alice and Bo matching leather bracelets with custom date and initials, $20 for a set of 2, Etsy.com