Barcelona Bridal Fashion Week is Back—Here's How to Watch
Get ready for some *major* wedding dress inspo.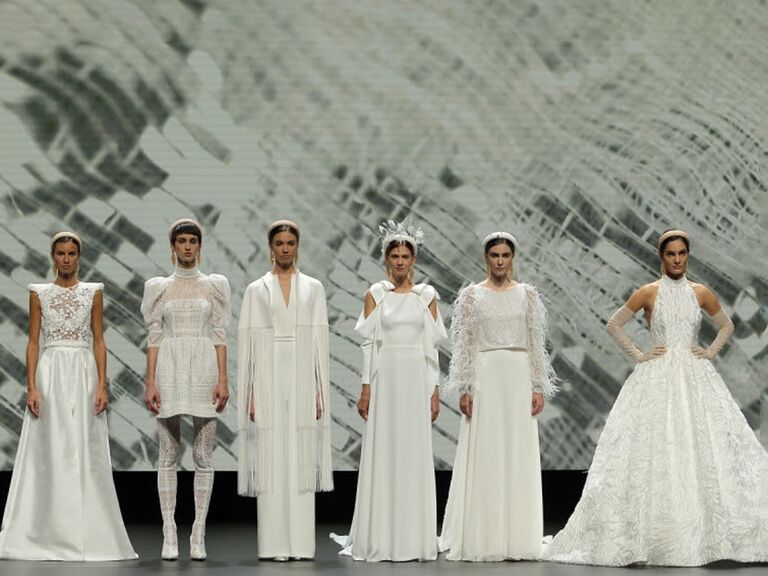 Courtesy of Barcelona Bridal Fashion Week
Barcelona Bridal Fashion Week, one of the biggest events for international wedding dress designers, is back and better than ever. Called BBFW by wedding fashion insiders, the comprehensive showcase will take place April 20th to 24th, and will highlight collections by 33 bridal designers from all over the world. Wondering how to watch? We've got you covered. Read on to learn how to tune into Barcelona Bridal Fashion Week and who is showing their 2023 collections —plus what makes this year's showcase extra special.
How to Watch Barcelona Bridal Fashion Week
If you can't hop on a flight to Barcelona to take in the beaches, tapas and stunning fashion shows the city has to offer—don't fret. Thanks to a digital platform, you can still see all of the gorgeous wedding dresses, menswear and eveningwear of Barcelona Bridal Fashion Week in real time—or pretty close to it. To get access to runway shows and collection images, tune into the BBFW digital experience, found here.
Wedding Dress Designers Showing At Barcelona Bridal Fashion Week
Similar to New York Bridal Fashion Week, there is no shortage of designers—all with varying styles, price ranges and points of view—present at Barcelona Bridal Fashion Week. Below, we've got the deets on the Spanish, American and other international wedding dress designers both making their debut and returning to the runways of BBFW.
It goes without saying that established Spanish brands such as Atelier Pronovias, Rosa Clará, Jesús Peiró, Yolancris, Sophie et Voilà, Isabel Sanchis, Marco & María, and Ramón Sanjurjo will be present at Barcelona Bridal Fashion week—along with some brand new names. In addition to the new Nicole Milano collection, the Pronovias Group will present the Marchesa for Pronovias collection—a collaboration with the high-end American brand—for the first time ever.
Among other brands making their debut on the BBFW runways will be Italian designer Peter Langner (who will present his 2023 collection only in a digital format), Ukraine's Katy Corso, South Korea's Vestal, Poland's Agnieska Swialty and Modeca from the Netherlands. They are joined by returning brands such as Marylise & Rembo Styling from Belgium, Demetrios from the United States, Julia Kontogruni from Bulgaria, Carlo Pignatelli from Italy (presenting a collection for grooms) and Cymbeline from France.
The BBFW fashion show will also host the "New Talents" showcase, featuring creations by up-and-coming wedding dress designers like Olga Macià, Lorena Panea, Poesie Sposa and Simone Marulli, among other designers who will present for the first time on the BBFW runway, such as Andrea Lalanza, Mireia Balaguer and the Italian brand More.
In other big bridal fashion news, Viktor&Rolf Mariage, the wedding dress collection of the avant-garde luxury fashion house founded in 1993 by Dutch designers Viktor Horsting and Rolf Snoeren, will star in the Barcelona Bridal Night, the show's gala evening held on April 20th. It will be the famous design duo's first runway show highlighting their brand, and will exhibit creations from their Spring/Summer 2023 collection, along with a selection of iconic haute couture pieces and gowns from their Mariage line.