A Flawless Face for Every Skin Tone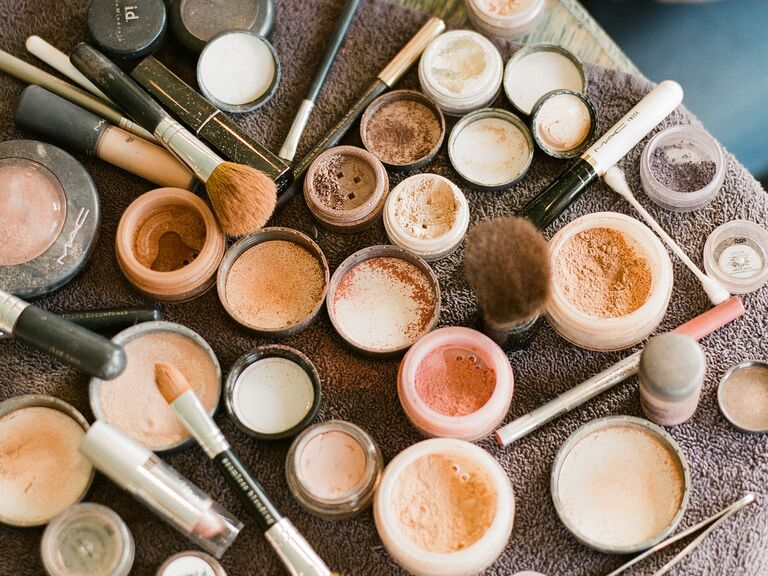 Pure 7 Studios
Let's face it -- 99% of us don't have perfect complexions, and with the anxiousness surrounding a wedding, looking your best can be a challenge. Through the wonder of makeup, however, you can easily achieve a radiant, flawless face for your wedding day. Whether you want to go natural or glam, classic or modern, say "hello" to the best bridal look for your skin tone with these easy color tips.
A Good Foundation
The Perfect Shade
Finding the right color depends on your skin type, condition, and color. If you're blessed with flawless skin, or used to going au natural, a light, tinted moisturizer might provide all the coverage you need (and will give your blush and other products a good base to adhere to). If you just need to even out your skin tones, a light- to medium-coverage foundation will work well, or try a heavier foundation if you want additional coverage. Be sure to take your skin type in to consideration, too -- if you're on the oily side, use an oil-free foundation, or stay with moisturizing foundation if your skin is dry.
To find the right shade, start by picking a shade that most closely matches your skin tone. If you're in between shades, try mixing two colors until you find the shade that works for you. Yellow-based foundations work best on many skin types, because they neutralize any pink or red undertones in your skin. Avoid pink-based foundations, which often end up looking too fake (and actually make your skin appear older). Women with darker complexions want to avoid ashiness, the result of foundation being too light or having too many pink or blue undertones.

To Apply: Using a dry, synthetic brush, apply a little foundation to your cheek or jaw line (triangle sponges can absorb the moisture in your foundation and make it hard to apply, leaving only the pigment behind). A synthetic brush will let you easily apply your foundation (if you have dry skin, spray your brush with water for easier application). You'll want to test the color in natural light, so take a compact mirror and head outdoors. If it blends, looks natural, and doesn't leave an obvious line between your face and neck, you've found the perfect shade.

Concealer and Powder: You'll also want to choose a concealer and complementary loose and pressed powder to go with the foundation. Choose a gold-based concealer color that matches your skin shade (the gold will counteract the blue of under-eye circles). Use the concealer to combat trouble spots (under the eyes, around the nose) and the powder to help set the foundation and prevent oil breakthroughs on the big day. Use the loose powder when you're doing your makeup, and take the compact of pressed powder with you to retouch during the day or for photos as needed. Depending on your skin type and condition, you may only need to powder your T-zone to keep oil at bay. Also, powdering only the T-zone lets the natural sheen of your skin show through on your cheeks and cheekbone.
The Eyes Have It
The Color Perfect -- The Right Eye Shadow For You
When your husband-to-be looks into your eyes on your wedding day, you want them to be luminescent. That starts with picking the right hues for your eye color, skin type, and the look you want to achieve. For a classic, photo-perfect look, we suggest neutral earth tones like taupes, beiges, grays, and even pale pinks. Generally, matching your eye shadow to your eye color doesn't work -- it makes your eyes disappear. Instead opt for shades that highlight and make your eyes pop. If you want to use bright, bold colors, by all means go for it, but remember to blend really well. The key with all of your makeup is to have no obvious or harsh lines, so blend, blend, blend. Good brushes are essential!
Try the following guidelines for a natural, bridal look:
Blue Eyes
Browns, rosy pinks, and warm shades contrast the coolness of blue eyes, making them pop.
Brown Eyes
Greens and golds accentuate the colored flecks in brown eyes.
Green Eyes
Purples and warm browns provide a stunning contrast to green eyes.
Hazel Eyes
Deep greens and pale yellows pick up the varying flecks in hazel eyes.
Applying Shadow and Liner
To help set eye makeup, avoid creasing, and keep eye shadow color truer, use a silicone-based eye-shadow primer first. When applying shadow, it's important to take the size and shape of your eyes into consideration, as well as what look you want to achieve. If you have wide-set eyes, for example, apply the darker eye shadow color closest to your inner eye, drawing the focus to the center of the face and giving the illusion of less space between your features. If you have near-set eyes and would like to make them appear slightly wider set, apply your lighter shadow color closest to your inner eye. If your eyelids don't have a defined crease, use a darker shadow to create one and apply to the outer corner, just beneath the brow bone.
There are many options when it comes to eyeliners: For a natural, classic look, choose a shade the same or similar to your eye-shadow color, or grey, brown, or black. Avoid the cat-woman technique of extending too far beyond the corners of your eyes, as that results in a harsh look. Most importantly, don't forget to curl your lashes and coat with mascara! This will open your eyes and make a huge difference.
Blushing Bride
Blush and bronzers can help shape the face, and a soft sweeping with a large blush brush over the apples of the cheeks will give a nice glowing affect. Afterwards, lightly dust your cheeks with some loose powder to soften the edges.
Porcelain Skin
Pale pinks and apricots work best on very fair skin.
Fair Skin
Sandy pink tones add oomph without looking too "done."
Medium Skin
Brownish pinks work well on medium skin tones.
Dark/tan Skin
Deeper brown rose hues, plums and golden browns help accentuate the positive.
Deep Skin
Dark bronzes and rich reds look great on deep skin tones.
Mouthing Off
The right lipstick is the finishing touch to your beautiful bridal look -- find the right shade, and your lips will be irresistible from "You may now kiss the bride" through your first night as a new wife. Before you apply color, remember to first apply a lip conditioner, followed by a lip pencil that will help color stay in place and define a perfect pucker. Blot lips once, then hold one ply of tissue over color before brushing lightly with powder, When you reapplying lipstick, the powder base will help color last the entire night.
Lip Colors
Choosing a shade that works both on and off camera doesn't have to be hard. Choose a shade that resembles your natural lip color, like nudes, pinks and light browns. Darker lipstick shades like reds and plums photograph even darker, and can leave you looking unnatural and harsh. These general guidelines apply when selecting shades for kissable and photogenic lips:
Fair skin and light hair
oranges, pinks, purples
Fair skin and dark hair
browns and beiges
Dark skin and dark hair
reds and violets
Red hair
coral-reds, browns and bronzes
Finishing Touches
Follow the pros top tip: Play up the features you've been naturally blessed with like plump lips, darling freckles, great cheekbones, or scintillating eyes! Choose just one feature to highlight -- overdoing it on more than one can make you look… well, overdone. A great face will be heavier on the eyes and lighter on the lips, or lighter on the eyes and heavier on the lips. Pick your favorite feature and let that guide you to a flawless face!