25 Excellent Gifts From the Best Man to the Groom
There's more than just booze on this list.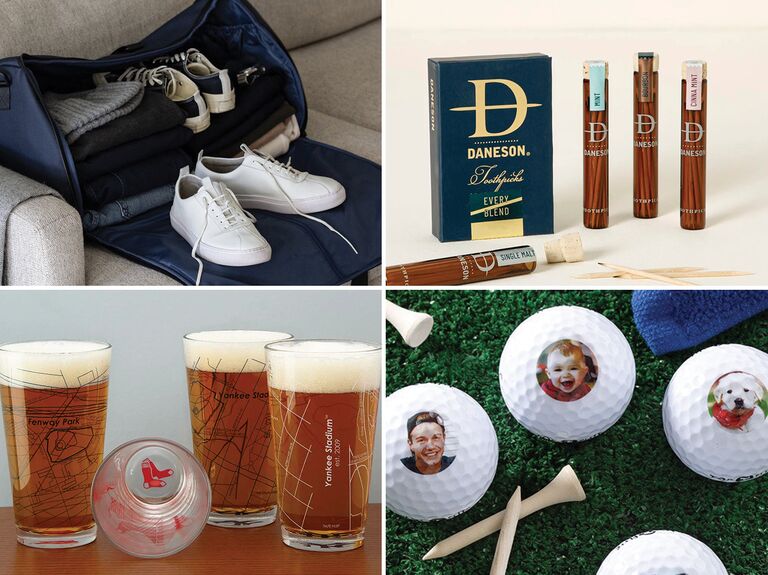 Photo: Halfday Travel, Uncommon Goods, Personalization Mall
We have included third party products to help you navigate and enjoy life's biggest moments. Purchases made through links on this page may earn us a commission.
So, you're looking for a best man gift to the groom and you're realizing the stereotype is true: Men are hard to shop for. What do you give your best friend as a wedding gift that shows how happy you are to be part of his special day and how much you appreciate his friendship? The answer could be on his wedding registry—or, if you're looking for something more sentimental (but not too mushy), it could be on our list of gift ideas for the groom from the best man below! Whether you're planning on giving a surprise bachelor party gift for the groom or want to make him feel extra special on the big day, one of these wedding gifts for a groom from his best man will say: "I love you, man."
1. Garment Duffle Bag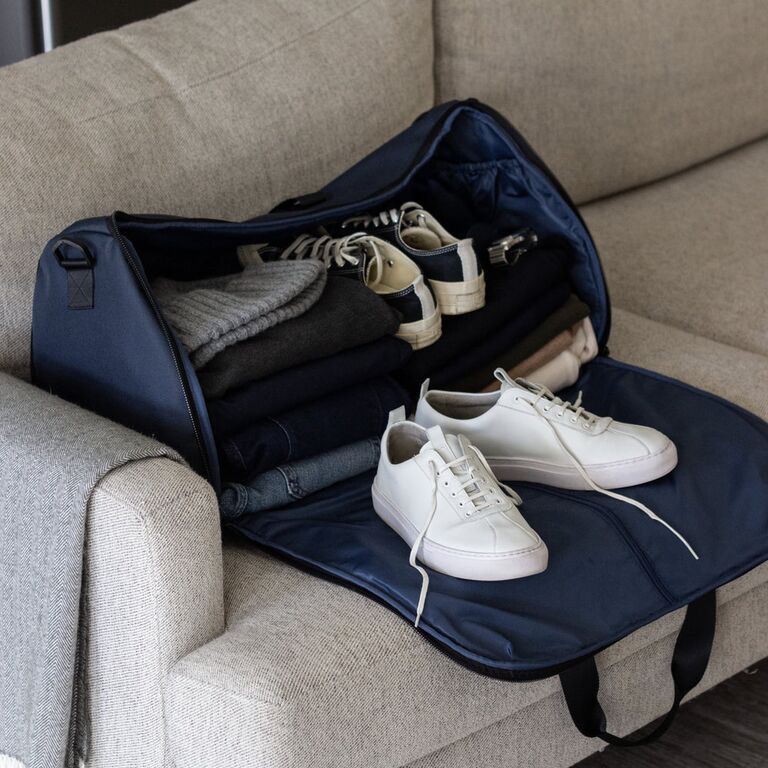 Are the groom and his fiancé hosting a destination wedding? Give him this wedding gift before he takes off. Halfday's unique duffle doubles as a garment bag, so he can pack his full suit and up to five days of clothes without wrinkling any of it. There's even special pockets for his shoes. It's lightweight and water-resistant, fits as an airplane carry-on and features a convenient shoulder strap. He'll never want to pack using anything else.
2. Monogrammed Travel Set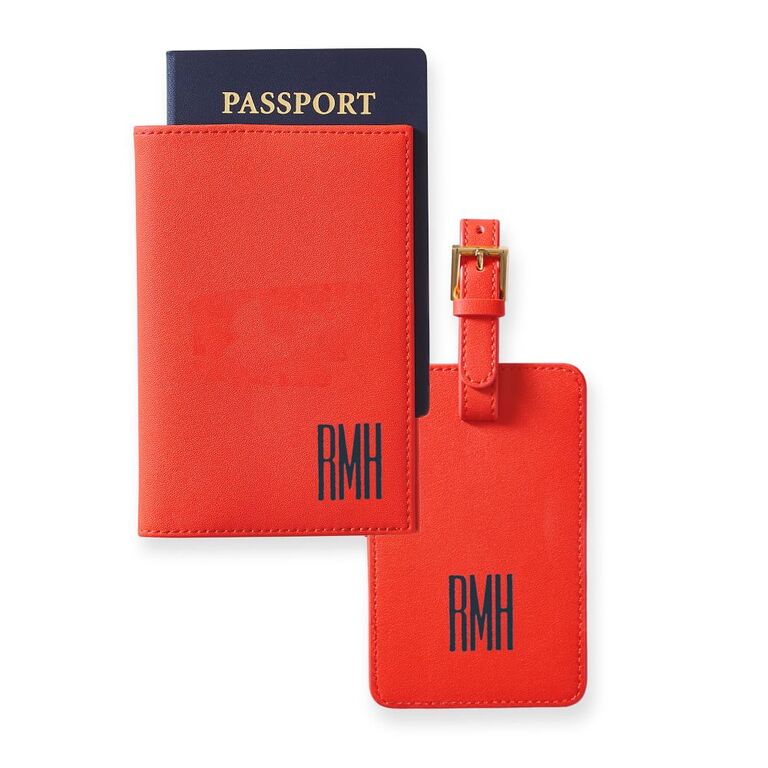 Nothing interrupts honeymoon plans like a forgotten passport or lost luggage. Lean on your best man duties for a practical gift for the groom he'll rely on for years after the wedding day. Made from vegan leather, this monogrammed set comes with a sleek passport cover and luggage tag to keep his essentials safe. We recommend picking one up for his partner as well.
3. Personalized Pocket Watch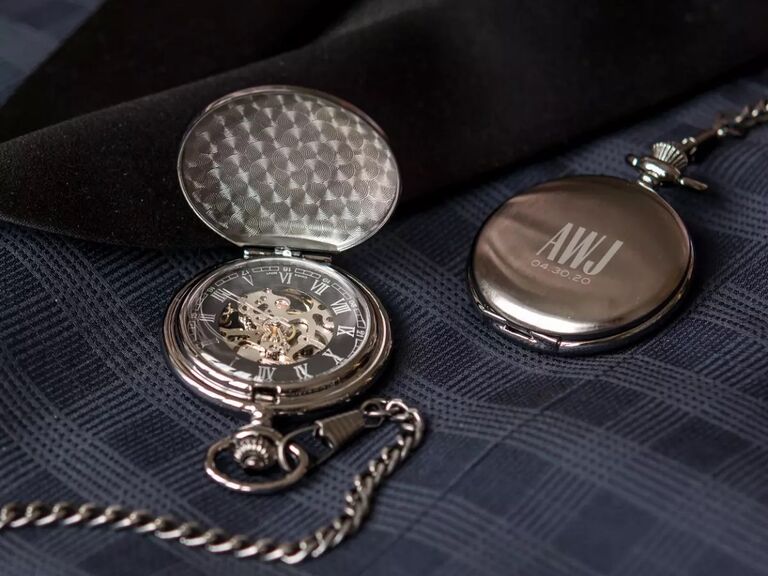 Time to celebrate! This sleek gunmetal mechanical pocket watch and fob will make the groom look extra dapper on the wedding day. Engrave it with his initials and the date or up to four lines of custom text for an heirloom-worthy keepsake.
4. Custom Wedding Party Illustration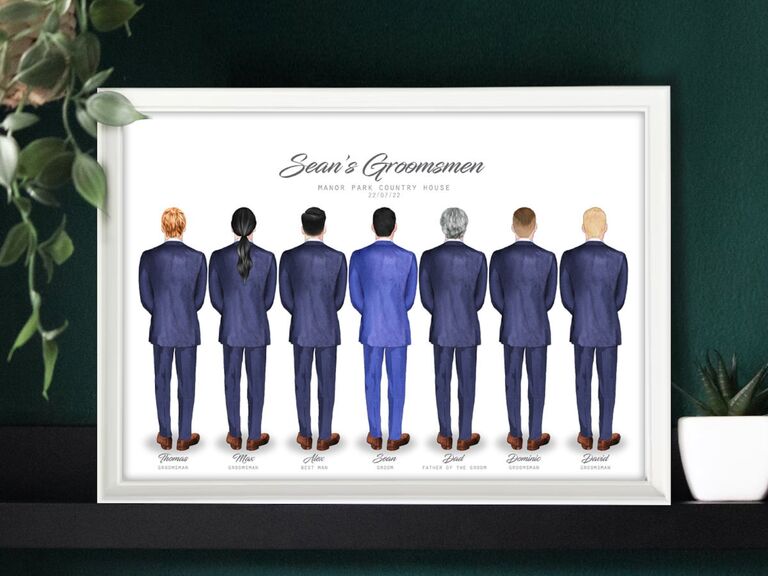 If you're looking for a personalized best man gift to the groom that'll give him all the feels, consider a custom illustration. With dozens of hairstyles, skin colors and clothing options (including kilts), this one can also feature all of the groomsmen. We love the idea of having each wedding party member sign the print before handing it over.
5. Personalized Drinkware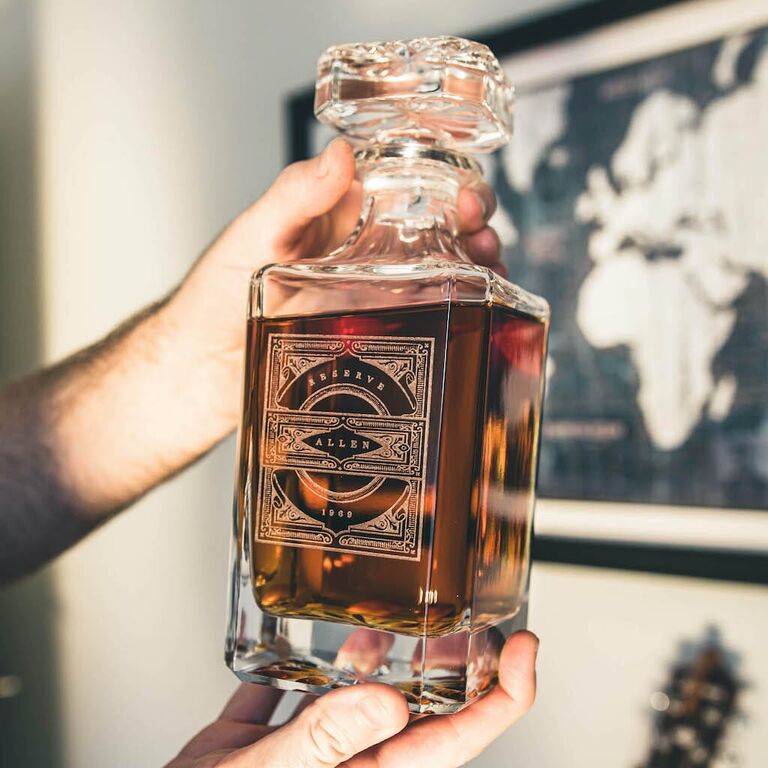 The best gift ideas for the best man to give the groom are both practical and personal—like this custom-engraved decanter and tumbler set. Etched with his monogram, the set will receive a prominent spot on his home bar. But first, he can use it to toast his union at the bachelor party or on the wedding day. Make sure to use the code THEKNOT10 for 10% off everything!
6. Engraved Alcohol Bottle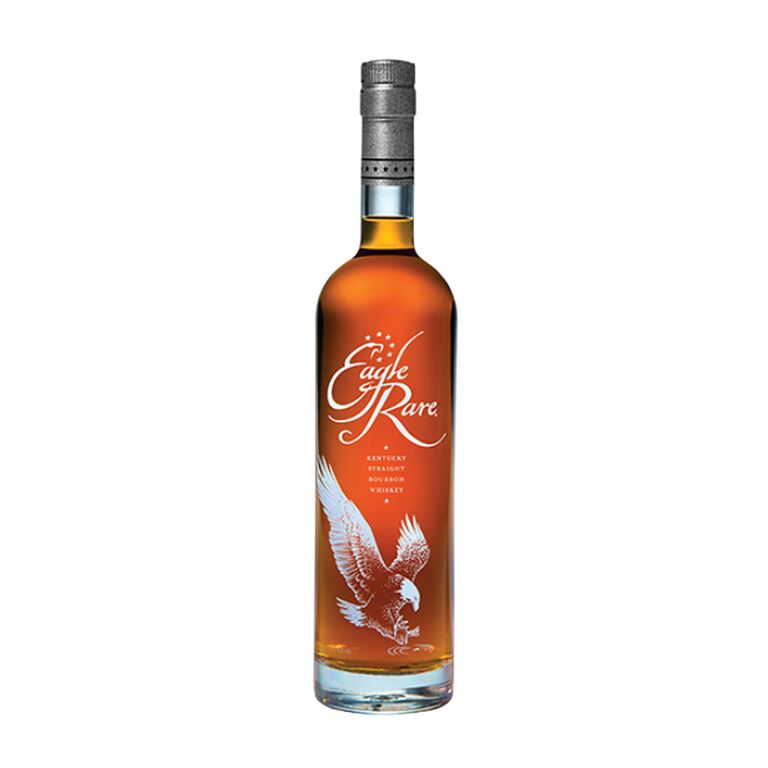 As the best man, it's your responsibility to make sure the groom has everything he needs for the wedding day to go off without a hitch. So, for the guy who likes a stiff drink to calm his nerves—or just get the party started—a nice bottle of his favorite liquor is just the gift. Don't just go to your local liquor store on the way to the venue though. Shop Nestor Liquor to have his favorite bottle custom engraved with his name, the date or a short message. If he's a bourbon drinker, we recommend the popular, yet hard-to-find in-stores, brand Eagle Rare.
7. Snack Crate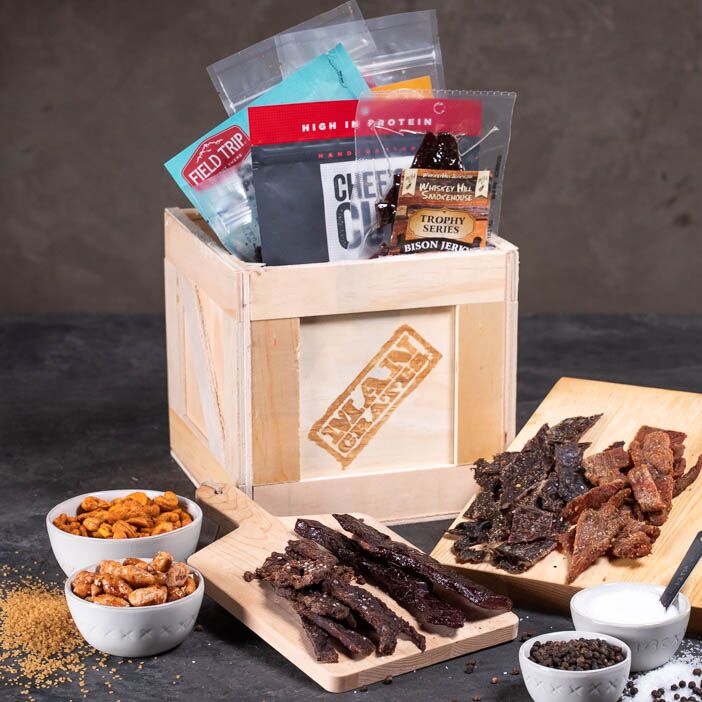 The groom's getting-ready suite isn't complete with just cocktails, the crew will also want some salty snacks. This literal wooden crate is stocked with three flavors of jerky, beef sausage sticks and seasoned nuts for some pre-ceremony bites—or late-night snacking. Either way, it's safe to assume this best man gift for the groom won't make it past the wedding day.
8. Quirky Cuff Links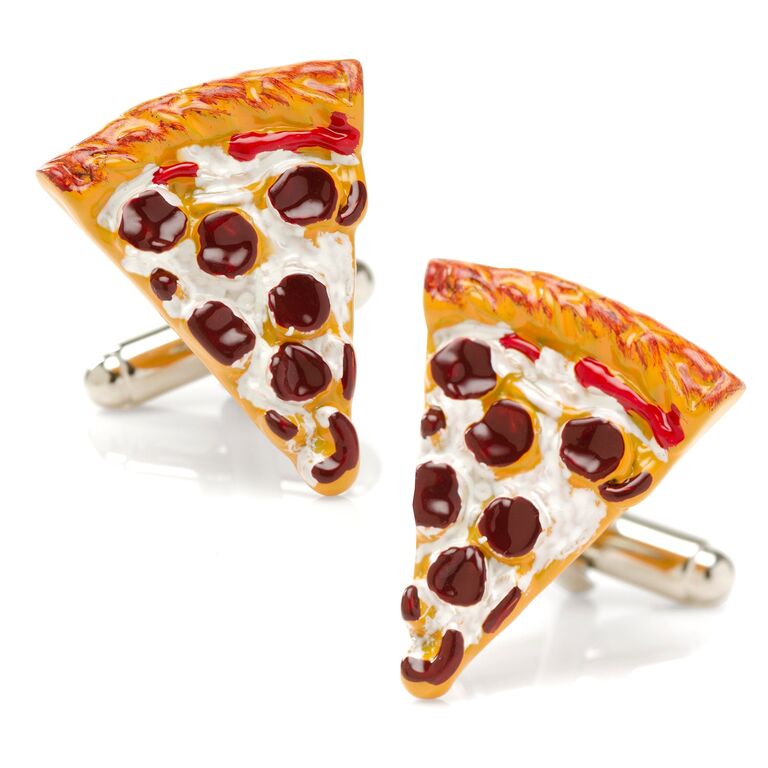 While he probably already has formal cuff links picked out for the wedding day, a pair of unique cuff links will be a fun collectible for the groom with a good sense of humor. Cufflinks.com has hundreds of pairs that reference his favorite movie, hobby, sports team, food or drink, animal and more. Personally, we get a kick out of these pizza cuff links.
9. Stylish Sunglasses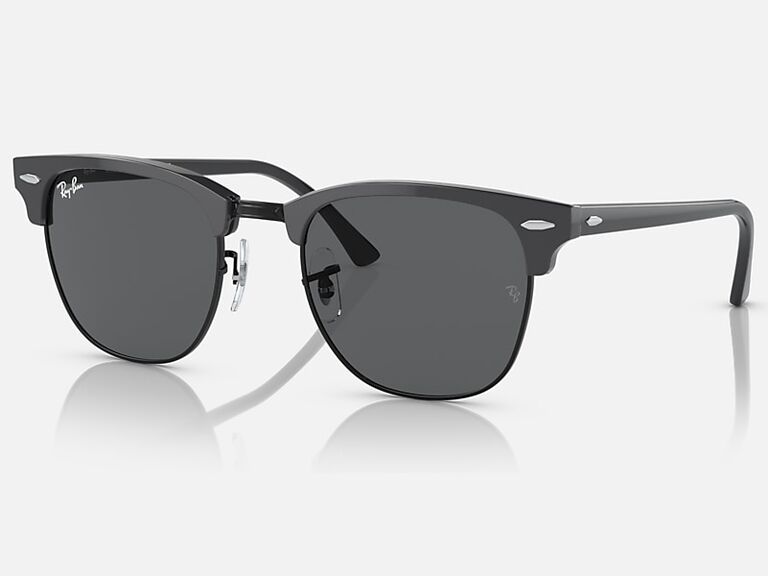 His future's so bright, he needs shades! A pair of sleek sunglasses will make any outfit, including his formalwear, better. Snag the groom a pair of Ray-Bans to rock at the bachelor party, on his honeymoon or at the wedding—pending approval from his soon-to-be spouse. Bonus: You can add a customized case.
10. Personalized Accessory Case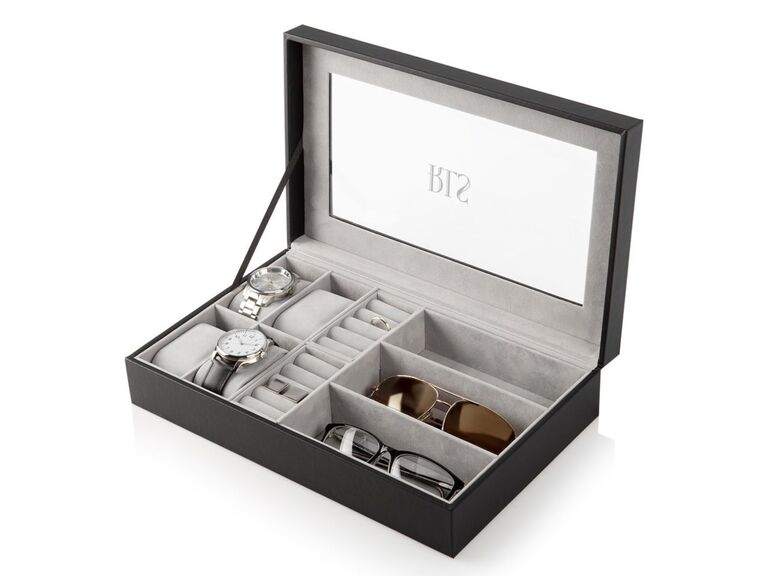 If the groom dresses to impress, he's going to need a special place to keep all of his valuable accessories, including his new wedding ring. This accessory case can organize his watches, sunglasses, cuff links and rings with an extra slot for other jewelry, collar stays, tie bars or his wallet. Add his name engraved across the glass display-case-style lid for a personal touch.
11. Cigar Humidor Gift Set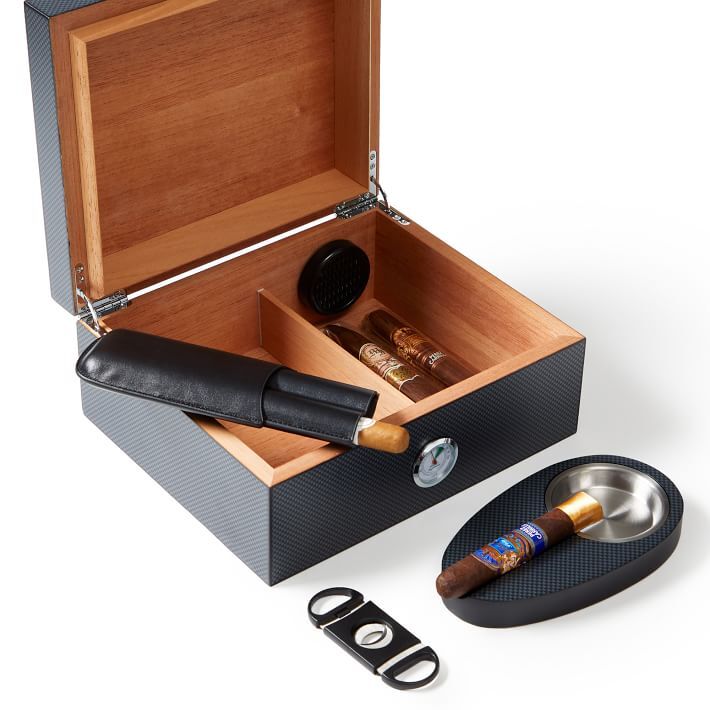 You'll be named "best man of the year" when you hand over this luxe gift set. The cigar humidor has a leather-wrapped exterior and cedar-wood interior with a hygrometer to help keep his cigars at ideal humidity levels. It also comes with an ashtray and cigar cutter. Naturally, we recommend adding his monogram to the top.
12. Whiskey-Infused Toothpicks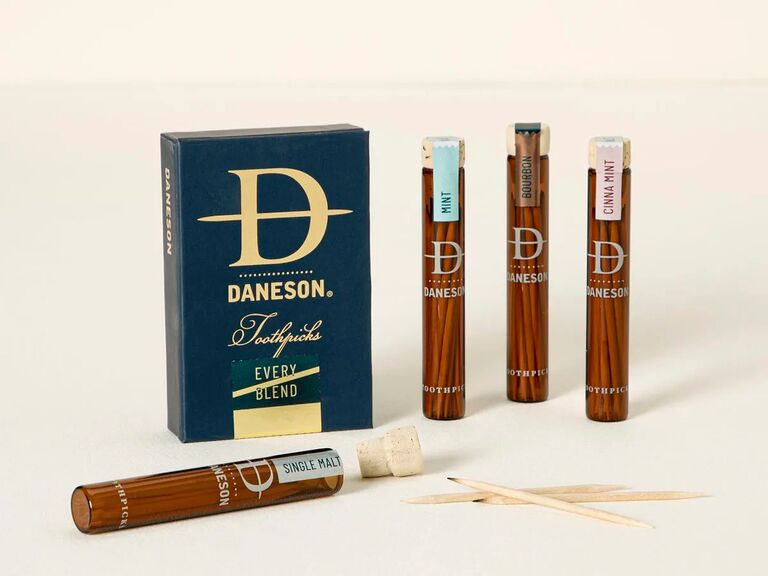 There'll likely never be more pictures taken in a single day than at his wedding. Make sure there's nothing stuck in his teeth with this best man gift for the groom. These toothpicks are infused with four flavors: Cinna Mint, Mint, Single Malt and Bourbon. There's plenty to share with the rest of the wedding party and he'll still have enough for every future date night with his spouse.
13. Craft Beer Subscription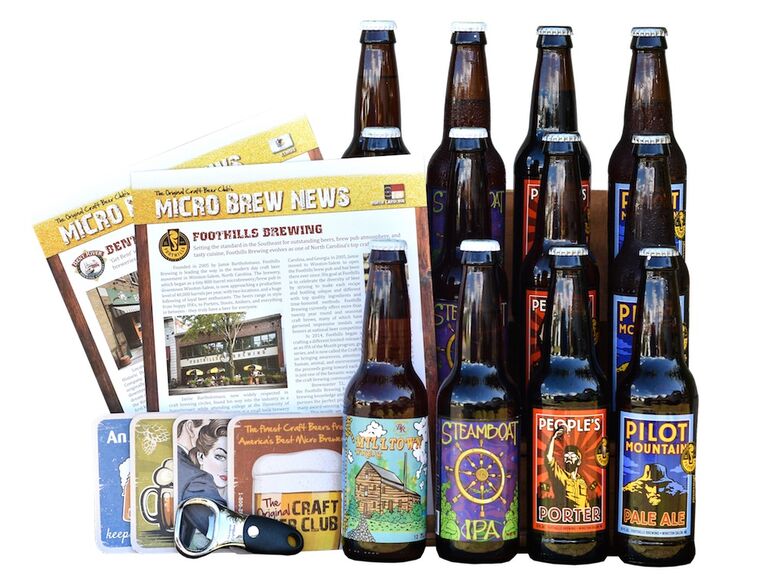 A wedding gift from the best man should really stand out and a subscription gift is one way to do just that. Ensure the good times never end with Craft Beer Club. They'll send him (and his spouse if he's willing to share) 12 to 24 cans of beer from breweries around the US on a monthly or quarterly basis. Sounds like there'll be enough to share with you, too.
14. MLB Ballpark Pint Glasses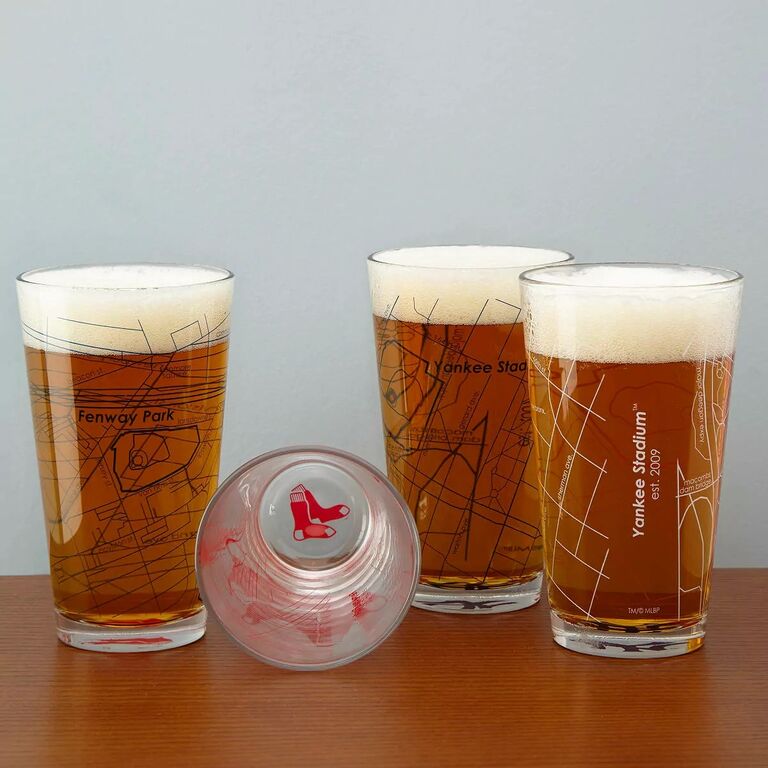 Here's a best man gift for the groom for the duo that forged their friendship at the ballpark. This set of pint glasses is printed with the stadium map and team logo of your choosing. You can each use one next time you're watching baseball together.
15. Ticket Stub Diary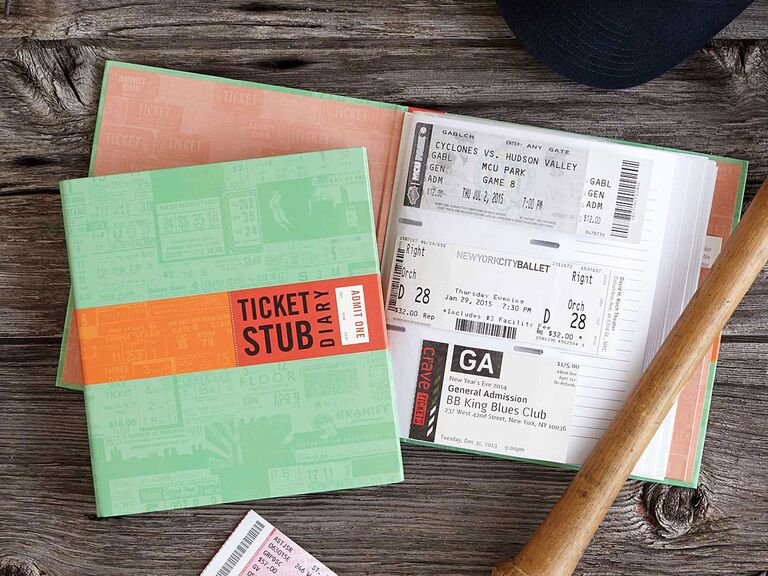 Is he the sentimental type? Does he love saving the ticket stubs from every concert, game and show he goes to? Give the groom a way to keep the mementos safe with this journal outfitted with clear sleeves. Go a step further and throw in a gift card to StubHub, so you can plan the next postwedding adventure.
16. Photo-Printed Golf Ball Set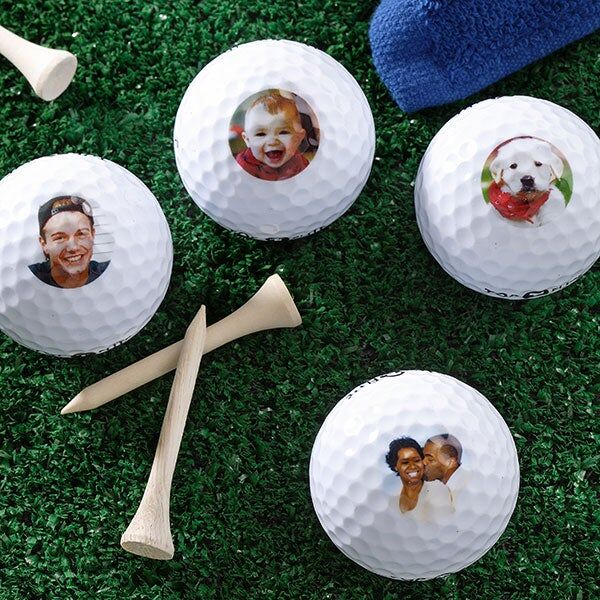 If wedding planning has kept you two from a weekend on the green, why not give the groom a special outing with his best man as a wedding gift? Treat him to a round of golf complete with personalized golf balls. This set of 12 Callaway golf balls can have a different photo on each. Choose between the memories you've shared together, loving photos of him and his S.O. or snapshots of his pet. It's a cute and silly gift, even if they're too precious to play with.
17. Hanging Toiletry Bag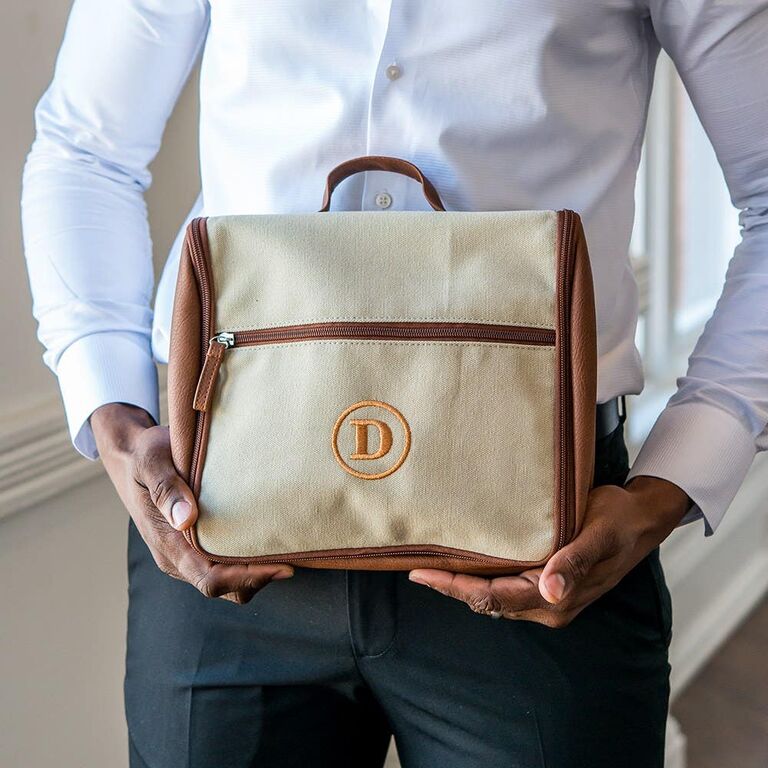 Whether he's traveling for the bachelor party or you want to give him something helpful for the honeymoon, a toiletry bag will always come in handy. This one is made from light brown canvas and can be embroidered with his monogram. Best of all, it can hang from a door to save counter space and still keep everything in reach.
18. Beard Grooming Set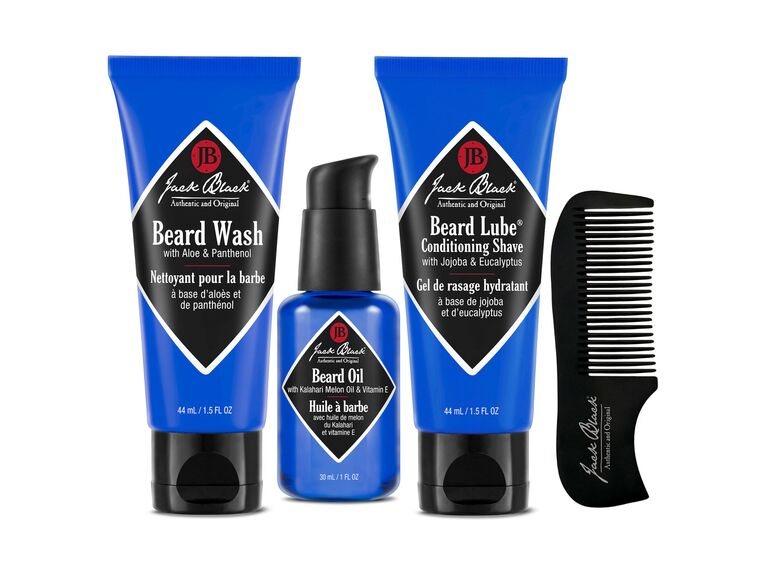 After years of being roommates, you probably know his grooming routine better than his spouse. If he takes pride in his facial hair, he'll appreciate a restock of his favorite products before the wedding day. This set contains a comb and three styling products to keep his beard looking sharp.
19. Men's Waffle Robe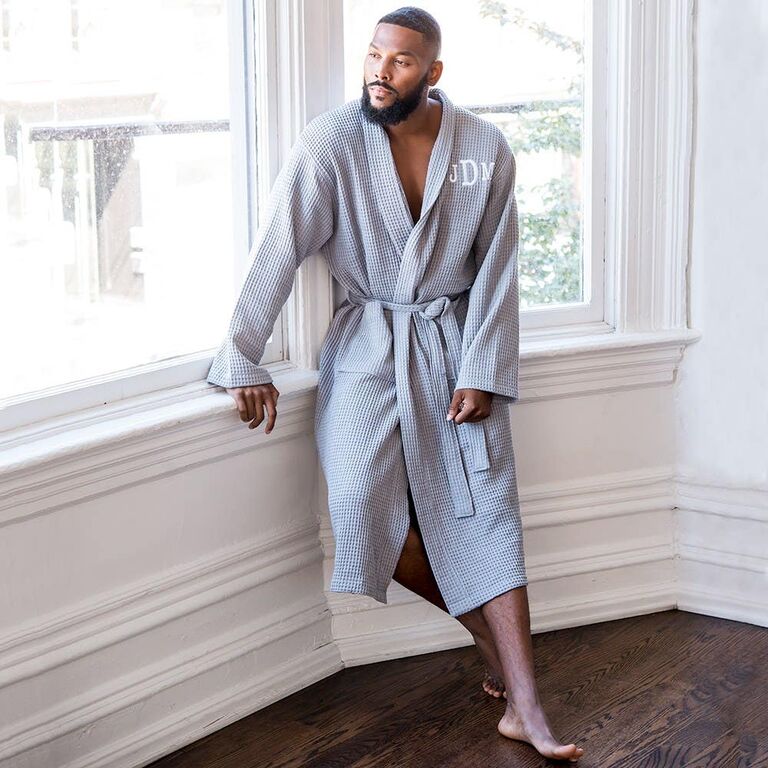 As his best friend, you know he really wants a getting-ready robe for the big day. Grab him this cozy waffle robe embroidered with his name, initials or very important title: "groom." Bonus points if, instead of wrapping it, you hang it on a personalized hanger.
20. Bluetooth Speaker & Water Bottle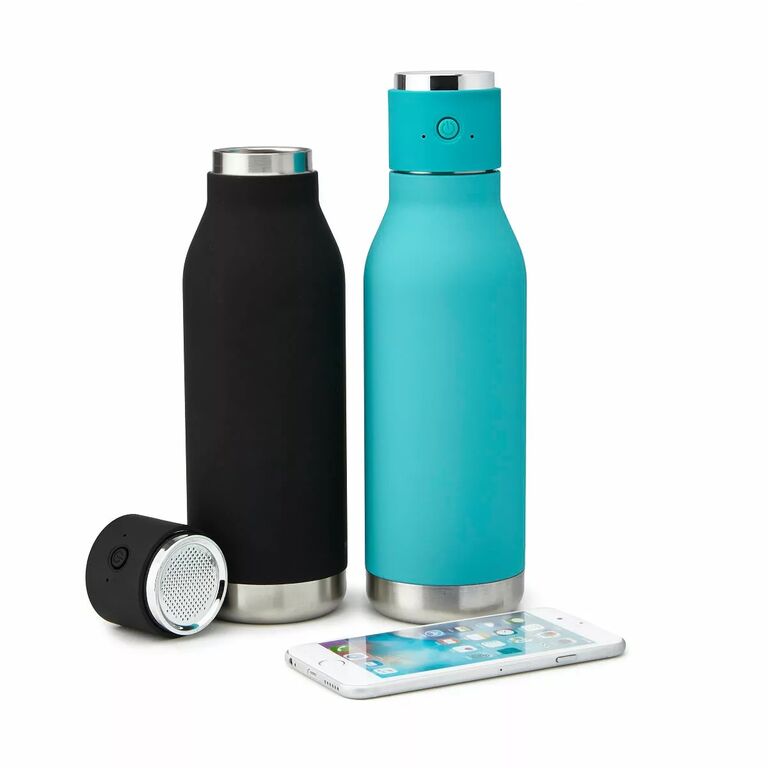 We think this water bottle with a built-in Bluetooth speaker in the lid would be ideal to give to the groom for him to use on the morning of the wedding. He can stream his favorite tunes while making sure he stays refreshed and hydrated for the day ahead. Talk about an ingenious invention!
21. First Dance Song Wall Art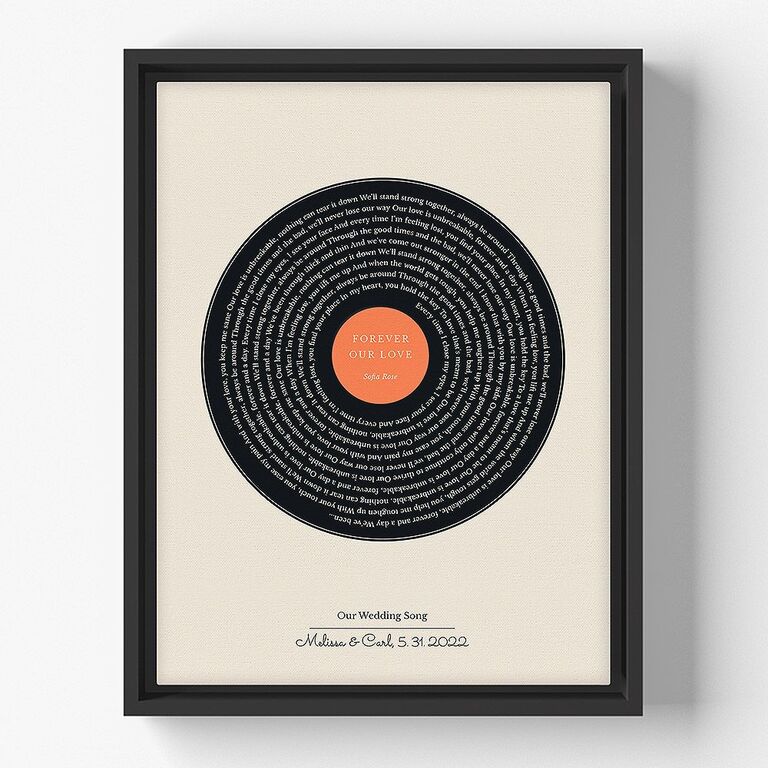 What about a gift for the groom and his spouse? This modern artwork displays the lyrics to their first dance song as a vinyl record. Their names and wedding day are listed underneath. It can be printed on a canvas, metal sheet or acrylic. And thanks to your status as best man, you don't need to wait until after the wedding to order it, since you were already entrusted with the wedding playlist.
22. Anniversary Wine Box
You're the groom's best man, but you love his spouse-to-be just as much, so why not get a present for both of them? Whether you consider yourself a wine connoisseur or not, filling this personalized wooden wine box with three nice bottles will give them a lasting wedding gift. On each future anniversary, they'll pop open another bottle to celebrate and will be reminded of your support.
23. Best Man Picture Frame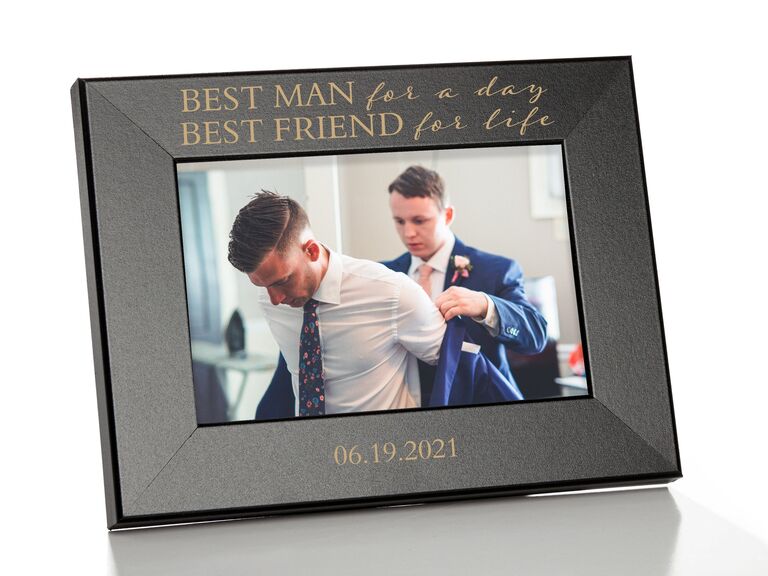 We know we said there wouldn't be any mushy gift ideas, but we had to include this. Photo gifts are classic gestures, after all, and this frame is just the way to package your favorite snapshot together. It reads: "Best man for a day, best friend for life" with the wedding date underneath.
24. Pet Lapel Pin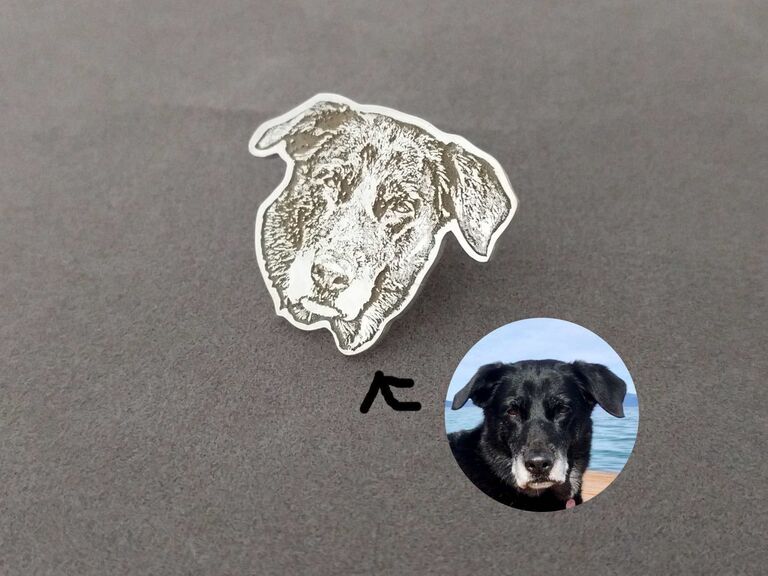 If you're being honest with yourself, you know that if it weren't for opposable thumbs, your best man title would've been given to the couple's beloved pet. Honor man's best friend with a custom lapel pin of his furry friend. This one is made of sterling silver and engraved with the dog's or cat's likeness. Now that's a gift for a groom only his best man would be clever enough to come up with.
25. Worldwide Assorted Coffee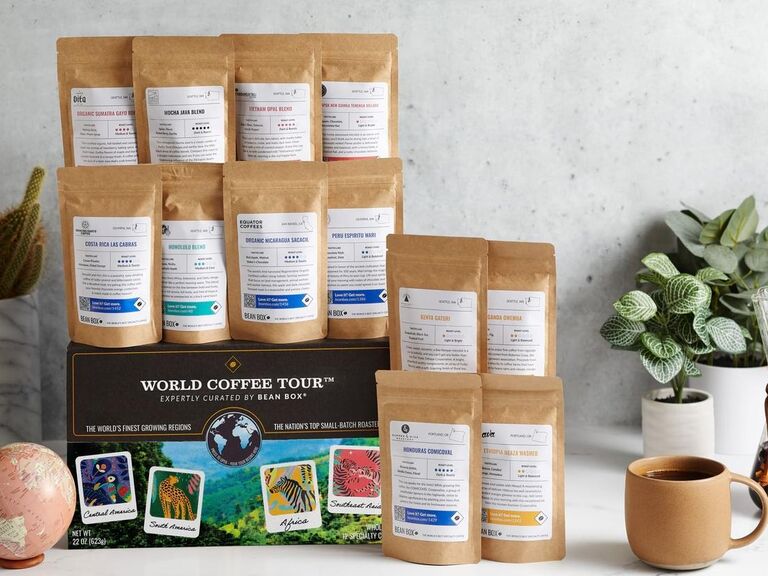 If you know they're delaying their honeymoon for a little bit, give them a travel experience nonetheless with Bean Box's World Coffee Tour. Featuring 12 expertly curated freshly ground or whole beans from around the world, the groom will be able to get his caffeine fix in the most delectable way. If you know there's a French press on their registry, snag it for a clever gift set.