The 25 Best Wedding Gifts for Your Brother
These presents are so good, they'll earn you favorite sibling status.
We have included third party products to help you navigate and enjoy life's biggest moments. Purchases made through links on this page may earn us a commission.
Finding the right wedding gift for your brother is no easy task. How do you express all of your love, support and pride for him and his fiancé in one gesture? Thankfully, we've got just the inspiration you need to give your brother a thoughtful wedding gift with this list of suggestions—some of which even include space for sweet messages (so no need for a card to convey your affection). From personalized sentiments like nostalgic photo gifts to practical products he may have forgotten to add to his registry (though we wouldn't be surprised if a few already appear on his wish list), these are the top wedding gift ideas for your brother that'll win you the title of best sibling.
1. Hometown Map Glass Set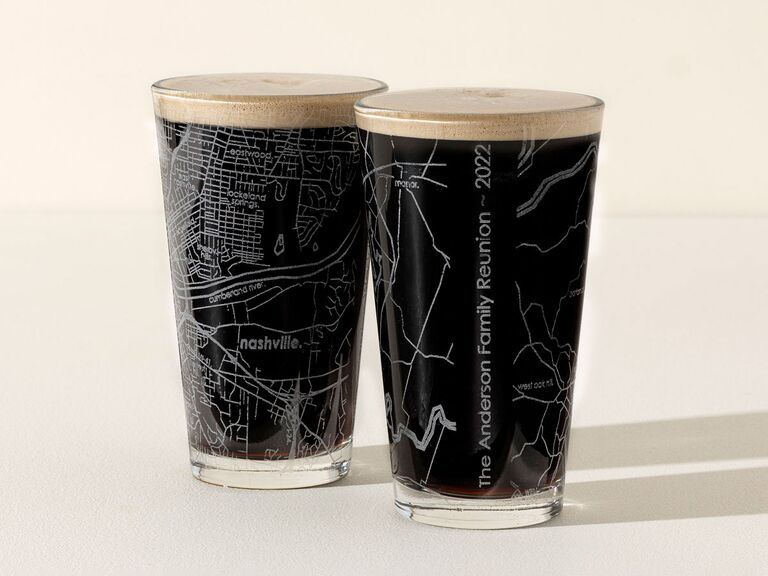 If you and your brother have both moved away from home, pay tribute to the foundation of your relationship with these pint glasses. They're engraved with a map of your hometown and a custom message up the side. You could personalize it with the exact address of your childhood house or something sentimental like, "Separated by distance, joined by love." They're sold in sets of two, so you can share a bev with your bro in honor of his wedding. You could even buy a second or even third set, so the rest of the family can get in on the toast and nostalgia, too.
2. Engraved Liquor Bottle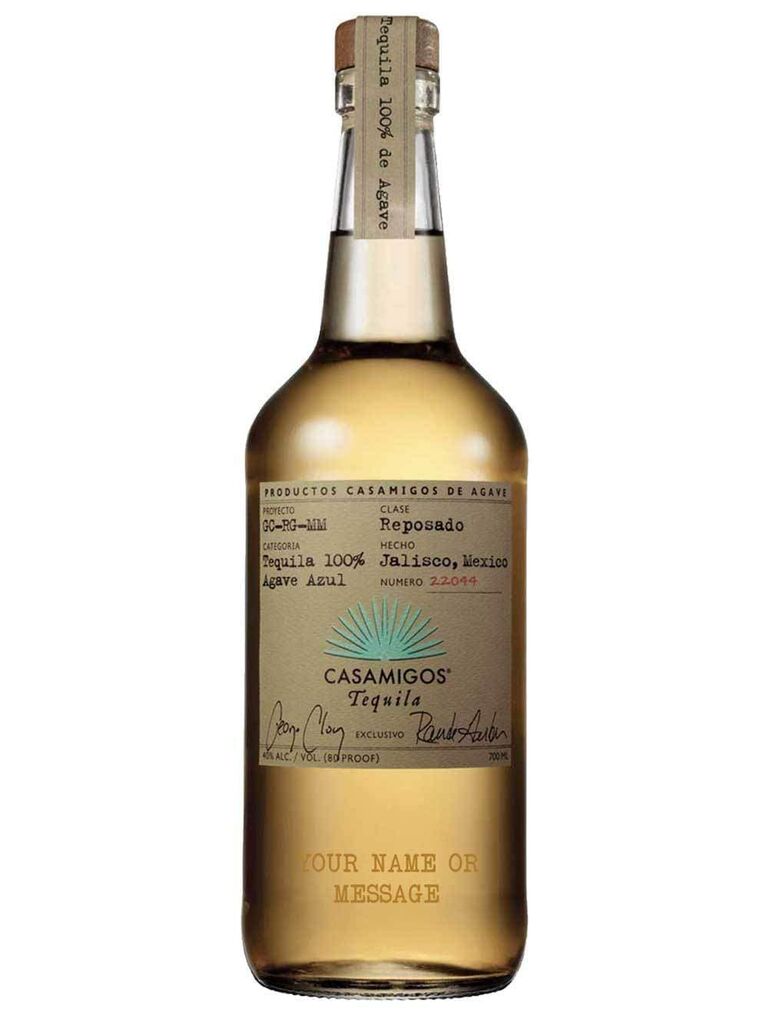 If you both prefer your liquor neat and on the rocks, start the big day with a cocktail instead of beer. But for such an important occasion, not just any bottle will do. Pick out your brother's favorite tequila, whiskey or vodka, then have the bottle custom engraved like this Casamigos Reposado. It can be personalized with up to three lines of text, so even once the booze is gone, he'll still want the bottle as a keepsake.
3. Custom Photo Collage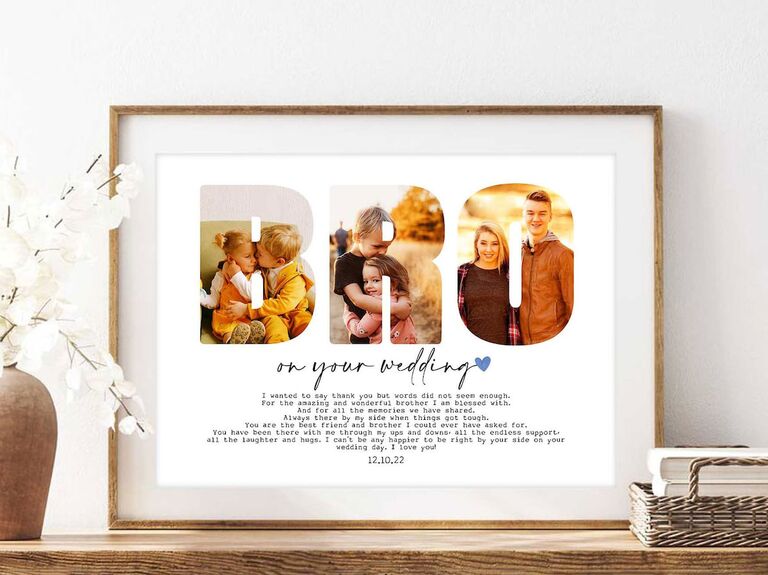 If you're looking to hand over a gift for your brother on the wedding day (and induce a few happy tears) this sweet photo collage is just the thing. Snapshots from your childhood to the present day fill block letters spelling out "bro" and a custom note is typed out underneath, so you don't need an extra card to tell him how you feel. It can come as a digital file, poster or in a white wooden frame.
4. Portable Pizza Oven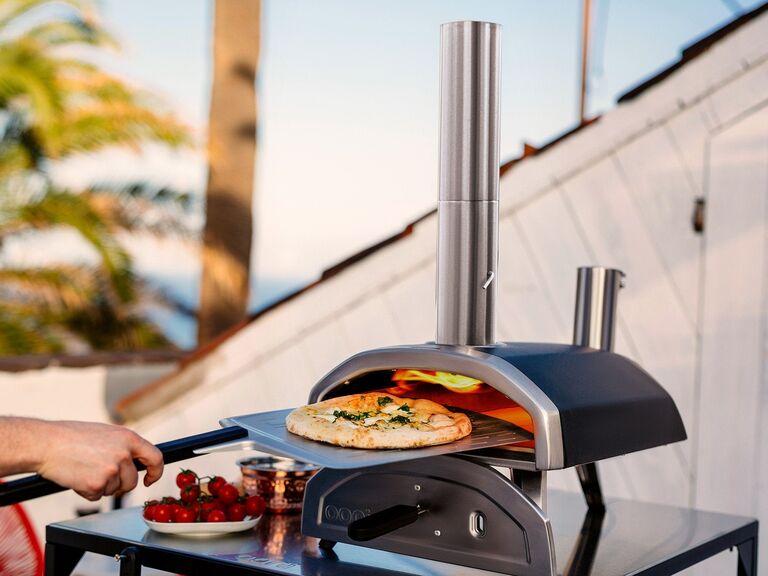 Wedding gifts for your brother on his wedding don't necessarily have to be sentimental. Feel free to pick an item off his registry that you know he and his partner are hoping for. One high-ticket wedding gift idea that's sure to go over well: an Ooni pizza oven. If pizza has been his favorite food since childhood, he'll really enjoy making his own. (Let him know there are recipes by Ooni to follow.) This compact and portable wood-fired oven will let him cook delicious pies in just 60 seconds. There's no doubt your future sister- or brother-in-law will love you for this gift, too.
5. Bluetooth Speaker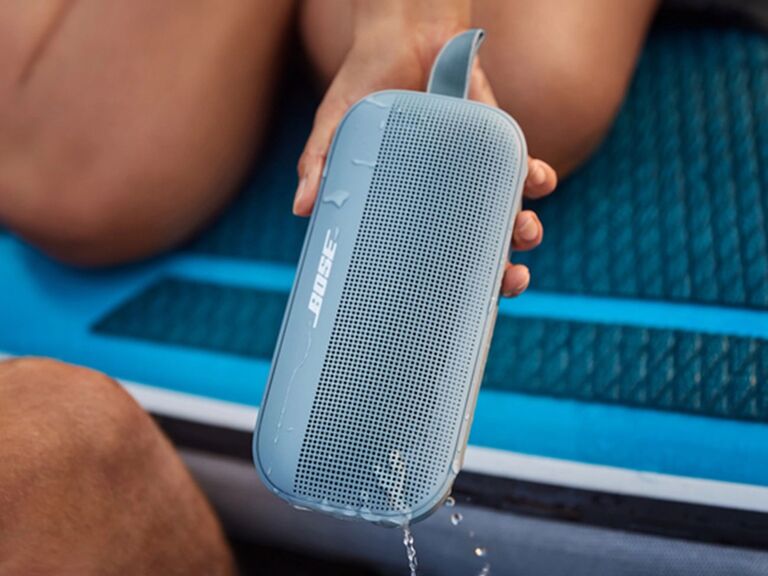 Weddings are a great time to upgrade some out-of-date products in the couple's home—like getting your brother the newest must-have speaker. He'll geek out over this portable, Bluetooth speaker from Bose. It's adventure-ready, thanks to its tough powder-coated steel grille and silicone exterior (no denting, chipping or rusting), and it's waterproof (it even floats) and dustproof design. Plus, it can stand upright, hang or lie flat while still producing the best sound. Pair it with a card handing over all DJ rights. He can take it on his tropical honeymoon or the next family camping trip with no fear.
6. Wireless Charging Valet Tray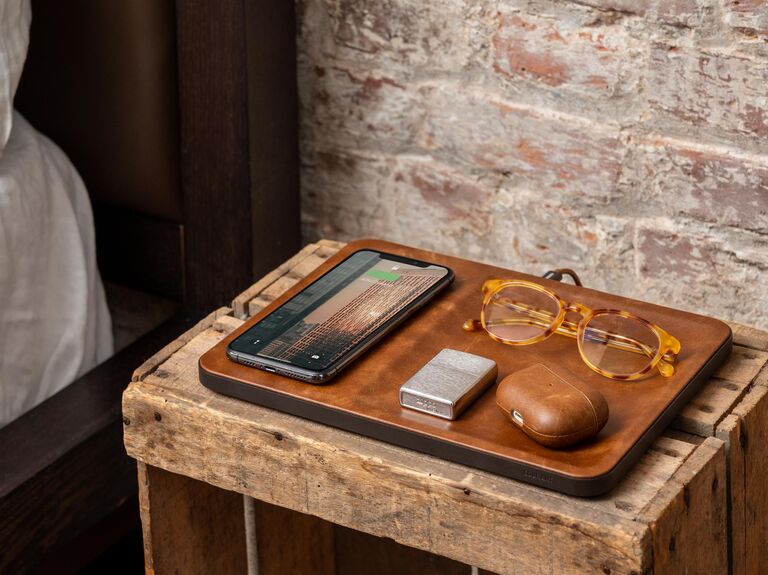 Every guy needs a place to put his essentials and this nifty catchall will have him covered. A timeless groom gift, the pebbled Italian leather valet tray doubles as a single-device wireless charger. Better still, it can be embossed with his initials. Both he and his spouse will love the sleek organization.
7. Symbolic Glass Globe
Celebrate your sibling relationship with a subtle and elegant piece of home decor. This handmade recycled glass globe features a vibrant tree to symbolize the bond with a brother. Make sure to gift it with a stand so he has a sturdy place to display it.
8. Video Doorbell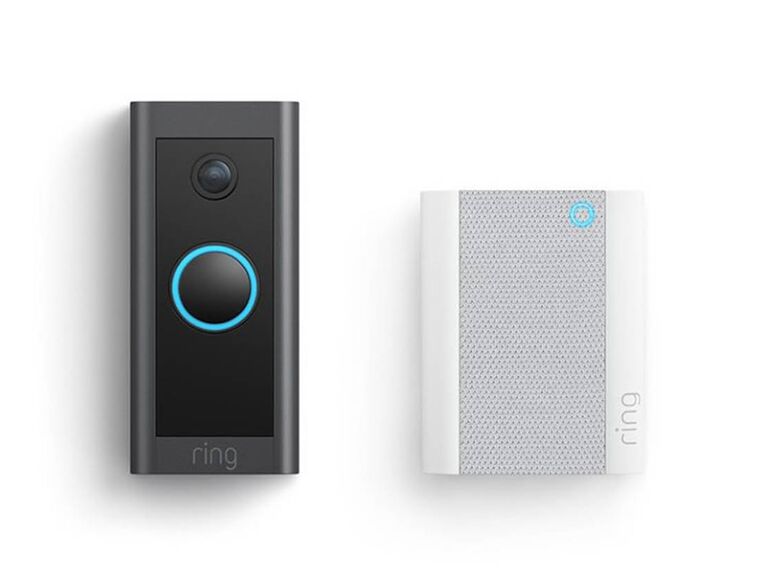 If you're the older sibling and you've always felt the need to keep your little brother safe, this is the brother's wedding gift to buy. The Ring doorbell is fitted with a video camera that can be accessed from his and his spouse's smartphone, so they receive a notification whenever someone rings the bell or when motion is detected on the property. They can even answer the door through the app, thanks to its two-way audio connection. Now the newlyweds will feel extra safe and secure in their home.
9. Push Pin Travel Map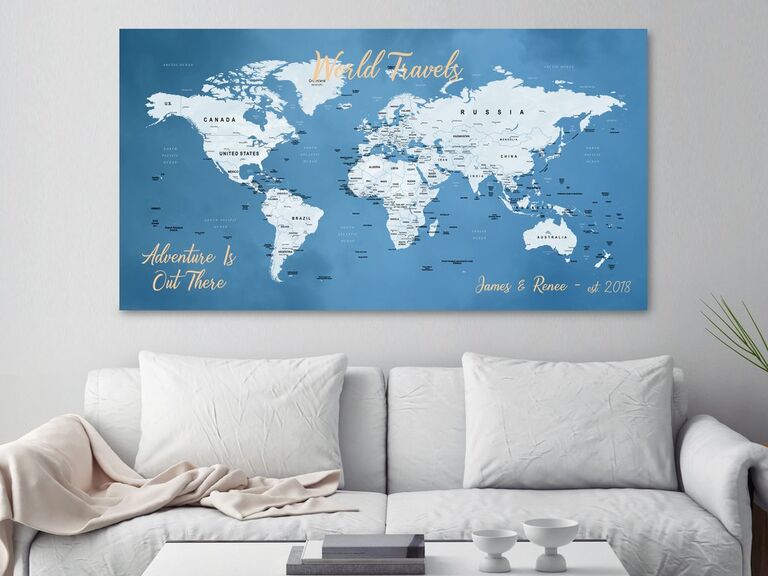 Are your brother and future in-law big adventurers? They might not have this creative gift on their registry, but they'll love it nonetheless. This large world map comes with push pins so they can track their travels as a married couple, starting with their honeymoon. It's even personalized with their names, wedding year and a short quote like, "Let the adventure begin." It'll be all the more meaningful coming from his first travel companion.
10. Topographic Whiskey Decanter and Glasses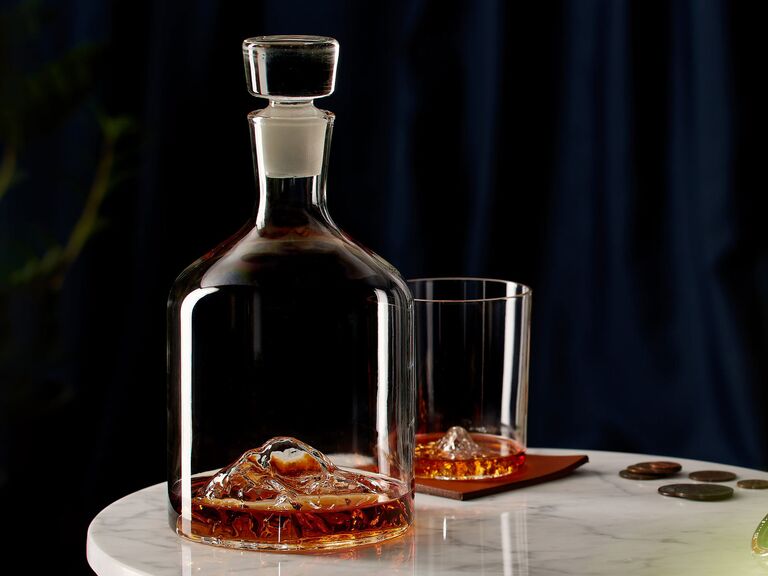 Combine his love of the mountains with his love for whiskey with this unique bar set. The handblown glass decanter and matching tumblers feature raised topographic impressions of four national peaks (Half Dome, Mount Whitney, Mount Rainier and Denali) to inspire his next climb (if he hasn't already summited each). They're sure to be a hit at his next gathering—if he lets anyone else even use the luxe drinkware.
11. YETI Soft Cooler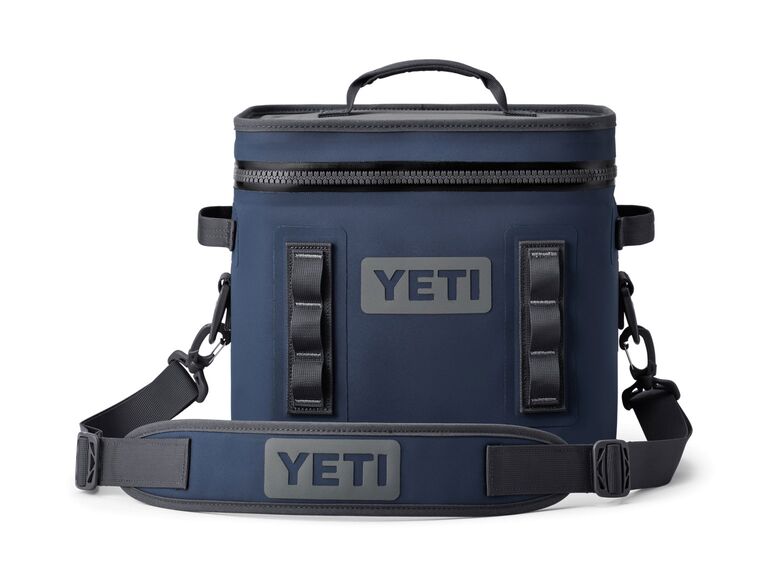 Your brother (and his partner) will be psyched to receive a YETI cooler. The popular registry item for outdoor lovers and hosts alike lives up to the hype. This particular model has a soft outer lining, yet is still extra-insulated and durable. The high-density fabric can withstand punctures and UV rays, is mildew resistant and waterproof, and the leakproof zipper allows a wide mouth opening for easy access to up to 24 cans. Plus, it has a convenient shoulder strap.
12. Custom Bourbon Barrel Lazy Susan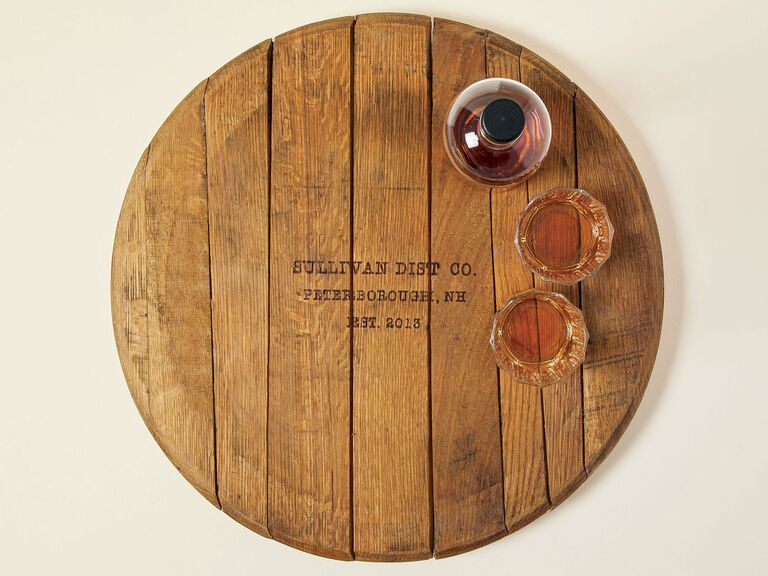 Newlyweds can never have too much serveware—after all, everyone will be inviting themselves over to hear about the honeymoon and married life. This particular tray does triple duty, thanks to its extra-large size, 1,000-pound capacity and turntable design. Better still, it's made out of reclaimed white oak bourbon barrels and is stamped with a name and special date (aka their shared last name and wedding date).
13. Canopy Tent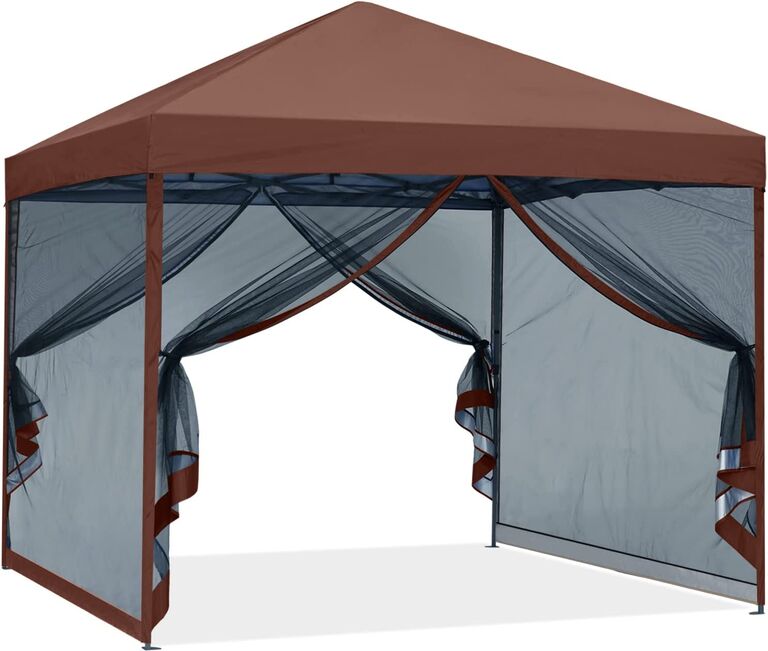 Whether their weekends consist of tailgating, camping or spending all day at the beach, this canopy tent will come in handy for social lovebirds. It even has removable zippered mesh sidewalls for further protection from sun and rain or just added privacy. Plus, it's easy to cart around, thanks to a wheeled carrying bag. There will definitely be room underneath for you to join in on the outdoor fun.
14. Personalized Leather Poker Set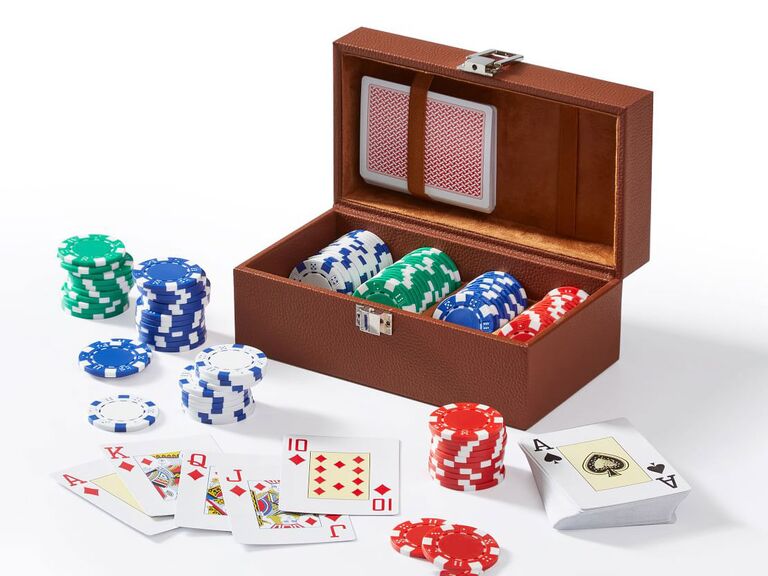 Feel free to give your brother his wedding gift a little early—perhaps at the bach party. This poker set comes with two card decks and 100 poker chips to provide his crew with hours of entertainment. Best of all, it all packs neatly into a pebbled leather case with a soft suede lining that can be monogrammed with his initials. He'll be breaking this out at every social gathering for the rest of time.
15. Golf Swing Sensors
Do your brother and his fiancé love to golf? This golf swing smart sensor is exactly the kind of gift they'd like to register for, but might hesitate to because it's so niche. As the sibling-of-the-groom, though, you know exactly what they want and aren't put off by the ask. The tech comes with 14 sensors—one for every club in his bag—that have automated shot tracking and A.I. powered GPS, which adjusts for wind, elevation, temperature, humidity and altitude for precise yardage. (Psst, this will also come in handy on the bach trip.)
16. Home Depot Gift Card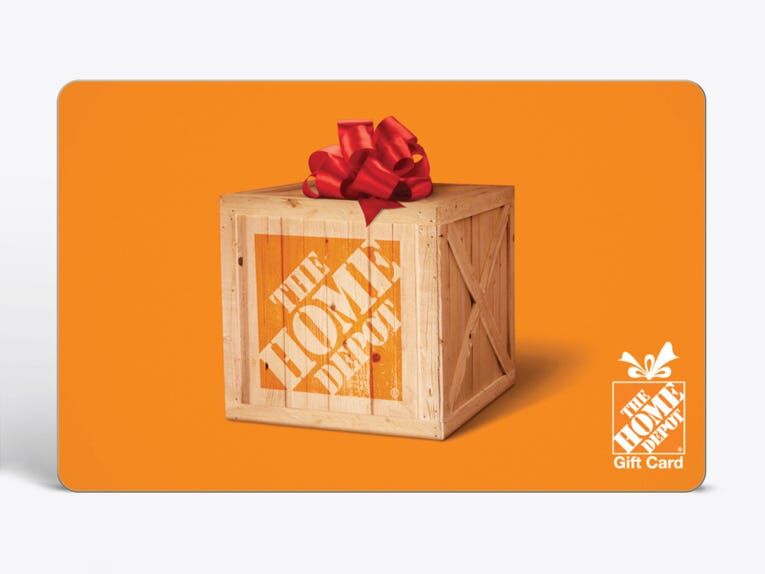 It's totally appropriate for your gift for your brother for his wedding to be a gift card. A gift card to his favorite—or simply most visited—store lets him pick out something he really wants and will use at any time following the wedding. A Home Depot gift card will help him put a carpenter's touch on his newlywed home.
17. Video Book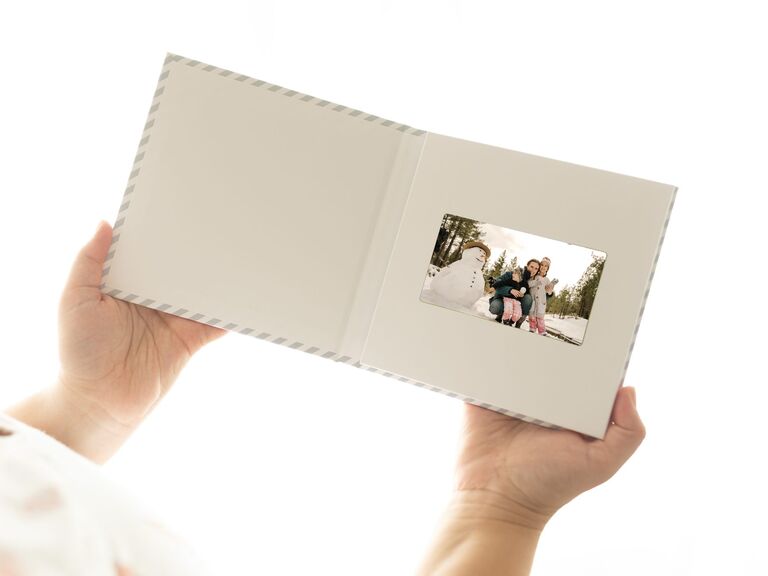 As a sibling to the groom, you have access to photos and videos others don't. Compile their favorite memories together into a slideshow, then present it to them in a video book. That's right, this hardcover book holds an HD screen that's loaded with a 10- or 20-minute video. Feel free to start with home videos from your shared childhood so you make an appearance. You can even add a personal message to the cover.
18. Engravable Cuff Links and Tie Bar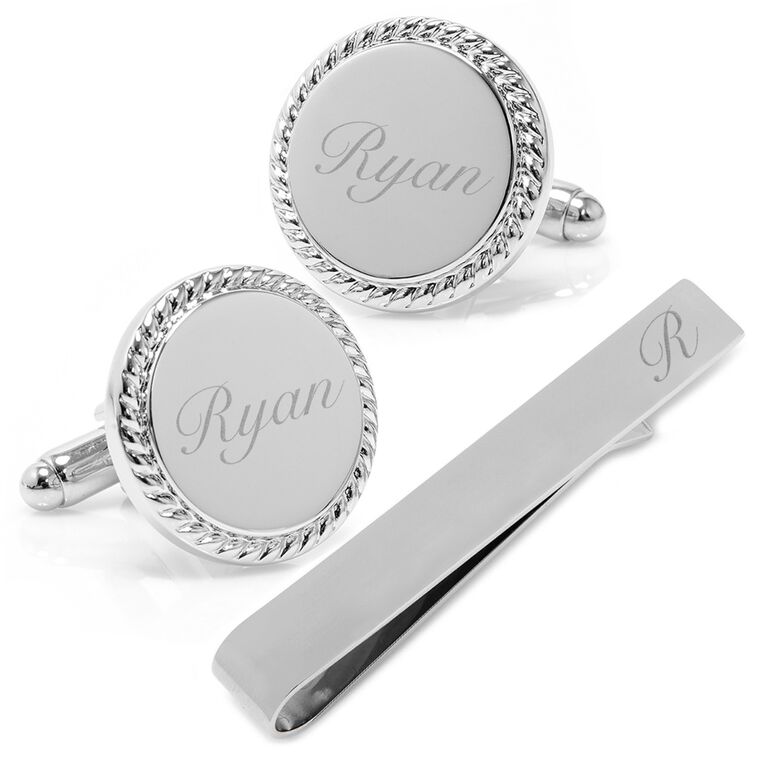 If no one else has ensured your brother is wearing luxe suit accessories on his big day, make it your responsibility. This set of stainless steel cuff links with rope detailing and a tie bar is engravable. You can add his initials or wedding date to the cuff links, then write a short personal message on the tie bar, like, "You're the best brother."
19. Custom Message Handkerchief
This one's for the happy tears that are bound to be shed on such a momentous occasion. Instead of a card, gift your brother this handkerchief printed with a custom message. It's a beautiful keepsake he'll cherish forever.
20. Funny T-Shirt
If you're looking for a funny gift for your brother for his wedding, how about a graphic T-shirt? This vintage-style shirt says, "Leveling up to husband," making it perfect for the bro you play video games with. Just be sure to hand it over before the big day, so he can wear it proudly as he's running wedding errands.
21. Espresso Machine
Did your brother find someone who loves coffee almost as much as he does? Take their morning brew to the next level with this luxe, programmable espresso machine. He'll be creating lattes, cappuccinos and more like a pro—all right from his kitchen.
22. Monthly Coffee Subscription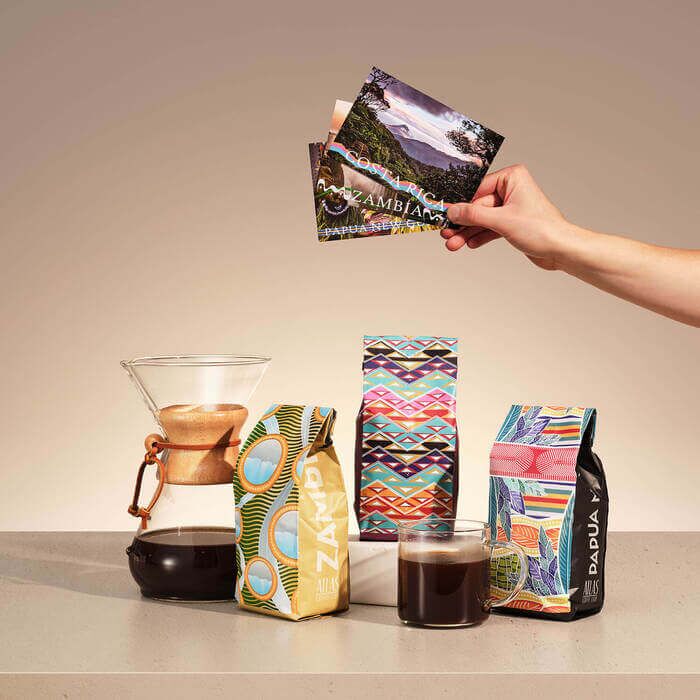 A subscription gift for couples—like Atlas Coffee Club—lets the fun keep going even after the big day. Each month, they'll send the couple 12 ounces of the best beans or grounds from around the world along with flavor notes, a postcard and brewing tips. It won't just help expand their palette, but fuel (see what we did there?) their wanderlust in case they won't be honeymooning right away.
23. Custom Wedding Illustration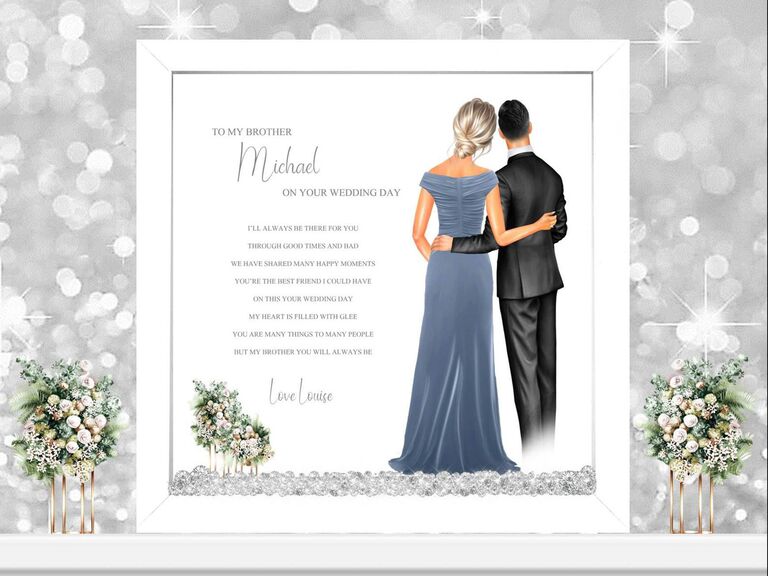 Here's a wedding gift for a brother from his sister: a custom illustration and message. Choose from dozens of hairstyles, skin colors and formalwear fits to recreate you and your brother as cartoons. Then write a message from the heart to be printed alongside the two of you.
24. Smart Indoor Garden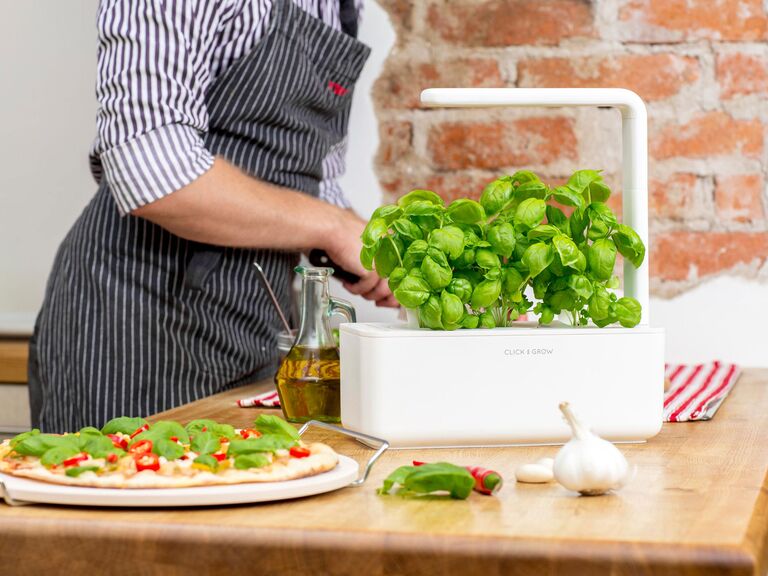 Whether he's already known for his green thumb or he's excited to get gardening in a new home, this smart indoor garden will make it super easy for him to grow his own veggies, fruits and herbs right atop his counter. A minimalist design with automatic watering, light, nutrients and oxygen—what's not to love with this unique gift?
25. Propane Gas Griddle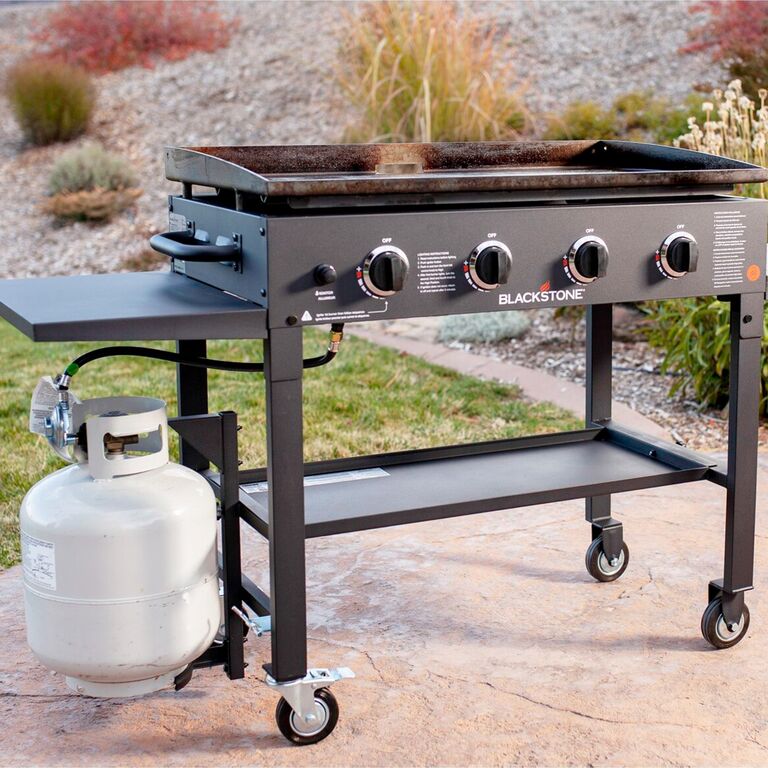 As aforementioned, a wedding gift for your brother doesn't have to be sentimental to be good. You can always give him one of his high-ticket registry items—like a backyard grill—er, griddle. Blackstone's propane gas griddle has four independent cooking zones and up to 60,000 BTUs for max grilling power, so he can cook for a crowd.