25 Boho Wedding Invites That Embody the Free-Spirited Aesthetic
Kick off your bohemian celebration with stylish stationery.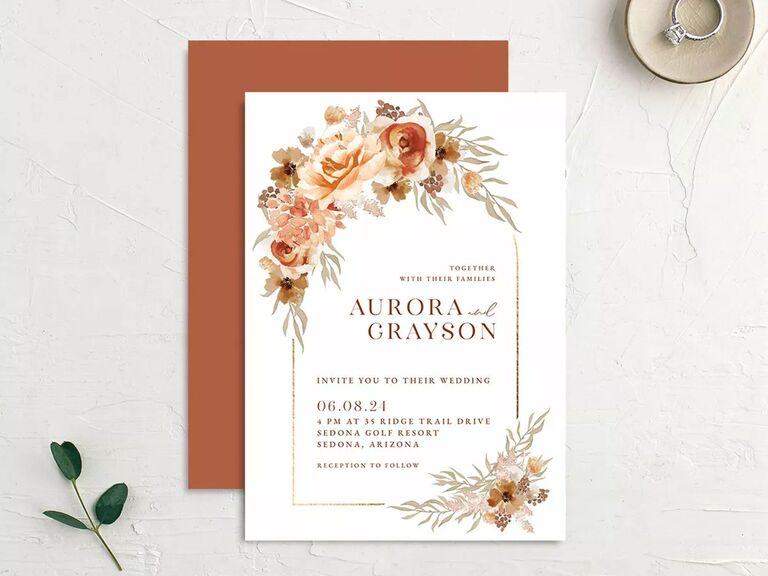 We have included third party products to help you navigate and enjoy life's biggest moments. Purchases made through links on this page may earn us a commission.
Boho wedding invitations are perfect for the free-spirited couples who are craving something next-level whimsical for their big day. Bohemian design is all about embracing the world's natural elements; delicate wildflowers, dried pampas grass and rich, earthy tones are all examples of the aesthetic. Boho is often combined with other popular wedding vibes, including rustic and vintage—which means there are tons of beautiful and elegant invitation styles for your upcoming boho-themed nuptials.
To prove it, we've gathered the best boho wedding invites to shop online (including designs from our dedicated stationery store, The Knot Invitations!). Whether you're throwing an outdoor garden soiree or a rustic barn gathering, we've found plenty of boho-inspired options to kick off the party of your dreams.
1. Bohemian Hoop Wedding Invitations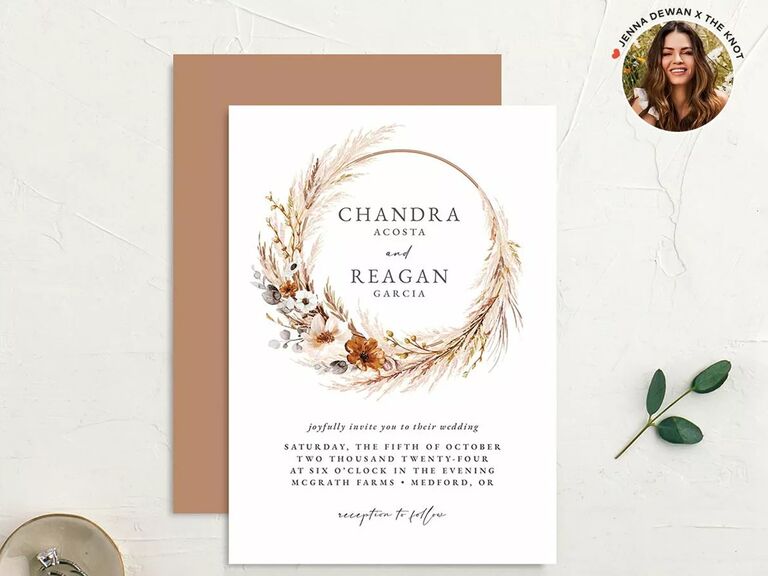 Choose this classic bohemian design and your names will be circled by a gold hoop decorated with romantic pampas grass and florals. Below, you'll have plenty of room for your wedding details in a timeless serif type. Pick from four earthy color schemes, then select your preferred paper: Signature, Pearlescent or Recycled.
2. Abstract Hills Wedding Invitations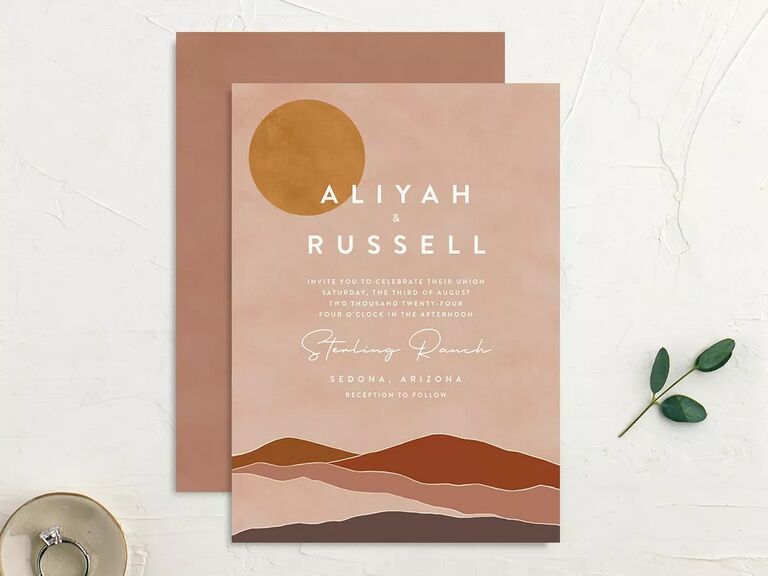 Take the scenic route with these boho abstract wedding invitations your guests will certainly never forget. The pink or blue design depicts a sun or moon over a mountain range, and it's absolutely enchanting. A mix of bold and looping typography completes the minimalist look.
3. Bohemian Altar Wedding Invitations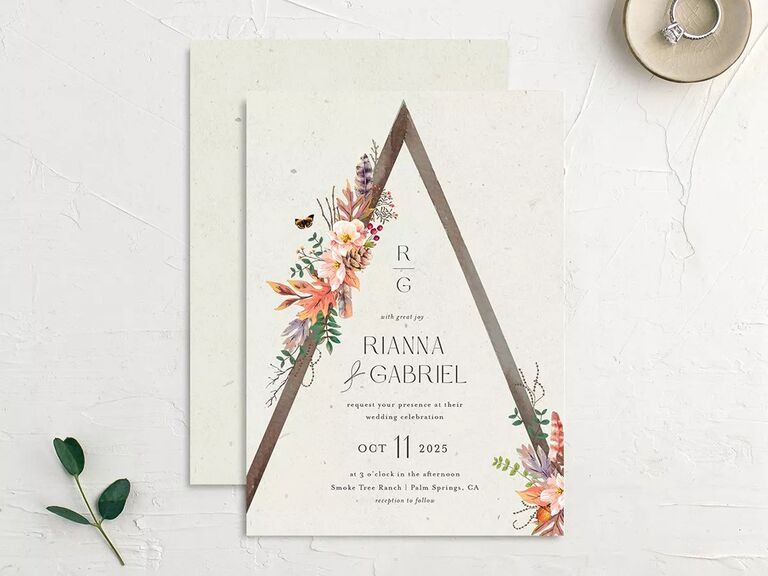 Foreshadow the floral-accented altar at your wedding ceremony with these sweet boho floral wedding invitations. The triangular altar is decorated with vibrant blooms, rustic feathers and rich greenery for a whimsical touch. Beneath the structure, your guests will find your names and event information outlined in a classic serif font.
4. Pampas Elegance Wedding Invitations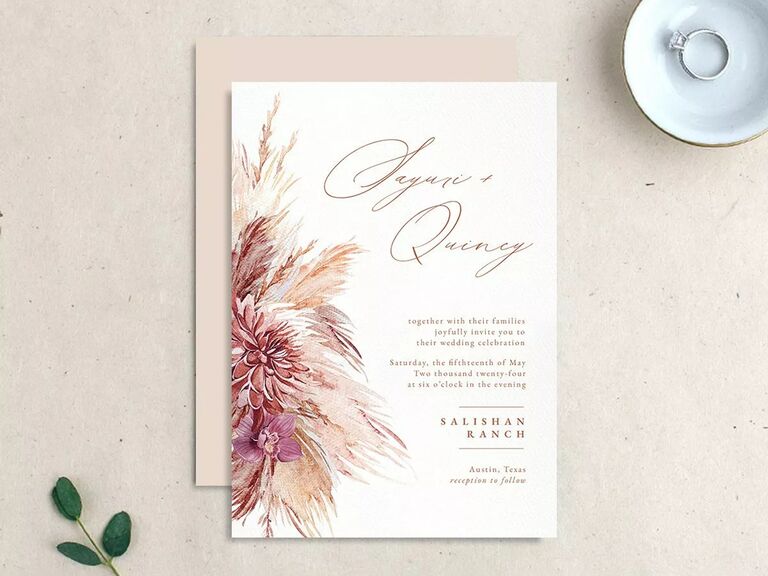 Pampas grass—which is traditionally associated with bohemian style—forms a beautiful edge on this modern boho wedding invite. Your names float effortlessly alongside the bold design in a script-style font above your wedding details. Print your wedding date on the back for an extra-personal touch.
5. Gilded Adornment Wedding Invitations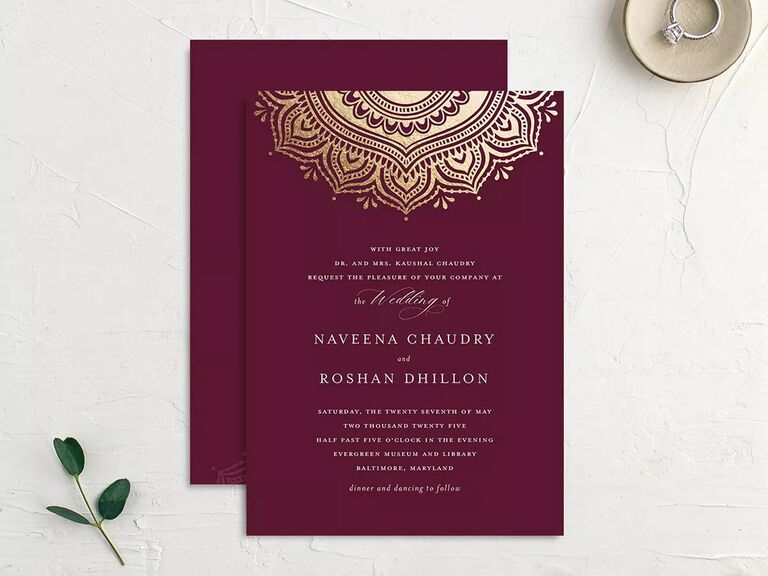 A gilded mandala design is the centerpiece of this beautiful boho wedding invite. Your names and wedding details are showcased in an elegant font that complements the luxurious motif. Meanwhile, the back of the card holds your initials within a similarly adorned design. Choose from three foil colors for the mandala: gold, rose gold or silver.
6. Terracotta Boho Minimalist Botanicals Wedding Invitations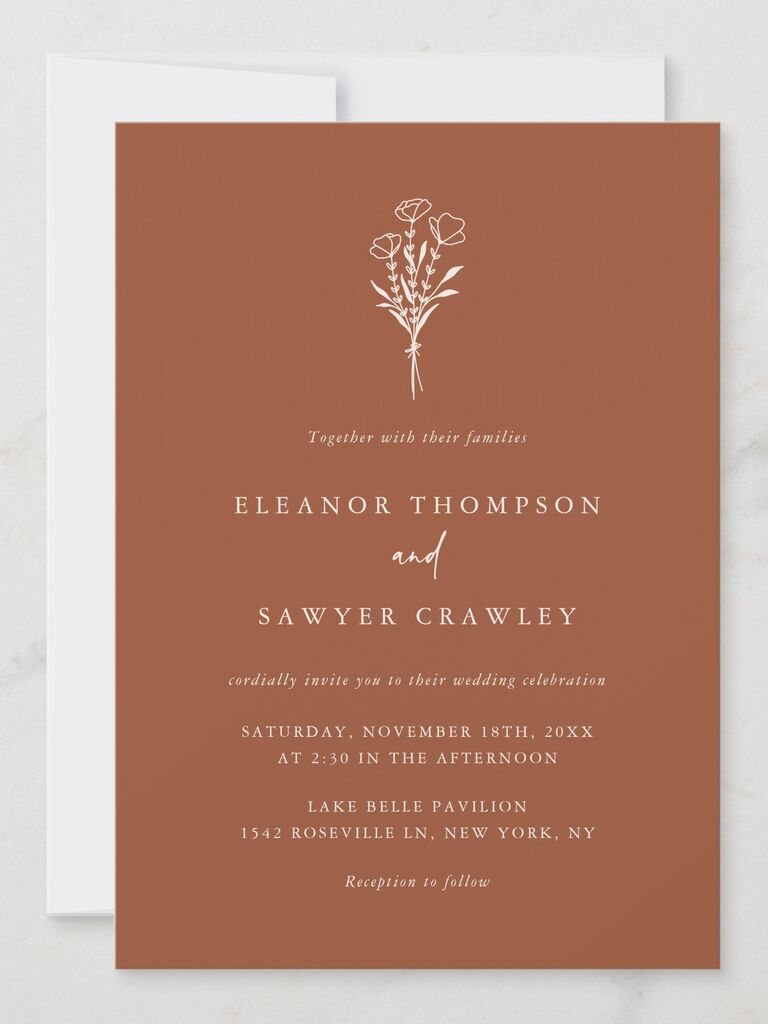 Minimalist couples, these simple boho wedding invitations are ideal for your low-key gathering. The rich terracotta background is accented with a white floral bouquet motif above your event details. First, choose your invite size and shape, then customize the template with your wedding information.
7. Botanical Blooms Wedding Invitations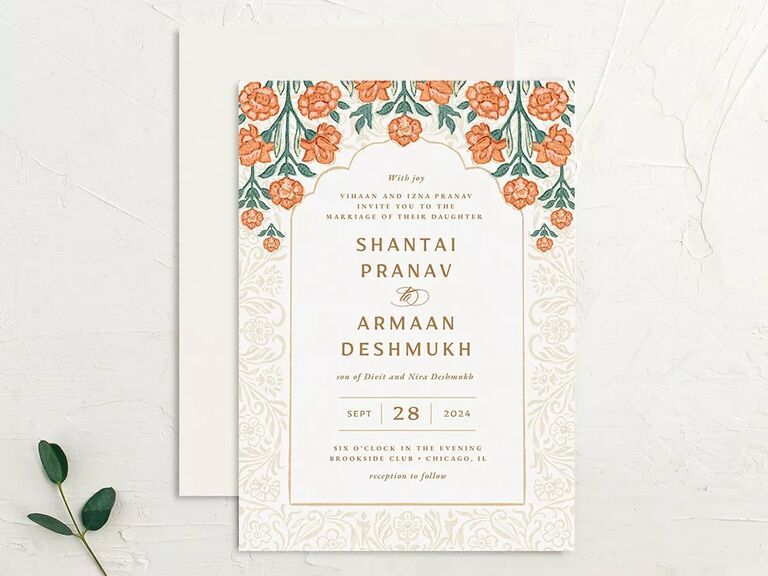 Celebrate your spring or summer wedding with a boho wedding invitation covered in romantic orange blooms. Delicate botanicals hang above your event details, which are placed within an elegant scalloped frame. There's even an intricate floral border that contrasts the soft-colored background to complete the elaborate design. What's not to love?
8. Romantic Bohemian Wedding Invitations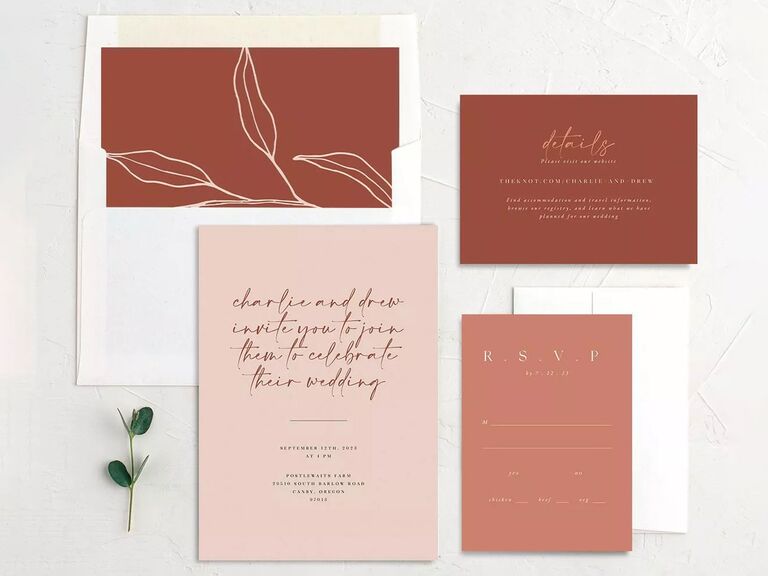 Effortlessly elegant, this pink boho wedding invitation has us swooning. Your request to attend is presented in a beautiful handwritten script, while your wedding details are showcased in timeless serif type. On the rear of the card, there's a white branch motif that's replicated throughout the rest of the matching stationery suite.
9. Rustic Bouquet Wedding Invitations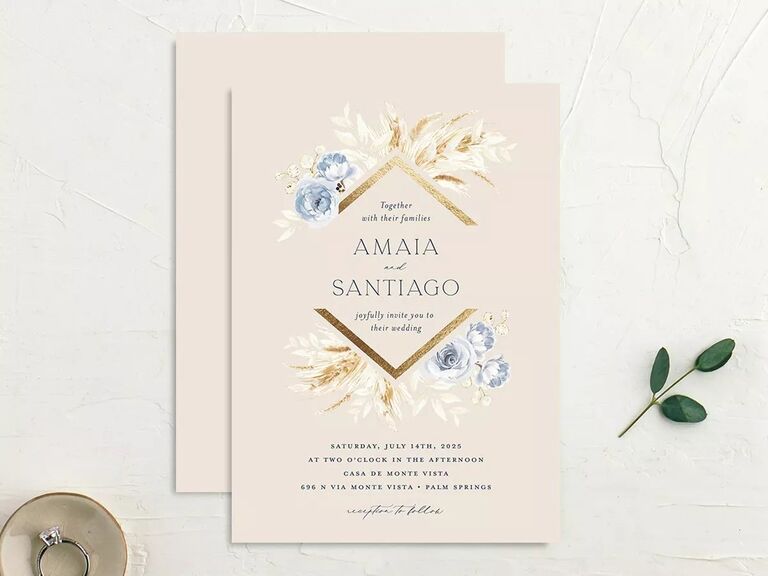 Pay tribute to your rustic wedding centerpieces with this lovely boho floral wedding invite. The geometric metallic foil balances the soft blue botanicals, forming a whimsical backdrop for your names and wedding details set out in a classic serif font.
10. Boho Chic All-in-One Wedding Invitations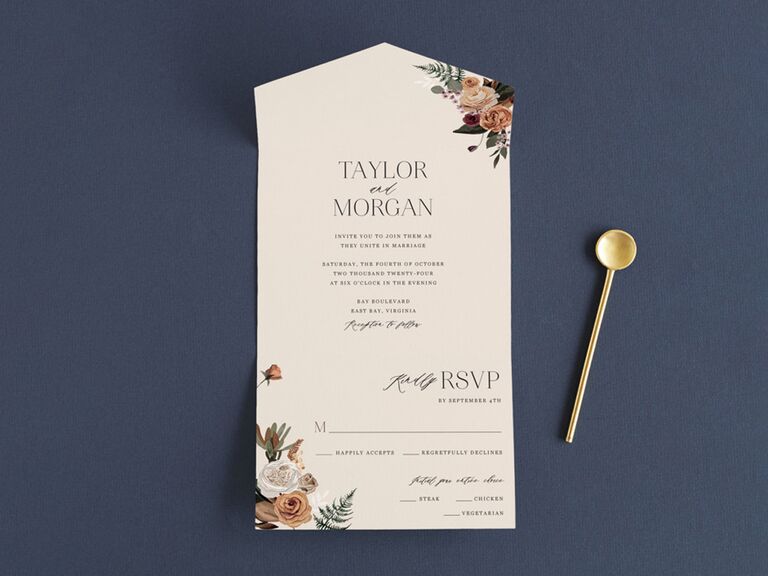 How charming are these boho-chic wedding invitations? Sweet botanical details adorn the top and bottom corners of each card, adding a subtle elegance to the minimalist design. Plus, a perforated RSVP postcard is attached to the invite for extra convenience for your guests.
11. Bohemian Arch Foil Wedding Invitations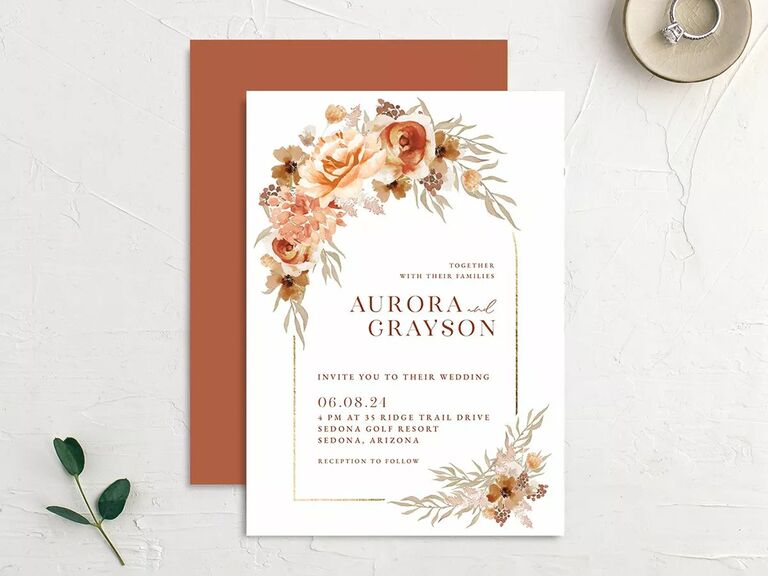 Perfect for your upcoming garden celebration, these floral wedding invitations surely make a statement. The gilded foil arch is accented with big, bountiful blooms in the color of your choice. Inside the arch are your event details outlined in an elegant serif font.
12. Delicate Wildflower Wedding Invitations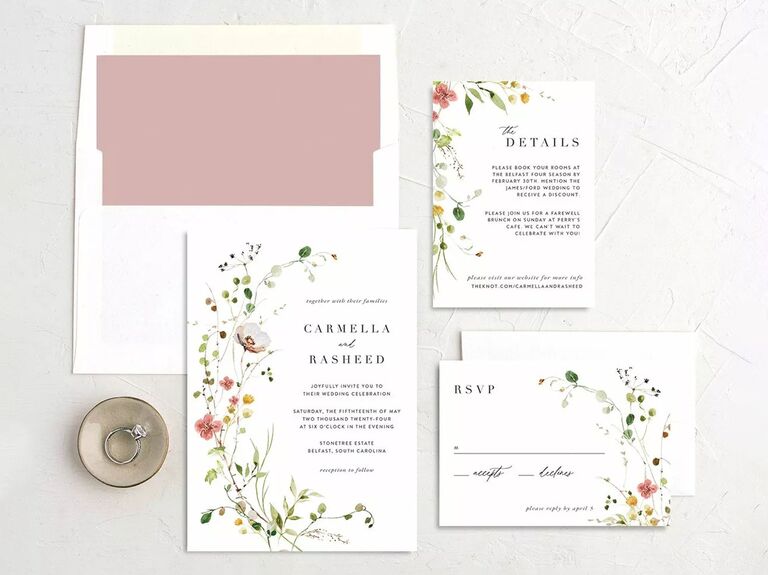 If you're looking for a subtle bohemian design, try these ethereal wedding invitations. Colorful wildflower motifs are shown alongside the couple's names and event details, adding a lovely natural element to the minimalist design. Bonus: The delicate botanical design is carried throughout the entire invitation suite.
13. Painted Desert Wedding Invitations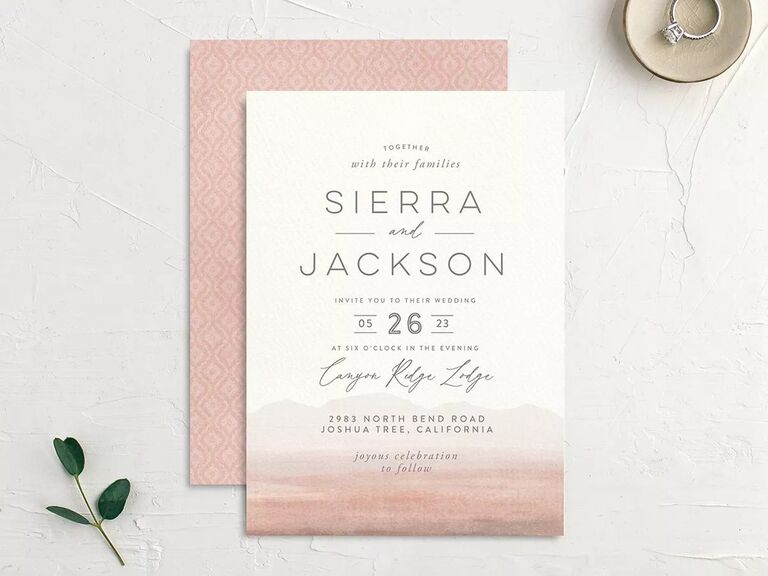 Kick off your western wedding with a rustic wedding invitation that deserves a place on the fridge. This invite's desert-themed background—available in pink or purple—depicts a scenic mountain range that's painted in watercolors. The back of the card has a chic surprise: An ikat pattern that'll wow your guests.
14. Folk Art Wedding Invitations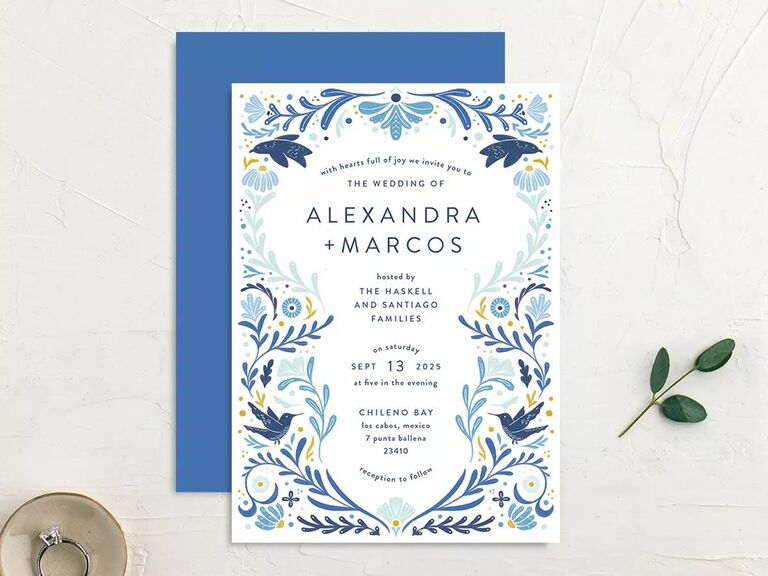 Inspired by Mexican folk art, this celebratory wedding invite is a beautiful option. The vibrant border is filled with gorgeous bird and flower motifs for a truly remarkable design. Choose from six gorgeous color themes, including blue, pink and gold.
15. Boho Lace Wedding Invitations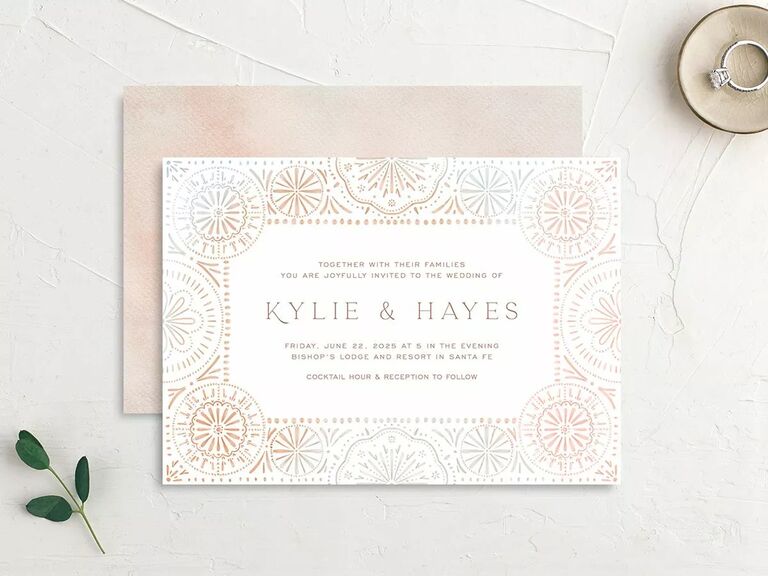 We absolutely adore the unique lace-inspired border on these affordable wedding invitations. Your gathering's details are presented within the eye-catching frame. Meanwhile, the back of the card reveals a coordinating watercolor design that's the definition of romantic.
16. In the Country Foil-Pressed Wedding Invitations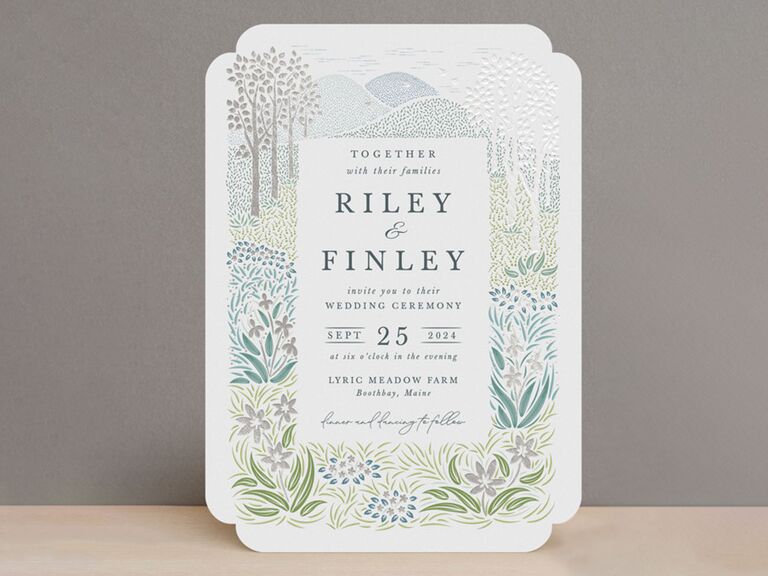 If you're going for a really whimsical vibe, check out these country-inspired boho wedding invitations. The foil-pressed design depicts a calming nature scene filled with greenery, florals and other organic elements. Pick from a large selection of color schemes, foil options and card shapes to further personalize this picturesque invite.
17. Woodgrain Lace Wedding Invitations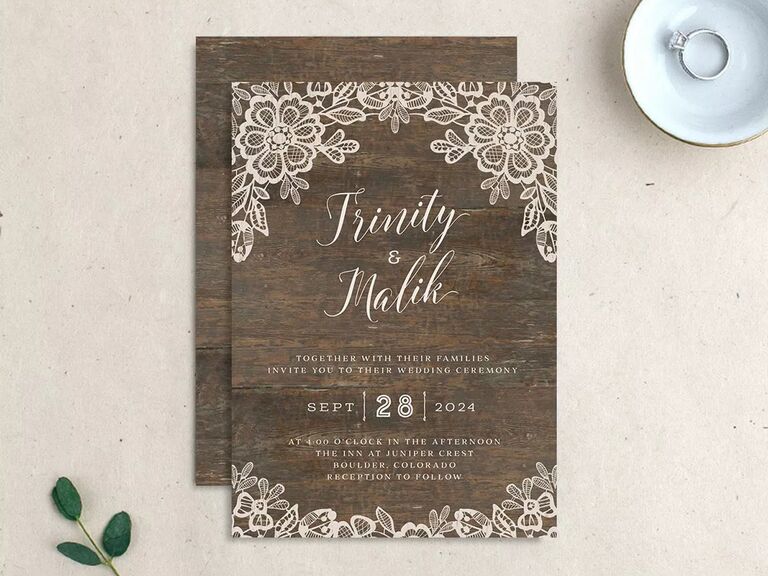 This rustic-yet-chic wedding invitation is perfect for your barn wedding. Lacy accents add elegance to the woodgrain-inspired background. On the flip side, there's another pretty lace motif containing the couple's monogram for an extra-sentimental addition.
18. Neutral Bohemian Wedding Invitations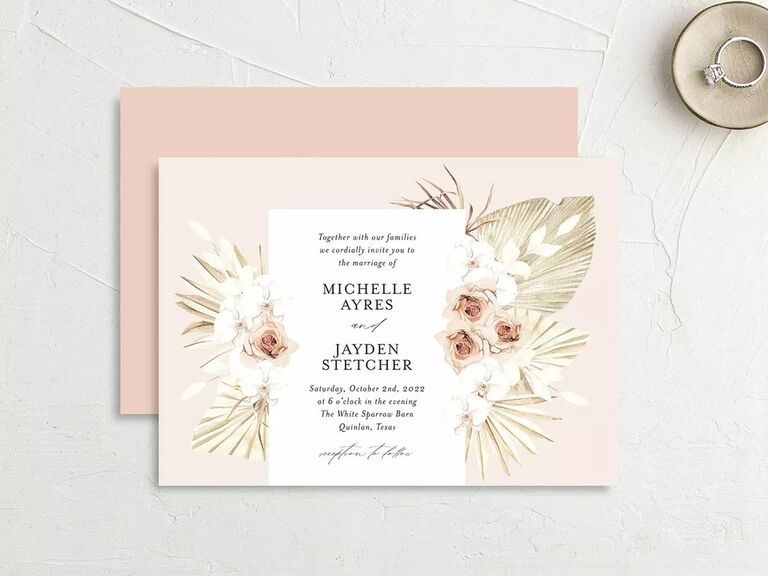 For a neutral design that's incredibly stylish, these bohemian wedding invitations take the cake. A bold arrangement of earthy florals emerges from a white rectangular backdrop that encompasses your name and wedding details. The background's soft pink shade balances the lively botanical design and italic-style font.
19. Celestial Wedding Invitations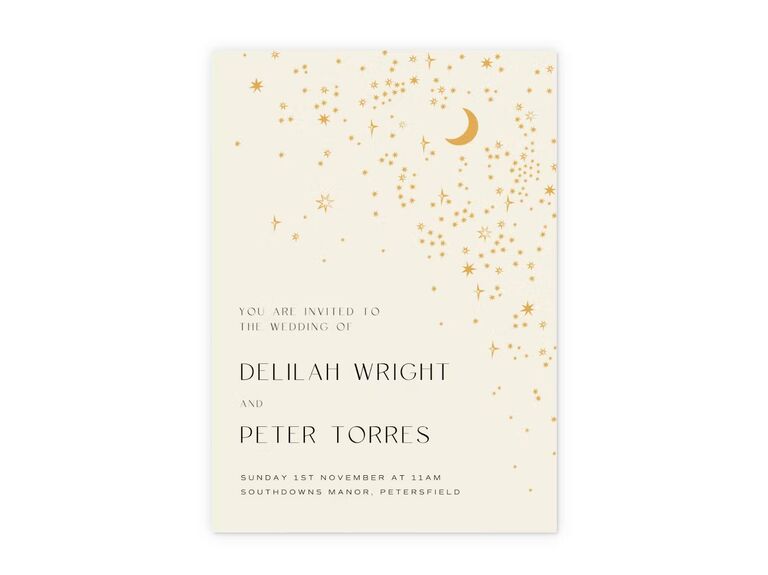 Looking for out-of-this-world wedding invitation ideas? This starry design, which comes in glittery gold foil, is a worthwhile option to celebrate your everlasting love. The celestial wedding invite is printed on textured Mohawk paper for a high-quality feel.
20. Ornamental Elegance Wedding Invitations
Here's another gold design your guests will love. This time, it features shimmering ornamental artwork for your formal wedding. First, choose from a white and teal or pink color theme, then customize your event details. To top it off, you can add your couple's monogram to the back of the card.
21. Palm and Protea Wedding Invitations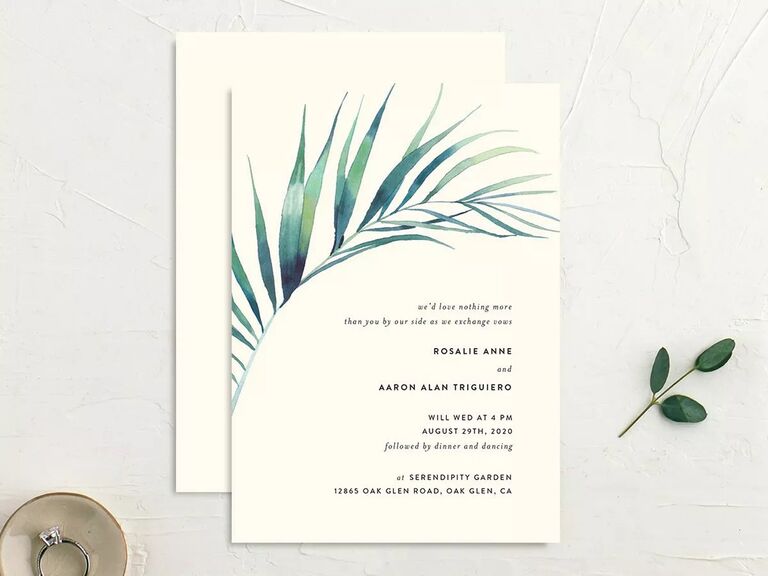 Traveling to a tropical location for your nuptials? Here's a boho wedding invite with a tropical design to match. A watercolor palm leaf hovers over your names and wedding details, which are showcased in modern type. But our favorite detail actually appears on the backside of the card: a painted protea flower decorates the bottom corner.
22. The Arch Wedding Invitations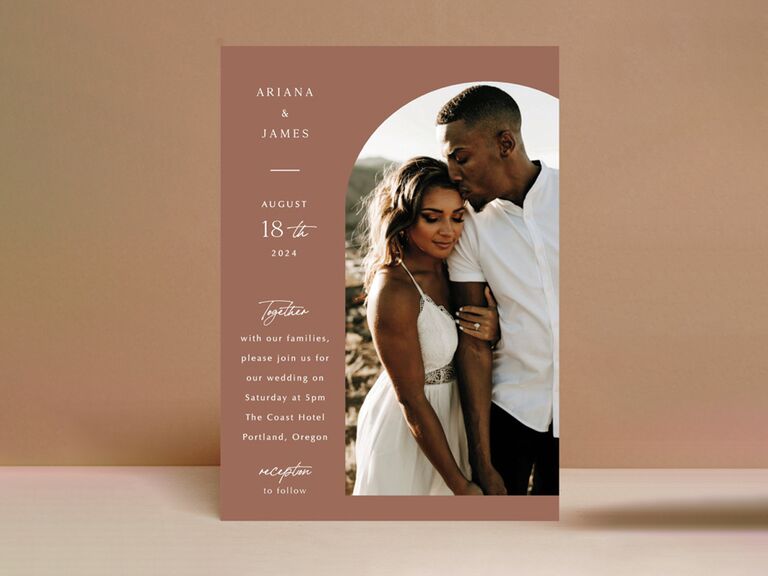 Sometimes, simple is better—and these boho-style photo wedding invitations are proof. A picture of you and your partner gets placed within a romanticly arched frame on the right side of the card, while your party details are presented elegantly down the left. This personalized invite is available in five gorgeous colors, but the Ocean and Terracotta shades are giving us major boho vibes.
23. Boho Rustic Fall Leaves Wedding Invitations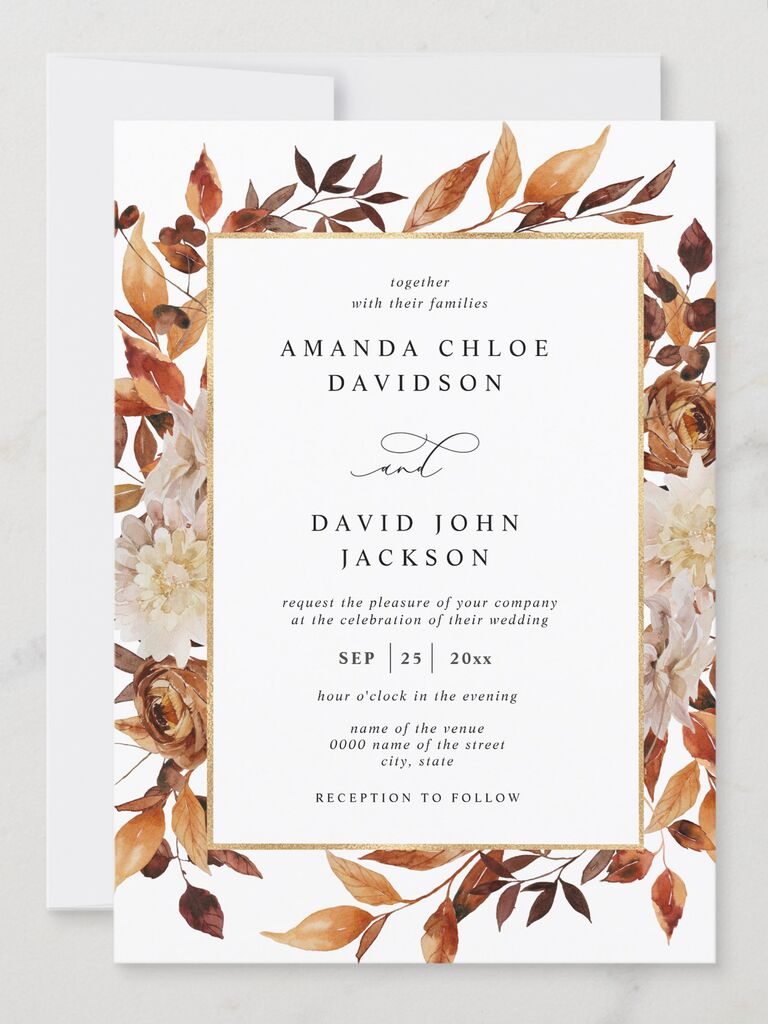 Getting married this autumn? We've found the perfect fall wedding invitations for you. This design features a seasonal border adorned with boho autumn flowers and foliage. Your event details are presented front and center within an elegant gold frame. Select your favorite card shape from six different options, including rounded and scalloped.
24. Arch Acrylic Wedding Invitations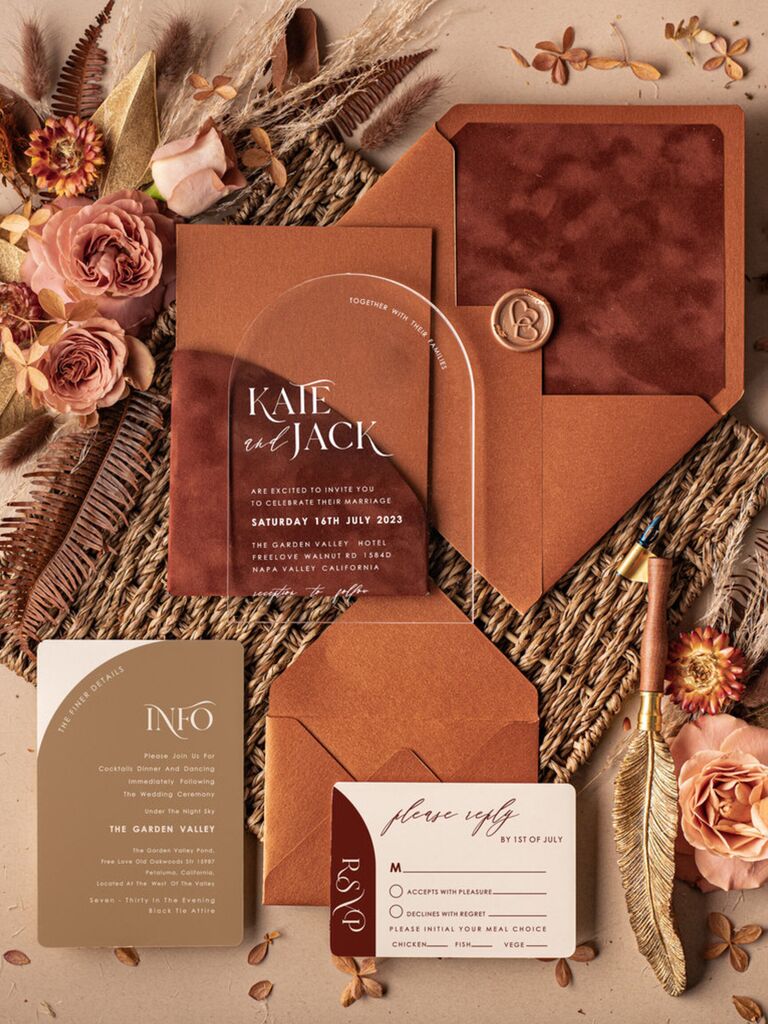 For an upscale bohemian wedding, these acrylic wedding invitations are a fancy choice. The handmade arch-shaped acrylic invites are sold as part of a complete stationery suite, which includes an RSVP card, RSVP envelope and information card. For an extra cost, the Etsy seller can add a wax seal and personally address the envelopes in pretty script.
25. Painted Beach Wedding Invitations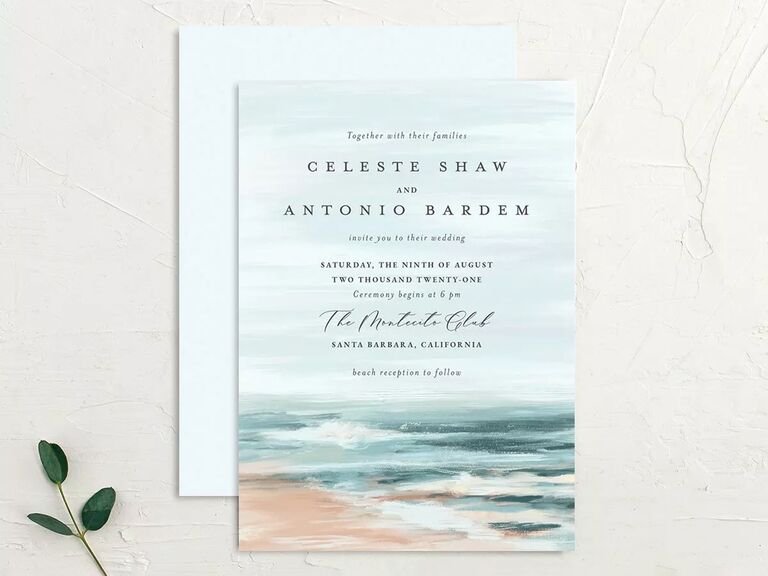 We're rounding out our favorite picks with a boho design that's giving beach vibes. A hand-painted beach scene is the backdrop for your names and party details situated above the crashing waves. It's a romantic way to invite guests to your coastal wedding by the sea.