21 Real Brides Who Didn't Wear White Wedding Dresses
Who says ivory is your only option?
When it comes to your wedding day, just about anything goes—especially for your outfit. While it was once custom for brides to wear white wedding gowns, that's hardly the case today. Now, couples view their wedding day attire as extensions of themselves and their wedding theme. Gone are the days of following traditional wedding fashion "rules," because the only rule that truly matters is picking an outfit that makes you feel your very best. And if you happen to love color, you absolutely *should* rock your favorite hue.
To prove that ivory isn't your only option, we've rounded up photos of 21 real brides (just like you!) who didn't wear white wedding dresses. From pastel pinks to vibrant blues and every shade in between, these gorgeous looks will inspire you to shop outside of the box for your wedding. (Psst: Want more inspiration? Head to The Knot Real Weddings photo galleries to find photos of brides who didn't wear white.)
Foliage-Inspired Gowns
More color means more fun. When Jessika and Alex eloped in New York City, they both allowed the fall foliage to influence their wedding dress selections. "Our color palette was centered around the beautiful fall colors we anticipated seeing: a rich, rust orange and olive green," they told us.
Dramatic Black Cape
The Met Gala inspired Priscilla and Kenny's Ohio wedding reception, from the overall design aesthetic to the fashion choices. The bride wore a celestial sunburst-esque headpiece to accentuate her black wedding dress and matching cape, noting that she and her husband "broke with tradition in every way imaginable."
Blush Ball Gown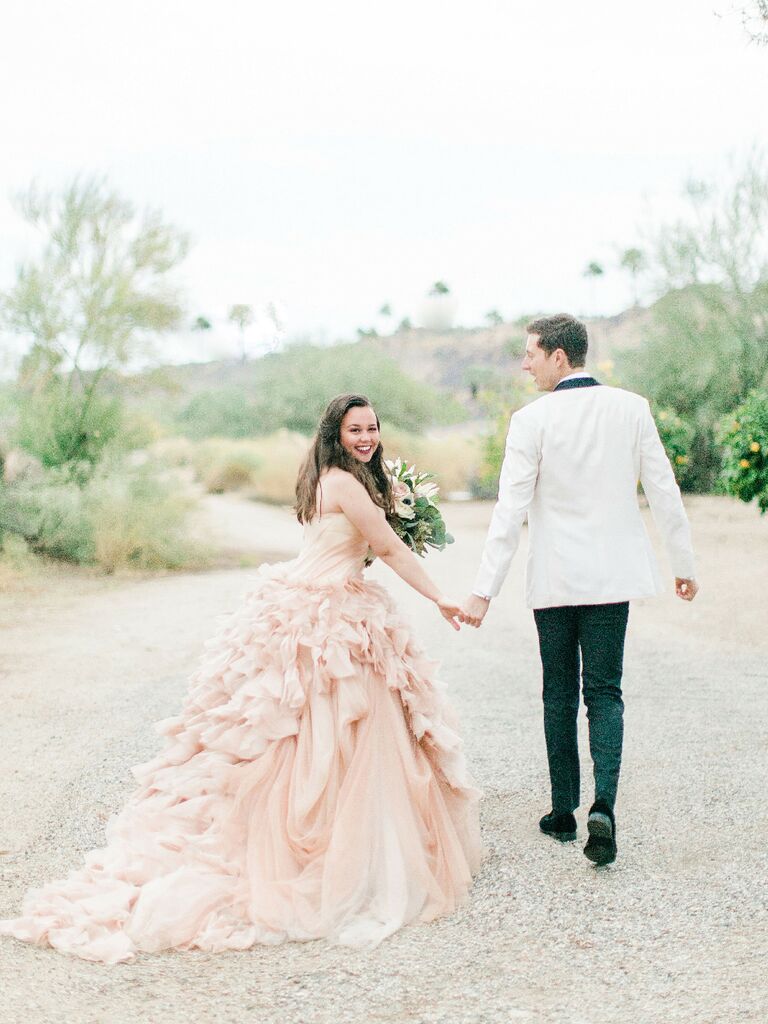 Natalie took the phrase "blushing bride" to a new level by wearing a blush pink ball gown by Vera Wang for her Palm Springs wedding. Despite some shopping challenges along the way, she couldn't be happier with her final decision to go for color. "The bridal industry has come a long way in terms of alternative options, but it definitely still feels like a sea of white depending on the store," she explained to us. "Vera Wang wasn't even initially on my radar but when I was dress hunting in San Francisco (and starting to feel defeated) I called that day to see if they had any cancellations. Turns out they had one, and I was in the Union Square store by the end of the hour. It was the best possible place I could have picked out my gown. Vera has loads of styles that are all somewhere between unusual and classic, and her team really knows how to tailor to short women. I loved all the different blush tones that my dress had, it really felt like wearing a work of art."
Boho Blue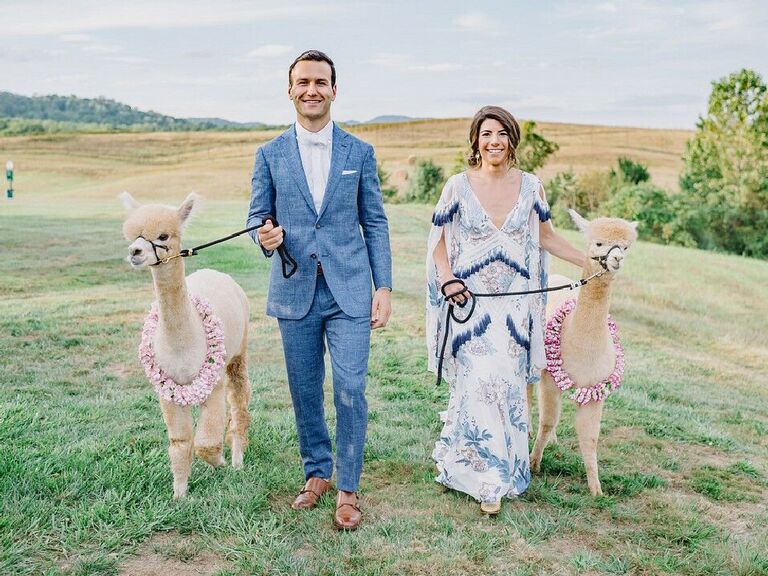 When Tugce and Tareq first met, they quickly bonded over their Turkish and Palestinian immigrant backgrounds. As such, it was a no-brainer to weave nods to their cultures throughout their wedding. Their boho aesthetic heavily featured the color blue, a common shade in traditional Turkish designs. The bride wore a textured blue and white floral dress for the ceremony, which had a sentimental nod to her childhood. "The name of the style was 'the Aegean,' which is the sea off the coast of Turkey that I grew up swimming in," she told us.
Vibrant Orange
Although Chloe and Jeremy planned to host a large wedding in Atlanta, the pandemic caused them to pivot their plans—and the result was better than they imagined. Instead of her original wedding dress, Chloe wore a vibrant orange tea-length frock for her backyard minimony. "We decided to get married two weeks before our original date, May 23, 2020," she explained. "I literally went for my first dress fitting a week before the country shut down, so I had to find another dress for our special day. I just wanted to wear something that made me feel comfortable with a refreshing color. I rented my earrings from Rent the Runway and purchased shoes from my fav, Sam Edelman. I did my own hair and makeup for the big day!"
Luxe Red Ball Gown
As an homage to her Chinese culture, Laurel oped to wear a vibrant red ball gown with a dramatic red veil during her ceremony in Zhangjiajie, China. "The inspiration behind the day came from our love of the outdoors and the desire to share the beauty of Chinese culture with our friends and family as a way to break stereotypical borders since we are a bi-racial couple," she told us. "The wedding was a blend of east-meets-west culture—we implemented the wedding traditions of an American wedding but added in hints of Chinese culture with the inclusion of door games, tea ceremony, and by ensuring of course that there were multiple dress changes."
Blue South Asian Dress
While Taylor and Ahbi began their wedding day in a traditional white dress and tuxedo, they gave their guests the ultimate surprise by changing into traditional Indian attire for the reception as a nod to the groom's heritage. In fact, Taylor says it was one of the most impactful moments of the entire wedding day. "We did a quick change into Indian attire and surprised our guests," she reflected. "It was a rush to try to change so quickly and get to dance to such an upbeat and fun Indian song with my husband. We had a blast!"
Black Lace
While Milan had a "fairy-tale" inspired aesthetic with pastels and watercolor shades for her ceremony, her vow renewal had a very different look. For a stark contrast, she wore a strapless black lace wedding dress with a bustier bodice and an edgy tiered skirt as a nod to the growth of her relationship. "We decided to have something quite the opposite—dark colors, heavier textures. Yet the general vibe had to be chic and classy," she explained. "We wanted to try something dramatically different from our wedding to reflect our internal growth as we grow old together."
Red Off-the-Shoulder with Floral Appliques
Katie's choice to wear a red wedding dress to her colorful vintage wedding—complete with floral appliqués lining the neckline and hem—was inspired by a piece of familial advice: "We wore red because my Great Aunt Helen once told me that red is the color you wear when you're celebrating something, and had our guests all wear red shoes (that's a David Bowie thing, lets dance!)."
Custom Yellow High-Low
After working for Zac Posen throughout college, T Kira dreamed of wearing one of his designs for her wedding—and her vision ultimately came to fruition. She married fiancé Hannah in Oahu, Hawaii, and allowed their saturated color palette to heavily influence her wedding dress. "Posen custom made the dress in a marigold yellow, one of T Kira's favorite color," Hannah told us. "She chose funky Christian Dior pumps, mesh with disco balls and gold lips, to offset the formal dress."
Grecian Gold Lehenga
Suniti and Sam hosted seven—yes, seven!—wedding events for their destination celebration in Aspen, Colorado. The bride wanted to honor her Indian culture through fashion, choosing an outfit in a different color palette for each party. "I wore Indian clothes by Indian designers for all of the events," she said. "I wanted to have a different look for each event and make sure the dress matched the feel of the event as well as the natural setting." Of all the stunning outfits she wore, she concluded that her "almost Grecian" gold lehenga (pictured here) was her favorite.
Red Vietnamese Ao Dai
Jess and SC packed their mountaintop wedding day with thoughtful and modernized nods to their cultures, notably through fashion. While SC opted for a white wedding dress, Jess chose a Vietnamese design in a vibrant red hue. "I always wanted to wear a traditional Vietnamese Áo dài, in red and gold, just like my mom and all the other women in my family wore to their weddings," Jess explained. "If they couldn't be there physically, then I could have them there in spirit—in a garment that I wore so proudly that day."
Glam Black Embellishments
To stand out against their blush and gold color palette, Nakia and Eric chose bold colors for their wedding outfits: the bride rocked a glam black wedding dress while the groom donned a black-and-white tuxedo with decadent embroidered trim. "I went untraditional with my wedding gown and wore black, which is my favorite color," Nakia said of her nuptials. "I wanted my gown to match my personality."
Pink Floral Cape
If you're not sure that you could commit to a bold wedding dress, perhaps you'll be inspired by Gianna's colorful pink floral cape. To stay warm during her snowy winter wedding in Michigan, the bride accessorized her traditional silk dress with a "church cape," a high-neck design made of silk wool and long, flowing panels.
Ethereal Purple Gown
Hannah and Mark wanted their unique wedding to embody their boho spirit, and we'd say they nailed it. Hannah wore a purple and lace dress as a nod to her amethyst birthstone, and the gold detailing mimicked the patterns of her tattoos—and they both received new ink that day thanks to the bride's tattoo artist, who set up a station at the reception to give the couple matching Celtic infinity knot designs.
Bright Red and Pink Gown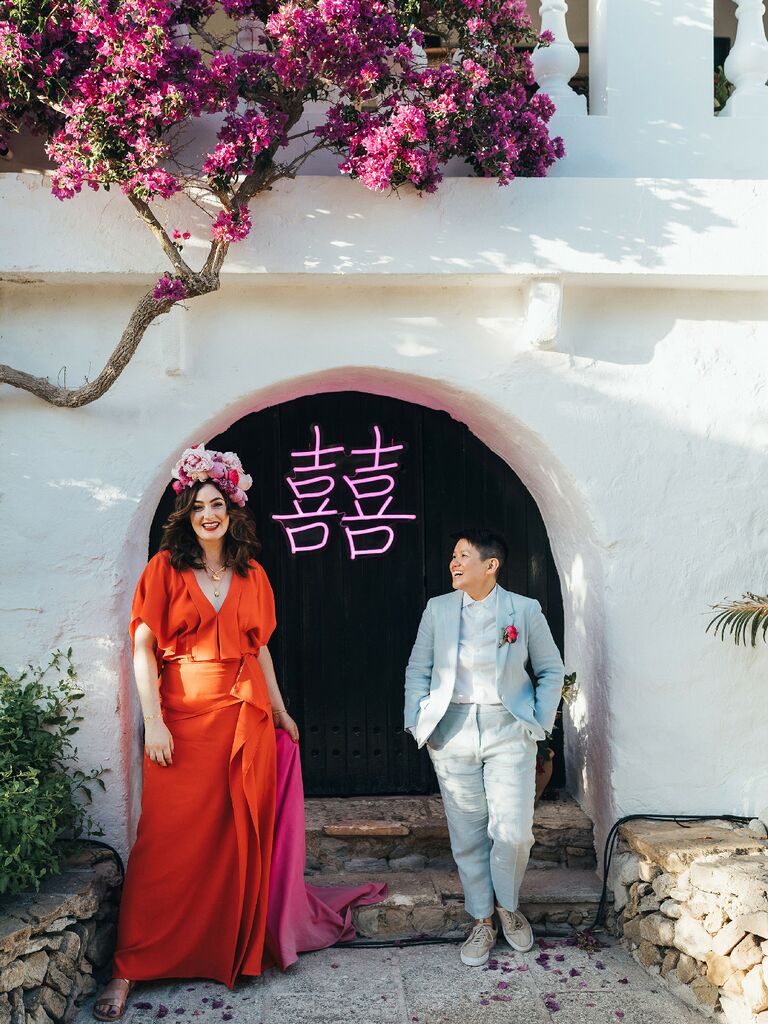 Alice and Mel's colorful love story is certainly one of fairy tale material, and their Menorca wedding was just as vibrant as them. Despite not following an official theme, they told us that their goal was to host "a shining, disco-ball beacon of queer love." Their fashion choices certainly fit the bill. "We wanted to be subtle and understated," Alice said jokingly, "so our dress code was Judy by day, Liza by night. I wore a red and pink ballgown and gold vagina necklace, we had a dramatic balcony entrance with nine children to Dolly Parton's '9-5,' gave all speaking roles to women and gays and had a bearded drag queen dressed as a bride."
Shades of Pink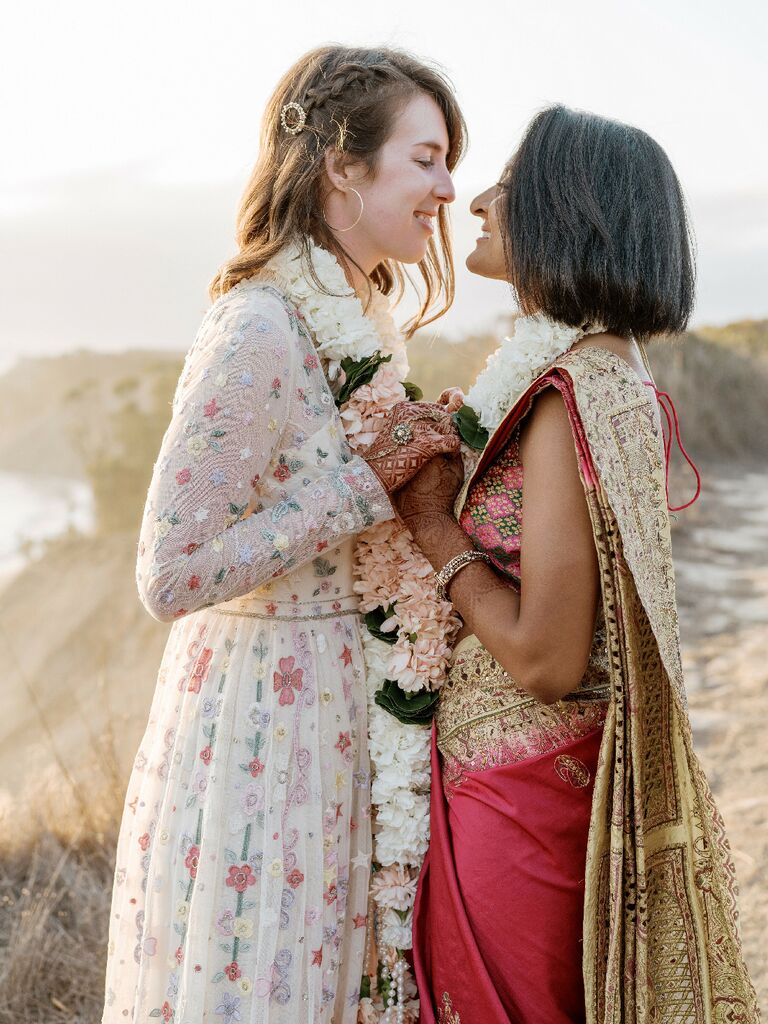 Nestled on the west coastline, Jean and Anamika hosted a backyard minimony with a "California nature meets Indian tradition meets handmade" theme. While their parents weren't able to attend the nuptials, they did help with one very important detail: the fashion. "We spent many hours with Anamika's mom on Zoom learning how to tie a sari correctly," Jean told us. "The most special part was the dark red chunni that I had draped around my shoulders, which my mother wore during her own wedding 35 years ago," Anamika added. "Typically my mother would have helped me get ready, but in this case, Jean stepped in and helped me tie that thing on like a pro! I remember feeling totally victorious in having tied a sari without my mom for the first time. I had just barely put the last safety pin in my sari when a huge beam of sunlight came in through the window, shining right on me as if to say 'good job Anamika, you didn't mess it up.'" As for Jean's attire, in keeping with the aesthetic, the hummingbird embroidery on her dress "added to the fun and whimsy of the day."
Blue Mermaid
When Amy and Bob tied the knot in Charleston, they wanted their celebration to feel like an elegant dinner party rather than a formal wedding. This, of course, led the bride to wear an elegant cerulean off-the-shoulder mermaid dress, which was inspired by her blue-and-white china collection and her love of art and France. "We wanted it to feel intimate, personal and beautiful, honoring the people who have carried us to this point," Amy said.
Elegant Emerald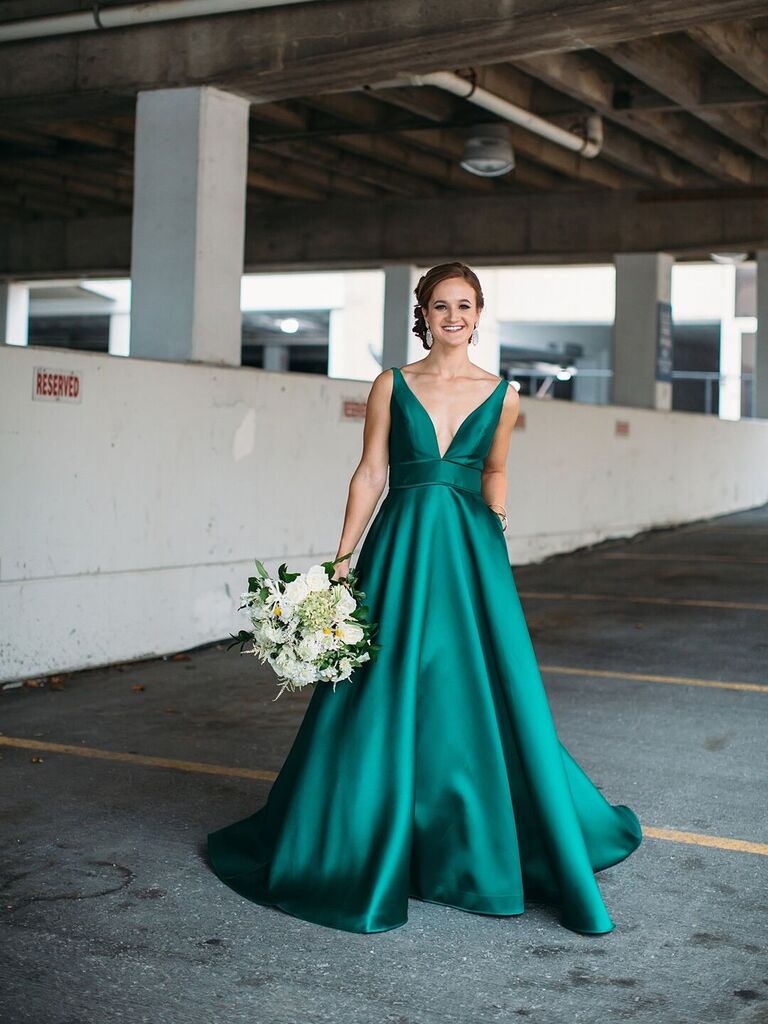 When Kathleen began wedding dress shopping for her modern gallery nuptials, there was no question that she'd land on a green gown. "Green is my color—it makes me happy, and I knew I could find something elegant that would help me stand out," she told us.
Red Tulle
The decision to wear a red gown to her industrial wedding was somewhat of a no-brainer for Caryn, particularly because of her unique sense of style. "I tend to be very abstract," she told us. That, of course, led her to select a full red dress layered with airy tulle. The color choice was particularly meaningful because Caryn's mom also wore a red dress on her wedding day.
Glittering Metallics
Maeve found her wedding dress exactly one month before her rustic fall wedding, and it couldn't have been a more perfect design for the modern and industrial setting. "It was a floor-length champagne tulle dress that gradually flared below the knee, covered in silver and gold-hued sequins forming the shapes of florals and vines," she explained. For added sentimental value, she also wore a brown mink stole that originally belonged to her husband Zach's late grandmother, Marianne.