Wedding Ceremony Extras You Need to Make Your Day Special
Don't forget these important essentials before you tie the knot.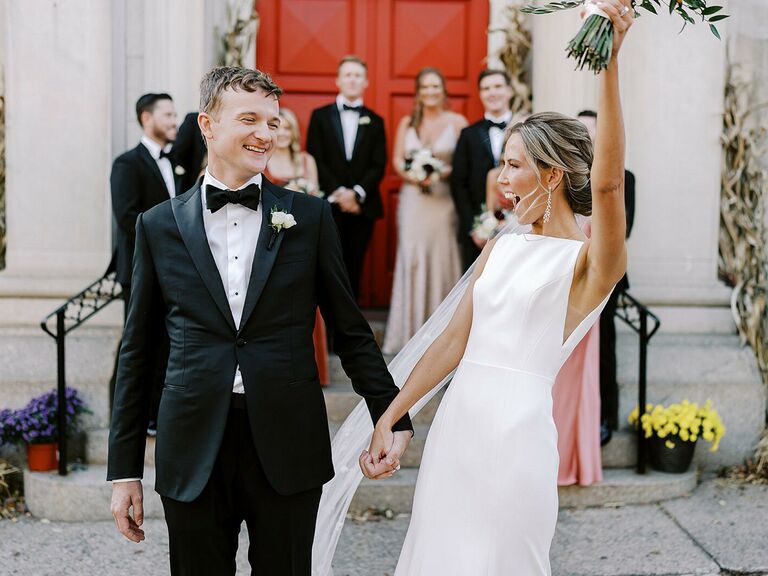 Photo: Longbrook Photography x Pat Furey Photography
We have included third party products to help you navigate and enjoy life's biggest moments. Purchases made through links on this page may earn us a commission.
As you plan your wedding ceremony, it's easy to forget the little details that make your celebration a success. These wedding ceremony extras include a place for your vows, programs, a cute flower girl basket and special items for your guests. Your ceremony is also one of the most photographed moments of your day. Make sure to include ceremony decorations that match your theme and personal style. We know trying to remember every item you need to complete your ceremony to-do list can feel overwhelming. That's why we put together a list of essentials you'll want to consider for your big event. Don't forget to head over to The Knot Vendor Marketplace to find a planner and decorator who can also help with the little extras for your wedding ceremony.
All the Wedding Ceremony Extras You Need:
Programs | Vow Books | Aisle Runner | Signs | Guest Book | Unity Items | Religious Essentials | Arch | Aisle Decorations | Flower Girl Basket | Ring Pillow | Blankets | Fans | Chair Covers | Umbrellas | Water Bottles | Exit Item | Editor's Must-Haves
1. Programs
Let your guests know all the details about your wedding ceremony with chic programs that match your colors and theme. Programs outline your ceremony events and can also include a song or poem for guests to recite together, a thank you note and a memorial tribute.
2. Vow Books
Capture your heartfelt vows in a set of keepsake books. Having a written copy of your vows ensures you won't forget what you want to say to your partner during your ceremony. Vow books also look better in photos than a piece of paper, and keep your words safe for years after your wedding.
3. Aisle Runner
Add a touch of luxury to your ceremony with an aisle runner. This ceremony extra ties together your decorations and also protects your shoes during an outdoor ceremony. Styles range from simple fabric to vintage rugs and rustic burlap.
4. Wedding Ceremony Signs
Point your guests in the right direction with ceremony signs. Signs welcome your guests, let them know where to park, the location of the ceremony and where to sit.
5. Guest Book
Include a guest book in your list of wedding ceremony must haves. Collect signatures and well wishes from guests that you'll cherish long after your wedding day.
6. Unity Ceremony Items
If you plan to hold a wedding unity ceremony during your nuptials, ensure you have everything you need to complete it. This could include candles and lighters, different colors of sand, or a rope or cord.
7. Religious Essentials
Hosting a religious ceremony means including wedding extras specific to your faith. This might be a chuppah and smash pouch for a Jewish wedding, or communion wafers and wine for a Christian wedding.
8. Ceremony Arch
Your ceremony arch serves as your wedding day backdrop and frames you and your partner as you commit your lives to one another. Options for this wedding ceremony extra include a flower arch, candlelit fireplace, vintage curtain, rustic window panes and anything else you can imagine.
9. Aisle Decorations
Make a statement with photo-worthy aisle decorations. These wedding extras can include greenery, potted plants, lanterns, hanging chair decorations, wine barrels and rose petals.
10. Flower Girl Basket
Send your flower girl down the aisle in style with a sweet flower girl basket. Shop for this adorable wedding extra in a modern, rustic, boho or classic style. Fill with rose petals, feathers, leaves or biodegradable items.
11. Ring Pillow
Your ring bearer has the important job of transporting your treasured wedding rings to the altar. Provide a ring pillow that makes that task easier. Styles include burlap fabrics, wood slices, vintage designs and more.
12. Blankets or Pashminas
Keep guests cozy and warm during your outdoor fall or winter wedding. Place soft pashminas or blankets in a convenient spot so guests can grab one on their way to their seat.
13. Fans
Set up a display of cute hand fans for your guests. This wedding extra keeps family and friends cool and is also a sweet keepsake. Mark two things off your wedding ceremony extras checklist by purchasing a program that doubles as a handheld fan.
14. Chair Covers
Don't ruin your ceremony style with unsightly or mismatched folding chairs. Use chair covers to transform your seating into something chic and aesthetic. Chair covers come in an array of colors and fabric to match your color scheme.
15. Umbrellas
Hosting an outdoor ceremony means you're at the mercy of mother nature. Although the forecast might call for clear skies, we all know that can change in an instant. Fill a cute basket or bucket with umbrellas for guests to snag if the weather doesn't cooperate.
16. Personalized Water Bottles
Help guests stay hydrated during an outdoor summer ceremony with plenty of cold water bottles available. Customize your bottles with a cute, personalized label that includes your names, wedding date and wedding hashtag.
17. Aisle Exit Items
Do you want your guests to blow bubbles, shake mini pom poms or wave flags during your processional? Place this wedding extra at each chair or set up baskets where guests can grab their celebratory item on the way to their seats.
Wedding Ceremony Extras: Editor's Must-Haves
Shop for your wedding ceremony must haves from a variety of retailers online. Eco-friendly confetti, quirky welcome signs and romantic vow books are a few of our favorite wedding ceremony extras to buy.
Biodegradable Flower Basket Filler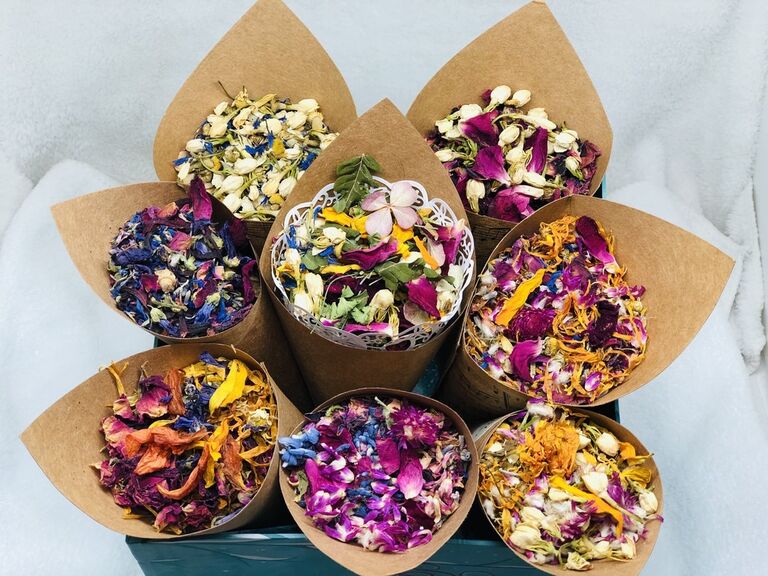 Fill the flower girl's basket with eco-friendly confetti. These biodegradable dried flower petals are available in an array of different colors and scents.
Box of Hearts Guest Book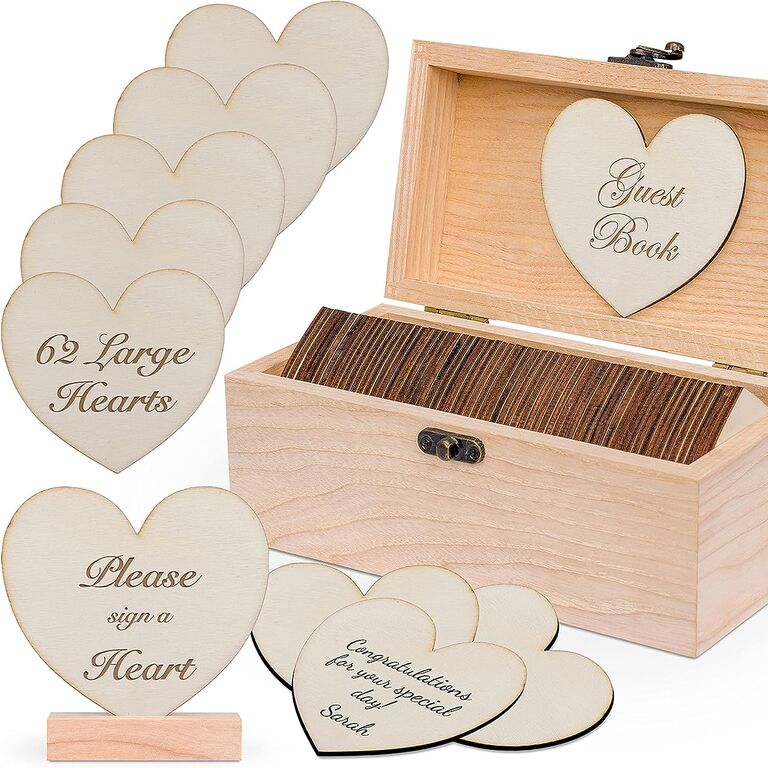 This hand-crafted guest book alternative includes 62 large hearts with plenty of room for guests' well wishes. Tuck the hearts into the natural wood box and them read together with your partner after your wedding.
Unplugged Wedding Ceremony Sign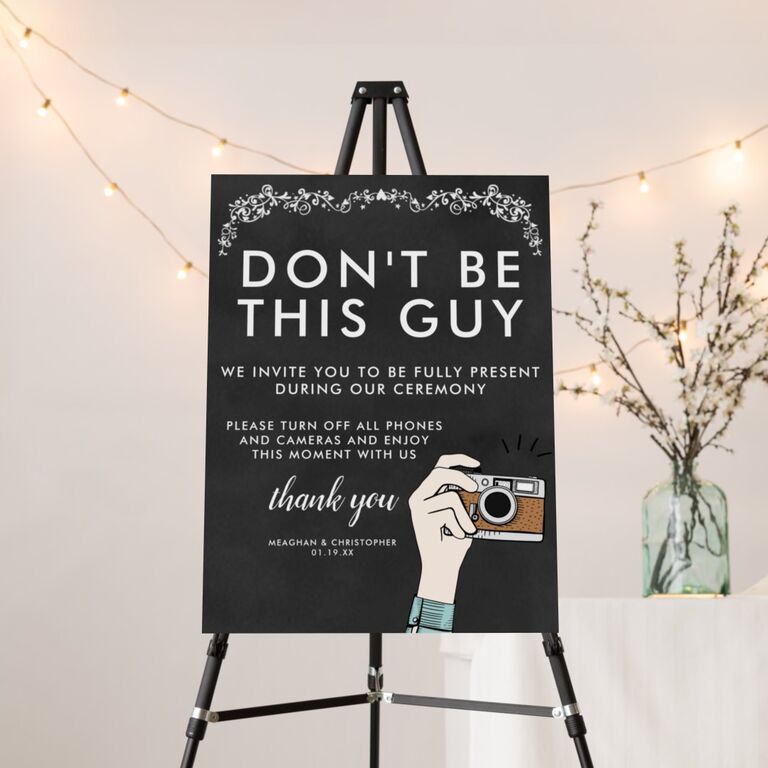 Ask guests to keep their phones off and in their pockets with this cheeky wedding ceremony sign.
Boho Wedding Arch Arrangement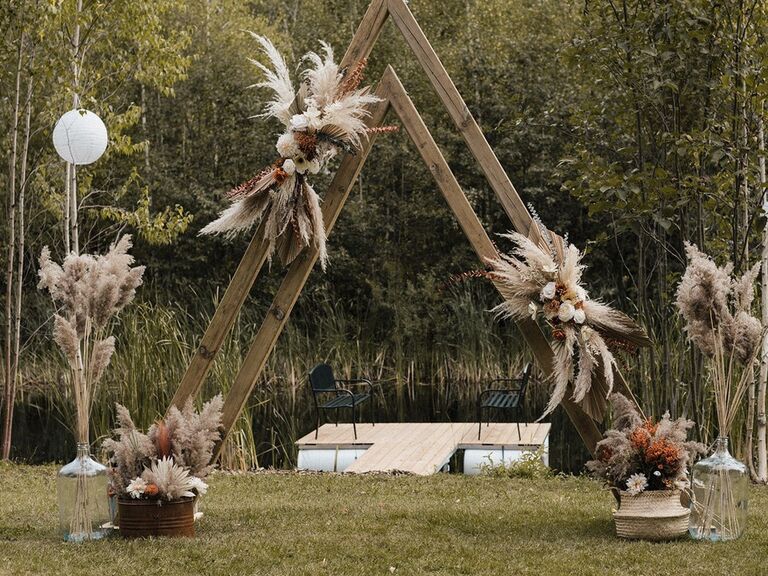 Decorate your wedding ceremony arch with boho flower arrangements. This set includes dried flowers, pampas grass, palms and eucalyptus.
Foil-Printed Wedding Program Fan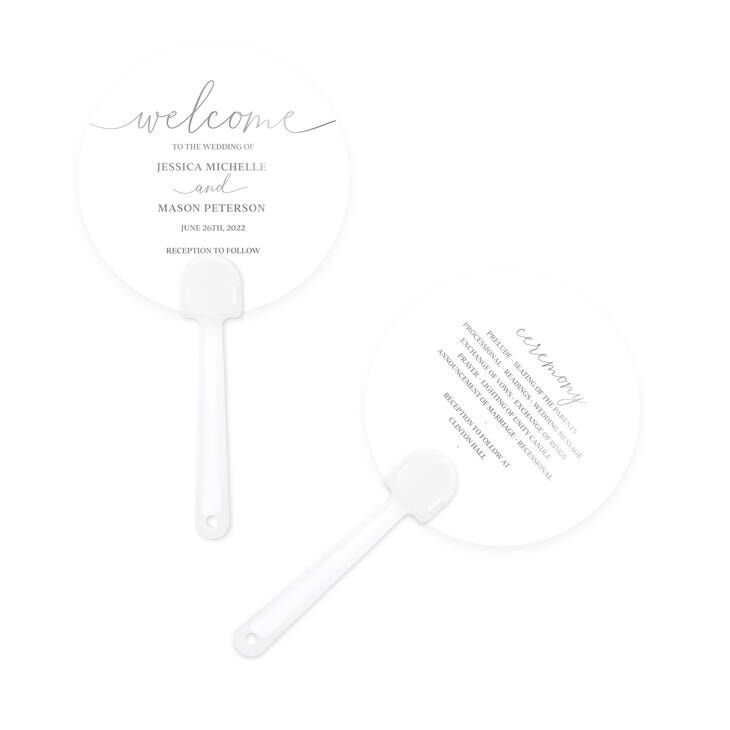 Your summer wedding guests are sure to appreciate a program that doubles as a fan. This beautiful design is made with heavy-duty cardstock and mounted on a comfortable plastic handle. As a bonus, it is available in three shapes and with three different shades of foil.
Blended Family Unity Puzzle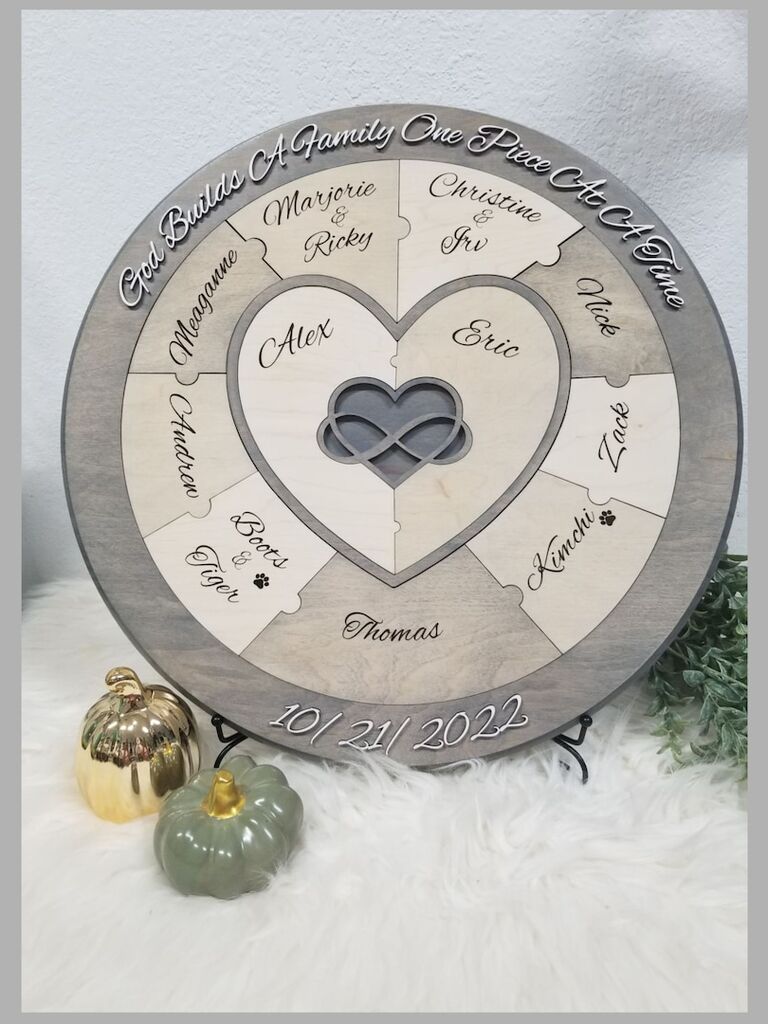 Add each member of your blended family to this sweet unity ceremony puzzle. This wedding ceremony extra comes in several finishes and designs, and is fully customizable to your future household.
Premium Leather Vow Books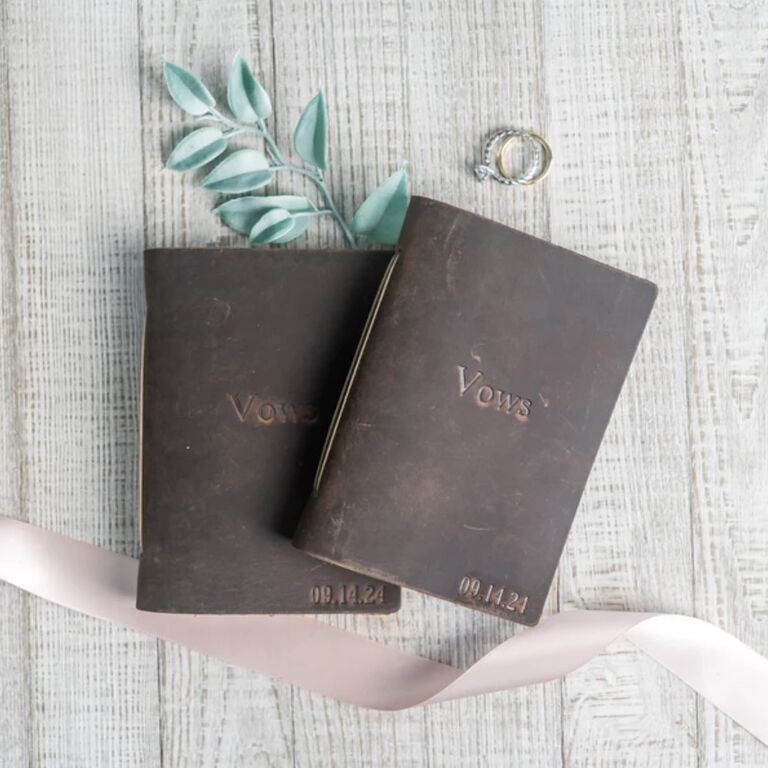 Cherish your vows for years with sturdy and high-quality vow books made of full-grain leather. Choose from several rustic colors and add your name and wedding date for a touch of personalization.
Two-Tone Ceremony Chair Sashes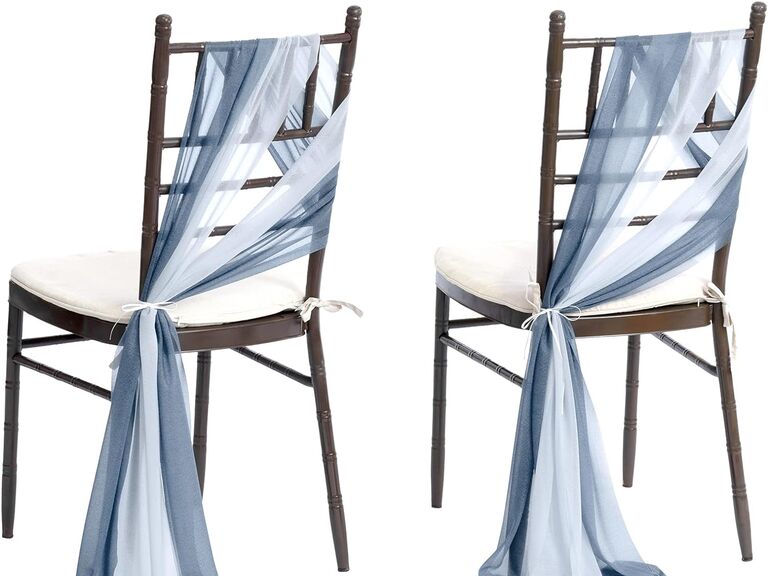 Drape your ceremony chairs in elegant fabric that matches your wedding colors. We love the romance and depth created by this two-toned design.
Personalized Wedding Ceremony Pashminas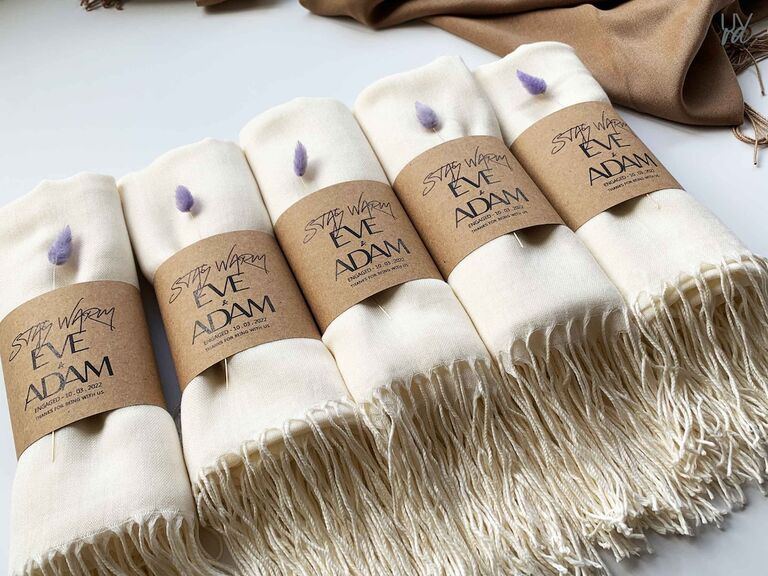 Pamper your guests with this comforting wedding extra. Choose from 20 color options and add a personalized band with your names and wedding date.