19 Types of Wedding Chairs to Stylishly Seat Your Guests
If your venue's basic chairs aren't cutting it, here are your other options.
Wedding chairs might not be the first thing that comes to mind when you start planning your special day, but in reality, they're actually a pretty important detail. Not only do the chairs serve a functional purpose—providing guests with a place to sit during the ceremony and reception—but they'll show up in a lot of your wedding photos, which means you'll probably want chairs to complement the rest of the decor that you painstakingly selected. Many wedding venues, especially all-inclusive venues, will provide basic chairs as part of their event rental packages. But if those options aren't quite what you envisioned for your wedding theme, or if you're looking for ways to take your decor to the next level, adding fancy, decorative wedding chairs is a fun alternative. This handy guide outlines some of the most popular types of wedding chairs you can choose from, along with tips on how to find them using local rental companies and event planners near you.
Wedding Chair Rental FAQs
How do I rent chairs for a wedding?
If your wedding venue doesn't already provide chairs, or if you're looking for options that are more decorative to match a specific theme, the best place to start is by researching wedding rental companies that service your area. It helps to have a general idea of the chairs you want before contacting potential vendors—some chairs may be more difficult to find or only available through specialty suppliers. Check their website and social media posts for inventory options (and make a mental note of the other wedding rentals you might need, too).
Still not sure where to begin? Ask your venue for recommendations of local event planners or special event designers, and look for pros who offer à la carte services. They'll be able to help you source chair options and other rentals, even if you don't hire them to plan the entire wedding.
How much does it cost to rent wedding chairs?
The exact price of renting wedding chairs will depend on the types of chairs you want, how many you need and whether the chairs are basic rentals or high quality, upholstered designs. In general, expect to spend about $2 or $3 per item for plastic folding chairs, and up to $10 or more per item for fancier chairs. If you're adding chair decorations, like covers or cushions, those will be an extra cost.
Wedding Chair Glossary
It helps to know the logistics of event rentals, but getting a visual sense of what you like is also super important. Check out some of the most popular types of decorative wedding chair ideas below.
Bamboo chair
Made from—you guessed it—bamboo stalks, these chairs are a perfect choice for tropical aesthetics and beach weddings. Pair them with a bright color palette or patterned table linens to play up their island-inspired vibe.
Bentwood chair
If you're constantly daydreaming about strolling the streets of a picturesque French town, these distinguished wooden wedding chairs will catch your eye. Commonly spotted in quaint Parisian cafés and trendy bistros, bentwood chairs bring a hint of European elegance to your wedding decor. They're available in a range of neutral tones, including natural wood, black and white.
Cane back chair
Cane chairs, which feature a back panel woven from dried grasses or bamboo, come in a variety of colors and shapes—some cane panels are even whitewashed or finished with gold foil. The centuries-old design dates back to the 17th century, making these chairs ideal if you want to incorporate a bit of antique sophistication into your big day.
Chameleon chair
Named for their criss-crossed back that can be decorated in a variety of ways, chameleon chairs are the perfect type of banquet chair if you're going for a contemporary look. Also known as fanfare chairs, these metal chairs feature an eye-catching back that's often adorned with colorful sashes or ribbons woven in between the design. You can also leave the chairs bare or fully hide their metal structure using covers and skirts.
Chiavari chair
As one of the most popular types of wedding chairs, you've probably seen these before. Chiavari chairs are typically used for traditional and formal events, either left bare or decorated with satin covers and sashes. Wood and metallic finishes are the main styles, but you can also find them in a few unexpected colors, like clear acrylic or white.
Cross-back chair
Beloved for their homey, rustic-chic look, cross-back chairs are a go-to style for wedding venues like gardens, farms and tented outdoor wedding receptions. They're decorated with a signature "X" on the back and come in several natural wood finishes, from whitewashed oak to mahogany brown. Dress them up with seat cushions to personalize your decor even more.
English garden chair
These dainty metal chairs are a sweet addition to an outdoor garden wedding ceremony or reception. Usually made from wrought iron in bronze, white or green hues, English garden chairs feature delicate filigrees, scrollwork and whimsical shapes, like hearts. They'll add a charming vintage look to your wedding day.
Folding chair
Basic and versatile, wood folding chairs are a good choice for any wedding style, especially if your theme leans more casual (even better: they tend to be more budget-friendly than some other chair rental types). They can be found in various neutral colors, including white, blonde wood and dark wood, and they're a simple way to tie the wedding decor together with or without additional adornments.
Ghost chair
Transluscent ghost chairs are a favorite option for an ultra-modern look. These acrylic party rentals come in multiple colors, from the basic clear design to a rainbow of hues, including cobalt blue, orange and pretty pastels, like blush and lilac. They're available with or without arms and in round- or square-back varieties.
Infinity chair
The backs of these chairs are decorated with interlocking circles resembling the infinity symbol, hence the name. Infinity chairs are a stylish pick for classic wedding themes—you can find them in a handful of different styles and colors, like white, natural wood, acrylic and metallic silver or gold. We're fans of leaving the backs of the chairs exposed, but you can also adorn them with chair covers.
King Louis XVI chair
Going for a totally glam vibe on your big day? These luxe event chairs will flawlessly upgrade your decor. King Louis XVI chairs are named for the famous French monarch (and his wife, Marie Antoinette) who became notorious for their opulent lifestyles. The upholstered chairs feature turned wood legs, a rounded back and cushions in a range of fabrics, from velvet to linen.
Marais chair
A stylish choice for industrial and minimalist themes, these metal European-inspired dining chairs will bring a sleek, contemporary finish to your wedding decor. You can find them in table height and barstool height, along with a range of colors and metallic finishes.
Molded chair
If you love quirky retro style, consider adding these decorative wedding chairs to your banquet tables. The no-frills plastic chairs are inspired by mid-century modern design, with an intentionally streamlined look. They're most commonly seen in white, but you can also rent them in black or bright colors, including yellow and blue.
Opera chair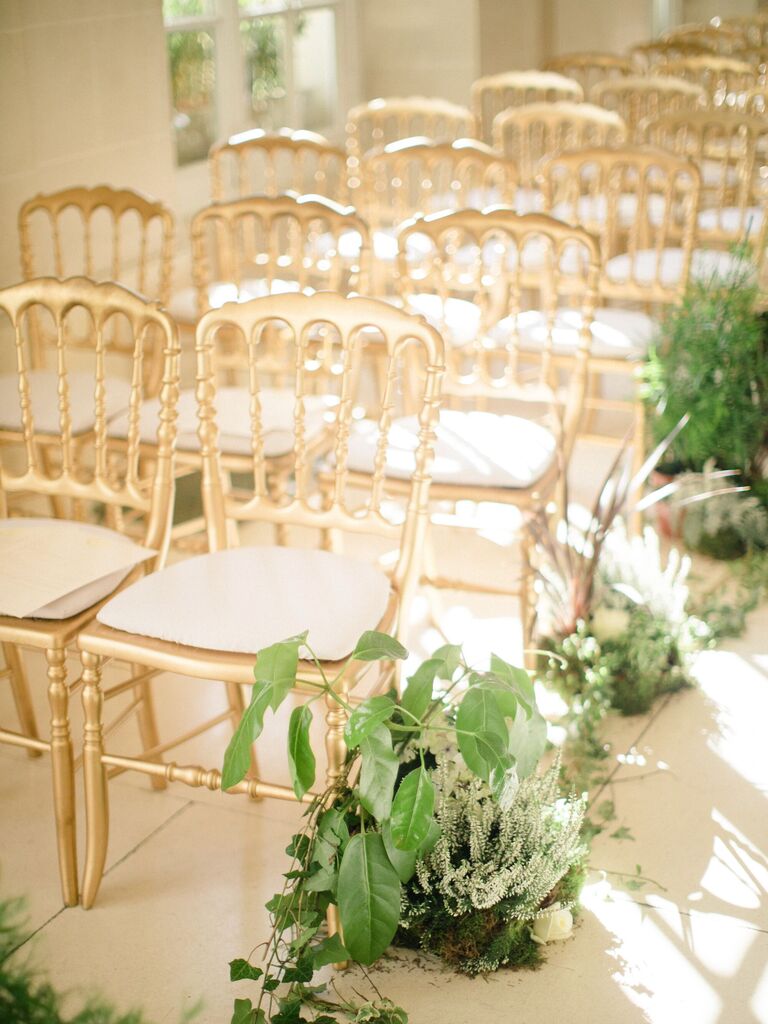 Similar to Chiavari chairs, opera chairs are a timeless choice if you're planning a formal wedding. Their rounded shape, delicate spindles and gilded finish gives them an Old World appeal, reminiscent of historical opera houses in Europe. If gold doesn't match your style, you can also source these chairs in black, silver and clear acrylic.
Peacock chair
Peacock chairs are a staple for boho wedding themes, and their oversized design is sure to make a statement. The '70s-esque rattan chairs are a popular choice for wedding lounge areas, sweetheart tables and head tables—decorate them with pampas grass and flowers to make the ultimate photo backdrop.
Riviera chair
The checkered detail on these woven wedding chairs will bring a chic, whimsical element to your wedding day. Frequently spotted at outdoor bistros along the Italian and French rivieras, these chairs are either made from rattan or plastic and come in a range of colors, including white, beige, black and blue (arguably the most classic color option for this chair).
Slotted chair
Stackable and lightweight, wooden slotted chairs are a popular choice for rustic weddings and farmhouse themes—although their welcoming vibe makes them ideal for any laid-back aesthetic. They're more narrow than most other types of wedding chairs, making them a great choice if you're trying to fit a lot of guests at your tables.
Velvet chair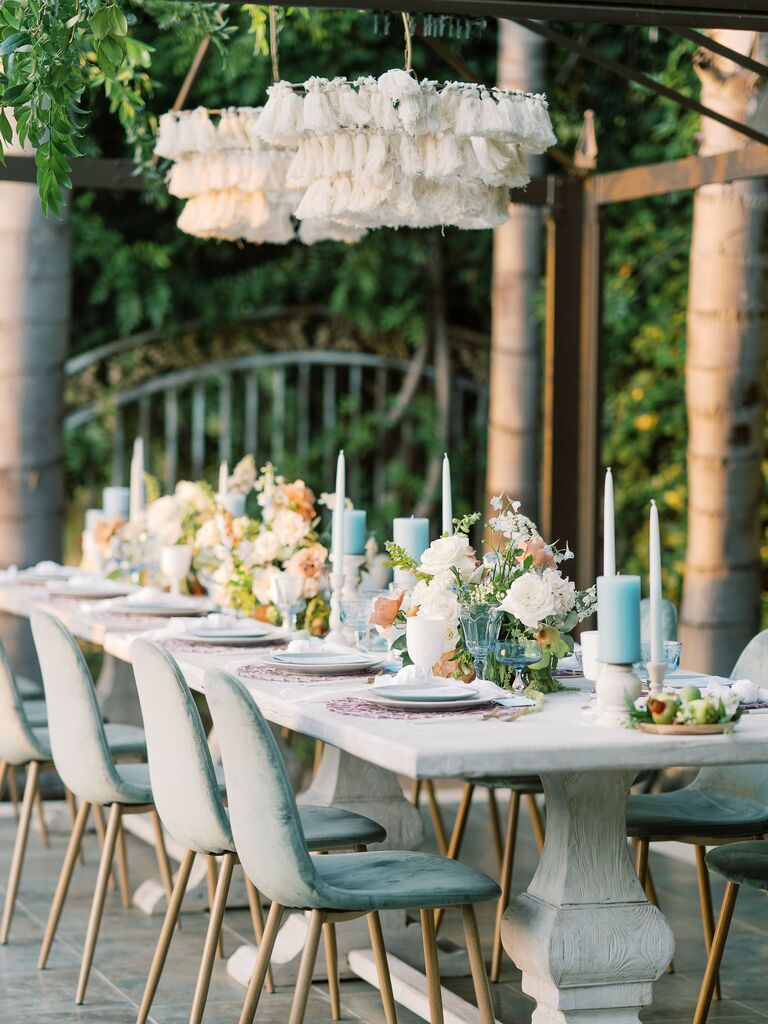 With a bucket-style shape similar to molded chairs, these velvet chairs will complement a modern, trendy wedding theme. Featuring either wooden or metal legs, their simple design easily blends in with the rest of your decor.
Wishbone chair
This decorative wedding chair gets its name from the wooden "V" on the curved back. The original Danish design, which dates back to 1949, is still extremely popular today, especially for mid-century modern and boho themes. Options include light, dark and whitewashed wood finishes.