Denver, Colorado $10K Budget Wedding
Sure, we know the average wedding will run about $27,000, but that didn't stop us from asking wedding planners all over the country to accept The Knot $10K Wedding Budget Challenge. Here, Ashley Summers and the team at Table 6 Productions show us how to do it in Denver, Colorado.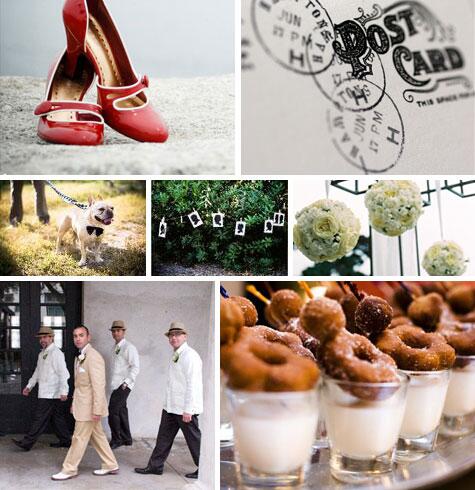 The Setting
This wedding, set at the Walker Fine Art gallery in downtown Denver on a Sunday morning, will honor both the setting and the two of you by blending artistic elements with plenty of personalized details. Following the wedding ceremony , guests will sit down to a brunch reception, complete with a create-your-own Bloody Mary bar.
Stationery
Because the guest list is small (75 guests), and the wedding will be an intimate event, phone your guests to invite them to your wedding. This will be a great chance for you to catch up with old friends and family and will add a very personal feel to the wedding right from the start. Follow up with a postcard providing details of the event as well as an email address and phone number to RSVP to. To personalize the postcards, commission Tasha Rae Designs to create a customized monogram. Order your postcards from VistaPrint.com, where you can even incorporate your signature colors into the design. To tie it all together, order stamps complete with your custom monogram from Zazzle.com.
Wedding Ceremony
Guests will be invited to Walker Fine Art gallery, a chic 3,800-square-foot loft-style space, for the ceremony at 9:30 a.m. Chairs (rented from Event Rents) will be set up to create a ceremony space.
In order to preserve the artwork surrounding the gallery, you can use one of the large abstract museum paintings as a backdrop for the ceremony. Ask your friends' and families' children to take part in the ceremony as flower girls and ring bearers. The kids can walk down the aisle holding red carnations. Or, if you have a dog that you'd like to include, ask the florist to add red carnations to the leash and have the flower girls and ring bearers walk the dog down the aisle.
Bouquets & Boutonnieres
You can carry a tightly packed cluster of bright red carnations, while your groom sports a modern white calla lily boutonniere -- perfect for a modern art gallery space. The talented and reasonably priced florist Sarah Cioni of the Painted Primrose will provide all the ceremony flowers.
Wedding Dress
For this modern art gallery setting, you'll want to look for a dress that's both simple and sophisticated. The silk tricotine Sophia long dress from J.Crew, paired with a handmade birdcage veil from Heart N Sole Jewelry on Etsy.com, would give just the right vibe. Beyond J.Crew, you might also want to search for dresses at local bridal boutiques, such as The Bridal Collection in the Denver Tech Center, which often hosts trunk shows.
Formalwear
For a daytime wedding, your guy should skip the traditional dark suit and look for a brown or tan one, like the tan-and-white striped seersucker suit by Haspel from Homer Reed Ltd. He'll pair his suit with a navy blue bow tie printed with a Bloody Mary design from Vineyard Vines and finish off his look with a crisp, white collared shirt and brown shoes that he already owns.
Ceremony Programs
To keep the vibe lighthearted and laid-back, make your programs interactive horoscope-style cards that you put together yourselves. The front of the card could read, "What tree did you fall from?" with a list of tree names (such as Maple and Pine) below the question, corresponding to birth dates. On the back of each card, include horoscope-like personality descriptions organized by tree. Check out your favorite magazine for horoscope lines and pick up some card stock to print the programs on.
Ceremony & Reception Music
Look to musical husband-and-wife duo David VanderHamm and Chelsea de la Cuadra to provide the music for the day -- he plays acoustic guitar and she sings and plays the flute. He can set the tone for the celebration as guests arrive, and then the two will perform contemporary duets (like The Beatles' "Here Comes the Sun" and "Somewhere Over the Rainbow," by Israel Kamakawiwo'ole) during the ceremony. Throughout the reception, he'll play guitar while she sings popular favorites requested by you and your guests.
The Officiant
To make your ceremony extra-personal, ask a close friend or family member to officiate. If they aren't a member of the clergy or a justice of the peace already, the person of your choice can visit OrdainMeNow.org or TheMonastery.org to become ordained. Don't forget to get your marriage license through the county clerk's office.
The Reception Decor
After the ceremony, sliding dividers (which are built into the gallery) can be pulled back to reveal the reception room. As guests enter the space, they'll find an escort card table, set with miniature bottles of Tabasco sauce tagged with their name and table number.
Set the reception tables (rented from Event Rents) with colorful, mismatched vintage-style plates that you found at local antique shops, estate and garage sales, flea markets, and so on (taking care not to pay more than $2 per piece!). Besides flea markets, check out Anthropologie in Cherry Creek for discounted vintage-style plates.
Show off your monogram by getting it embroidered on custom table runners in red and white -- these will provide a neutral background for the place settings. The designers at FirstComesLove on Etsy.com will create them just for you, and you can use the runners in your home postwedding.
In addition to your monogram, commission Tasha Rae Designs to create a signature Bloody Mary logo for your table numbers. Have them print Bloody Mary logos on 5" x 7" cards (the number of Bloody Marys will denote the table number) and then frame each one in a red-and-white striped wooden frame. You can find frames, paints, and brushes at Hobby Lobby.
The colorful plates will be enough decor for the tables, so instead of centerpieces, ask your florist to design seven floral pomanders to be hung from the exposed copper pipes in the gallery.
The Reception Bar
In addition to coffee and orange juice, the bar will include champagne for mimosas and a make-your-own Bloody Mary bar. Head to Argonaut Wine & Liquor to get the ingredients. Argonaut offers free delivery, and they'll return and pick up any unopened items for store credit.
Serve the drinks in Mason jars, which you can buy in bulk ahead of time. Encourage guests to reuse their Mason jar throughout the reception by labeling each one with a guest's name and arranging for them to be lined up along the bar before the party begins.
Reception Brunch
Following the ceremony, treat your guests to a buffet brunch brought to you by Catering By Design. Because the wedding is on a Sunday, Catering By Design will offer a 10-percent discount. The menu, which will include miniature quiches, bamboo fruit skewers, chocolate-filled croissants, and assorted tea sandwiches, will be bite-sized, eliminating the need for silverware. The caterers will supply all napkins and to dress up the buffet, so you'll just need to borrow tiered serving dishes, decorative platters, and utensils from family and friends (it will add to the mismatched vintage look!).
There's no need for a traditional wedding cake -- instead buy Krispy Kreme Doughnuts (four dozen Original Glazed and four dozen Chocolate Iced Glazed), and have them stacked and layered into the shape of a wedding cake so guests can grab-and-go throughout the reception.
The Reception Music
Surprise your groom and guests by hiring an Elvis impersonator to perform "Love Me Tender" for your first dance. Find impersonators and other performers on Craigslist.com.
Photography
Photos are a must-have, so hire up-and-coming photographer Lisa Spicola, of Lisa Spicola Photography. The photography package includes all the high-resolution photo files on a disc, so you'll be able to put together your own photo album via Blurb.com. Upload your photos to a site like Shutterfly.com for free so your guests can view and buy online.
Transportation
At the end of the reception, make your exit in style by hopping in a pedicab from Mile High Pedicabs.
Favors
Set mini bottles of Bloody Mary mix between place settings (one per couple) for guests to take home at the end of the reception -- the bottles will serve as place cards and favors. Attach a small card to each bottle with a hand-written, personal note to each couple or guest, expressing your gratitude. Sign off with, "We hope you had a bloody good time!"
BUDGET BREAKDOWN
Ceremony: $1,249
Site: $1,200 (including setup)
Walker Fine Art gallery, WalkerFineArt.com
Officiant license: $39
OrdainMeNow.com
Marriage license: $10
Decor: $0
(It's already on walls!)
Reception: $5,034.03
Mismatched vintage china plates: $150
Food: $3,800 (including tax and gratuity)
Catering By Design, CateringBD.com
Drinks: $456.14
Argonaut Wine & Liquor, ArgonautLiquor.com
Equipment (tables, chairs, delivery, pickup, and tax): $331.34
Event Rents, EventRentsDenver.com
8 custom table runners: $190
FirstComesLove, FirstComesLove.Etsy.com
4 cases 16-oz. Mason jars, 4 cases 8-oz. Mason jars: $106.55 (including shipping)
Candle Soylutions, LLC, CandleSoylutions.com
Wedding Cake: $65.08
4 dozen Original Glazed doughnuts, 4 dozen Chocolate Iced Glazed doughnuts: $65.08 (including tax)
Krispy Kreme Doughnuts, KrispyKreme.com for stores
Photography: $1,250
Photographer (4 hours plus CD of retouched photos): $1,250
Lisa Spicola Photography, [email protected]
Attire: $822.79
Wedding dress: $337.70 (including tax and shipping)
JCrew.com
Veil: $50 (including shipping)
Heart N Sole Jewelry, HeartNSole.Etsy.com
Tan-and-white striped seersucker suit by Haspel: $350.09 (including tax)
Homer Reed Ltd., HomerReedLtd.com
Bow tie: $80 (including shipping)
Vineyard Vines, VineyardVines.com
Music: $420
David VanderHamm and Chelsea de la Cuadra (for 4 1/2 hours, plus travel): $420
VanderHammMusic.com
Flowers: $511
7 pomanders, bridal bouquet, boutonniere, floral leash: $511
Sarah Cioni with The Painted Primrose, PaintedPrimrose.com
Stationery: $237.30
Postcards: $35
VistaPrint.com
40 custom stamps: $34.89 (includes shipping)
Zazzle.com
Custom monogram logo design: $65
Tasha Rae Designs, TashaRaeDesigns.com
55 bottles of Tabasco sauce: $36.41
CountryStore.Tabasco.com
5" x 7" card stock cards (for the table numbers), wooden frames, paint supplies, favor tags, red card stock (for programs), escort cards, ribbon: $66
Hobby Lobby, HobbyLobby.com for stores
First Dance: $100
Elvis impersonator: $100
Craigslist.com
Favors: $212.80
48 personalized bottles of Bloody Mary mix: $212.80 (including shipping)
TheKnotWeddingShop.com
Transportation: $8
Pedicab: $8
Mile High Pedicabs, MileHighPedicabs.com
GRAND TOTAL: $9,910