25 Gourd-geous Pumpkin Wedding Decor Ideas for Fall
It's time to (pumpkin) spice up your wedding.
Nothing solidifies the arrival of autumn like the sight of pumpkins at the grocery store, the farmers market and on neighborhood doorsteps. And thankfully, for a fall wedding, pumpkin wedding decor feels like the perfect solution for the season. From pumpkin wedding aisle markers to unexpected pumpkin wedding centerpieces, pumpkins and gourds fit seamlessly into your fall wedding decor—all for a relatively budget-friendly cost. But you don't have to completely commit to a rustic theme in order to embrace pumpkin wedding decorations—the versatile fruit (yes, it's a fruit!) comes in a range of sizes and colors, including white and pretty pastel tones. So whether you're having a Halloween wedding, throwing a country-style bash or taking a more elegant, subtle approach with a fall wedding theme, here are some of our favorite ways to use pumpkins at weddings. Our final tip: Enlist a pro event planner or wedding decorator to help you seamlessly incorporate pumpkins into your wedding decor in a stylish way. You can start your search over at The Knot Vendor Marketplace to find experts near you.
1. Wedding Welcome Signage with Pumpkins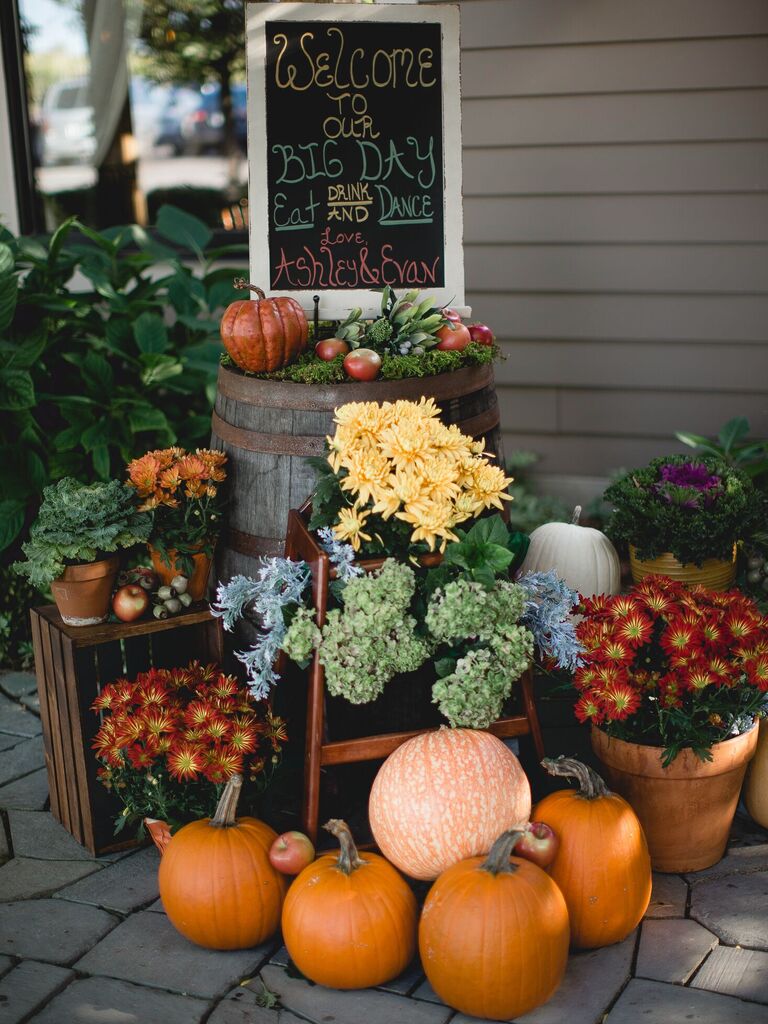 Greeting your guests with a wedding welcome sign immediately lets them know they're in the right place—and it also serves as a great photo op for anyone who's posting to the 'gram. For this pumpkin sign idea, pair big orange pumpkins with other seasonal touches, like a chalkboard, apple crates and an old wine barrel.
2. Pumpkin Wedding Decor with Hay Bales
Double-down on the rustic vibes for a fall wedding by displaying bright orange pumpkins with tree stumps, hay bales and potted mums. It's an easy way to decorate the entrance to your venue, like a barn or wooden pavilion.
3. Colorful Gourds and Ribbons
Use orange and yellow gourds to go along with your pumpkin wedding aisle decor. Add ribbons that match your color palette tied in bows on chairs or shepherd's hooks.
4. Pumpkin Wedding Aisle Markers
Here's an idea you can replicate whether you're having an indoor or outdoor ceremony. Mark the end of each chair row (or pew, if you're exchanging vows in a house of worship) with pumpkins of your choice. To take the decor even further, use pumpkins of varying sizes and pair them with fresh flowers in simple mason jars.
5. Orange Wedding Bouquet
Orange flowers look amazing when paired with the rest of your pumpkin wedding decorations. Opt for fall wedding flowers like dahlias, ranunculus, chamomile blossoms, amaranthus, chrysanthemums and marigolds for your bouquet and other arrangements.
6. Painted Pumpkins with Lantern
Candles are another popular type of ceremony aisle marker that pair well with pumpkins. Putting the candles in glass hurricane lanterns adds a vintage chic spin (and if your wedding venue has rules about open flames, this could be a good compromise).
Find your kind of venue
From barns to ballrooms, discover reception venues that feel like you.
7. Black Pumpkin Wedding Aisle Marker with Gold Star Glitter
Plan a DIY session with your bridesmaids or other trusted friends to paint the pumpkins black. Finish them off with optional glitter or confetti—these tiny gold stars are the perfect complement for a Harry Potter wedding theme.
8. Wedding Flower Arrangement with Pumpkins
Pumpkins aren't the only classic fall detail to think about using in your wedding decor. If you're hoping to achieve a rustic glam aesthetic, add metallic gold leaf to the pumpkins, then pair them with deer antlers and votive candles alongside a dramatic arrangement of orange and yellow flowers.
9. Wedding Seating Chart with Gold Pumpkins
Even if your wedding decor isn't entirely pumpkin themed, adding few of them will go a long way in terms of creating a fall vibe. Case in point: This acrylic seating chart would work for nearly any theme or season, but the four golden pumpkins make it undeniably fitting for an autumn wedding.
10. White Pumpkin Wedding Card Box
Why choose something ordinary when you can have a pumpkin wedding card box instead? Whether you hollow out a real pumpkin or use a faux alternative, this cute pumpkin wedding decor idea is great for accenting the welcome table or guest book table. We particularly like how this gold calligraphy stylishly stands out against the white pumpkin.
11. Mini Pumpkins as Wedding Escort Cards
Petite pumpkins are a perfect alternative to traditional wedding escort cards. They're easy to arrange and they're stable, so you don't have to worry about a strong gust of wind swooping up your meticulously planned seating arrangements. Tie "leaves" around the stalks with names written on them, or hire a pro calligrapher to add custom hand-lettering to each miniature pumpkin.
12. Orange Suit Jacket
Matching your wedding attire to your decor isn't always a must, but in this case, we're obsessed. Go all in with your pumpkin-inspired wedding color palette by rocking a terracotta-hued suit or other orange wedding accessories.
13. Fall Wedding Photo with Jack-o'-Lanterns
While this technically isn't a decor idea, it's too good to pass up. If you and your partner love all things Halloween, capitalize on your fall wedding by carving jack-o'-lanterns and using them as props during your wedding day portraits. Not into the idea of actually wearing pumpkins on your head? You can simply hold them in front of your faces for the same effect.
14. Rustic Wedding Decor with Pastel Green and White Pumpkins
Pumpkins and gourds naturally come in so many different shades, which is great news if orange doesn't exactly match your wedding color palette. These heirloom pumpkins are a pretty pale green hue—or you can use paint to replicate a similar look.
15. Monogram Pumpkins
Carving pumpkins isn't the only way to adorn them with fun designs. Consider crafty, no-carve alternatives, like using stencils and paint to embellish them with your initials and a decorative filigree border.
16. Mini Pumpkin Wedding Centerpiece
Non-floral wedding centerpieces are a good opportunity to get super creative with your tablescape. And depending on what you choose as a flower substitute, it could help you extend your budget, plus there's a higher chance it could be repurposed as home decor after the big day. Using a stone urn to showcase a cluster of mini pumpkins makes them feel a little fancier and floral-inspired, even if you don't include any actual flowers.
17. Mini Pumpkin Table Runner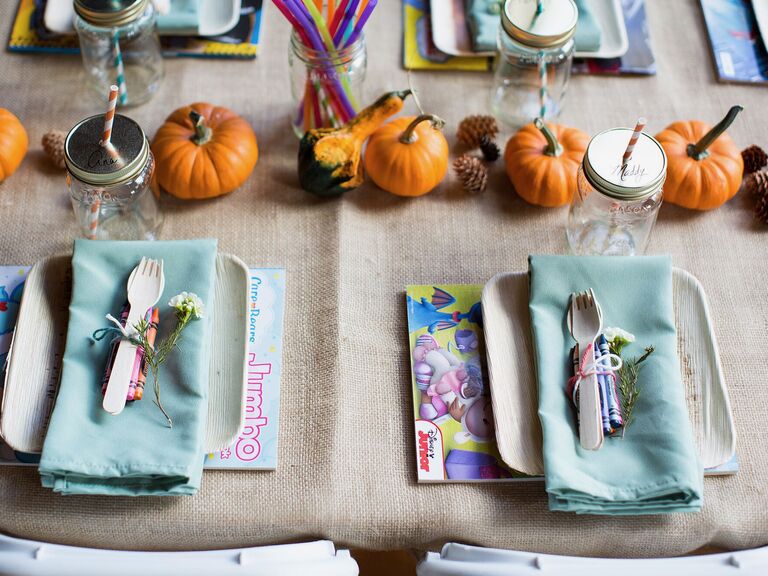 This pumpkin wedding centerpiece was designed to decorate the kids' table, but you could repurpose the same look for your reception tables, gift table or cocktail tables. Scatter the mini pumpkins intermittently with pinecones and gourds in lieu of a typical floral or cloth runner.
18. Fall Wedding Centerpiece with Pumpkins and Wheat Stalks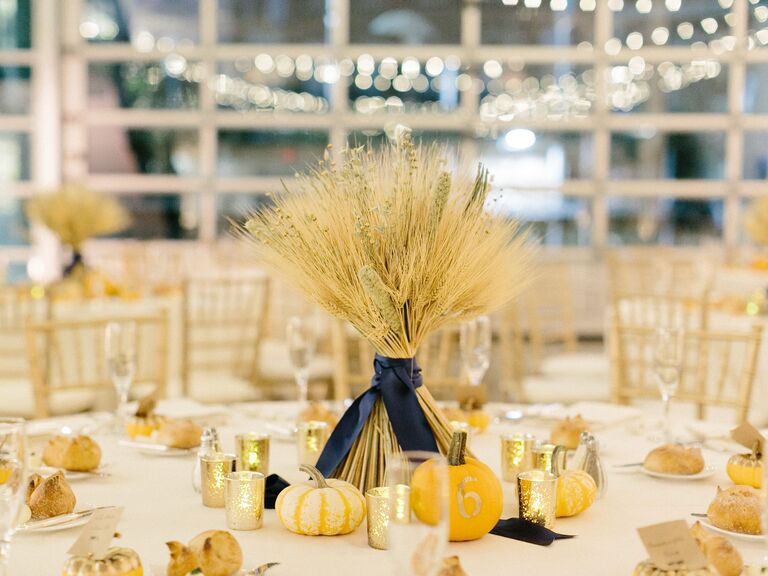 Orange and yellow pumpkins are the finishing touch to a fall wedding centerpiece of dried wheat stalks, adding bucolic charm.
19. Hollow Pumpkin and Flower Wedding Centerpiece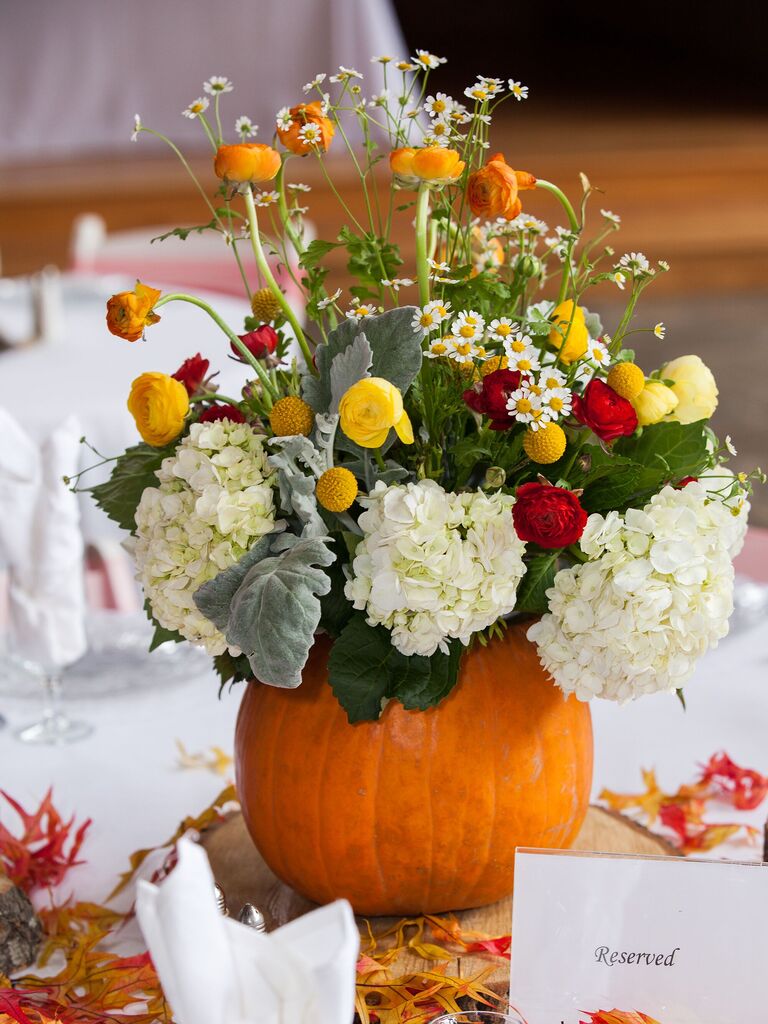 For this fall wedding centerpiece with pumpkins, you can hollow out the center of each pumpkin and use it in place of glass or metal centerpiece vessels. Be sure to double-check with your wedding florist on specific sizes and how many pumpkins you'll need to achieve the end result.
20. Pumpkin Wedding Table Number
Skip the standard table numbers for this creative white pumpkin wedding centerpiece idea instead. Use gold paint to stencil on the numbers for each reception table—the pumpkins will be both decorative and functional.
21. Assorted Pumpkin Pies
Is it really PSL season if you don't have a slice of pumpkin pie? Add pumpkin pies, pumpkin bread and pumpkin rolls to your dessert table to appease the guests who can't resist their favorite fall-themed baked goods.
22. Pumpkin Cake Pops
Serve bite-sized pumpkin cake pops in place of or along with a traditional wedding cake.
23. Orange Wedding Cake
Carry your fall theme over to the wedding menu by serving a pumpkin wedding cake. You can use orange buttercream to decorate the cake to look like an actual pumpkin, or opt for a seasonal cake flavor instead, like pumpkin spice.
24. Pumpkin Spice Marsmallows
Perfect for a chilly evening reception, set up a self-serve hot chocolate station or DIY s'mores bar with pumpkin-flavored marshmallows.
25. Mini Pumpkin Wedding Favors
Create a mini pumpkin patch and let your guests choose their very own favors to take home.