All the Ways You Can Get COVID Tested Before a Wedding
Bach parties too.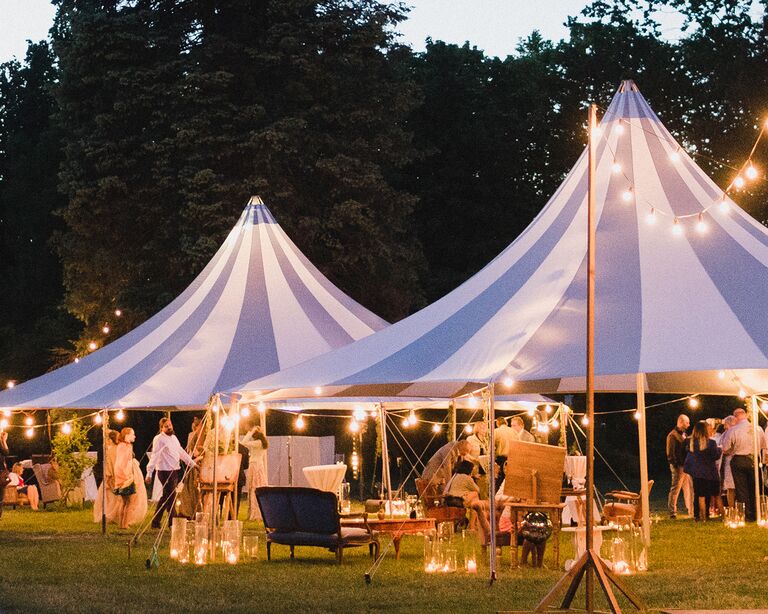 Shutterstock
We have included third party products to help you navigate and enjoy life's biggest moments. Purchases made through links on this page may earn us a commission.
Numerous avenues exist if you're wondering how to get tested for COVID before a wedding. In some states, it's a prerequisite to show proof of a negative COVID test prior to attending a large group gathering like a wedding or concert. In others, it's an encouraged guest list monitoring step to help mitigate spread. As more and more couples are asking guests to show proof of vaccination and/or to get tested before their nuptials, here's what to know about the coronavirus testing process including at-home COVID tests, where to get a COVID test, and how to confirm your negative status.
"We strongly recommend testing all guests 24 hours (or a maximum of 48 hours) prior to the start of the event," says Dr. Martin Hahn, Medical Adviser and Chief Medical Officer at AllClear Healthcare. "Otherwise, the risk that a guest will still be in the virus incubation period is higher. For example, most people test positive with a PCR test after four to five days of exposure. If you test such an individual on day two after exposure and the wedding event takes place on day four or five, they will have tested negative on day two. But, they will have turned positive by the time the event takes place."
According to The Knot 2020 Real Weddings Study, couples spent on average an additional $280 per wedding on PPE, including wedding masks and hand sanitizers, much of which will continue to be implemented into events. "Do not allow anyone who has a cough, fever, muscle aches or other symptoms to attend even if they have been vaccinated or they have a negative test," says Dr. Purvi Parikh, allergist and immunologist with the Allergy & Asthma Network. "Keep hand sanitizers readily available for everyone. Avoid buffets and consider individually prepared meals."
While some couples prefer to provide rapid antigen testing, COVID PCR tests are a standard option for health clinics and medical experts nationwide. In fact, some destinations require you show proof of a negative PCR test only before entering its borders. Read up on the various COVID testing options below and how to get tested for COVID before a wedding today.
At Your Local Health Clinic or Hospital
By now, most healthcare providers and walk-in clinics offer COVID testing options on site. As many healthcare providers are offering PCR testing, be mindful of turnaround time, which can range anywhere from 24 hours to up to 14 days depending on backlog. Rapid antigen testing is another option for guests and couples in a pinch.
Before scheduling an appointment, check with your provider to see timeline restrictions and what the average turnaround time looks like to receive a COVID test result. You may need a rapid testing alternative just in case you don't meet the deadlines on hand. Also, preemptively check with your provider for insurance-related questions.
At Your Local Drug Store
Nationwide, drug stores like CVS and Walgreens are providing COVID tests and vaccinations (should you be eligible). Check your local area guidelines and schedule an appointment for an approachable COVID testing process alternative. Call ahead for more details.
It's important for couples to create ground rules for attendance and kindly ask all guests to adhere to these basic asks. The best way to communicate needs is through your wedding website FAQ page, which has become a wildly popular resource amid COVID. "Testing within 24 (or 48 maximum) hours before the party, as well as compliance with social distancing measures, such as masking, is highly recommended," says Dr. Hahn. It's also reasonable to ask a guest to abstain from attending your wedding or bach party in person should there have been contact with an infected individual in the last 14 days.
At the Wedding or Celebration Destination
Some hotels are offering either complimentary or base-fee testing options for guests who are staying on the property. Whether you're flying into a resort for a destination (or a domestination wedding) or you're staying at a villa property for a bach party, several corporate hotel chains and luxury one-off properties are offering this option to assure visitor safety and experience.
Many of these properties, depending on locale and tourism influx, even have rapid testing options in case you're required to provide proof of a negative test for the return flight home. You could double the use for a wedding too.
"The overarching principle is to create as much of a bubble as possible with the attendees, with all members entering the bubble as safely as possible and staying within that bubble until the event ends," explains Dr. Hahn. "Organizing group activities that do not involve public venues are one possibility [to keeping guests safe]. Keep the group as secluded from others as possible."
At an On-Site Testing Center Provided By the Couple
Some to-be-weds are suppressing the total cost of testing at the site of their wedding venue or at a pre-designated location. "On-site testing at the event venue is feasible with proper planning," says Dr. Hahn. "This can depend on the number of guests expected, however, so if you have a large number of guests, you could split this by testing close family members [and others] the evening before at the rehearsal dinner. You can then test the remaining guests the next day at the event." If you're to-be-weds providing this option for guests, here are a few alternative testing services that offer group screenings.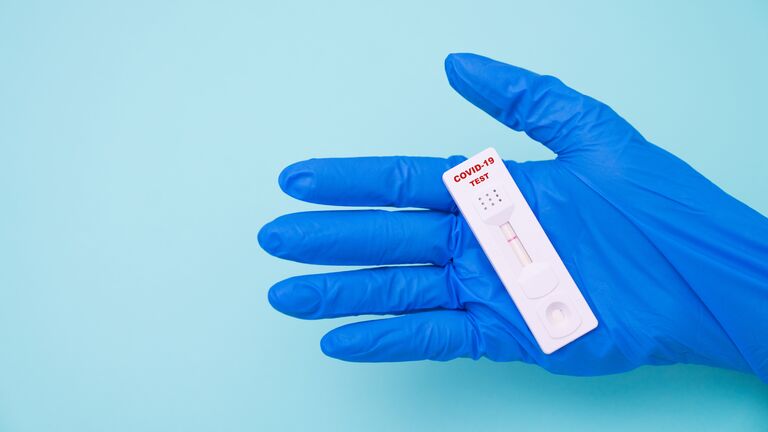 A mobile COVID testing provider based in New England, AllClear Healthcare is offering both PCR testing and rapid antigen testing options with quick turnarounds. Check in with the service provider, which arranges a testing tent on-site for each guest before everyone filters into the ceremony and reception.
AllClear Healthcare COVID-19 PCR Test, starting at $85 per guest, AllClearHealthcare.com
On-site testing with a nurse is streamlined through Daisy Health, a rapid antigen testing service that offers group rates. The service is currently available across big wedding markets, including New York City, Dallas, Houston and South Florida. Prices range based on the size of your group: less than 50 guests will amount to $95 a person, while 51 to 150 guests will be quoted at $75 a person. Additional fees may apply.
Daisy Health COVID-19 Rapid Antigen Test, starting at $75 per guest, DaisyHealth.com
Sameday Health has expanded to 15 states, including New York where guests up to 150 people must receive a test before a wedding is held. If a couple plans to suppress the cost of testing for guests, bulk packages are available. For example, for 100 guests, the cost would amount to $11,250 for this on-site rapid antigen test option. The service providers can turn around results in less than 30 minutes, so guests are able to get tested and then take their seat the day of the wedding.
Sameday Health COVID-19 Rapid Antigen Test, $112.50 per guest, SamedayHealth.com
In-Home Testing
Another option for guests who want to skip the lines or prefer to stay at home for testing is to have a professional come to their doors. Numerous providers offer in-home testing options, so check which services are available in your area today. For the to-be-weds requesting their guests get a test and quarantine in the days leading up to their wedding, this option is ideal for your loved ones.
Stay Well Health, a tri-state area service, offers PCR testing results in 24 to 48 hours, while its rapid antigen testing results are revealed in 10 minutes or less. Guests who want to stay home are able to receive their negative test results without leaving their residence.
Stay Well Health COVID-19 PCR and Rapid Antigen Tests, $150 to $175, StayWellHealthNY.com
At Home With Testing Kits
Depending on timing, at-home testing kits are another option for those seeking readily available testing resources with a preset timeline.
A lower nasal swab kit for at-home use, this testing kit from DTC testing company Everlywell must be shipped between Monday to Friday for same-day testing results. First, you'll collect your nasal swab sample at home, then send it off for results delivered digitally within 24-48 hours of the lab receiving your sample. Talk to a consultant on the site for more information.
Everlywell At-Home COVID-19 Testing Kits, $109 per test, Everlywell.com
Finally, couples are encouraged even after testing to adhere to health and safety protocols like social distancing, allowing for proper airflow and more. "Distance everyone six to 10 feet, especially during meals," suggests Dr. Parikh. "Require masking otherwise. Avoid crowded situations." Mitigate potential spread by counteracting it with precautionary measures which you can work through with your chosen wedding vendors. That way, you can focus on your wedding day—here at last.