Attainable Ways You Can Have a Zero-Waste Wedding
Here are 14 things you can actually do.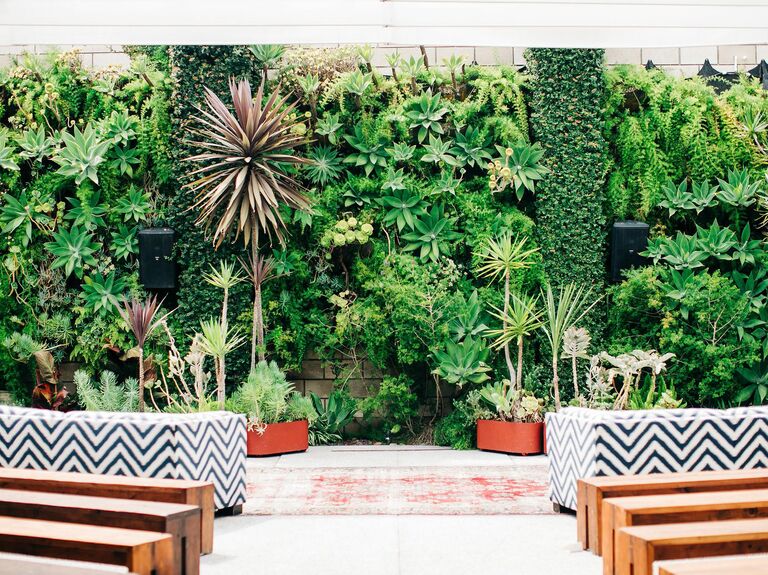 DANIELLE BENNINK
We have included third party products to help you navigate and enjoy life's biggest moments. Purchases made through links on this page may earn us a commission.
Your wedding should be a reflection of your love story and your personality. So if you and your boo care about the planet and live an eco-friendly lifestyle, then you should plan a sustainable wedding. But if you want to take it one step further, consider a zero-waste wedding. While eco-friendly weddings focus on mitigating waste, zero-waste weddings aim to completely eliminate it. If that concept seems a bit daunting to you, not to worry. We've rounded up 14 attainable things you can do in order to throw a zero-waste wedding.
1. Be Intentional With Your Guest List
We'll never tell you that you can't have a sustainable wedding or a zero-waste wedding with a large guest list. It's definitely possible! But if you're looking for a surefire way to keep excessive waste down, be extremely intentional with your guest list. Cutting down on unnecessary invites could mean cutting down on your wedding's overall carbon footprint.
2. Opt for Paperless (or Plant-able) Wedding Invitations
If you're looking for eco-friendly wedding invitations, there are more recycled wedding stationery options available than ever before. But if you're looking to go the extra mile with your invites, consider paperless. There are so many adorable online invitations you can create to ensure that the process still feels personalized and formal—without all the wasted paper.
If you'd rather actually send your guests something in the mail, opt for stationery that won't end up in a trash or recycling bin. Consider invites that can be planted into the ground. Not only are they a waste-free option, but they'll also provide your guests with a memorable experience and a gift they can appreciate after you exchange vows.
3. Choose a Sustainable Venue
Rather than renting out a space that requires a hefty amount of resources, consider a location that doesn't need much. Choosing eco-friendly venues like parks, gardens, beaches, mountains, backyard or farms all provide stunning scenery and ample space to celebrate with your friends and family.
4. Invest in Sustainable Fashion
Between the engagement party, the bridal shower, the bachelorette party, the rehearsal dinner and the actual wedding day, you may think you need a new outfit for each celebration. But the fashion industry produces 10 percent of global carbon emissions (more than all international flights and maritime shipping), according to the UN Environment Programme. Consider renting your clothing through services like Rent the Runway, Nuuly, Armarium and Haverdash, which allow you to rent clothing perfect for any pre- or post-wedding occasion.
For your wedding day outfit, try buying pre-owned wedding dresses or investing in brands with a sustainable mission. Stores like Reformation, AGAATI, where Mountains Meet and KAMPERETT all abide by eco-friendly and ethical practices.
5. Use Eco-Friendly Beauty Products
If you're aiming to have a zero waste wedding, invest in beauty brands that provide clean formulas and eco-friendly packaging (or no packaging at all). Brands like Beautycounter, LUSH, Farmacy, True Botanicals, and NakedPoppy are all on a mission to make the beauty industry more sustainable. In addition, work with your wedding makeup artist to see if you can skip any single-use products (think: disposable makeup wipes, false eyelashes and any packaging).
6. Look For Sustainable Accommodations for Guests
Good news for sustainable couples: many hotels are making an effort to be more sustainable in their practices. Search for places that focus on implementing green policies so that you can minimize any waste associated with your nuptials.
7. Stay Local
Carbon emissions from traveling by air, plane or train can add up quickly. In an effort to reduce your wedding's carbon footprint, plan a local wedding instead. That way, your guests can easily attend and you can nix even more waste associated with your wedding day.
8. Use Your Cash Fund
While wedding registries are online, there are still the shipping and packaging components to consider. As a more eco-friendly choice, focus your energy on The Knot Cash Fund. It's a convenient way for your guests to contribute to anything from your honeymoon to your newlywed nest to a cause that's meaningful to you and your partner.
9. Donate Leftover Food
Even if you planned the most delicious wedding dinner menu ever, there are still bound to be some leftovers. If possible, donate the food to a nearby homeless shelter or food bank. While they will generally accept your fresh, catered food, work with your caterer beforehand to ensure that this plan goes off without a hitch. Not only will it help the planet, it will also help someone in need (a win-win if you ask us).
10. Compost Waste
Work with your venue to separate your trash containers out so that you can compost any waste that is accrued during the ceremony, cocktail hour or the reception. Any food scraps that would normally end up in the trash can be composted and used to enrich the soil. How cool is that?
11. Skip Extras
As zero-waste weddings are all about eliminating waste completely, skipping any unnecessary extras is an approachable hack. Rather than gifting every guest a welcome bag, favor, trinket or swag, focus that energy on other aspects of your wedding so that you can pull off a true zero-waste wedding.
12. Give Zero-Waste Wedding Favors
If the idea of gifting your guests a favor they might forget or might end up in the trash, consider zero-waste wedding favors. Whether you donate to an organization you support, gift your guests a seed packet in biodegradable packaging or give your guests a reusable container (tote, water bottle or pouch), there are many ways to eliminate waste associated with your wedding favors.
13. Use Preserved or Dried Flowers
Flowers, while beautiful, can create a lot of waste after your nuptials. To get around that issue, use preserved or dried flowers for your wedding day. They can be used long after your wedding day—either as a favor to you guests or as decor for your newlywed nest.
14. Donate Local Flowers
If you've been dreaming of fresh blooms at your wedding, there's a way to make that happen. Source them from a local flower farm (that will nix transportation carbon costs) and then donate them after you exchange vows. Places like hospitals, women's centers, senior centers, homeless shelters and other charitable organizations will take your donation and use them for any upcoming events—or to just brighten their residents' day.