See Eisen-Stein Wedding Dresses From Bridal Fashion Week
Here's the designer's latest collection to hit the bridal runways.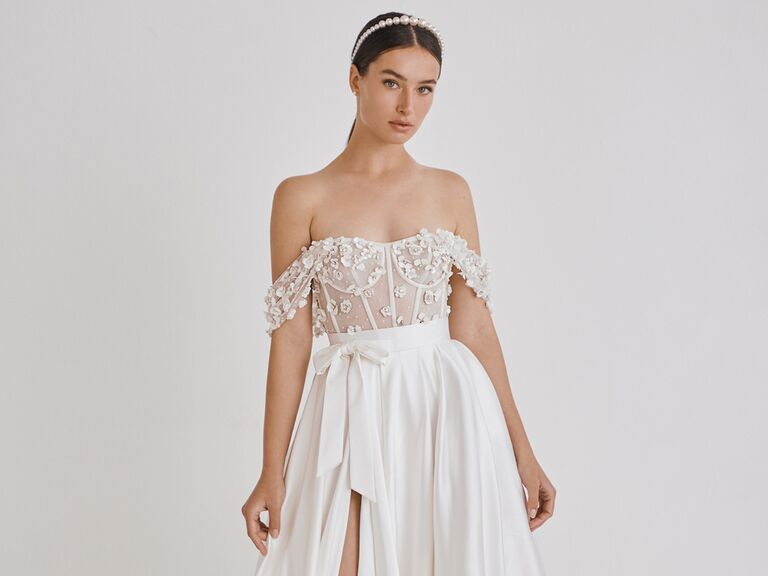 The luxury bridal gown brand Eisen-Stein was established in 2011 in Tel Aviv, by the designers Yael Eisenberg and Rachel Kalkstein. The two met during their fashion design studies. Eisenberg and Kalkstein realized that they were not only good friends, but also shared a similar design vision. After graduating, the two followed their dreams and founded a bridal design studio named after a hybrid of their last names, Eisten-Stein.
Known for innovative designs that push the boundaries of more traditional and conservative wedding dresses, Eisten-Stein's fresh aesthetic is sexy and romantic, with an emphasis on comfort. The collection uses a combination of luxe materials like silk and Solstiss lace and meticulous hand-made finishes like Swarovski stones, embroidery and feathers.
See every dress from Eisen Stein's 2022 collection below.
Eisen Stein's Spring 2022 Wedding Dresses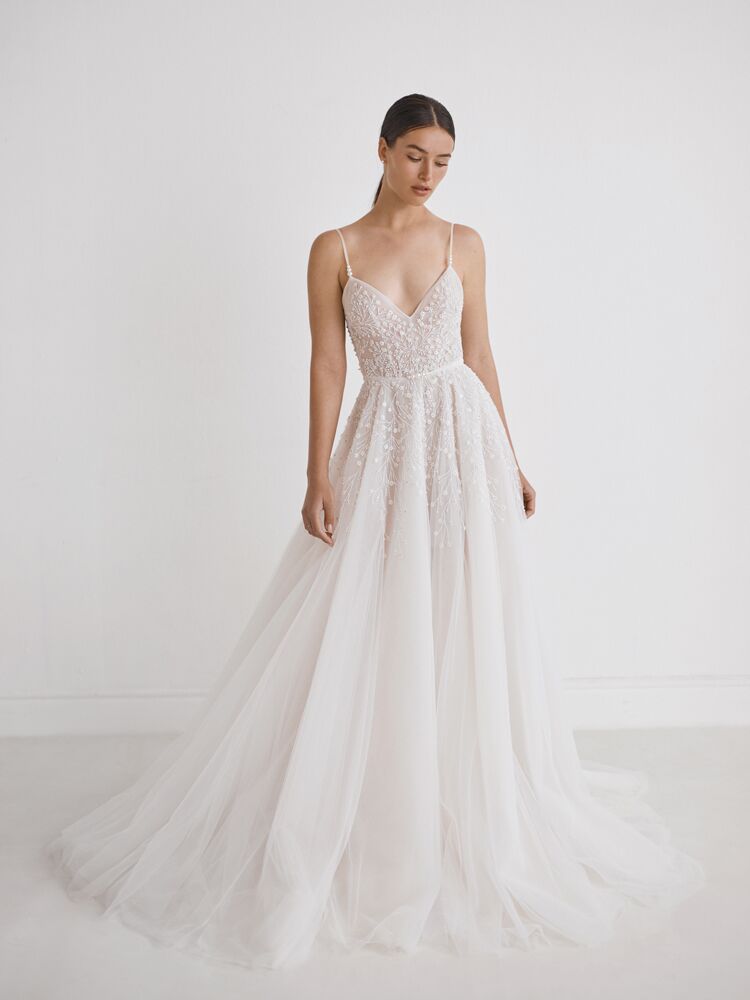 "Dream" Gown; beaded tulle ball gown with V-neck, spaghetti straps and thin belt with pearl accents.
"Eve" Gown; off-the-shoulder ball gown with deep V corset and textured tulle skirt.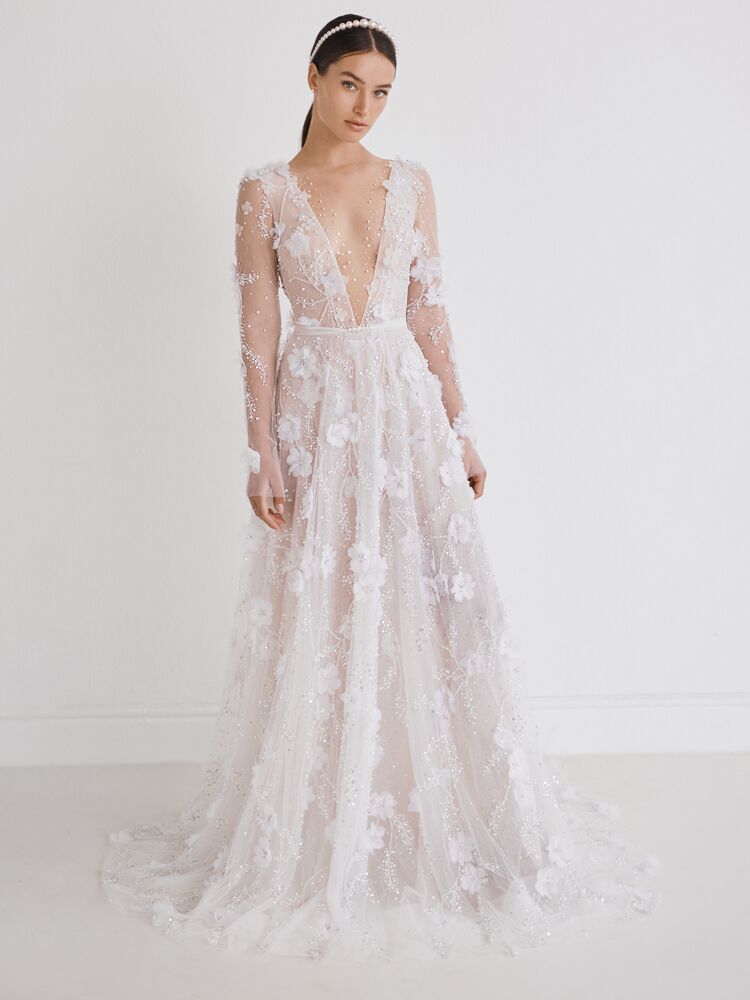 "Glamour" Gown; long sleeve wedding dress with beaded 3D floral accents, illusion deep V-neckline and open back.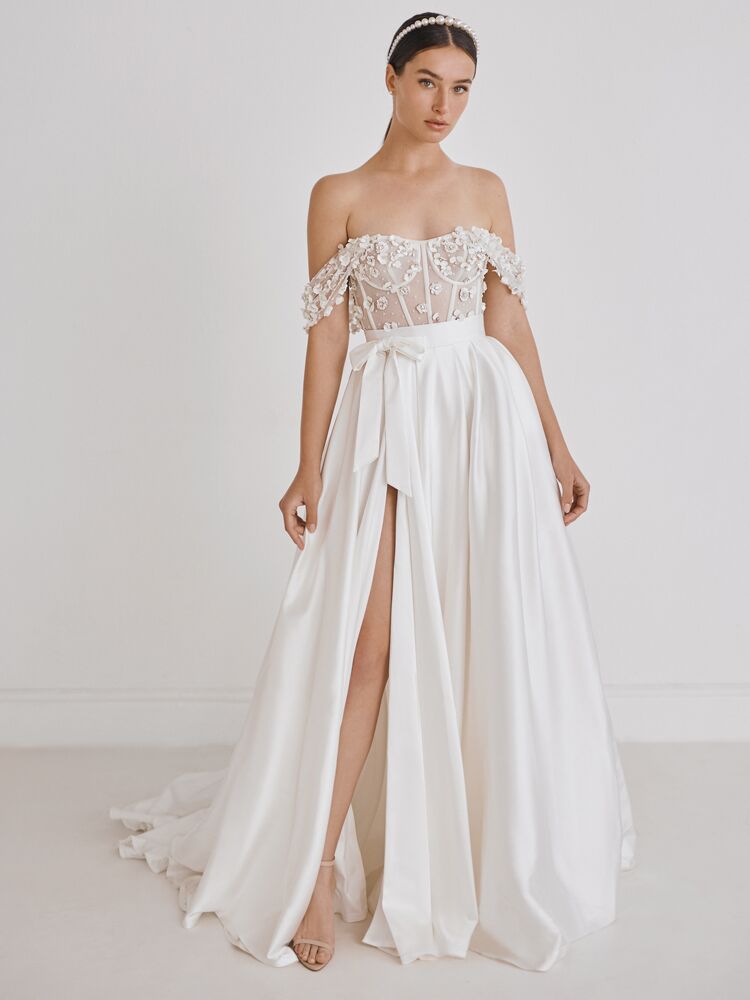 "Mary" Gown; off-the-shoulder wedding dress with sheer 3D floral corset and front slit.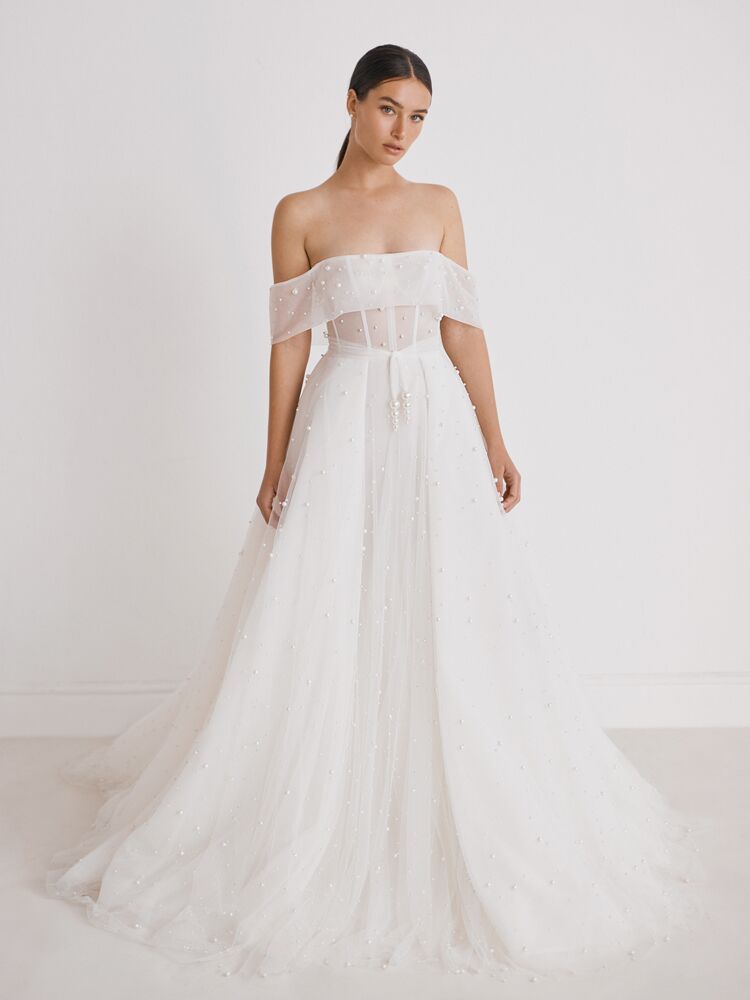 "Pure" Gown; off-the-shoulder tulle ball gown with pearl embellishments and belt.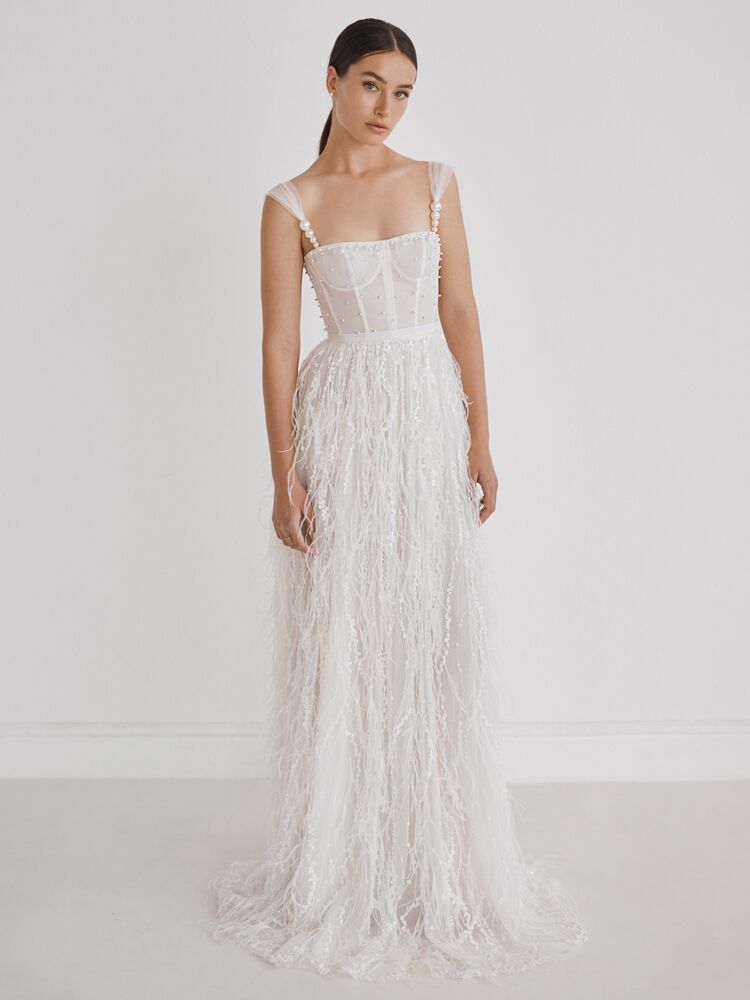 "Glee" Gown; A-line wedding dress with tulle corset, feathered skirt and pearl beading.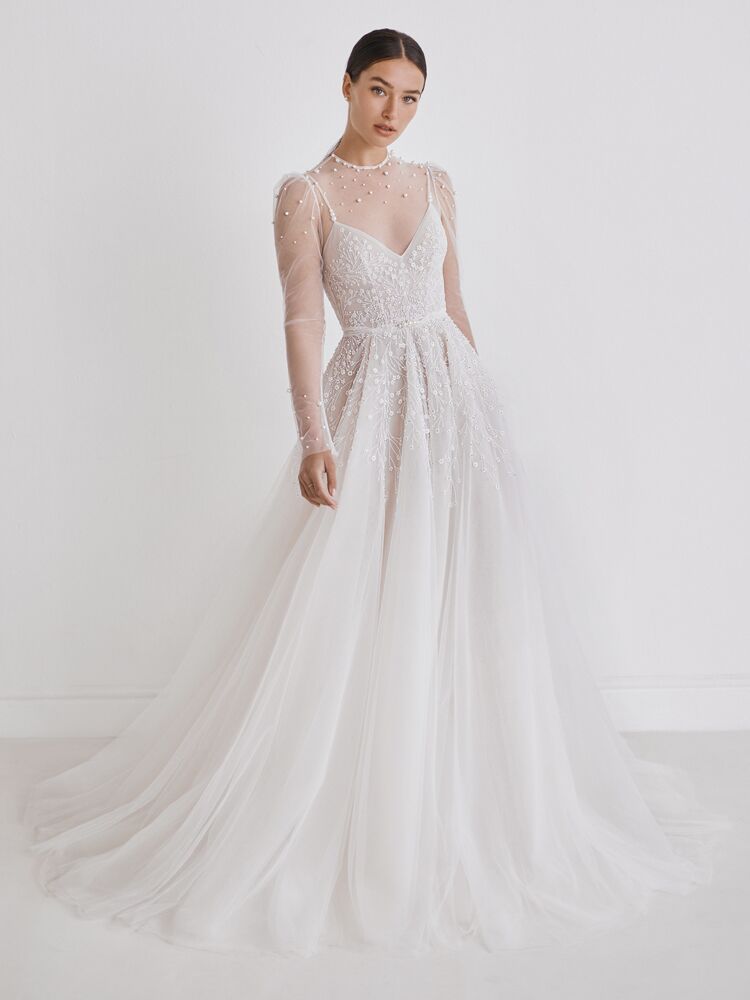 "Dream" Gown with Cover; beaded sleeveless ball gown with beaded long sleeve cover.
Previous Eisen Stein Wedding Dress Collections
Eisen-Stein's Fall 2021 Wedding Dresses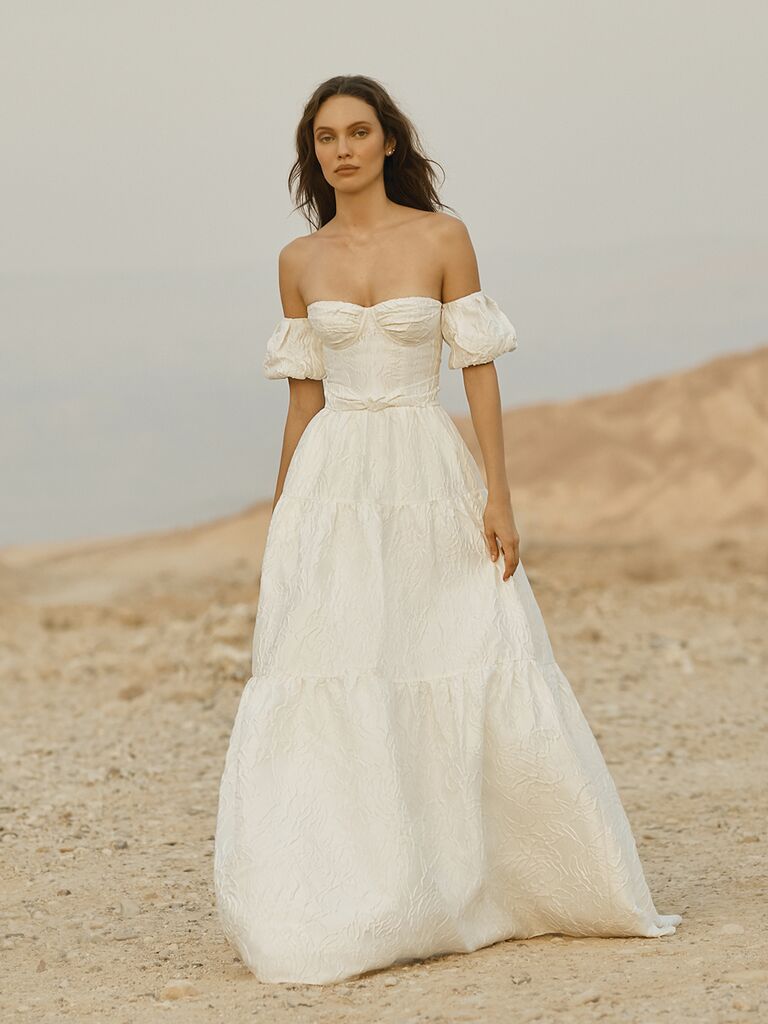 "Angelic" sweetheart strapless jacquard A-line dress with bustier bodice, tiered skirt, and detachable off-the-shoulder puff sleeves.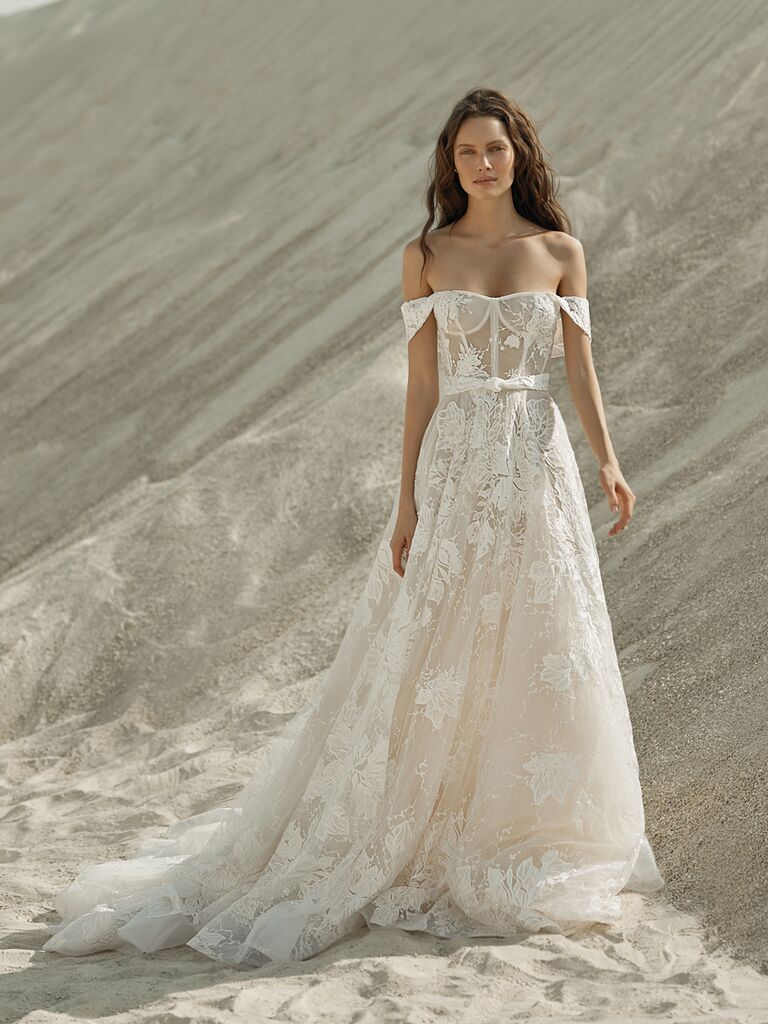 "Bliss" off-the-shoulder floral applique gown with sheer corset bodice and appliqued tulle skirt.
"Charm" one-shoulder sheer tulle jumpsuit with intricate floral embroidery.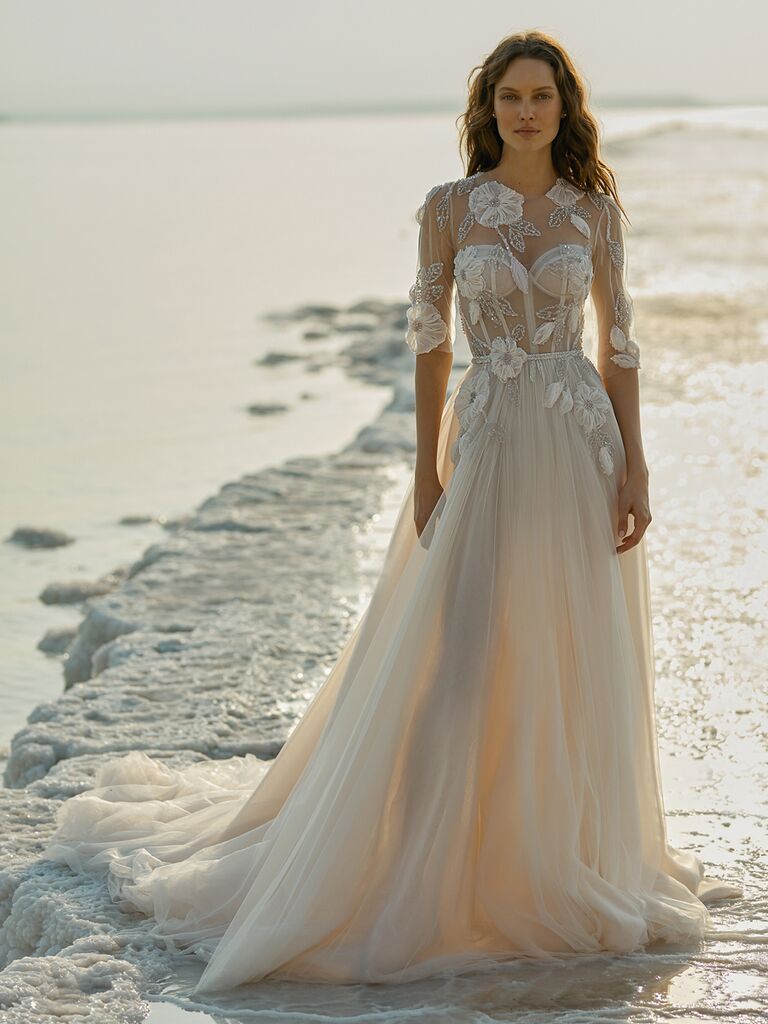 "Faith" illusion half-sleeve tulle gown with sheer corset bodice and shimmering floral embroidery.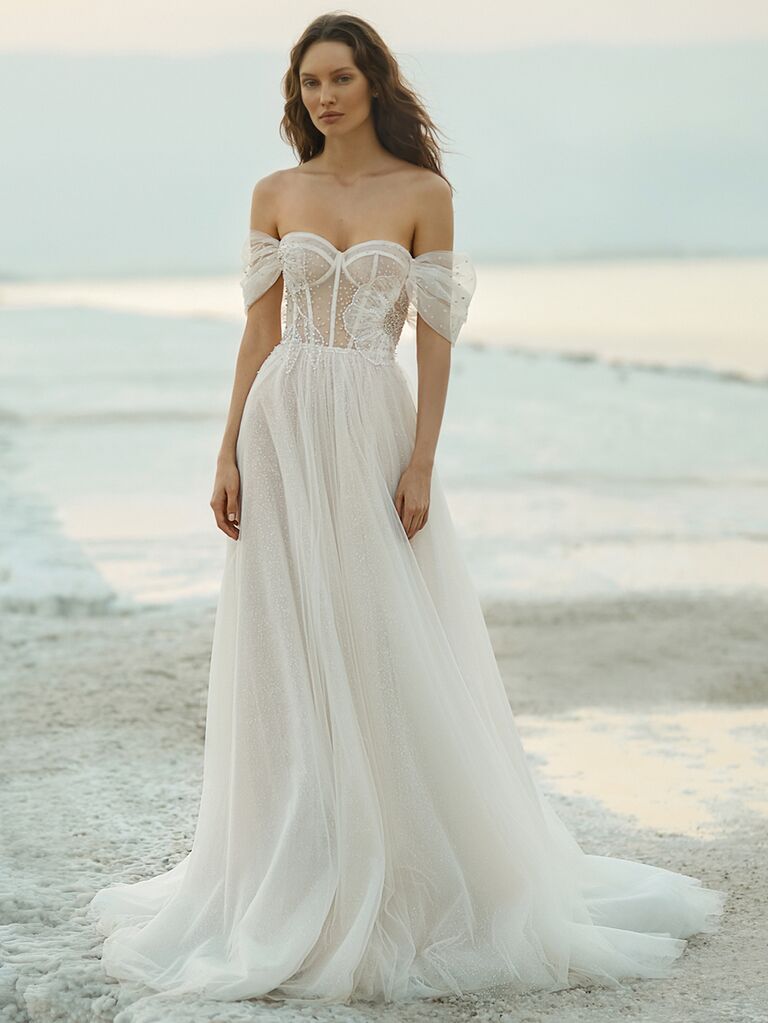 "Glory" off-the-shoulder shimmer tulle gown with sheer corset bodice and oversized floral embroidery.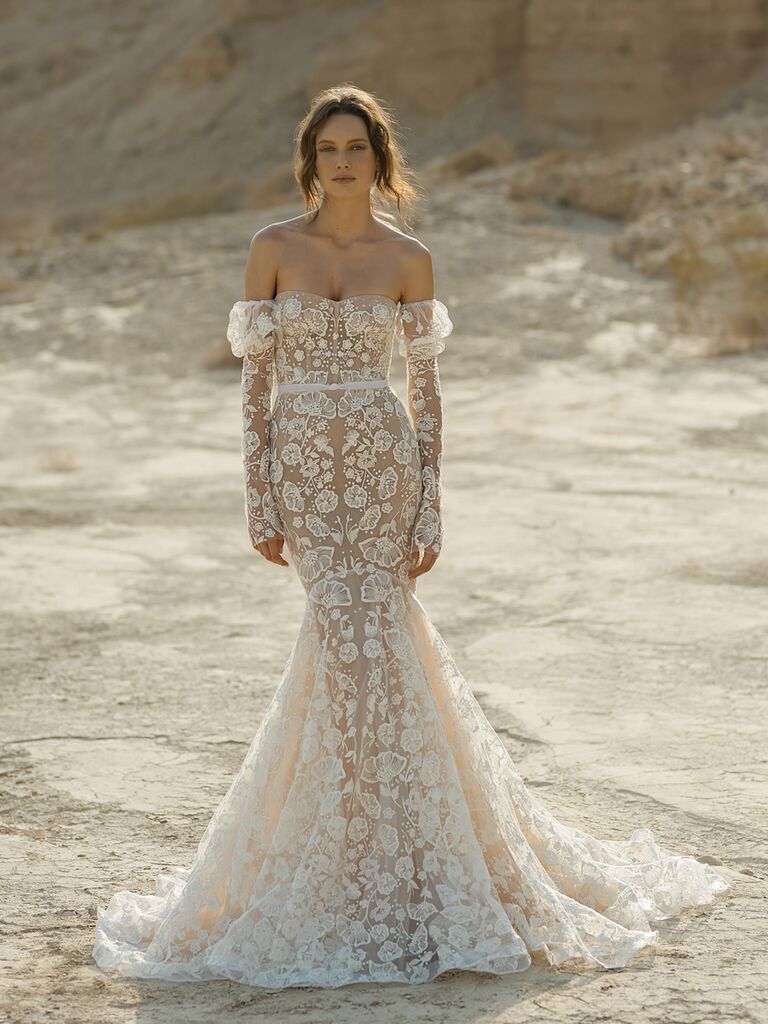 "Grace" off-the-shoulder fit and flare gown with all-over floral embroidery and illusion puff long sleeves.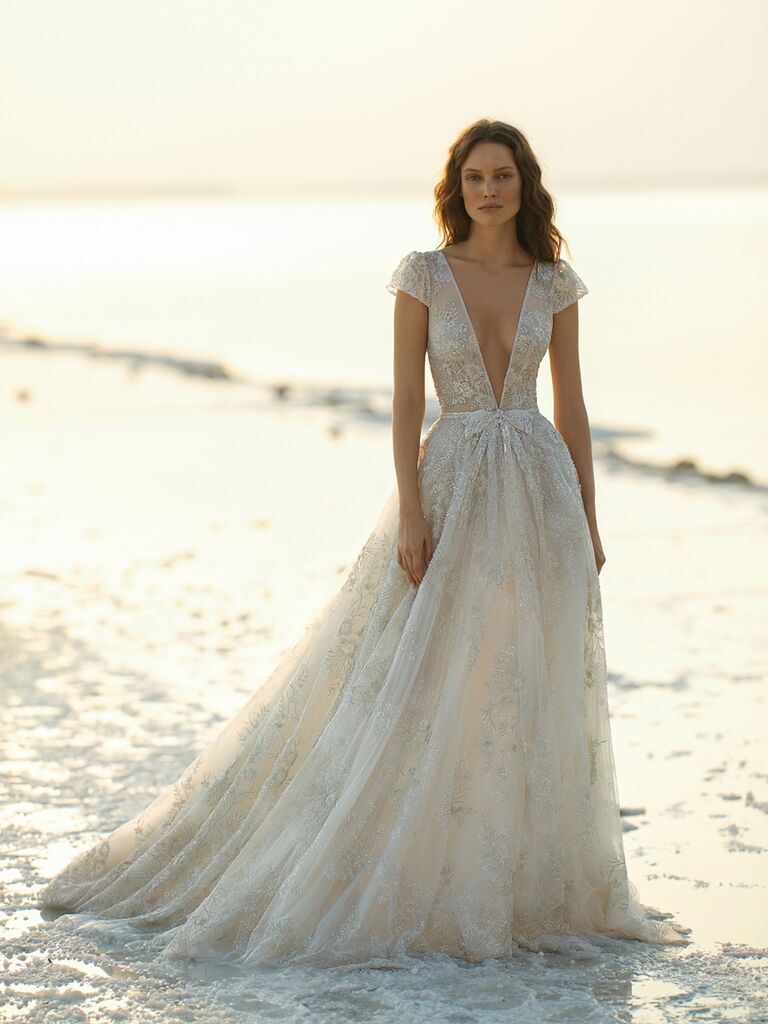 "Hope" plunging V-neck A-line gown with cap sleeves, bow belt detail, and sparkling embroidery.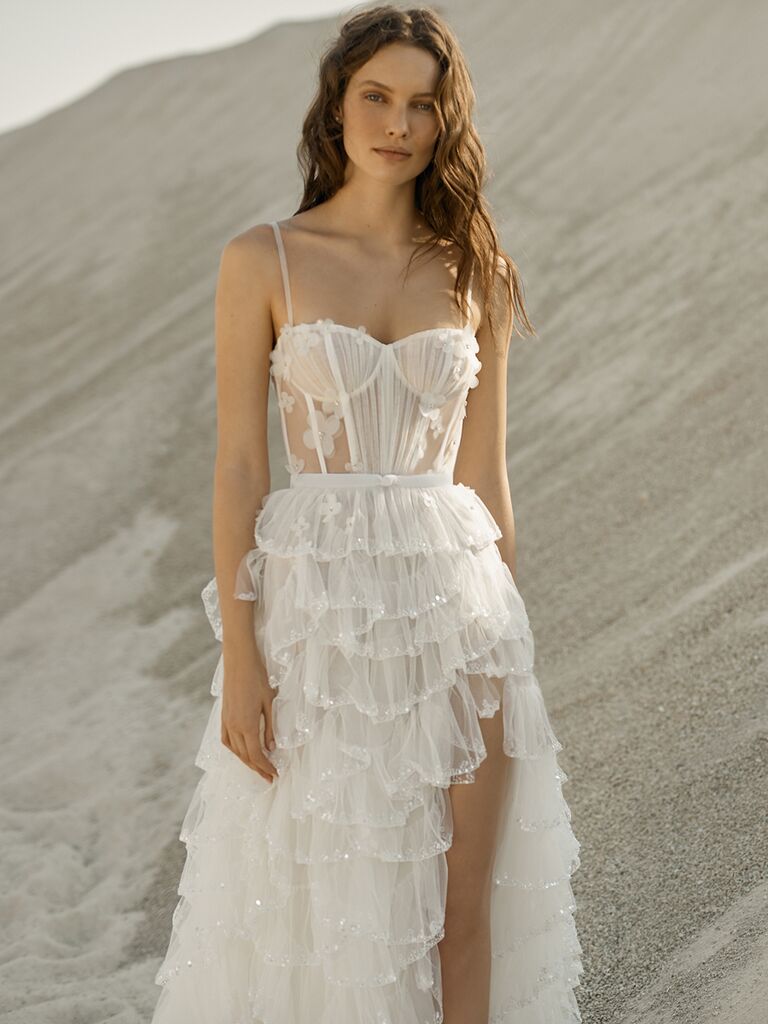 "Joy" ruched sheer corset gown with sparkle-trimmed ruffle skirt and high leg slit.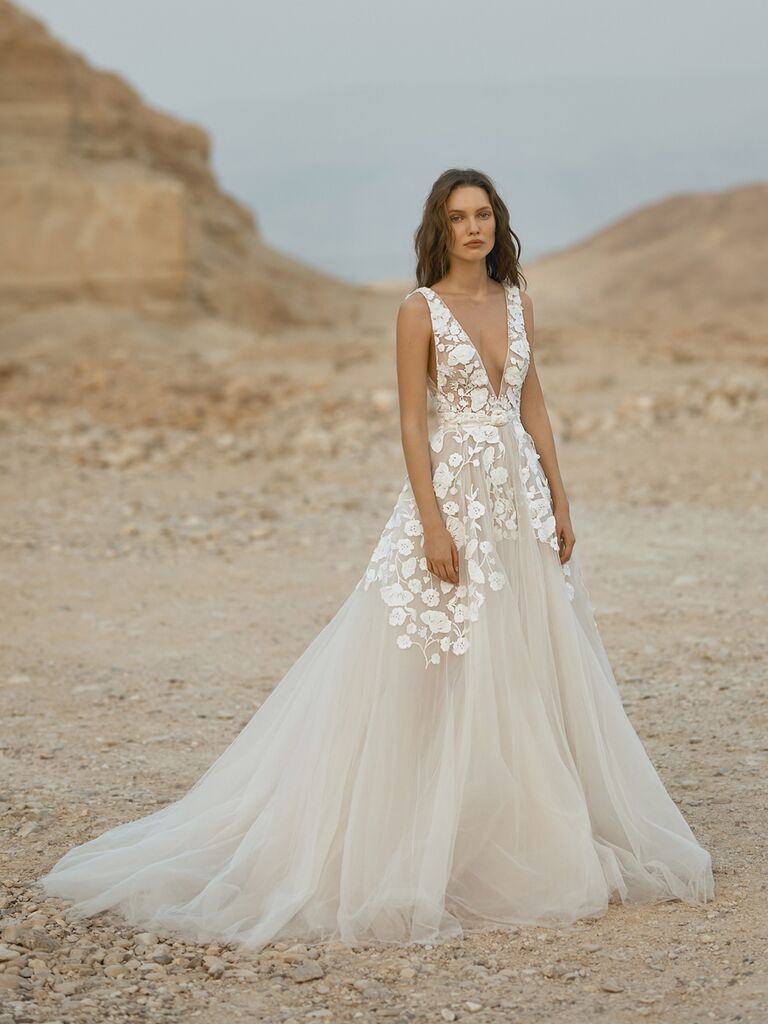 "Miracle" V-neck tulle A-line gown with illusion bodice and cascading floral appliques.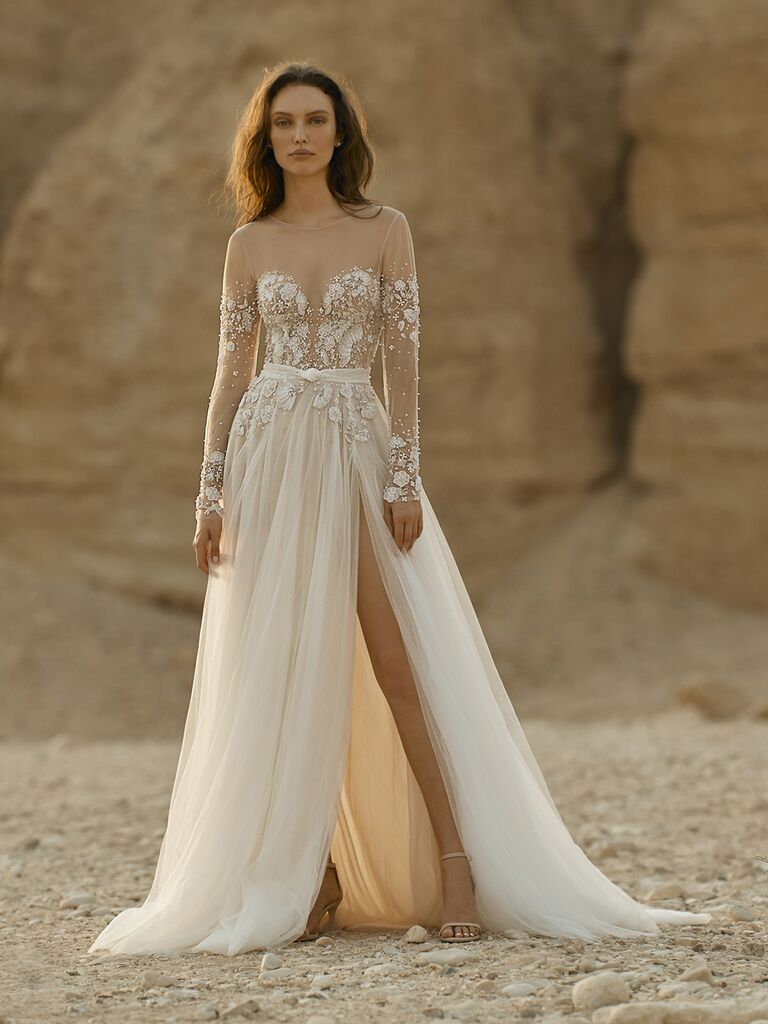 "Sparkle" illusion long sleeve tulle A-line gown with embroidered long sleeves and high leg slit.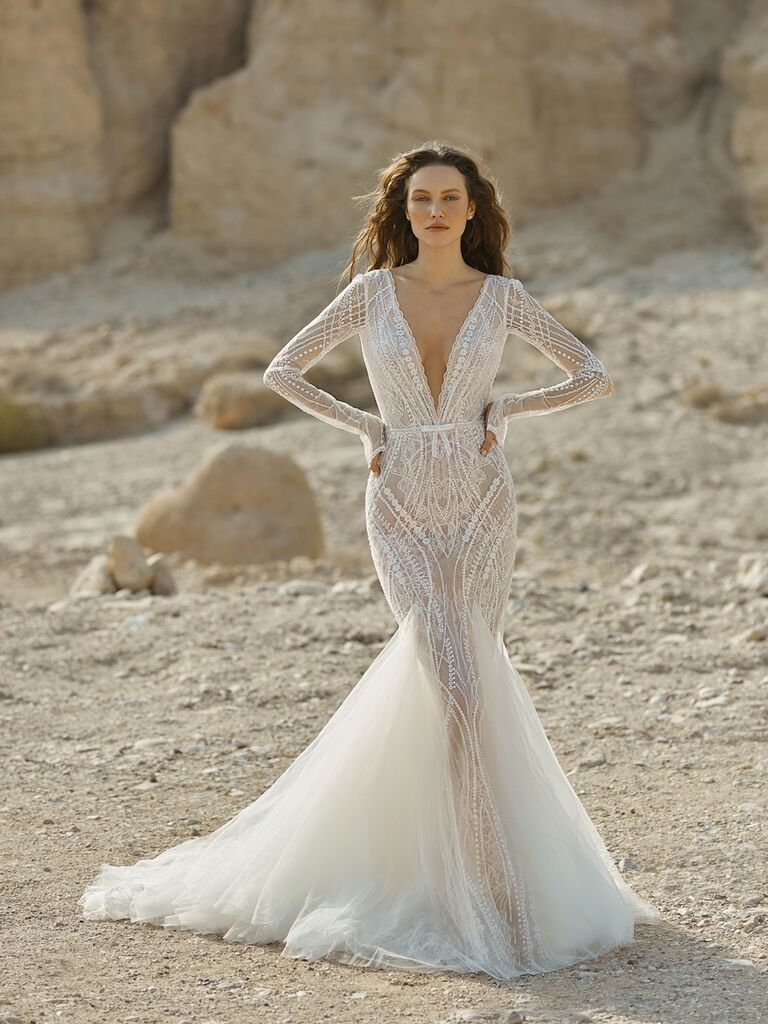 "Spirit" long sleeve lace trumpet gown with plunging neckline and tulle godet skirt.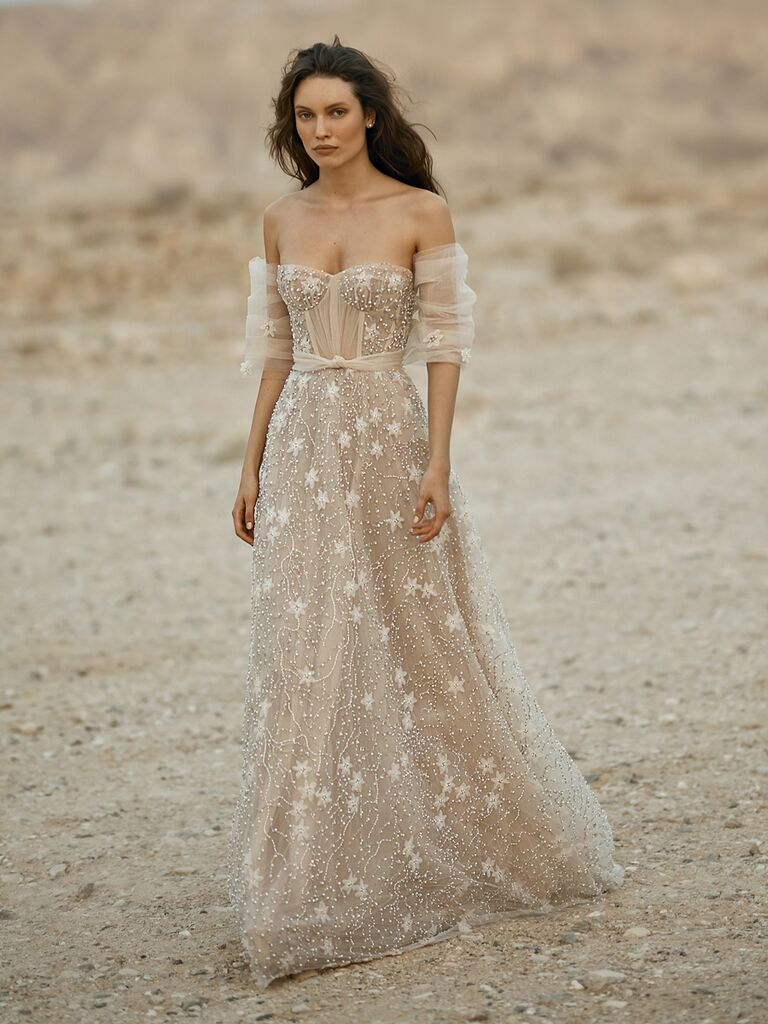 "Star" corset bodice A-line gown with celestial beading and detachable off-the-shoulder tulle shrug.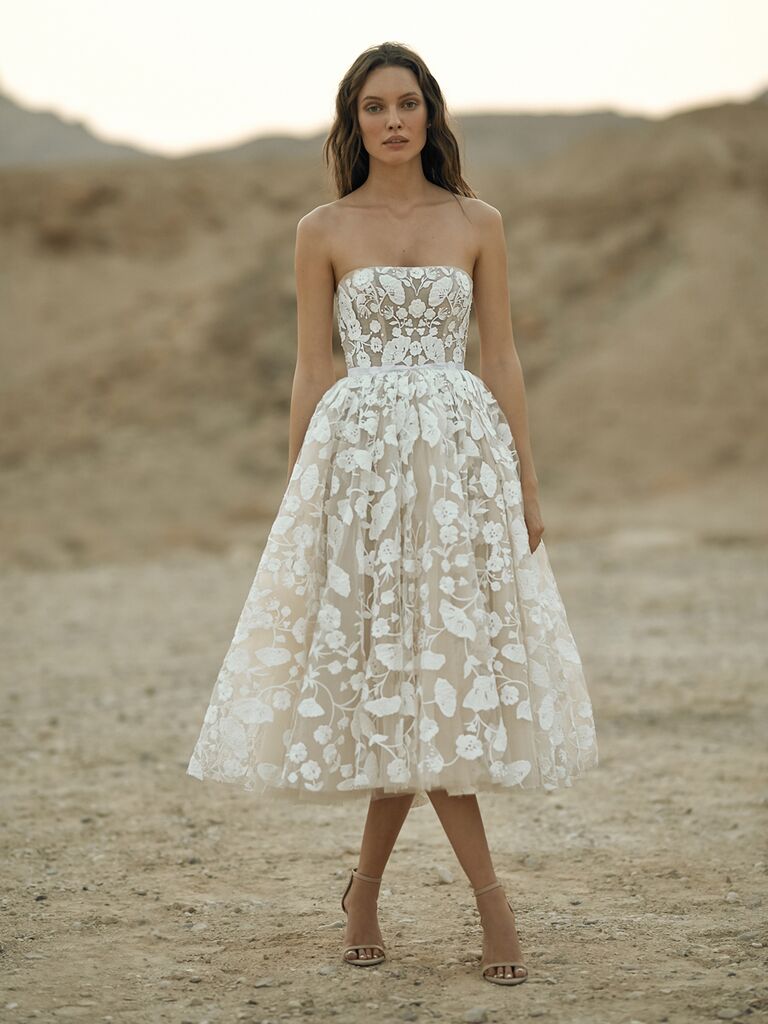 "Wonder" strapless florla applique tea-length gown.
To check out all the Bridal Fashion Week galleries, plus wedding dress advice and more, go to TheKnot.com/bridal-fashion-week.