30 Fall Engagement Photos to Bookmark for Your Photo Shoot
You'll be happy you saved these to your camera roll.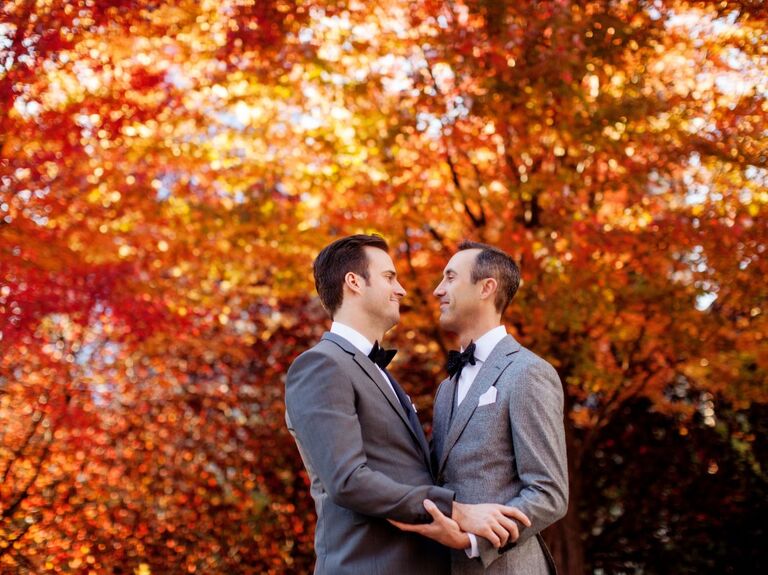 Photo: Olivia Leigh Photographie
If fall is the time of year that you got engaged or maybe it is just you and your partner's favorite season, take advantage of the changing leaves and beautiful greenery to capture some fall engagement photos. We know you may have already had a photographer snap some photos of when you popped the question, but more formal engagement photos can also be nice keepsakes to have and look back on to remember your time together after your proposal and before your marriage ceremony. If you don't know much about engagement photos and have lots of questions that need answers regarding engagement photo shoots, specifically fall engagement photo shoots, you've come to the right place. Whether you're looking for fall beach engagement photo ideas or ideas for October engagement photos, we have the information you need.
We spoke with two expert proposal photographers who both have more than a decade of experience in the industry: Kari Bjorn, the Arkansas-based owner of Kari Bjorn Photography and Denver-based Laura Murray of Laura Murray Photography about everything you need to know about indoor and outdoor fall engagement photo ideas, props you can use and the best photo shoot locations. Continue reading for some of our favorite fall engagement photo ideas you can save as inspiration to show your engagement photographer.
In this story:
Where to Take Engagement Photos in the Fall
There are plenty of places where you can take your fall engagement photos. Fall is a great time to take advantage of those outdoor locations. Both of our experts agree that mountains are great. "I love locations like Aspen, Steamboat and Telluride where there are miles and miles of aspen trees changing color. Another nice thing about the mountains is that the leaves change color at different times depending on elevation. I go to higher elevations for fall colors first and then as those areas are past peak for fall color, I'll look for locations at lower elevations," says Murray.
If you're looking for a unique fall engagement photo idea, consider having your photo shoot on a college campus. "I like to work older buildings on campus into my photos as their natural brown colors pair nicely with the natural environment, it can make the photos a bit more dynamic. If your local campus has a lawn, you can set up a picnic photo op to capture some candid shots," says Bjorn. However, make sure to check the college's photo rules and regulations ahead of time. Other fall engagement photo locations can include lakes or your favorite local restaurants.
Fall Engagement Photos Attire Considerations
Your fall engagement photo outfits are completely your choice, but there are some factors you can consider and recommendations from our photographer experts that you can take into account.
Stay Away From Plaid
Bjorn recommends staying away from plaid if you can unless it is a must-have. "We want to highlight your faces and your connection—not what you're wearing. Too many patterns and textures take away from what we're there to capture."
Opt for Darker Colors
If you have any Navy-colored clothing in your closet, Bjorn recommends taking them out for your fall engagement photos. "Navy is amazing in fall! It contrasts nicely against all the reds, browns and oranges in the environment. You want to stand out in the environment—not be camouflaged in it." Additionally, Bjorn notes that other colors which may work well depending on your location are dark green, purple and beige.
Have Multiple Options
Murray expresses the importance of having multiple outfit options on-hand the day of the shoot as fall weather conditions can drastically change depending on your location. "A few years ago I photographed a couple in an aspen forest at a lower elevation (around 7500 ft.) and it was 75 degrees. Then we drove 45 minutes to an elevation of around 11,000 ft. and it was 25 degrees. We had to take warm-up breaks in the car, we were so cold!"
Photographers' Fall Engagement Photo Tips
Although we know the basics when it comes to fall engagement photos, our experts have provided us with several tips that can help you plan your photo shoot. You can utilize The Knot Marketplace to find nearby engagement and wedding photographers in your area.
Tips for Fall Engagement Photo Poses
There are many different poses you can try out during your fall engagement photo shoot. However, if you want to show off your ring, there are a couple of poses that can do that well. "Put your ring hand on your partner's cheek and kiss. Ask your photographer to get a close-up during the kiss. Or, you can find a spot where you can be a little bit elevated and hug your partner from behind and over their shoulder as they look back at you. Again, ask for a close-up," says Bjorn.
Tips for Fall Engagement Photo Props
Although props can help add movement to your photos. Both of our photographers often stay away from using props as they want their shots to feel natural and the focus to be on the couple. However, if you do want to incorporate some props into your photos, Bjorn recommends holding a cup of coffee or apples from an apple orchard.
Tips for Fall Engagement Photo Weather
Fall weather can drastically change depending on the day and it is important to be prepared. Although you can reschedule if it looks like there is going to be inclement weather during the time of your shoot, you could also choose to embrace it. "Sometimes switching things up at a session because of bad weather has led to favorite photos I never would have taken otherwise," says Murray.
Tips for Fall Engagement Photo Timing
Both of our experts agree that golden hour is the best time to take fall engagement photos. "Golden hour is the last two hours before sunset and during this time, natural light is at its softest and warmest. This is usually the best time for engagement photos. If you are doing an hour-long shoot, you should schedule it to start about 90 minutes before sunset so that if it's an overcast day, you won't run out of light as it can often be too dark to shoot at sunset on dark and cloudy days," explains Bjorn.
Fall Engagement Photo Ideas
Now that we've covered the fall engagement photo shoot basics, it's time to start bookmarking the ideas that best resonate with you and your partner. We've compiled a list of our favorites that you can share with your engagement photographer ahead of your September, October or November photo shoot. This way you'll be prepared and can spend more time snapping and less time planning during your fall shoot.
1. Formal Fall Engagement Photo With Elegant Attire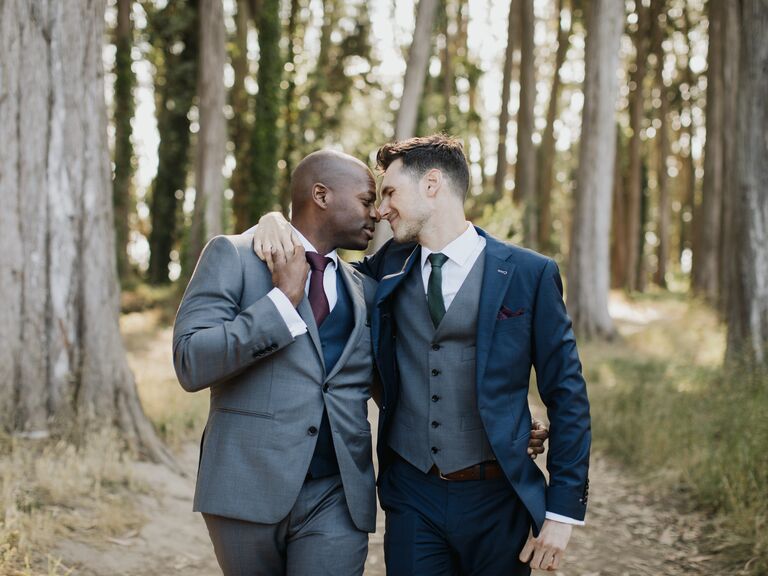 Looking for a balanced fall engagement photo idea? Take note of a spot in the woods where some trees surround an easily walkable path. Position yourselves in the center wearing your best for an elevated and balanced shot.
2. Fashionable Fall Engagement Photo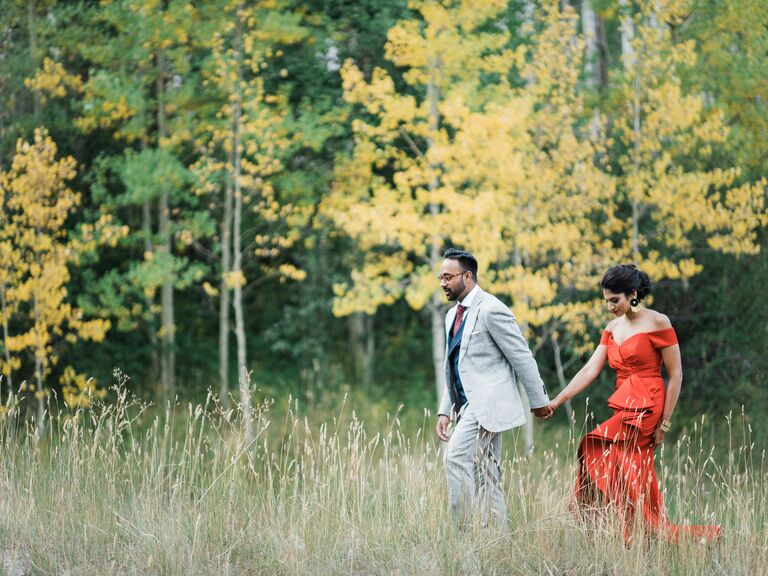 Although it may feel uncomfortable at first to head into an area with lots of greenery wearing a bright orange dress and suit as this couple did, we think you'll like the turnout. Keep your heads looking down at the ground for a more whimsical aesthetic.
3. Distanced Fall Engagement Photo in Nature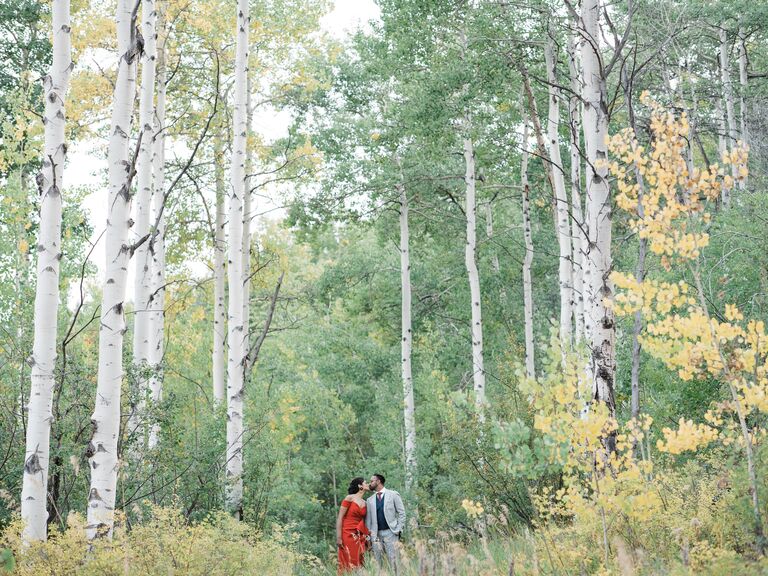 Not all of your engagement photos have to be close-up shots. Ask your photographer if they can take your photo from a distance. These to-be-weds opted to take a distanced photo in the middle of an area with lots of greenery. Give your partner a passionate kiss while you're out there – this will add some romance to an otherwise simple photo.
4. Playful Fall Engagement Photo of Couple Holding Each Other
Don't be afraid to let your personality shine through during your engagement photoshoot. Whether you sweep your partner off their feet (literally) or give them a piggyback ride, adding movement that is true to you will not only liven up the photo shoot but give you some high-energy photos as a result.
5. Vibrant Fall Engagement Photo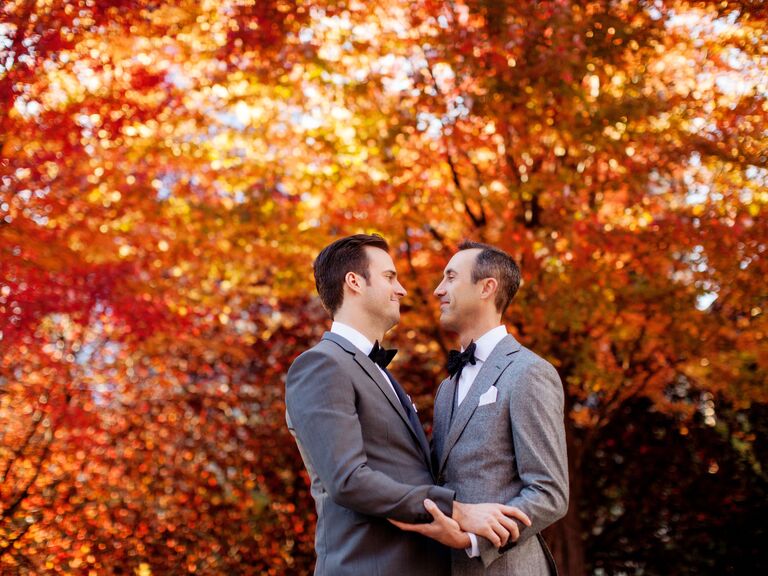 One of the best parts about a fall engagement photo shoot is the fall foliage. Take advantage of any vibrantly colored leaves that may be on the trees and have them serve as your backdrop.
6. Fall Engagement Photo of Couple Sharing a Warm Embrace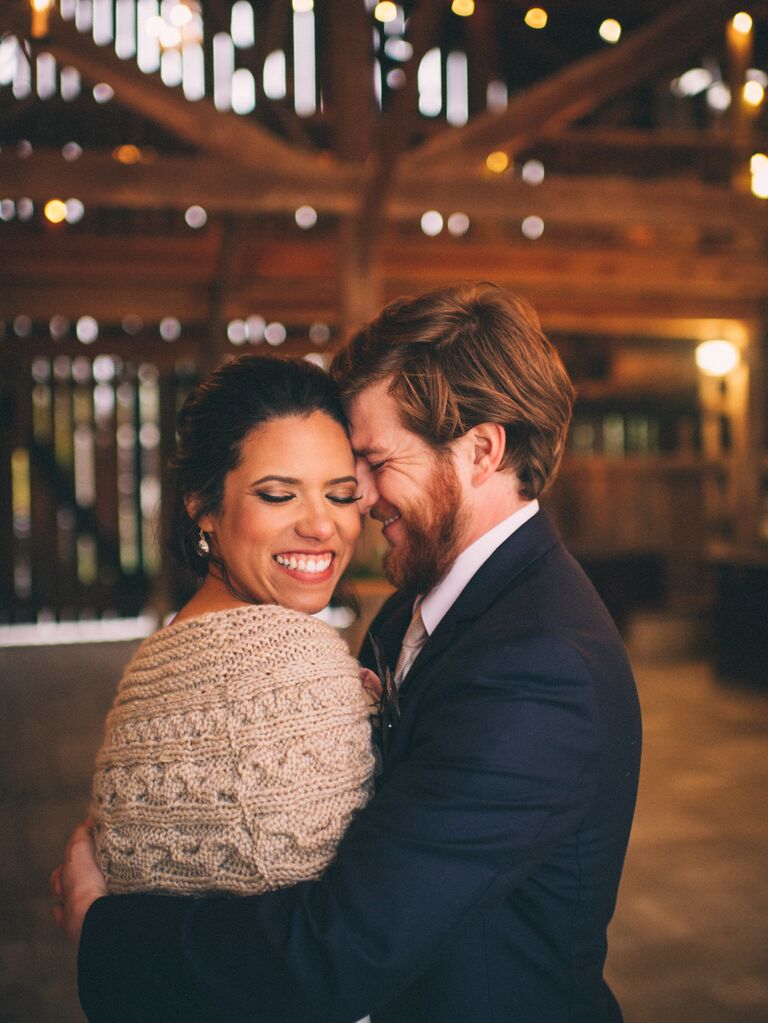 As it starts to get cooler in the fall, this is the time when many people start to enjoy some extra cuddle time. And, it doesn't have to stop at your engagement photoshoot. Ask your photographer to take an up-close shot of you holding your partner—looking back on this special moment will give you all the feels.
7. Fall Engagement Photo Under String Lights
We can't think of much other outdoor decor that is more romantic than string lights. This couple took some action shots walking underneath some string lights that were tied to a couple of trees. Whether you opt to take photos underneath the lights during the day or at night is up to you—we think both look great.
8. Candid Twirl Fall Engagement Photo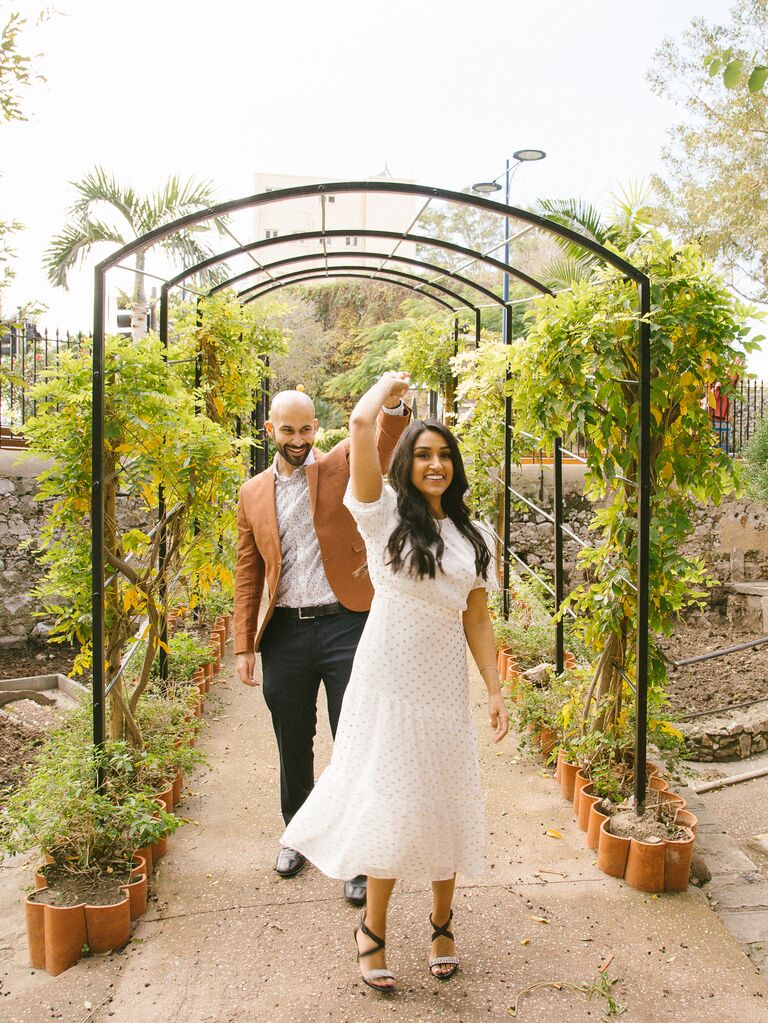 Ask your partner to give you a twirl and your photographer to take some action shots. The result? Photos of you looking like royalty. If you choose to wear a dress, we recommend opting for one that is knee length or longer so you won't have to worry about any unwanted breezes.
9. Chic Fall Engagement Photo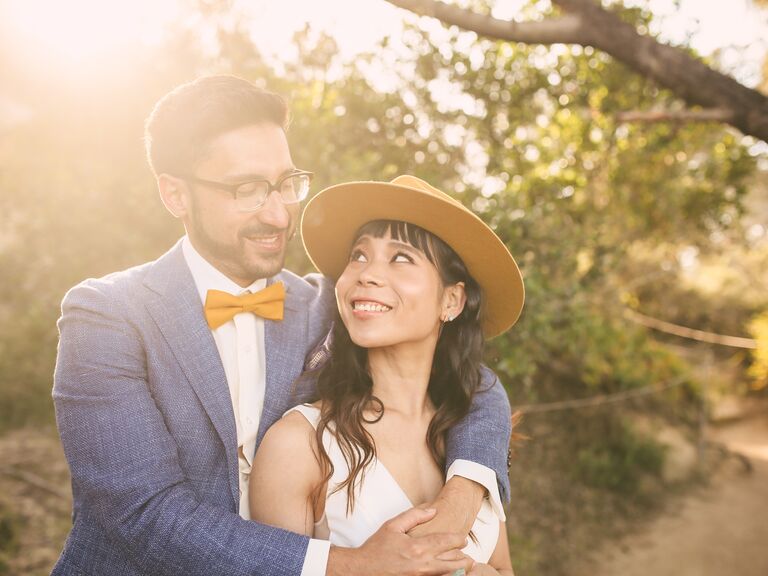 For a more chic-looking fall engagement photo this couple opted to incorporate a bow tie and a chic-looking hat. The choice to have the sun's rays produce a glow on one side of the shot is up to you and the photographer—take multiple shots to see which you prefer.
10. Fall Engagement Photo Near a Ferris Wheel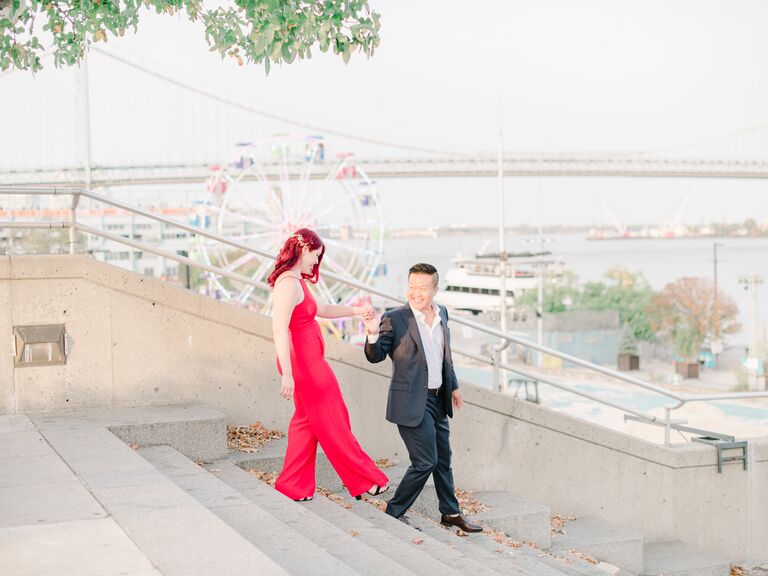 If you had your first kiss on a Ferris wheel or popped the question while riding one together, incorporate one into your engagement photos. Although the focus is mainly on the couple (as it should be) it is still noticeable and gives the photo some vibrancy.
11. Formal Walking Down Stairs Photo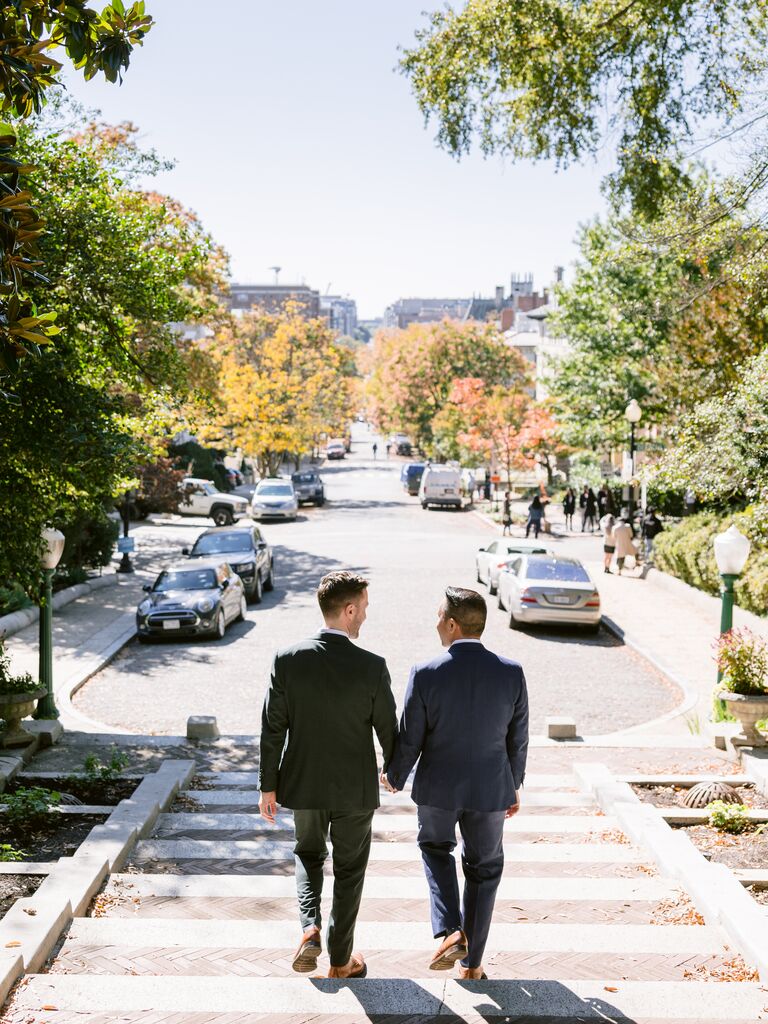 Walking steps together in lockstep while holding hands makes for a great photo. Although the couple chose to walk downwards, you can walk upstairs if you want more of your faces to be visible.
12. Casual Sitting Fall Engagement Photo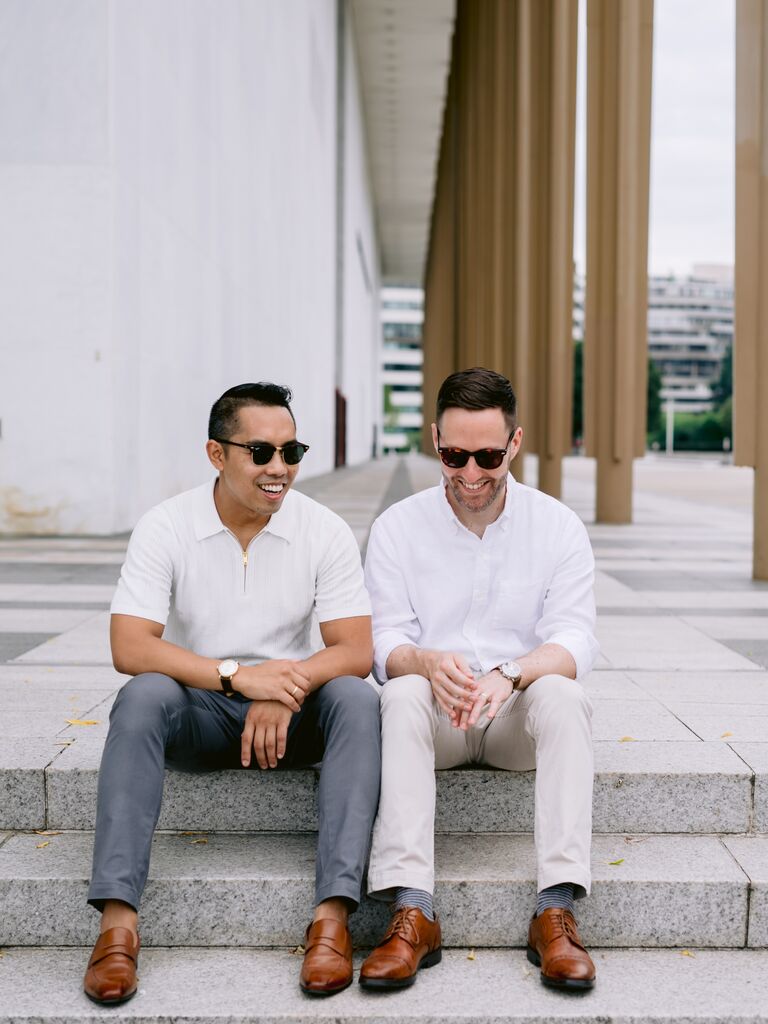 Take a seat next to your partner on an outdoor step and share a laugh together. We know it might feel awkward to laugh on the spot, so start with an inside joke or a story you know will be sure to create a giggle from you both, and go from there.
13. Elegant Fall Engagement Photo Complementing the Leaves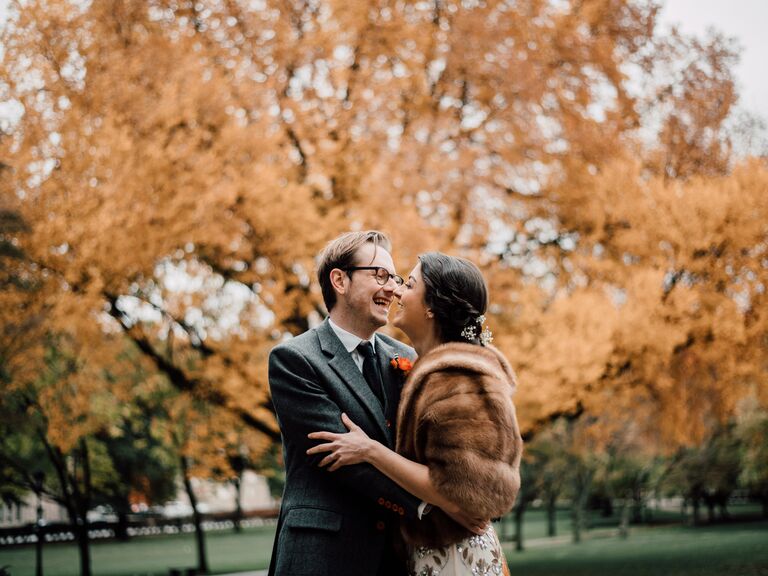 Use the beautiful fall leaves to your advantage when shooting fall engagement photos. You can select your attire to complement their color nicely like this couple did or choose a contrasting color–the choice is yours.
14. Sweet Fall Engagement Photo of Couple Adoring One Another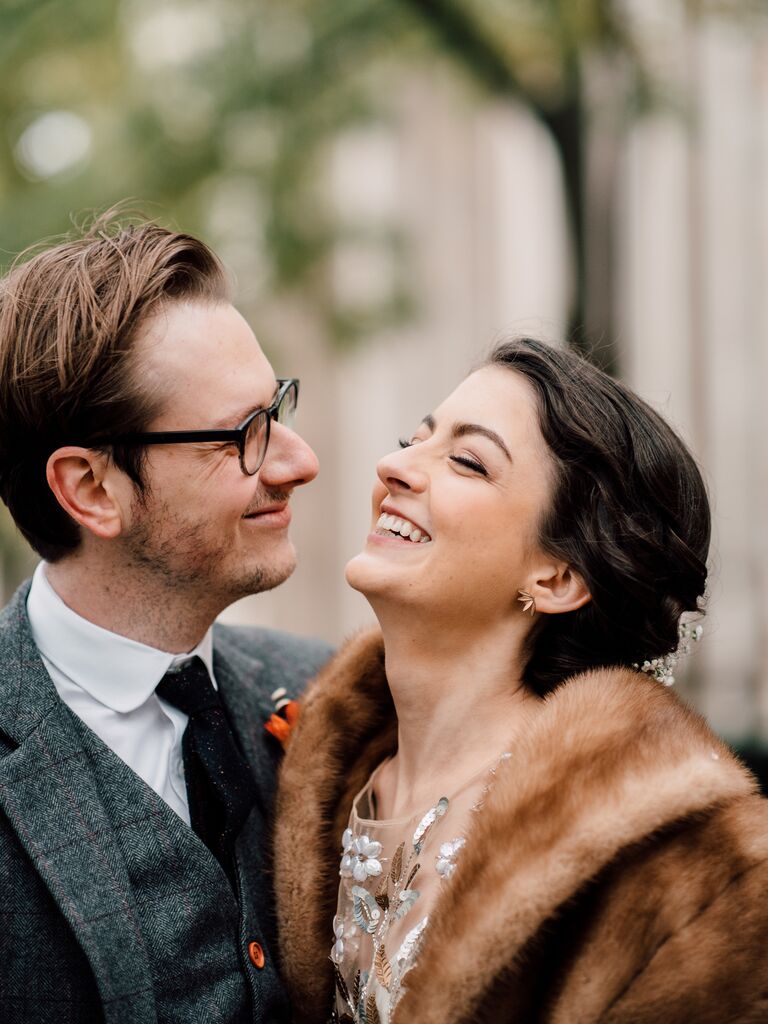 You clearly adore your partner if you're tying the knot with them, so why not capture one of these moments of adoration? When developing a photo plan with your photographer, request that they watch for moments like these.
15. Fall Mountain Engagement Photo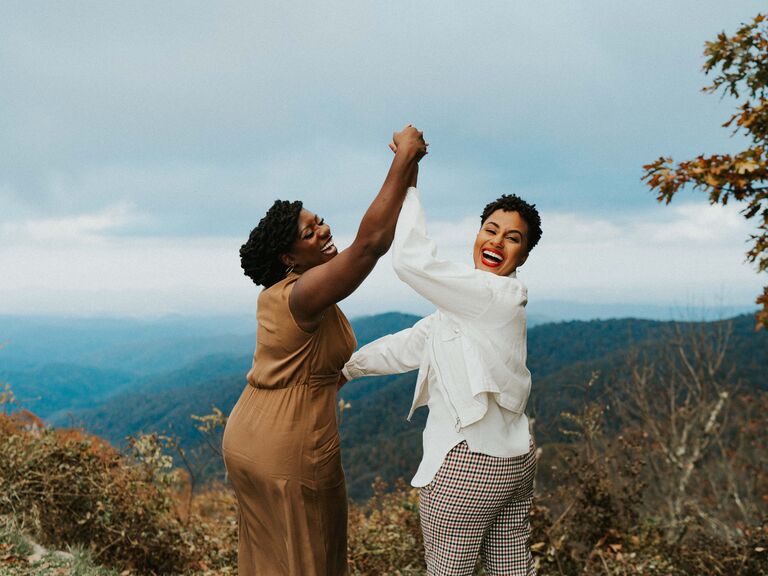 Take your fall engagement photo shoot to the top of a mountain. When you get there, hold up your hands and smile. Climbing to the top of a mountain should be celebrated and so should your marriage.
16. Casual Fall Engagement Photo Holding Hands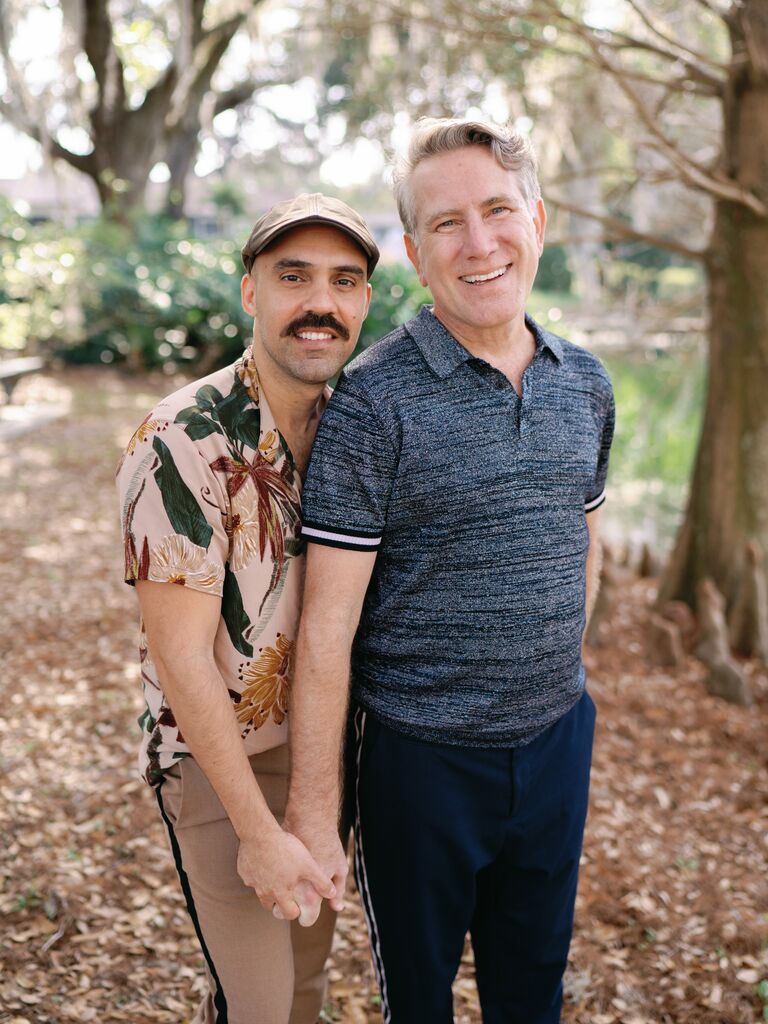 Holding hands may be a simple form of affection, but it goes a long way. Position the taller partner slightly in front of the shorter partner. Then, have the shorter partner lean into their shoulder while grabbing their hand.
17. Sweet Elegant Fall Engagement Photo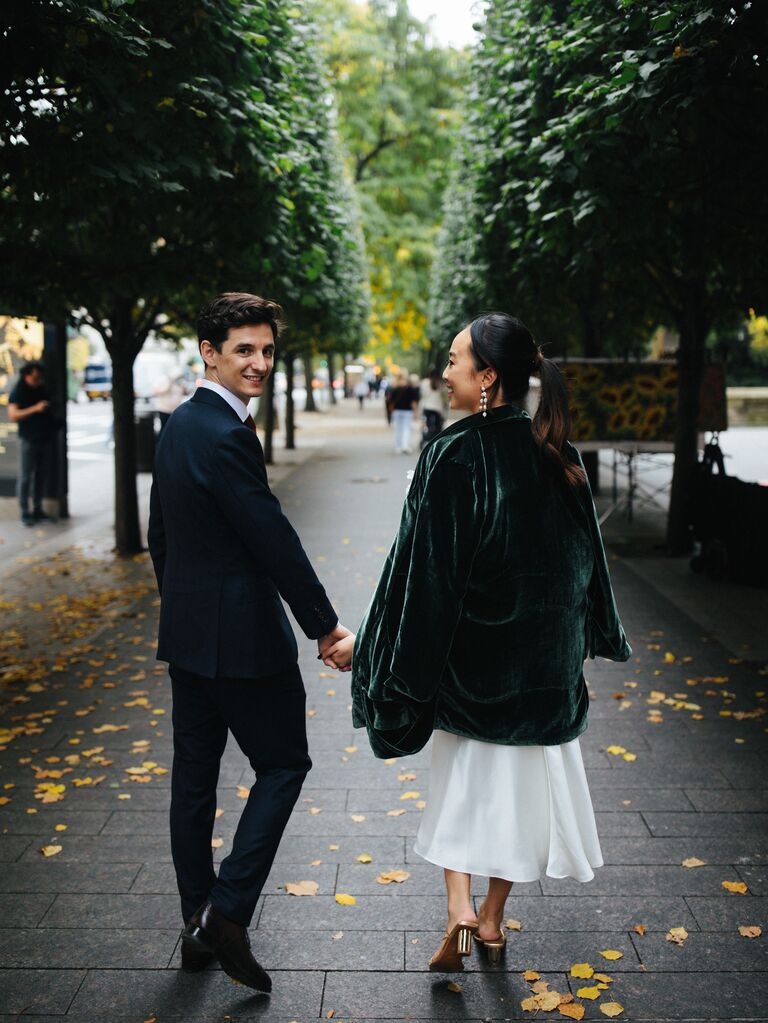 The cool weather didn't stop these to-be-weds from looking stylish for their fall engagement photo session. We love how the dark green coat matches the colors of the adjacent trees.
18. Fall Engagement Photo With Some Animals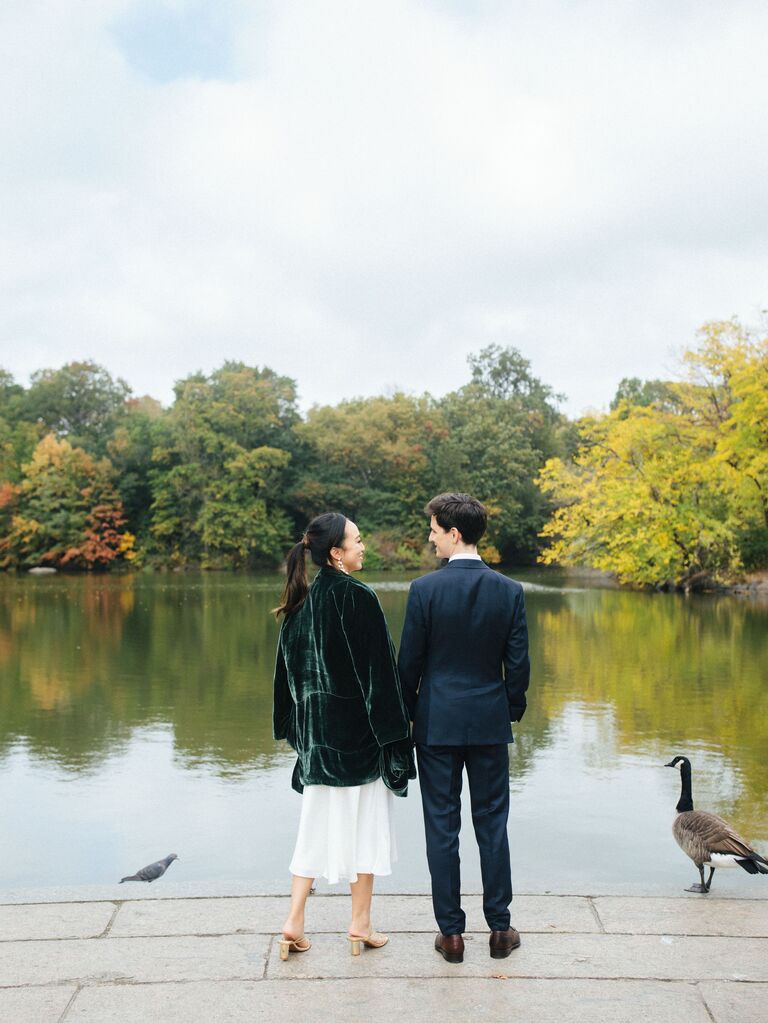 If you're a couple that loves animals, make one of your photo locations an area where you'll be sure to see one or two. Request that your photographer make sure they are in the frame if they are close enough and appear to be friendly.
19. Climbing Up Steps Fall Engagement Photo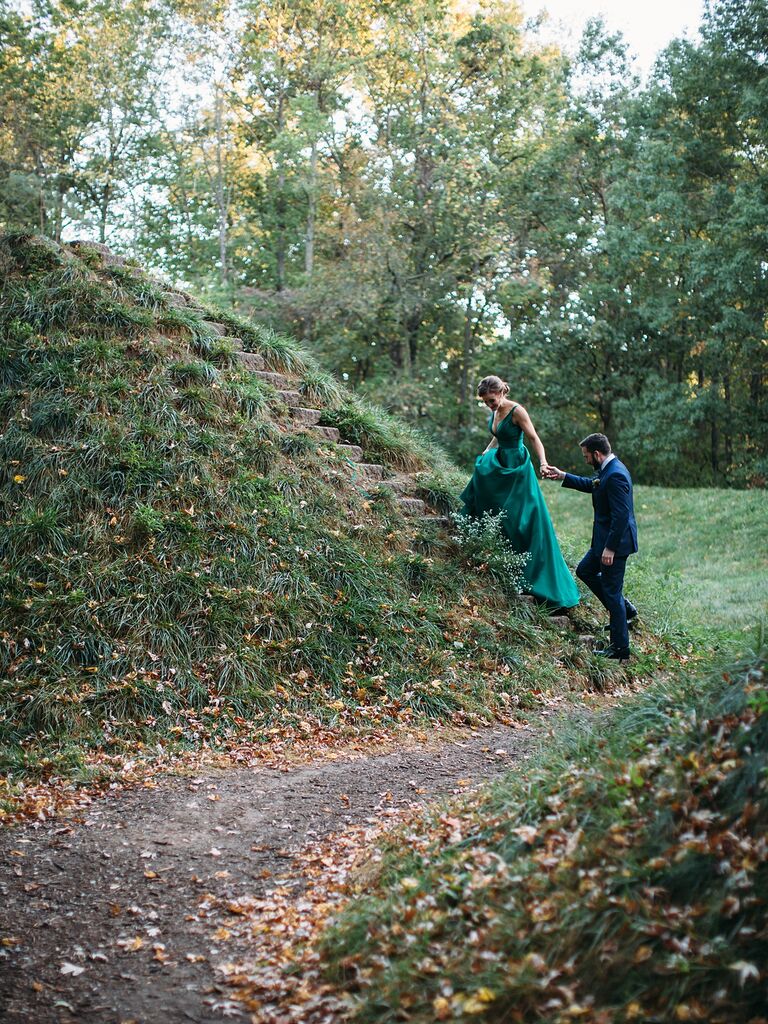 If there happens to be a nearby set of steps on a hill in your local park or public estate, you can make them a stop during your engagement photo shoot. This photo is giving us Bridgerton vibes and we're here for it.
20. Rustic Fall Engagement Photo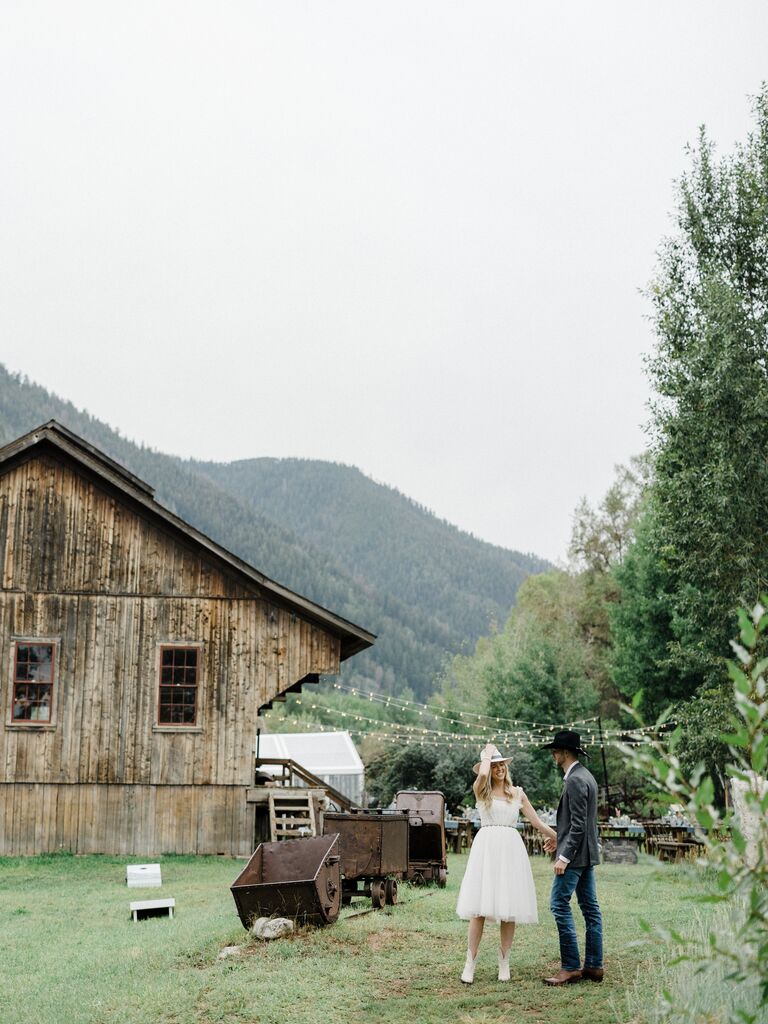 If you're looking to take a rustic fall engagement photo, a venue with a barn or wooden shed-like building will do the trick. This couple opted to wear cowboy hats and boots, but it's most certainly not a requirement (although we do like the look).
21. Sweet Hand Kiss Fall Engagement Photo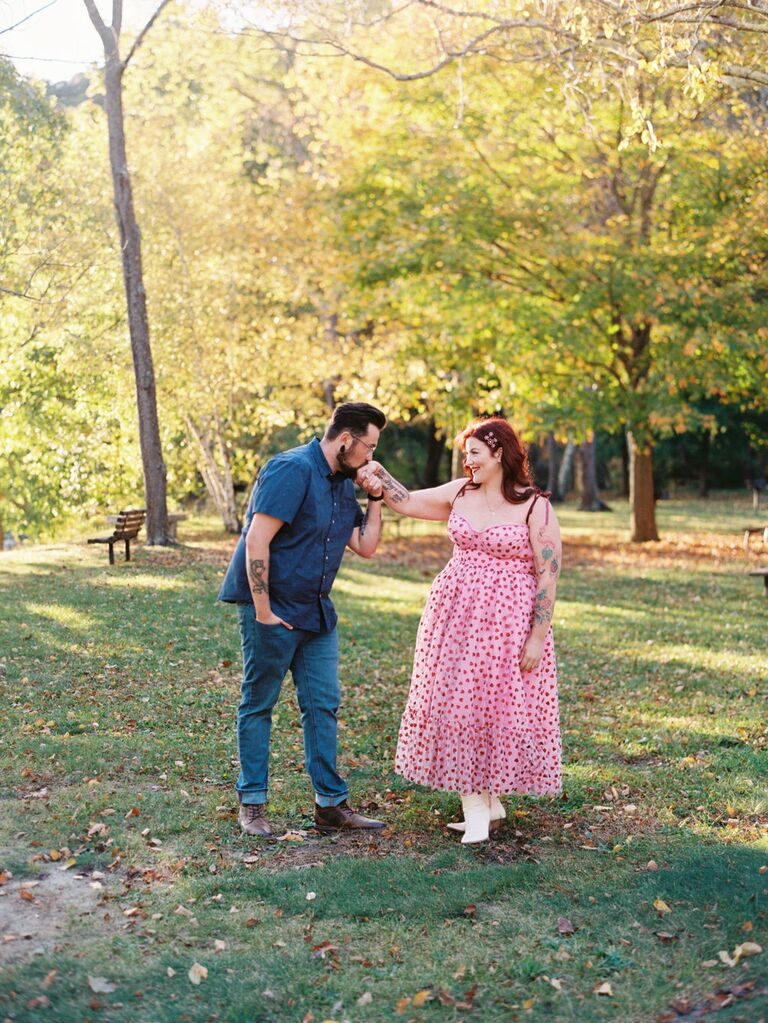 Keep things sweet with a photo featuring a kiss on the hand. Whether you want to be the one doing the kissing is up to you and your partner, just make sure to look into each other's eyes.
22. Romantic Kiss Fall Engagement Photo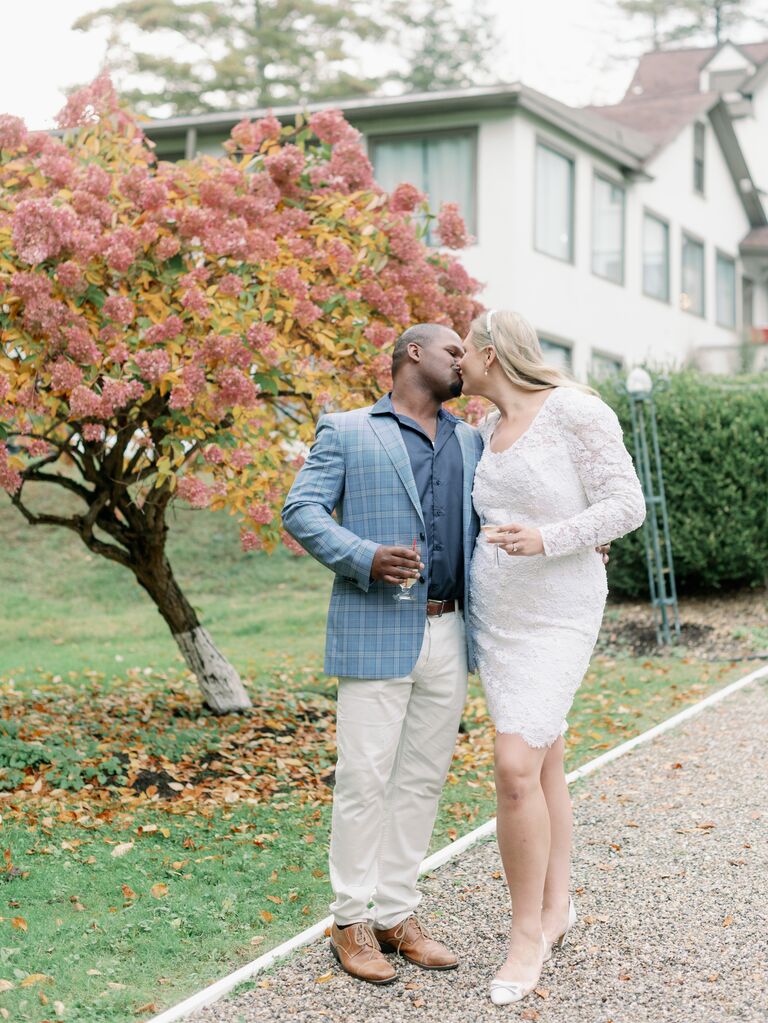 As long as you're both okay with PDA, go in for a kiss and have your photographer capture the moment. This couple held drinks in their outward-facing hands to create a more sophisticated look but is not a requirement.
23. Posed Fall Engagement Photo Holding Each Other's Lower Back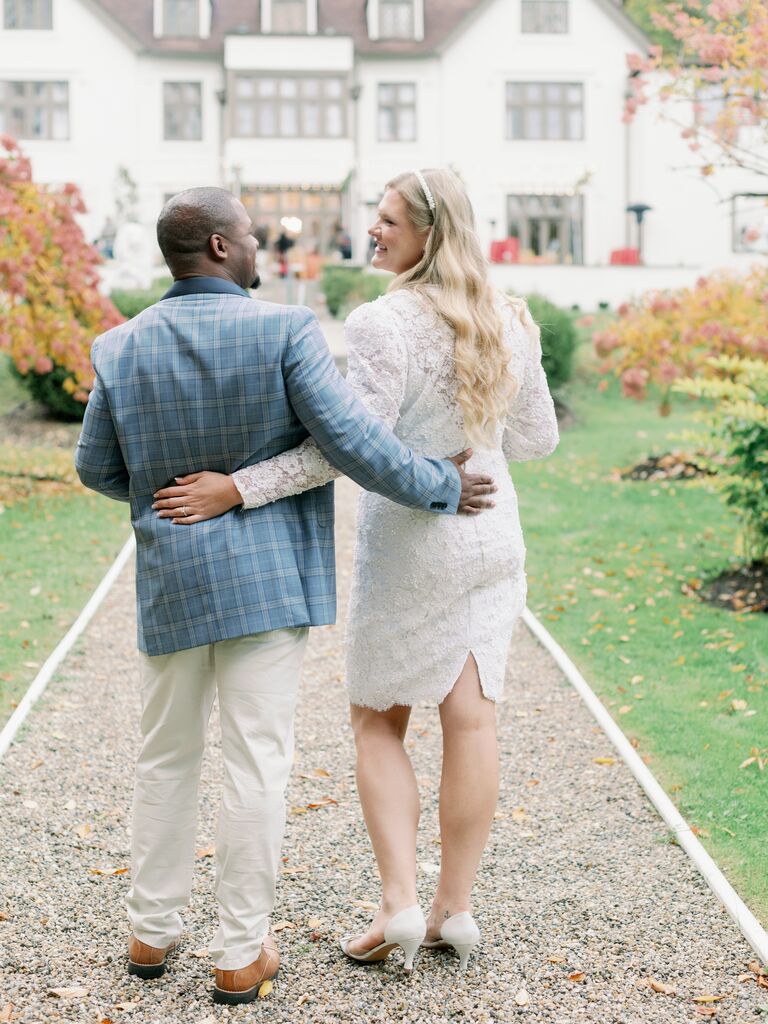 If you're not the biggest fan of PDA, this one's for you. Simply stand next to each other while turning around, placing your innermost hands on each other's lower back. Then, look at each other and smile. This is one you can give to your parents to frame.
24. Outdoor Fall Engagement Photo in Front of Trees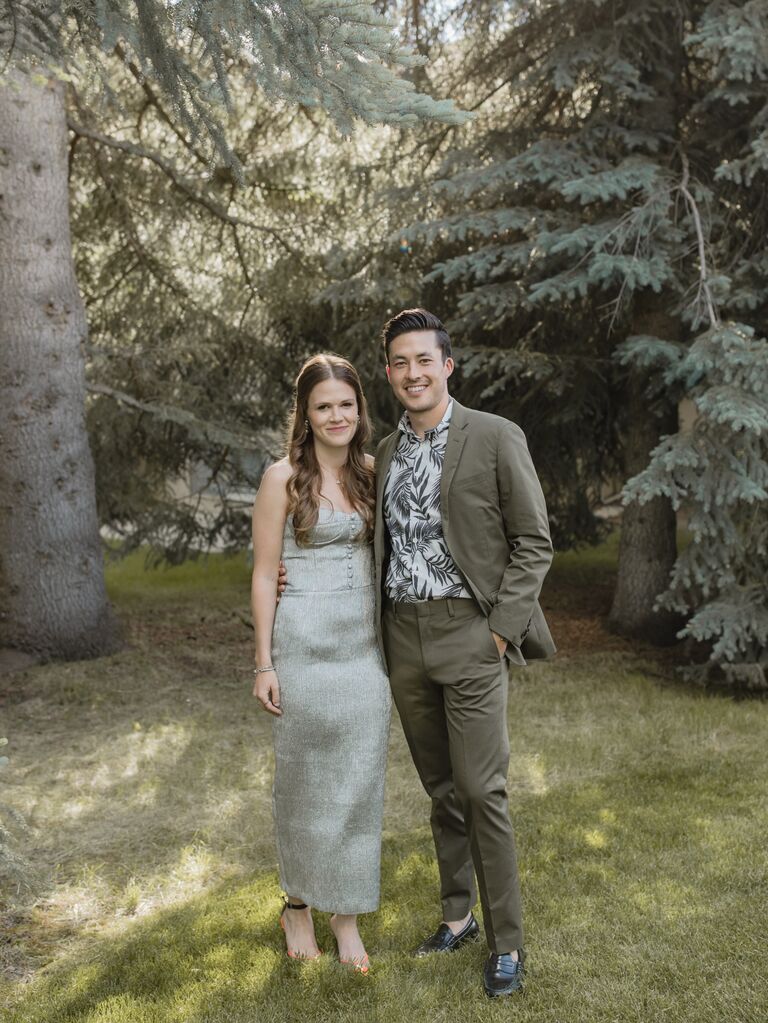 If you both are tree lovers, take your fall engagement photo shoot outside and stand in front of some trees. We love how this couple chose to wear attire in various shades of green to complement the color of the trees.
25. Casual Standing Fall Engagement Photo in Front of Trees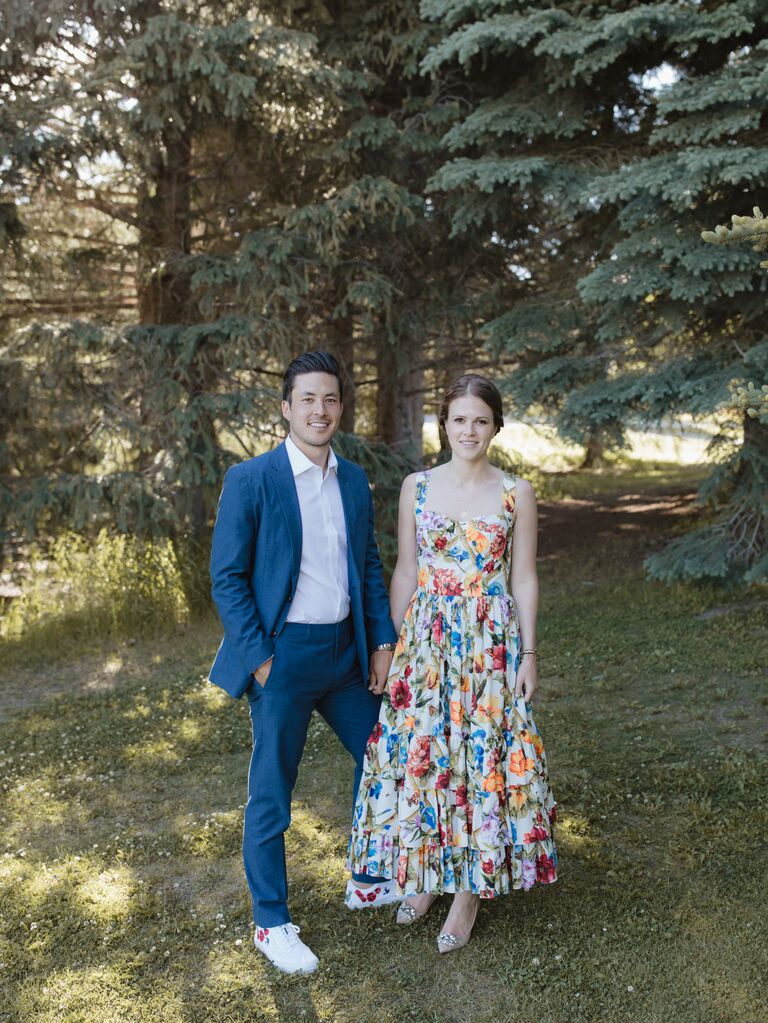 Your fall engagement photos will come out the best when your personality is present. Whether you're a more formal or a more casual couple, or somewhere in between, standing in front of trees will elevate any photo. If it's warmer outside, you can wear a sleeveless dress or a dress jacket.
26. Cute Fall Engagement Photo of a Couple Walking Through a Park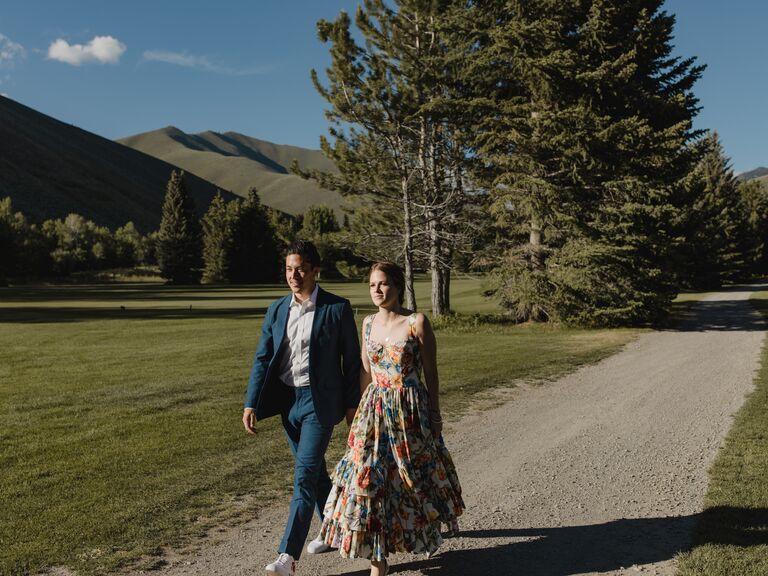 If you had your proposal in a park or met at one (or even if you didn't), taking your fall engagement photos at a park filled with lots of greenery is a great idea. Depending on the time of day your shoot is taking place, there may be a shadow or two present which helps create a whimsical look.
27. Vibrant Fall Engagement Photo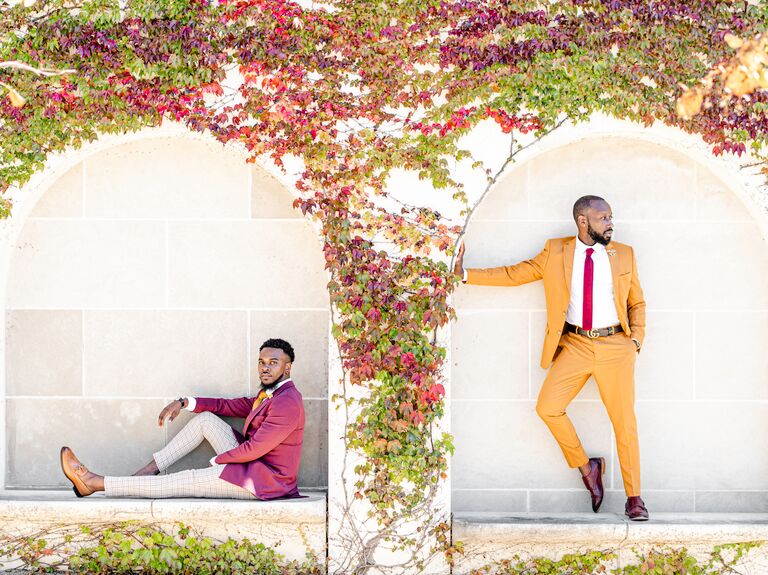 Although many couples opt to stand directly next to each other for their engagement photos, it is not a requirement. Feel free to take some standing a couple of feet from each other. You can look in different directions for a more candid-looking photo, or look at the camera for a more posed look. The colorful flowers make this photo more vibrant and will stand out in your engagement photo album.
28. Joyful Twirling Fall Engagement Photo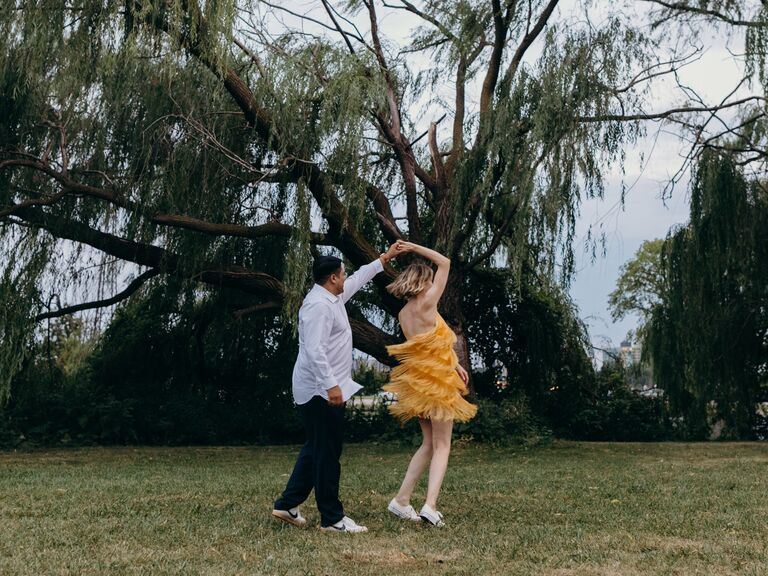 Give your partner a twirl and ask your photographer to capture the moment. We like that the dress being worn has fringes on it as they move when twirled. This couple is facing away from the camera for this particular shot, but facing forward would look cute, too if you are keen on seeing your smiles in the photo.
29. All-White Romantic Fall Engagement Photo on a Yacht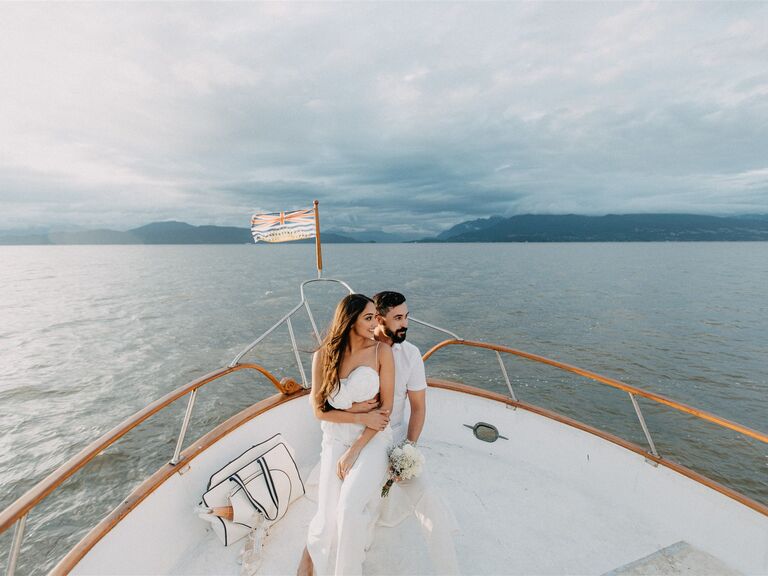 Although a yacht is probably not what you first think of when fall engagement photos come to mind, you shouldn't rule it out. Wearing all white provides a cooler look. We like the use of the flower bouquet as a prop as it does not distract from the couple.
30. Couple Kissing on a Yacht for a Fall Engagement Photo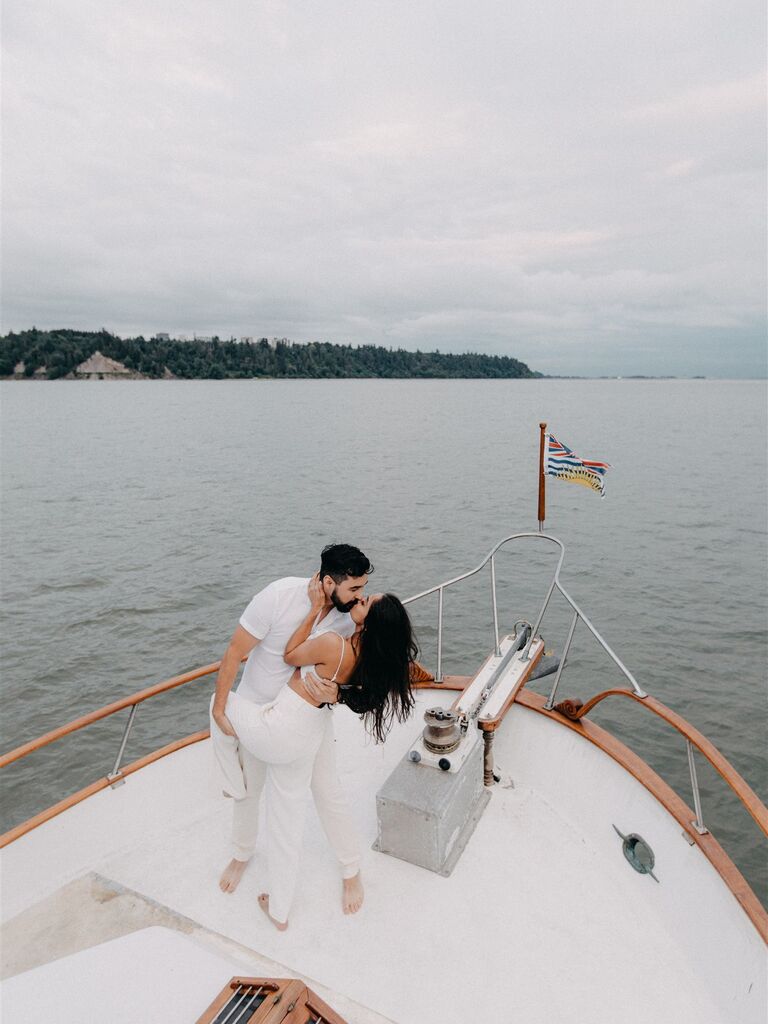 If you're taking your engagement photos on a yacht, share a smooch and let your photographer capture this intimate moment. Feel free to lift up your partner's leg to add some movement to the shot.