The 23 Best Gifts for Gamer Boyfriends From Real Video Game Players
Warning: These ideas will only make him want to play even more.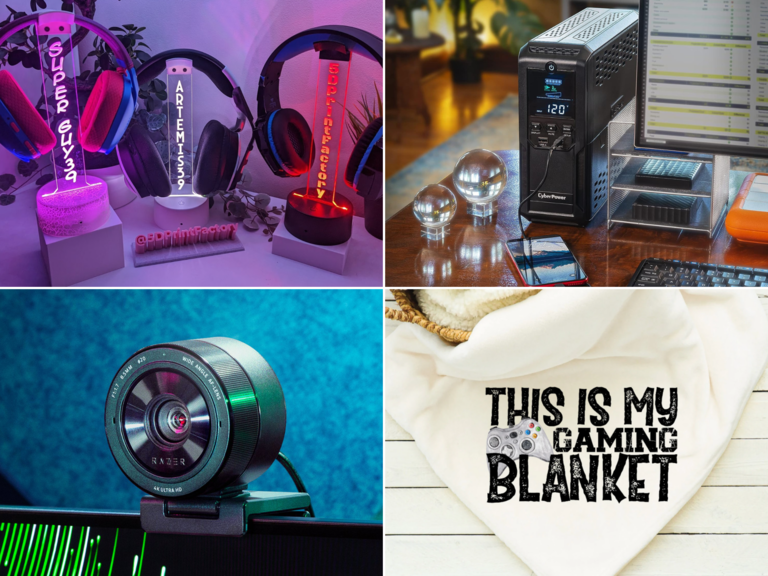 Photos, From Clockwise: 5D Print Factory, Amazon, Razer, Shop Harlow Boutique
We have included third party products to help you navigate and enjoy life's biggest moments. Purchases made through links on this page may earn us a commission.
If I'm being honest, I tend to zone out when my boyfriend talks about video games. PCs and graphic cards, NPCs and FPSs, Twitch and Discord—it's a bit baffling to me. But I know gifts related to a recipient's interest go over better than, say, socks, which means gifts for my gamer boyfriend would be great for the holidays (and any other occasion, for that matter). So, noob no more! I asked my S.O. along with three other self-proclaimed PC and Xbox experts about what good gifts for gamer boyfriends (like themselves) would be and I'm sharing their answers with you.
Content warning: If I've learned anything from my mind-numbing—er, I mean fascinating research, it's that gamers can be quite picky about their equipment. Before buying your boyfriend anything, make sure he needs or wants the upgrade. Then, ask him about what kind of features he's looking for in his equipment. I asked my boyfriend what the best keyboard for gamers is and he sent me five paragraphs about latency and switch type. *Whoosh*—that's it all going over my head. If you can relate, we have gift ideas for gamer boyfriends that go beyond tech, too.
With that, let's launch into the best gifts for gamer boyfriends according to real gamer boyfriends.
In this article:
The Best Gifts for Your Gamer Boyfriend
Good news! Nearly all gamer boyfriends interviewed for this piece acknowledged that they're hard to shop for. Luckily, they shared their best gift ideas for gamer boyfriends, just in time for the holidays. (We gave them three hours of uninterrupted game time as a thank-you!)
1. Razer Gift Card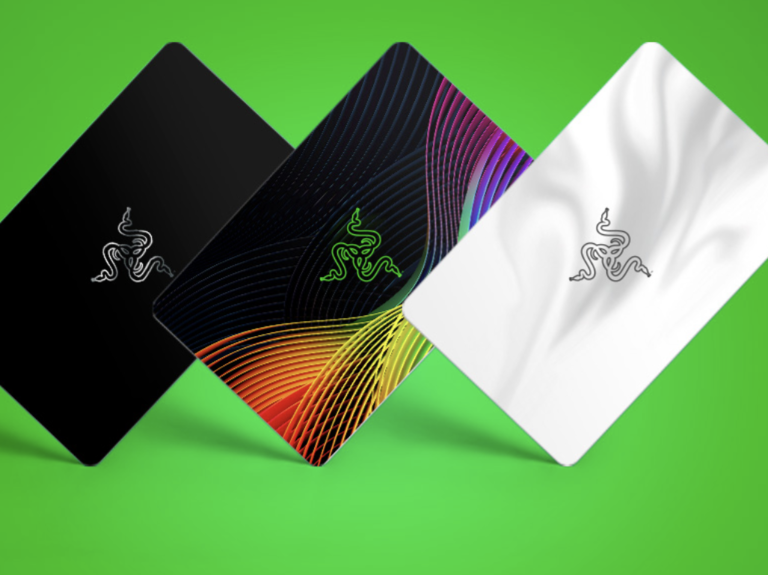 The general sentiment of all interviewees was that gift cards are a great, if not the very best, gift for gamer boyfriends. This is because, as aforementioned, most gamers are very particular about their setup. Instead of picking a peripheral—gaming lingo for an accessory or add-on designed to enhance a user's experience, like controllers, headsets, keyboards or a mouse—for them, a gift card will let them choose the equipment themselves. Plus, it'll help shave down the generally high price tag. A Razer gift card will let them shop for peripherals, laptops and even apparel. I browsed the site—the color-changing tech looks pretty snazzy.
2. Color-Changing Mouse Pad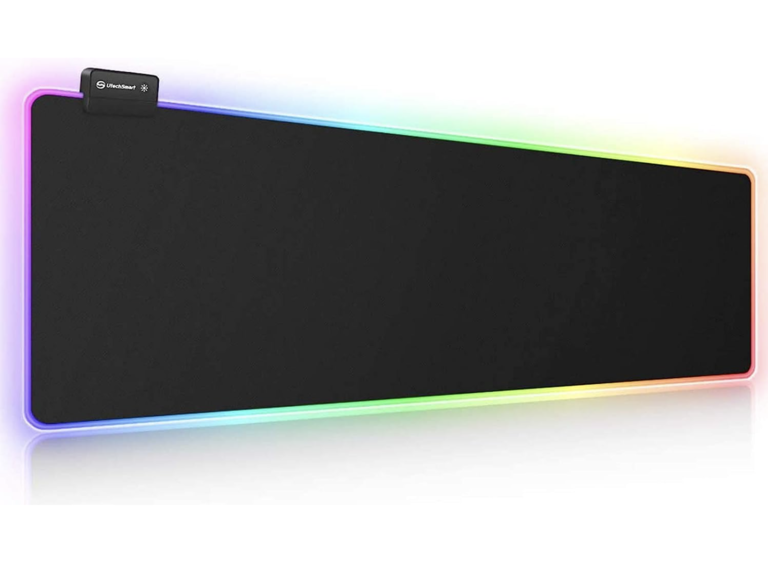 Update: The color-changing equipment is called RGB and it's not just cool to look at. According to Dennis Vallès, the love of my life who consistently misses my calls because he's gaming, "RGB is king in the gaming world. Fancy lights equals better gameplay." One—of the four—things he recommends in RGB is a large, if not full-length, gaming pad. This extra-large mat is waterproof, with a non-slip backing and built-in wrist support. Of course, the selling feature is its 14(!) light modes. Your gamer boyfriend will be playing better in no time, it's the Vallès guarantee.
3. Lightweight Gaming Mouse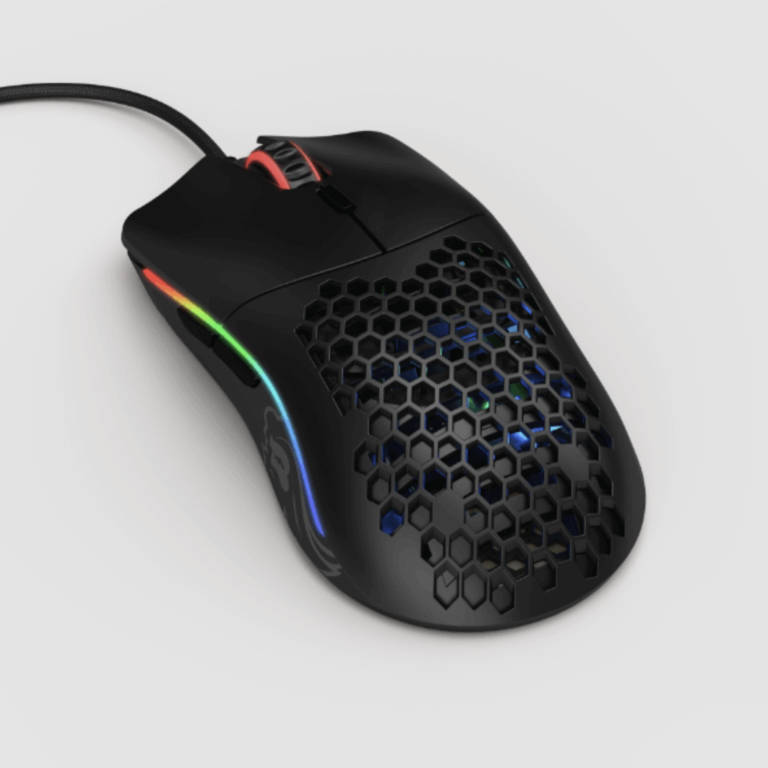 RGB isn't the only secret to being a better gamer. Vallès says an ultra-lightweight mouse is also helpful. In recent years, brands have been releasing mice that use a honeycomb design to cut mass wherever possible. Why? It makes it more maneuverable and, thus, easier to aim. Glorious Gaming's' Model O is a popular choice, weighing in at just 67 grams (or 58 grams, if you opt for the Minus size). While this option does have a cable (a personal preference for those who fear lag or being disconnected from their computer), Glorious also has a lightweight wireless model.
4. Gaming Headset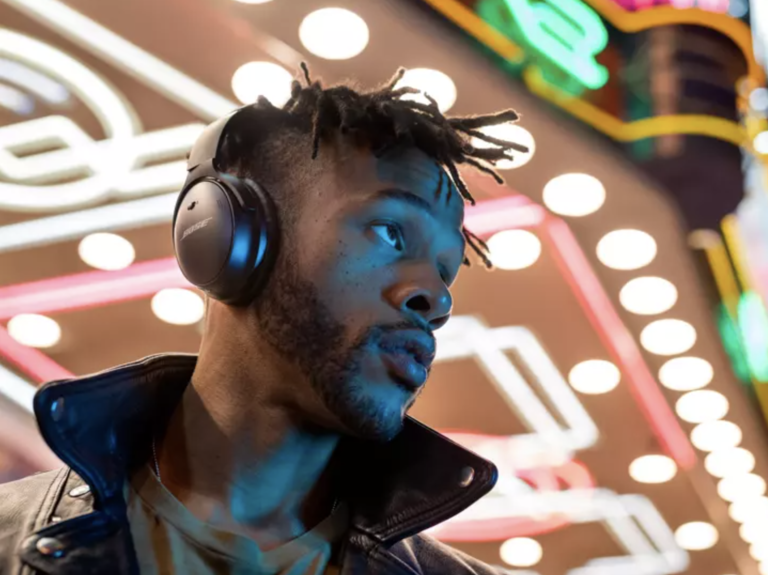 Next on Vallès' list of must-haves: a quality gaming headset. "I personally think BOSE has superior audio technology. I have the Quiet Comfort 35 IIs, but they've come out with a newer version since I bought them. They're really durable, so they'll last for years." That's all the recommendation we need! BOSE QuietComfort 45 headphones are noise-canceling with a 22-hour battery life, so he can really zone in on his game all day. It comes with an audio cable, but you can also pick up a detachable boom microphone so he can easily chat with his friends.
5. Neon Headset Stand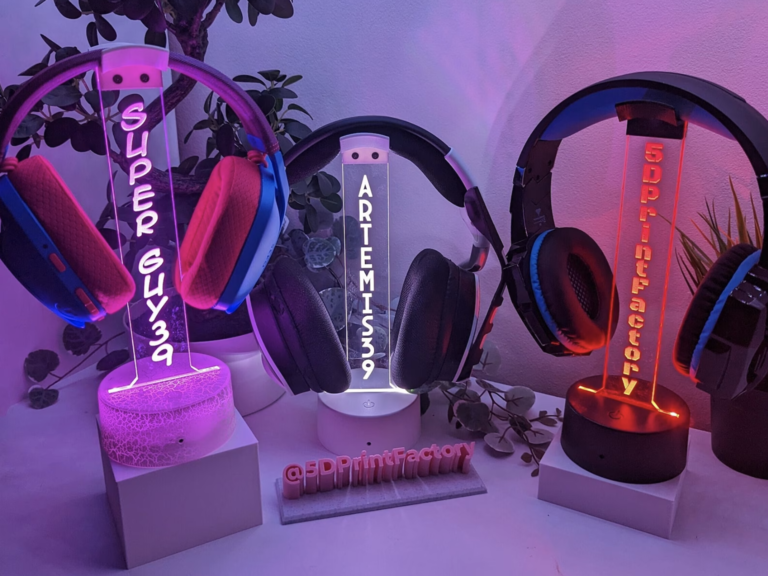 A nice headset shouldn't just be left on the desk. Alden Burr, S.O. of my FoCo (Colorado lingo for Fort Collins) friend, says, "I like to keep things in a gaming space organized, but also looking nice, so a decorative headset stand, display stand for accessories or other decorations that help to deal with clutter would be a great gift." He recommends looking at Etsy for some unique options. This bestselling headset stand is personalized with the recipient's gamer tag and has an RGB LED base that comes with an IR remote so he can change the color to match the rest of his console. It can be plugged into a power source or, to avoid even more cables, run on batteries.
6. Personalized Controller Stand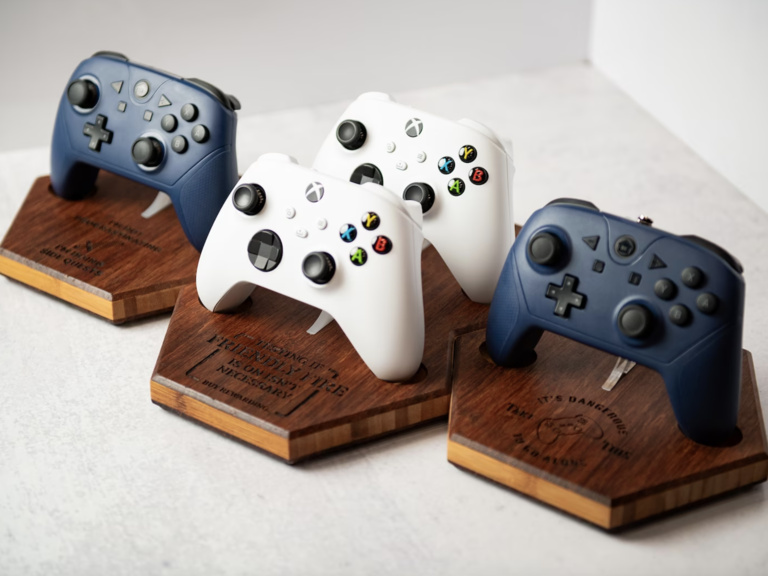 Etsy also offers some snazzy controller stands if you're shopping for a gift for your Xbox or PlayStation gamer boyfriend. This one has a unique hexagonal base with an acrylic kickstand that can hold any modern controller and has a hidden hole for the charging cord. Our favorite part is that it can be engraved with his monogram or a funny quote, like: "Home is where you're player one."
7. Mechanical Keyboard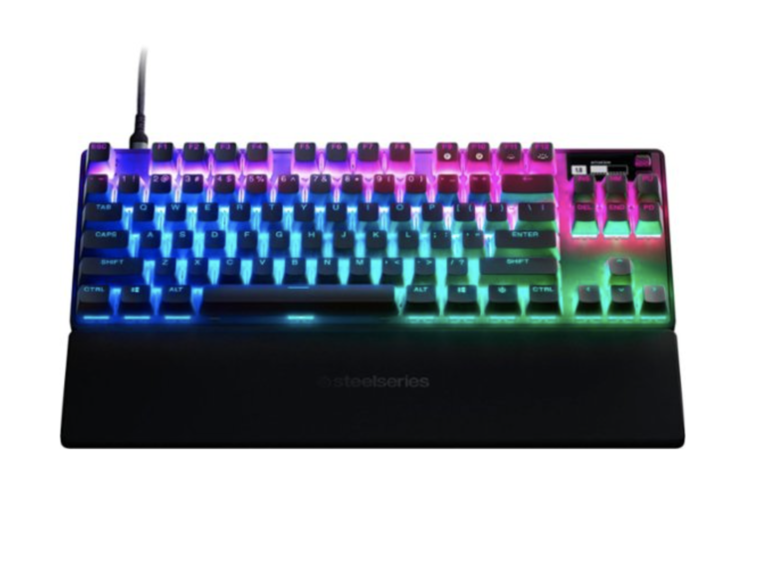 Last on Vallès must-have for gamers list: a mechanical keyboard. This is because mechanical keyboards have a switch under each key, making them more durable, easier to repair and, most importantly, have a faster response time. We recommend SteelSeries' Apex Pro TKL because it has an adjustable pretravel distance feature that lets the user set each key's latency (how responsive it is). This means he can fine-tune the sensitivity of keypresses, so it'll suit his preferences even if you don't know them yourself. It also boasts keycaps with added grip and a detachable wrist rest for support. And, of course, it has RGB backlighting.
8. Keyboard Cleaning Kit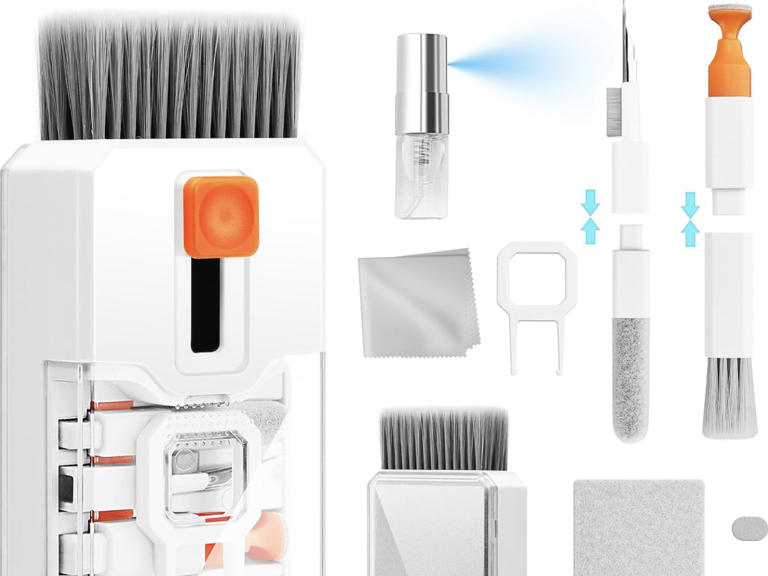 If your boyfriend isn't in the market for a new keyboard—or you don't feel comfortable making that big purchase for him—there are lots of other accessories to shop for. Connor Doogan—the long-time boyfriend of my long-time bestie—recommends cleaning supplies. He says, "Anything that can help with comfort, enjoyment or equipment management is a good gift for a gamer boyfriend. Think: a keyboard cleaning set, a monitor-safe cleaning towel and solution or a handheld digital duster to replace compressed air cans." While it might not seem like the most romantic gaming gift for your boyfriend, it certainly shows you care about his peripherals. Start with this highly-rated laptop cleaning kit. It comes with a large retractable brush, two polishing cleaning cloths, a keycap puller, a metal pen tip, a flocking sponge, a thin soft brush, a soft plastic lens cleaning pen, five replacement cloths and a large microfiber cloth. *Phew* That's a lot. Trust us though, he'll know what to do with it all. (Psst, we have a feeling this would make a great stocking stuffer if you need a Christmas gift for your gamer boyfriend.)
9. Gaming Chair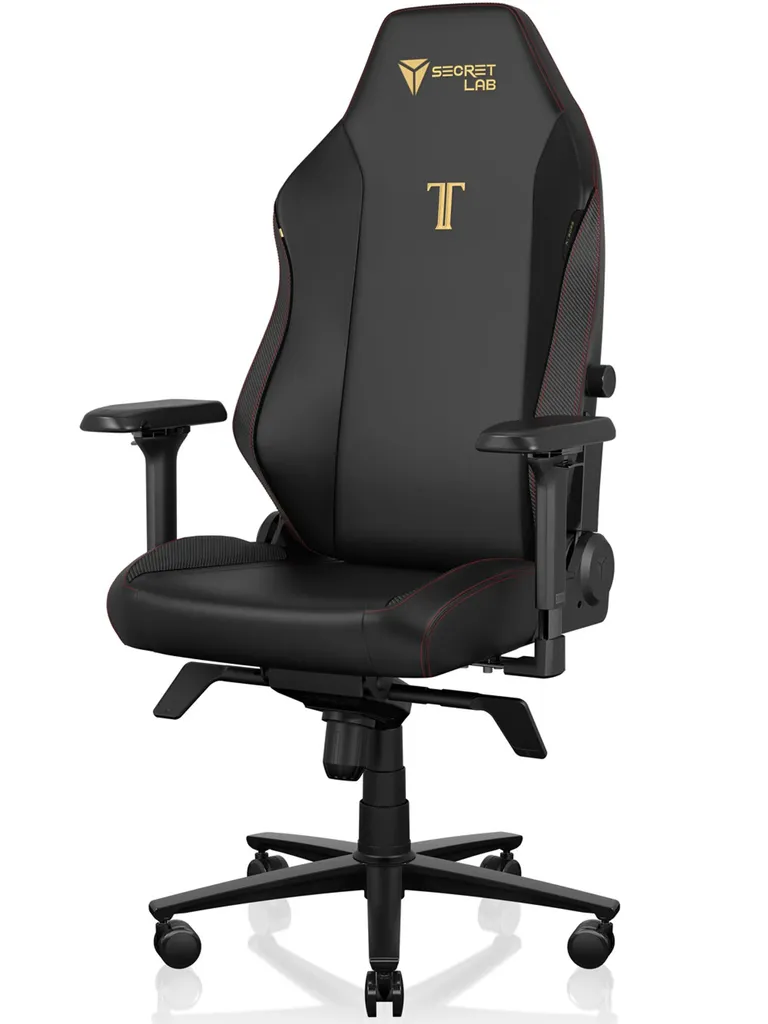 And the partner of the year award goes to [insert your name]! A gaming chair is an investment, but it's really important to serious gamers. Vallès remarks, "If you're a gamer, ergonomics matter in the long run for posture and preventing RSI (repetitive strain injuries)." For him, Secretlab is the go-to for comfortable gaming chairs. The TITAN Evo (which he has in Cookies & Cream) offers advanced lumbar support, a magnetic memory foam head pillow, a proprietary sculpted seat and complete recline and tilt adjustability. I've sat in it and wow! It's nice.
10. Cozy Sherpa Blanket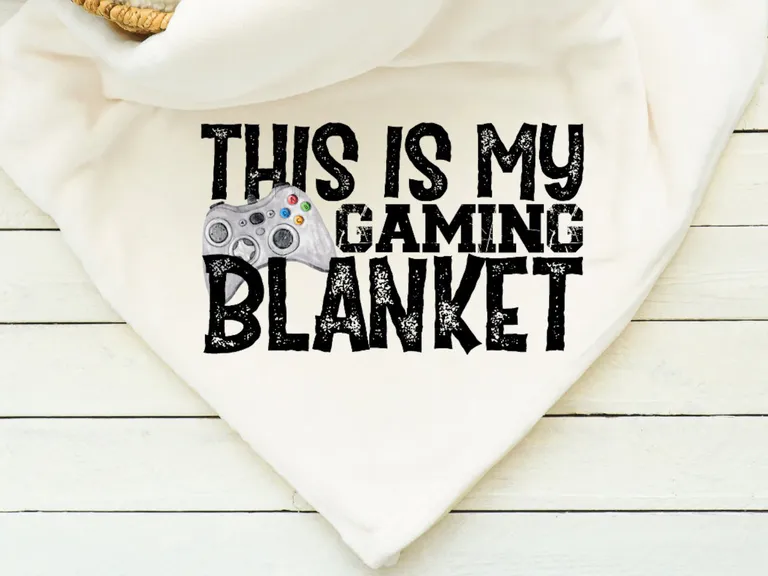 The key to a good gaming setup is comfort. An ergonomic chair is super important and so is a good blanket. This minky blanket—i.e. a super soft, plush, hypoallergenic and breathable material—with a sherpa lining will keep him warm and cozy during every video game session. He'll even use it when he's away from the computer and snuggling on the couch with you. You can personalize it with his name for a sweet touch.
11. Funny Coffee Mug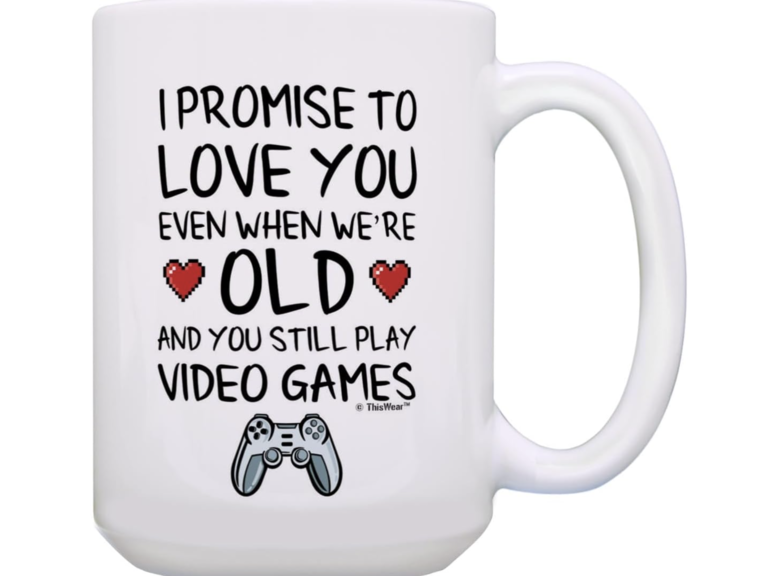 That's right, gifts for gamer boyfriends don't have to hook up to their computers. I gave this somewhat sarcastic coffee mug as an anniversary gift for my gamer boyfriend and he had a good chuckle. It says, "I promise to love you even when we're old and you still play video games." It comes in two sizes, depending on his caffeine intake while he's online.
12. Gravity Induction Heating Plate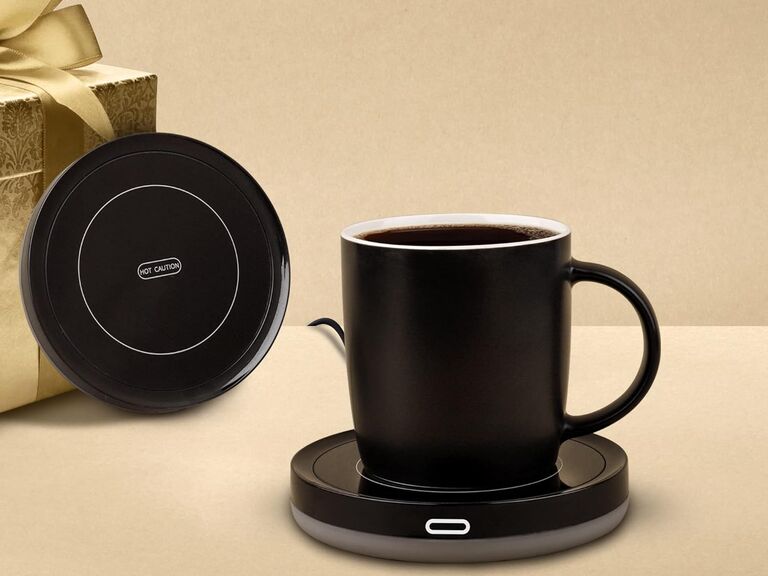 IYKYK that gamers can sit at their computers all day long. Which means, their coffee or tea is bound to get cold. So, if you love the mug above, but are looking for something a bit more practical, pair it with this waterproof, gravity-induction heating plate. The compact design (so it won't crowd their playing space) will keep their beverage warm no matter how long it sits out.
13. High-Resolution Monitor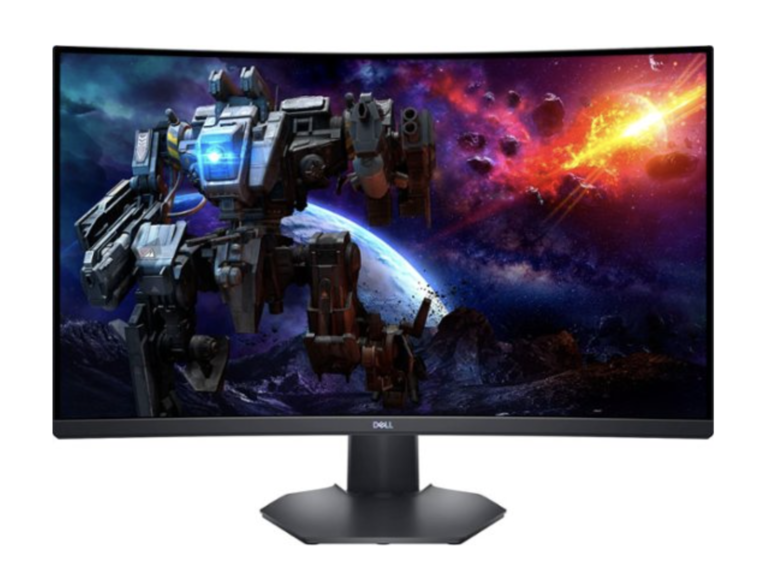 The final piece of your boyfriend's gaming set: a large monitor. While a gaming monitor also comes down to preferences, we're pretty sure Dell's 32-inch LED Curved QHD FreeSync Gaming Monitor is a good one. Just read the 1,000 five-star reviews! He'll experience high-resolution panoramic views, a speedy refresh rate and no screen tearing or splitting.
14. Monitor Mount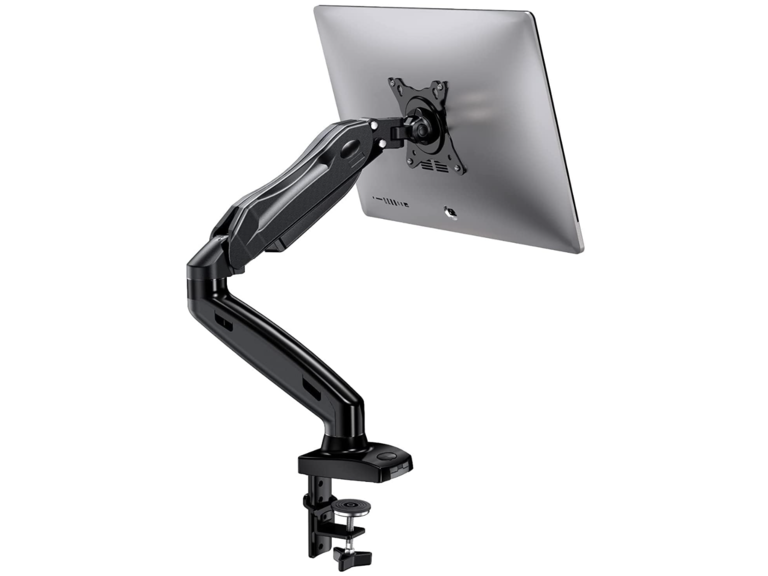 Garrett Dube, the gamer boyfriend stealing my roommate's heart, recommends all the above and a monitor mount. He says, "A monitor mount helps open up desk space so you have more room for your controllers or necessary provisions, like a drink and snack." This particular mount will screw onto the edge of a desk, so it really requires no table space. It can raise, lower, tilt, swivel and rotate for the optimal viewing experience. Just make sure you know what size monitor (or monitors) he has before buying. This one supports a single monitor that's between 13 and 30 inches.
15. Wireless Phone Charging Stand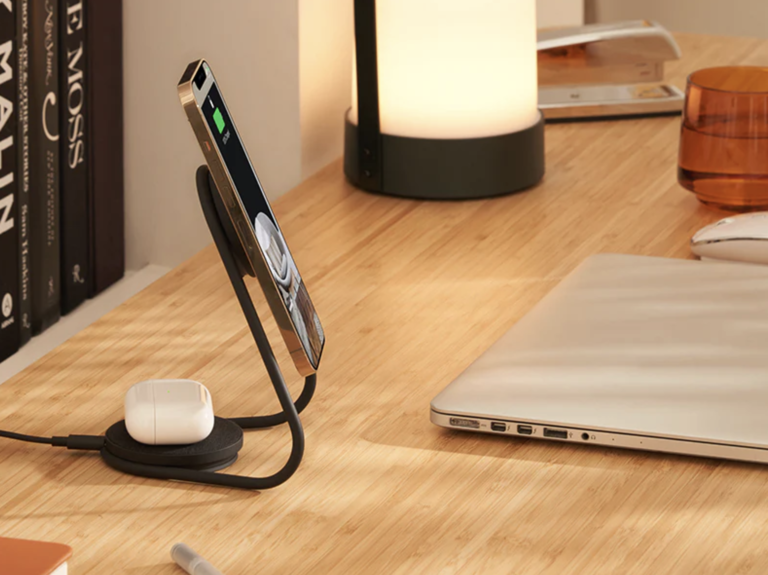 Dube also recommends a phone stand as a good gift to get your gamer boyfriend. I would definitely buy this for my boyfriend so he won't miss any calls or texts from his one and only (aka me) while he's gaming. This one from Courant won't just hold his phone upright, it'll also charge it. It even has a wireless charging base for AirPods. Bonus points if you have it monogrammed.
16. Uninterruptible Power Source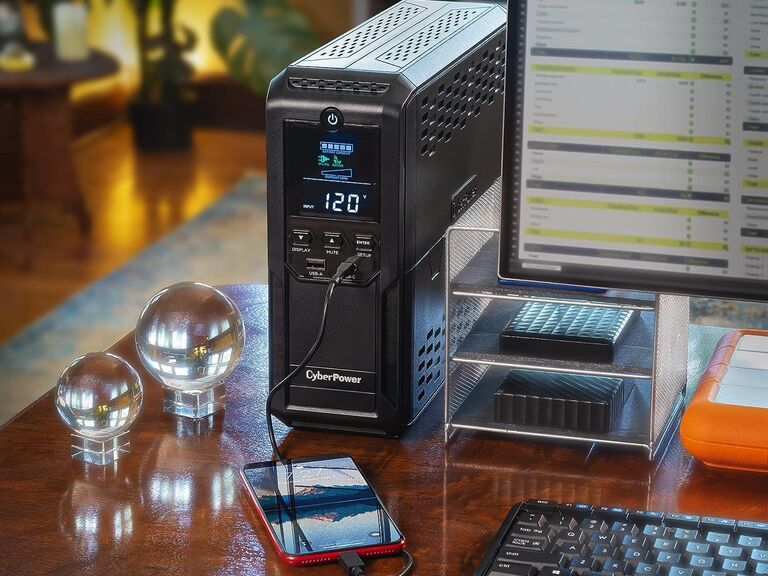 Remember when you were peacefully reading and were interrupted by your boyfriend screaming: "Nooo!" likely followed by many profanities because his game progress didn't save? Well, this gift for your PC gamer boyfriend will prevent that from happening again. "I think a UPS, uninterruptible power source, is extremely valuable. It gives an additional half an hour (depending on the size of the battery) of running time so your game setup and saves can't be damaged during a power outage," Doogan says. "You'll need over a 1,000-watt capacity for most PCs, but they're also useful for WiFi routers."
17. Webcam for Streaming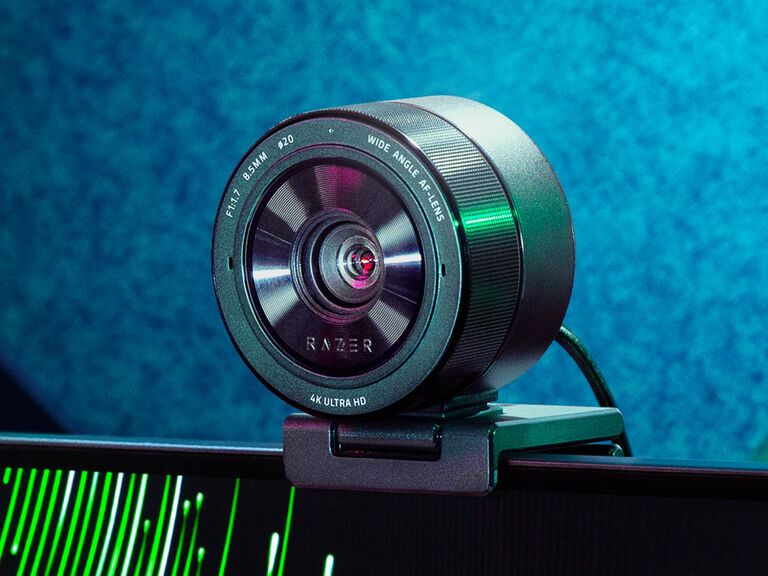 If you're not just dating a gamer, you're dating a streamer, you could consider a nice camera or microphone as a birthday or holiday gift for him. This high-quality webcam is exclusively sold by Razer. It has an ultra-large sensor, DSLR-like 4K quality, clear imagery regardless of his lighting setup and, arguably the coolest part, AI-powered video imaging.
18. Custom Neon Sign
If you're feeling overwhelmed with gamer lingo, you're not alone. My brain was mush after just 20 minutes of research. Luckily, video game gifts for your boyfriend don't have to come from an electronics store. Dube says, "When it comes to good gift ideas for gamer boyfriends, I'd go for simple things, like accessories that spice up their gaming area." Well, we'd certainly consider this custom neon sign "spicy." Just pick the color and font, then add in your custom text like his name (or gamer tag), "Game room" or "Do not disturb." The seller will then send you a quote for this very cool gift for your gamer boyfriend.
19. Custom Xbox Controller Cover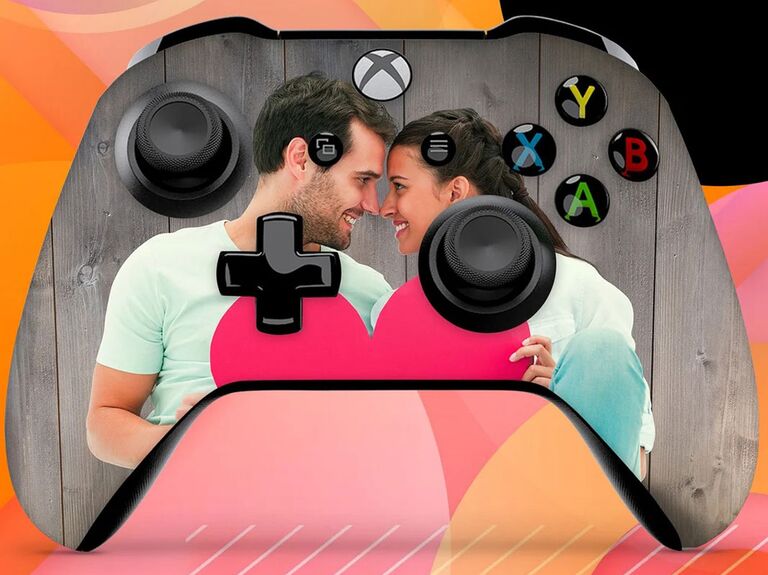 No promises he'll use this when the guys are over, but look how cute! Send your favorite photo of the two of you together to this Etsy seller to have it turned into a full-wrap vinyl decal for his controller. Sounds like the perfect anniversary or Valentine's Day gift for your gamer boyfriend. You can remind him that it's actually really practical too, since it protects his controller from scratches and dust.
20. Pedestal Picture Frame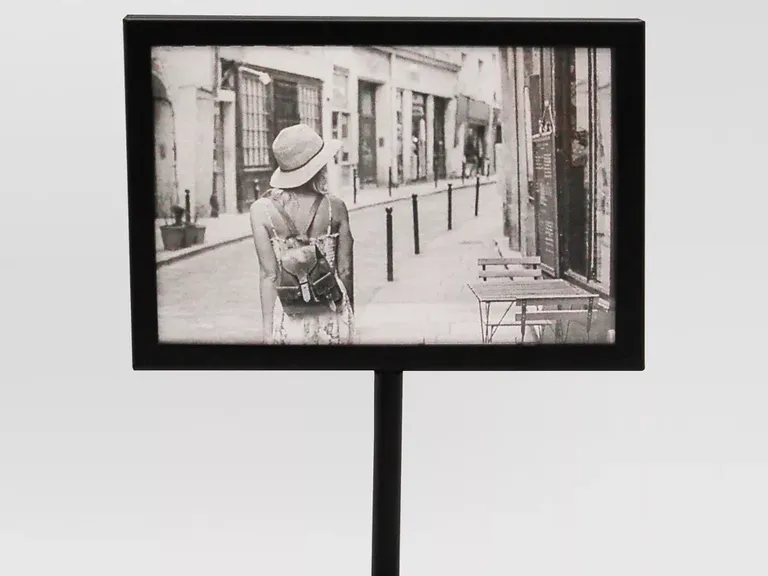 Another sappy gift idea: "Something I'd like as a gift is a nice picture of [my girlfriend] to keep on my desk." Brownie points to Doogan. He continues, "Most gamers I know have some form of decoration on their desk. Anything that doesn't affect performance is good." This small frame is on a pedestal for minimal compromising of desk space and maximum admiring while their game is loading.
21. Destiny Flip Coin for Gamers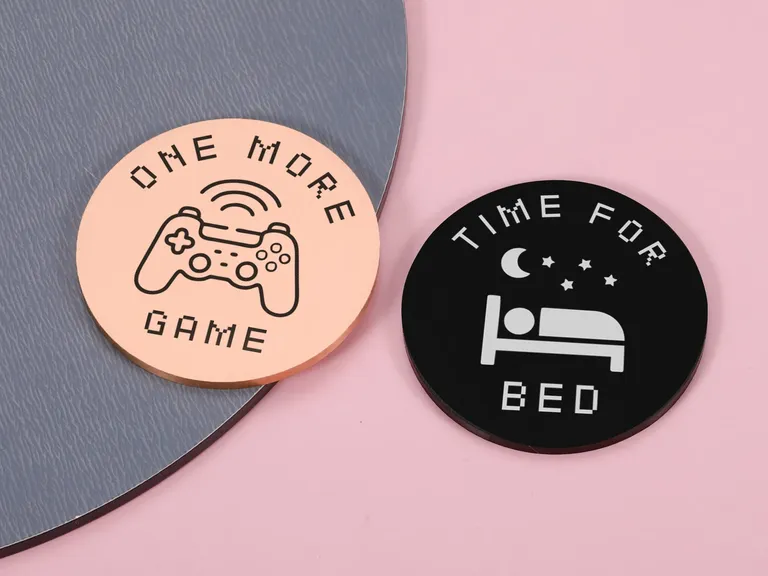 We had to throw in a funny gift for gamer boyfriends amongst the cool and practical. This metal coin reads, "One more game" on one side and "Time for bed" on the other. Whatever it lands on is his next course of action.
22. Steam Gift Card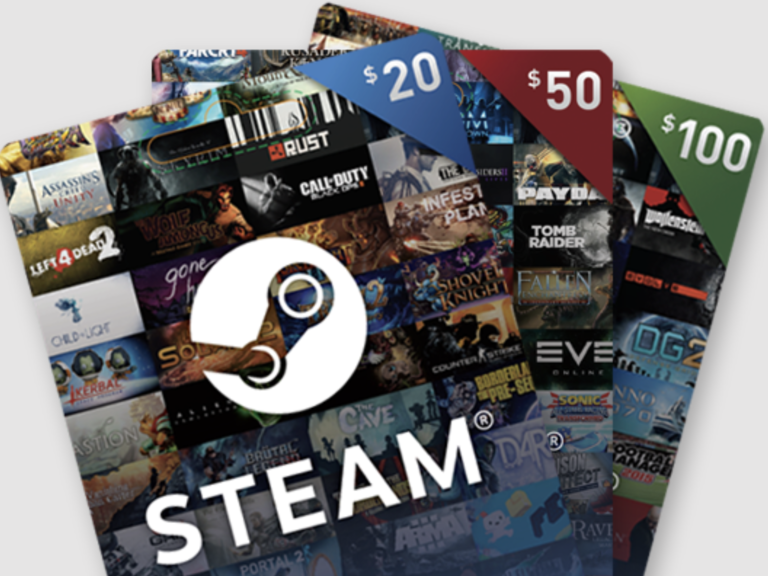 If you want to help your boyfriend play even more video games—hey, more time for you to hog the TV—consider a Steam gift card. Just note, you'll need to have your own Steam account to send it digitally. Doogan even said, "I think most gamers would appreciate if their significant other found a game they themselves would like, then bought it for us to play together." Steam is exactly where you could find such a game. (Hint: This girlfriend of a gamer likes It Takes Two.)
23. Virtual-Reality Headset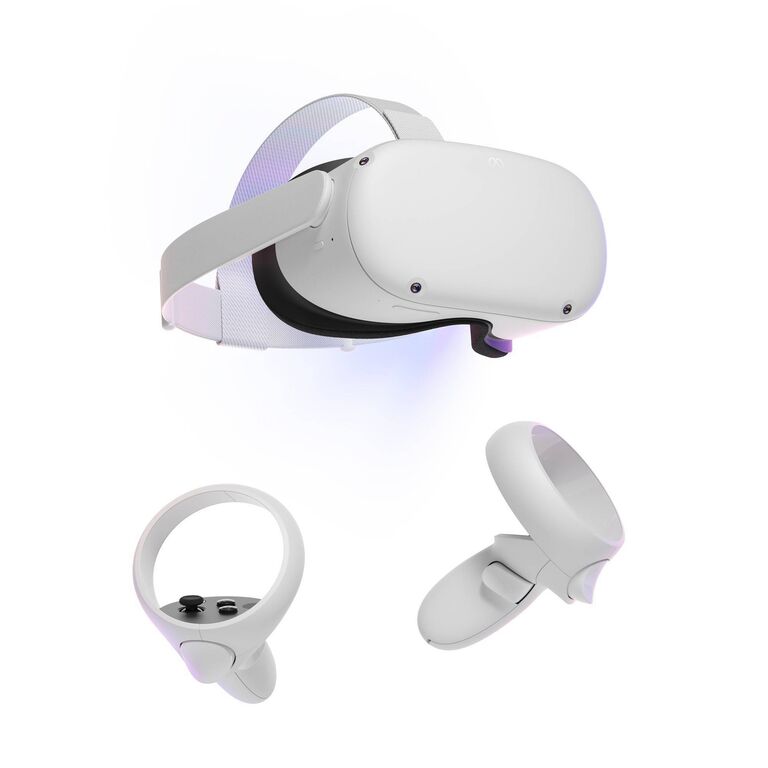 VR stands for very rad, right? In all seriousness, a virtual-reality headset will be a great gift for gamer boyfriends and their non-gaming partners alike. The futuristic hardware lets the user fully immerse themself into imaginative worlds with 3D positional audio, hand tracking and haptic feedback to make the virtual landscape feel very real. You'll probably end up arguing with him about which one of you gets to go first—but hey, at least now you get to have fun playing video games together.
Frequently Asked Questions
Still feeling stumped about holiday, anniversary or birthday gifts for your gamer boyfriend? We've got even more tips from real gamer boyfriends about where else to shop for ideas and what kind of games and accessories to look for.