8 Tips to Packing Your Honeymoon Suitcase
We're going to go out on a limb and guess that packing for your honeymoon isn't at the top of your to-do list. All the same, if the plan is to leave for your honeymoon a day or two after the wedding, you'll want to pack your bags before the festivities begin. Below, top tips to simplifying the process.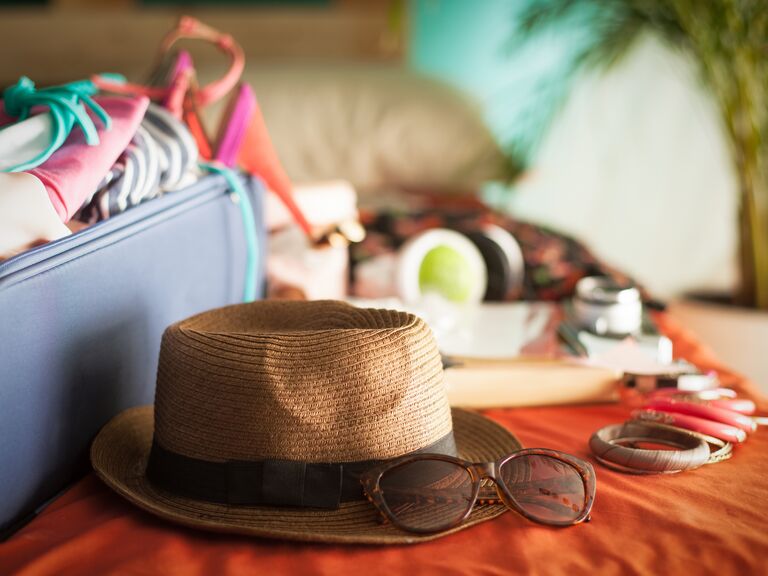 Shutterstock
1. Go for Lightweight Luggage
You may love that name-brand, genuine leather luggage, but travel experts will tell you that lightweight should be your number one priority. "Under five pounds is ideal because the less your suitcase weighs, the more you can make the most of your limited weight allowance," says Alex Jimenez of Travel Fashion Girl. As for hard case versus soft, that's really up to you. You can find lightweight brands in both styles.
2. Pick Up a Few Packing Cubes
The last thing you want to deal with on your honeymoon is a pile of disorganized clothes. Consider these cubes your new packing bestie. "They help you organize your suitcase, compress your clothing and categorize your items for efficient packing," Jimenez says. Use them to separate your night-out and must-launder clothes from the rest. Find them at travel stores or online at spots like Amazon for between $20 and $30 each.
3. Decanter Your Products
You won't need a full bottle on your trip so transfer shampoo, conditioner and lotions to smaller, reusable containers. One tip: Don't overfill your travel bottles—this is how spills happen. "Place a small square of Saran Wrap under the cap to prevent liquids from overflowing," Jimenez says.
4. Be Realistic About the Terrain
Those cute heels aren't going to work for walking trips in Europe or sandy beaches in the Caribbean. That doesn't mean you have to sacrifice on style—look for chic flat sandals, colorful sneakers or wedges instead. "You can never go wrong in black," Jimenez says. ""Don't forget your comfy shoes—they're a must!"
5. Create a Capsule Wardrobe
A capsule wardrobe is one where every piece in your suitcase can go with one another. It's a good idea to pack clothes this way anyway, but if you're planning to travel to someplace like Europe, where you'll be on the go every day, it's a total must. Jimenez suggests adding in a few bright colors that'll go with whatever neutral you choose, so you can mix and match clothes.
6. Edit Everything Before You Close Your Suitcase
Do you really need that extra top? Or can you get away with the five you already have in there? Skip all of the just-in-case items and go with the basics (read: tip five). "You can always buy anything you need at most destinations, plus it can make a great souvenir," Jimenez says.
7. Ladies, Consider Packing One Dress Per Day
Quick caveat to this tip: You have to like to wear dresses to make this work. If that's you, then we give you full license to skip the shorts and rompers and go for dresses only. It's one of the easiest ways to pack light, and if you're going to a beach location, you'll be in your swimsuit for most of the day anyway. "Choose fabrics like linen and cotton to stay cool and fresh during the day," Jimenez says.
8. Pack the Heaviest Pieces First
This is a tactical tip. Before you throw everything into your bag, put your essentials in order. Heavier shoes should go on the bottom of the bag and lighter scarves and T-shirts can go on top. It'll make it easier to pull your suitcase, plus help you remember where everything is.