Exclusive: Celeb Fave Brand Houghton is Back with Gorgeous New Wedding Dresses
We've got all the deets on the cool bride brand's relaunch—plus a sneak peek of the collection.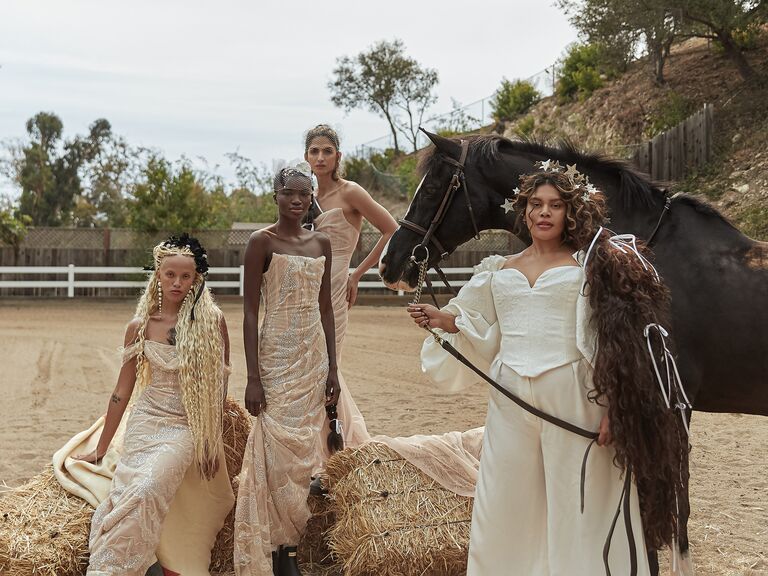 Courtesy of Houghton by Katharine Polk
Designer Katharine Polk launched bridal fashion brand Houghton in 2010, and it quickly caught on with nontraditional brides looking to make an alternative fashion statement. Houghton's ready-to-wear-inspired collections were unapologetically cool. Edgy looks like sheer slip dresses, crop tops and editorial tutus pushed the boundaries of—and even scandalized—an industry where the average gown was formal, modest and rarely a fashion risk. After expanding to 14 countries and dressing numerous celebrities, Polk made the difficult decision to shutter Houghton in 2018. Three years later, Houghton is back under the new moniker Houghton by Katharine Polk, with a fresh perspective and a new business model. Below, Polk gives The Knot the exclusive details on the decision to revamp her brand—plus a sneak peek of the new collection ahead of its official launch.
Shelley Brown: Why did you decide to relaunch Houghton?
Katharine Polk: I founded Houghton in 2010 with the simple Idea of creating a brand for women who wanted something different for their wedding. I saw women getting married and not finding what they wanted at traditional bridal stores. I was inspired by designer ready-to-wear brands and the red carpet. I designed my first collection and showed during New York Fashion Week in September with an all white collection to try and break the mold. It was years of an uphill battle explaining why there was a market for Houghton and why brides needed this option. We grew very quickly and we made mistakes—we didn't know what we didn't know. In 2018 we closed the company. I was burnt out and needed a break. I moved home to Los Angeles, started a consulting company, worked with many other amazing brands and grew as a person and a designer.
Now, I've taken back the reins of the brand that I conceptualized and have poured my heart and soul into relaunching Houghton under a new name and company, Houghton by Katharine Polk. I now have full creative control, and I'm excited to guide this brand into a new era that I believe the market is ready for. I can't wait to share my creativity with you and the brides out there.
SB: How is Houghton by Katharine Polk different?
KP: I think COVID-19 taught us all a lot about what is important. Taking the time I need to create things I believe in is a huge takeaway. I worked really hard to fund this brand on my own, and doing so means everything I do is extremely intentional. A change in my lifestyle and maturity as a designer also comes through in my designs. In the past, I was so rushed going from project to project, I would typically have 48 hours to design an entire Houghton collection, which I was not proud of. We had great sellers and press moments but I knew I could do better. I couldn't be prouder of this debut collection from the construction, to the creative direction, to the wearability and salability. I think I've created the full package. I've been working from my home studio In Los Angeles, and being able to take weeks or even months to drape a garment, take a break, and come back to it, really shines through in this collection.
In terms of the business and brand overall, we are now 100% made in Los Angeles and the entire collection is offered in sizes 00 to 30. I have also folded my custom business into Houghton, hence the new name "Houghton by Katharine Polk." Our custom gowns start at $5,000. We offer a consultation fee for $150 and will design you a full look from there. We will start taking wholesale accounts under the Houghton brand starting this New York Bridal Fashion Week and will start working with brands on collaborations. We will definitely have a multi prong approach to growing the brand.
SB: What inspired the new collection?
KP: To be honest, I tapped into my 27 archived collections for inspiration. There are so many looks that have never been seen at Bridal Fashion Week or are classic styles that needed some updating but really represent my brand DNA. I also just started draping with some simple silk fabric and that inspired many of the collection's strongest looks. A lot of the time I'm inspired by beautiful fabric and the sketch comes second. This collection has a lot of bias draping that I tortured my pattern maker and sewers with. It is definitely the most labor intensive collection I've done. I'm very proud of the amount of work that went into these gowns, from my hands to the pattern makers to the sewers. These days I pride myself on originality and it doesn't get more original than that.
I'm also very proud of our cast for the new campaign, which includes a trans model, Izzy, and a size 20 model, Roxy—they are both stunning. Our brand truly represents "Bridal for EveryBody" and we will continue to embrace our mission.
SB: Who is the Houghton by Katharine Polk bride?
KP: She loves taking risks. She's forward thinking. She wants something different than everyone else. She speaks her mind. And as my muse and namesake, Katharine Houghton Hepburn says, 'If you obey all the rules, you miss all the fun.'
Check out a sneak peek of the new Houghton by Katharine Polk collection, below.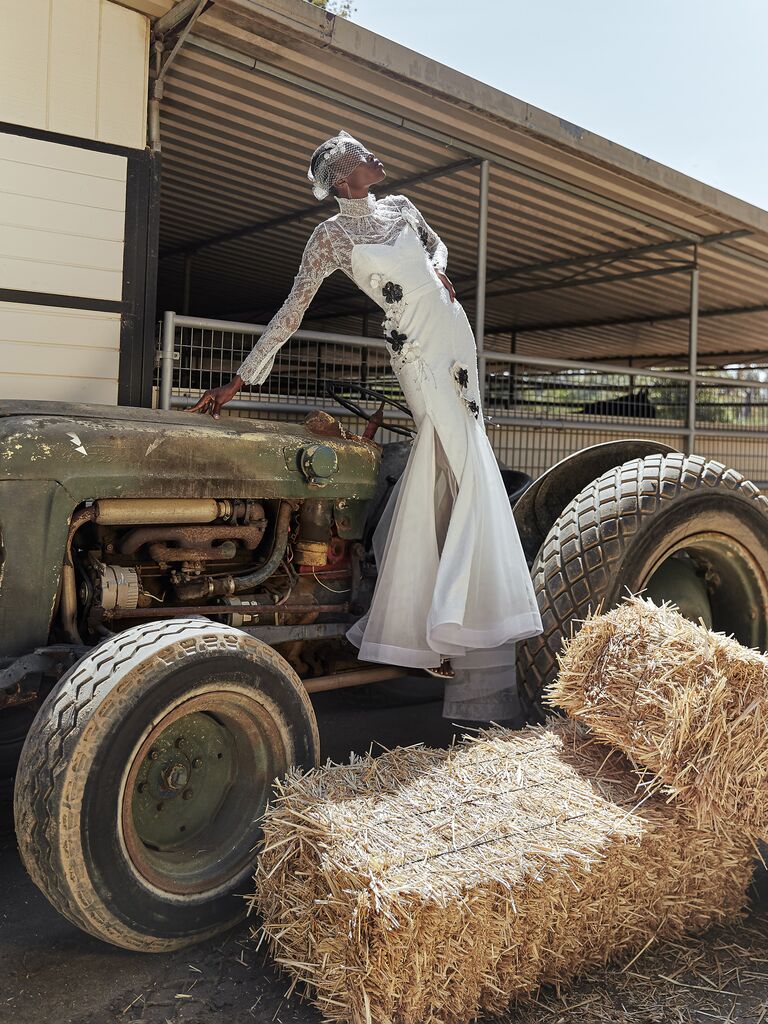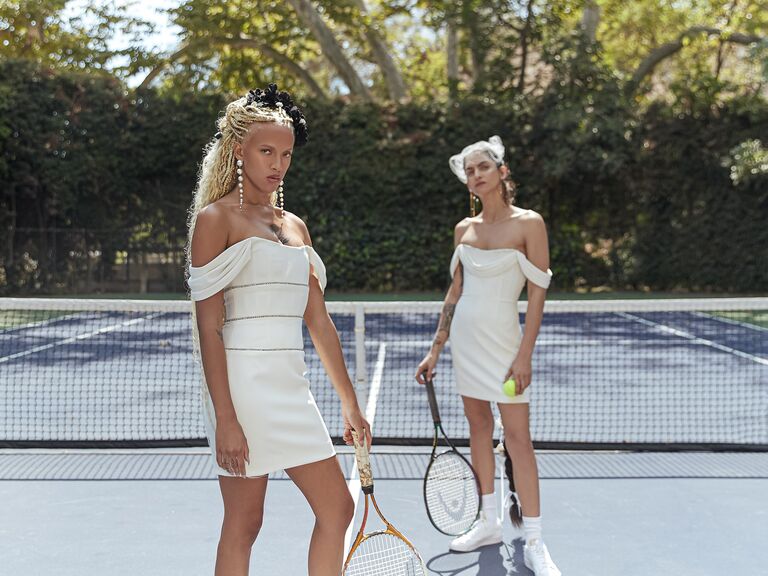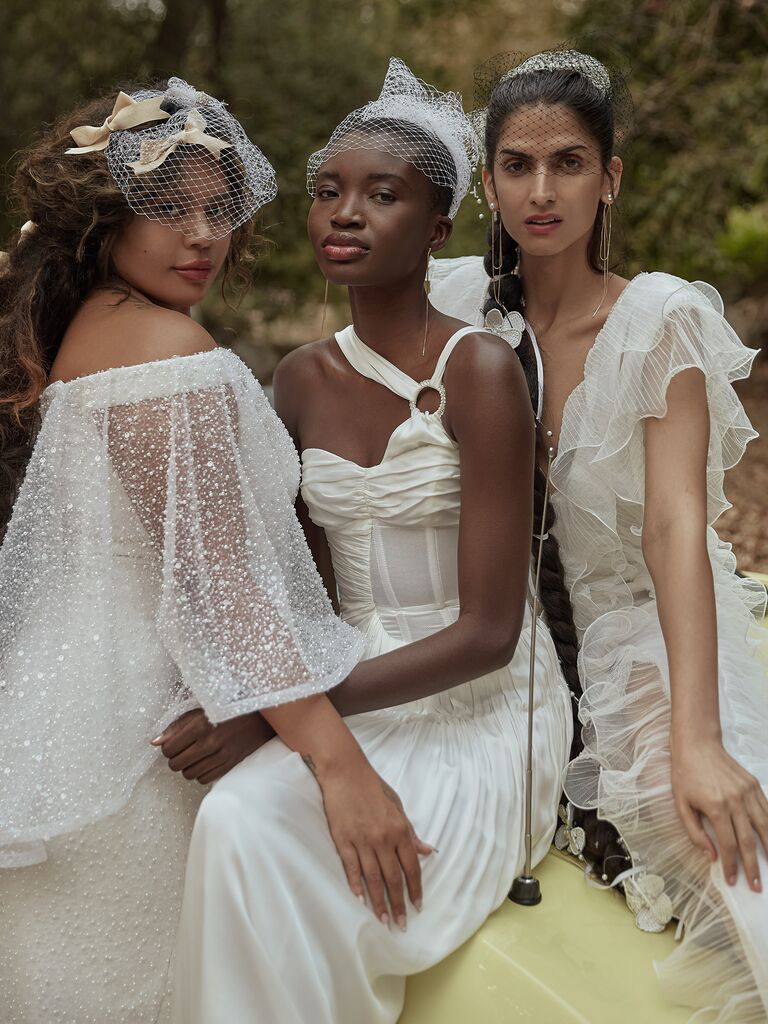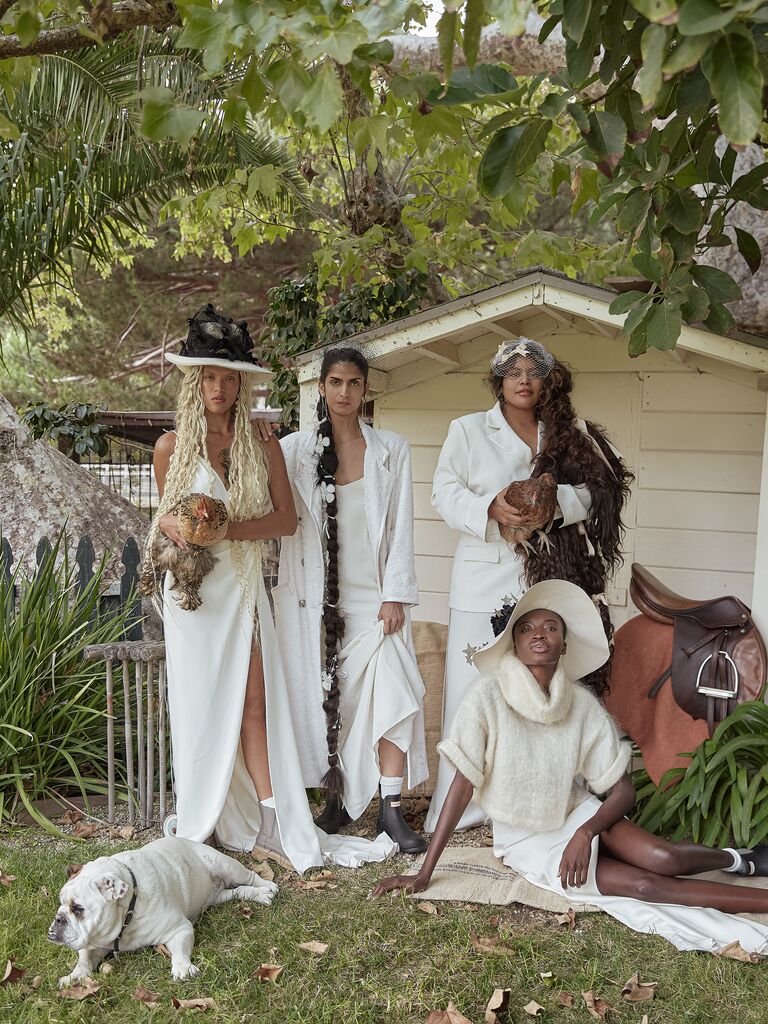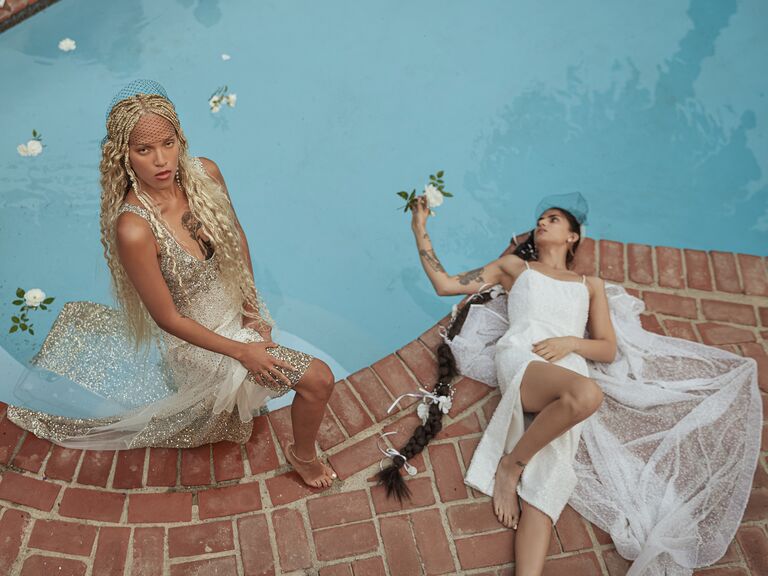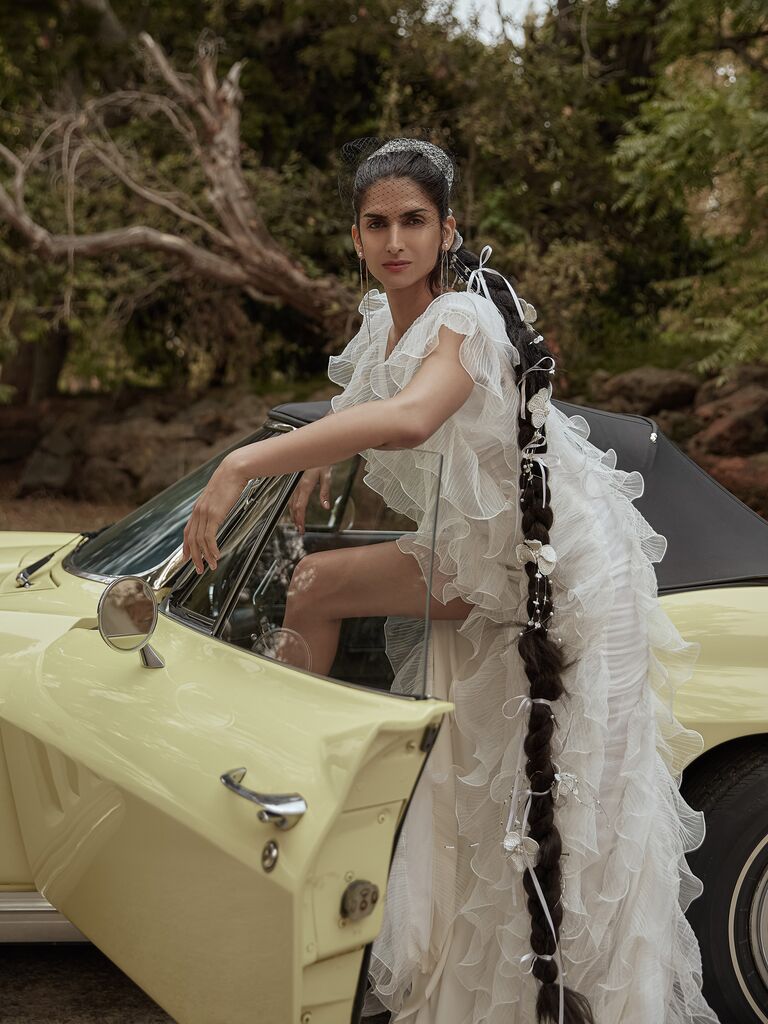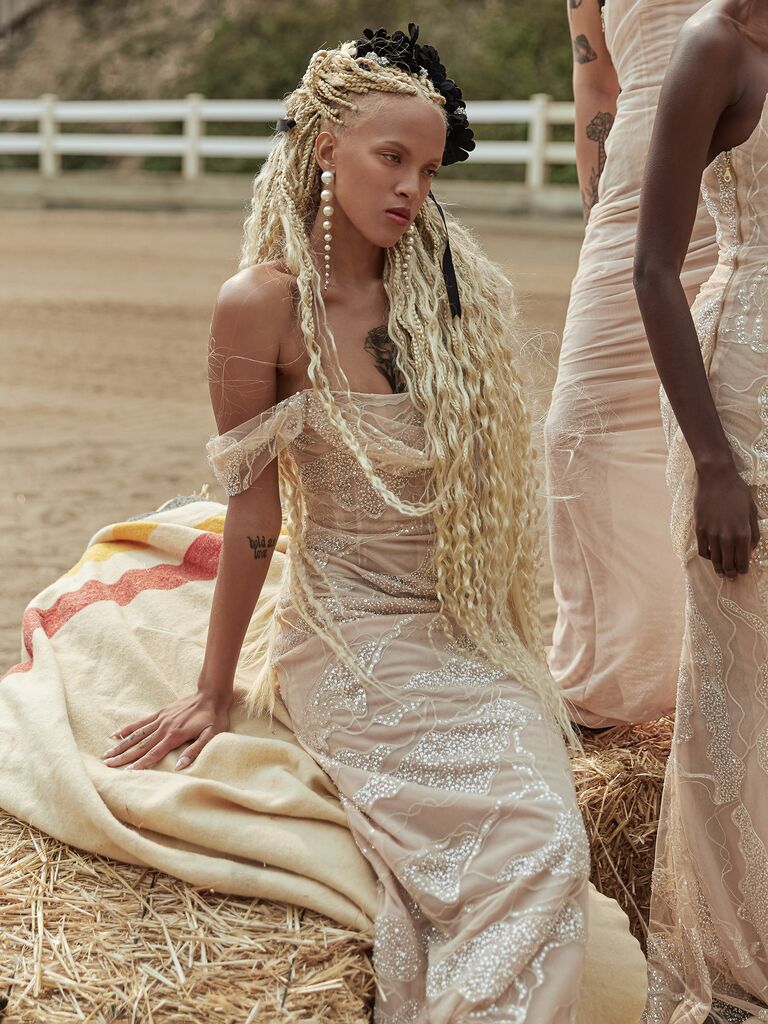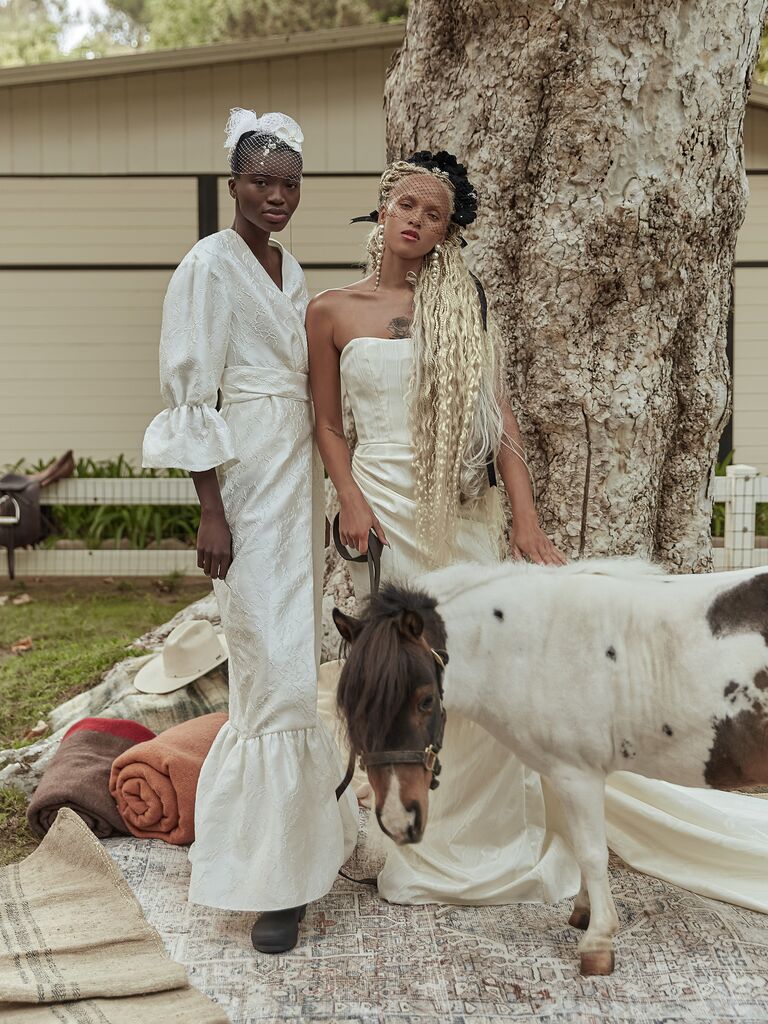 Contact: Bride@houghtonnyc.com