How I Let Go of My 10-Year Wedding Plan
Sometimes things just don't work out the way you expect.
by Katie Kortebein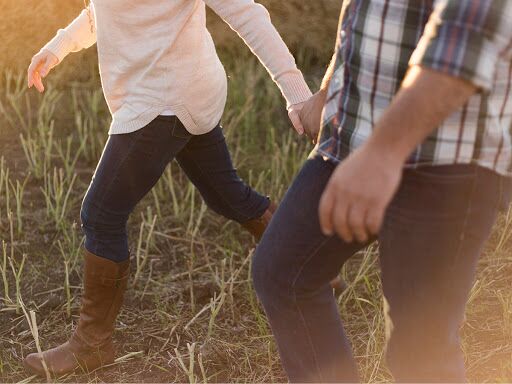 Growing up in the South, I had a very specific vision of how my life was going to go. My high school sweetheart would propose to me at 24, we would marry at 25, and I would have my first child at 27, second at 29. I wanted a career, but somehow that didn't come into play in my 10-year plan. I knew I'd like to have kids before 30, but also wanted a good two years to just be married.
You may ask, where did this strict timeline come from? My parents were married at 28 and 29, and I was born when my mom was 30, so I certainly didn't get this idea from them. Instead, it was from the culture of my hometown. Down South, there's still a lot of unspoken assumptions: One, you'll probably marry your college or, even better, high school sweetheart; two, you'll likely marry right after college graduation, if not earlier; and three, you'll start a family soon after. The "Mrs." degree can be a real thing for some. Since working at The Knot and even watching shows like TLC's Four Weddings, I've seen couples who weren't even allowed to toast champagne at their own receptions because they weren't 21 yet. But for some people, this timeline is exactly what works for them. I've learned that I'm not one of those people.
During my sophomore year of college, said high school sweetheart and I broke up, thus forever ruining my 10-year plan—and also opening me up to a world of possibilities. After the breakup, I realized I had been coasting on the idea of a career, so I got serious. I came up with a new plan, a much less strict one. The main goal: to work in media in New York City (lofty dreams for a girl from Arkansas). Well, cut to today, and I'm 25 and an editor at a magazine company—the last strict plan I made for myself. Had my 10-year plan came to fruition, I'd be marrying sometime this summer.
Now I have goals for my career and things I'm working toward, but never again will I put a deadline on huge personal expectations. I could have a baby now or when I'm 42—there's no reason to live up to what the culture around me deems "normal." That's something I had to learn through many years and a cross-country move. I'm now dating someone whom I love very much. He's my best friend, my confidante, my support system and my co-goofball. We talk about marriage, and I may have thrown in a "five years would be nice" comment or two, but if it doesn't happen, that's fine by me. I know now that I would never have been ready for such a commitment at 25, and I may not be even at 30—only time will tell. My only goals now are moving in together and starting that joint bank account for rent, groceries, a vacation or two, and, yes, perhaps a wedding. However it happens, I'm not setting a timer because we're all ready at different times and my time is not now.