How to Define Your Wedding Vision, According to Influencers
Here's a look at how The Knot teaches content creators to create a wedding vision.
Engaged couples throw around a lot of phrases to describe their dream wedding—wedding theme, aesthetic, and color palette. But none of those quite describe a holistic approach to curating both the visual and experiential parts of a wedding. That's what a wedding vision is. Deciding on your wedding vision entails everything from wedding decor and flowers to the atmosphere and feeling you want attendees to have. And we're taking a look at just how to identify your perfect wedding vision.
The Knot recently invited a crew of engaged influencers and content creators to Cedar Lakes Estate in Port Jarvis, New York, to help them through the wedding journey. A key element of that was chatting all about honing in on a wedding vision. What characteristics describe your dream wedding and its ambiance? What aesthetic do you envision? How do you want guests to feel at your wedding? Along with wedding industry pros, we dove into those questions to help these influencers identify their wedding vision.
And now we're bringing that same great information to all couples. Below, some of our influencers share what they learned first-hand about crafting a wedding vision. Additionally, Alex Moreau of XO Moreau (who planned the entire event at Cedar Lakes Estate) offers her insights along with tips from wedding experts Fallon Carter, Terrica and Beth Chapman. Read on to learn about the key steps required to decide on a wedding vision you're sure to absolutely love.
Decide on Your Dream Wedding Vibe
To start, figure out the overall feeling you want for your wedding. Envisioning the end result is a helpful step in understanding what you need to do to get where you want to go. Maybe you want laid-back and boho or possibly you envision a vibe that's more whimsical—understanding your dream vibe will be helpful as you gather wedding inspiration.
Carter shares that she usually asks her couples to "visualize what you want to experience in that day. Do you want to be somewhere cold? Do you want to be warm? What's the experience of your guests from start to finish? How do you visualize this wedding actually manifesting itself? From there, my team can help curate the perfect experience."
For our recent influencer trip, Moreau curated different vibes for each event to help the couples realize just how creative you can get with your wedding vision. From an Old World-inspired welcome party to a Western morning and even a futuristic final gala, each event had a different vision. The differences weren't just thematic, they extended to the entire guest experience. While the gala really leaned into epic entertainment (with an LED robot and a DJ spinning beats), the welcome dinner was all about a relaxed atmosphere that highlighted the venue and food. So there's no one perfect formula for creating a wedding vision—it's all about identifying your priorities and working from there. Moreau encourages all couples to "just keep everything very true to you."
Use Your Love Story as Inspiration
Part of making your wedding feel uniquely your own comes from leaning into personalization. Don't spend too much time wondering what you "should" do with regard to wedding ideas that you forget to put your love story at the center of the celebration. Moreau advises couples to pivot "away from looking at actual weddings for inspiration. Instead, look for inspiration in other places such as museums, art and architecture. Additionally, make sure that as you're coming into wedding planning you are looking for ways to incorporate both of your personalities and styles." Blending styles is a focus for influencers Savannah Wright and Michael Hummel as they're planning. The couple is making sure their wedding "reflects us as a couple and how we see our joint style. We both have different tastes but we always make sure it aligns with not only us as individuals but as a couple."
Chapman concurs, adding that "your wedding day attire should be a reflection of your regular style, just an elevated version. At the end of the day, you should make choices based on your personality and your interests, not other people's opinions that might leave you feeling uncomfortable."
Using your love story as inspiration extends beyond just the wedding style and decor you embrace for the big day, your story should be part of the very ethos of your wedding celebration. For influencers Caleb Marshall and Cameron Moody, that looks like celebrating marriage equality. "LGBTQ+ couples were only given the right to marry 7 years ago," they share. "We are drawing our inspiration from our community and culture and throwing the wedding we never thought we would be able to have. So much of the gay experience involves having to mask or tone ourselves down in order to make others feel comfortable. We want our wedding to be a place where we get to be the most authentic and proud version of ourselves."
Similarly, influencers Bri Scalesse and Sheldon Nguyen are prioritizing their love and their relationship at the core of their wedding. "In the simplest form, the most important thing to us is that our wedding is a unique celebration of our love with the people we love most. We want our celebration to be filled with warmth, good food, cool clothes, and a dance floor that no one wants to leave. As an interracial, interabled couple, we want it to be a very welcoming, inclusive space," says the couple. "It's kind of amazing that we get to plan this entire day around our love. It's really important to us that we don't succumb to any traditional expectations, but stay true to our own vision. Our love, everyone's love, is so deeply individual, don't be afraid to show that on this day."
The Knot Expert Tip: Influencers Kiana Bonollo and Cody Nance emphasize the importance of "staying true to yourself as much as possible. Figuring out what you want for your day regardless of tradition and trends is the most important thing. A lot of different opinions from friends and family can sometimes make you second guess what route you want to take, so it's important to always check in and make sure that you are making decisions for yourselves and not others."
Select a Color Palette
Color is a key element in your wedding vision and you need to decide early on what shades will anchor your day. During our trip to Cedar Lakes Estate, the crew of couples had the chance to meet with color consultants from House of Colour to learn all about seasonal color analysis. These consultations helped couples understand what shades best complement their skin tone. Do cool colors look best on you or are warm tones more your speed? The consultants helped our couples figure out the answer to that and by the end of each session, the to-be-weds understood whether they mesh best with spring, summer, fall or winter hues.
Understanding what colors you look best in is one way to set yourself up for success on the wedding day so you can ensure you look your very best. But it's also important to think beyond attire when it comes to your wedding color palette. Spend some time envisioning your reception space, what shades do you want to shine?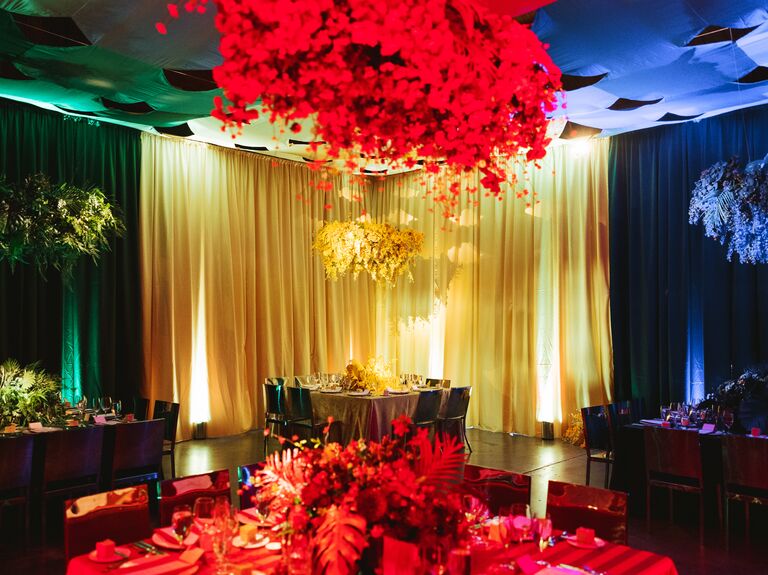 To cap off our influencer trip, Moreau planned a futuristic-themed gala that leaned creatively into color blocking. Each table was themed around one color, but the use of texture and different materials brought depth to the monochromatic looks. Maybe you love green and want most of the decor and centerpieces at your wedding to be green with just a few dashes of supporting shades. Or perhaps you love a colorful, punch aesthetic and choose to lean into a color palette that is a prismatic cornucopia. Truly, there's no wrong answer—the important thing is identifying your ideal color palette and then threading all throughout the wedding.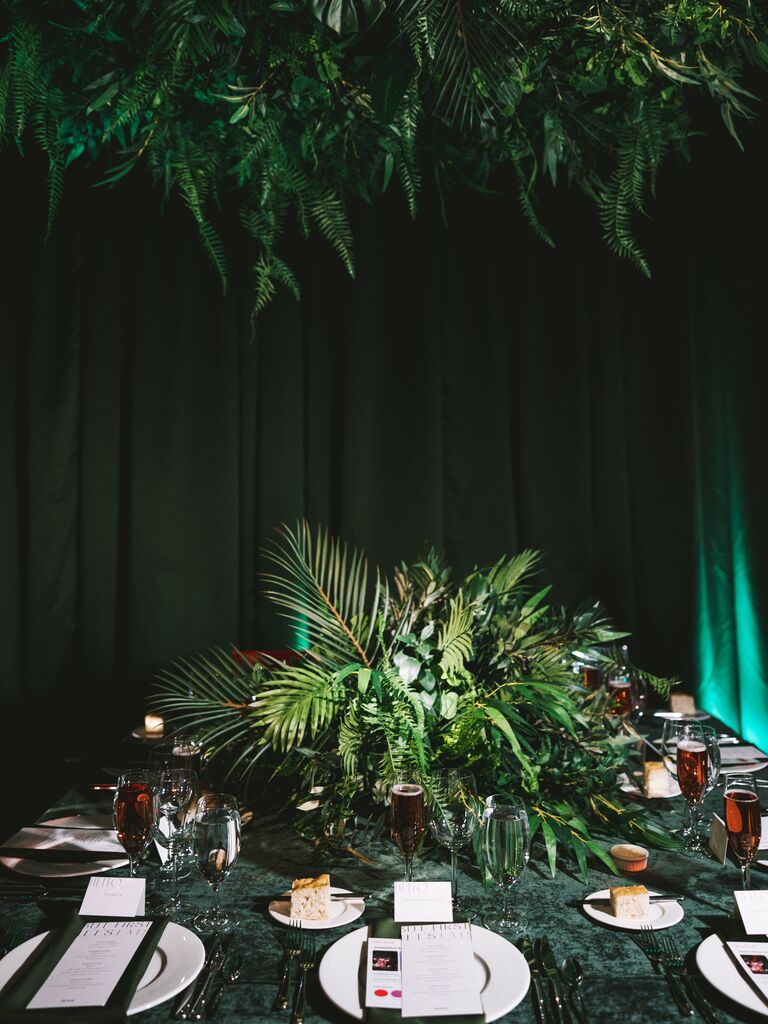 Prioritize Budget for Areas That Matter to You
Sure, there are some must-haves for a wedding like a venue and food. But there's also ample room for flexibility in how you spend your budget. If you're big oenophiles, maybe you carve out extra space in your budget for specialty wines. Or if you and your partner love music, maybe you fly in a special DJ for your wedding. In order for the day to truly reflect you and your partnership, you need to spend money on the items that mean the most to you.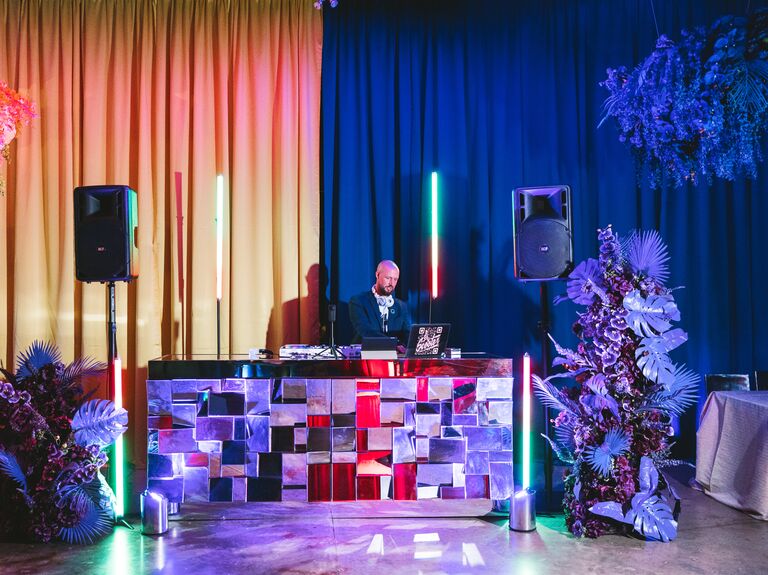 Influencers Caleb Marshall and Cameron Moody emphasize the importance of "letting go of everyone else's ideas and expectations. Understanding that this day is about celebrating our love and having fun, anything or anyone that doesn't complement that vision has got to go. Find out what is truly important to you and your partner. What traditions do you want to continue? What traditions do you want to break? Don't let a moment of your special day be about checking a box that you don't really know why you're checking." This is your day to plan how you see fit, so make sure your budget priorities align accordingly.
Singer Joelle "JoJo" Levesque and actor Dexter Darden are doing just that with their own wedding: "We are taking inspiration from our personal journey. We want to make sure our celebration is as true to who we are as possible. You don't wanna look at pictures and see a really nice party that didn't feel like who you two have worked so hard to build!"
And part of ensuring you allocate your budget wisely is leaning on an experienced team of wedding pros to guide you through every step of the wedding planning process.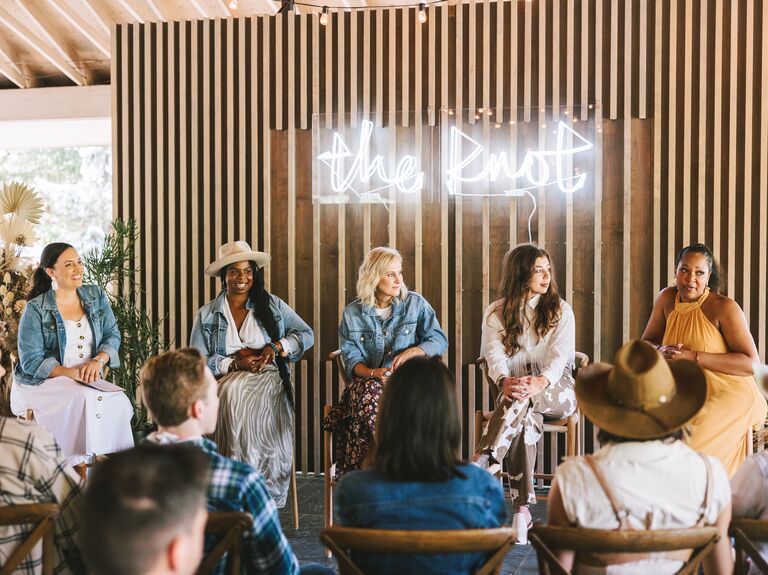 Rely on Experienced Wedding Vendors for Help
It takes a village to bring a beautiful wedding to life so it's paramount that you hire experienced pros who understand you to help bring your wedding vision to life.
For influencers Carobi Parada and Max McCoy, curating a team of experienced pros is a top priority. "The most important thing to me is finding the perfect wedding planner that fits my budget and has experience in destination wedding planning. Additionally, I need to get a great vibe from them since they'll be helping me with the most important day of my life," says Parada.
Influencers Bri Scalesse and Sheldon Nguyen are grateful in particular for their experienced wedding planner because she keeps them "grounded and focused and she knew our vision before we could even put it into exact words. We want our wedding to be a little different than anything we've ever been to so we have pulled inspiration from fashion, nature, architecture, etc. It's been such a cool process so far."
Focus on Quality Over Quantity
As you're figuring out what matters to you, remember that you don't have to do everything, just the things that mean the most to you. Maybe that's dramatic flower arrangements or cool entertainment elements. Investing in thoughtful, quality moments will create bigger impact than you'll get from haphazardly throwing together wedding details.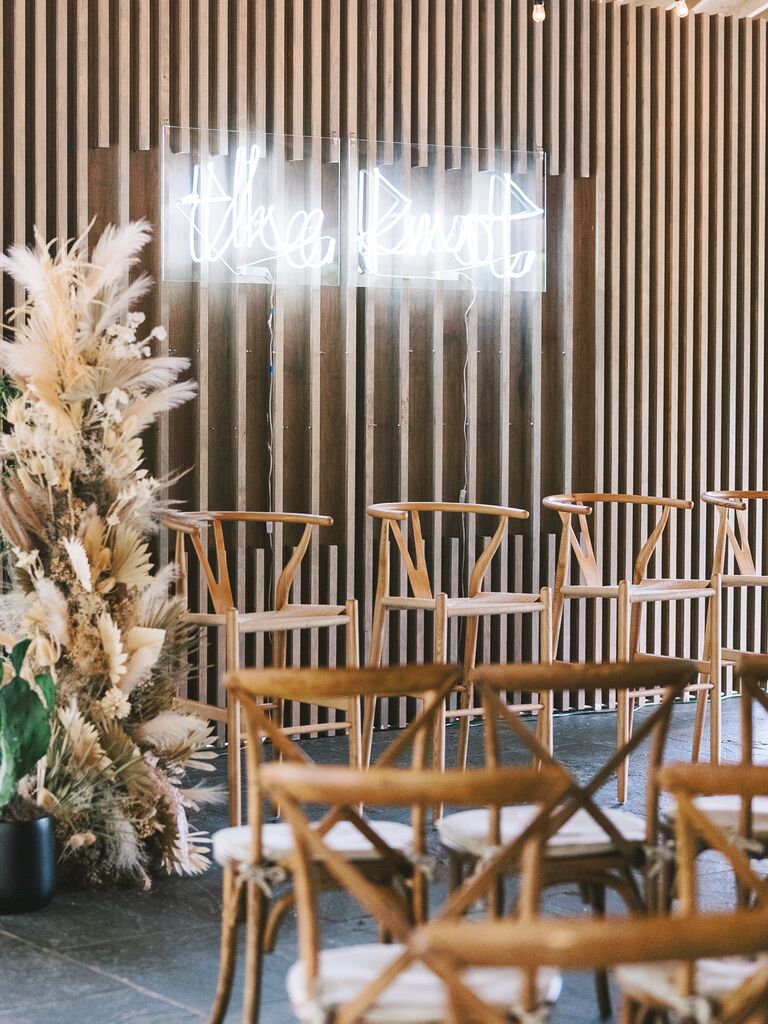 Moreau encourages couples to "sit down and rank your priorities in order of importance. From there, you can identify the right vendors for the job. Along with that, have regular budget check-ins to make sure you're both still happy with where you're spending money."
Create Designs That Complement Your Wedding Venue
Your venue is a critical wedding decision. Where you choose to host your big day will impact both the guest experience and what you're able to pull off in terms of wedding decor. Before booking a venue, it's always a good idea to do a site visit and see the space first-hand. A visit will allow you to get a sense for the space, ask questions (like how many guests they can accommodate) and dream up designs that will work with your venue.
For our recent influencer trip, we brought the couples to Cedar Lakes Estate in Port Jarvis, New York. While the location is reasonably close to major airports, it's also tucked away so that guests feel truly transported when they arrive. The property has multiple event spaces which is great if you're planning to host a multiday wedding.
Some wedding venues only offer the space and you'll have to bring in all your own rentals and food, while other spots offer catering, accommodations and rentals. Spend some time considering what's important to you and how much you want your venue to handle before signing on the dotted line.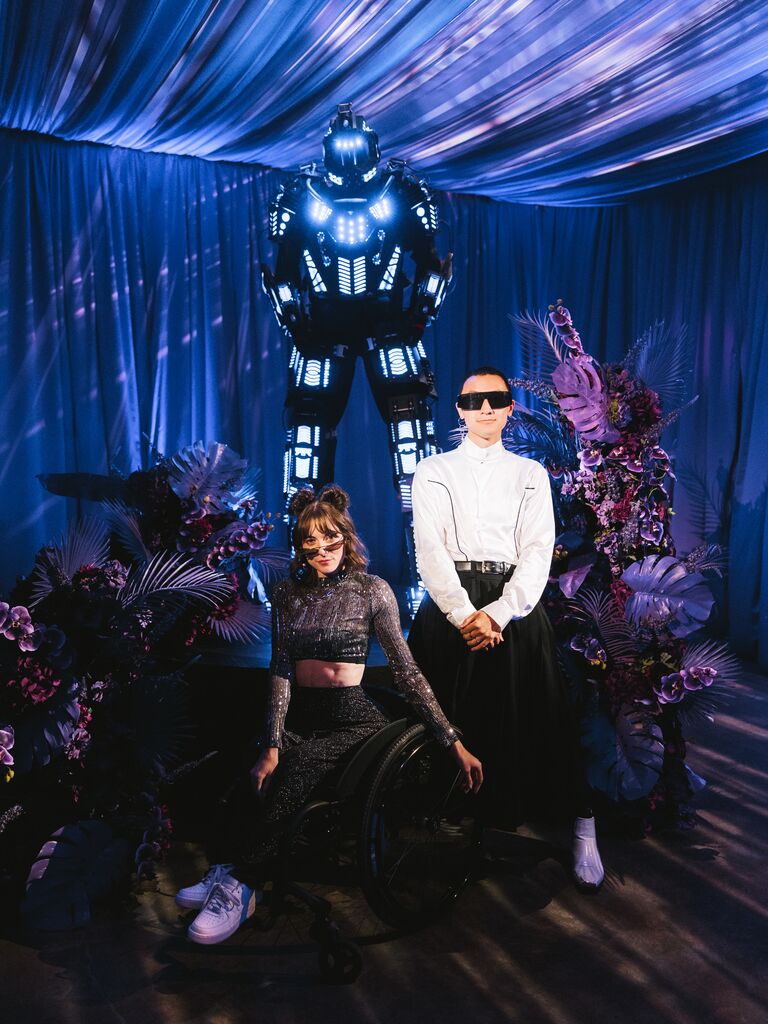 Be Creative
In the end, don't get too hung up on what you "should" do—couples should feel liberated to truly plan an out-of-the-box day. As a culmination of our influencer trip, XO Moreau planned a gala that included an LED robot entertainer and color-blocked futuristic decor. The concept was unique and helped the influencers understand that they shouldn't be afraid of never-before-seen ideas.
"I really want you to embrace where you are, I really want you to embrace what you want to do," says Terrica. "Because at the end of the day, when you look at those pictures, you look at the videos, I want you to get taken back to that moment, not to a time capsule of something that didn't feel like you or that it's going to be."
Think Holistically From Start to Finish
Your wedding vision extends beyond the wedding ceremony and wedding reception. From guests' first interaction with your wedding through beautiful wedding invitations and wedding websites through to your wedding registry, you need to think holistically about the event in its entirety.
To help our engaged influencers do just that, we gave them all a chance to experience some activities couples can register for through The Knot Registry Experiences. From fitness classes to culinary experiences even your wedding registry can be tailored to uniquely fit your priorities and preferences. From beginning to end, each and every part of your wedding vision should be customized to celebrate everything that makes your love and partnership uniquely your own.
Vendors:
Host: The Knot | Event Planning + Design: XO Moreau | Venue, Accommodations + Catering: Cedar Lakes Estate | Photography: Afrik Armando | Floral Design: B Floral | Beauty: LeJeune Artistry | Stationery: The Knot Invitations | Travel Coordination: The Travel Siblings | Wedding Experts: XO Moreau, Fallon Carter Events, Terrica of Cocktails & Details, Beth Chapman Styling | Drape: Swag Decor | Furniture Rentals: Luxe Event Rentals | Neon: Name Glo | Color Consultations: House of Colour | Linens: House of Hough | Entertainment: DJ Scooter, Epic Events NJ | Gifting: Paravel, Cadence, Kinfield | Attendees: Joelle "JoJo" Levesque, Dexter Darden, Caleb Marshall, Cameron Moody, Kiana Bonollo, Cody Nance, Morgan Tyler, Shawna Marie, Andrea and Lewis, Aïssata Diallo, Alieu "Ali" Camara, Bri Scalesse, Sheldon Nguyen, Carobi Parada, Maxwell McCoy, Savannah Wright, Michael Hummel