6 Trendy Wedding Flower Ideas You'll See in 2023
These aren't your everyday bouquets and centerpieces.
At the start of every year, one of our favorite things to do is scout out the newest wedding trends, from fashion and decor to food, entertainment and more. The wedding flower trends for 2023 are already giving us plenty to be excited about, and they come with an added bonus—they're just so pretty to look at.
To get the scoop on the most popular wedding flower trends for 2023, we reached out to pro wedding florists and planners for their input on how they're getting creative for the year ahead. From a resurgence of simplified, timeless wedding bouquets to energetic pops of color and one very unexpected detail (hint: it's inspired by woodland fairies), this year's wedding flower trends have something to offer for every couple. And no matter what you choose, remember that an experienced wedding florist will help make your inspiration board a reality (you can check out The Knot's vendor marketplace to find a florist and read reviews). Below, we're sharing our favorite expert predictions for 2023 wedding flower trends and how to use them for your own special day.
2023 Wedding Flower Trends:
1. Petite Wedding Bouquets
Oversized, greenery filled wedding bouquets have become somewhat of the norm these days, especially for couples getting married in garden settings or hoping to achieve the whimsical, farm-to-table look with their wedding flowers. But in 2023, the trend will shift toward smaller, more effortless bouquets—possibly inspired by the spike in microweddings and informal elopements during the last couple of years.
"Larger bouquets are out and simple, understated florals are in," says Jessica Laskow, a Charleston, South Carolina-based wedding planner at Mavinhouse Events. "Petite wedding bouquets with single-flower blooms are making their way into the wedding scene and we're not mad about it. Lily of the Valley, astilbe and sweet pea arrangements are the perfect way to incorporate this modern floral trend of using a single varietal."
What we love about this 2023 wedding bouquet trend is that you can embrace it no matter your wedding theme or the time of year that you're getting married. A small posy of white flowers is always classic, but you can incorporate other colors if they complement your wedding decor. Just be sure to keep simplicity in mind: limit the bouquet to just a couple of colors and flower types, and downsize the arrangement so that it's easily carried in one hand.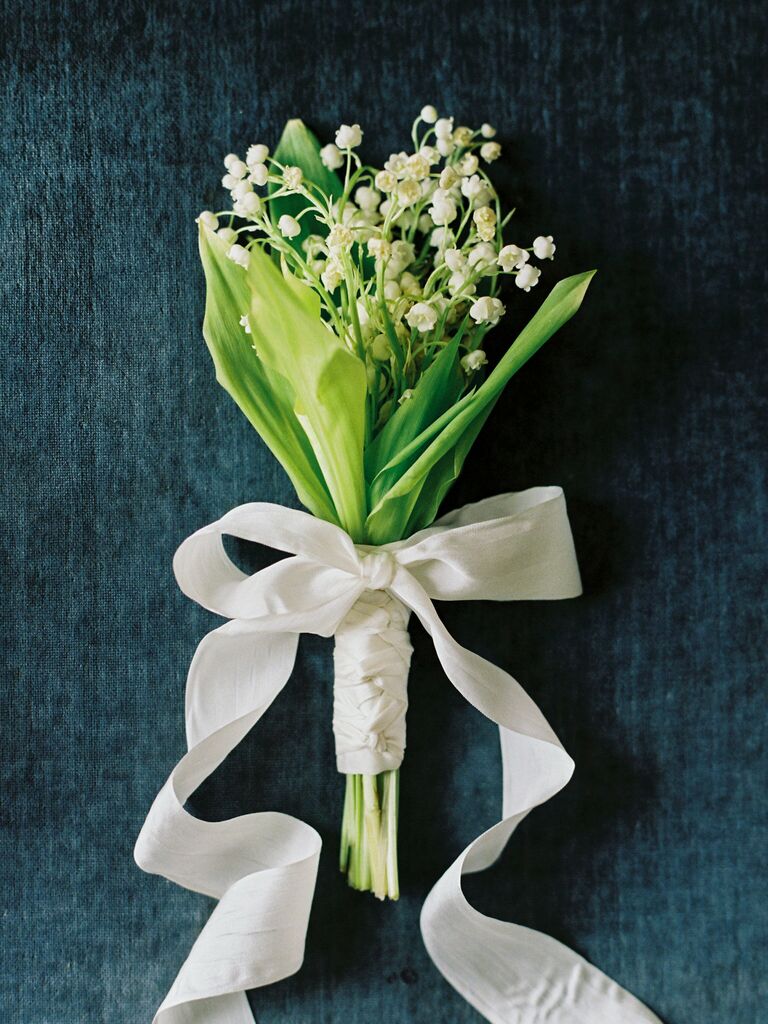 2. Woodland-Inspired Wedding Flowers
Cue the "Folklore" playlist and grab your vintage argyle sweater—we're heading into the forest. Inspired by fairies, entomology (the study of bugs) and woodland settings, this mystical aesthetic is one of the most unusual wedding flower trends for 2023, but we're so into it.
You can expect to see details like mushrooms, moss, rocks, acorns and fern leaves being used in more wedding flower arrangements for a quirky, nature-inspired look. This trend is just the latest take on all the different ways you can have an outdoorsy wedding, but it's different from the cottagecore wedding trend or a rustic wedding theme. Ultimately, the goal is to make your wedding flowers look like something you've foraged or collected from the woods.
"Romantic and nature-inspired elements will always have a place in wedding design, from butterflies and roses and now to a neutral mushroom" says Laura Ritchie, principal event designer at Grit & Grace in Washington, DC.
They're niche and unexpected, but mushrooms can actually bring texture and color to your wedding flowers. Dry them out and add them to a bouquet or use floral frogs and cloche jars to display tiny toadstools as part of your wedding centerpieces.
3. Conversation-Starter Wedding Flower Installations
Going beyond the standard bouquets and centerpieces, one of the biggest wedding flower trends of 2023 will have blooms showing up in unexpected ways as part of the decor. Whether it's a garland of flowers cascading down a staircase bannister or a flower-covered cake table display, think about how you can use flowers to create a focal point that really wows your guests.
"Floral installations are still wildly popular but couples have been paying extra careful attention to what areas will serve the most intrigue and impact to the experience of their overall day," say Lauren Anderson and Rachel Bridgwood, co-founders of Sweet Root Village, a floral design company in Alexandria, Virginia.
Exactly how dramatic you can go with your floral installations will depend on your wedding venue, including the existing structures and what is or isn't permitted in terms of decorating. But don't be afraid to think outside the box for your wedding day, and remember that you can bring in rental structures to cover with flowers and really customize the space if necessary.
4. Bold Color Palettes and Wedding Flowers with Contrast
Put the pastel roses and peonies on hold, because in 2023, the trending wedding flowers are all about saturated, eye-catching blooms that make a statement. "Recently there has been this resurgence for bright colors with hard contrast," says Shean Strong, owner and creative director of Shean Strong, a wedding, event planning and floral design company based in Atlanta, Georgia.
Strong predicts that we'll see brightly colored flowers juxtaposed against deep, richly colored linens and other decorative accents. "It's a contrast we have been neglecting in the wedding industry for a while," says Strong. "Often, we are leaning toward more cohesive color palettes, but I have a feeling bright, eye popping colors with darker vessels, linens and unique shapes will be a hit for 2023."
If this year's trending wedding colors are any indication, pink, green and regal jewel tones (like ruby, dark turquoise and emerald) are just some of the floral hues on our radar. A final perk you have when opting for a bold color palette: more variety with your wedding flowers. When you're not limiting your florist to just white or soft pink, it opens the door to dozens of other flowers and accents they can include, which helps them flex their creative muscles and push the boundaries.
5. Monofloral Wedding Arrangements and Color-Blocking
Inspired by the color-blocking trend in fashion and home design, this 2023 wedding flower trend will bring a cool, contemporary look to your big day. Monofloral arrangements, which include flowers in one single variety and color, give off a cool, contemporary vibe. You might have a centerpiece consisting entirely of red anemones, a wedding ceremony arch made completely from blue hydrangeas or a bouquet that only includes white calla lilies. When you pair multiple arrangements together, the end result is a color-blocked effect that's full of contrast.
Compared to other wedding floral designs that often rely on greenery and filler accents, this trend features very little or no greenery—all the attention should be on the flowers themselves. If you do add greenery to the arrangements, the goal should be to match the flowers as closely as possible to achieve a streamlined look. This could mean bleaching greenery so that it blends in with white flowers or painting decorative branches to subtly accent colorful blooms.
6. A Bigger Focus on Non-Floral Wedding Details
Wedding centerpieces get a lot of attention, but the reality is that they're only one part of your reception tablescapes. From decorative vases to detailed dinner plates and flatware, 2023 will change how couples and event pros think about designing, with more consideration being given to the tabletops as a whole rather than just the flowers.
"We are seeing a big focus back to textiles and accenting elements like linens, unique vessels, and candleholders, as well as colorful wax candles playing roles just as important as the flowers themselves," say Anderson and Bridgwood. Formal place settings that complement the centerpieces (think flowers that match your plates and vice versa) are also coming back onto the scene, counteracting the super-minimal tables that have trended for the last several years.
"Couples will be playing with textures," says Kathy Sanders, event and wedding specialist at Historic Hotel Bethlehem in Bethlehem, Pennsylvania. "Simple floral centerpieces are being replaced with statement-making tablescapes. You'll see tables decked out with various textures that incorporate flowers, cascading greens, charger plates, table runners and gold flatware."
You'll love creating these hyper-stylized tablescapes for your wedding day if you enjoy picking out lots of details and want to achieve a more formal, maximalist look that goes beyond the centerpieces.