8 Simple Tips for Packing Light on Your Honeymoon
Yep, it's possible to make it all the way with just one suitcase—here's how.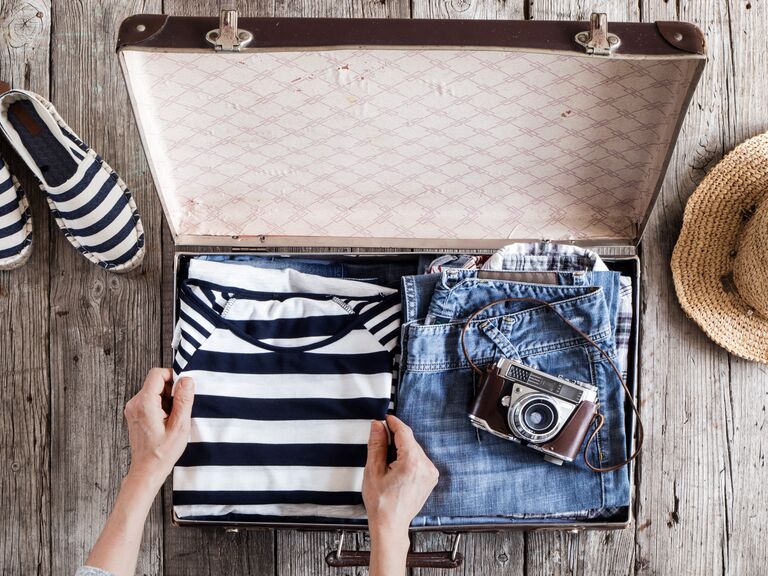 iStock

My husband and I honeymooned in Paris and London, and we each packed one carry-on suitcase. It was a relief to not worry about losing or carrying around luggage when traveling to various places and jumping on trains. Remember, you're on your honeymoon to enjoy each other—not to stress over travel and overpacked bags. Here's how to pack light to make sure that happens.
1. Splurge on a Great Suitcase
You want a suitcase that's light, durable and holds everything. I prefer hard suitcases now after having to replace numerous canvas ones. Away suitcases have ample space so you can easily pack for a week in a carry-on—and they're essentially unbreakable. The biggest reason this is a must have? You can charge your phone in it while on the go.
2. Pack Items You Can Wear Again
When you're deciding what clothes to pack, opt for items you can get more than one wear out of, like jeans. With a good rinse, you can probably wear the same dress to multiple dinners out, and you can definitely get more than one wear out of your swimsuit. If you're going to a colder climate, you can get multiple wears out of sweaters or sweatshirts if you're wearing a tee or tank underneath.
3. Bring Only What You Need
I have a friend who packs for every possible occasion and ends up with more luggage than three people would ever need. You don't need more than one outfit per day, and unless you have a fancy dinner reservation, you're unlikely to need any formalwear. Remember, you'll be spending a lot of downtime with your new spouse, so stick to the essentials—but leave room for your lingerie!
4. Buy Travel Toiletries
Downsize your toiletries to 3.4 ounces (the TSA-approved amount of liquid to carry on) and pack only what you need. Remember, hotels have shampoo, shower gel, lotion and more, so bring only what you can't live without and consider calling your hotel to see what they provide. I also choose makeup that goes with the activities I have planned on a trip, instead of taking it all. And in a pinch, you'll likely be able to get these items at your destination.
5. Pick a Color Scheme
You can still be fashionable without bringing your entire closet. I tend to travel with items that go well with black, and stick to that color scheme. That way I don't have to bring too many extra items to ensure everything matches.
6. You Only Need Two Pair of Shoes
No matter how hard I try, even I can't get by with only one pair of shoes—but I can stick to two (and you can too). Bring at least one pair of sneakers for more active days. If you're going to a warm destination, pick a pair of sandals you can wear both daily and with sundresses. If you're sticking to a colder climate, boots or booties are a great second choice.
7. Wear Your Bulkiest Items
Always wear your bulkiest shoes, accessories or outerwear onto the plane. Not only with you have more room in your bag, but you'll be able to layer up (or down) depending on the temperature of your plane.
8. Make Your Purse Work For You
Since you're also allowed one personal item along with a carry-on, I tend to bring a larger purse on the plane to hold items like my earbuds, book, camera, sunglasses and other personal travel essentials. If you'll be doing a lot of walking on your trip, consider a smaller bag you can put inside this one, like a tiny crossbody. Leave some room in your bigger purse to bring home souvenirs you may pick up along the way too (or make a rule and say you'll only buy souvenirs that can be shipped to your home from the store).
Just starting to prep for your honeymoon? You need this master honeymoon packing list.