See Inbal Dror Wedding Dresses From Bridal Fashion Week
Here's the designer's latest collection to hit the bridal runway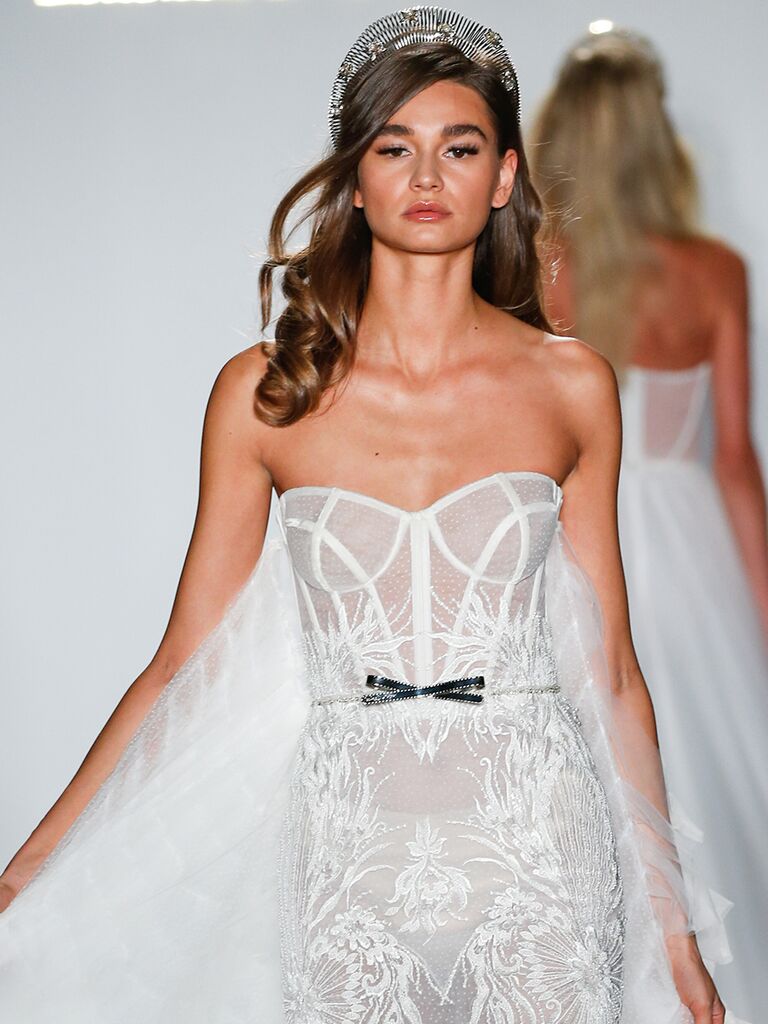 Anton Oparin
For the super-sexy bride who isn't afraid to make jaws drop as she walks down the aisle, Inbal Dror wedding dresses are a must. That's because there's one thing that every Inbal Dror wedding gown has in common: an ultra-sultry vibe. Inbal Dror is a leading high-end bridal designer in Israel, who brings daring red carpet drama to the bridal fashion realm. With intricate craftsmanship and meticulous detailing, these one-of-a-kind wedding dresses exude luxury and have received international acclaim. These truly showstopping gowns are both feminine and sexy with form-fitting silhouettes and rich details that are anything but expected.
Inbal Dror's Fall 2020 Wedding Dresses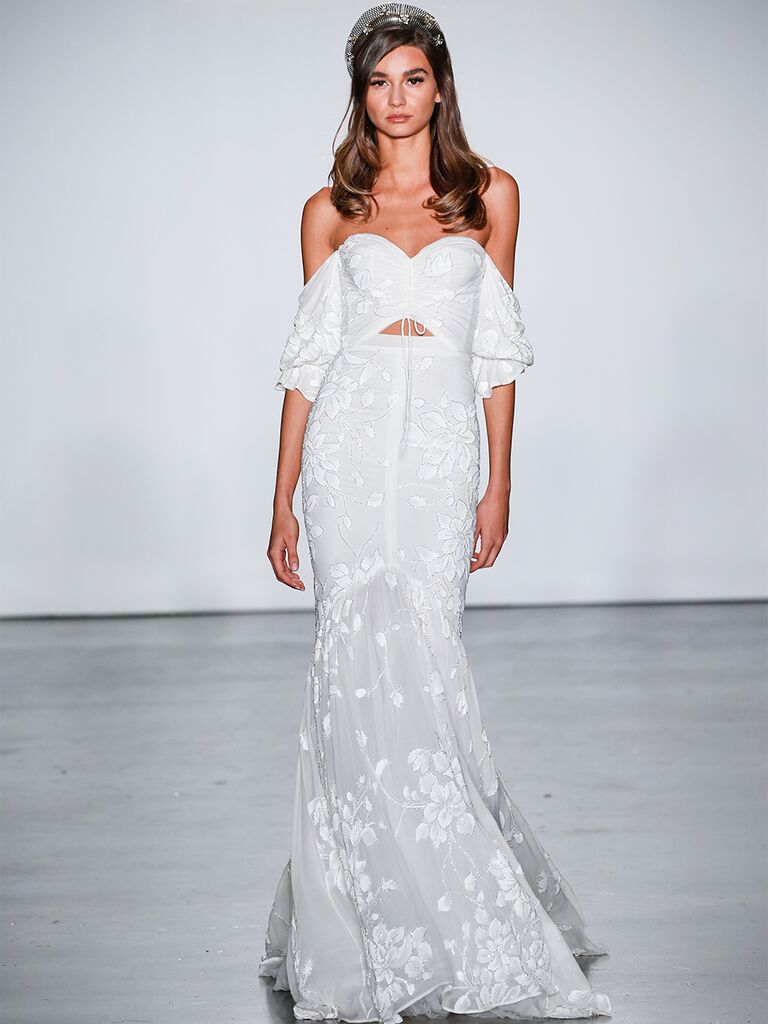 Off-the-shoulder, floral gown featuring a keyhole half-moon sliver bodice.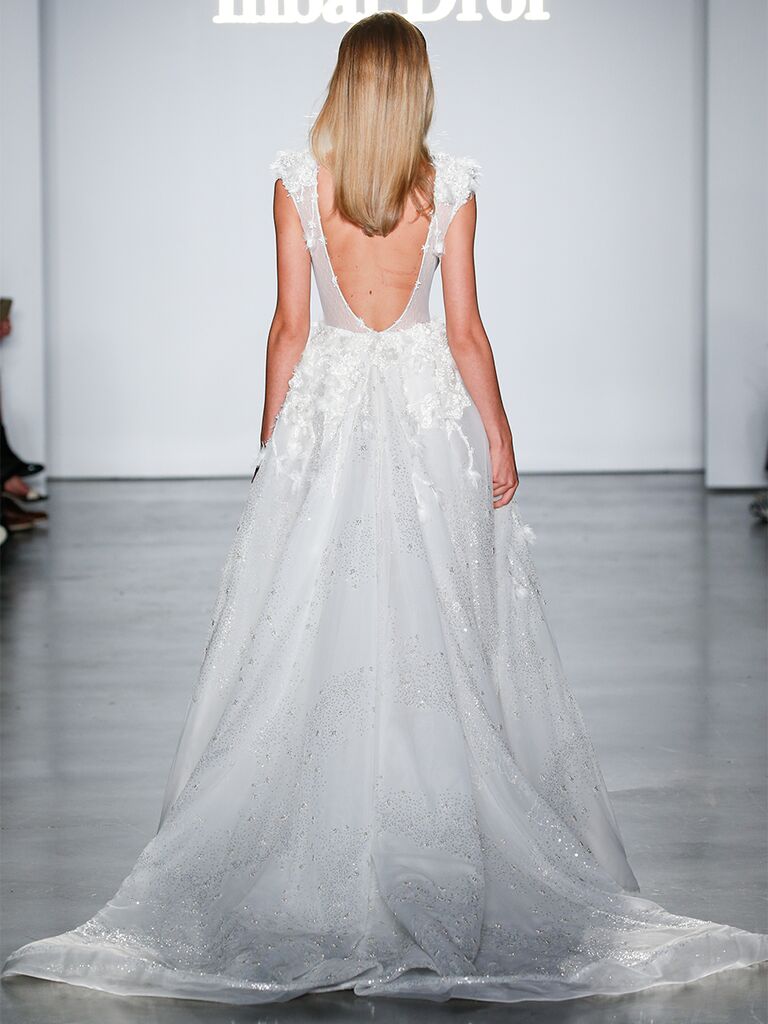 A-line gown powdered with sequins and glitter, featuring a plunging back.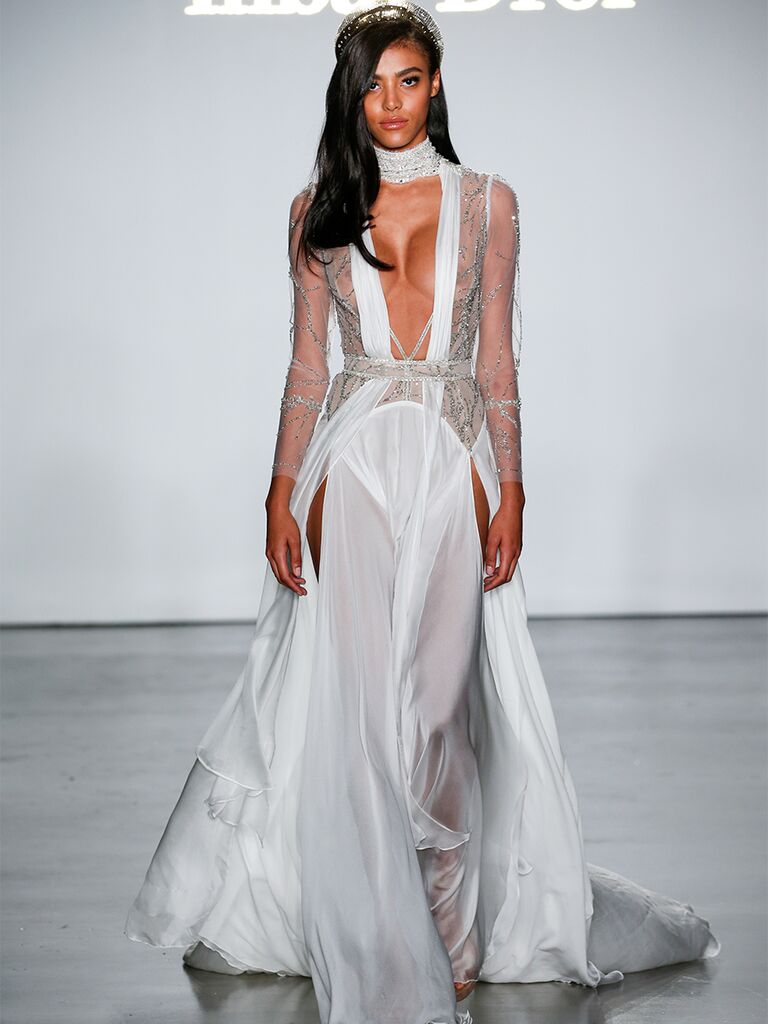 Beaded and satin high-neck gown featuring a plunging square bodice.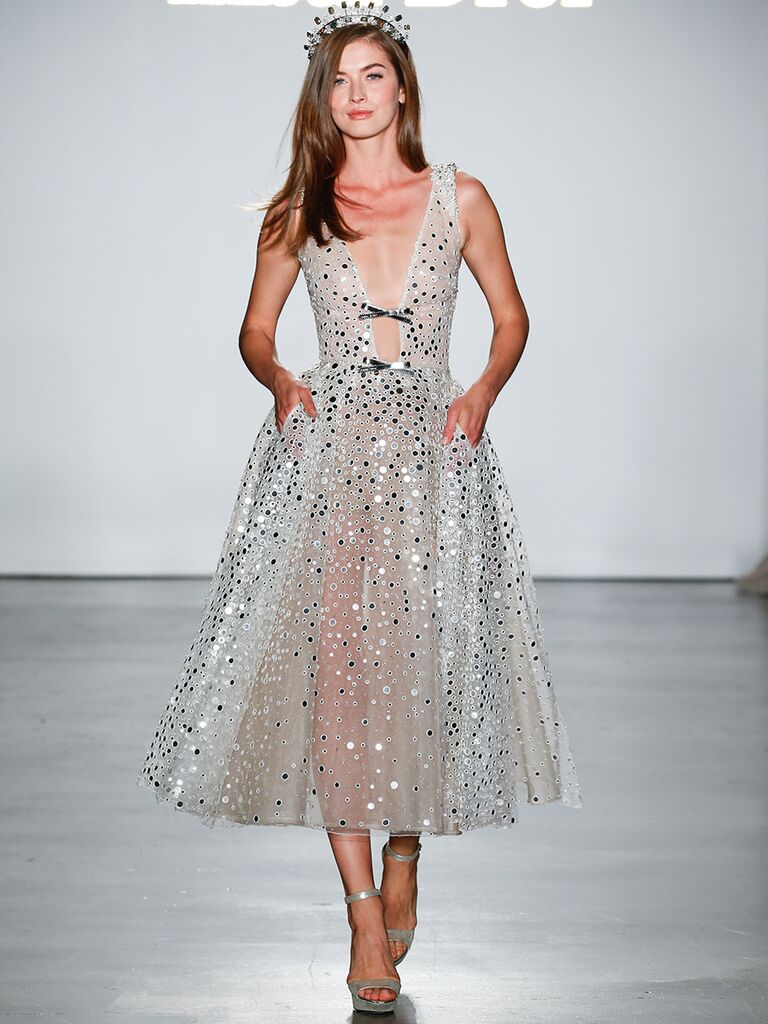 Tea-length dress with mirror emboirdery and silver bows.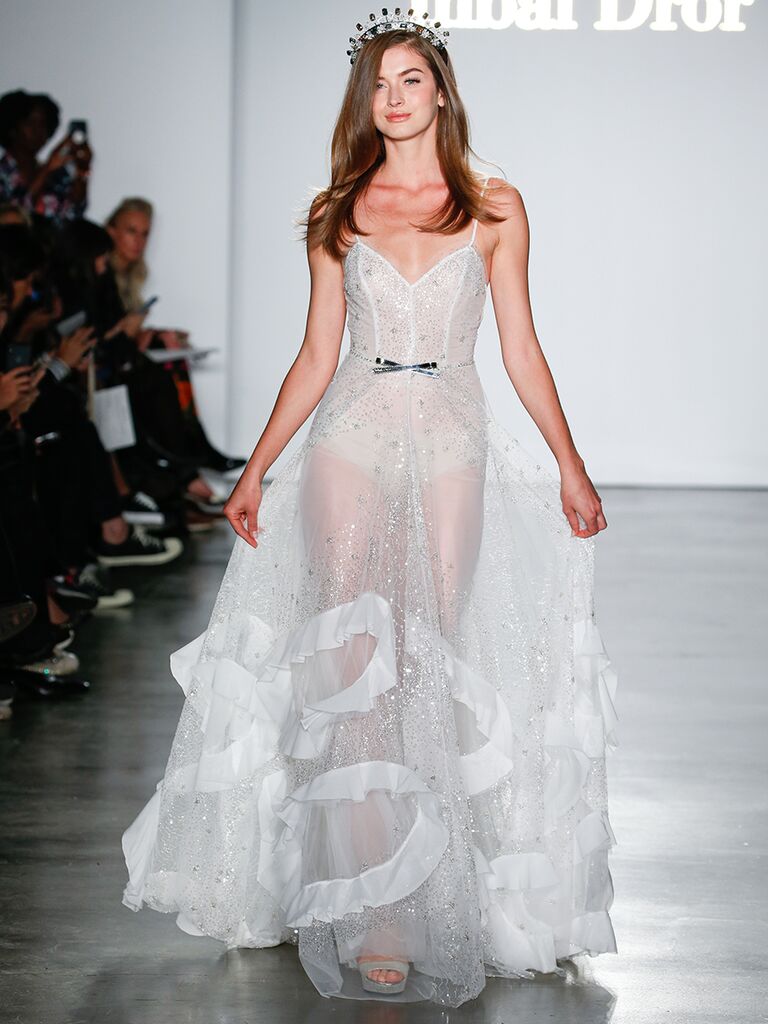 Spaghetti-strap beaded gown with chiffon circle accents and a circle bow.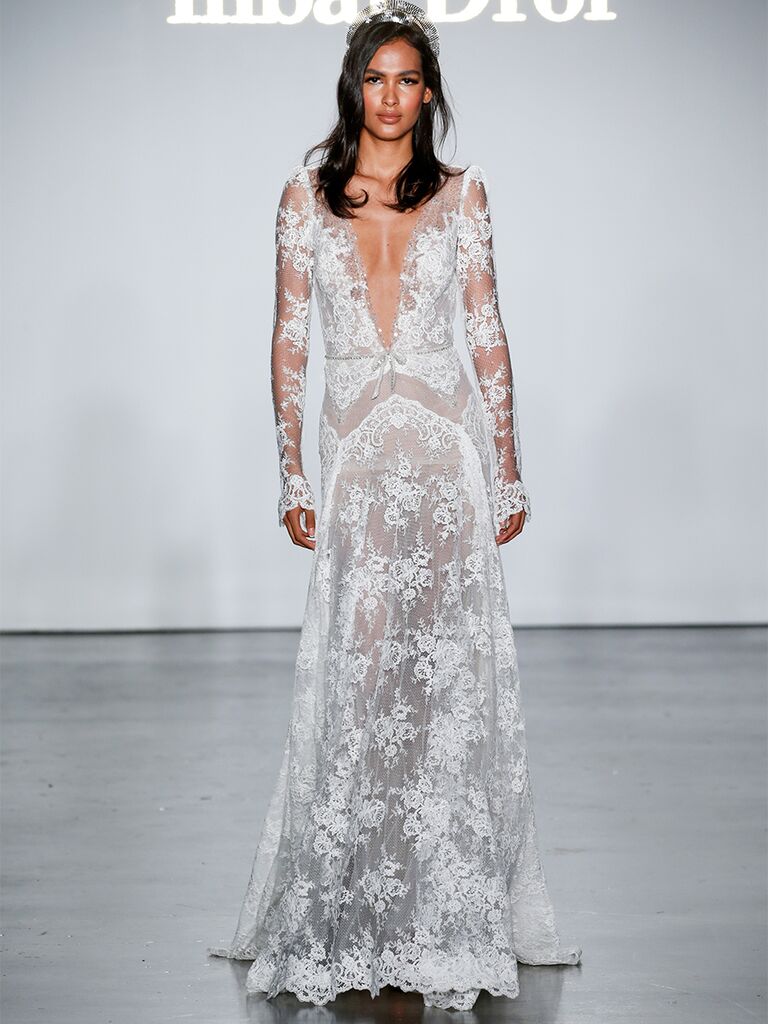 Long-sleeve, deep V-neck, layered lace gown with a low back.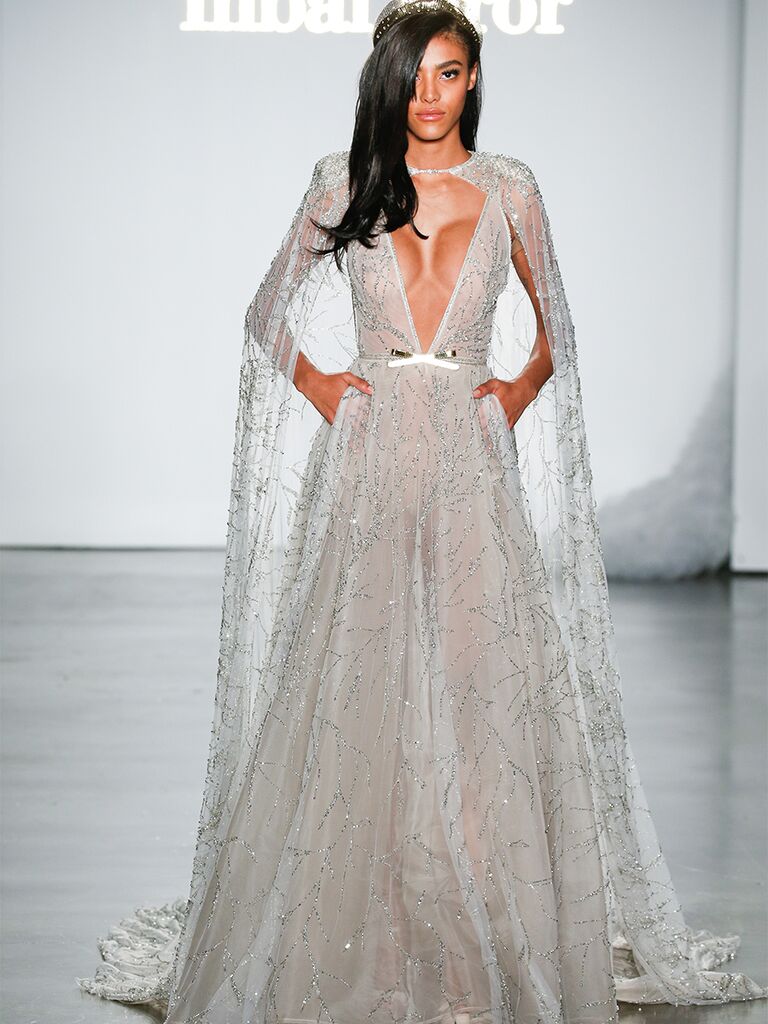 Nude, tulle sheath gown featuring pockets and a dramatic embellished cape.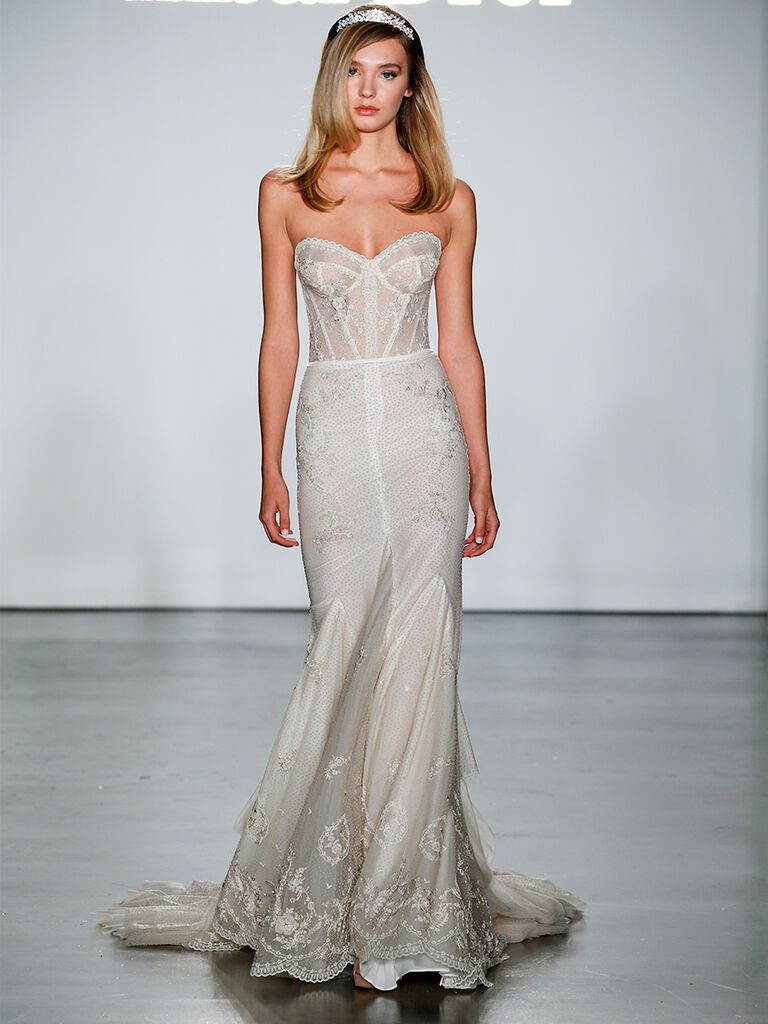 Strapless gown featuring sweetheart corset bodice and embellished, scalloped skirt.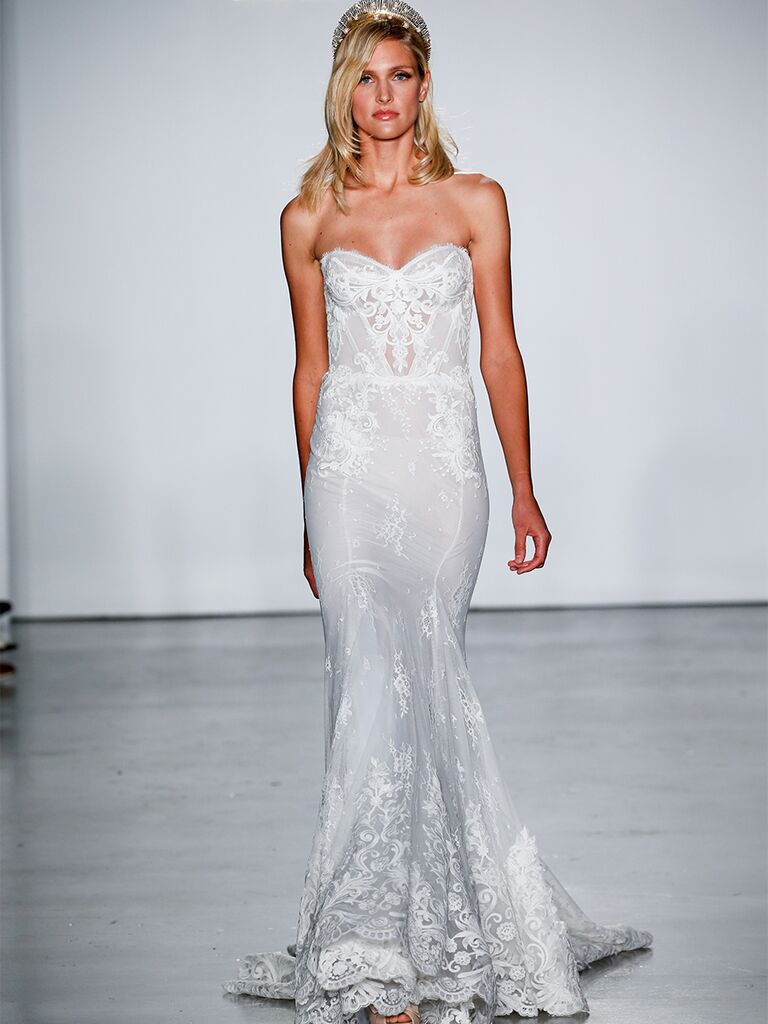 Strapless lace gown featuring sweetheart neckline.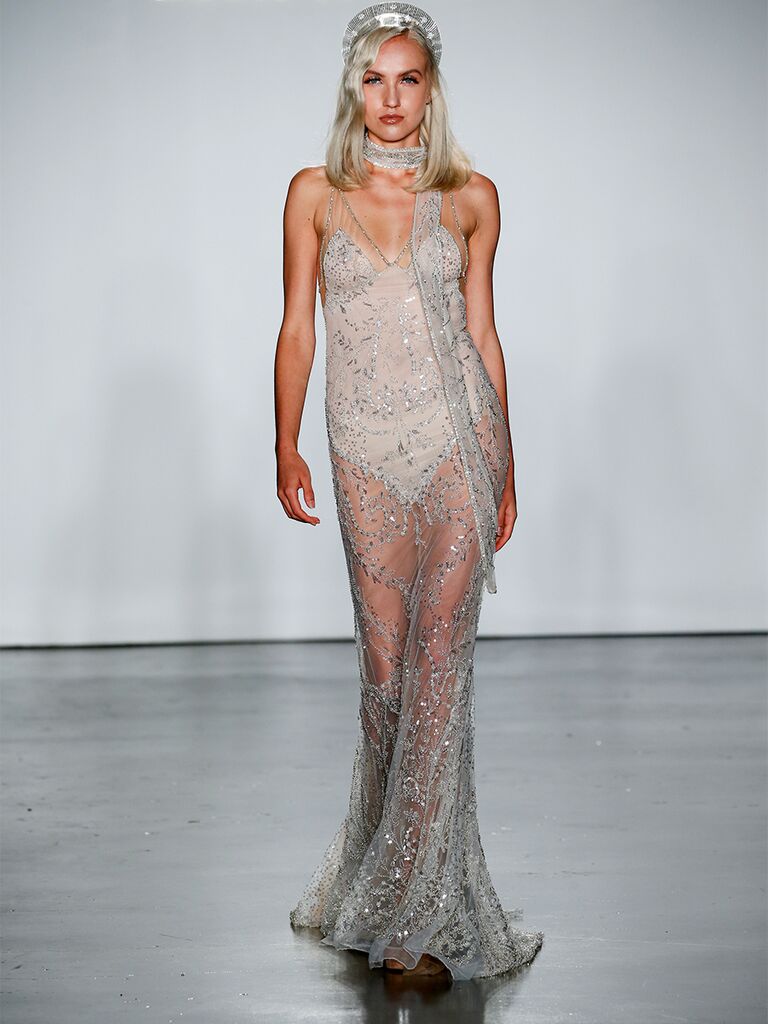 Nude sequined and beaded tulle slip dress with a matching scarf.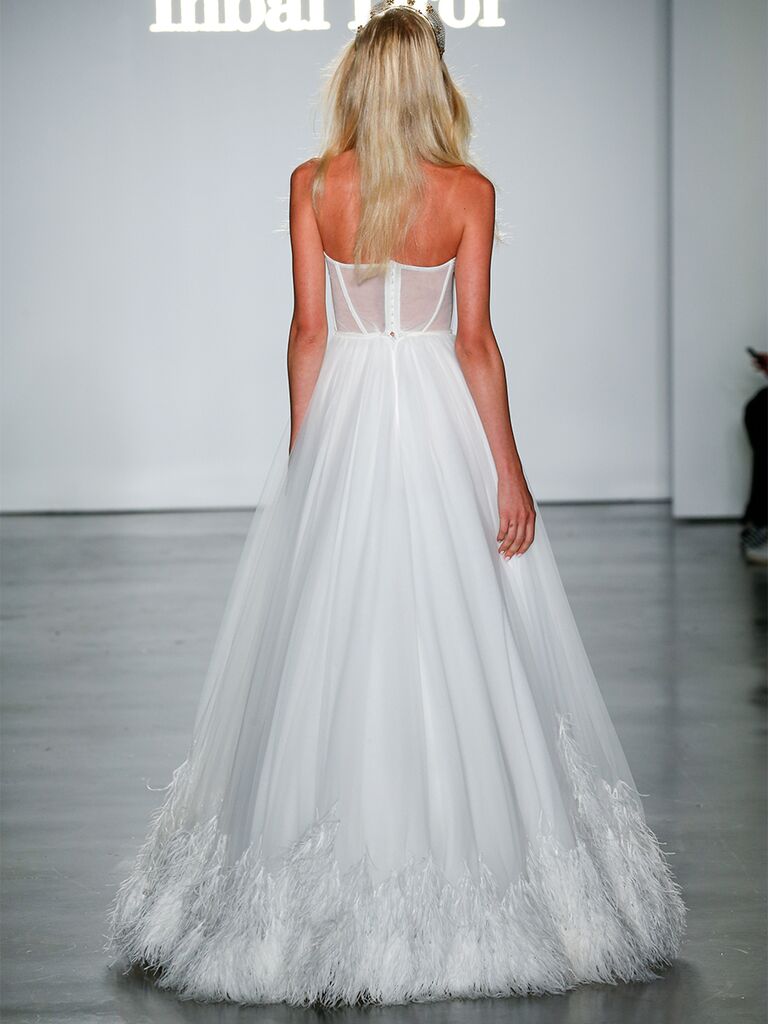 Strapless, tulle ballgown featuring a feathered hem and a sheer bodice.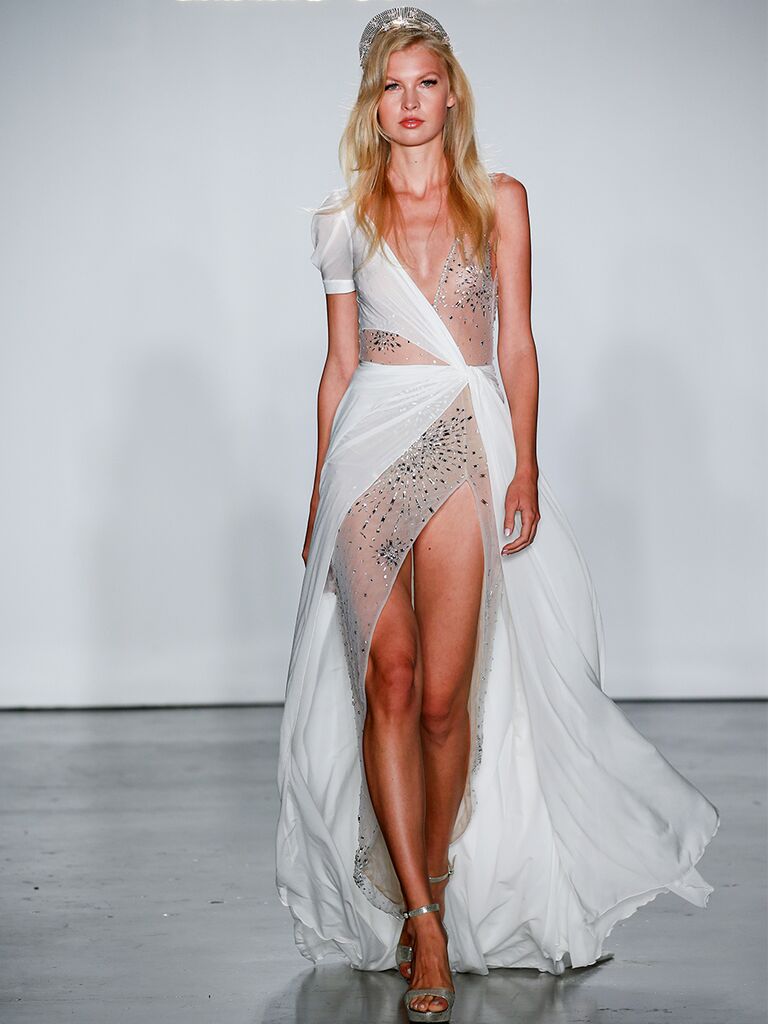 Asymmetric, stretch chiffon gown with a silver beaded under-layer.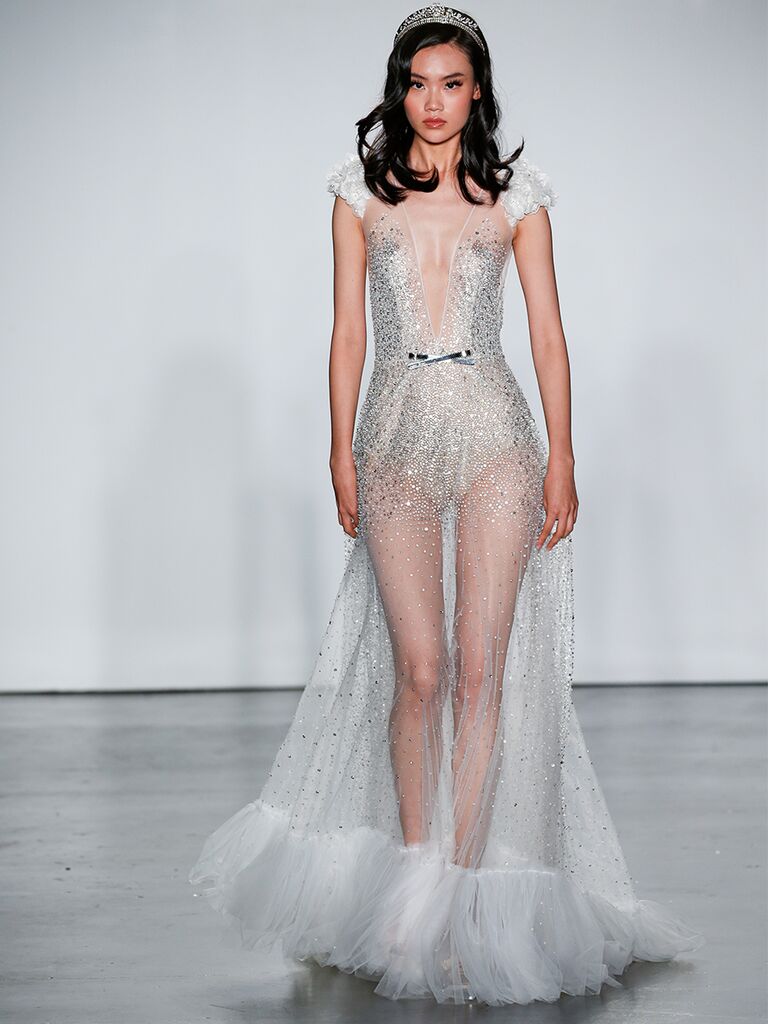 Nude, deep-V gown featuring 3D floral shoulder accents and a detachable beaded and embroidered overskirt.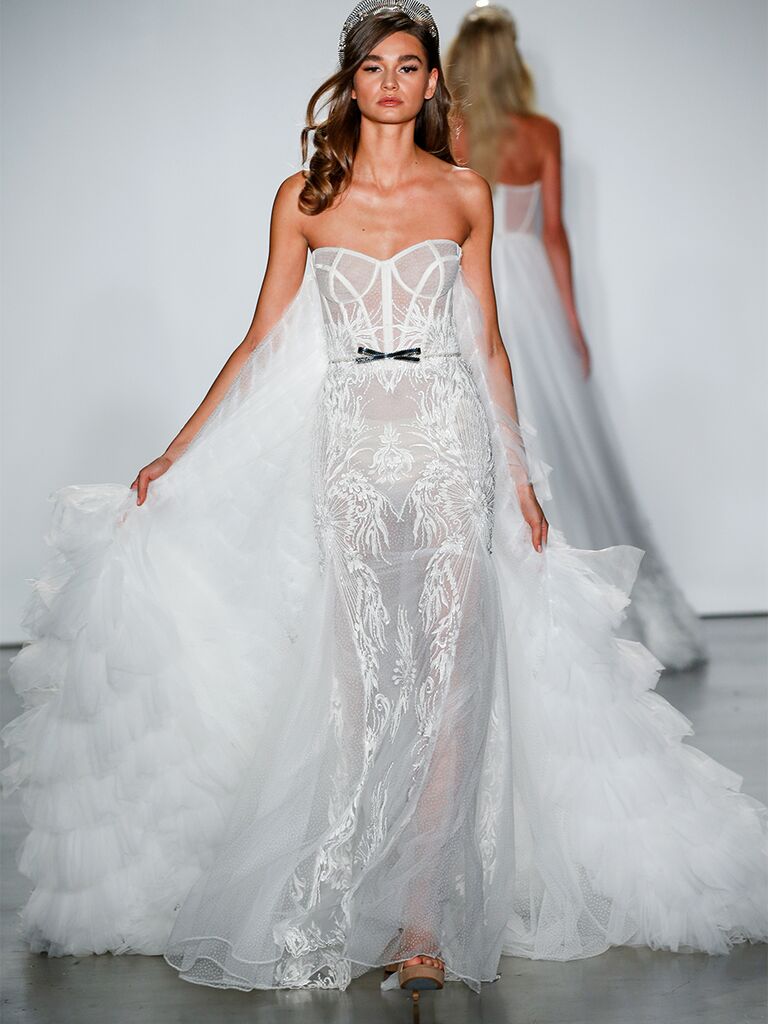 Strapless corset gown featuring sequins, pearls and a silver bow, with a detachable, fully-ruffled and tulle train.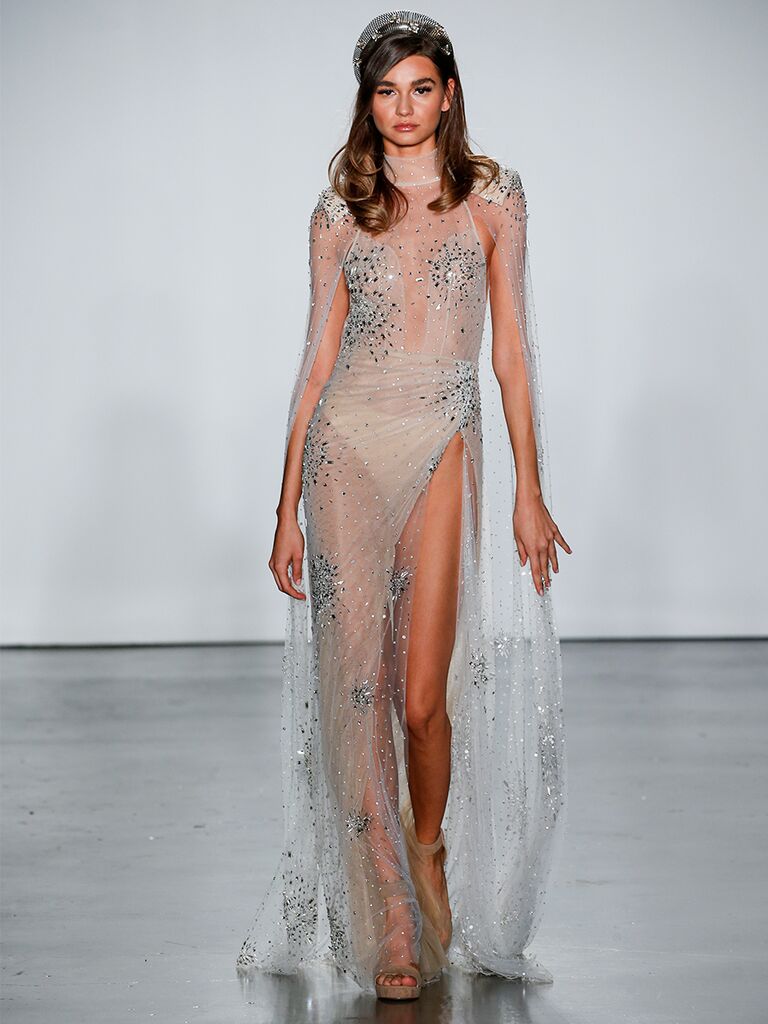 Nude, tulle sheath with silver beading, a thigh-high slit and a sheer cape with beading.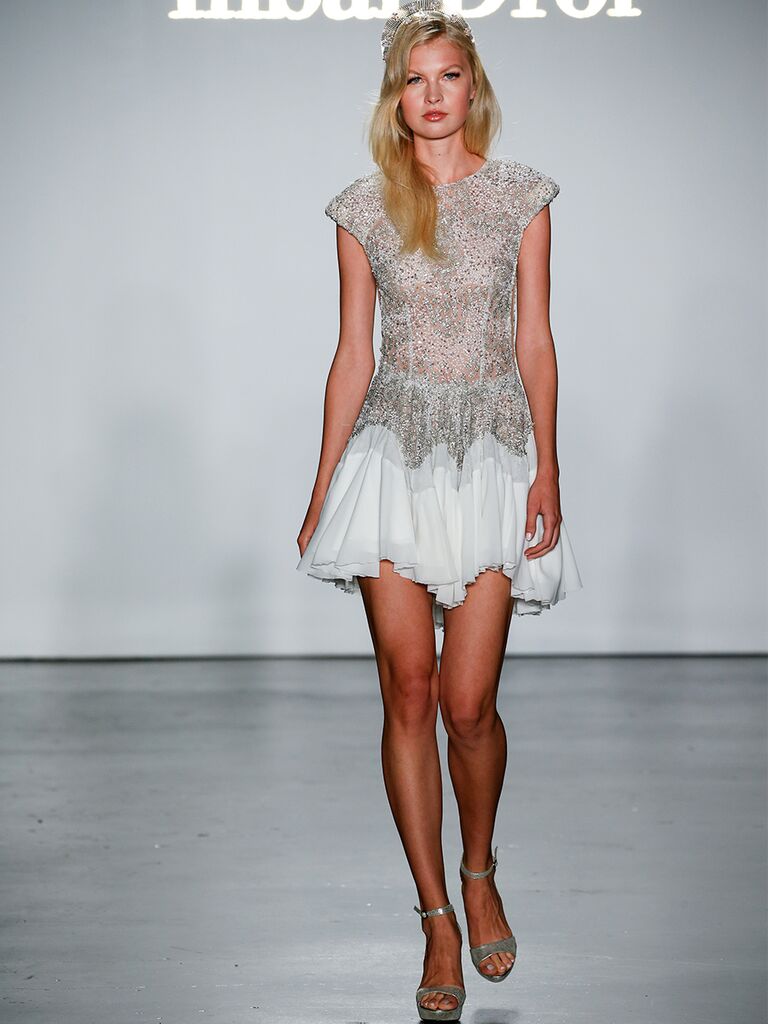 Beaded, cap-sleeve mini featuring a ruffled, tulle skirt.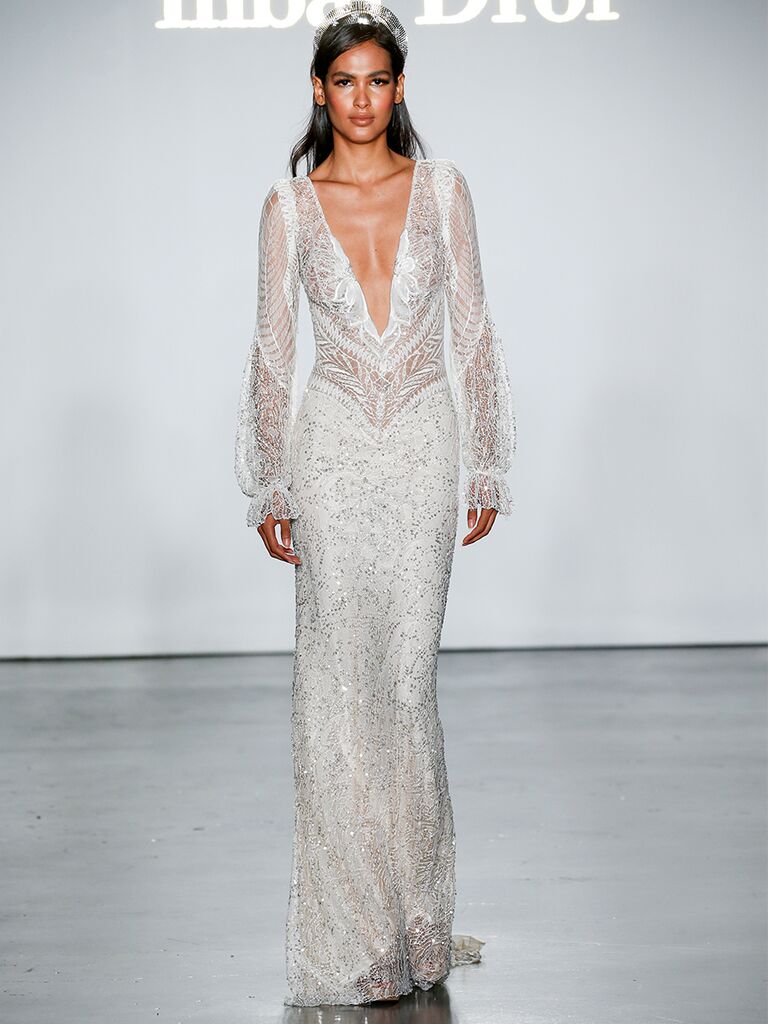 Leaf-embroidered and dotted tulle gown comprised of sequins, pearls and a romantic long-sleeve bodice with a plunging neckline.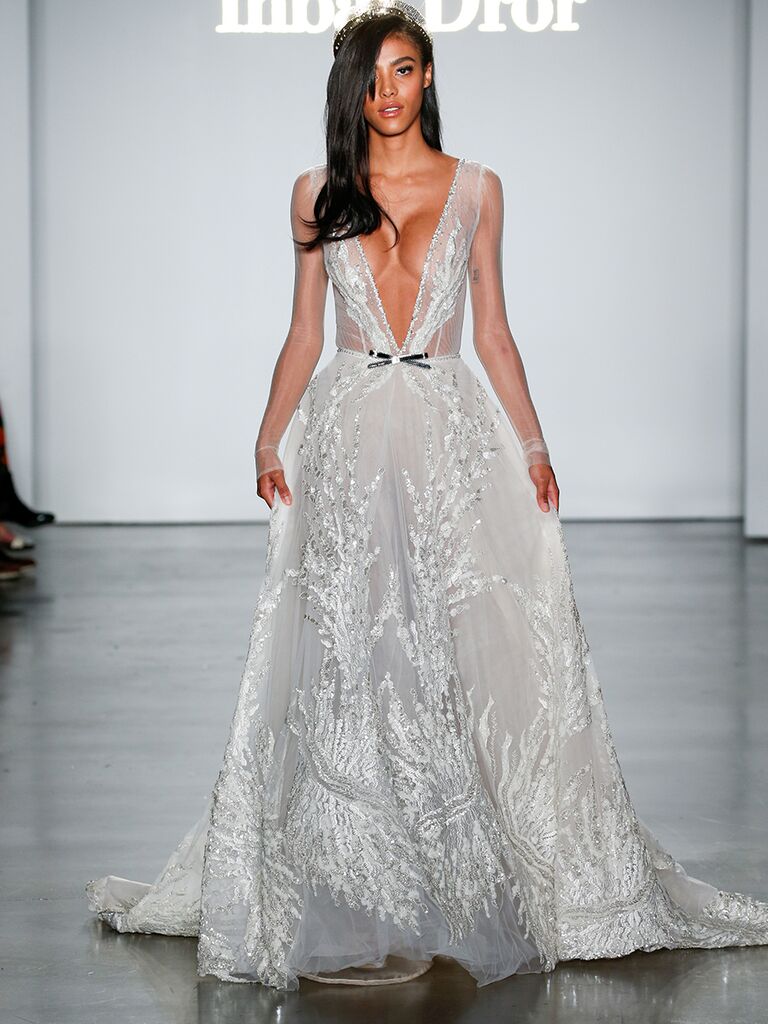 Long-sleeve, silver, fully-beaded gown with a silver bow cinched at waist.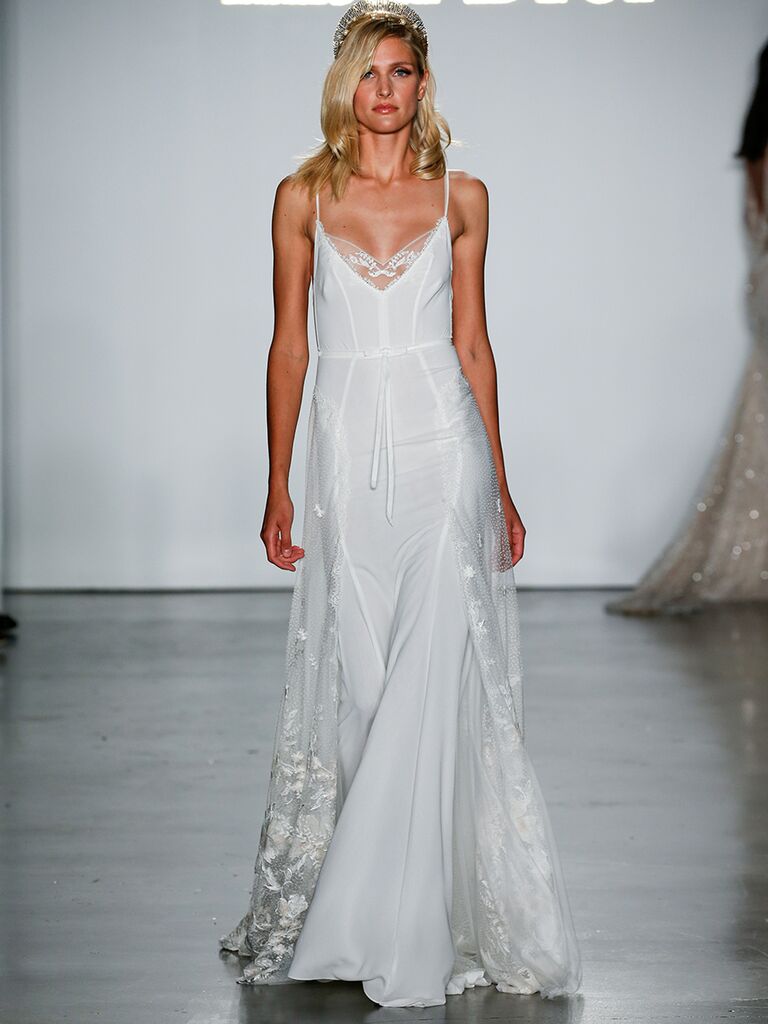 Spaghetti strap, stretch-crepe chiffon gown with lace trim.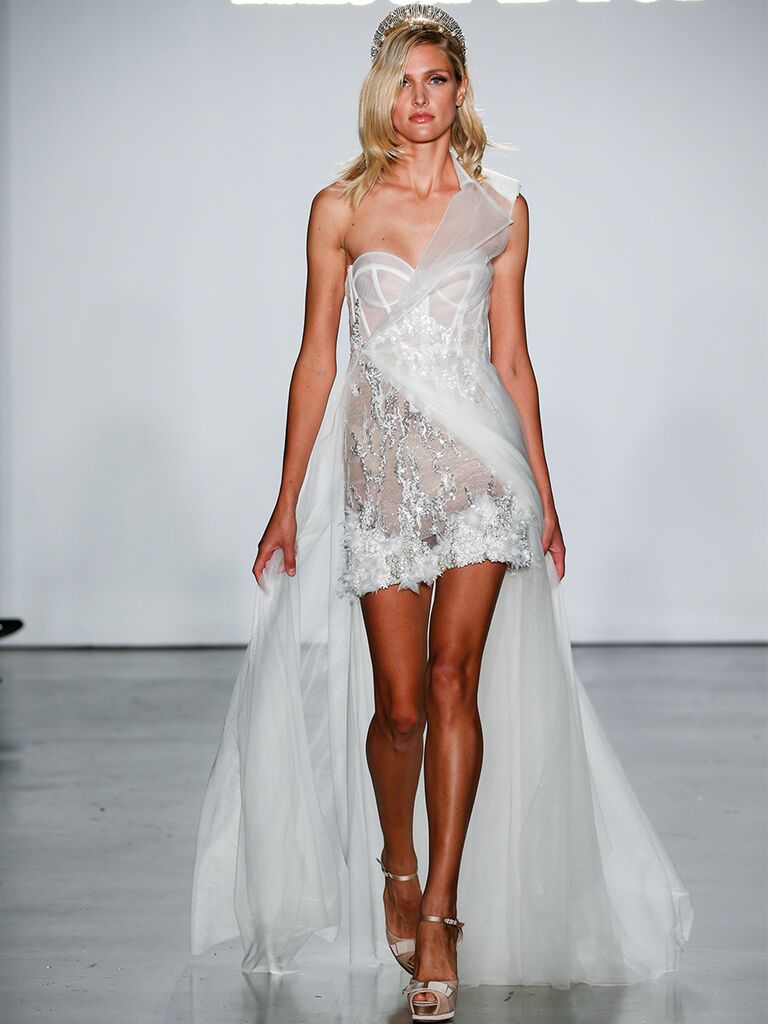 Sequined and embellished corset-bodice mini featuring a tulle and asymmetrical sheer train.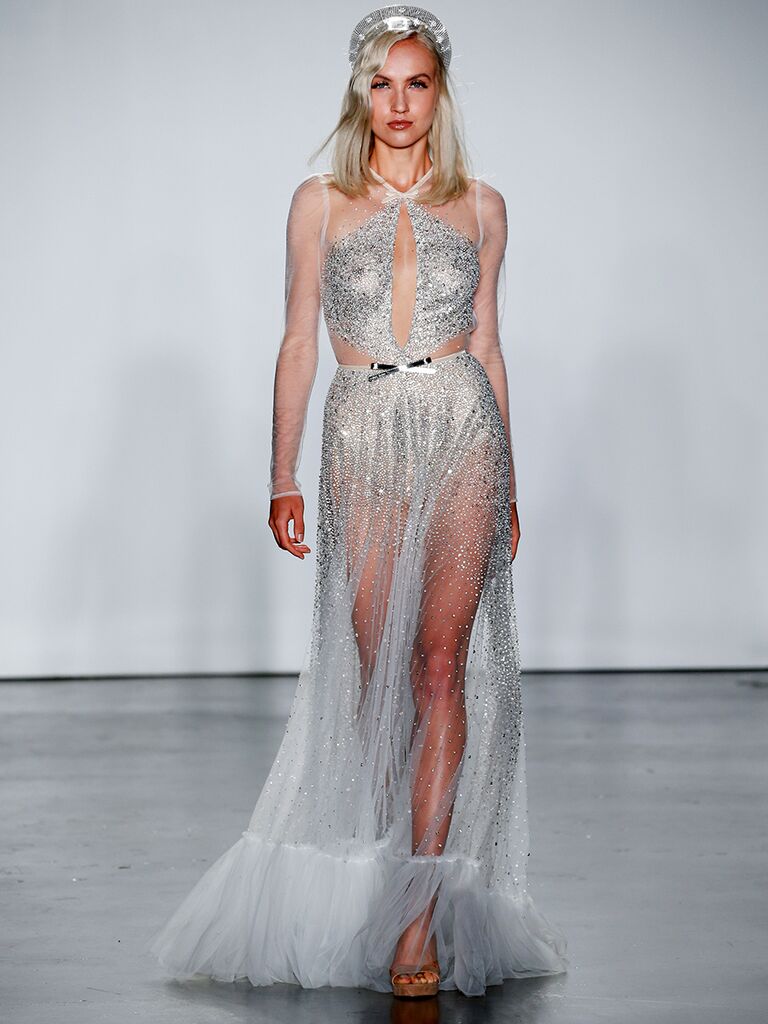 Sequined, sheer dress featuring cut-outs and a silver bow.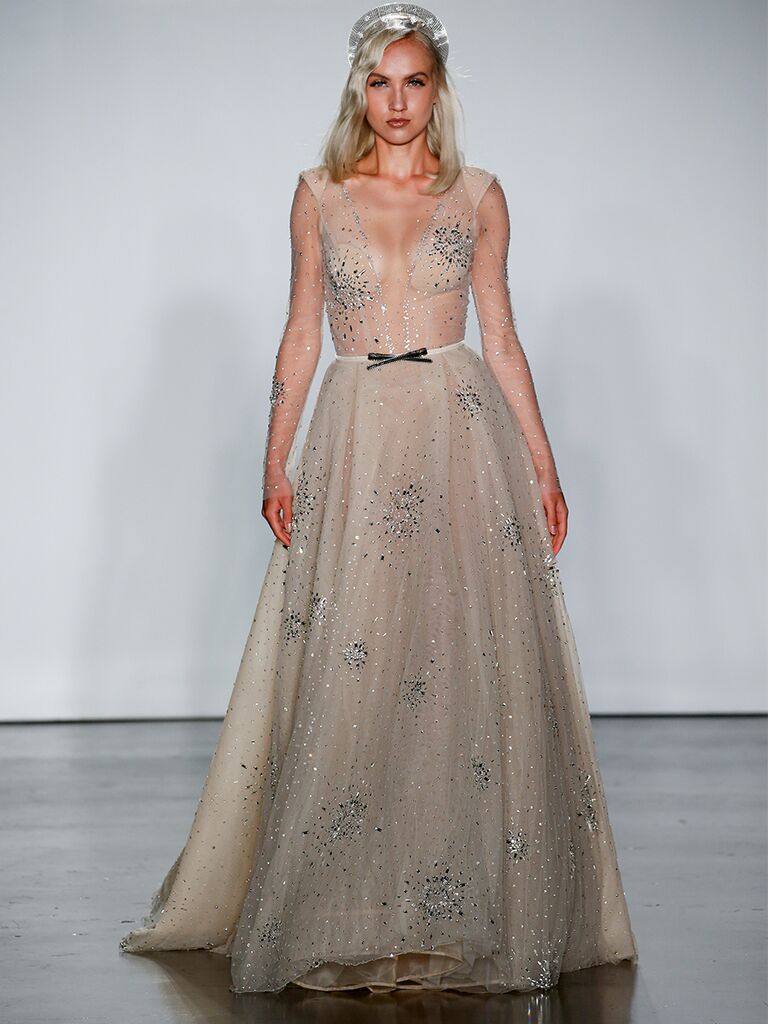 Nude, long-sleeve ballgown featuring a brush of silver beading on outer skirt.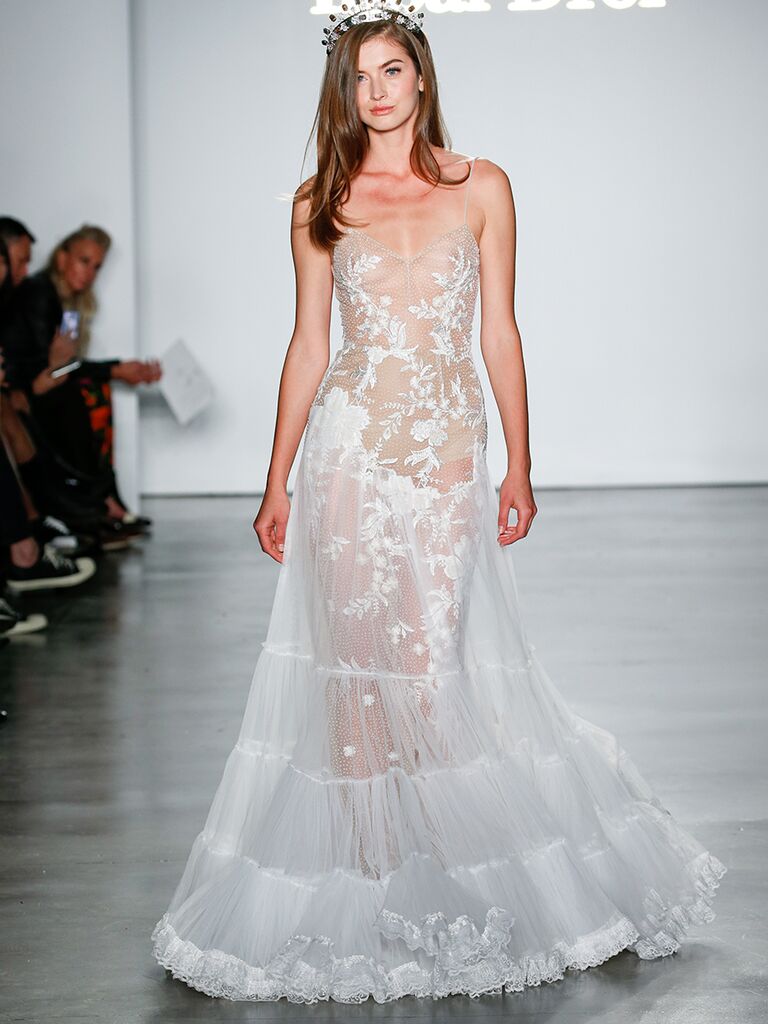 Vintage nude, spaghetti strap gown comprised of dotted and floral embroidered tulle.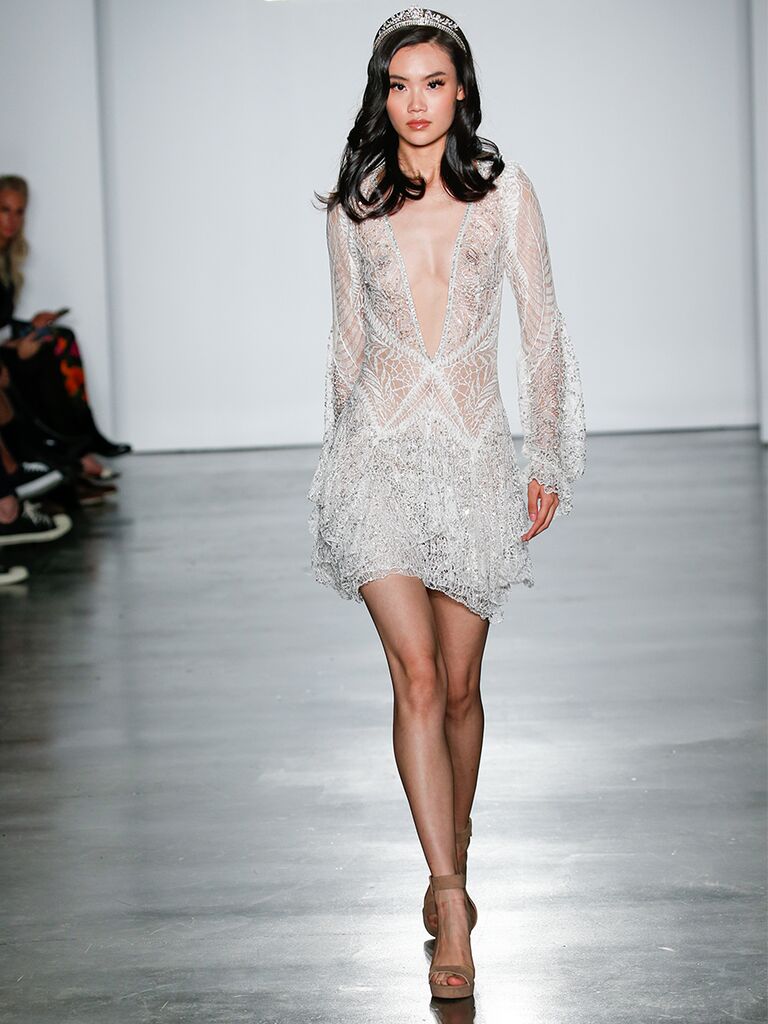 Nude, long-sleeve, deep-V, sequined crochet, lace mini dress featuring a low back.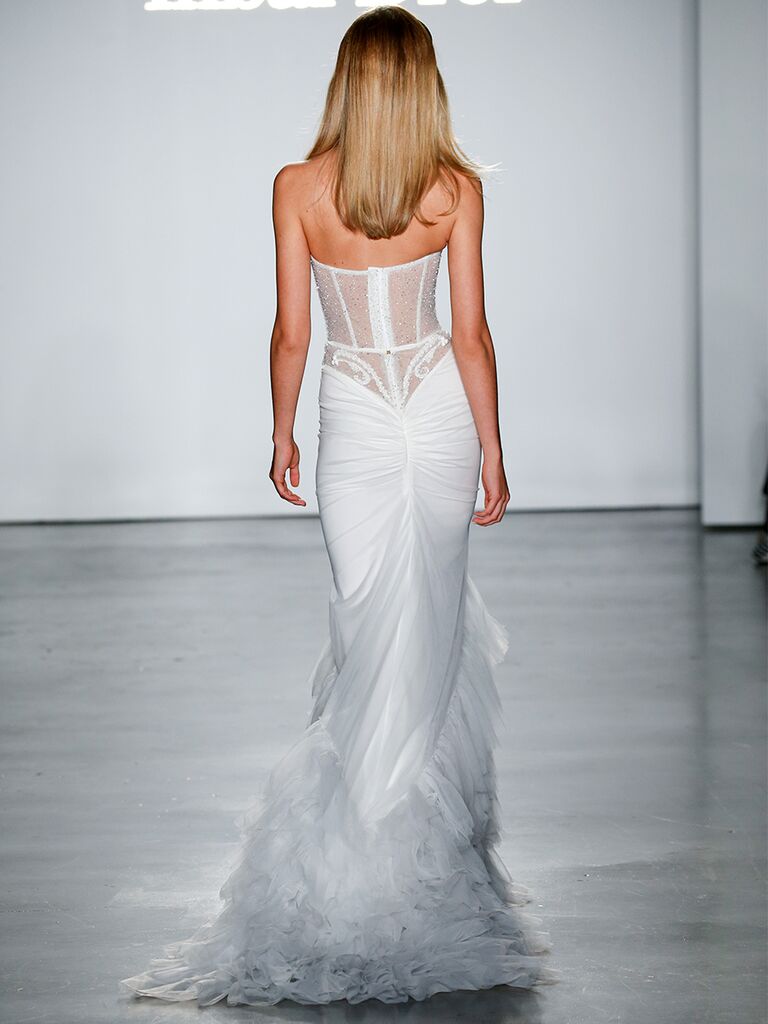 Strapless column gown featuring sheer sequin bodice and a dramatic, fully ruffled, tulle train.
Inbal Dror General Style
An Inbal Dror wedding dress isn't for someone looking to play it safe. With a simmering, sexy aesthetic, Inbal Dror bridal wows with plunging necklines and curve-skimming silhouettes that enhance the female form. Inbal Dror wedding dresses are both regal and risque, with ethereal embroidery and 3-D elements that bring the drama. Original appliqués, bold slits, illusion detailing, and sleek sheaths set a distinctly sizzling tone for Inbal Dror wedding dresses. Whether it be encrusted corsets, bold cut outs, or completely sheer skirts, every Inbal Dror wedding dress turns heads with high levels of detail and sex appeal.
Inbal Dror History
Born in Israel, Inbal Dror studied in Tel Aviv before moving to Italy to learn under Roberto Cavalli. After four years of training, she moved back to Israel and began her career in bridal, working out of her parents' house. Although Dror first launched her couture wedding dress brand in 2005, her bridal showroom in Tel Aviv wasn't opened until 2014. In addition to having boutiques across the world, the mom of two has a flagship store in Israel. Her gowns tend to range between $8,000 and $10,000.
Inbal Dror Collection History
Inbal Dror first made in an international splash with her unconventional early collections that appealed to the less traditional bride. From collections that exude vintage vibes to pulling inspiration from travels throughout Capri, Inbal Dror's gowns have continued to bring sultry evening wear to the runway. With Inbal Dror's 2020 collection, the focus is infusing glamour and decadence into each detailed gown. Inbal Dror 2020 wedding dresses are designed in a soft color palette of romantic hues ranging from white and ivory to champagne, charcoal, and blush. The luxe materials that make up this collection focus on layered silk tulle and detailed matte sequin. Another standout element are the chic laser cutout accents that add an unexpected surprise throughout the collection.
Other Inbal Dror Labels
Despite being known for the high-end Inbal Dror collection that celebrates the female form with a sexy aesthetic and 3-D detailing, that's not the Israeil designer's only label. Inbal Dror debuted Pure, her diffusion bridal line in 2018. Additionally, the designer's signature plunging necklines, daring slits, and intricate details don't stop with bridal—they're are also incorporated throughout her dramatic evening gowns that serve as stand outs on red carpets worldwide.
Celebs Who've Worn Inbal Dror
Not only did Beyoncé stun in an Inbal Dror gown at the 2016 Grammys, she also enlisted her to create looks for her Formation World Tour. Other celebrities who've worm Inbal Dror gowns for A-list moments include Naomi Watts, Giuliana Rancic, and Bar Refaeli. Lara Trump also wore a form-fitting lace gown as her second dress during her 2014 celebration.
Inbal Dror Fun Facts
Prince Harry and Meghan Markle wed in 2018, Inbal Dror was one of the designers in the running to create Meghan's royal wedding gown. According to the Jerusalem Post, the palace asked her to submit sketches and the three Dror provided featured high necks, lace details and a range of silhouettes.
Despite her talent for bringing daring wedding gowns to life, Dror reportedly went the opposite route for her own wedding and was married in jeans.