See Lela Rose Wedding Dresses From Bridal Fashion Week
Here's the designer's latest collection to hit the bridal runways.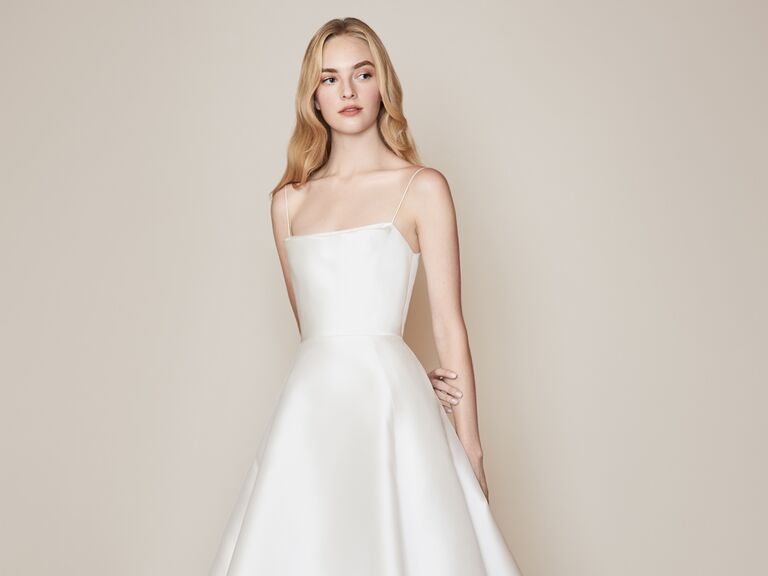 New York City-based fashion designer Lela Rose is widely regarded for her elegant aesthetic and fresh point of view. Lela Rose bridal gowns feature sculptural silhouettes and luxe fabrications. Timeless, light gowns that give a nod to modern trends and a preppy aesthetic are her signature. Brides to be who are looking for an effortlessly chic and romantic gown for their wedding day (or even the events surrounding it), are sure to find their gown in the Lela Rose collection.
As a principled, female business owner, Rose is committed to supporting and giving back to the community. Since the inception of her company over 17 years ago, Lela Rose has proactively supported a proven network of artisans, sewers, pattern-makers, manufacturers, and small business owners in New York City, maintaining all possible apparel production locally of her ready-to-wear and dress collections.
Lela Rose's Fall 2021 Wedding Dresses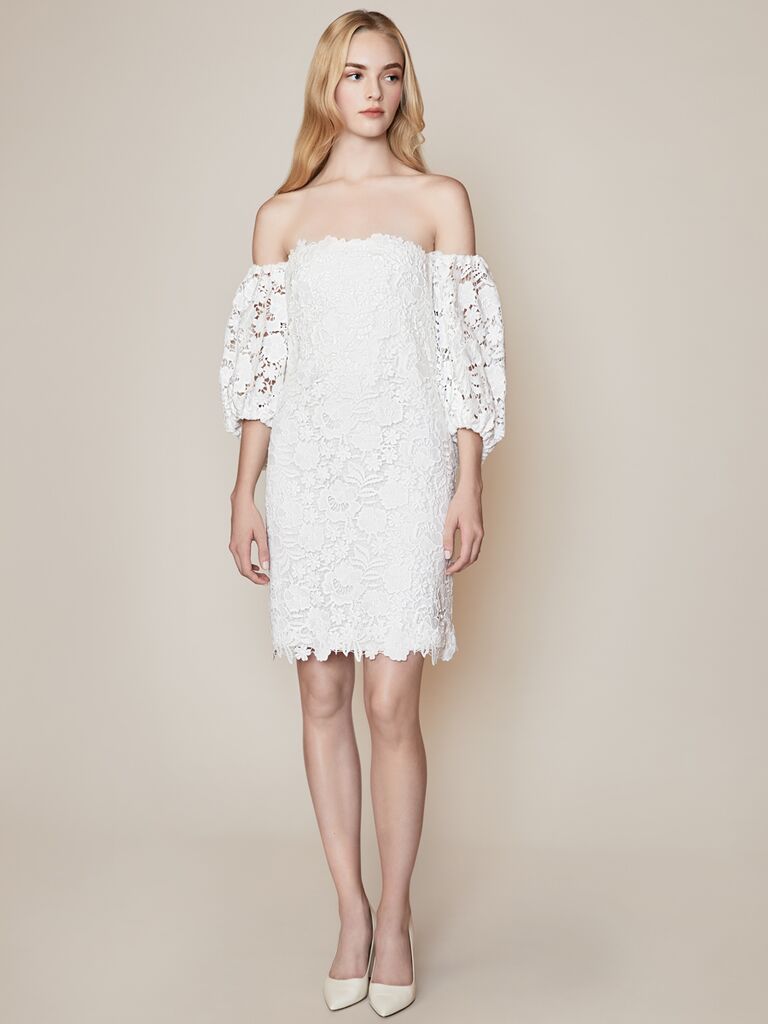 "Addington" floral lace mini dress with off-the-shoulder puff sleeves.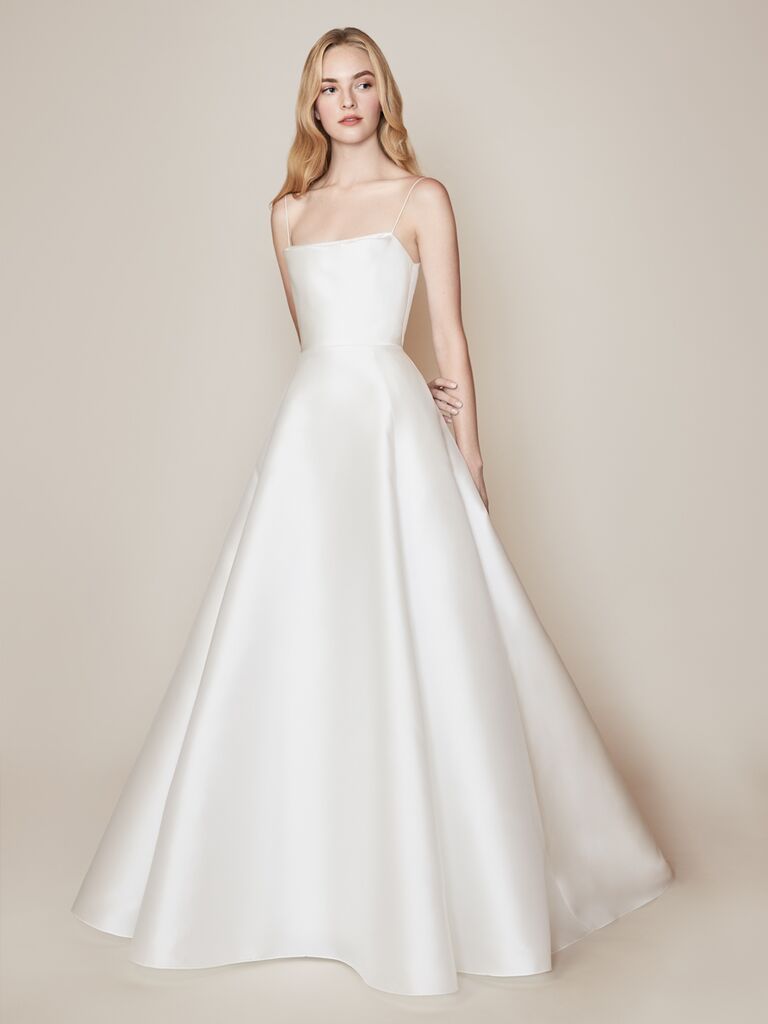 "Augustine" magnolia A-line gown with draped neckline, scooped back, and lingerie straps.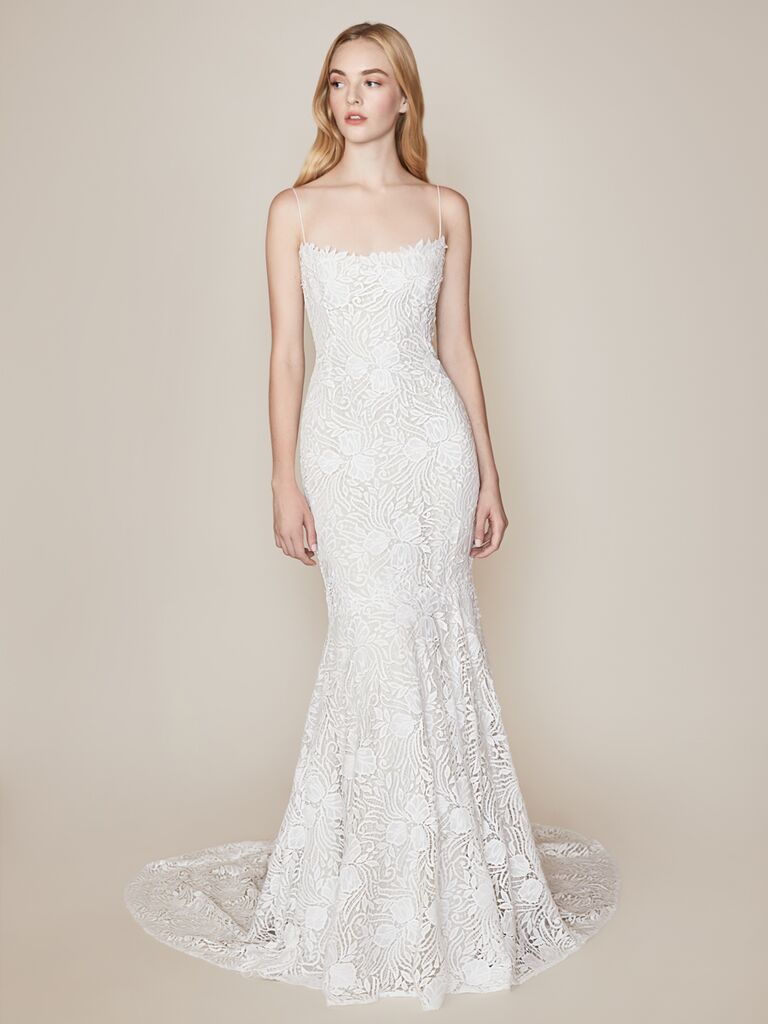 "Belvedere" lightweight lace fit and flare gown with low back and crisscross ribbon detail.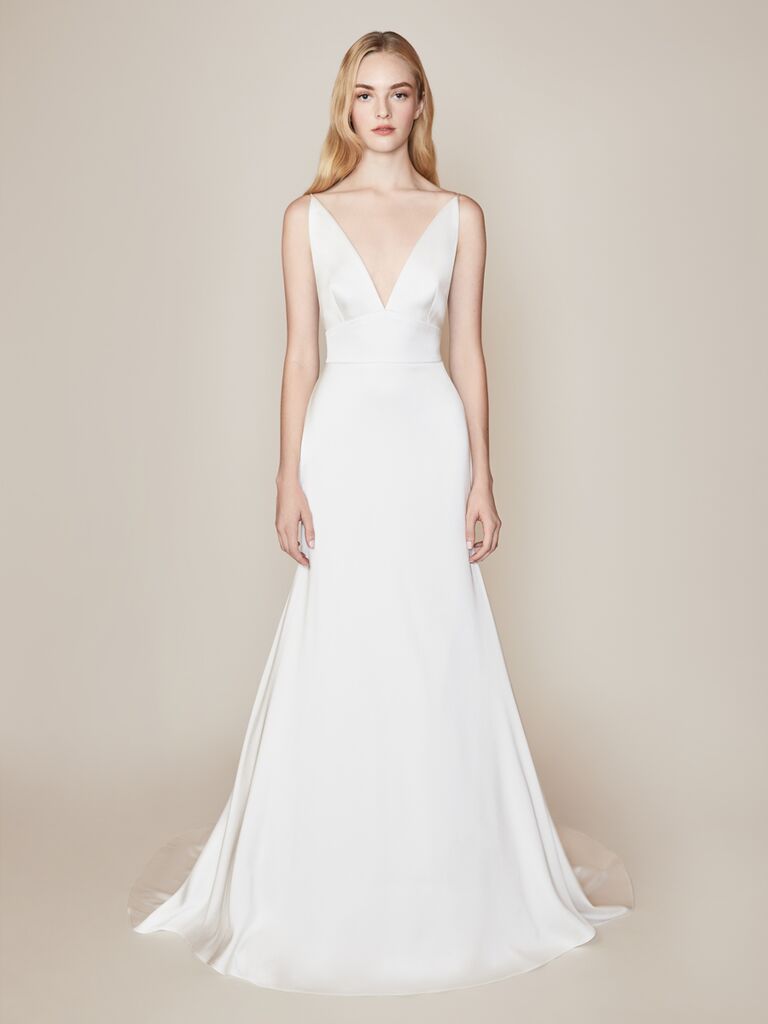 "Biltmore" satin crepe V-neck gown with deep V-back.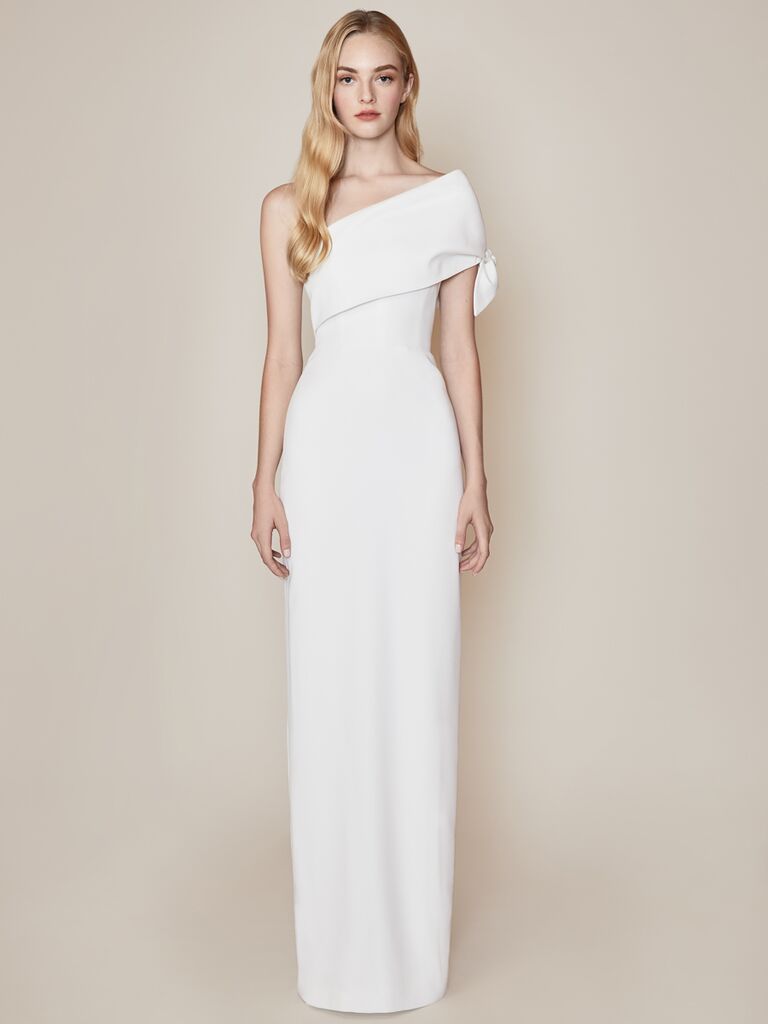 "Stratford" crepe one-shoulder column gown with bow shoulder detail.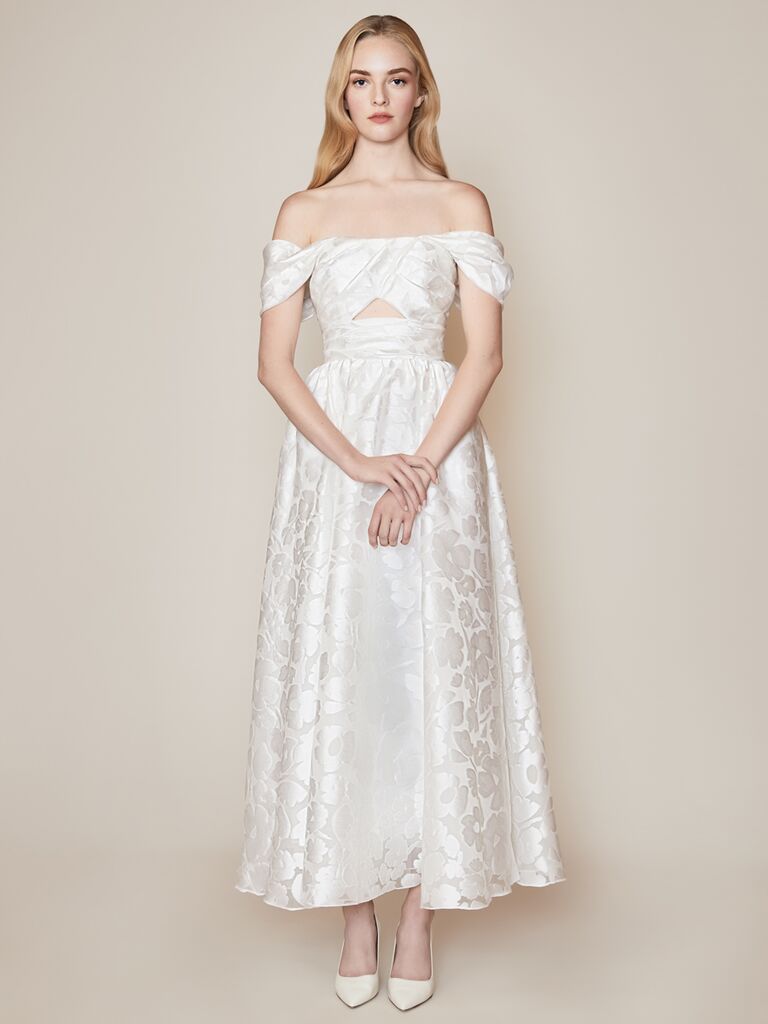 "Sydney" organza off-the-shoulder tea-length dress with hand draped bodice.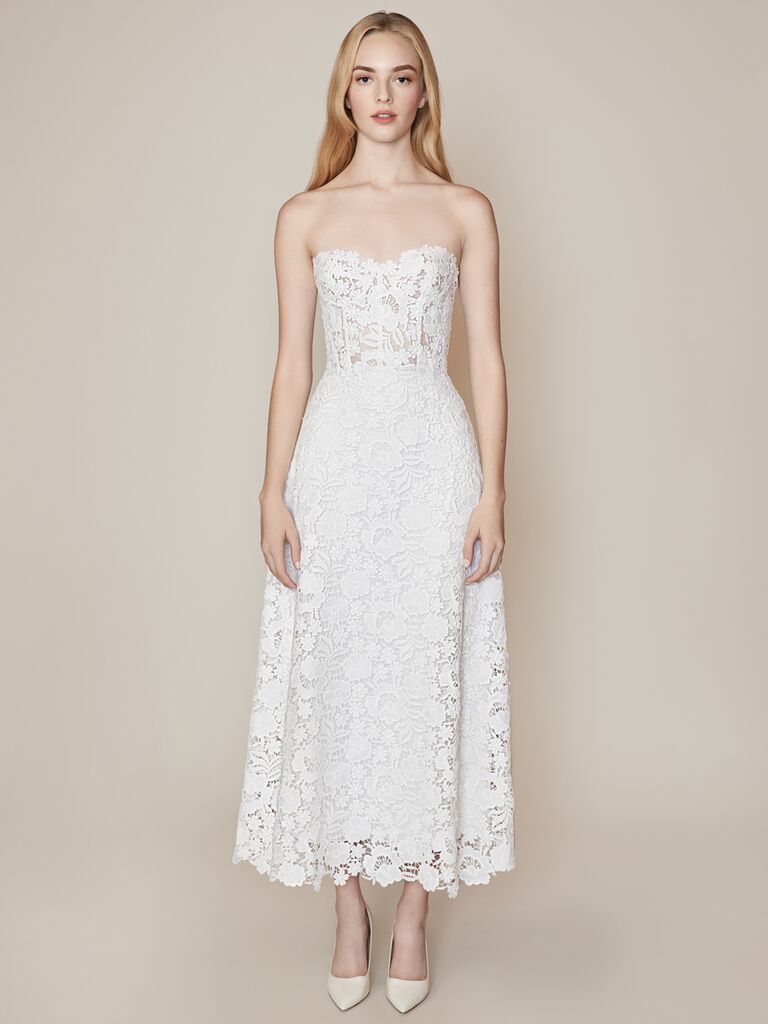 "Tuileries" floral lace tea-length bustier dress.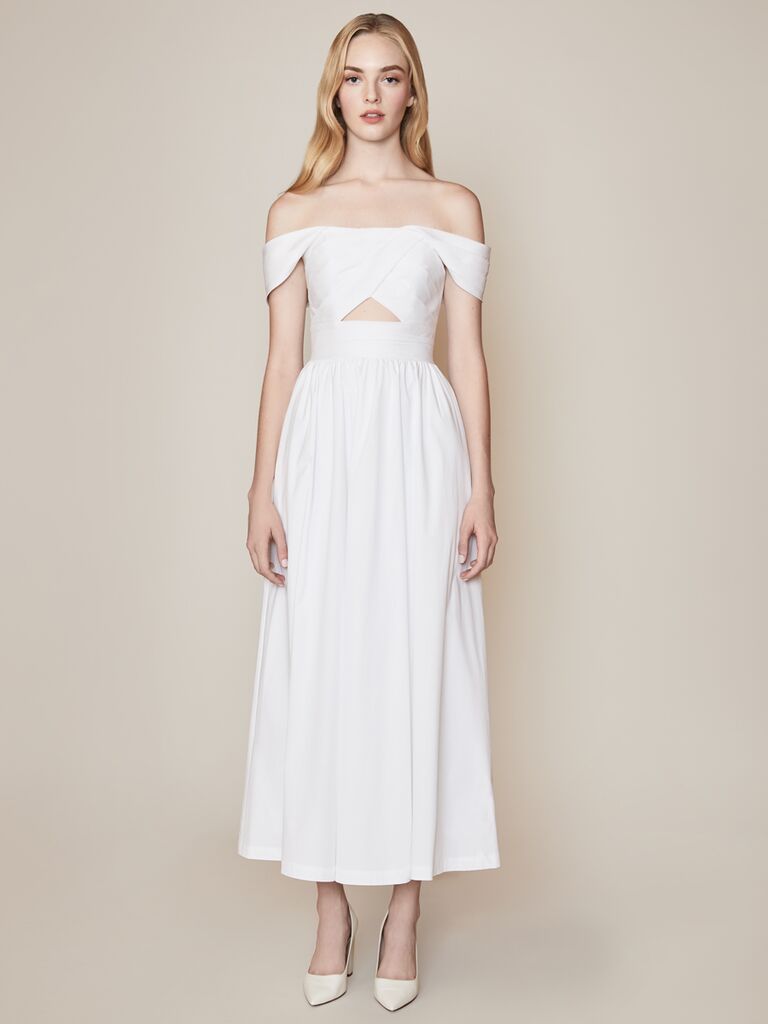 "Westminster" cotton poplin off-the-shoulder tea-length dress with hand draped bodice.
Designer Lela Rose's Signature Style
Formally trained as a painter and sculptor, Lela Rose employs a brilliant use of color, rich fabrications, sculptural silhouettes and handcrafted details. Her artistic background is evident in her work and adds an unexpected dimension and breadth to each season's collection. Known for her luxurious specialty fabrics, the Lela Rose bridal collection features rare embossed silk organzas, crisp silk taffetas, and unique laces.
A Brief History of Wedding Dress Designer Lela Rose
Lela Rose grew up in Dallas, Texas. She attended the University of Colorado where she was a painting and sculpture major, graduating in 1991. During her time at college, she had her own business making vests from vintage scarves and from there decided to go into the fashion industry. She moved to New York City and headed to Parsons School of Design, where she graduated in 1993 with an associate degree. She worked under fashion designer Christian Francis Roth, as well as Los Angeles-based designer, Richard Tyler. She then launched her own eponymous collection in 1996 out of her apartment, which featured feminine clothing with embellishments. In the fall of 2006, Lela Rose debuted her first bridal collection.
Lela Rose Collection History
The Lela Rose collection is internationally recognized, with a devoted following from celebrities. The Lela Rose 2020 bridal collection seamlessly blends timeless and feminine silhouettes with on-trend embellishments o create a truly modern elegance in every gown. Each and every Lela Rose wedding dress is made in New York.
Other Lela Rose Labels
Following the success of her bridal collection, Lela Rose partnered with The Dessy Group to create an exclusive bridesmaid dress line. Combining elements from her signature collection such as layered crinkle chiffon and pleated cotton faille, Lela Rose's bridesmaid dress collection focuses on designer caliber detailing and fabrication while maintaining a budget-friendly price range and remaining accessible to brides.
Famous Lela Rose Brides
Actress, Emily VanCamp, donned a Lela Rose bridal gown December 15th, 2018 on Harbour Island in the Bahamas as she wed her former Revenge costar and on-screen love interest, Josh Bowman. Lela Rose also designed a custom wedding dress for actress Eva Amurri, as well as a gray version of the dress with the same lace neckline for her mother, Susan Sarandon.
Some of Lela Rose's well-known ready-to-wear clientele include Jessica Alba, Molly Sims, Mindy Kaling, Ashley Judd, Mariska Hargitay, Mary-Kate Olsen, Ashley Olsen, Selma Blair and Catherine, Duchess of Cambridge.
Fun Facts about Lela Rose
In 2001, Lela Rose gained attention when she designed outfits worn by Jenna and Barbara Bush at their father's presidential inauguration. Until that point, she was mainly working with private clients. Afterwards, she began to expand her business with retail businesses like Bergdorf Goodman and Neiman Marcus.
Lela Rose's dog Bobbin frequently attends her fashion shows.
Lela Rose Previous Wedding Dress Collections
Lela Rose Fall 2020 Collection
See every dress from Lela Rose's Fall 2020 line below.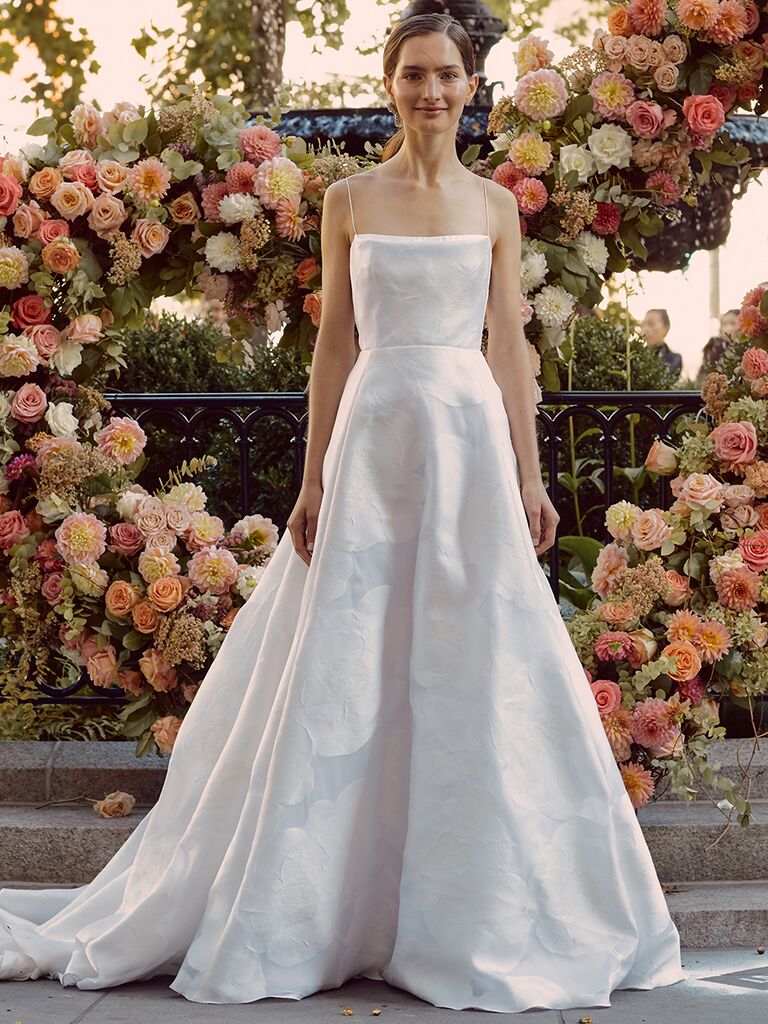 A spaghetti strap, silk gown featuring subtle floral guipure lace details.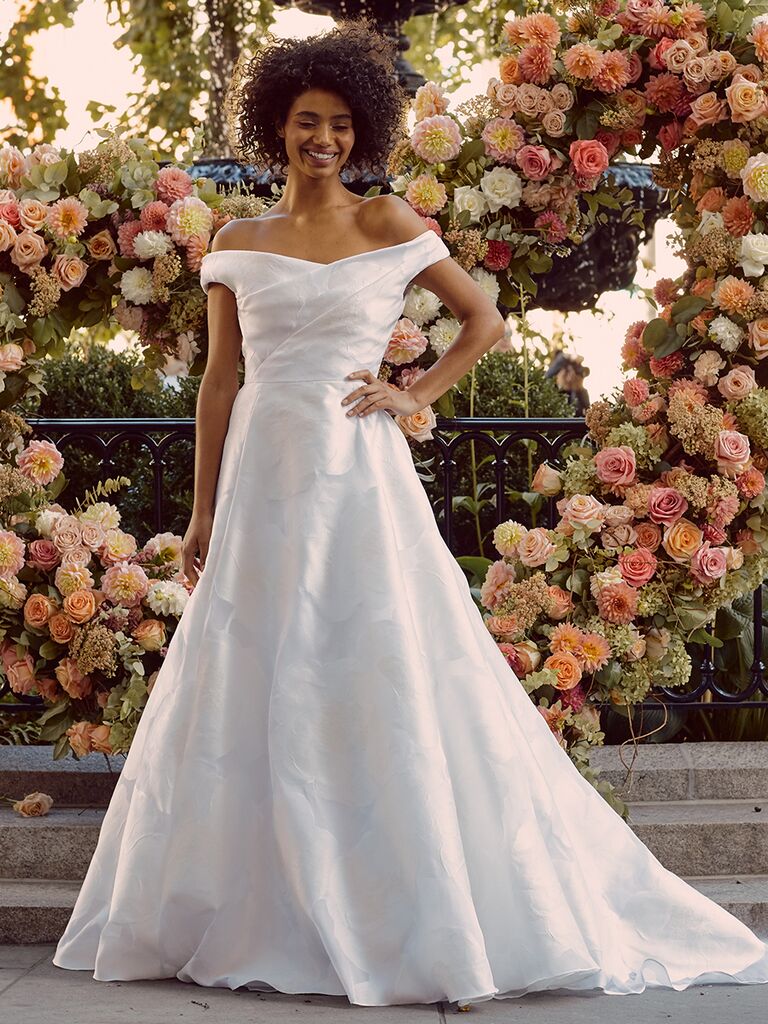 Lela Rose's off-the-shoulder, structured silk gown featuring heirloom floral guipure lace.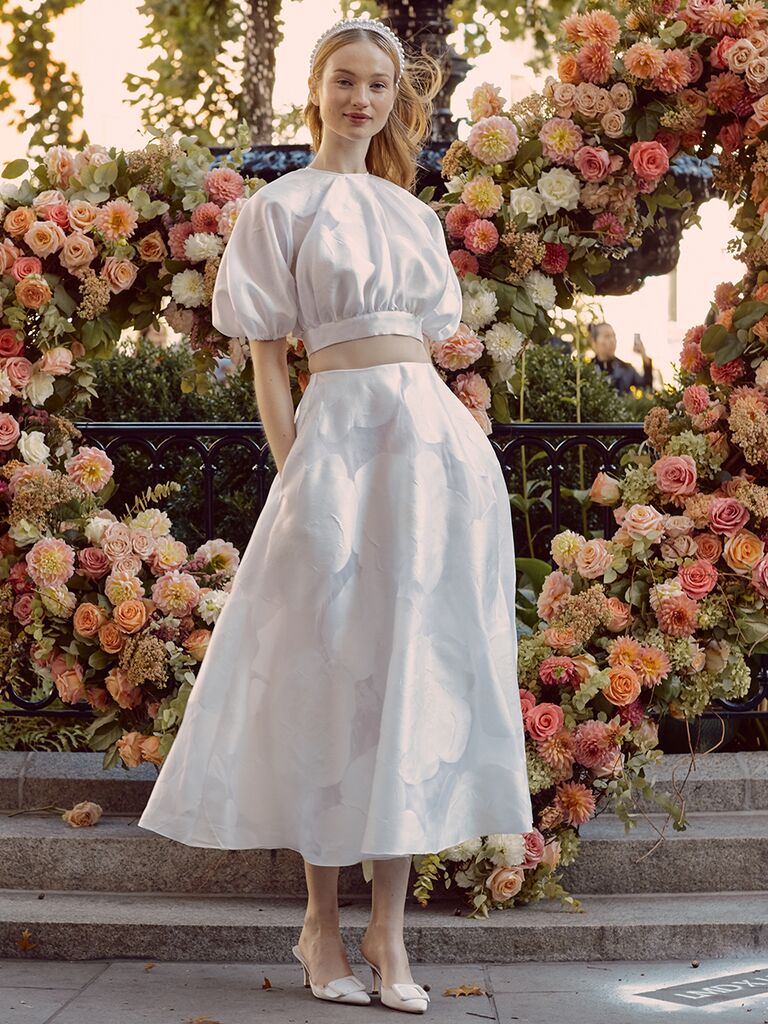 Tailored separates featuring a full midi skirt and a matching, midriff-baring puff-sleeved crop top.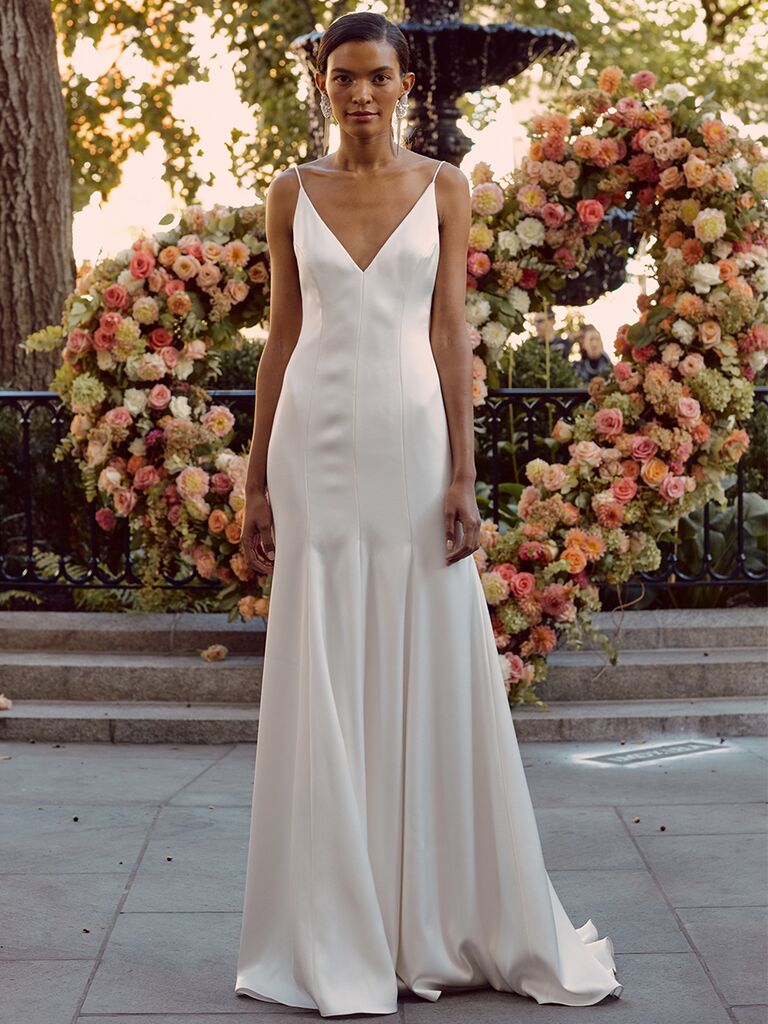 Structured satin slip dress with a body-hugging, bias-cut bodice.
Strapless silk gown featuring pockets and horizontal lace detailing.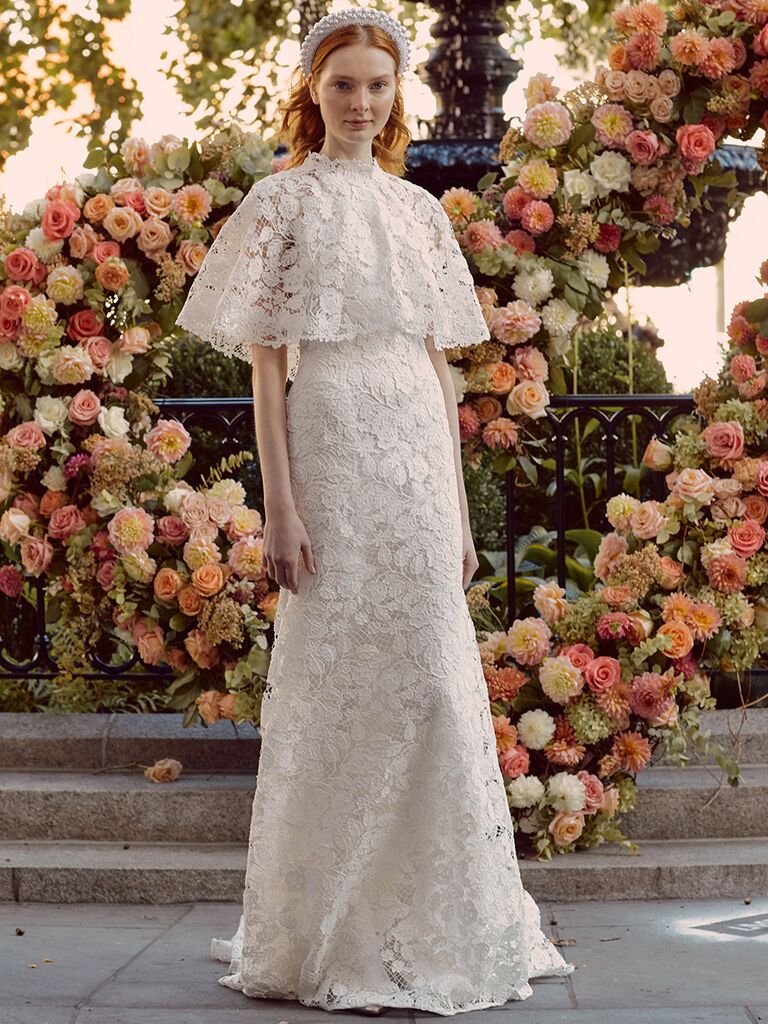 Structured column dress comprised of heirloom floral guipure lace.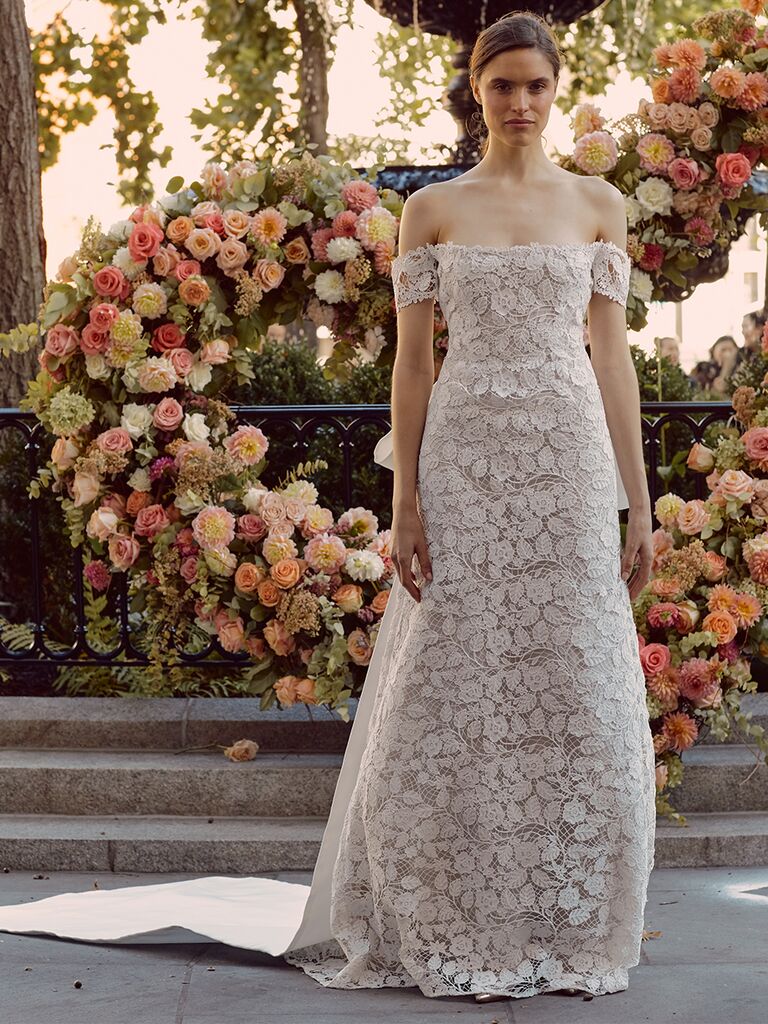 Off-the-shoulder dress featuring heirloom floral guipure lace.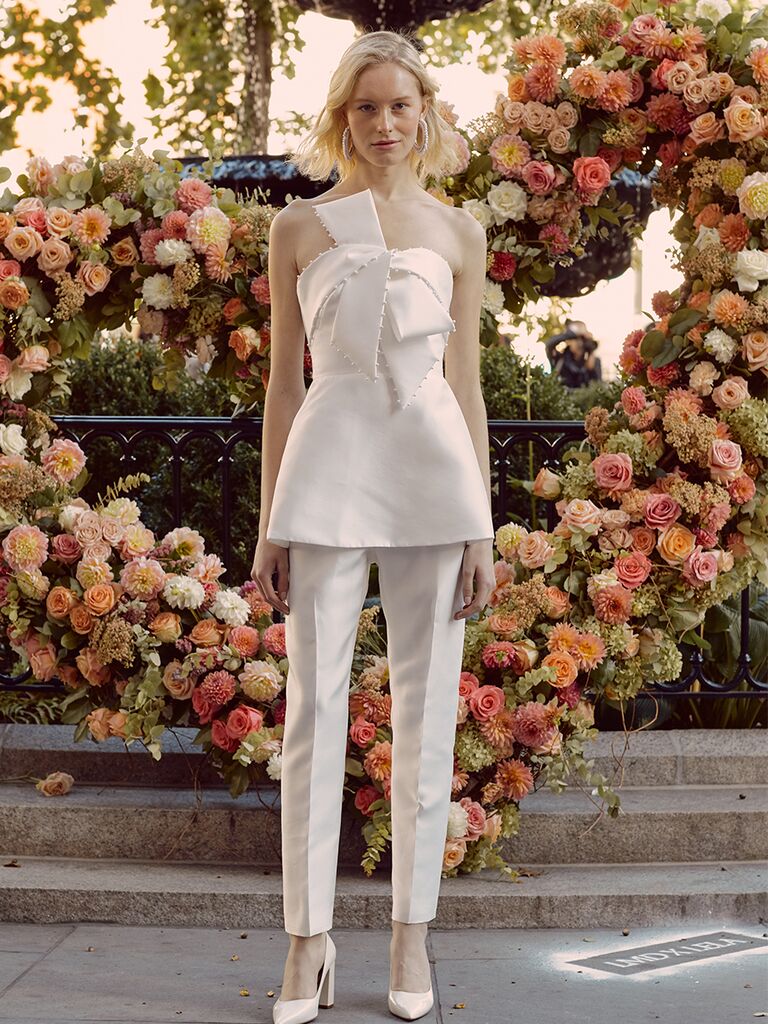 Tailored strapless peplum Magnolia top featuring sculptural bow and matching slim, cropped pants.
Strapless gown comprised of corseted bodice and a dramatic tulle and floral lace skirt.
To check out all the Bridal Fashion Week galleries, plus wedding dress advice and more, go to TheKnot.com/bridal-fashion-week.