25 Wedding Cupcake Ideas for Every Wedding Style
We're in our wedding cupcake era.
We're firm believers that you can have your cake and eat it, too. And while we love unique wedding cakes, there's nothing quite like wedding cupcakes. They can be enjoyed without the mess of cake cutting and they're a fun photo opportunity. Plus, wedding cupcakes can be more affordable than a traditional wedding cake. Read on for 25 wedding cupcake ideas, filled with sprinkles, chocolate decals and more! And, if you're in the midst of wedding planning and are looking for a bakery for your wedding day desserts, look no further than The Knot Marketplace. Simply search by your location and you'll find our top list of vetted wedding professionals.
What You Need to Know About Wedding Cupcakes
It's hard to go wrong with serving wedding cupcakes on your special day, but there are a few tips you should know before making the decision to forgo a traditional wedding cake. Read on for what you should keep in mind when you're making the sweetest decision for your wedding day, pun intended.
Pros of Cupcakes for a Wedding
Chocolate or Vanilla? Red Velvet or Carrot Cake? Our mouths are watering and deciding on a wedding cake flavor is a hard decision to make. By opting for wedding cupcakes, you and your spouse-to-be can have fun mixing and matching the cupcake and frosting flavors. Plus, if you're looking for a more affordable wedding dessert option, cupcakes are typically more cost effective. A wedding cupcake display also makes for a fun photo-op for your wedding photographer to capture. We love it when couples are willing to do something non-traditional on their wedding day, which is why wedding cupcakes have a special place in our heart.
Cons of Cupcakes for a Wedding
If you and your spouse-to-be are traditional, wedding cupcakes might not be the best dessert option for your big day. First and foremost, you won't have a traditional cake cutting ceremony. You also won't have the option to freeze your cake and enjoy it on your one-year anniversary. Lastly, if you're planning on serving cupcakes on your big day, you'll want to order the perfect number. If you order too many, you'll have a lot of leftover sweets to enjoy…though maybe that's not a con after all.
How Many Cupcakes Are Needed for a Wedding?
We tapped into our expertise and spoke with some of our favorite, established bakery owners. Most bakers recommend ordering enough cupcakes for each guest to enjoy an average of one and a half cupcakes. "We would recommend 60-70 cupcakes for 50 people and 220 cupcakes for 200 people. They are a great treat to share with the staff if you have extra and easy to take home for the couple!" shared wedding expert Casey Heard, owner of The Sweet Easy.
Though, you might know your guests better than we do.If you have a handful of guests that don't have a sweet-tooth, ordering less than what's recommended might work in your favor. We're also firm believers that there's no such thing as too much dessert. If you have leftover wedding cupcakes, offer them to your wedding vendors and staff or give your guests the option to take a treat-to-go in little boxes or bags .
Wedding Cupcakes Cost
Setting a wedding budget is one of the most important planning tasks to complete. While there are plenty of areas to save, your wedding cake cost is one of the best places to save. After all, your wedding guests will love any dessert you serve so why not save where you can?
Find all the vendors you need
Meet every kind of expert from bakers to bartenders and more.
Are Wedding Cupcakes Less Expensive than a Wedding Cake?
According to our internal data analyzing average wedding cake cost, couples in 2022 spent an average of $510 on wedding cake and/or other desserts. This number varies depending on your location, tiers and decorations. The average wedding cupcake cost is typically three dollars per cupcake. So, if you're planning a 150 person wedding, wedding cupcakes may be less expensive than a wedding cake. However, if you're planning a wedding with 300 guests, your wedding cupcake cost might be more than a wedding cake. The short answer is that typically, yes, wedding cupcakes are less expensive than a wedding cake. However, it's important to keep in mind the many factors that play into your dessert cost.
Wedding Cupcake Ideas
Now that you know the pros and cons of wedding cupcakes, let's get to the good stuff: inspiration. Here are some of our favorite elegant wedding cupcake ideas.
Chocolate Peanut Butter Cupcakes for a Rustic Wedding
Planning a barn wedding? These rustic wedding cupcakes will have your wedding guests wanting seconds. After all, who doesn't love a chocolate and peanut butter combination?
Mini Cake and Wedding Cupcake Tiered Display
Looking for a cost-effective way to serve a wedding cake and wedding cupcakes? Look no further than this cupcake wedding cake. These funfetti and chocolate wedding cupcakes are perfect to serve to your guests. Plus, the newlyweds will still have their cake cutting ceremony and the option to save it for their anniversary. It's a win-win.
Elegant White Wedding Cupcakes
Complement your timeless wedding day with these decorative, flower wedding cupcakes. These white wedding cupcakes will elevate your dessert table and your guests will be impressed with the gold wedding cupcake liner accent.
Rustic Wedding Cupcakes With Bacon Bits
Whether you're planning a brunch wedding or leaning into a rustic wedding style, these waffle and bacon wedding cupcakes will blow all dessert expectations. Simple white wedding cupcakes were topped with bacon bit sprinkles and mini waffles. There's nothing quite like a unique wedding dessert and these rustic wedding cupcakes are exactly what will get us out of bed in the morning.
Chocolate Wedding Cupcake Tiered Display
A timeless combination that you can't go wrong with? Chocolate frosting on chocolate cake. These simple chocolate wedding cupcakes are delicious and will be loved by each one of your wedding guests.
Elegant Blue and Gold Wedding Cupcakes
Wow your wedding guests with these personalized, wax seal-inspired wedding cupcakes. We love the idea of your "Something Blue" being your wedding day dessert, too.
Flavored Wedding Cupcakes for a Fall Wedding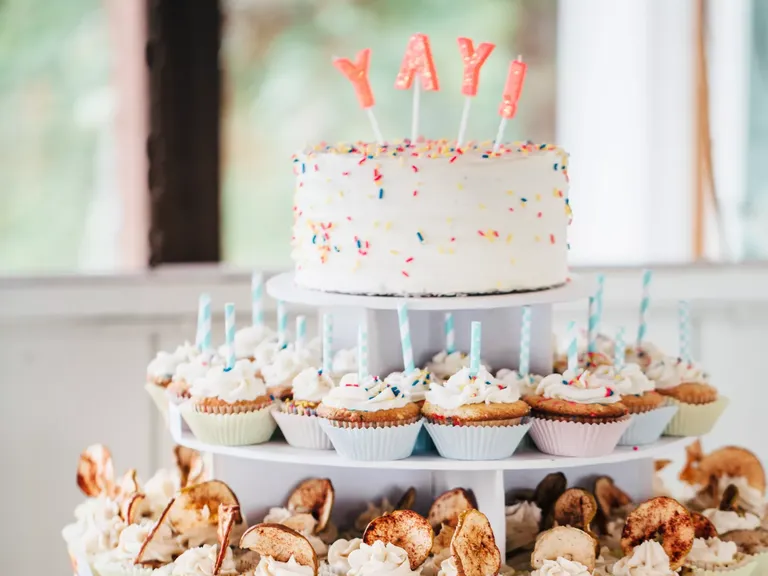 With endless fall flavors to choose from, we recommend serving wedding cupcakes instead of cake at your fall wedding. That way, you can bring as much flavor to the table as you'd like. This couple chose to serve pumpkin spice, peanut butter and chocolate and cider-flavored wedding cupcakes. Sprinkles and colorful wedding cupcake liners rounded out the display.
Beach Wedding Cupcakes With Chocolate Starfish
Whether you're planning a destination beach wedding or a local seaside celebration, oceanfront weddings deserve decorative desserts. Instead of sprinkles, these beach wedding cupcakes are topped with chocolate starfish, complementing the wedding venue perfectly.
Monogrammed Wedding Cupcakes
Customize each one of your elegant edding cupcakes with a wedding monogram, crest, or your initials. This personal, decorative detail will be appreciated by your wedding guests as they bite into your small wedding cupcakes.
Decorative Carrot Cake and Red Velvet Wedding Cupcakes
Looking to make a statement on your dessert table? These wedding cupcakes topped with a sparkling decal, made the wedding cupcakes a festive part of this wedding reception.
Adventurous Wedding Cupcakes for a Mountain Wedding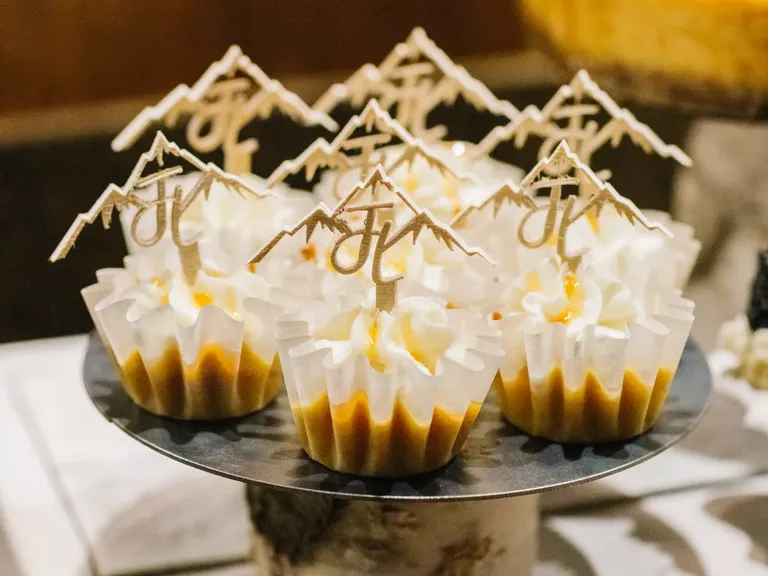 If you're planning a wedding in the mountains, these rustic wedding cupcakes are for you. Each topped with a personalized mountain decal, it's clear these aren't just any wedding cupcakes. It's all in the details.
Unique Celestial-Themed Tiered Cupcake Display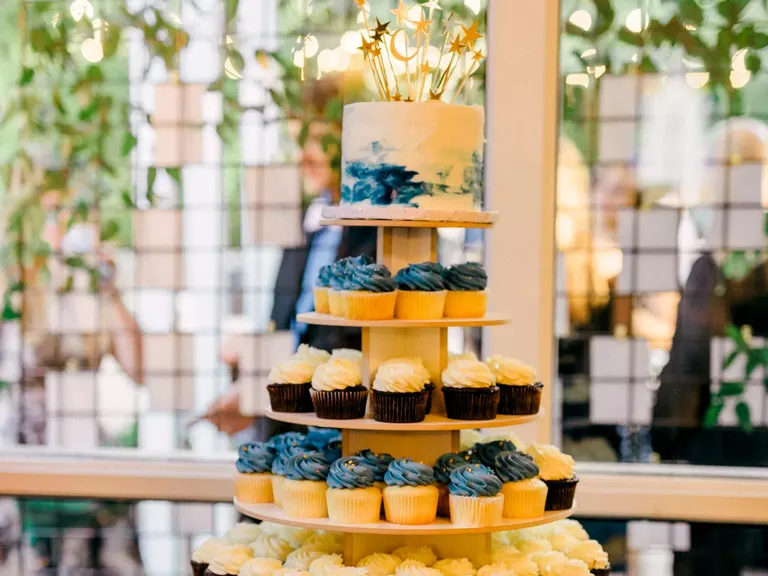 Shoot for the stars with a whimsical, celestial-themed wedding cupcake display. We love that this six-tier wedding cupcake tower is topped with a mini cake, allowing you to enjoy a traditional cake cutting ceremony.
Rustic Wedding Cupcake Display for a Ski Mountain Wedding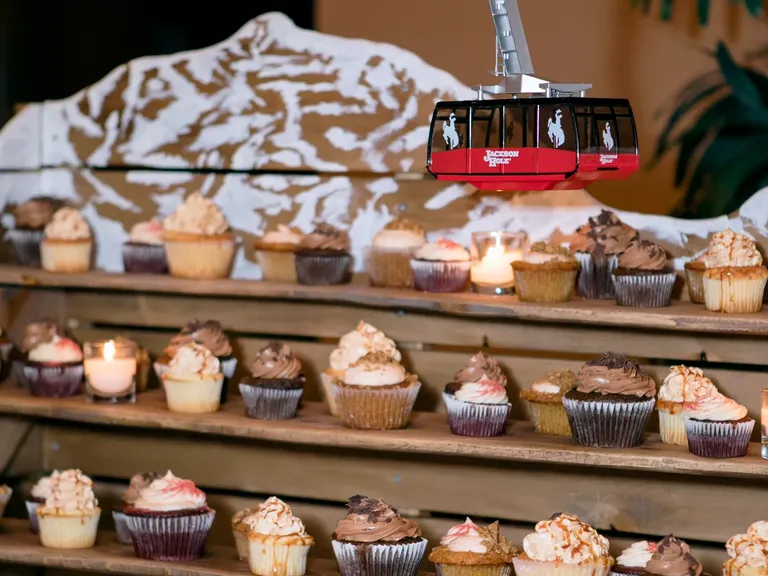 There's nothing quite as fitting for a rustic wedding as a wooden cupcake display. This selection of assorted cupcake flavors will have your guests wanting to try each flavor.
Summer Wedding Cupcake Display
We're simply swooning over these whimsical, blueberry wedding cupcakes. If you're planning a garden party wedding, these simple white wedding cupcakes will make for the perfect decorative dessert.
Whimsical Cupcake Wedding Cake
Perfect for the unique to-be-weds, this whimsical wedding cupcake display is topped with one large giant cupcake. The unique dessert cupcake wedding cake display will have your guests snapping pictures, enjoying the sweets and talking about your wedding cupcake cake for years to come.
Modern Wedding Cupcake Tower Display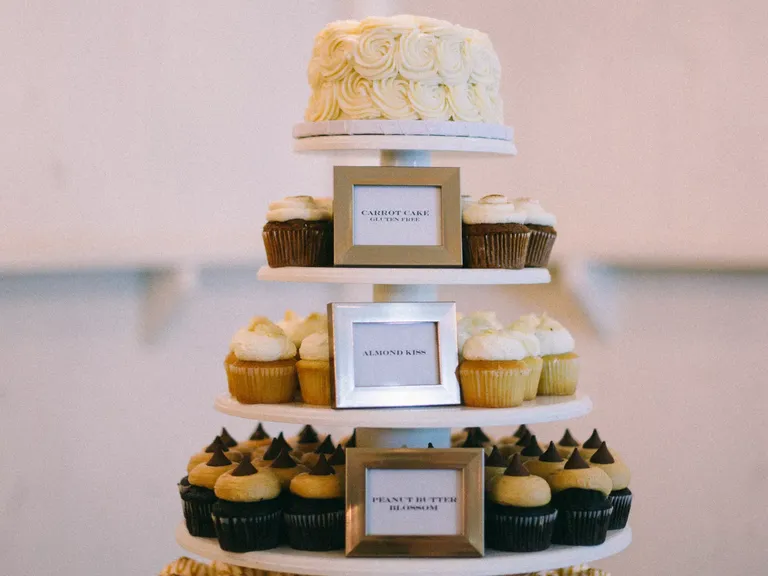 A little something sweet for everyone is what the wedding day is all about, right? This modern cupcake display is elevated with sleek, silver framed signage for each cupcake flavor.
Vegan Wedding Cupcakes for Caramel-Pecan Lovers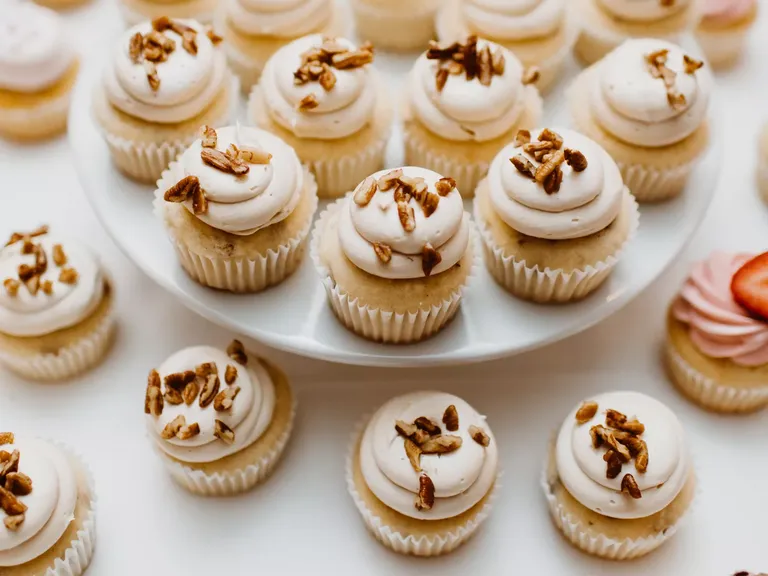 Accommodating various dietary restrictions on your wedding day? No need to stress. There are plenty of diet-friendly cupcake flavors to choose from. Your guests will be so appreciative they're able to enjoy the wedding cupcakes on your special day.
Glamorous Gold Sprinkles Wedding Cupcakes
If you're looking to make a statement with your wedding cupcakes, look no further than these sparkling gold treats. After all, every wedding day should feel a little bit glamorous, right?
Key Lime Pie Mini Wedding Cupcakes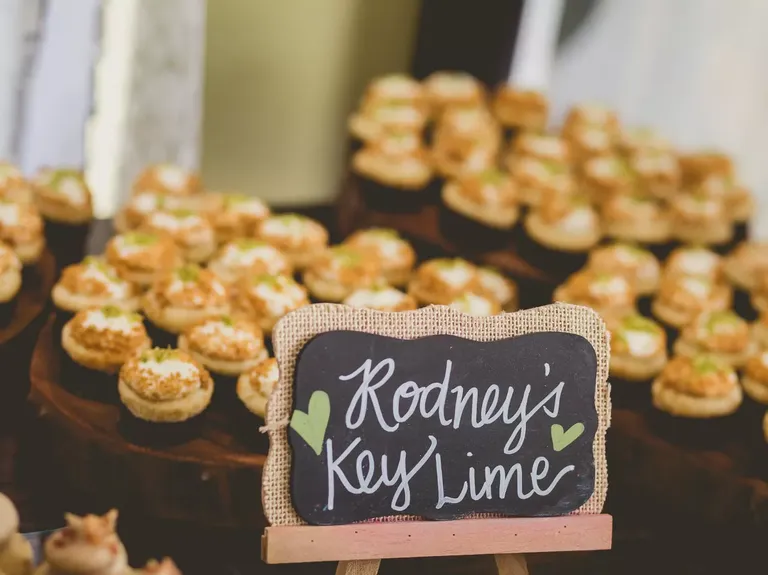 If you're planning a summer wedding, especially a beach wedding in the Florida Keys and want to serve up something tart and sweet, this Key Lime Pie beach wedding cupcake idea is the way to go. Topped with graham cracker pie crust sprinkles, these cupcakes will leave your guests wanting more.
Wedding Cupcakes to Match Your Wedding Color Palette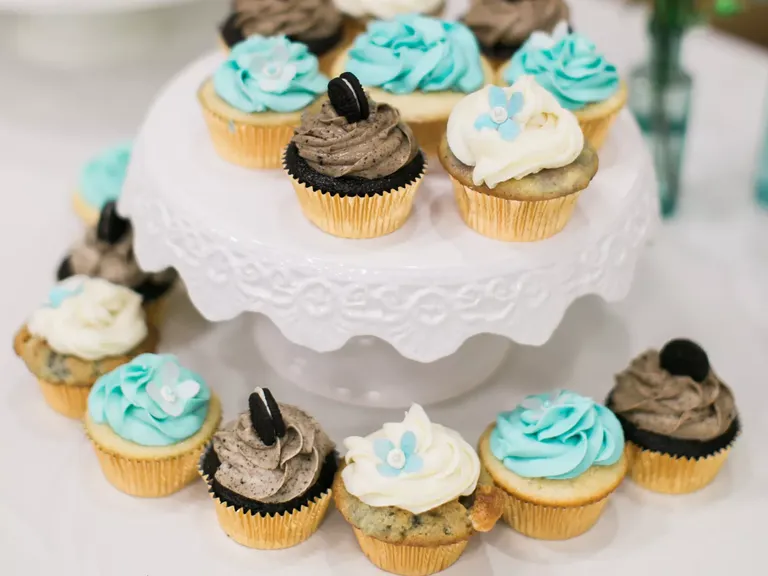 Whether you're planning a turquoise wedding color palette or not, these cupcakes are an excellent example of how you can tie in your wedding color scheme to your dessert. Not only do the cupcakes compliment the whole day, they look (and taste) delicious as well.
Assorted Wedding Cupcakes With a Naked Cake Topper
Topped with a naked wedding cake, this tiered wedding cupcake tower display featured German chocolate wedding cupcakes, lemon poppyseed cupcakes and Nutella-filled banana cupcakes. Talk about giving the people what they want!
Romantic Blush and White Wedding Cupcakes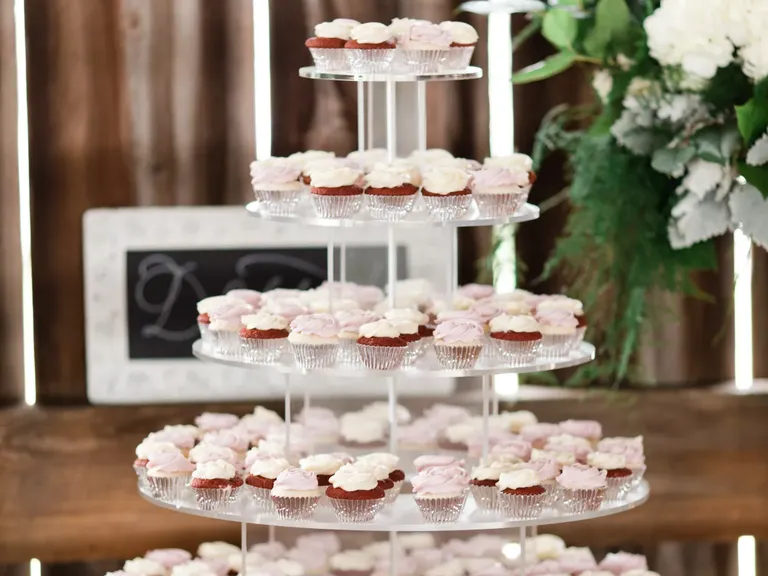 If you're looking to celebrate your wedding day in the most romantic way, these blush pink and white mini wedding cupcakes will compliment your big day perfectly. We love that these wedding cupcakes were displayed with wedding flowers, too.
Assorted Wedding Cupcake Display Table
We do agree, all you need is love. And a cupcake, of course. Displayed on clear acrylic cupcake tiers, this couple let this various assortment of gourmet wedding cupcakes speak for themself.
Simple Wedding Cupcakes With Fondant Accent
Fondant is more commonly seen on wedding cakes, but it can be used on cupcakes as well. These cupcakes were finished with little fondant accents that resembles custom seals and bore the couple's monogram.
Wedding Cupcake Assortment With Bold Flavors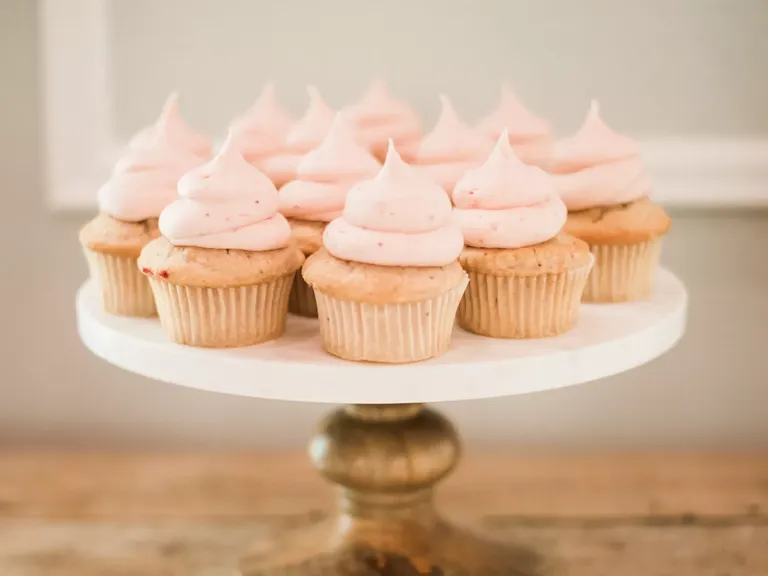 "I was most excited about the desserts," says the bride from this wedding. "I'm a big baker and a huge sweets fan, so we ended up having three types of dessert." The cupcake flavors included strawberry (seen here), red velvet and peanut butter cup.