17 Salt and Pepper Diamond Engagement Rings for a Nontraditional Look
They are perfect in their imperfections.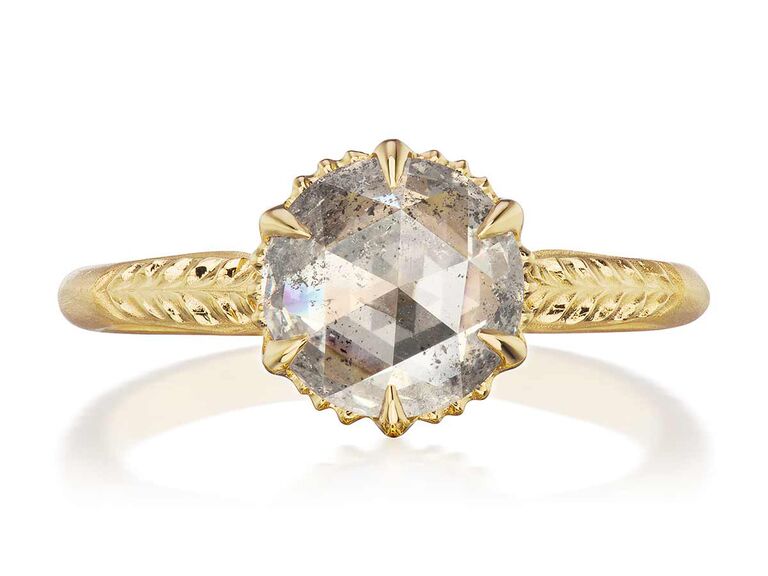 We have included third party products to help you navigate and enjoy life's biggest moments. Purchases made through links on this page may earn us a commission.
Traditional diamonds are beautiful and can certainly look unique, but if you're on the hunt for a truly unexpected sparkler, you may want to consider a salt and pepper diamond engagement ring. This ring style has plenty of character to go along with its catchy name. Gorgeous in their imperfections, the term 'salt and pepper' refers to the black and white inclusions naturally occurring in raw diamonds. Even in the most traditional settings, a salt and pepper diamond adds edgy flair.
Read on for a breakdown of everything you need to know about salt and pepper diamonds—plus editor-approved picks you can shop right now.
What Is a Salt and Pepper Diamond Engagement Ring?
Inclusions (read: internal flaws) are a natural occurrence in all diamonds, affecting their clarity. But they also create the distinct speckled look of salt and pepper diamonds. These types of precious gemstones can run the gamut from milky white to light and dark grey or black and even reddish, which gives couples a variety of options when selecting a stone.
An exceptional kind of salt and pepper diamond is a galaxy stone that, as its name suggests, is reminiscent of clusters of stars. Usually black or dark grey, a galaxy diamond features white speckles with a distinctive twinkle. And while many salt and pepper diamonds are available in a rose-cut with a flat bottom, jewelers shape some galaxy stones with a cutlet (translation: a full cut with a pointed pavilion) to enhance their brilliance.
What to Look For in a Salt and Pepper Diamond Engagement Ring
While we wholeheartedly embrace the imperfections of salt and pepper diamonds, this doesn't mean that every stone could work in an engagement ring. The reason? Certain inclusions—primarily those that are surface reaching—can make your stone more prone to damage. Inspect—or even better—have an expert check your diamond before taking the plunge.
You may also be familiar with the 4Cs that grade diamonds based on their cut, clarity, color and carat weight. In the case of salt and pepper diamonds, the 4Cs are not quite as important. You can actually entirely ignore clarity and color since the presence of inclusions and color is what makes each stone one-of-a-kind. Where cut is concerned, these stone are usually cut into fancy shapes like step cuts, rose-cuts and geometric shapes (kites and hexagons) to enhance their brilliance. More good news? A larger carat weight doesn't necessarily mean a higher price tag, making salt and pepper diamond engagement rings a budget-friendly option.
Why Choose a Salt and Pepper Diamond Engagement Ring?
Those who favor vintage, Art Deco and boho designs should consider salt and pepper diamonds for their unique beauty befitting these styles' aesthetics. If you lean towards classic ring styles, though, don't be discouraged. Solitaire and halo settings look totally chic with salt and pepper stones. Traditional oval and round cuts are readily available, too. So you really get the best of two worlds—timeless design with a unique twist.
Of course, salt and pepper diamonds are especially popular among nontraditional nearlyweds for their unconventional designs and stone cuts. But regardless of which group you belong to, by selecting a salt and pepper diamond engagement ring, you will spend the rest of your life wearing a bauble that is as unique as you and your partner.
Salt and Pepper Diamond Engagement Rings You Can Buy Now
Feeling a salt and pepper diamond engagement ring right now? Shop some of our faves below.
Sycamore Studio Petite Willow Rose-Cut Salt and Pepper Hexagon Diamond Engagement Ring
Capucinne Fine Jewelry Kite-Cut Salt and Pepper Diamond Ring with Diamond Band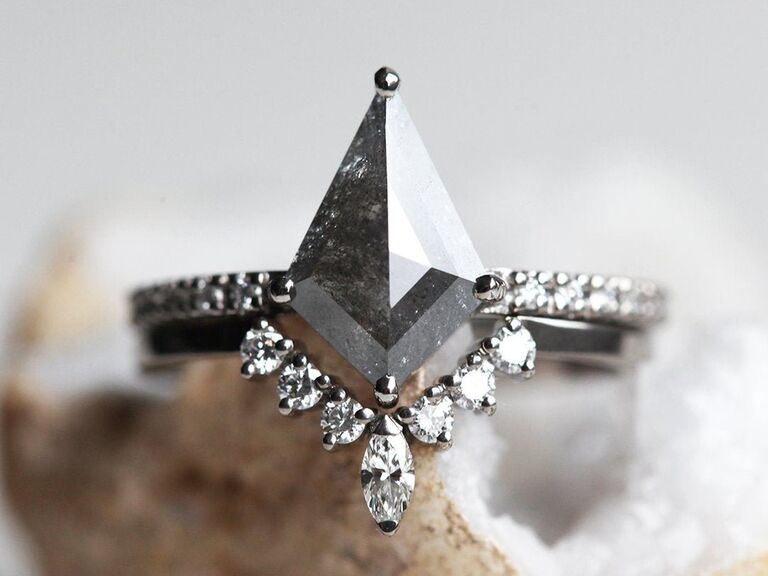 Calling all vintage lovers. The main event here is a natural kite diamond enhanced by pavé accents. A gorgeous wedding band with round and marquise stones completes this Roaring '20s-inspired design.
Digby & Iona Nico Ring
This gray diamond engagement ring is the stuff of boho dreams. The center stone is flanked by a trio of round diamonds on each side, while elaborate metalwork adorns the shank.
StagHead Designs Salt and Pepper Diamond Set on Men's Custom Cast 14K Gold Wedding Band with Antler and Wood Inlays
In the market for something rustic? Look no further. Strips of antler and wood complement a black diamond for a one-of-a-kind look.
Alexis Russell Open Cuff
Emerald and Diamond Ring
Natural gemstones and salt and pepper diamonds are a match made in jewelry heaven. Case in point? This dainty open toi et moi ring with a prong-set emerald-cut emerald and a bezel-set round natural diamond.
Laurie Fleming Ilona Ring
Classic, yet completely one-of-a-kind—that's the beauty of this salt and pepper diamond engagement ring. A traditional solitaire setting highlights a stunning rose-cut diamond. The slightly tapered 14K yellow gold band is also set with brilliant-cut diamonds for extra sparkle.
Larson 14K Rose Gold Round Salt And Pepper Diamond Ring With White Diamond Half Halo And Sidestones
A half halo of pavé diamonds accentuate a rose-cut center stone, creating a unique asymmetrical silhouette. Pair it with a pavé wedding ring to complete the look.
Melissa Tyson Misty Oval Icy Light Gray Salt and Pepper Diamond Engagement Ring
The natural white inclusions of the 2.4-carat oval center stone add dimension and personality to this solitaire sparkler. The hammered halo basket setting and yellow gold band give this effortlessly chic ring a rustic vibe.
Megan Thorne Evergreen Rose-Cut Diamond Engagement Ring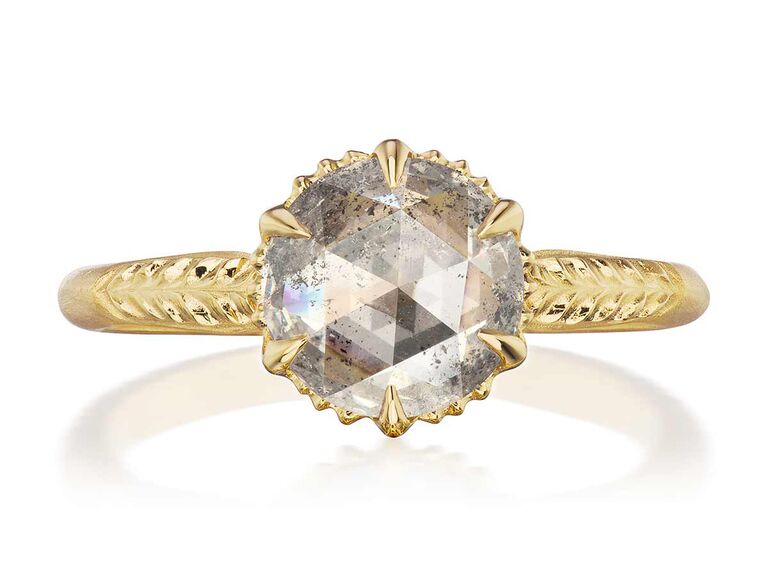 It's all about the center stone in this boho solitaire engagement ring. A round rose-cut diamond held by six prongs is subtly highlighted by delicate yellow gold trim and romantic leaf-inspired motifs on the shank.
Allurez Cushion Salt and Pepper Diamond Halo Bridal Set French Pavé in 14K White Gold
Craving some major bling? This glamorous halo engagement ring set has a whopping 61 colorless accent diamonds, complementing a sophisticated cushion-cut salt and pepper center stone.
Salt & Pepper Diamond Center Stone Engagement Ring With Diamond Accents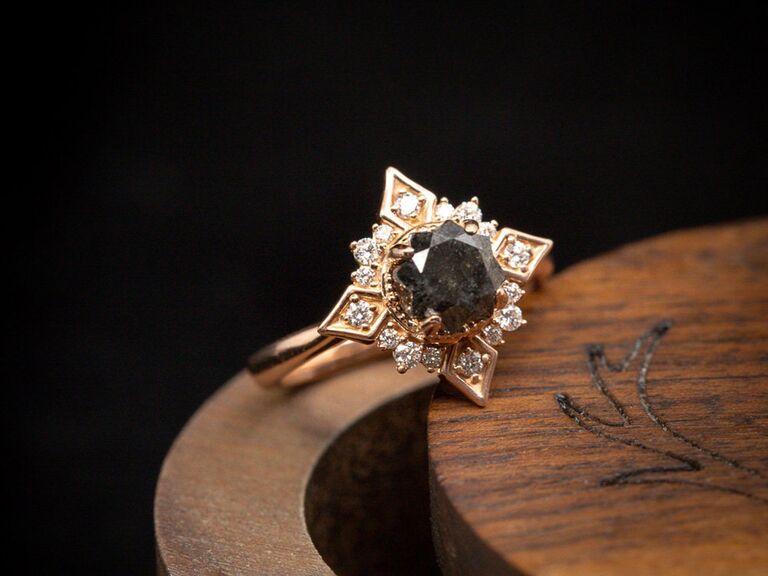 One word: stunner. This gorgeous ring features a dramatic round-cut black diamond. A starburst halo adds a vintage appeal, while a rose gold band brings the romance.
Anna Sheffield Pear Rosette Ring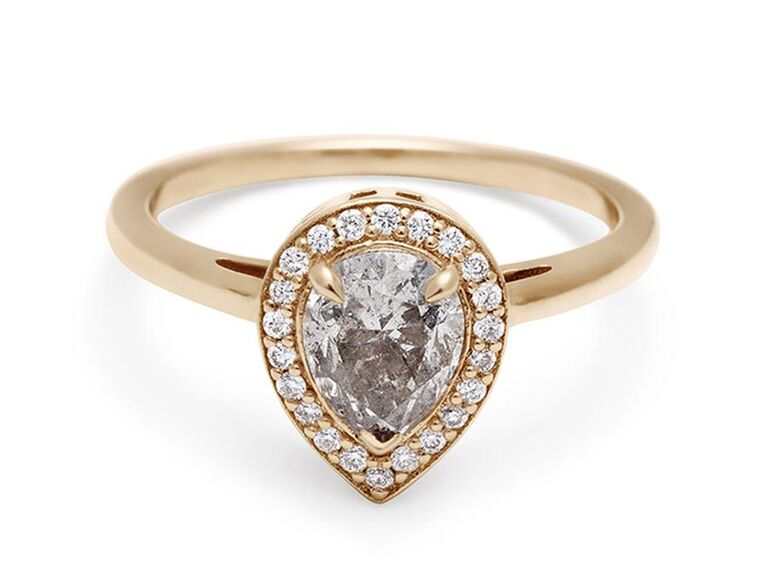 A unique brilliant-cut gray diamond highlighted by a glamorous pavé white diamond halo sits atop a sleek yellow gold band. The end result? A classic look with plenty of sparkle.
Point No Point Studio Salt and Pepper Kite Diamond Men's Wedding Band
Cast in recycled 14K yellow gold with a matte brushed finish, this classic wedding band holds a black speckled kite diamond. The stone is highlighted by two kite-shaped engravings.
Galaxy Salt & Pepper Diamond Ring
What better way to celebrate your love than with a toi et moi (that's French for "you and me") engagement ring? This beauty features two prong-set galaxy diamonds on a yellow gold band. It's a simple design full of romantic symbolism.
Sycamore Studio Morgan 1.56ct Oval Rose-Cut Salt & Pepper Diamond Engagement Ring
Marrow 2.59ct Galaxy Diamond Marquise Ring
Salt and Pepper Marquise Cut Engagement Ring
A 1.25-carat salt and pepper marquise diamond steals the show in this Victorian-inspired engagement ring. The striking gemstone is accented by a halo of pavé diamonds that continue onto the band's shoulders. Bonus: This ring design is available in a wide range of sizes as well as white, yellow and rose gold.