20 Rose Cut Diamond Rings With Vintage Flair
Give a nod to a bygone era with this antique diamond cut.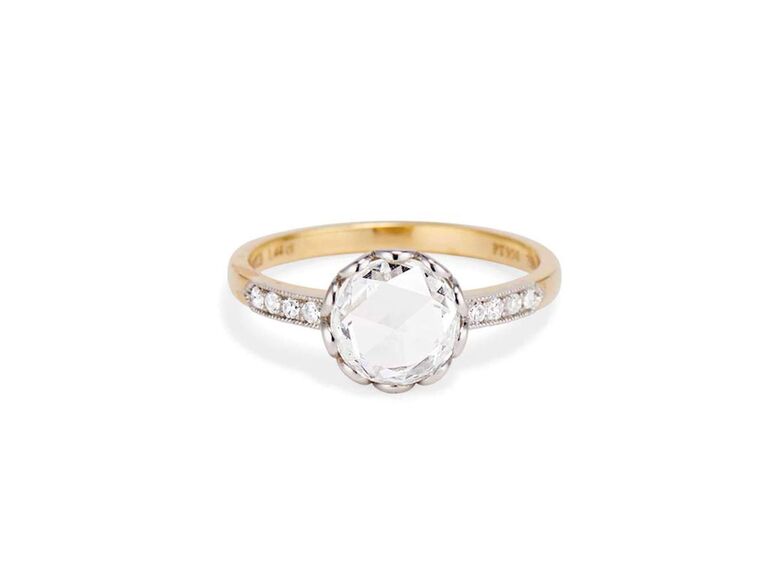 Courtesy of Erstwhile
We have included third party products to help you navigate and enjoy life's biggest moments. Purchases made through links on this page may earn us a commission.
Calling all old souls: This antique diamond cut is all about nostalgic romance. Created in the 1500s and meant to shimmer by candlelight, rose cut diamonds have a natural heirloom quality. Whether you're obsessed with vintage style, you're looking for an unexpected diamond shape or an alternative center stone, a rose cut diamond engagement ring could be the sparkler for you. Read on to learn the rich history behind this antique diamond cut—plus shop editor-approved rose cut engagement rings you can add to your cart right now.
What Is A Rose Cut Diamond?
The origins of rose cut diamonds date all the way back to the 1500s, when diamond faceting tools were invented. European diamond cutters created rose cut diamonds shortly thereafter, and they remained popular until the old mine cut and old European cut emerged in the 1700s and 1800s. Rose cut diamonds have a flat bottom, a domed top and resemble the shape of a rose bud (hence their name). They have anywhere from just three to 24 facets, as compared to a round brilliant cut diamond's 58 facets. Since these antique diamonds have fewer facets and lack the pavilion (read: the pointy, conical bottom) of modern cuts, rose cut stones tend to have a glassy luster as opposed to the brilliant sparkle of other diamond cuts. They also tend to have a low profile due to their flat bases and sit low on your finger, making them a practical option for active to-be-weds. Fun fact: Rose cut diamonds are still carved by hand and not machine cut, unlike the modern diamonds in most contemporary jewelry.
What To Look For In A Rose Cut Diamond
As a general rule, you should pay attention to the GIA or AGS certificate when shopping for diamonds. However, with antique diamond cuts like rose cut diamonds, finding a stone that suits your personal preference should be the focus. While the 4 C's don't always apply to vintage diamond cuts, it's important to note that rose cut diamonds in particular have larger facets and are more transparent than other diamond cuts, meaning they tend to show blemishes and inclusions. If a flawless stone is important to you, look for a rose cut diamond with a higher clarity grade.
On the other hand, if you're into the vintage look of a stone with internal characteristics (think: salt and pepper diamonds or icy diamonds), the stone's clarity grade is much less important. The same goes for the color grade. It's rare to find a colorless rose cut diamond, and in many cases, a warmer stone or one with alternative colors adds to the stone's unique appeal.
Another pro of this antique cut? Rose cut diamonds give you more bling for your buck. Contrary to popular belief, the 'carat' of a diamond refers to its weight, not its size. Since rose cut diamonds have a flat bottom, their carat weight shows on the face of the stone, and they tend to look larger than round brilliant cut diamonds of the same carat weight.
Rose Cut Diamond Rings You Can Shop Now
Feeling a rose cut engagement ring now? Shop some of our fave ring styles below.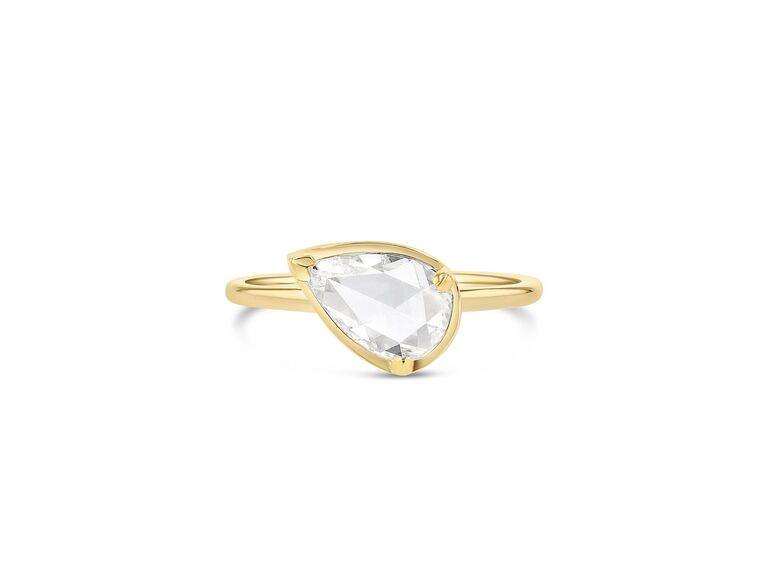 Due to their flat base and customizable facets, rose cut diamonds can be cut into a wide variety of diamond shapes. This striking solitaire ring gives you the unique shape of a pear diamond plus the romantic luster of a rose cut.
Grace Lee Pear rose cut ring in yellow gold, $7,880, GraceLee.com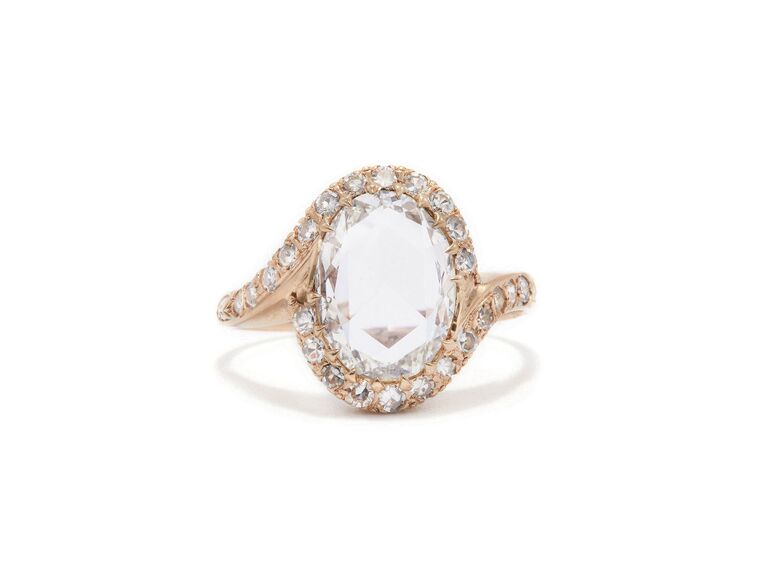 Both something old and something new, a vintage halo setting circa 1940 sets off the glassy glow of a striking 2.12 carat rose cut diamond center stone.
Ashley Zhang Rose cut diamond ring in rose gold, $12,000, AshleyZhangJewelry.com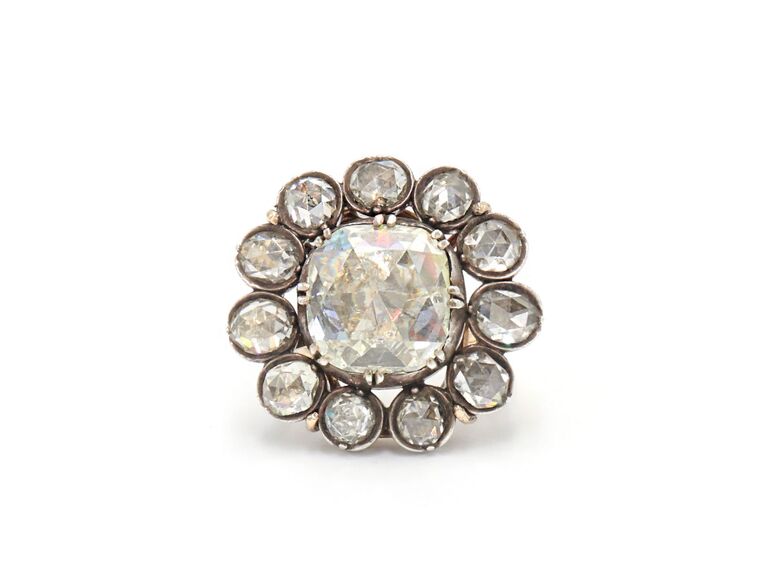 Jane Austen fans, prepare to swoon. Dating back to the Georgian era, this cluster ring features an impressive over 4 carat rose cut diamond surrounded by 11 smaller rose cut stones.
Fred Leighton Antique rose cut diamond button cluster ring in silver topped yellow gold, $195,000, FredLeighton.com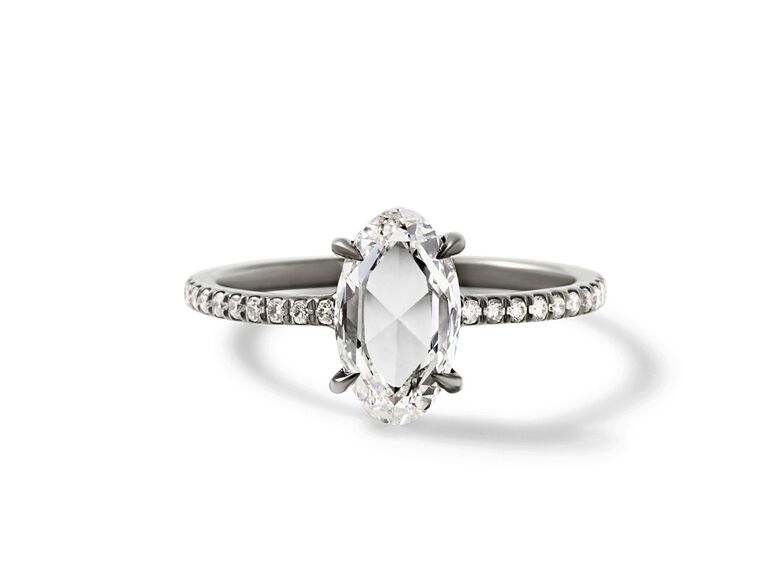 If you're looking for a rose cut diamond with a modern edge, look no further. A streamlined, blackened gold setting makes a antique diamond cut feel contemporary.
Eva Fehren The Rosecut Eclat 18K blackened white gold with white diamonds, $12,350, EvaFehren.com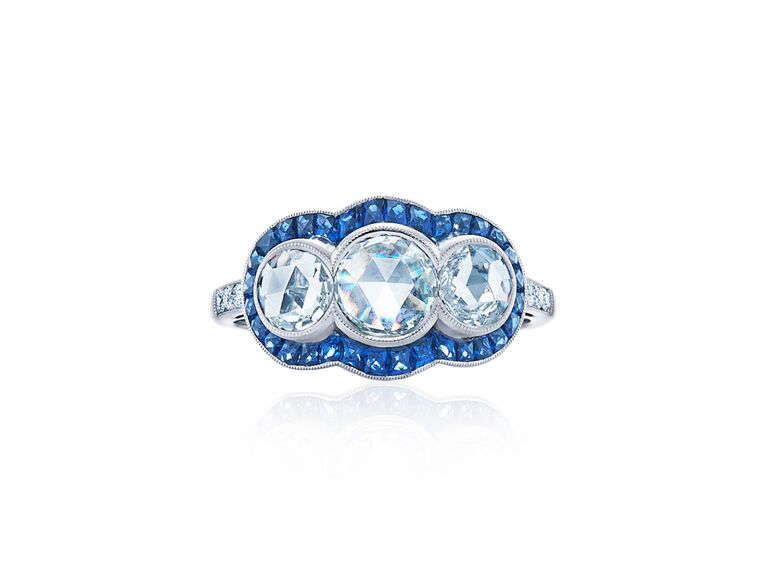 This vintage-inspired ring is an heirloom trifecta: a three stone setting, rose cut diamonds and blue sapphire accents.
Kwiat Three rose cut round diamonds and a sapphire halo in platinum, from $3,900, Kwiat.com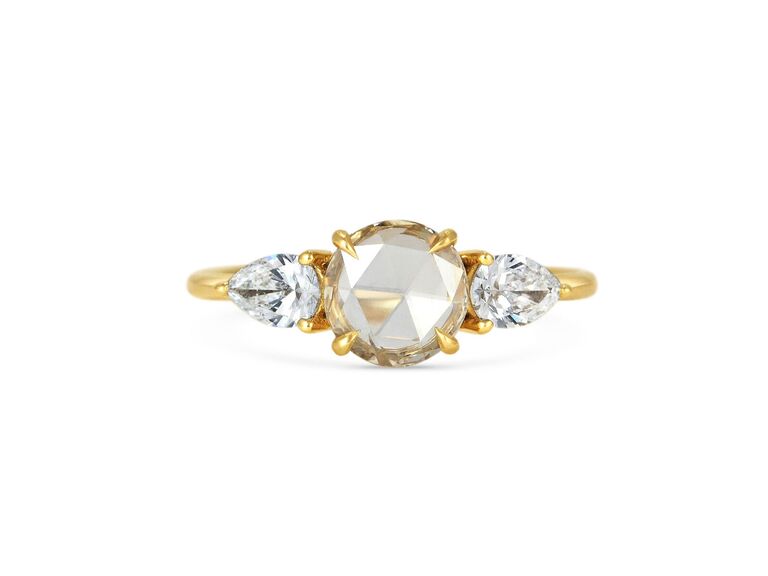 Three stone rings are one of the hottest ring trends of 2021 for a reason: They're traditional but still offer lots of room for customization. Case in point, this rose cut round diamond flanked by pear brilliant cut diamonds.
Michelle Oh Daisy bespoke rose cut engagement ring in yellow gold, Inquire for pricing, Michelle-Oh.com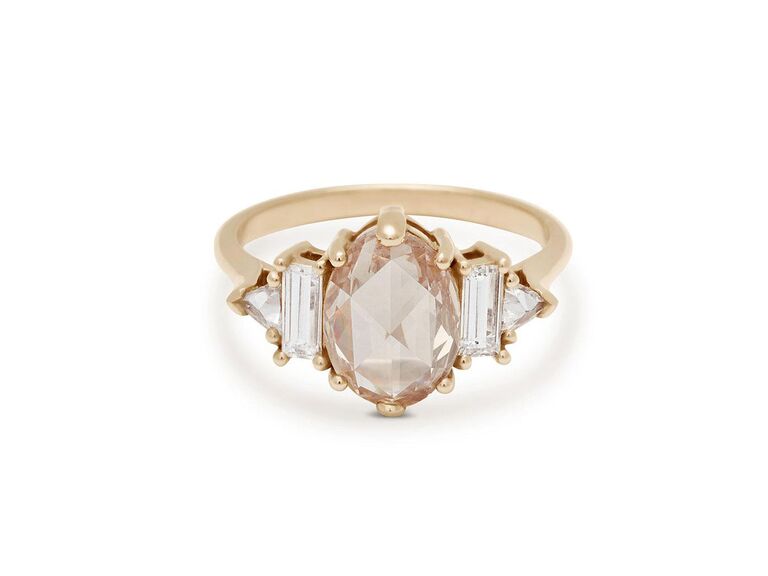 A champagne-tinted rose cut diamond plays up the whimsical feel of this boho-glam sparkler.
Anna Sheffield Theda rose cut oval champagne diamond in 14K recycled yellow gold, Inquire for pricing, AnnaSheffield.com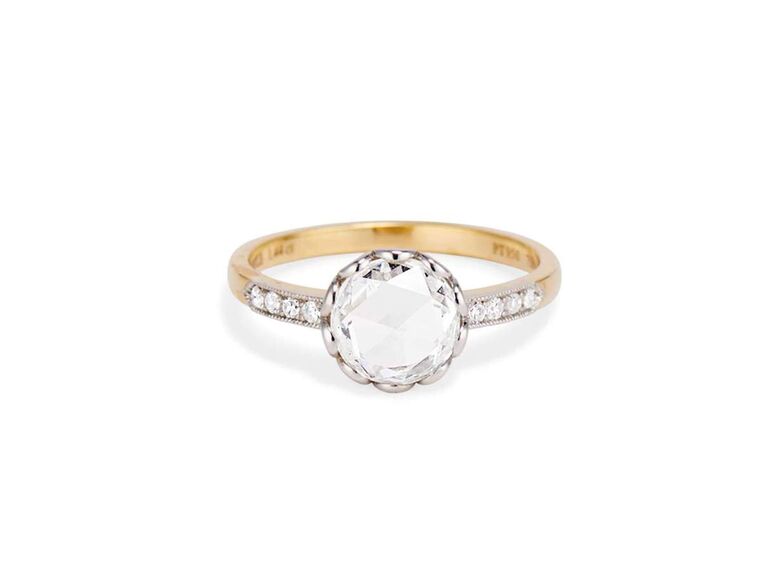 One of the best things about antique diamond cuts? Their one-of-a-kind luster. A simple setting with a delicate band puts the focus on a stunning center stone.
Erstwhile Always and 1.2 rose cut diamond engagement ring in 18K yellow gold, $12,800, ErstwhileJewerly.com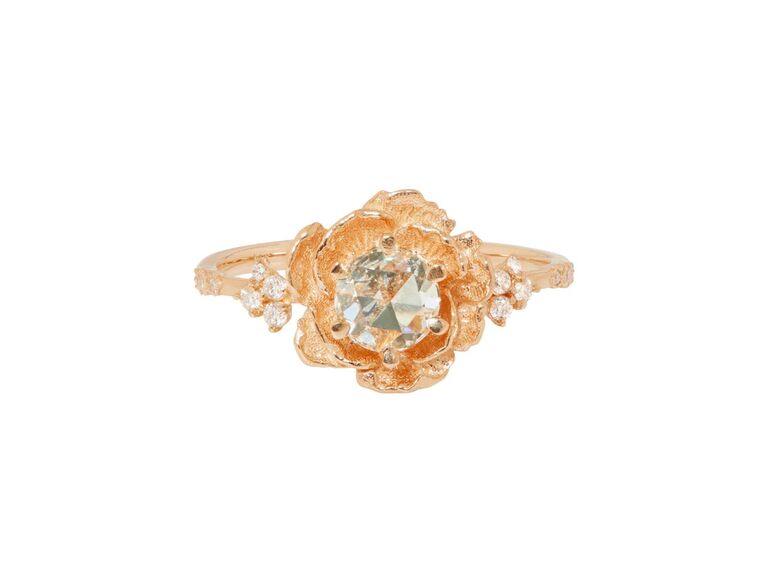 This floral ring takes the phrase "all roses" literally. It features a rose cut diamond center stone, a rose-inspired setting and (of course) rose gold.
Sofia Zakia Paeonia diamond ring with rose setting in 14K rose gold, $2,850, CatbirdNYC.com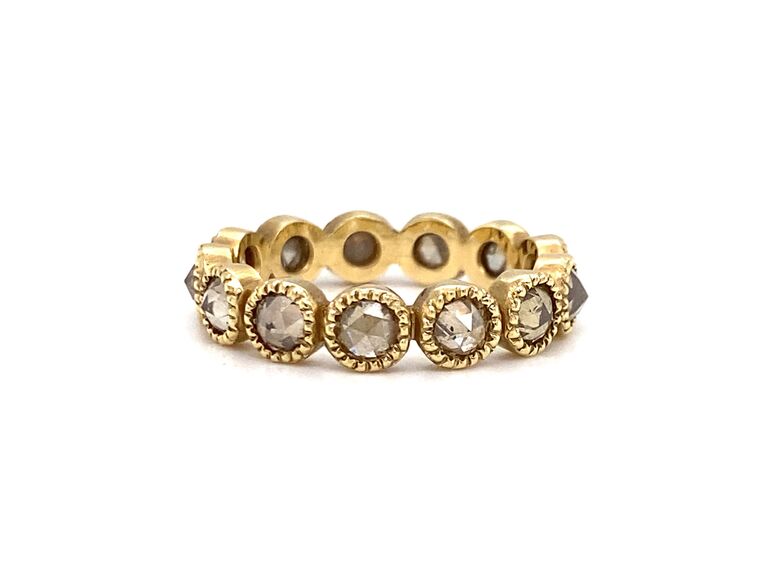 Champagne rose cut diamonds give this eternity band an artisanal vibe. Pair it with similarly rustic rings for an eclectic stack.
Sylva & Cie Champagne rose cut diamond band, $9,000, LesleyAnnJewels.com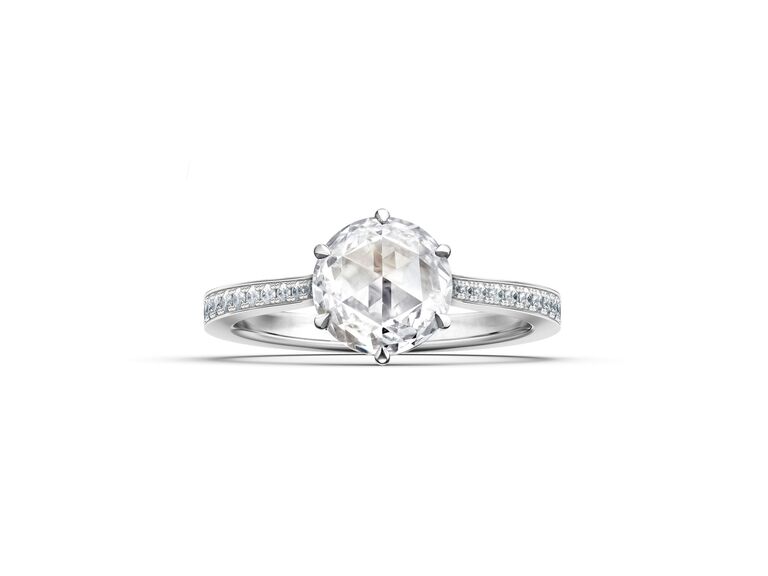 It doesn't get more timeless than a solitaire engagement ring in white metal.
Harvey Owen Hoxton rose cut diamond solitaire ring in 18K white gold, Inquire for pricing, HarveyOwen.com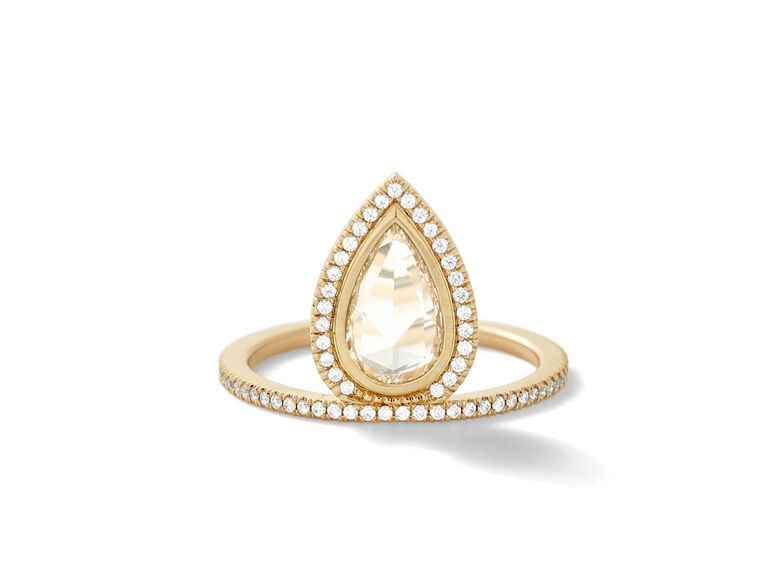 Opulent but not ostentatious, this pear shaped rose cut champagne diamond in a white diamond-encrusted bezel setting is all about shimmer.
Eva Fehren The Gatbsy 18K rose gold with white diamonds, $13,250, EvaFehren.com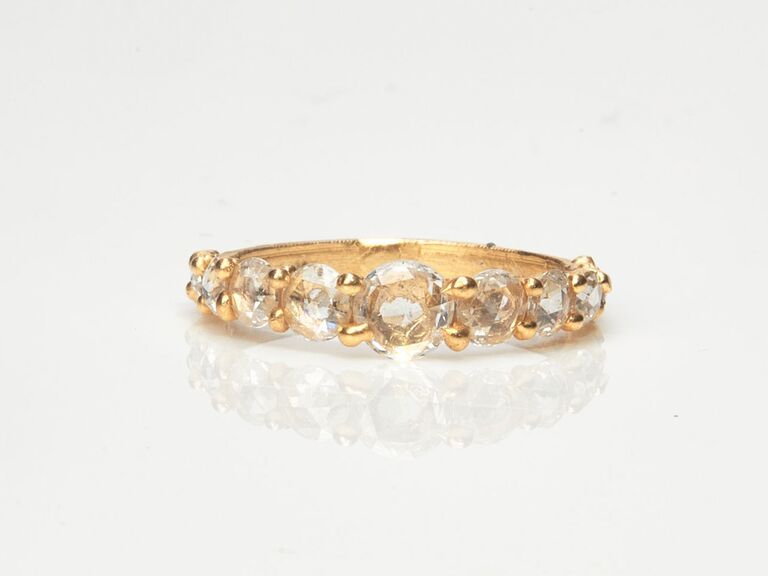 Love the look of blinged out wedding bands? Go for one with rose cut diamonds of varying sizes to set yourself apart from the crowd.
Kelty Pelechytik Rose cut diamond band $6,400, KeltyPelechytik.com
Thanks to their shallow cut, rose cut diamonds show off internal characteristics more than other modern cuts, making them an excellent choice for salt and pepper stones.
Niza Huang Pear cut grey diamond and small white diamond ring in 18K yellow gold, Inquire for price, NizaHuang.com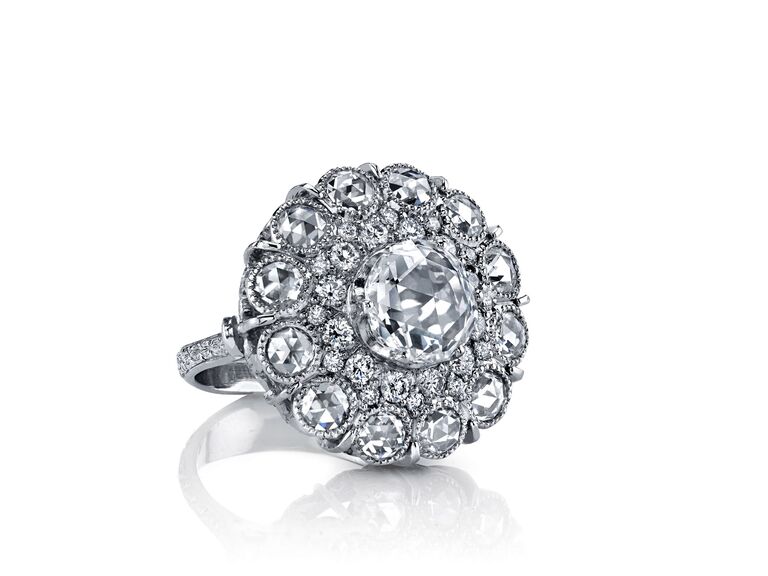 Real talk: Rose cuts can be subtle, but they don't have to be. This cocktail-inspired ring with an impressive double halo is sure to turn some heads.
Arman Sarkisyan Platinum cupcake ring with rose cut diamonds, $83,200, ArmanSarkisyan.com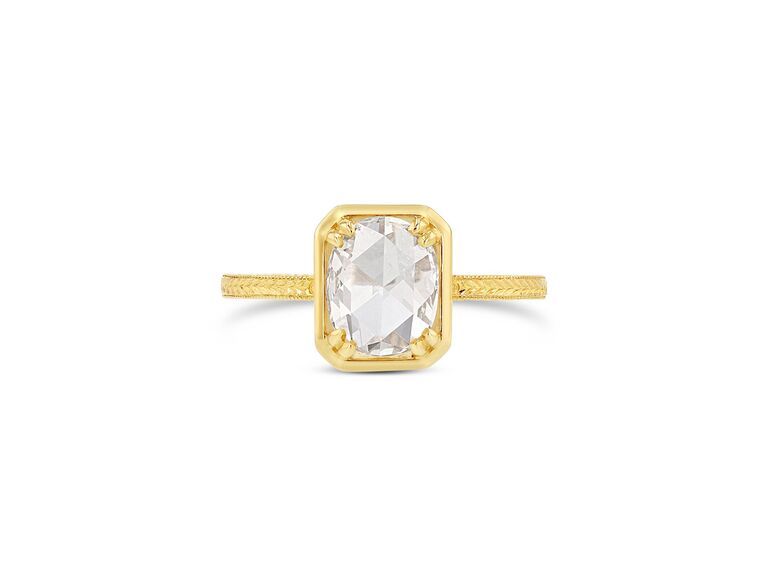 There's nothing expected about this solitaire setting. An octagonal bezel creates a cool contrast with an oval rose cut diamond.
Grace Lee Oval rose-cut diamond octagonal bezel ring with engraved band, $7,880, GraceLee.com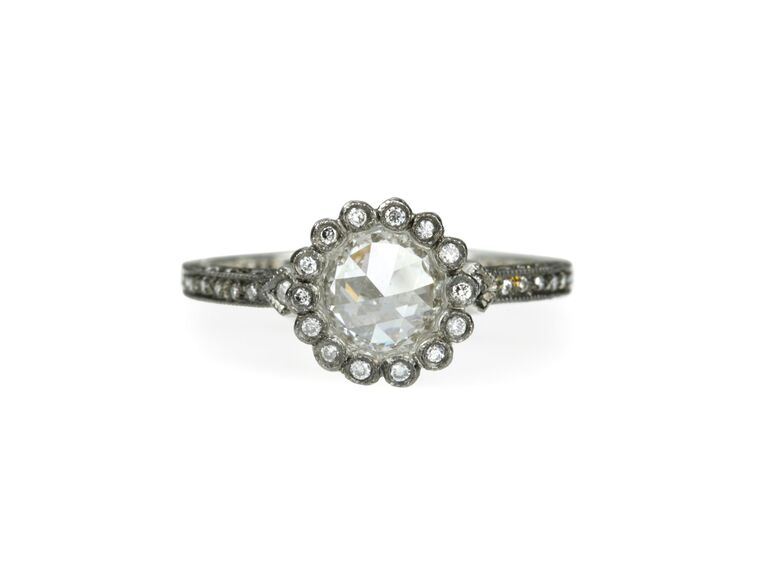 It's all in the details. An intricate platinum setting gives this bespoke rose cut engagement ring with a scalloped halo an old fashioned feel.
Cathy Waterman Bespoke rose cut engagement ring, Inquire for pricing, PeridotFineJewelry.com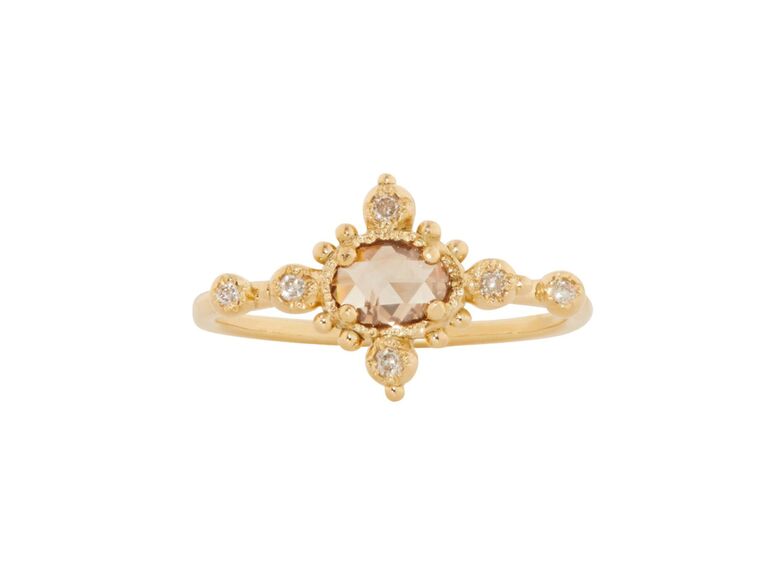 The best of both worlds, this intricate ring can be worn as a statement piece or paired with a diamond tiara band.
Rusty Thought Shelley brown rose cut diamond ring in 18K yellow gold, $2,540, CatbirdNYC.com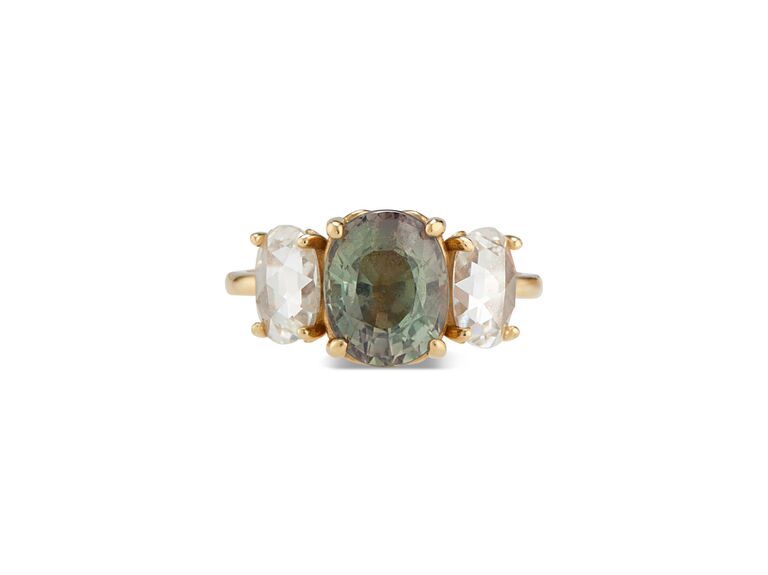 Another thought? Rose cut diamonds also make gorgeous accent stones. The ones in this three stone ring perfectly complement an oval olive green sapphire.
Kendra Pariseault Olive green sapphire and rose cut diamond ring, $15,000, KendraPariseaultJewelry.com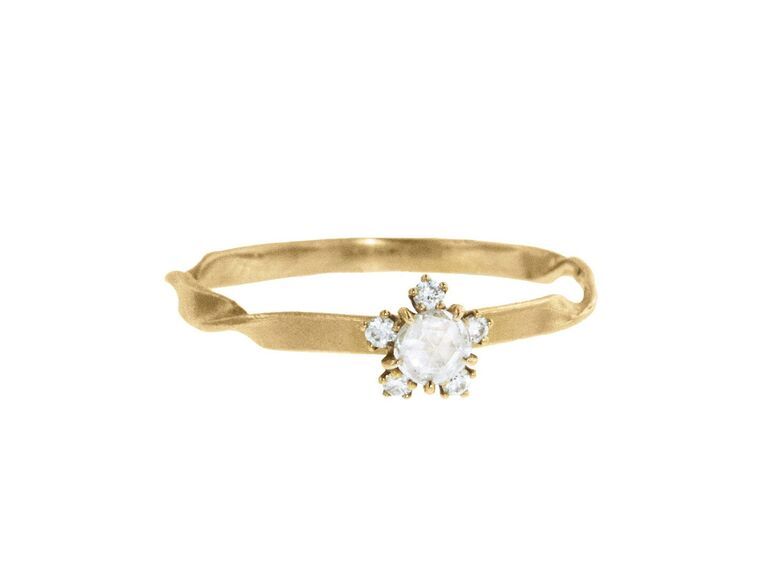 Sometimes less is more. This dainty rose cut sparkler is budget-friendly—but big on personality.
Kataoka Rose cut diamond on twisted band in 18K beige gold, $2,380, YLANG23.com