22 Bohemian Engagement Rings For One-of-a-Kind Brides
These alternative sparklers are as unique as you are.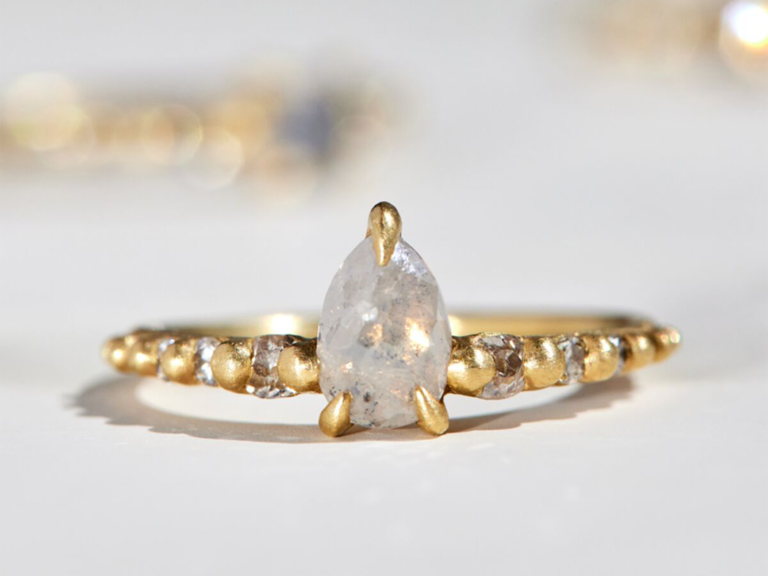 We have included third party products to help you navigate and enjoy life's biggest moments. Purchases made through links on this page may earn us a commission.
While classic round-cut diamond engagement rings in solitaire settings are stunning—they aren't for everyone. If you're in the market for a more nontraditional sparkler that reflects your boho personal style, we've got you covered. From colorful center stones to ornate vintage-inspired settings, bohemian engagement rings come in a wide variety of styles. The major overarching theme? They're unexpected—and totally chic. Read on for expert tips on what to look for in a boho sparkler—plus editor-approved picks you can add to your cart right now.
What Is a Bohemian Engagement Ring?
"When I think of a boho style engagement ring I think of something gold, not flashy, and with unique details," says Ashley Zhang, jewelry designer at Ashley Zhang Jewelry. "There are a lot of unique details in antique rings such as engravings, floral motifs and enamel. These antique rings often feature unique and one-of-a-kind diamonds." So, the best way to think about a boho engagement ring? Something totally off-the-beaten path that none of your friends have. "It has an unconventional quality to it, for the woman who is wild at heart and dances to the beat of her own drum," describes Jacquie Aiche, jewelry designer at Jacque Aiche. "It can use an alternative gemstone (rather than the classic diamond) or mix shapes and colors." A boho ring typically steers clear from anything traditional, like a round solitaire diamond on a yellow gold band. Instead these sparklers incorporate unique elements that aren't typically seen on engagement rings.
What to Look For in a Bohemian Engagement Ring
"If you are looking for a vintage or antique boho style ring, don't get too caught up on the specs of the center diamond," recommends Zhang. "These rings are old and in true boho style embrace the perfect balance of beautiful meets imperfection and age." Aiche says that the defining characteristic of bohemian engagement rings and wedding rings are their unique nature. "Boho engagement rings can have a very special feeling. Everyone's taste and style is so different. When you find the one you love that is meant for you, you'll know," says Aiche.
Why Choose a Bohemian Engagement Ring?
Off the beaten path is the name of the game when it comes to boho sparklers. "These rings are for the type of person who wants a ring that cannot be found anywhere else. A truly one-of-a-kind find," says Zhang. "If you're looking for something that's less traditional and more playful, the bohemian style would be perfect for you," says Aiche.
Bohemian Engagement Rings You Can Buy Now
Feeling a bohemian engagement ring right now? Shop some of our favorite styles below.
Ashley Zhang Art Deco Old European-Cut Green Target Ring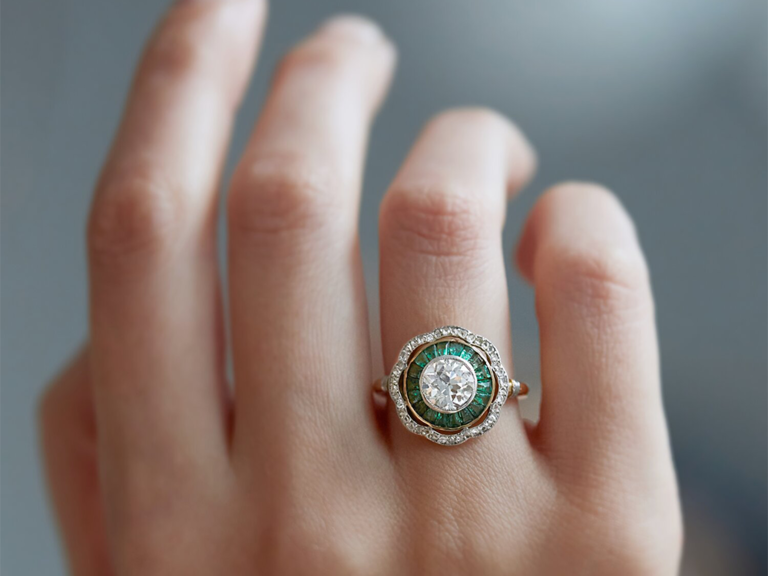 There are a plethora of unique elements to this engagement ring. From the emerald gemstones that surround the old European-cut diamond to the floral-inspired glass stone halo, this ring is anything but average.
Jacquie Aiche Ruby Oval Ring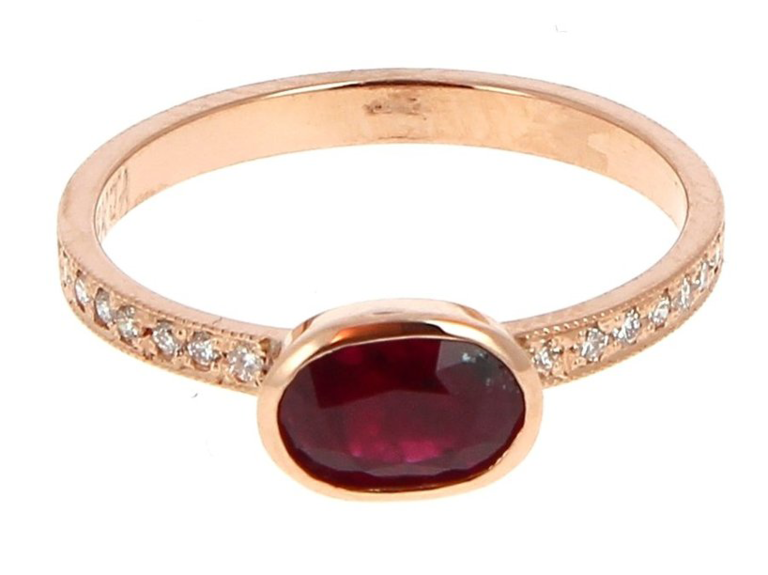 This east-west set ruby red center stone is certainly a show stopper. The tiny diamond accents on the pink gold band add a hint of sparkle to a one-of-a-kind ring.
Joie de Viv Gabriela Triple Diamond Ring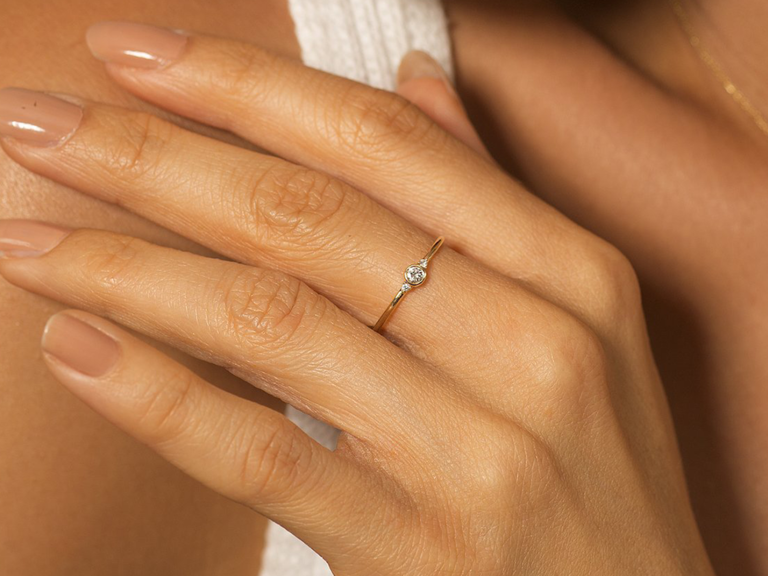 This rose gold sparkler proves size doesn't matter when it comes to engagement rings. This hand-set round-cut diamond is accented by two side stones creating a delicate and romantic effect.
Polly Wales Purus Halo Ring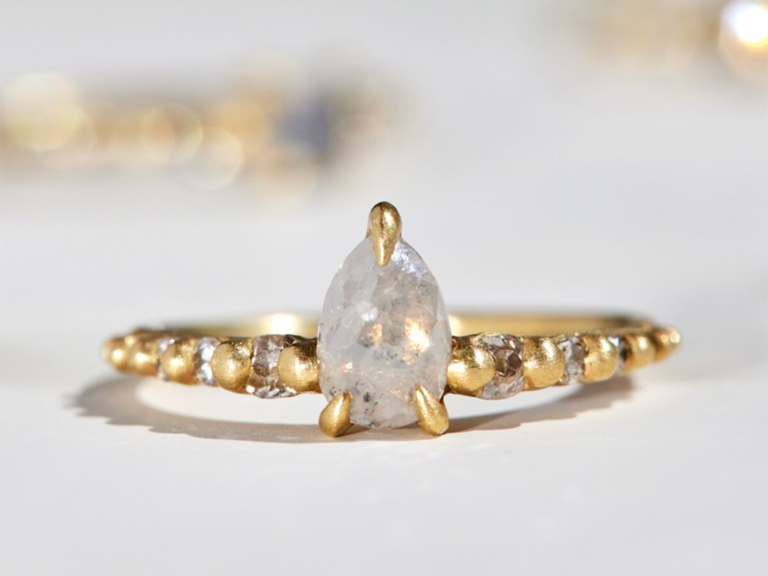 The imperfections of this ring are what make it stand out. The cloudy white pear diamond center stone is the focal point of this engagement ring, which is set on a solid 18k gold band adorned with white brilliant diamond side stones.
Dana Bronfman Light Blue Long Hex Sapphire Steps Ring
With so many unique elements, it's hard to know which to admire first. From the light blue sapphire's elongated hexagon shape to the tapering tiers sprinkled with pavé diamonds, this engagement ring is the epitome of a showstopper.
Kataoka Iris Marquise Ring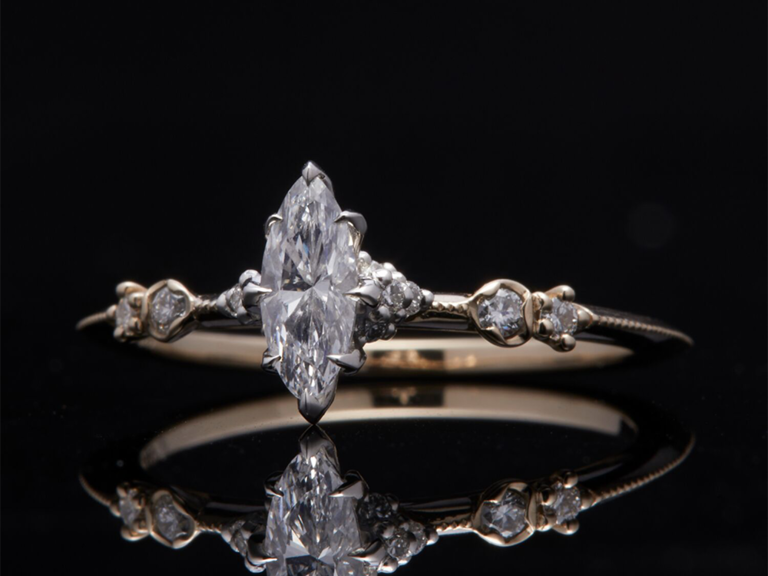 This ring is dainty but full of surprises. This marquise-cut center diamond is set on an 18k white gold band by prongs that feature a creative motif that is second to none.
Gemvara Fanaye Ring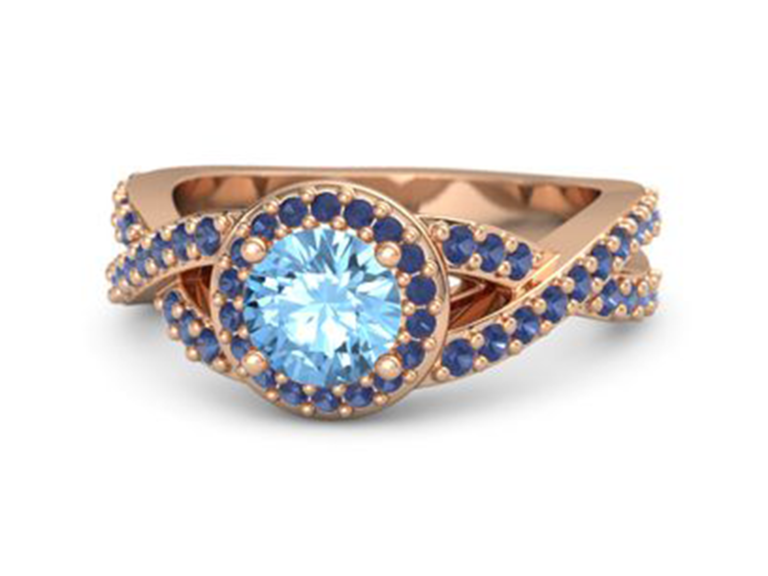 If you want a ring that's totally out-of-the-box, look no further. This fresh blue topaz center stone set on a 14k rose gold twisted band adorned with sapphire gemstones is definitely worth a look.
Dana Bronfman Three Emerald Steps Ring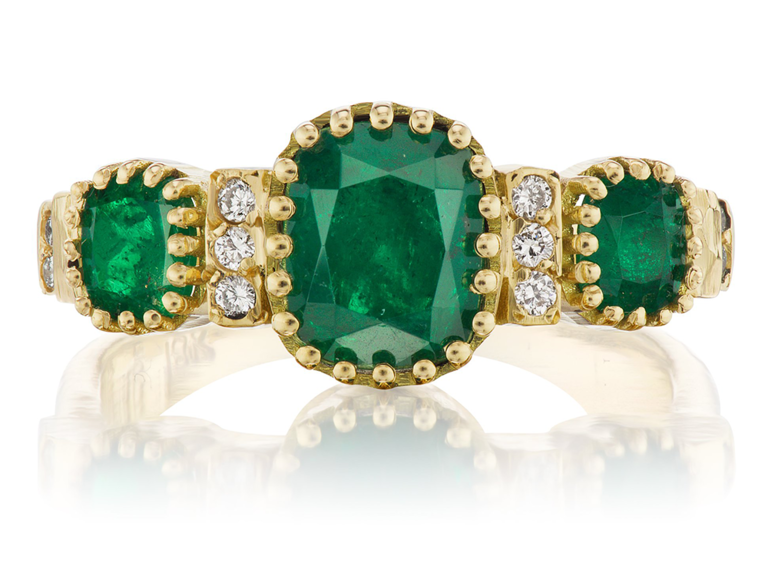 This vibrant sparkler is all about unexpected color and details. The only part of this ring more remarkable than the trio of cushion-cut emeralds divided by rows of pavé diamonds is the pronged bezel setting.
Sarah Hendler Shirley 18k Yellow Gold Topaz Diamond Ring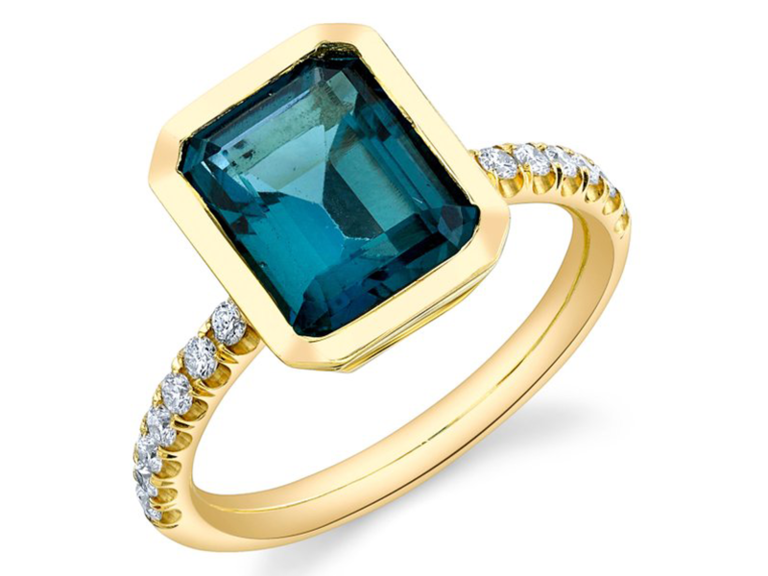 Talk about an attention-grabbing rock. This 3.6-carat blue topaz center stone is enough to take anybody's breath away. The best part? It won't break the bank.
Anna Sheffield Eleonore Delicate Pavé Ring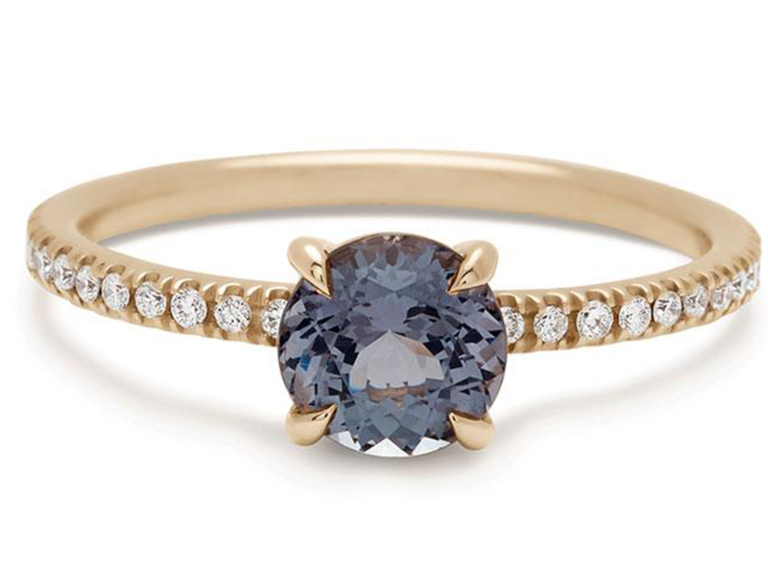 If flashy bling isn't your style, it doesn't have to be. The understated grey spinel center is set in recycled gold so you can promote sustainability and your engagement at the same time.
KATKIM Emerald Diamond Trace Pavé Ring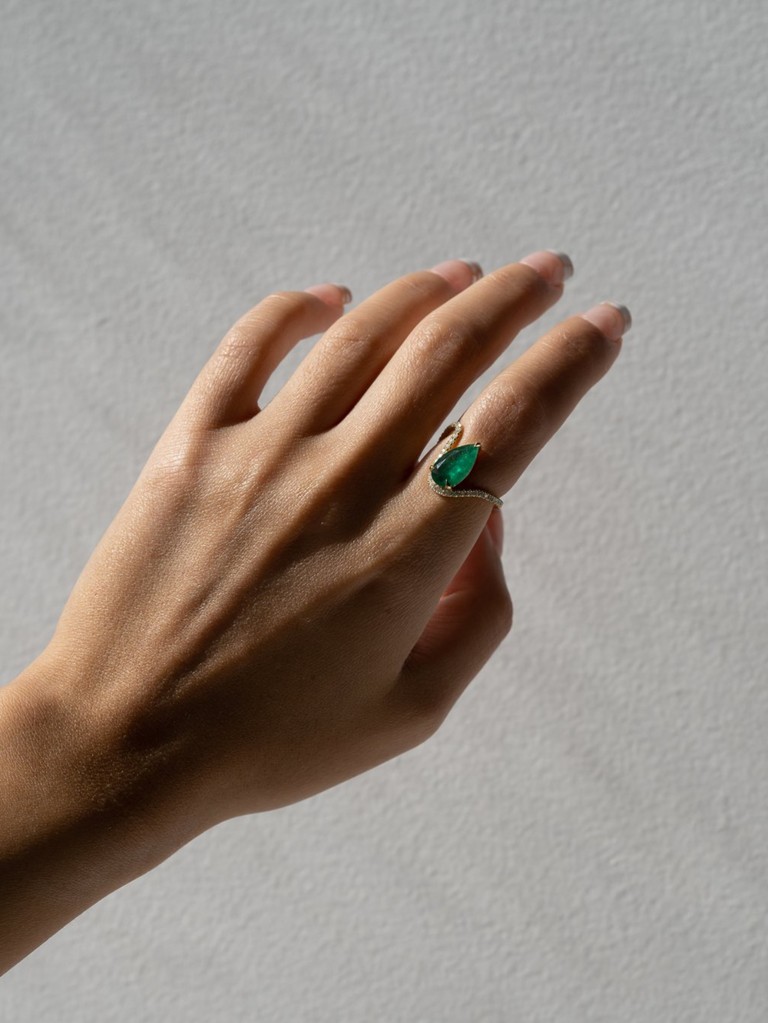 Get ready to turn some heads. This ultra-modern ring takes creativity to the next level with its elegant diamond band that showcases the ring's crowning feature—a floating pear-cut emerald gemstone.
Brilliant Earth Nouveau Diamond Engagement Ring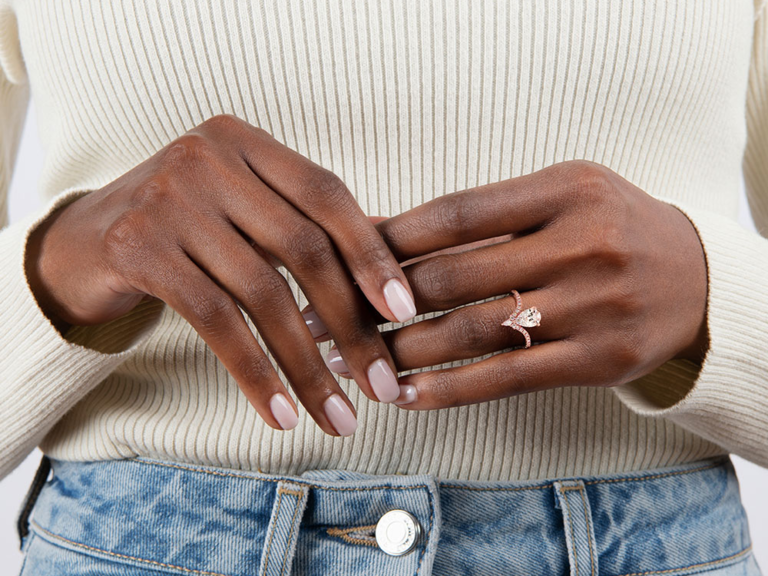 Opt for a chevron-shaped band instead of a traditional round one if you want something super unexpected. Adorned with pavé diamonds and topped off with a round center-cut stone beneath the band, this sparkler is bound to be a compliment magnet.
Pamela Love Keres Ring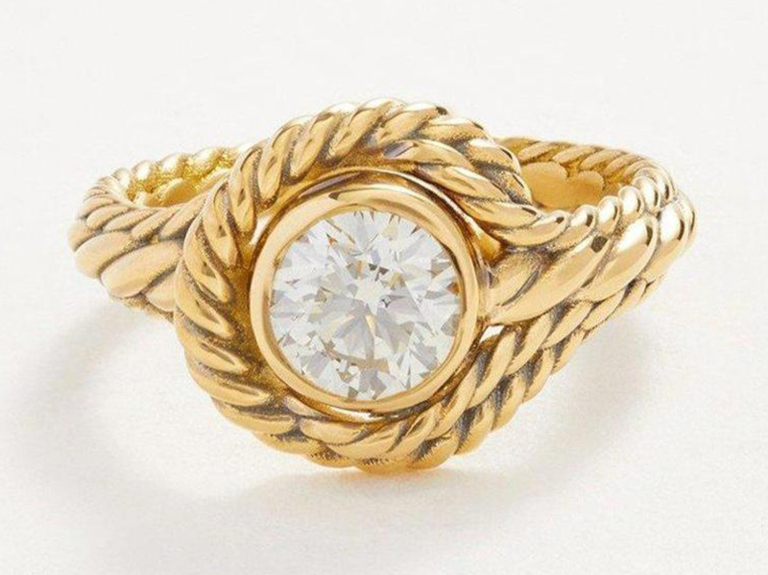 This textured band is made from recycled gold and its center diamond was ethically mined, so you can rock this ring in style knowing its sustainable history.
Mejuri Italic Cluster Ring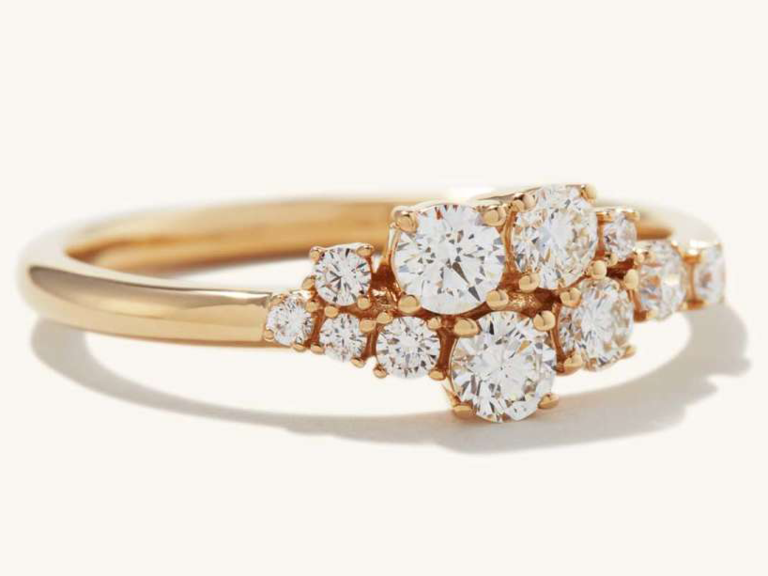 Does this uniquely set cluster ring made of diamonds look familar? That's because pop star Ariana Grande wears a similar style.
Anna Sheffield East/West Marquise Bezel Rosette Ring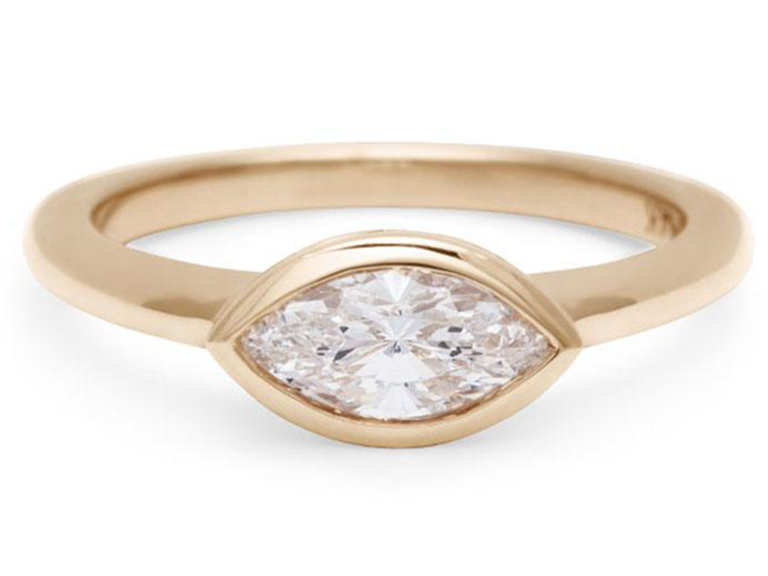 A center stone set horizontally on the band isn't something you see every day, so it's sure to stand out. The marquise-cut diamond set on a yellow gold band is stunning in its simplicity.
KATKIM Pearl Crescendo Ring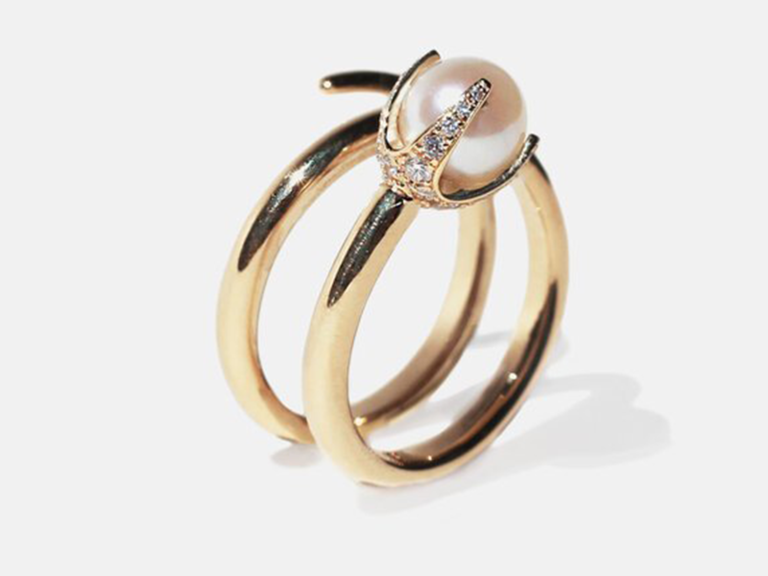 Put the center stone on the pedestal it deserves with this 18k gold band that wraps around the finger, giving the Ayoka pearl a wow-worthy moment.
Ashley Zhang Sofia Old European-Cut Diamond Cluster Ring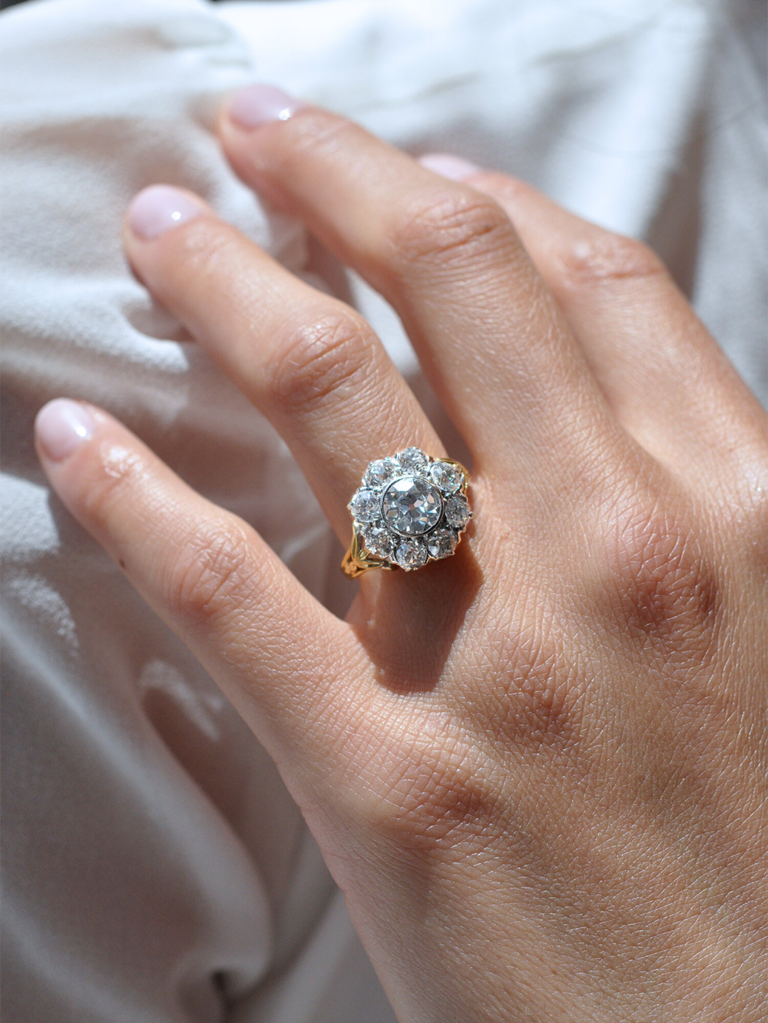 Bling bling! Not only is the center round-cut diamond 1.2 carats, but the surrounding clustered diamonds total 1.6 carats. Set in 14k yellow gold and platinum, be prepared to blind a few passersby while donning this rock.
Oscar Heyman Platinum Cat's Eye Moonstone Diamond Ring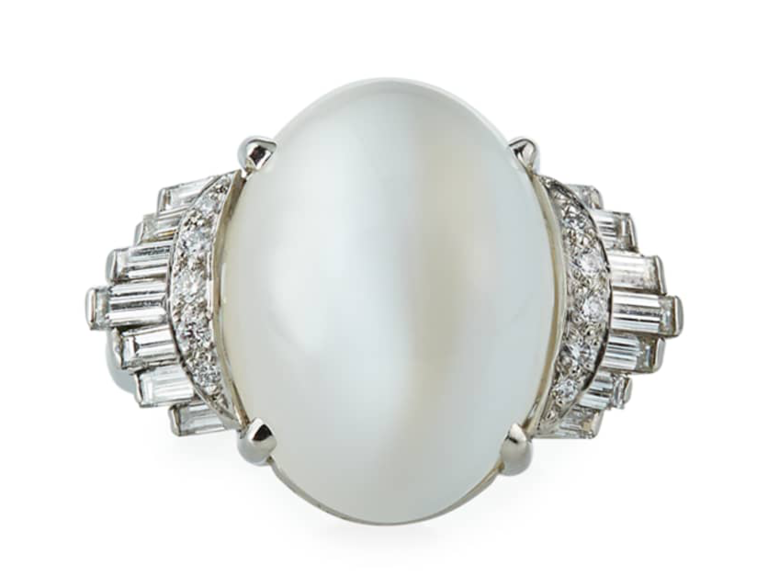 The name of this stone—cat's eye moonstone—is awe-inducing even of itself. Add the baguette and round-cut diamonds that encircle the center stone paired with the polished platinum band, and you've got yourself a dream ring.
Kwiat Yellow Cushion-Cut Diamond Engagement Ring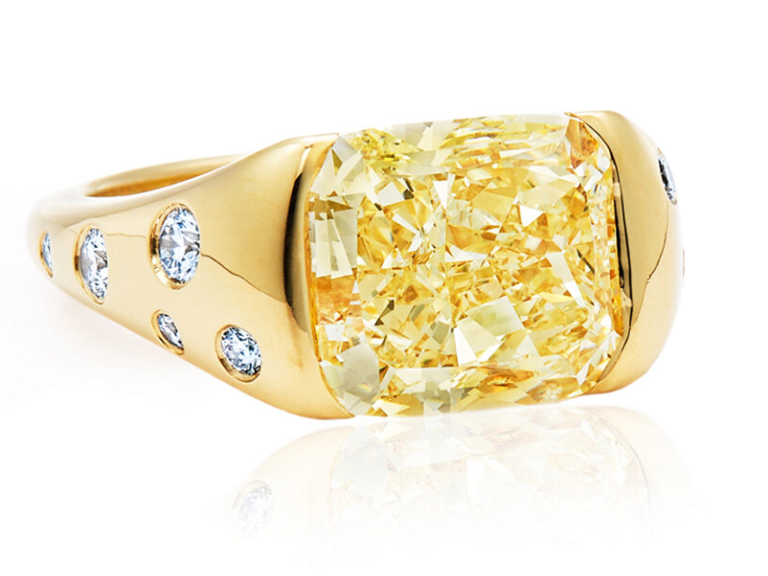 You don't have to go understated to pull off boho style. If nothing has been quite ornate enough for you, this ring complete with a yellow cushion-cut diamond set in an east-west semi bezel setting and wide, yellow gold band accented with diamonds should do the trick.
Nora Kogan Desiree Ring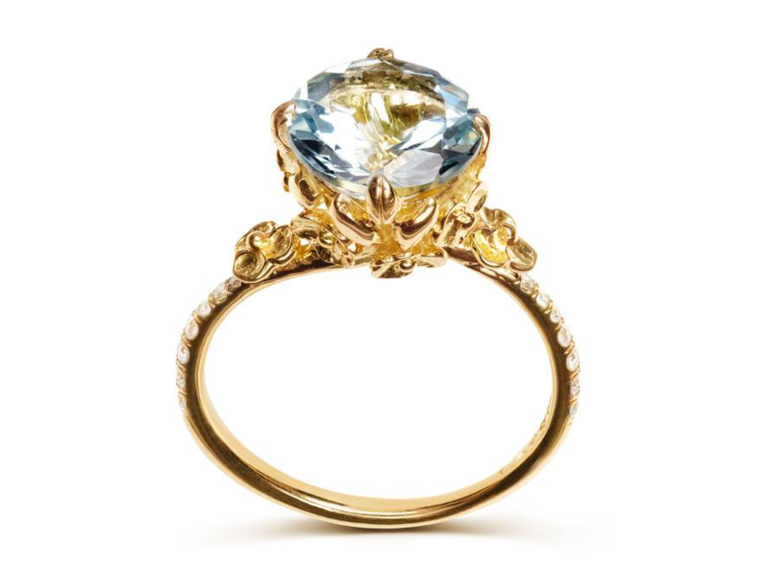 If you thought the aquamarine center stone was the only attention-grabbing element on this ring, you're sorely mistaken. The craftsmanship of the pansies and leaves in 14k solid gold are truly a sight to behold.
Minka Jewels 3-Way Yellow Sapphire and Diamond Ring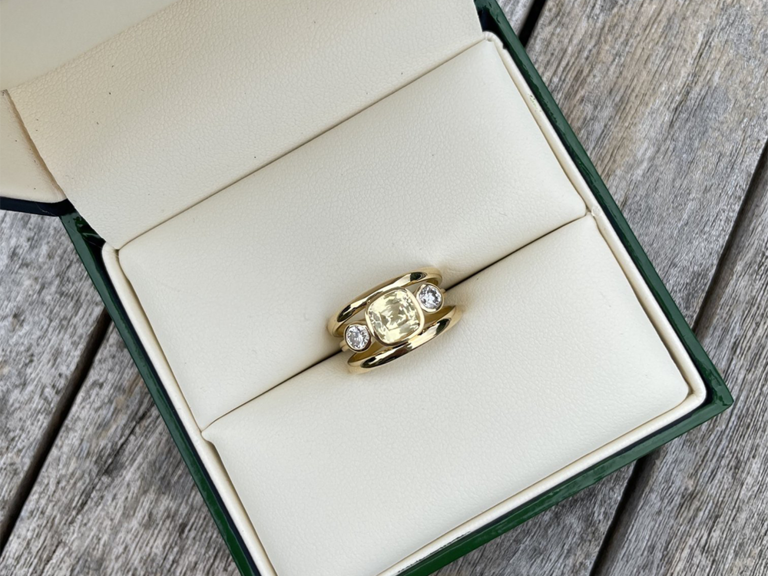 Why limit yourself to one band when you can have three on the same ring? Between the trio of 18k yellow gold rings and yellow, cushion-cut, Sri Lankan sapphire, you won't be able to look away.
Grace Lee Ruby Rose Ring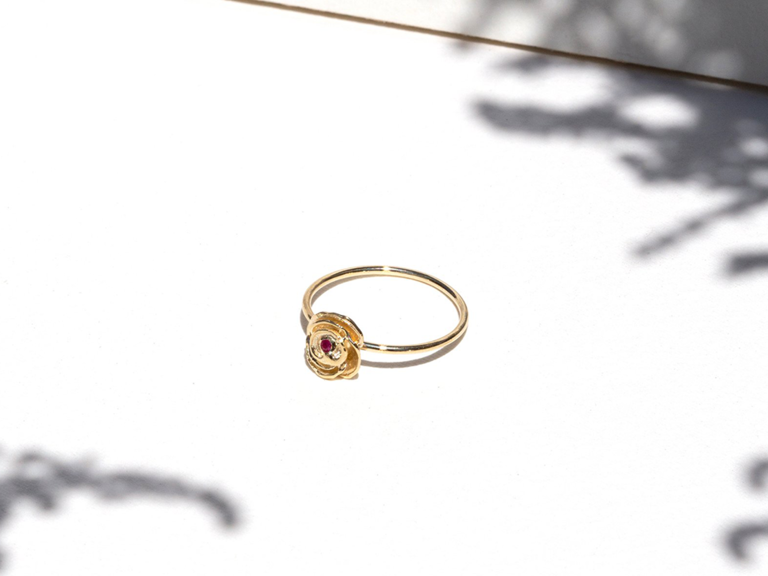 Rubies represent passionate love, making them an ideal colorful center stone for an engagement ring. A 14k yellow gold rose serves as the romantic setting for a delicate ruby gemstone in the center, making this a truly one-of-a-kind token of your engagement.