18 Slim and Sleek Thin Band Engagement Rings
Sometimes less is more.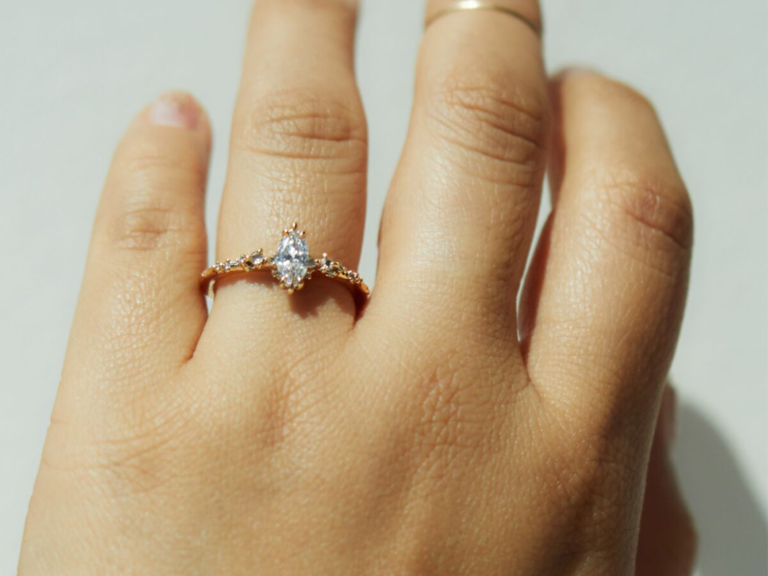 We have included third party products to help you navigate and enjoy life's biggest moments. Purchases made through links on this page may earn us a commission.
Thin band engagement rings are the new "it" sparkler in the world of fine jewelry. A-listers like Kirsten Dunst, Mandy Moore and Hailey Baldwin have all opted for thin band engagement rings to showcase their jaw-dropping diamonds—and for good reason. Thin band engagement rings feature a slender design that skips all the bells and whistles, putting all of the focus on the center stone. The end result? A slim and sleek setting that showcases the natural beauty of your diamond or gemstone.
If a thin band engagement ring is on your wishlist, there are a few things to know before you say "I do." Below, find everything you need to know about thin band engagement rings—and of course, a list of editor-approved styles you can add to your cart right now.
In this article:
What Is a Thin Band Engagement Ring?
A thin band engagement ring is an engagement ring setting with a slender band that measures 2mm or less. This dainty style is often available in a variety of designs, but solitaire, pavé and halo settings are the most popular. Thin band engagement rings can be made of any type of precious metal, including rose gold, white gold, yellow gold or platinum, and while they can have pavé diamonds lining the shank, they look equally stunning as a plain band.
What to Look For in a Thin Band Engagement Ring
Consider Your Lifestyle
While there are lots of pros to thin band engagement rings, they are less durable than thicker ring styles and may weaken with frequent use. If you have an active lifestyle or work with your hands a lot, you may want to opt for an engagement ring with a wider band, or save your thin band engagement ring for special occasions.
Don't Go Too Thin
When shopping for your thin band engagement ring, look for a setting with a band that's between 1.6mm to 2mm. Anything thinner than 1.6mm is at a greater risk of bending or cracking over time, and anything larger than 2mm may look wider than the barely-there design you're envisioning.
Go for a Smaller Diamond
If you're opting for a thin band engagement ring, you should choose a diamond or gemstone with a smaller carat weight that won't overwhelm a more delicate setting. Another plus of going with a smaller center stone? Thin band engagement rings also have a budget-friendly way of making small diamonds appear larger. You may think springing for a thin band engagement ring will show off a massive center diamond or gemstone, but a center stone over 2 carats may obscure a thin band, defeating the purpose of this delicate setting.
Stabilize Your Center Stone
Given that thin band engagement rings have less metal than your standard setting and may grow weaker over time, you'll also want to make doubly sure that your center stone is secure. Prong settings and bezel settings are your best bet to keep your center stone safely in place and any pointed edges and corners from chipping.
Keep it Simple
While super ornate ring settings are gorgeous, thin band engagement rings offer less room for complex designs and over-the-top embellishments. If you want more bling than your typical thin band engagement ring offers, consider adding a thin eternity band (or several) to your stack instead. Your jeweler can make recommendations for the best pairing.
Thin Band Engagement Rings You Can Buy Now
Feeling a thin band engagement ring right now? Shop some of our favorite styles below.
Cathy Waterman Hexagonal Blue Sapphire Bezel Platinum Diamond Ring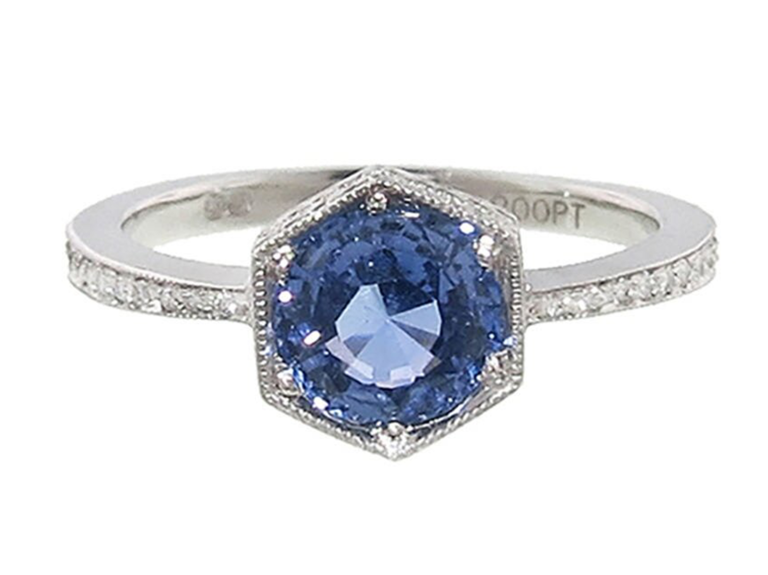 In the market for a simple something blue? We've got you covered. Crafted in platinum, this thin band engagement ring features a dazzling hexagonal blue sapphire with an etched milgrain setting on a delicate band.
Gillian Conroy Teardrop Diamond Pave Ring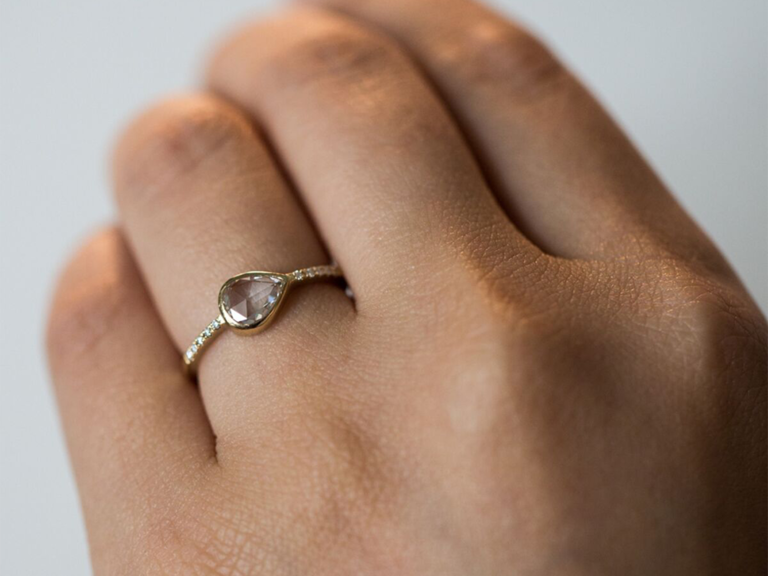 If you have an active lifestyle, consider this simple stunner. Designed to sit low on your ring finger, this bezel set rose-cut diamond is as elegant as it is minimal.
Gillian Conroy
Brilliant Earth Versailles Diamond Engagement Ring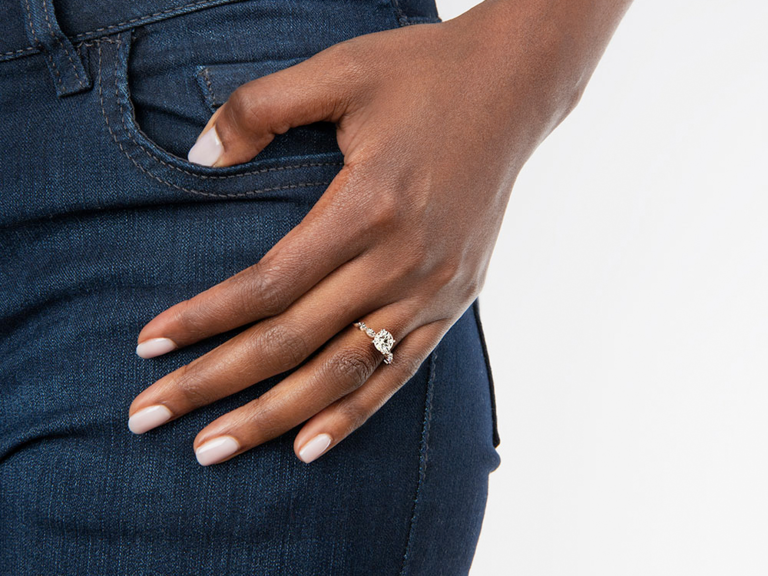 This showstopper features an Asscher cut-diamond plus a bedazzled shank with alternating round and marquise diamonds. The best part? This ring is completely customizable, from the cut and carat of the center stone to the ring size and metal type.
Forevermark x Micaela Floating Round Diamond Engagement Ring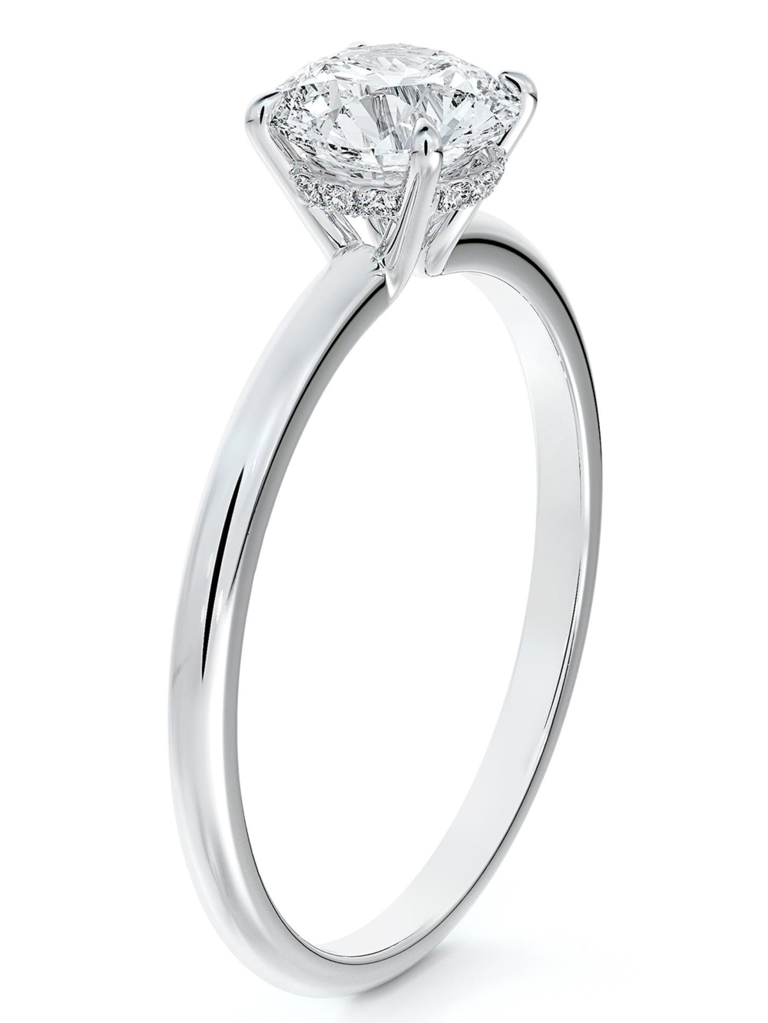 Ideal for the minimalist bride, this stunning ring from De Beers Forevermark x Micaela features a round diamond that elegantly floats above the band. Upon closer inspection a hidden halo of diamonds wrapped around the gallery guarantees sparkle from every angle.
Brilliant Earth Waverly Diamond Engagement Ring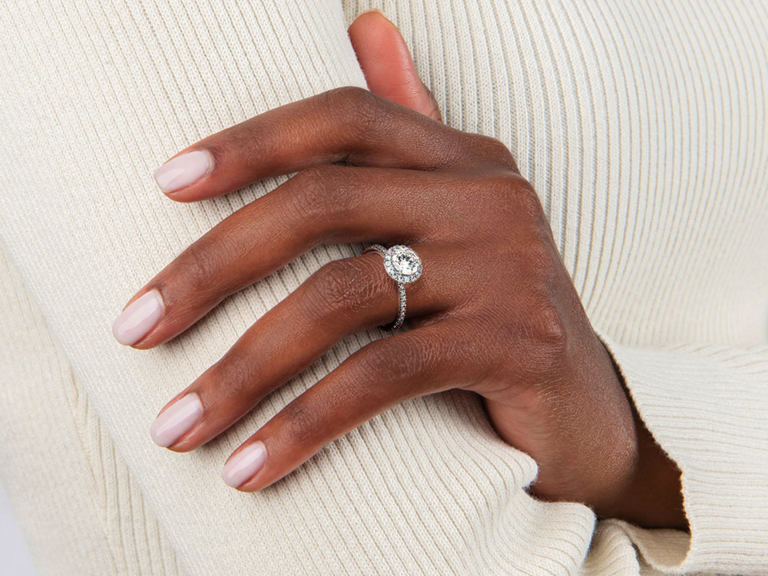 This ring is proof that thin band engagement rings don't have to skimp on the details. Dripping with diamonds, this ring features a scalloped diamond halo setting, diamond-encrusted gallery and band.
Vrai The Classic Hidden Halo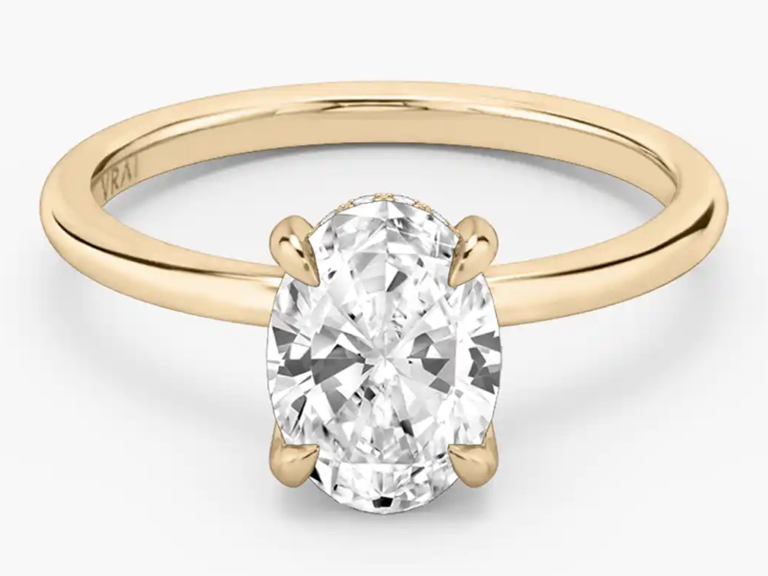 If you prefer timeless design, this lab-created diamond solitaire from Vrai featuring a hidden halo is all about clean lines. Go for a plain band or add diamond pavé details for extra bling.
Brilliant Earth Six-Prong Solitaire Petite Comfort Fit Engagement Ring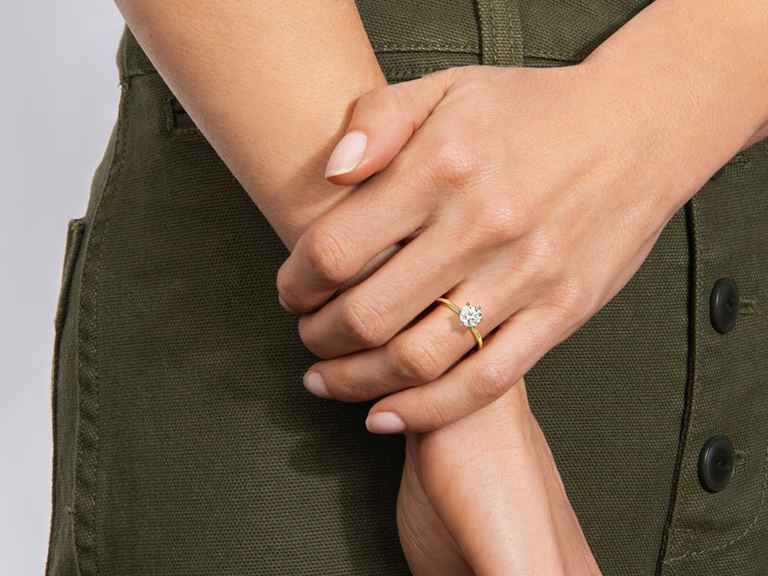 You can't go wrong with a classic setting. The petite gold band on this solitaire ring guarantees the striking center diamond is the star of the show.
Jennie Kwon Cushion Equilibrium Ring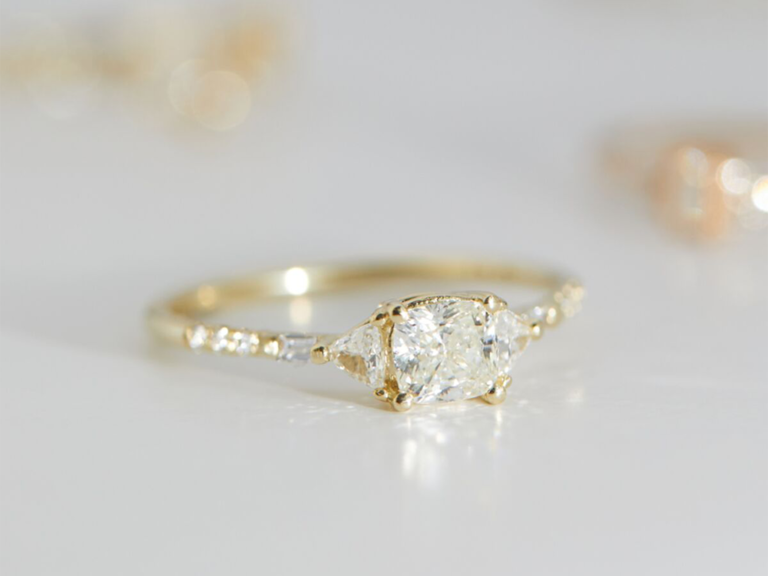 Bring on the bling. This sparkly ring features a gently raised cushion-cut diamond and tapered accent stones for a megawatt effect.
Gioielli Rings Moissanite Hidden Halo Solitaire Engagement Ring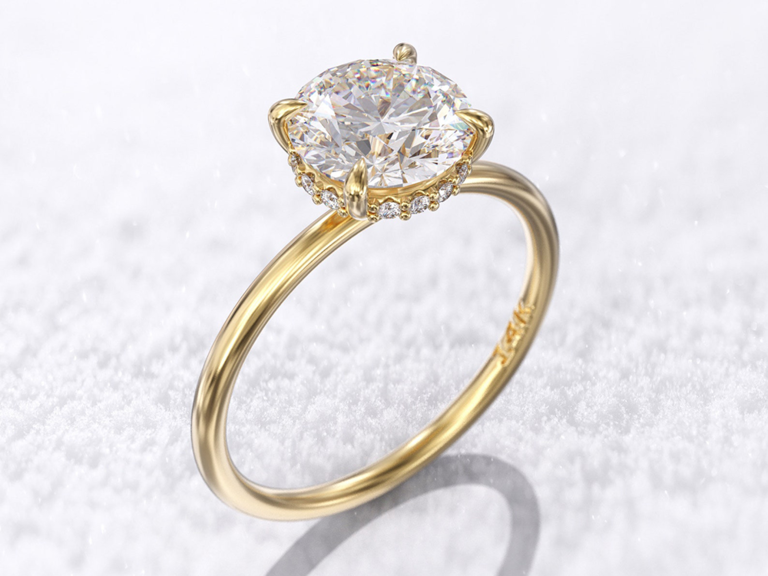 Shopping on a budget? This affordable moissanite solitaire with a hidden halo is seriously dazzling. Even better, it's customizable with a choice of rose, white or yellow gold.
Brilliant Earth Horizontal Petite Comfort Fit Engagement Ring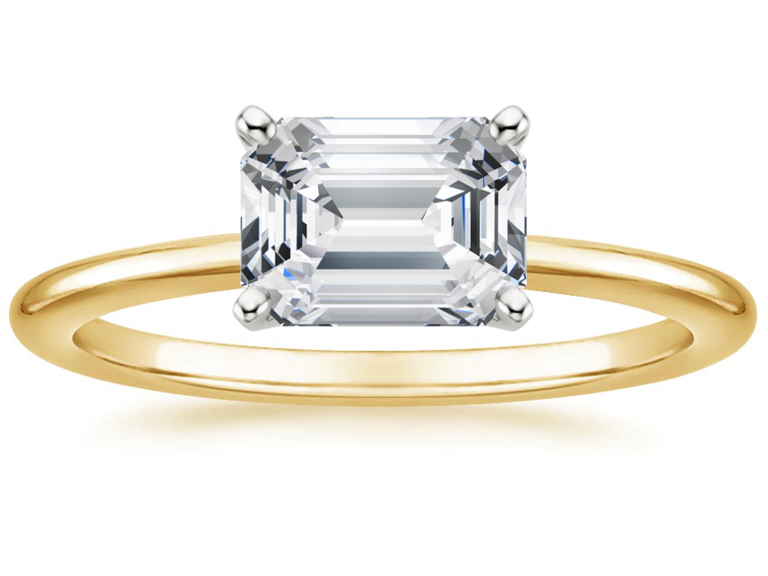 The east-west positioning of this emerald-cut diamond beautifully complements the thin gold band. The end result? A dainty ring that doesn't skimp on the sparkle.
Jennie Kwon Diamond Oval Round Ring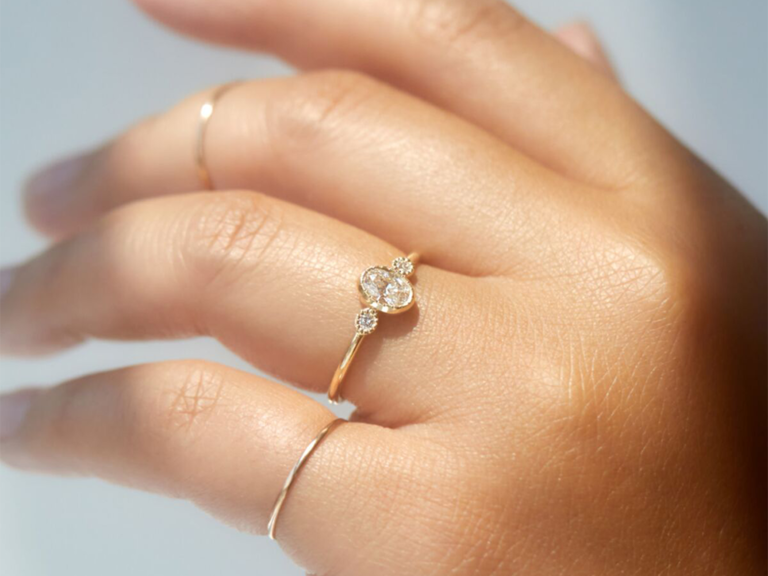 This thin shank engagement band by Jennie Kwon is simple, modern and undeniably graceful. It features an oval-cut diamond flanked by two round diamonds. Another plus? This understated beauty will pair beautifully with any wedding band you choose.
James Allen Oval Cut Diamond Comfort Fit Engagement Ring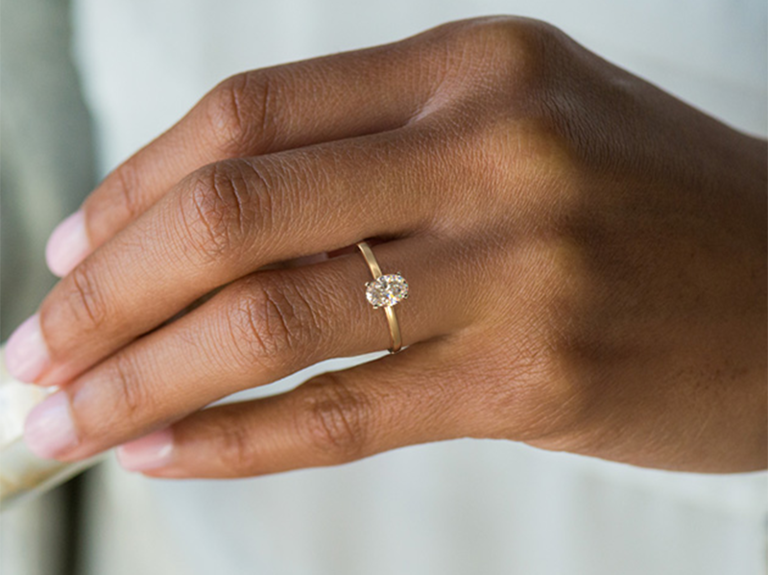 Two words: simply stunning. This delicate ring features an oval diamond atop a thin shank for a barely-there effect.
Laurie Fleming Nereid Marquise Diamond Ring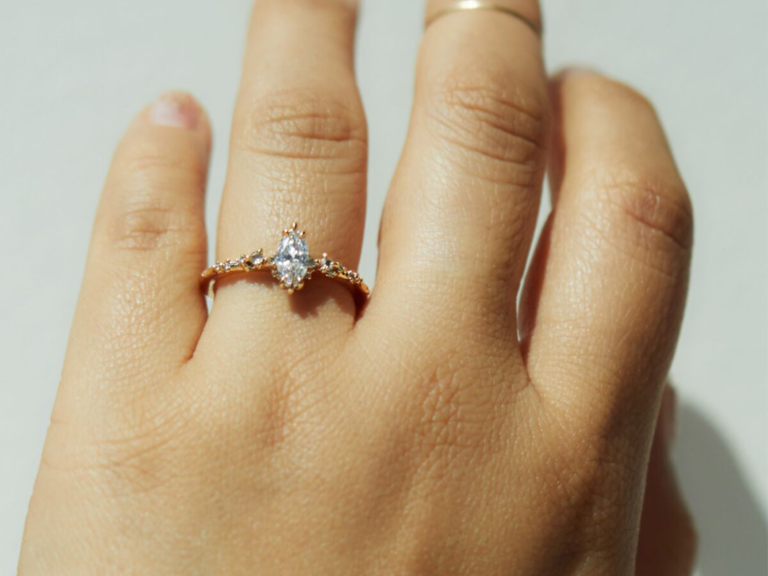 Fit for royalty, this whimsical thin band engagement ring features a stunning marquise cut center stone and elegant 14-karat gold setting embellished with round-cut and rose-cut diamonds.
Blue Stone CA The Harper Vintage Engagement Ring with Ice Crushed Moissanite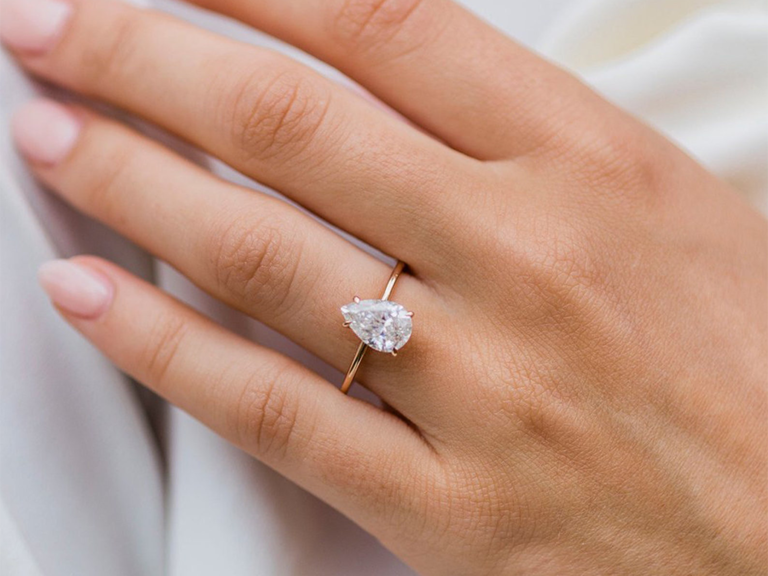 The bold ice-crushed moissanite center stone of this ring is the star, thanks to the barely-there yellow gold setting.
Brilliant Earth 18K Yellow Gold Aimee Diamond Engagement Ring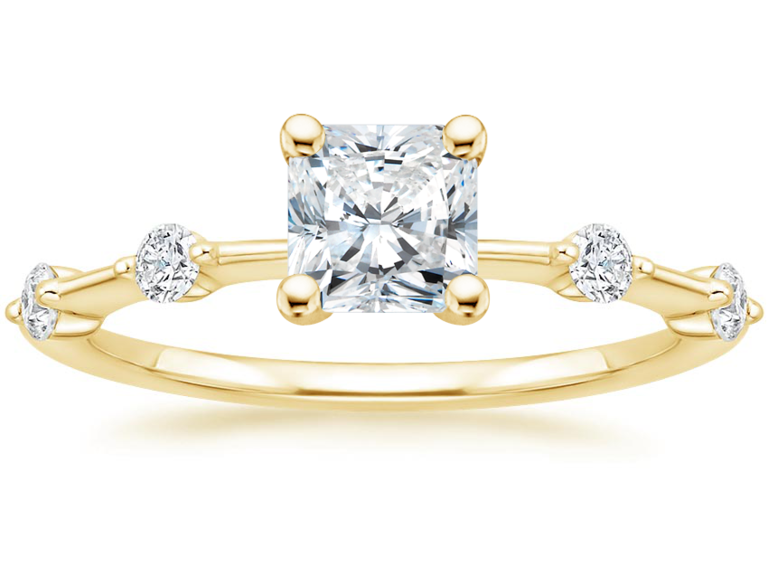 If you're looking to go bespoke with your engagement ring, look no further. This line of customizable wedding rings features a GIA-certified radiant-cut diamond of your choice paired with a thin band engagement ring embellished with evenly spaced diamond accent stones.
Sofia Zakia Sapphire Termina Ring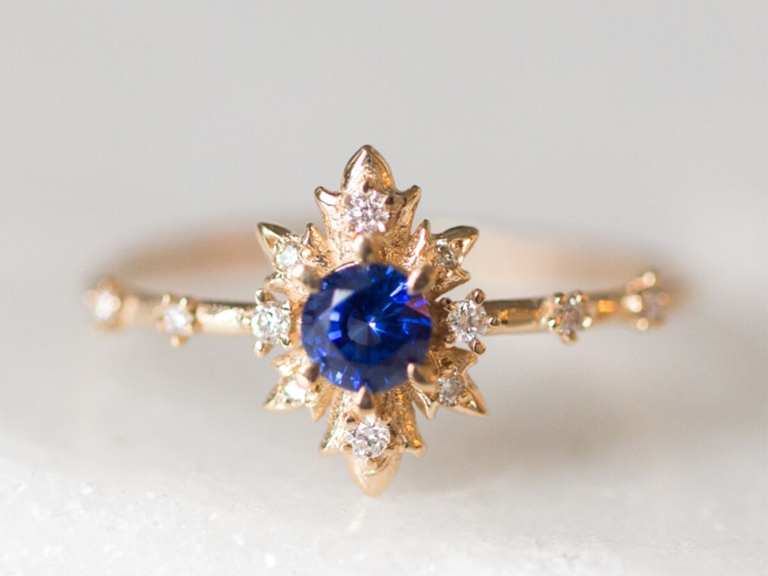 Although unexpected, gemstones are a stunning choice for engagement rings. This ring features a rich blue sapphire center stone surrounded by a starburst halo. Smaller round diamonds grace the shank for maximum shine.
Braverman Oren Skinny Pear Moissanite Engagement Ring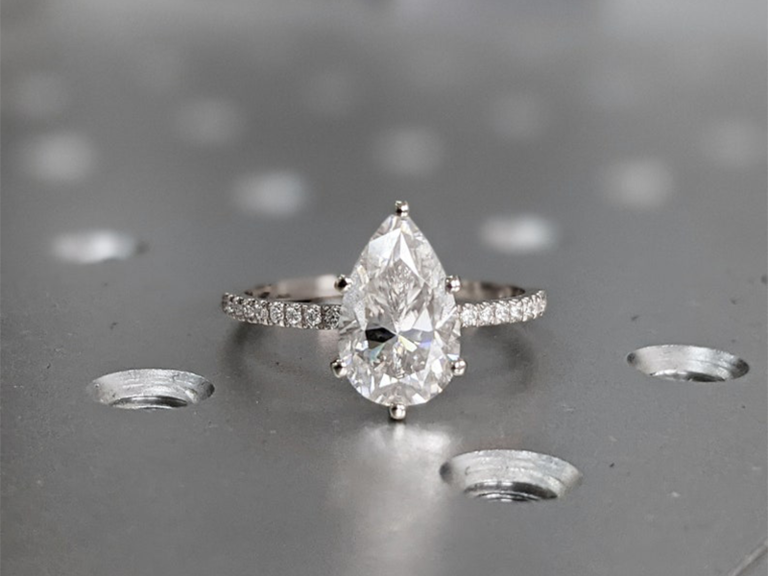 Who says a minimal ring can't stand out in a crowd? This ring features a striking pear-cut moissanite center stone on a delicate, diamond-encrusted band.
Blanca Monrós Gómez Coralie Solitaire Ring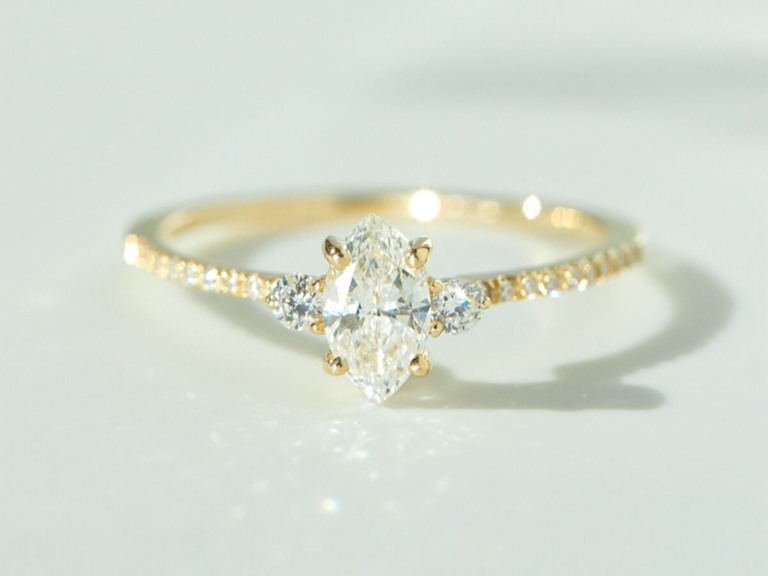 A boho take on the classic three stone setting, this sparkler features a dazzling marquise solitaire nestled between two round diamonds. Luxe pavé diamonds line the shank for added sparkle.