16 Ways to Maximize Your Honeymoon Suitcase
Here's how to make the most of your wardrobe and suitcase.
by Lori Seto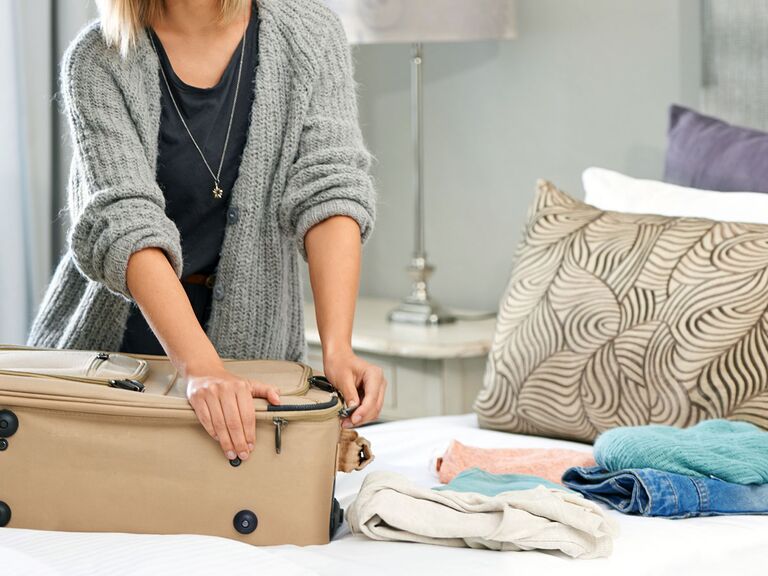 Globetrotters know how to make the most of their suitcases—they can turn ordinary luggage into genius little closets on wheels. Unfortunately, very few of us are professional world travelers, but that doesn't mean you can't pack like one. Here are a few simple honeymoon packing hacks to help you maximize space and time.
1. Do laundry or bring your clothes to the cleaner's a few days prior to your trip so everything will be fresh and ready to go. Have button-down shirts and other delicate fabrics professionally laundered, pressed and bagged at the dry cleaner so you can just pop them in your suitcase.
2. Get a jump on your packing list a week or so before you leave. Starting early lets you add items as you think of them. Keep a running list of those you've packed so far in case you forget what's already accounted for. 
3. When selecting your wardrobe, it's helpful to go for coordinating solids, wrinkle-resistant microfibers and versatile shoes. Reversable pieces are always a good idea, whether it's a jacket, dress, swimsuit or button-down. 
4. To avoid wrinkles, roll or wrap clothes in tissue paper or lay clothes on their hangers in plastic dry cleaners bags in your suitcase. Roll (don't fold) pieces that wrinkle easily, like linen, and pack tightly to minimize creases.
5. Avoid taking shoes or clothes you've never worn before, especially if they've been sitting in your closet forever. Who wants new shoe blisters on their honeymoon?
6. Stuff socks and underwear in shoes or purses to help these items keep their shapes and save room. 
7. Pack an extra bag. If you have a luggage set, pack everything inside the second-largest bag, then put that bag inside the largest bag. When you arrive, feel free to stock up on souvenirs and duty-free goods—you have an extra bag to carry it all home in! Or, pack an empty duffel to fill with take-home goodies.
8. Bring items that do double-duty, like a suitcase with a phone charger or a flat iron that can straighten or curl your hair. 
9. Download local guides (Lonely Planet) and foreign language apps (Google Translate) on your phone instead of toting bulky books with you.
10. When you've stuffed your bag to the max, zip it up and tap it on the floor a few times to let everything settle—it will make extra room.
11. Don't overstuff. Suitcase zippers may burst en route (no thank you!), or you could exceed airline weight limitations and have to pay extra at the ticket counter.
12. Share bathroom basics like toothpaste, shampoo and body wash.

13. Double-bag liquids (air pressure at 30,000 feet can wreak havoc on bottles and tubes).
14. Stuff a suitcase like you would a grocery bag—heavy items on bottom, lighter ones on top.
15. Pack all your valuables, one change of clothes (and a bathing suit if you're going somewhere warm), non-perishable snacks, a small bottle of water and your minimum toiletry needs (at least your toothbrushes and toothpaste) in your carry-on in case your luggage gets delayed.
16. As soon as you arrive, unpack and hang up your clothes to avoid wrinkles.
Here's how to book your wedding night hotel room.
Read everything you need to know about working with a travel agent here.