The 10 Biggest Wedding Invitation Mistakes Not to Make
Read up on how to avoid the most common stationery mishaps.
by The Knot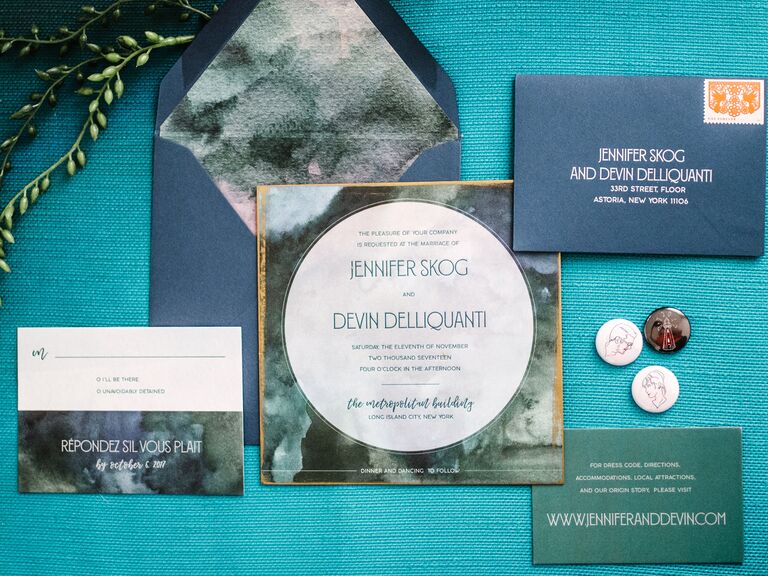 Picking out your stationery is one of the most fun wedding planning tasks you get to do. Your invitation gives your guests a glimpse into the festivities to come—plus all the need-to-know-info, of course. To make sure you're sending out all the right details to all the right people—and that everything's timed just right—there are several elements to pay special attention to before signing off. From the design to the logistics, here are the most common types of wedding invitation mistakes couples make—not to scare you, but to help you avoid making them.  
1. Trying to Cram Every Element on One Invitation Design
While it's encouraged to give your invitation suite a personal element (like including an illustrated map of your wedding destination) less can often be more. In other words, while you may be obsessed with the floral pattern of your dress, the modern architecture of your reception venue and the idea of including your cats somehow, don't try to cram everything onto your stationery. Instead, work with your stationer to choose the right balance of one (or maybe two) you love.
2. Not Catching Typos
Ask your grammatically inclined friends to look over the invitation proof with a fine-tooth comb. You'd be surprised what you, your partner and even your stationer could miss. We've seen invitations on which a groom's name was accidentally spelled wrong—ah!—and no one noticed until the invites were printed and mailed. Is it the end of the world? Of course not. But is it avoidable and worth the triple-check? Definitely. Take a note from copy editors and read from right to left so you don't accidentally gloss over a mistake.
3. Going Overboard on Color
We're all about making invites pop with color, whether they're bold and bright or soft and pastel—but as with mistake number one, don't get too carried away. Always balance bright colors with something more muted, and make sure the text is visible (that's the most important part). Keep your palette to three to five colors, with one or two being neutral, such as ivory, white, gold or tan.
4. Addressing the Envelopes Yourselves
DIY wedding projects can be great—but only in the right circumstances. Addressing envelopes takes time and careful attention, and many stationers offer the service at little or no charge. If you decide to do this yourself (again, you've been warned) don't do it all in one sitting. Give yourself plenty of time to avoid making any mistakes (and going crazy!).
5. Giving Guests Too Much Time to Reply
Allow guests too much time to say "attending" or "not attending" and chances are those RSVP cards will get lost or people will simply forget to respond. Set the RSVP deadline no more than three or four weeks after they get the invitation, and two to three weeks before your wedding date. This allows enough time for them to clear their calendars—but not forget to respond. And it allows you to get a final head count to the caterer (about one week out) and finalize your seating chart.
6. Ordering Too Many (or Too Few) Invitations
Keep in mind that you don't need an invitation for every person, so take a look at your guest list and figure out how many houses you'll be sending invites to—versus individual people—before you give numbers to your stationer. It can end up cutting your order in half.
On the flip side, you don't want to be stuck having to order more. Order at least 25 percent extra to ensure you have enough for late additions, lost invites and keepsakes (you'll want a gorgeous flat-lay photo of your suite in the wedding album). One more thing: Ask for extra envelopes too, in case of any addressing mistakes.
7. Including Information That Doesn't Belong There
At the heart of it, your invites are informative, providing the who, when and where of the celebration. But there are a few details that don't belong on your official invitation card—however important they may be. These requests include links to your wedding website and registries. Convey all implied gift requests on your website, or feel free to include an additional insert within your invites. Other details to leave off your actual invitations is the preference for an adults-only wedding (if that's your plan) as well as any exclusive events only certain guests are invited to (bachelor/ette parties, the rehearsal dinner or a family-only postwedding brunch, for example).
8. Forgetting to Put Stamps on the Reply Envelope
It's an obvious detail, but it's often overlooked. Trust us when we say it's nearly impossible to steam open an envelope once it's been sealed. Make sure you're paying attention and super-careful while stuffing.
9. Purchasing Postage Without Weighing a Sample
We know you're excited to order the invites and check another thing off your list, but postage is a notoriously sneaky detail (and expense) couples forget to consider. Weighing invites at your local post office first will save you a serious headache later. The last thing you'll want to deal with is the total hassle of getting your invites returned due to insufficient postage.
10. Waiting Too Long to Hire a Calligrapher
Having a professional calligrapher label your invites? They're going to look incredible—but definitely book them when you book your stationer so the two can work together from the start. Hire a calligrapher too late in the game and you risk having to pay a rush fee.