Round Out Your Wedding Look with a Stylish Bridal Clutch: We've Got the Ones for You
Trust us, it's going to come in *clutch*.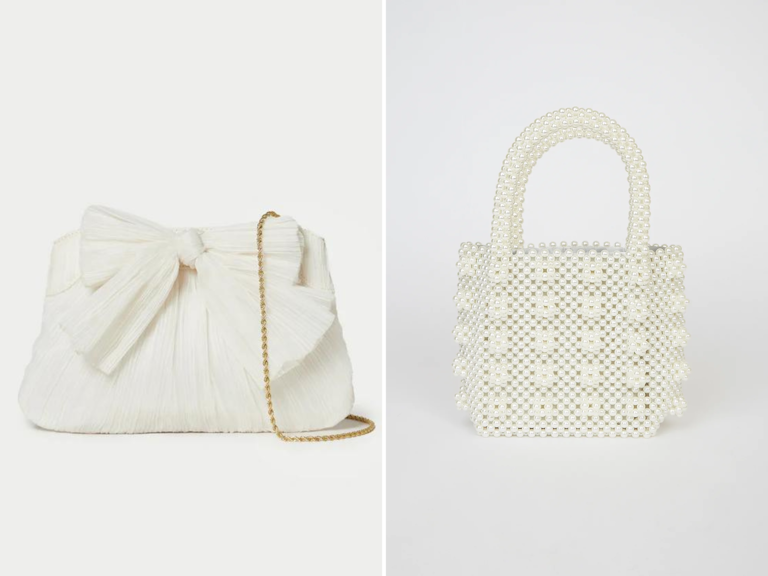 Photos, left to right: Loeffler Randall, Lulus
We have included third party products to help you navigate and enjoy life's biggest moments. Purchases made through links on this page may earn us a commission.
As you plan out your wedding outfit, there's one detail you don't want to overlook: your bridal clutch. So, why do you need one? For starters, your day-to-day handbag just isn't going to cut it. (Let's be honest; the last thing you'll want to lug around on your day is your big work tote.) Not to mention, you only get one wedding day, so you might as well go all out by purchasing a stylish—and practical—wedding purse to safely keep important items in one place. If you want to keep all of your day-of essentials on hand (instead of stashing them in an emergency kit to give to your maid of honor), you'll need a chic bridal clutch to add to your wedding day ensemble.
Lucky for you, we've rounded up the best wedding purses on the market, from white beaded bridal clutches to personalized bags that can serve as a keepsake. These beautiful designs are not only chic and useful, but are also perfect bridal accessories to add to your wedding wardrobe. We've also tapped an industry expert to share advice on what to put in your clutch, as well as what to do with it during the festivities. Let's get started!
In this article…
Trendy Bridal Clutch Purses
Your wedding gown may prove that you've always got the trends on lock, but you certainly can't forget about the accessories. These four trendy bridal clutches will make a serious statement for your nuptials (and complement your fashion-forward gown).
Cult Gaia Eos Clutch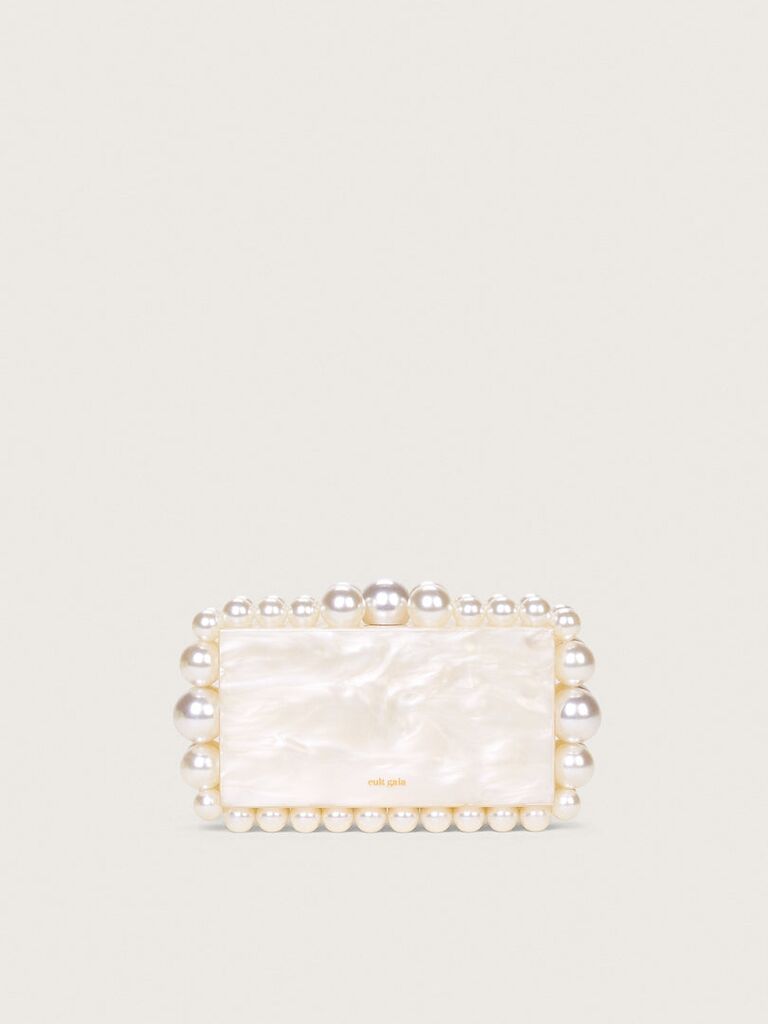 You'll feel like the world is your oyster when you're rocking this iridescent accessory. The pearl-inspired clutch is an ideal way to top off your mermaid-inspired beach wedding look.
Petal + Pup Alma Woven Shoulder Bag
Trust us when we say, you'll want to tie the knot in this stylish knot bag (sorry, we had to). Available in white, beige and pink, it's sure to level up your look on your wedding day (and long afterward).
8 Other Reasons Roaring 20's Bag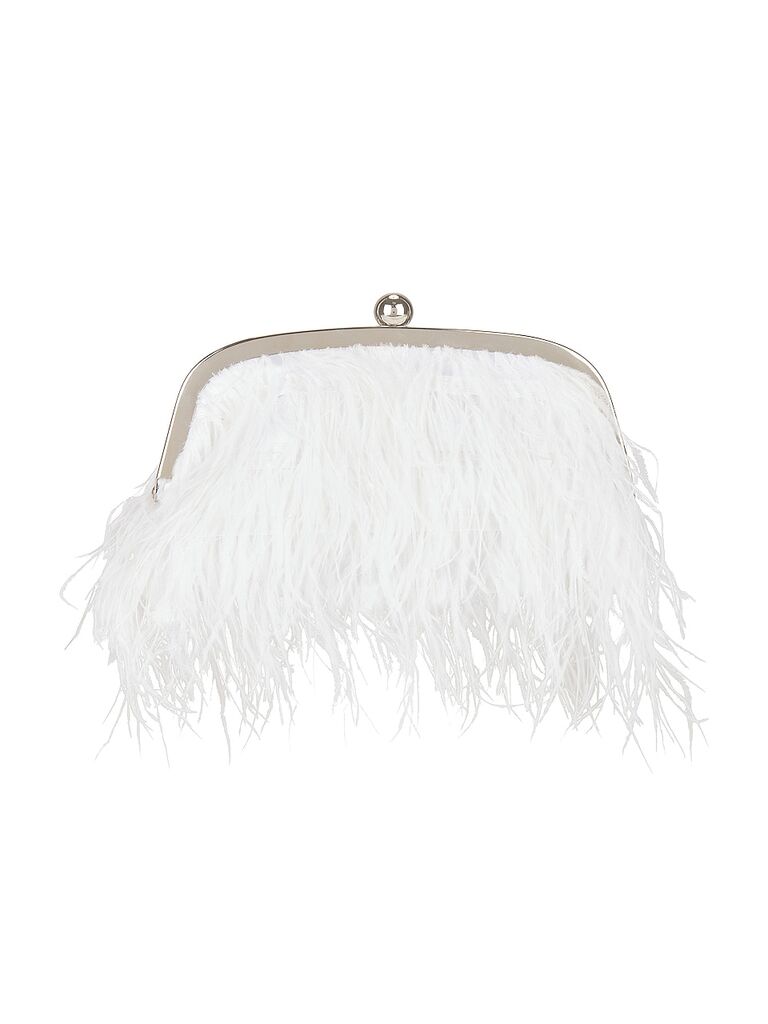 The '20s are here again and we're celebrating by bringing back some of our favorite century-old styles. This feathered clutch, for instance, strikes the perfect balance between vintage and modern and we're totally here for it. Plus, how often do you get to rock feathers in your day-to-day life?
Zhuu Beaded and Pearl Tassel Bag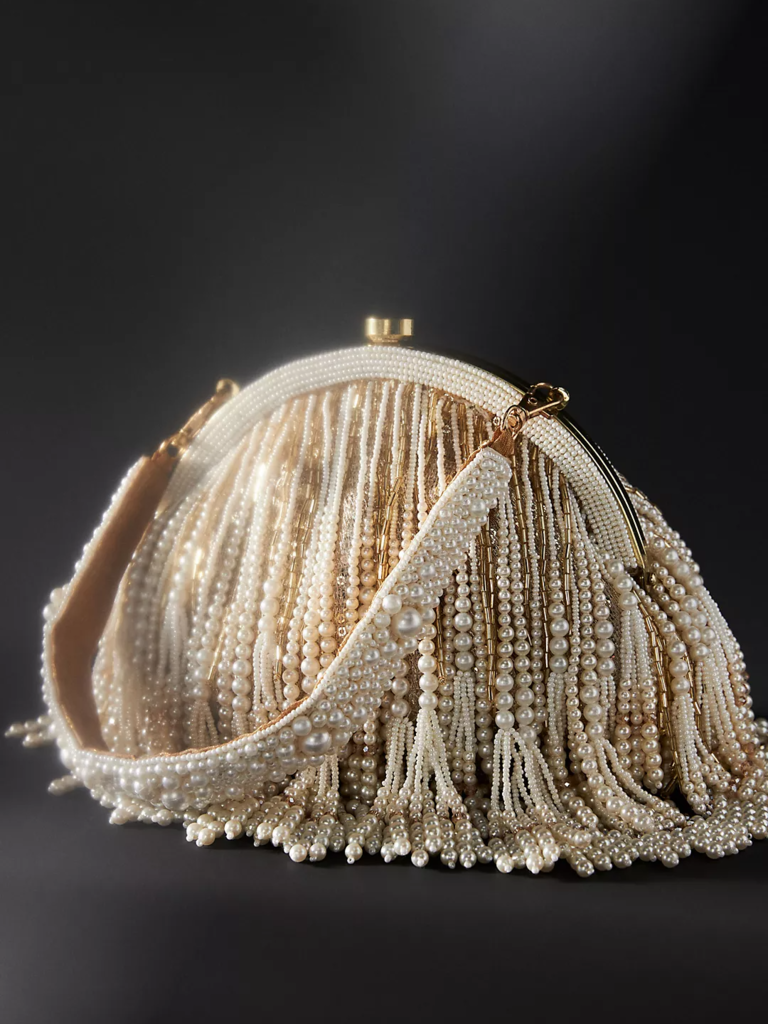 For the bride who's not afraid to be a bit extra: Deck yourself in pearls for your wedding day (hello, Pearlcore) with this fashionable tassel bridal clutch. It comes with a removable handle, so you can carry it in multiple ways depending on your style.
Sparkly Bridal Purses
If you're opting for a simple wedding dress, you might be on the search for an eye-catching accessory to take your look to the next level. Or maybe you're a 'more is more' kind of bride looking for a bag to match your glitzy gown. Either way, you're guaranteed to shine in these four sparkly bridal purses.
Roger Vivier Flower Strass Buckle Clutch in Fabrics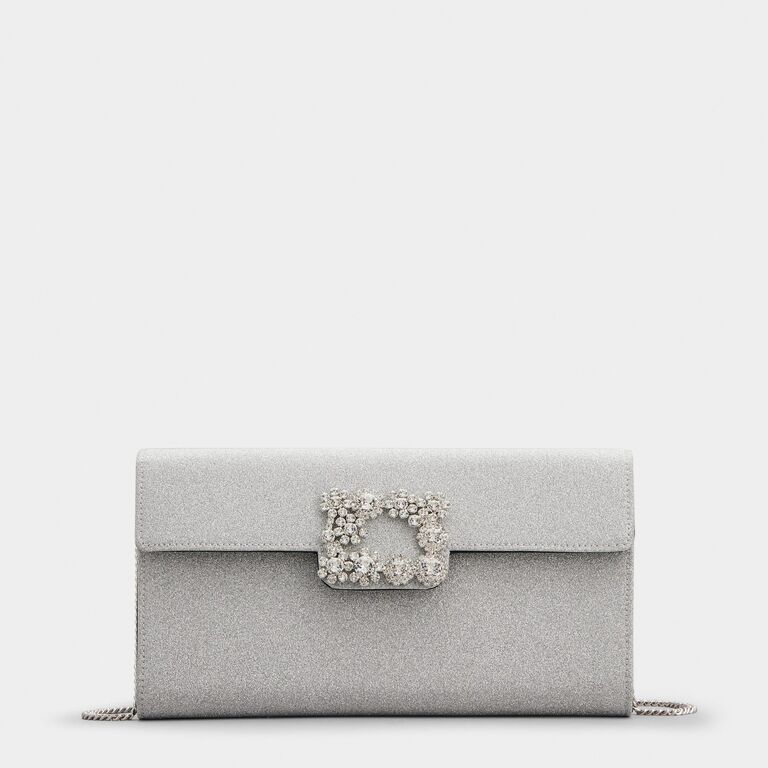 It's true what they say: All that glitters isn't gold. This envelope clutch is silver. . . and oh-so-glamorous might we add. Rock it during your wedding day, and for future black-tie affairs. Hello versatility.
Loeffler Randall Ember Gold Diamanté Gathered Clutch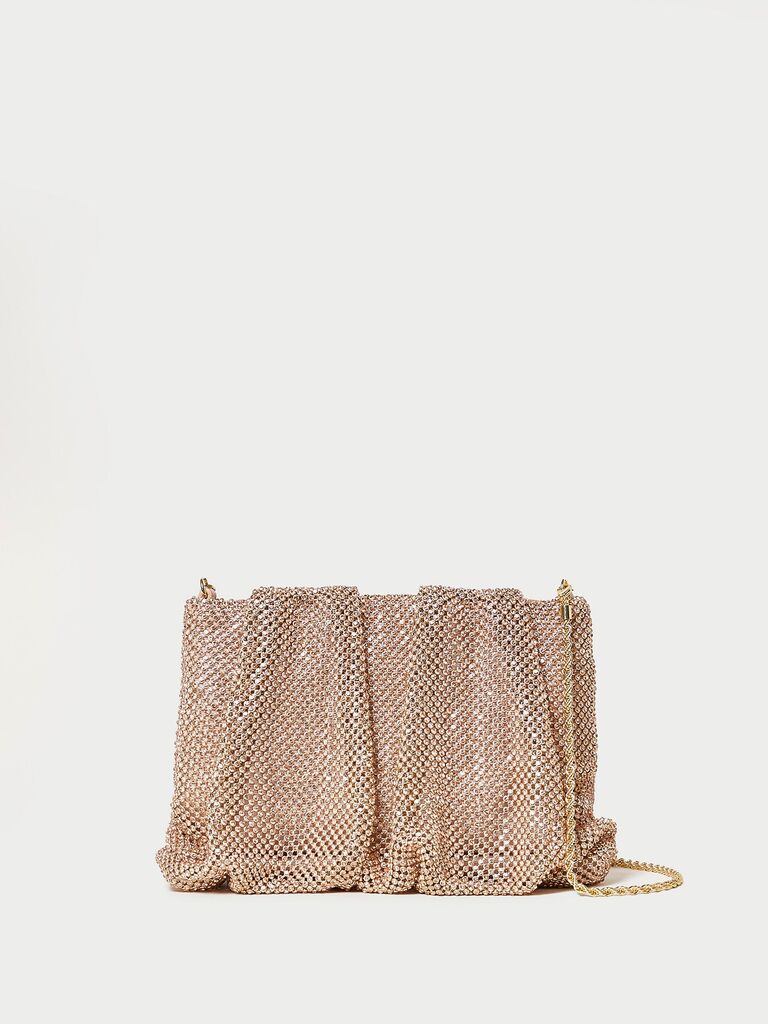 Brides: This is your moment. Go ahead and get your glam on. This all-over embellished mesh clutch, featuring a gold metal chain strap, is perfect for bachelorette parties and wedding receptions alike.
Gedebe Crystal Envelope Clutch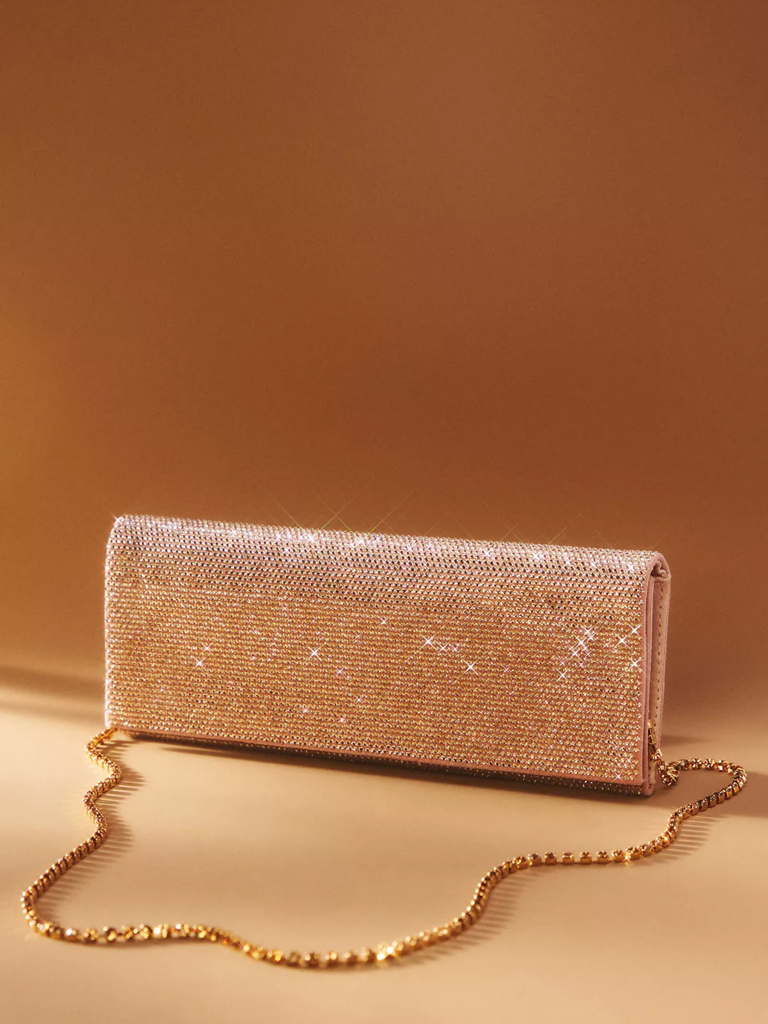 From the wedding day to nights out afterward, this sparkly clutch is sure to earn its place in your most-worn rotation. We love that it features a crystal-embellished crossbody strap for even more ways to style it.
Mark & Graham Beaded Foldover Crossbody Clutch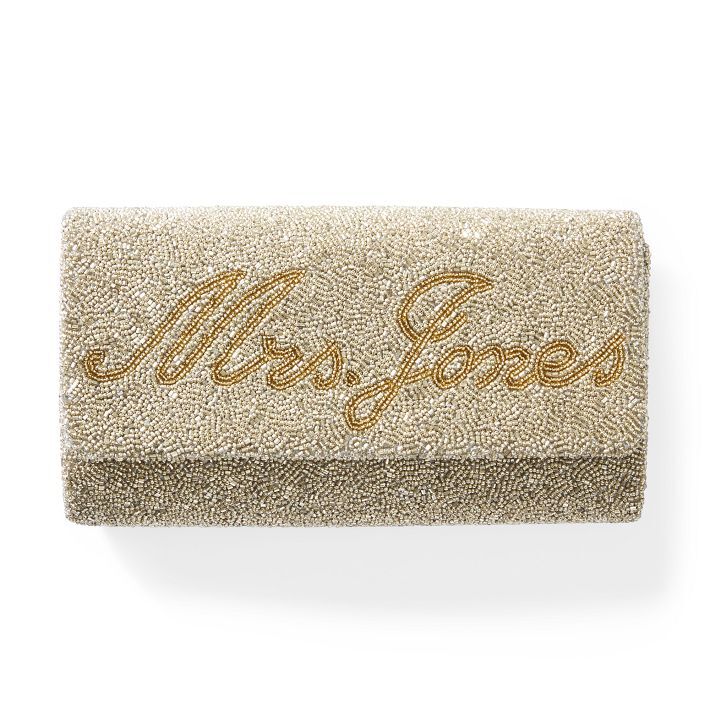 Trust us: A beaded bridal clutch will add the perfect pop of sparkle to your ensemble. This gold option in particular can be customized to feature any message you'd like, making it all the more special.
Simple Bridal Bags
Let's be real here: Simple makes a statement. If you're hoping to have your dress do all the talking on your wedding night, you'll probably want a bridal bag that offers everything you need and nothing you don't. These four clutches are a great place to start.
Hobbs London Sarah Clutch Creamy Oyster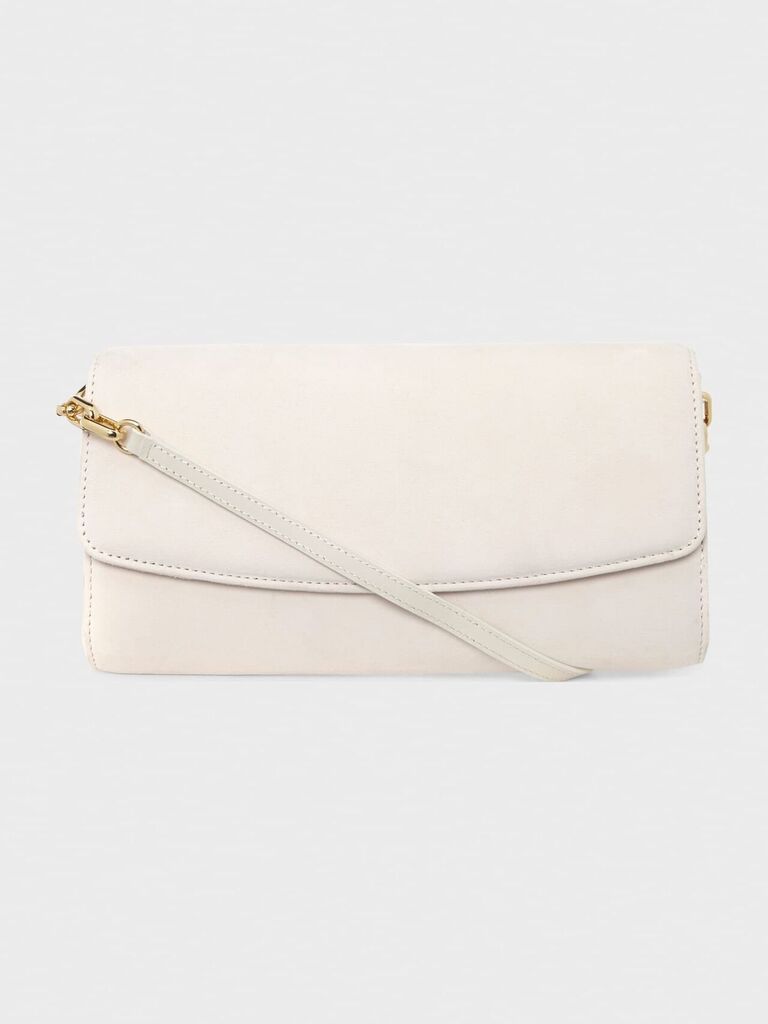 Looking for a bag you can get use out of long after your 'I-do's'? Look no further. This leather clutch features a detachable crossbody strap, making it the perfect complement to casual and formal outfits alike.
Loeffler Randall Layne Pearl/Rhinestone Pleated Pouch
Here's a little something simple that doesn't sacrifice on style. The detachable rhinestone strap on this pleated drawstring clutch is ideal for brides looking for a subtle touch of glam.
Fontem Personalized Rosa Clutch Bag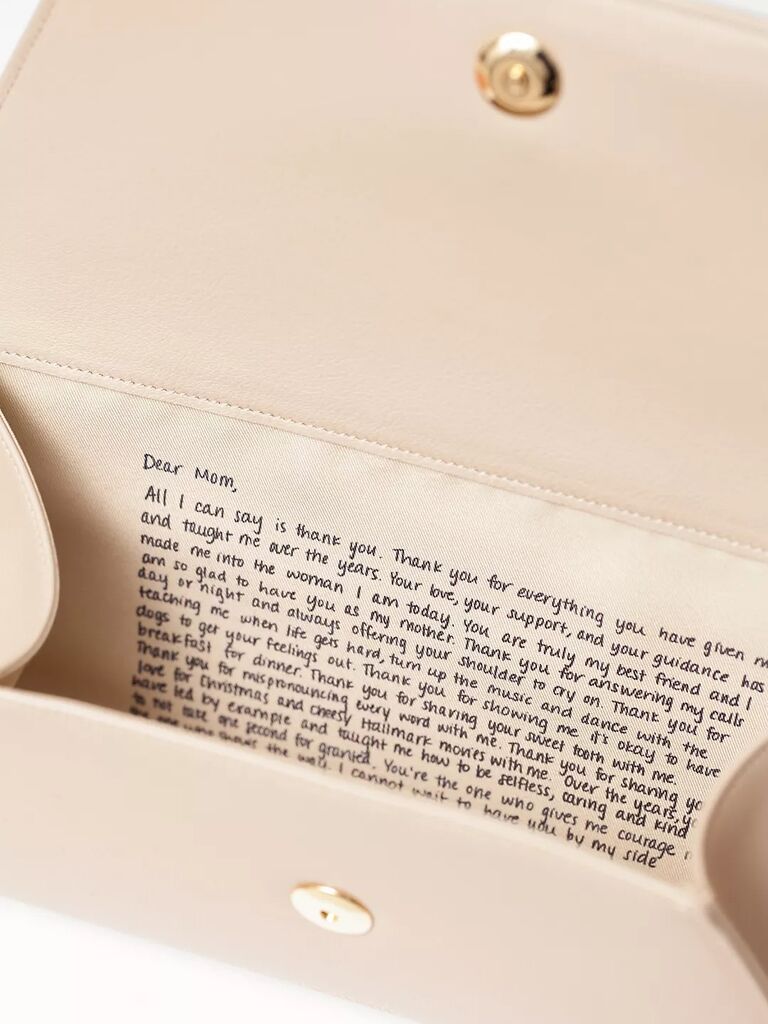 This ivory clutch may appear simple, that is, until you open it up. A customizable message is imprinted on the inside of the bag, making each piece totally one-of-a-kind. Talk about the perfect wedding keepsake.
Nina Concord Clutch Ivory Satin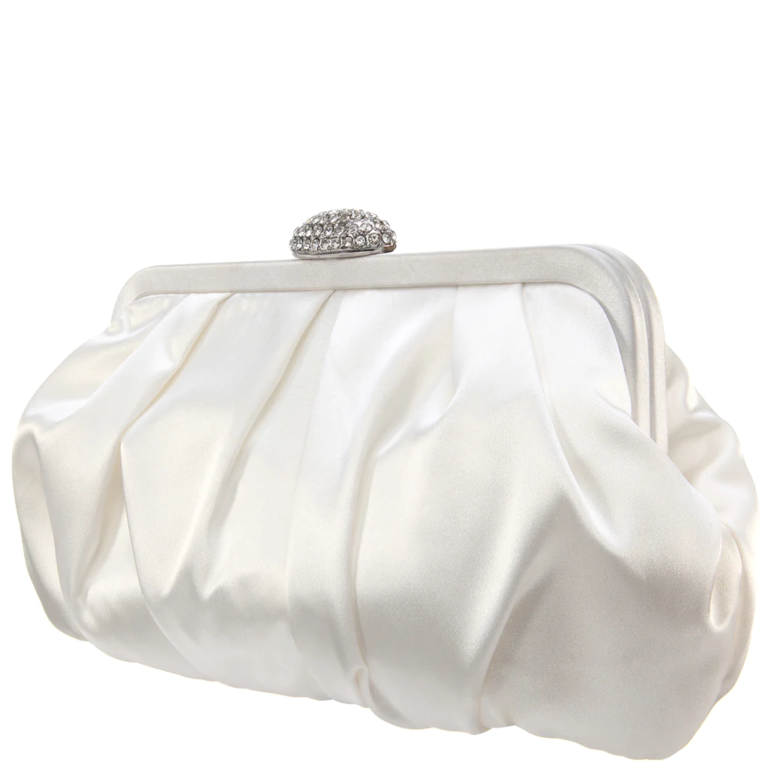 This simple satin clutch is as stylish as it is versatile. Thanks to its streamlined design, it's guaranteed to compliment your wedding day look, no matter the vibe.
Classic Bridal Clutches
We firmly believe that you can never go wrong with the classics, and that's why we love these four bridal clutches. They're guaranteed to stand the test of time. You have our word.
Lulus Mickey White Pearl Mini Handbag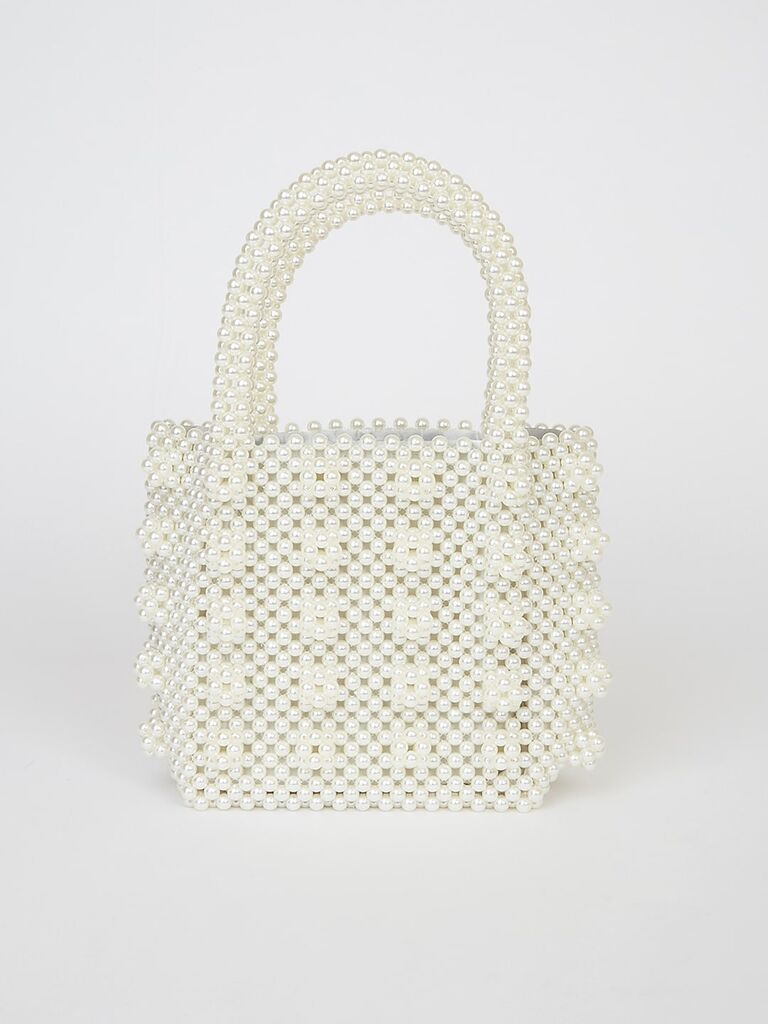 Pearls are known for being a timeless accessory, and this beaded bag certainly has plenty of them. Its bucket design allows you to store plenty of your personal items, so it's safe to say it's as practical as it is cute.
Loeffler Randall Rochelle Pearl Mini Bow Clutch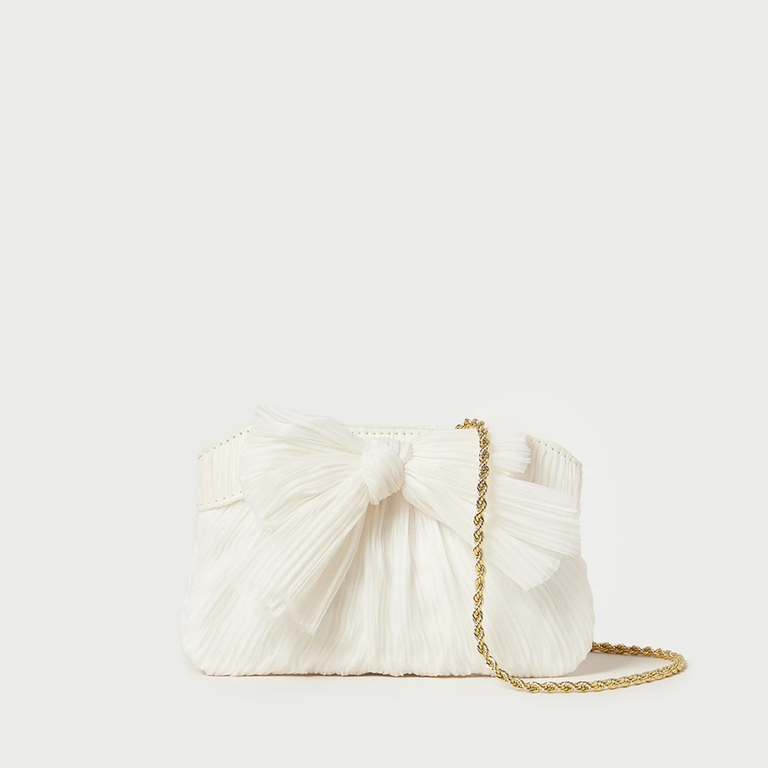 What this bag lacks in size, it makes up for in style. The mini clutch, featuring a detachable crossbody chain, is perfect for keeping your cellphone on hand for taking photos at the reception.
BTB Los Angeles Chloe Bag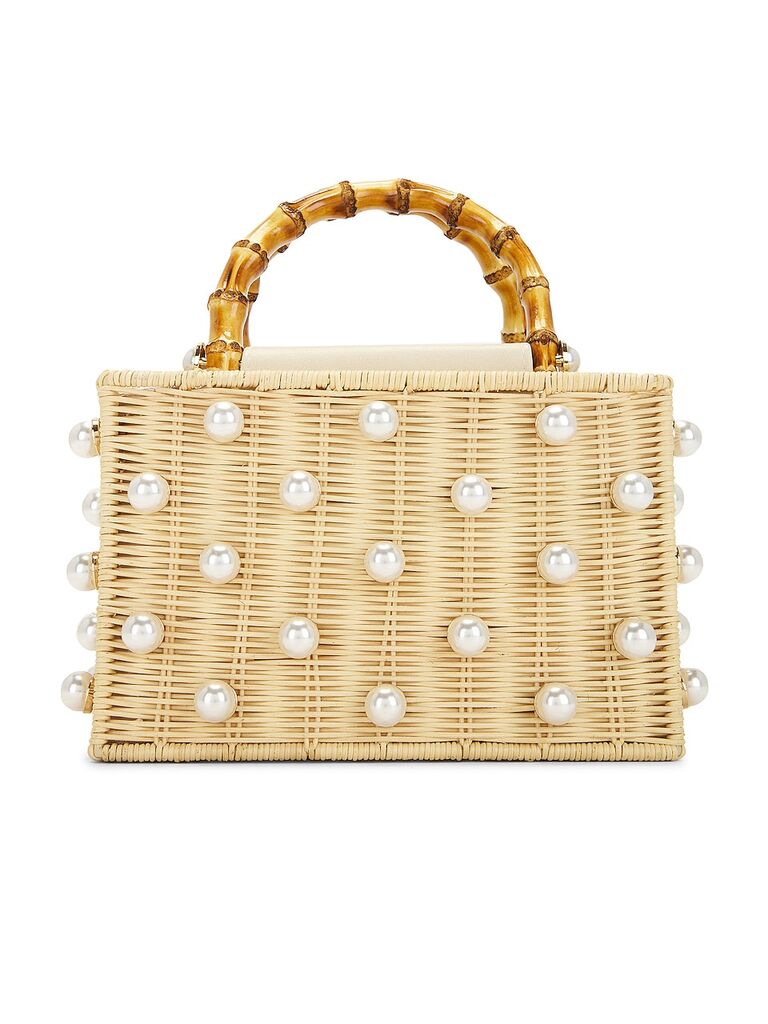 Bring your cottagecore dreams to life on your wedding day with this charming woven bag. Pearl embellishments and a bamboo handle give the classic look a uniquely modern touch we love.
Loeffler Randall Aviva Cream Woven Puff Clutch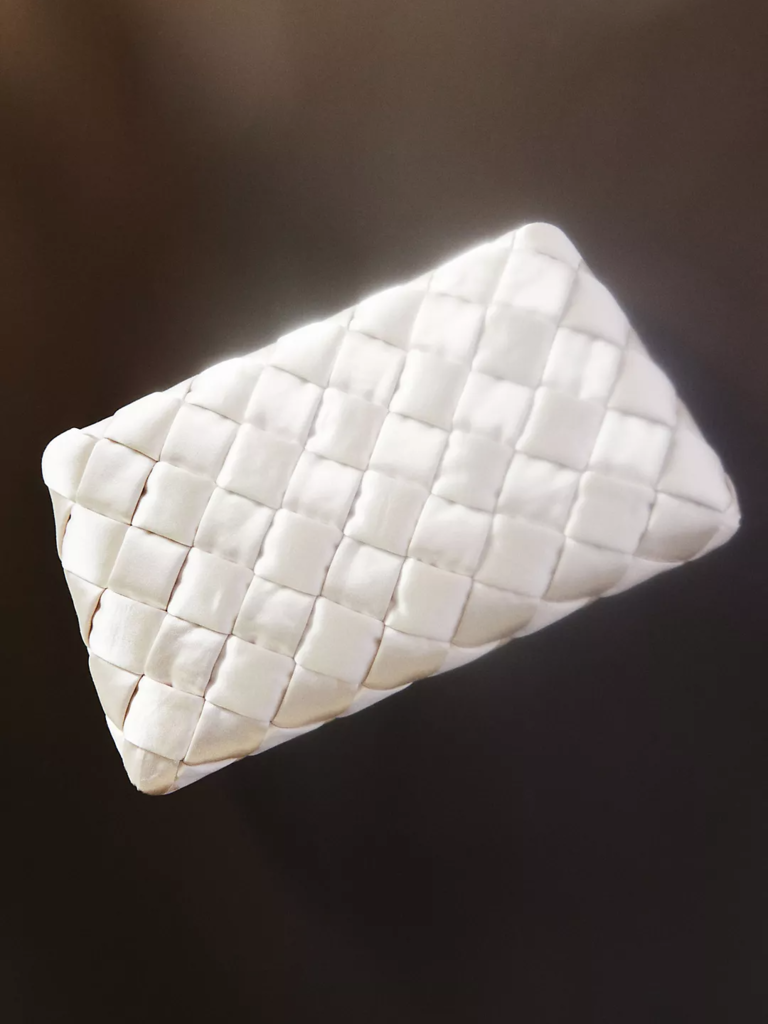 After all that wedding planning, you deserve to treat yourself with a little luxury. Crafted from Cream-colored Italian satin, this silky smooth wedding purse will make a lovely addition to your bridal ensemble. It features a chic woven design with an interior card slot—perfect for stashing a copy of your handwritten vows!
Bridal Purse 101
You've got questions. We have answers. As your go-to source for all things wedding fashion related, we're breaking down all your FAQ's about bridal bags.
Does a bride carry a purse on the wedding day?
While we're totally in favor of bringing a bridal bag along to carry a few essentials, the responsibility of keeping track of it should never rest on the bride. Since they obviously won't be taking it with them down the aisle, the maid of honor, or a member of the wedding party, should hold on to the bag until the bride needs it.
What do you put in a bridal purse?
Our go-tos to have on hand during the reception? Your cellphone for capturing photos (or a camera if you'd prefer to be unplugged), lipstick or lipgloss for touch-ups, and of course, tissues (need we even explain?).
What color should a bridal bag be?
When it comes to color, keep it classic. After all, you'll likely want your dress to be the star of the show. When in doubt, you can never go wrong with a traditional bridal white. Cream, silver and gold can also be nice compliments to your white gown.