These 26 Wedding Cake-Cutting Sets Are Gorgeous No Matter How You Slice It
Utensils that are as sweet as the dessert.
We have included third party products to help you navigate and enjoy life's biggest moments. Purchases made through links on this page may earn us a commission.
The cutting of the cake is a highly anticipated wedding tradition that's usually one of the first things you'll do together as a married couple. Make sure it goes off without a hitch by asking your baker about any special serving instructions. While some caterers provide a wedding cake knife and server, usually made of plastic, a special set will add a personal touch to the moment. Plus, it'll become a cherished keepsake after the wedding day. That's why we've rounded up the best wedding cake knife sets to slice into your new life. From rustic to glam, there's a server set on this list for every wedding style.
In this article:
Metal Wedding Cake-Cutting Sets
From rose gold to stainless steel, these wedding cake knives and servers are the perfect complement to many wedding themes. Check out these five items below so you can cut your cake in style.
Kate Spade New York With Love Wedding Cake Knife Set
How about a chic knife and server set from Kate Spade? This cake-cutting set pairs shiny gold-plated metal with white resin. The pie server has a subtle engraving with the phrase "you & me"—how fitting!
Lismore Diamond Silver Wedding Cake Knife Set
Shine bright like a diamond (thank you, Rihanna) with this elegant silver-plated knife set. The embossed facets reflect light like diamonds making it the perfect gift for to-be-weds having a classic-themed celebration or to add to your registry.
Kate Spade New York Rosy Glow Wedding Cake-Serving Set
This Kate Spade cake-serving set is simple, yet charming. It's silver-plated with rose gold bands around the top and bottom of the handles. And since you're already on the site, go ahead, and pick up the coordinating wedding champagne flutes set.
Vera Wang With Love Gold Wedding Cake-Serving Set
Serve your partner a delicious slice of cake using these decadent utensils designed by the queen of all things wedding related. The set is gold and silver plated and has a stainless steel blade, which makes hand washing later easy.
Rustic Wedding Cake-Cutting Sets
If you're having a rustic-themed wedding, it's safe to assume you like nature (or at least some of its elements). To match your nuptial's environment and aesthetic, consider getting on these cake-cutting sets inspired by the great outdoors.
Gibb Daan Rose Gold Wedding Cake-Cutting Set
This rose gold cake-serving set highlights your rustic theme without being over the top. We love the twig handles, the option to add gift wrapping and the 24 font and design options for your custom engraved message.
AW Bridal Acacia Wood Wedding Cake-Cutter Set
We really hope you didn't think we would have a rustic section, without any wood options. This solid acacia wood set is sanded and smoothed, so you don't have to worry about splinters. You can personalize it with your name and wedding date for free, which is a bonus many reviewers of the product loved.
Michael Aram White Orchid Wedding Cake-Serving Set
This stainless steel knife and hammered cake server have unique nickel-plated handles. They're made of two vines decorated with alluring orchids, which symbolize love, beauty and strength.
Charm Wood Shop Wooden Wedding Cake Knife Set
This rustic knife and server set will definitely stand out at your cake-cutting ceremony. The handles are made of dark wood with hearts engraved onto the bottom. The seller can personalize your item with names and the wedding date, which is included in the cost, and you can choose the color of the box the set comes in.
Engraved Wedding Cake-Cutting Sets
Getting any wedding-related item engraved automatically makes it a unique keepsake. So consider putting one of these special sets in your shopping cart.
Gibb Daan White Wedding Cake-Serving Set
This wedding cake-cutting set is classically matrimonial and will make you want to get married all over again. The stainless steel knife, server and table forks are embellished with white handles and intricate gold distressing. Make the set your own by personalizing each piece with names, initials, dates, quotes or even small illustrations.
Things Remembered Rose Gold Wedding Cake-Cutting Set
Here's an extra-glamorous wedding cake knife and server you'll definitely want to take pictures with. It's stainless steel with sleek rose gold handles accented by dazzling crystals. The cake server can be personalized with two names and a wedding date.
Waterford Stainless Wedding Cake Knife and Server
This fancy cake server set will instantly become a cherished heirloom you'll want to pass down to loved ones. The crystal handles are cut with elegant lines and a romantic heart at the bottom. Meanwhile, the knife and server blades are made from durable stainless steel. Best of all, they can be engraved with a monogram or message.
Gibb Daan Black Wedding Cake Knife Set
This gothic wedding cake knife and server (or simply minimalist black utensils), which are both customizable, suit a modern wedding. The twisted metal handles add an elegant texture. Choose a shiny or matte finish, then select if you want matching table forks for even more subtle flair at your dessert table.
Personalization Mall Heart-Shaped Wedding Cake-Cutting Set
If it can't get your fill of heart motifs in your decorations, include them in your flatware. This silver-plated cake server and knife set are not only decorated with joined hearts on the handle, but the spade is in the shape of a heart. It can be engraved with the couple's names and wedding date.
Personalized Wedding Cake-Cutting Sets
Who doesn't what the opportunity to customize their wedding tokens? Keep it simple by adding just the couple's names, or a sweet quote about marriage (and other lovey-dovey stuff).
The Knot Shop Gold Hammered Wedding Cake Knife Set
We don't know who invented the hammered metal look, but we love it because of its eye-catching texture. The blades are stainless steel with the option of engraving, and the matte gold handles finish the chic look.
The Knot Shop Calla Lily Wedding Cake-Serving Set
Consider this wedding cake knife and server for a flower-focused fête. The handles are shaped like calla lilies, which are considered good luck on the wedding day. Bonus: You can engrave the knife, the server or both with different fonts.
The Knot Shop Better Together Wedding Cake-Cutting Set
Don't be afraid to get a little mushy with your wedding cake-cutter set. This gold knife and server are fitted with the phrase "better together"—one word on each utensil—in raised cursive font. The blades can be left blank or personalized with two lines of text.
Unique Wedding Cake-Cutting Sets
Don't let your cake flatware be an afterthought. Pick a cool cake-cutting set you'll want to use after the wedding day.
VIETRI Aladdin Brilliant Blue Wedding Cake Knife
Why not make your wedding cake knife your something blue? This utensil is handcrafted by artisans in Italy. The handle is made from pearlized royal blue acrylic and topped with stainless steel in a crosshatch pattern. Grab the matching pastry server for a complete set.
Berglander Rainbow Iridescent Wedding Cake-Cutter Set
Don't be afraid to be bold when shopping for a cake-cutting set—a wedding is a party, after all. This colorful iridescent knife and server are hypnotizing and perfect for alternative couples.
Mariposa Pearled Wedding Cake Knife Set
Crafted from recycled aluminum, this server and cake knife makes for a stylish set for your wedding. The handles are shaped like cascading pearls for a unique design.
Michael Aram Calla Lily Wedding Cake-Serving Set
Michael Aram, the designer, loved the shape of the calla lily, which inspired the curved shape of the handles. These pieces were made in India, where Aram was impressed by the artisans' metalworking techniques.
Celebrate It Silver Bling Wedding Cake-Cutting Set
Even though this cake-cutting set isn't customizable, it has great customer reviews for its fashionable look. Our favorite review? "Beautiful. Just the right amount of bling."
Disney Gold Wedding Cake-Cutting Set
Take pride in your "Disney Adult" status and buy this unique wedding cake knife and server set. The silver and gold design features ribbon patterns interlaced with the iconic Mickey Mouse ears.
Olivia Riegel Dogwood Wedding Cake Knife Set
Check out the details on this wedding cake serving set. The handles are adorned with dogwood blossoms cast in gold-plated pewter with ivory enamel petals and European crystals as the pistils. You'll want to show off this set at every future celebration.
Vintage Wedding Cake-Cutting Sets
Going for a timeless vibe for your cake-cutting utensils? Try out one of these three options, which look like beautiful heirlooms.
The Knot Shop Vintage Wedding Cake-Serving Set
This silver serving set only looks like an antique— don't worry, it'll cut your wedding cake with ease. Engraved with vintage-inspired botanicals, the set is a charming addition to any dessert table. Personalize the knife with a logo, message or monogram in a font of your choice.
Treasure Your Event Rose Champagne Flute and Wedding Cake Knife Set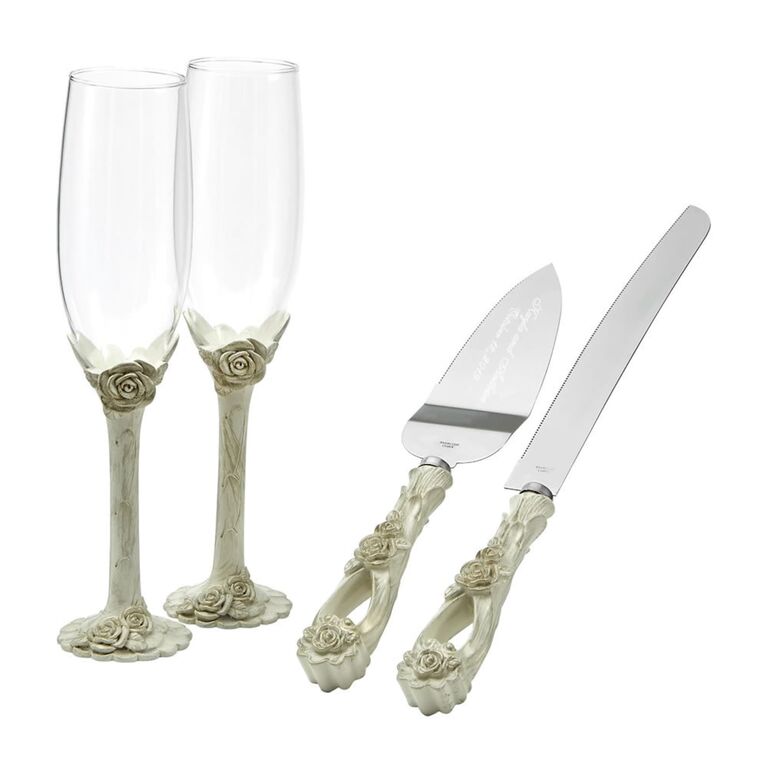 This beautiful vintage-esque item comes with lots of additions. You can engrave the server with a personal note, the set comes with two champagne flutes of the same design and the pieces are handmade with an ivory finish.
French Home Pearl-Inspired Wedding Cake-Cutter Set
The handles are the star of the show for this cake-cutter set. They have a curved shape and a beautiful white pearlized finish, which is a traditional design from the 1820s. Bonus: It's dishwasher safe, which isn't typical for wedding cake sets.