18 Romantic Wedding Centerpieces With Candles
Bring an allover glow to your reception space with candle centerpieces.
A lot goes into planning your reception décor—especially the tables. If you're including a sit-down meal, you'll want to dress your tables to the nines. Look to your centerpieces to create wow-worthy table décor, and incorporate candles to set the right mood. Not only will adding candle centerpieces to your wedding decor create just the right ambiance, but it will also make your closest friends and family feel warm and welcome. With their tables elegantly decorated, they'll be all set to mingle and celebrate the newlyweds. 
Whether it's simple birchwood candles for a woodland wedding or glamorous candelabras for a ballroom soiree, the perfect candle and floral pairings will light up your reception space. For the ultimate inspiration, take a peek at our selection of candle centerpiece ideas below. 
18 Incredible Candle Centerpiece Ideas for Your Wedding
1. Be Our Guest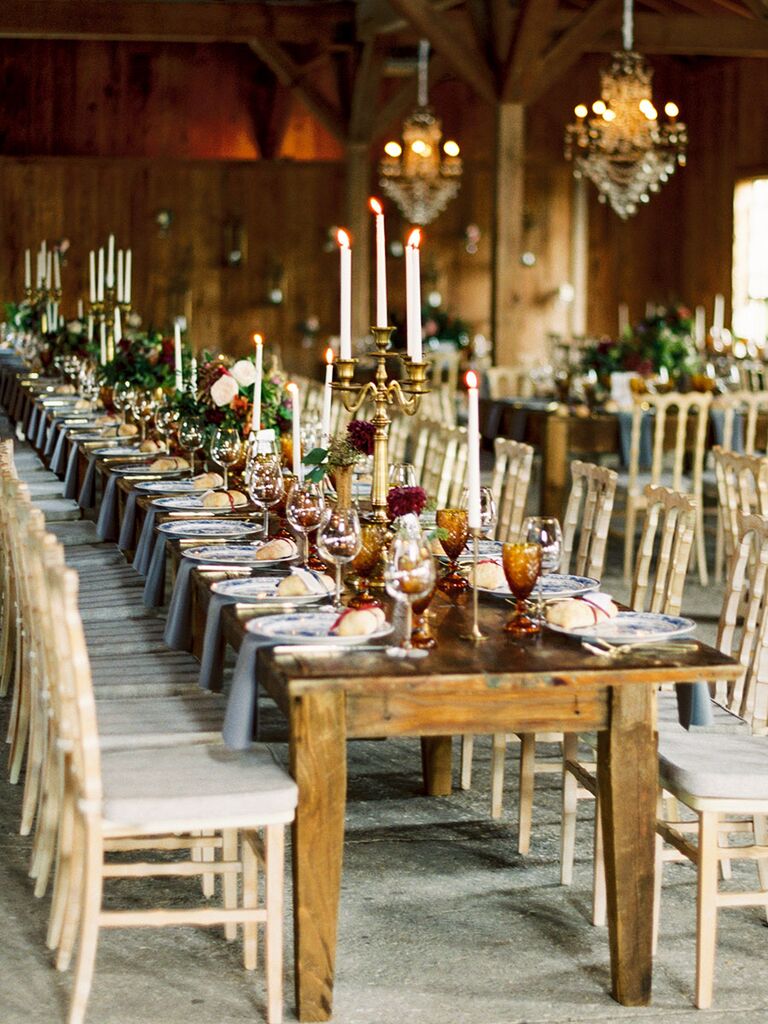 Candelabras give a romantic feel to any reception. Place tall candles on the ends of your tables for subtle elegance, or surround the candlesticks with vibrant blooms for a more glamorous look. These dazzling candle centerpieces prove just how easy it is to take your table decor up a notch. 
Flowers: dahlias and Italian ruscus
2. Woodland Spark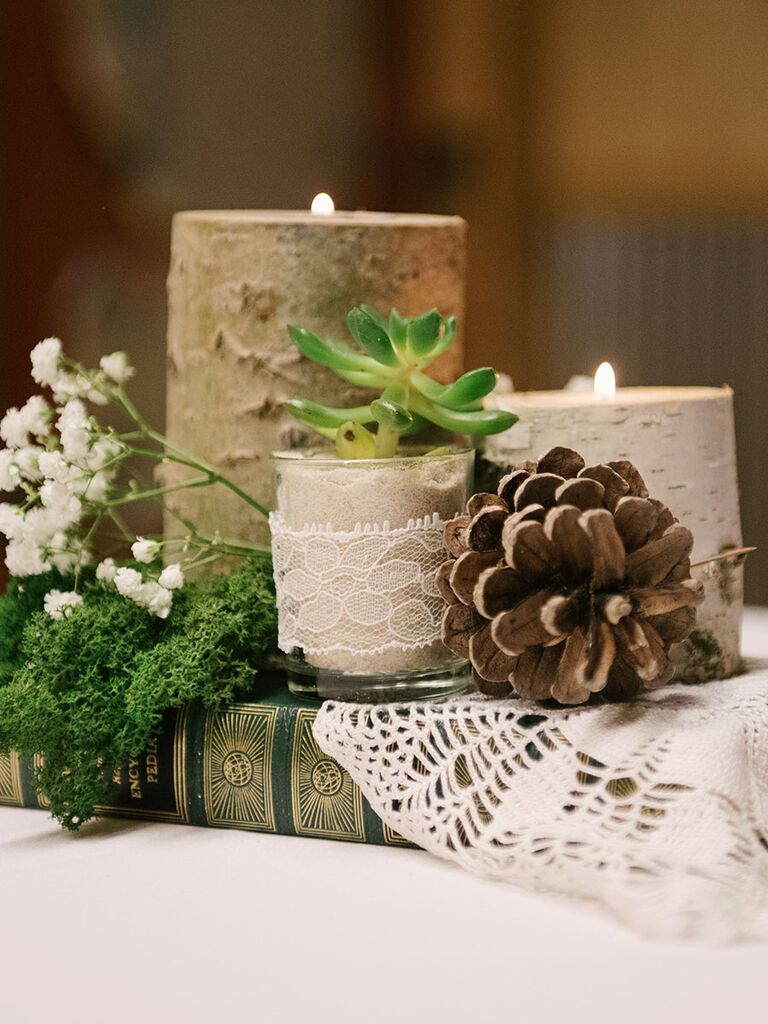 To set an easy, earthy vibe, pull your tabletops together with succulents, greenery and birchwood candles. This rustic candle centerpiece wedding look takes advantage of Mother Nature's beautiful elements. 
Flowers: Queen Anne's lace, pinecones and moss
From: A DIY Woodland Wedding at a Private Residence in Bay City, Michigan
3. Garden Party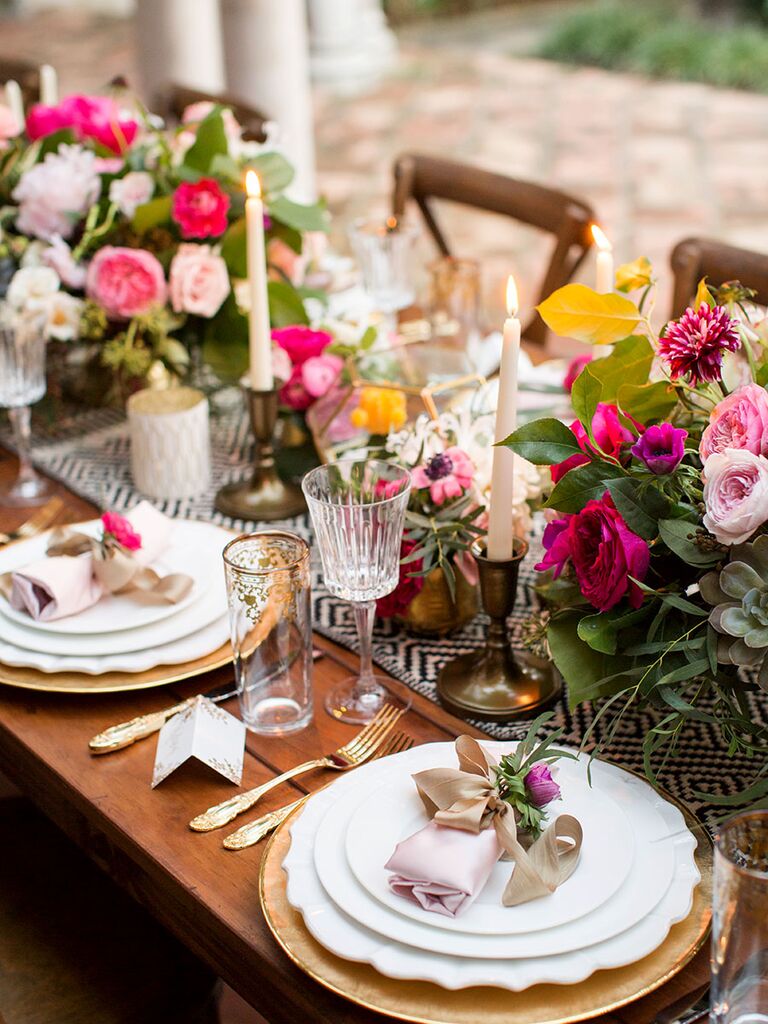 Pair tall candlesticks with bright blooms for vibrant centerpieces. We love this look for a chic summer wedding.  Good luck finding a prettier design than this brilliant candle centerpiece idea showcasing fresh flowers.

Flowers: peonies, roses, dahlias and ranunculus
From: An Alfresco Southwestern Wedding at McNay Art Museum in San Antonio, Texas
4. Lantern Wreaths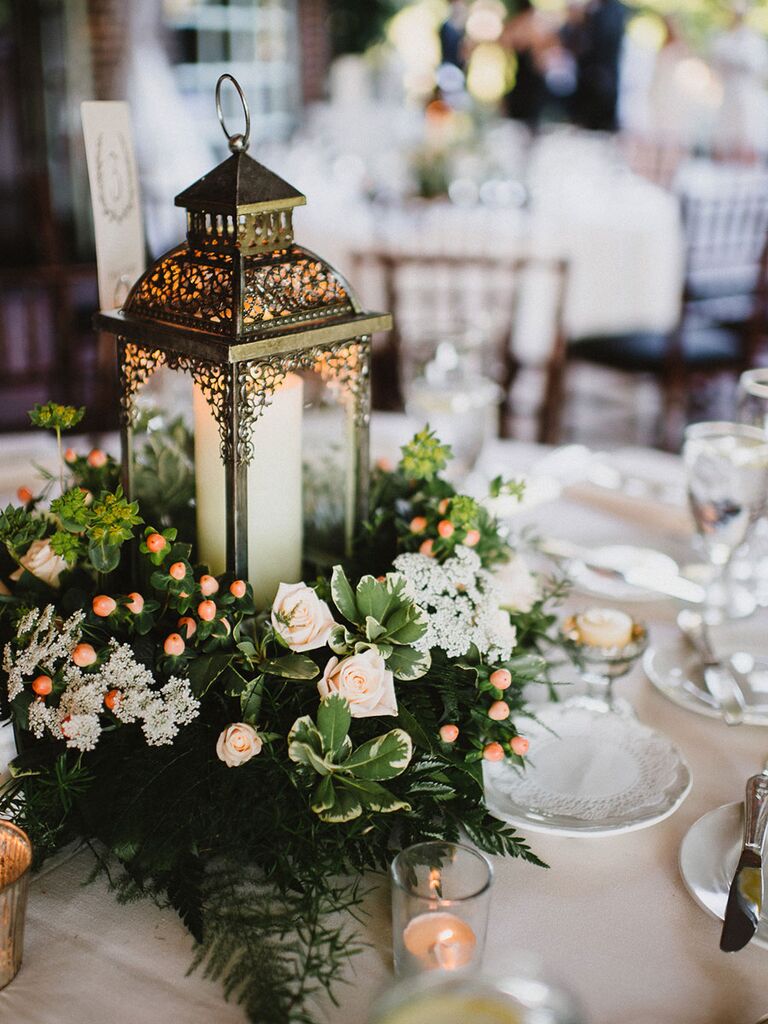 Style vintage pewter lanterns with wreaths of greenery and delicate florals for romantic centerpieces. The soft glow from these lanterns will help set the mood for your evening wedding reception.

Flowers: peonies, Queen Anne's lace and greenery
From: An Elegant, Classic Wedding at Greenville Country Club in Wilmington, Delaware
5. High and Low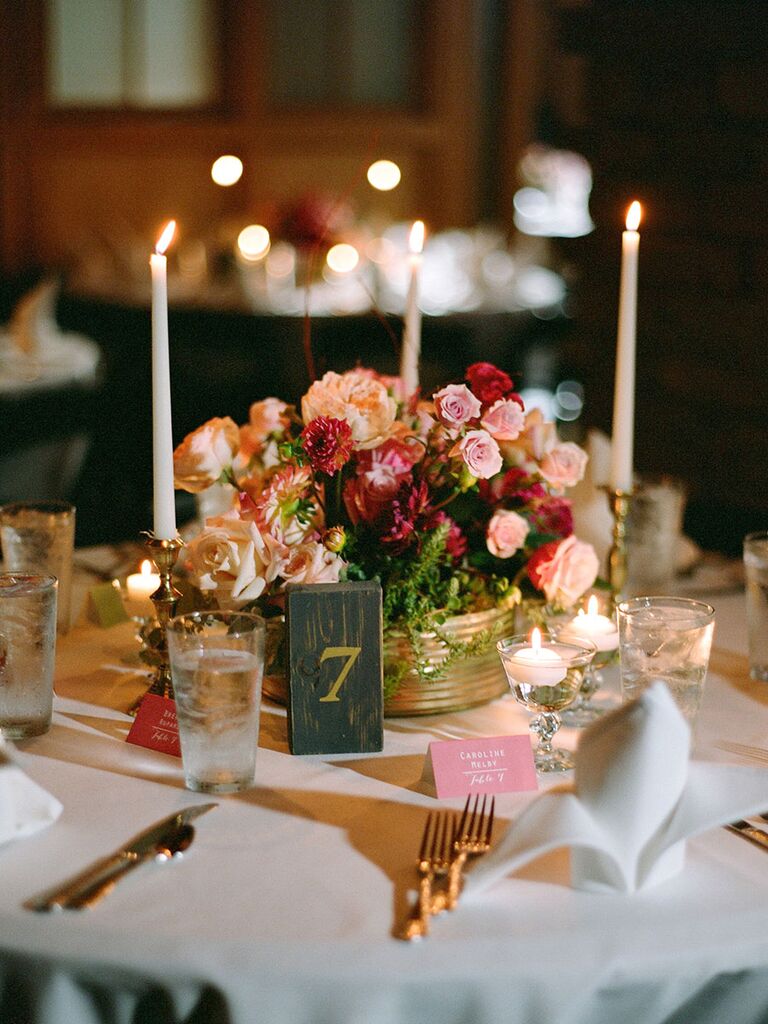 Low centerpieces encourage table talk among your guests. Intersperse a few tall candles for a declicate glow that still allows for easy conversation. This enchanting candle centerpiece idea will be the talk of the party. 
Flowers: dahlias, garden roses, roses and pine
From: An Intimate Summer Wedding at Lucas Park Grille in St. Louis, Missouri
6. Fire and Water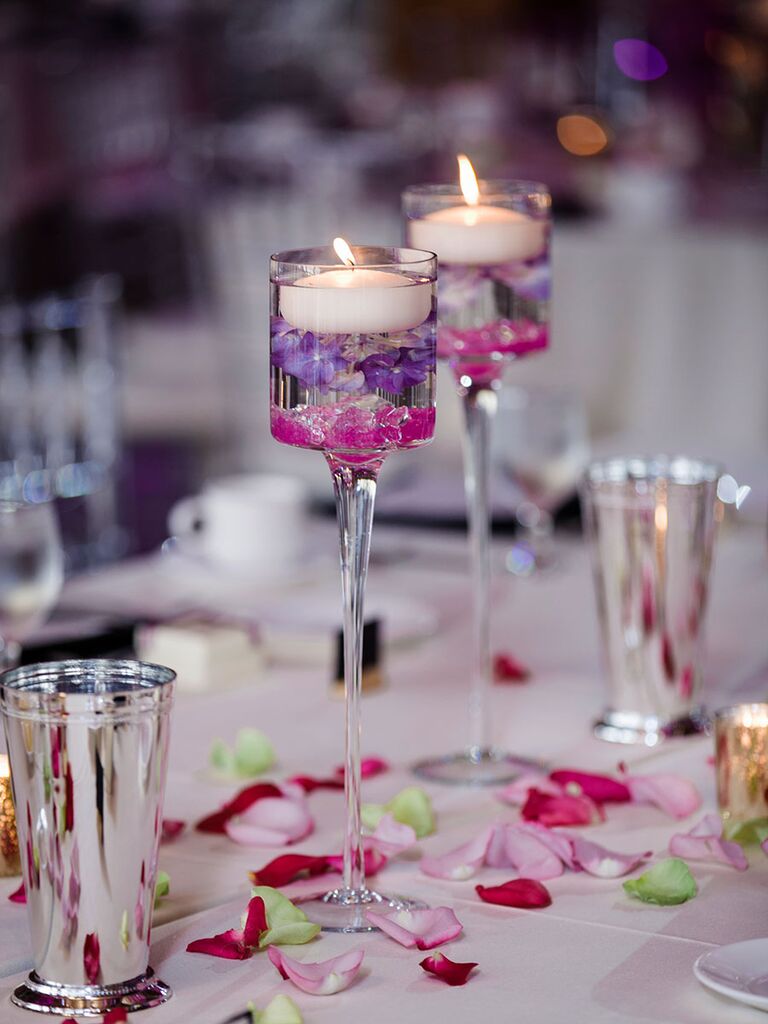 Include fire and water in your centerpieces for an alluring sight at your reception. With a few added petals, these opposing elements make a surprisingly agreeable pair. Pretty and dainty, this floral look will complete your wedding reception decor. 
Flowers: orchids and rose petals
From: A Traditional Indian Wedding at A'Bulae in St. Paul, Minnesota
7. Whimsical Candelabras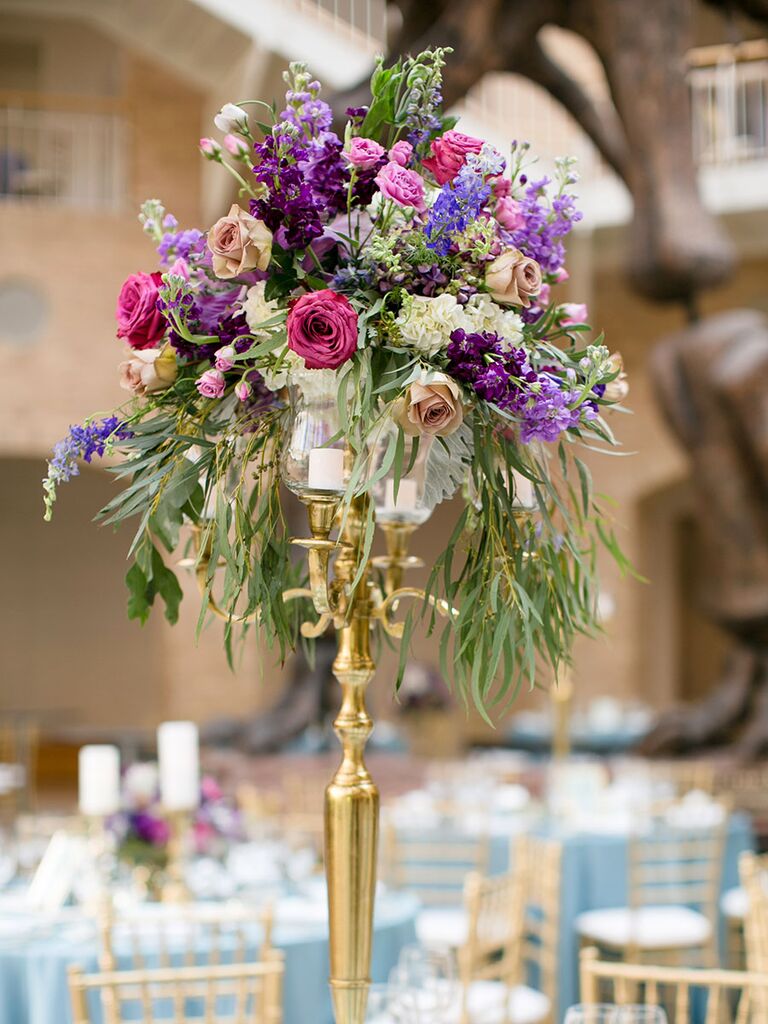 Use stately candelabras to hold whimsical floral arrangements. Towering candlesticks give these cascading blooms some added drama. These floral candelabras are major statement pieces that are sure to make a big impression. 
Flowers: roses, hydrangeas, delphinium and eucalyptus
From: An Eclectic-Glam Wedding at Fernbank Museum of Natural History in Atlanta, Georgia
8. Raised Flames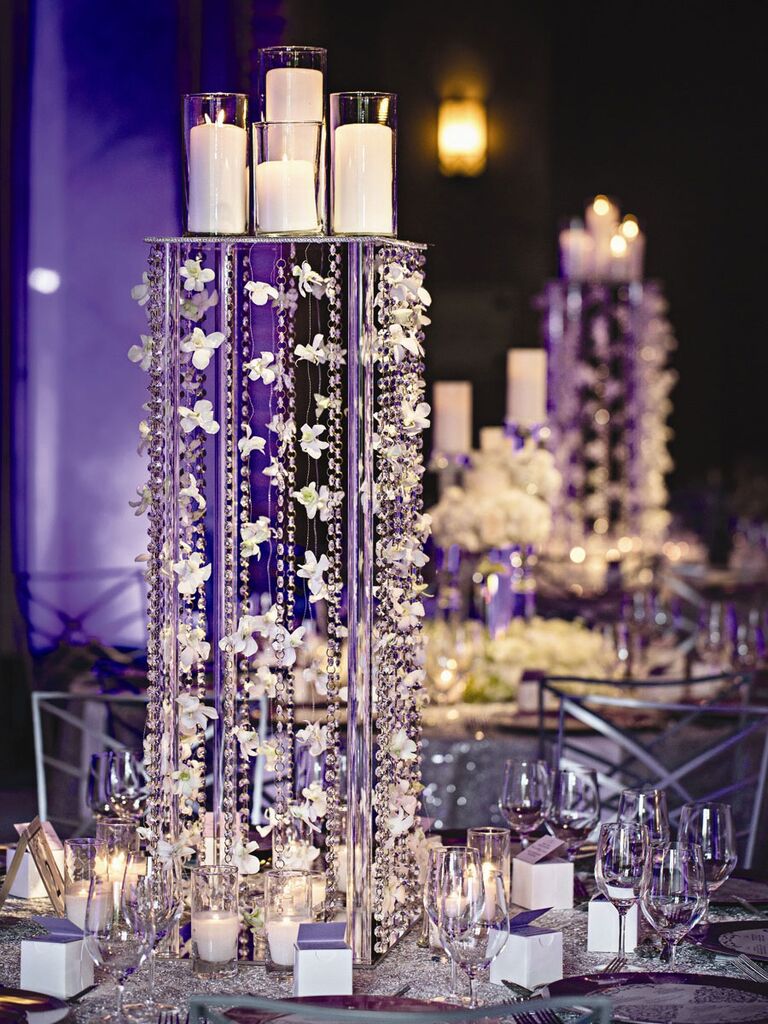 Raise your candles high on sleek platforms with cascading garlands and beads for modern centerpieces. If you're searching for candle centerpiece ideas fit for a fairytale wedding reception, these will certainly give you the whimsical look you're dreaming of.

Flowers: stephanotis
From: A Peabody Opera House Wedding in St. Louis, Missouri
9. Rustic Sparks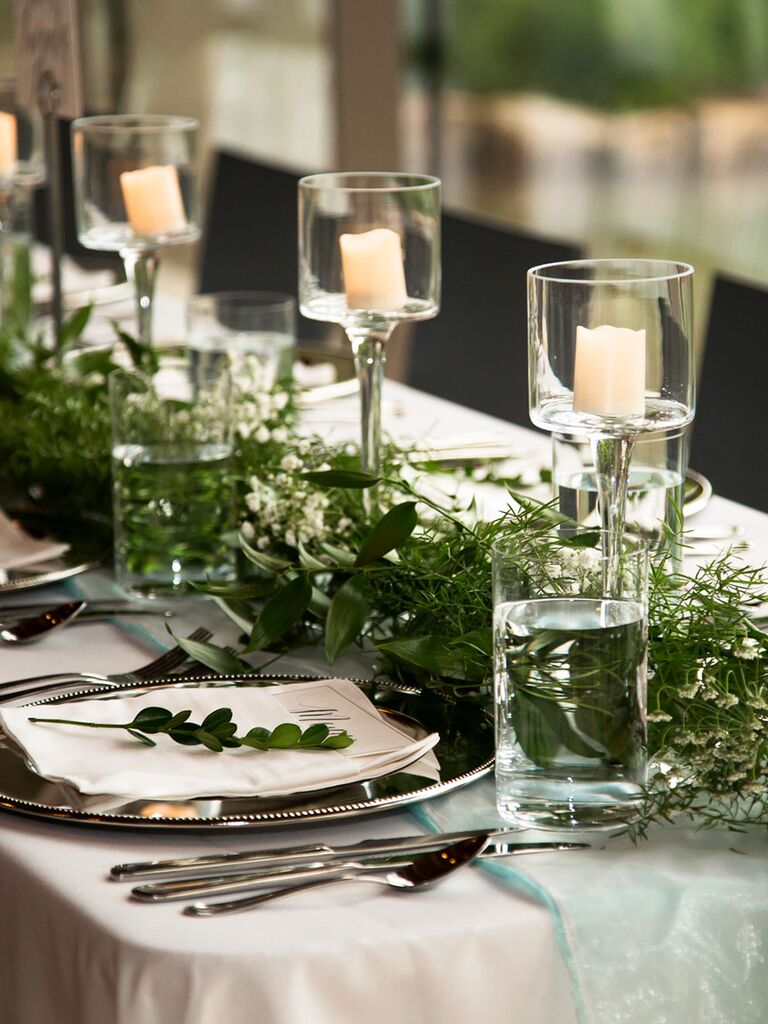 Line your reception tables with simple candles and fresh garlands for a fuss-free, organic feel. Sometimes the simplest arrangements prove to be the most eye-catching displays.

Flowers: greenery
From: A Rustic Wedding at Crystal Bridges Museum of American Art in Bentonville, Arkansas
10. Submerged Tulips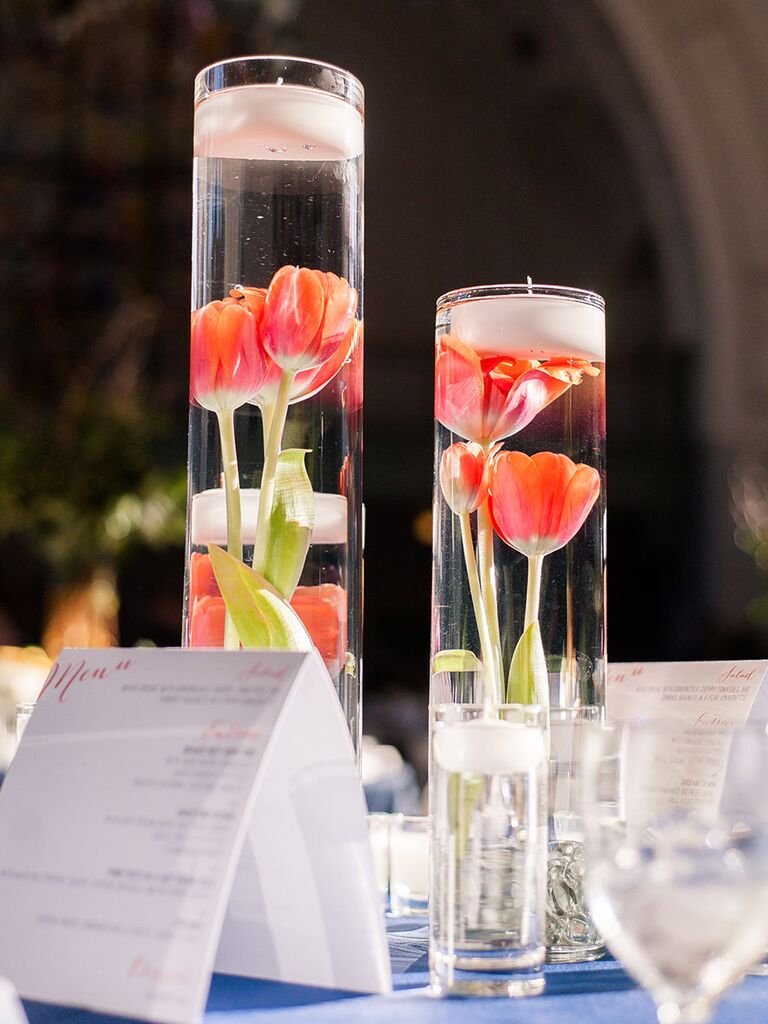 Don't be afraid to think outside the box. Try something unexpected, like hanging floral arrangements or blooms submerged in water with a candle on top. This candle centerpiece idea is so lovely, you just might decide you want to incorporate something similar in the dining room of your own home.  
Flowers: tulips
From: An Elegant, Outdoor Wedding at Union Station in Tacoma, Washington
11. Mossy Glow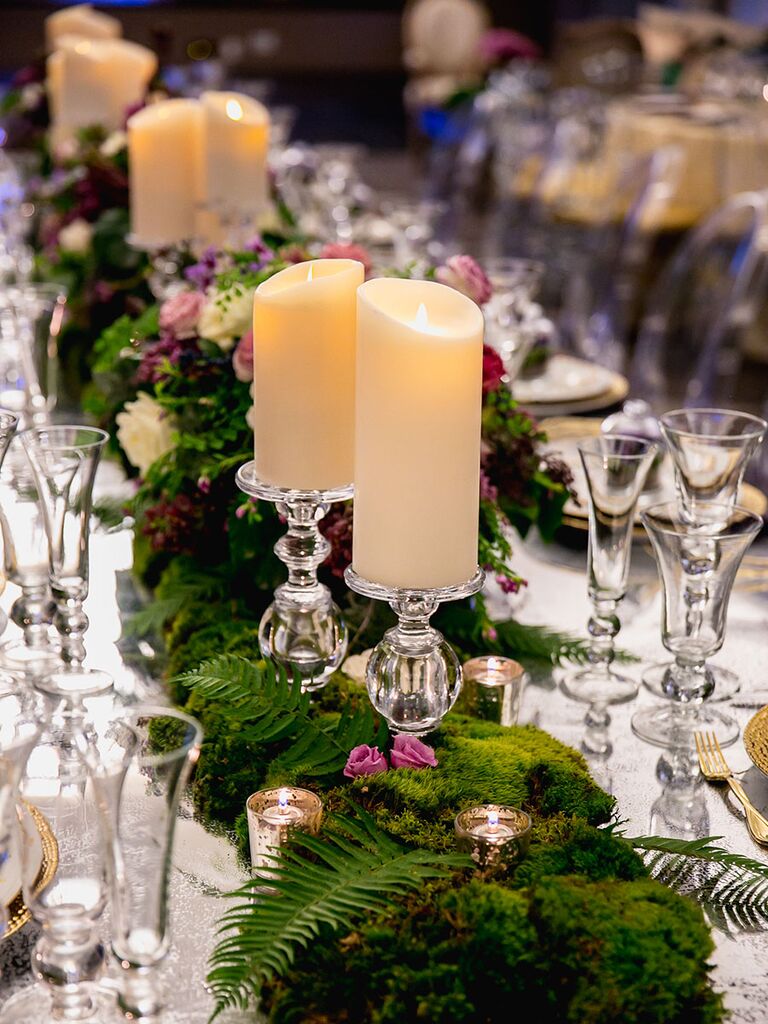 Take advantage of nature by including natural elements in your candle centerpiece wedding design. Nest candles on a bed of moss to bring long reception tables to life. Add a few bright stems and textured greenery for a slightly wild look.

Flowers: roses, fern and moss
From: A Modern, Irish-Inspired Wedding at W Washington DC Hotel in Washington, DC
12. Electric Feel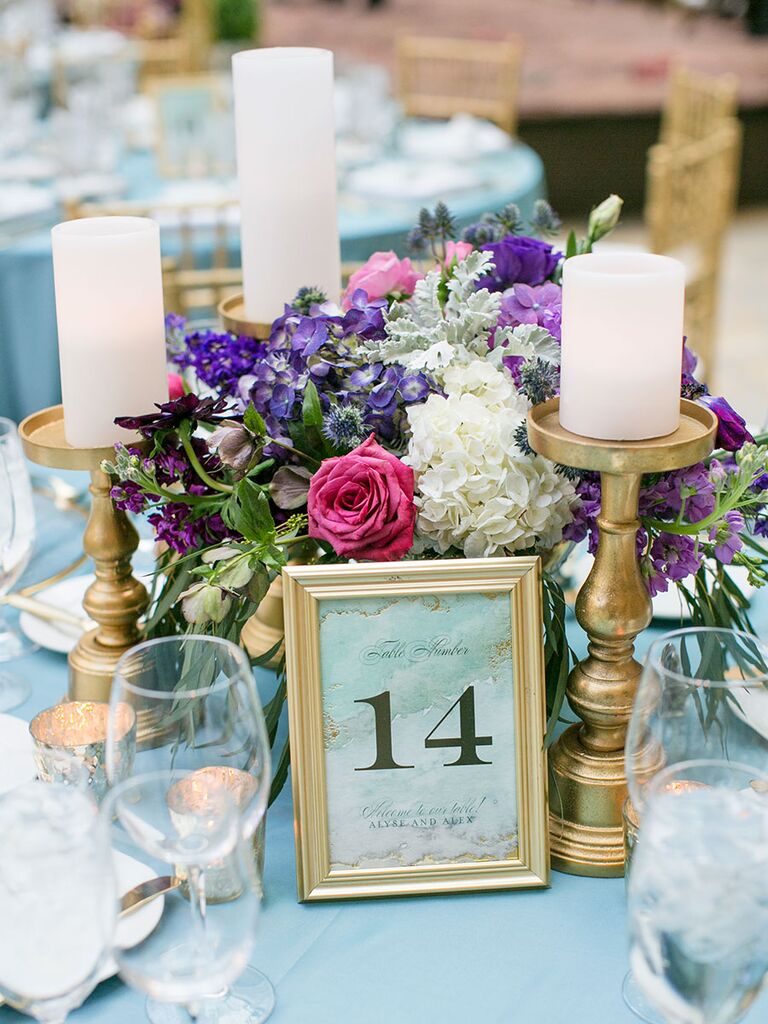 Consider using electric (or flameless) candles rather than real flames. You'll avoid a waxy mess, and you can turn them on with one easy switch. Beautiful and hassle-free? We can't complain there. 
Flowers: roses, hydrangeas, dusty miller and eucalyptus
From: An Eclectic-Glam Wedding at Fernbank Museum of Natural History in Atlanta, Georgia
13. Geometric Glow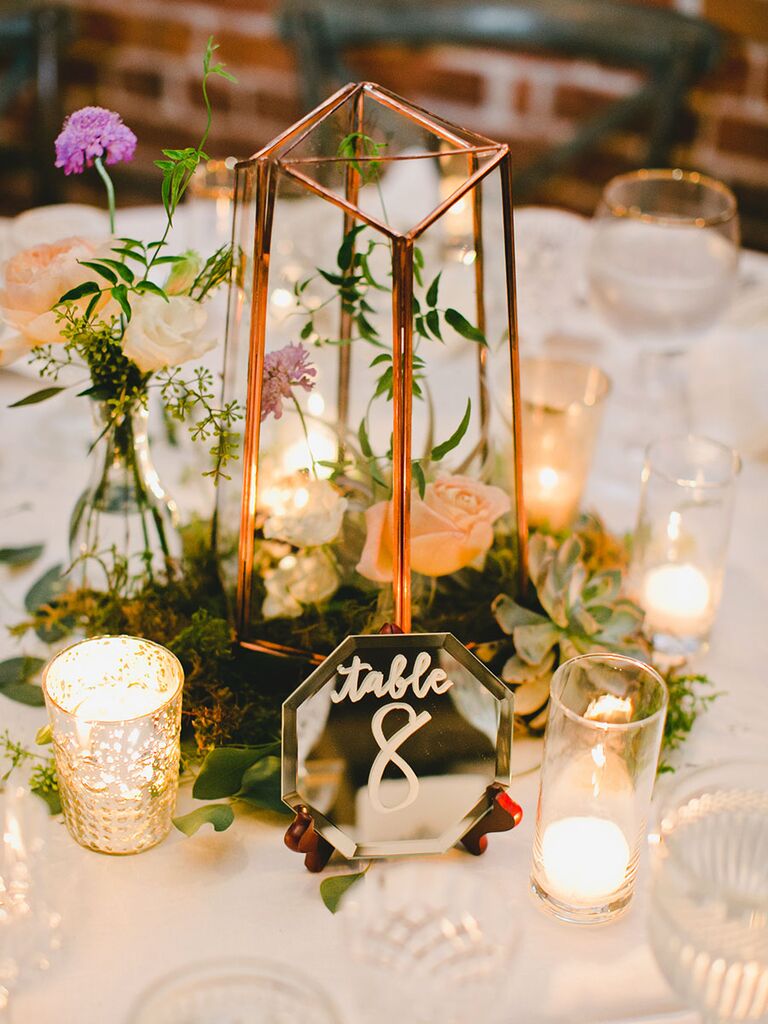 Play with shape and asymmetry on your tabletops. Mix and match your candles and decorate with greenery for something a little more low key.  Browse vintage and second-hand shops to find unique and gorgeous treasures to incorporate into your centerpiece design.

Flowers: roses and succulents
From: A Romantic, Vintage Wedding at Carondelet House in Los Angeles, California
14. Blue Flames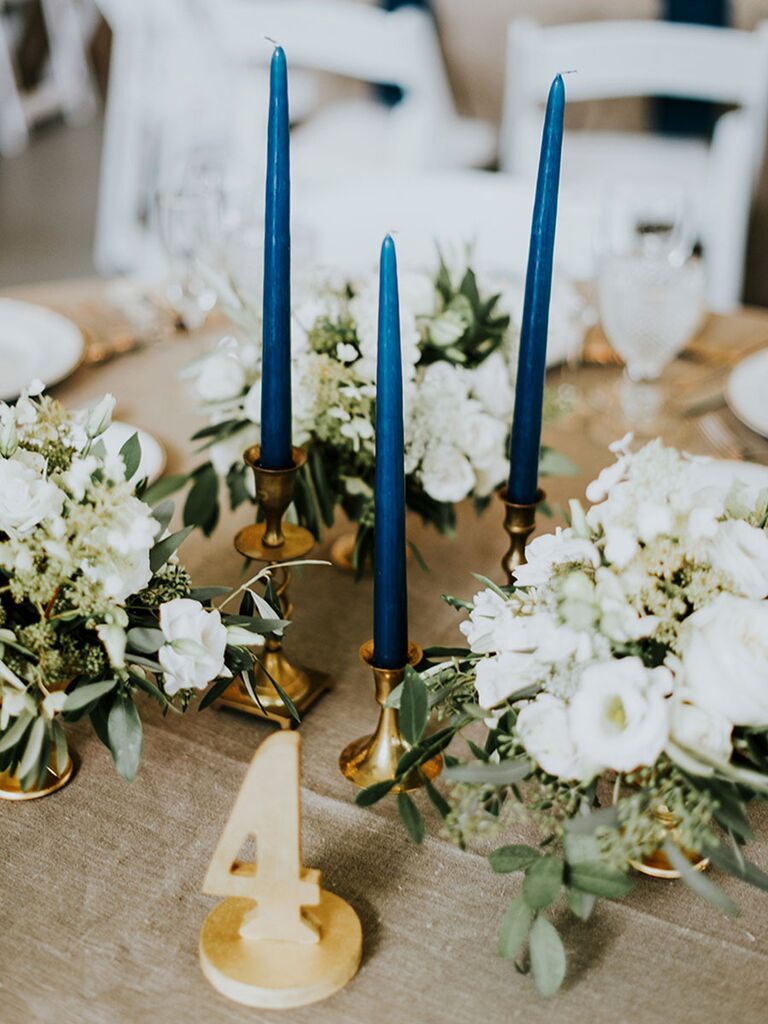 No one ever said you had to stick with white, traditional candles. Play with different colors to spice up your arrangement. Incorporate an extra "something blue" with svelte, navy candles. Add neutral blooms, gold candlesticks and lots of greenery. 

Flowers: hydrangeas, dahlias, garden roses, lisianthus, godetia, spray roses, freesia, Queen Anne's lace, porcelain berry, olive branches, seeded eucalyptus and bay leaves
From: An Elegant Jewish Wedding at Crossing Vineyards and Winery in Washington Crossing, Pennsylvania
15. Lantern Light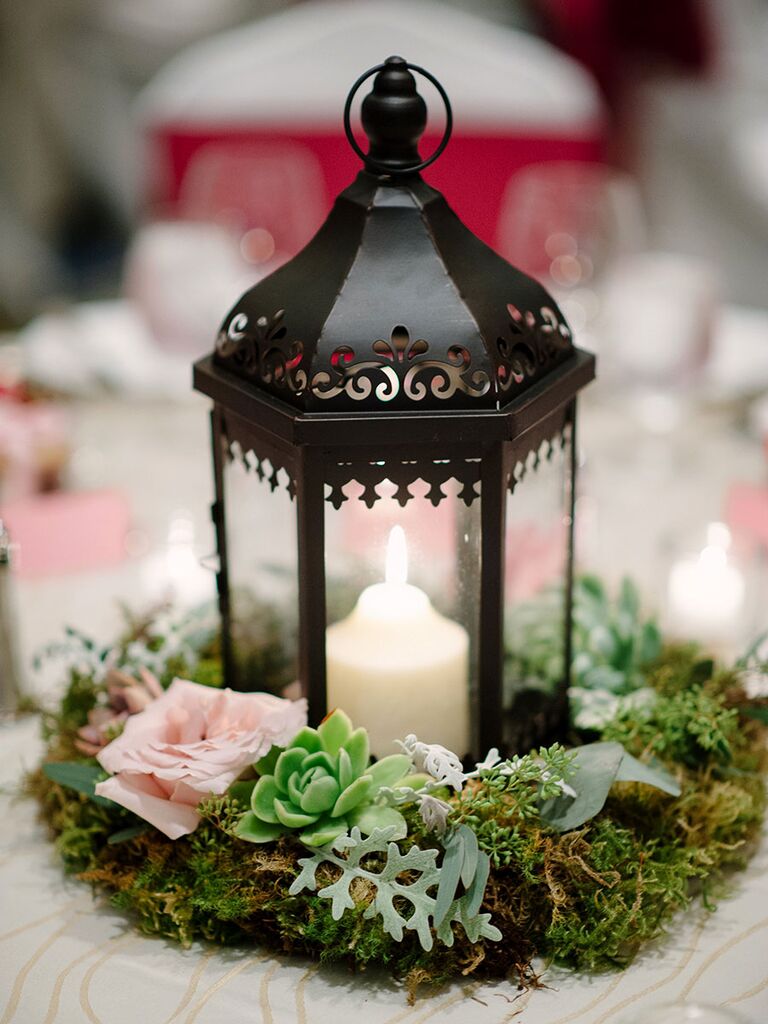 Another whimsical candle centerpiece idea, this design screams, "Happily ever after." Light the way to your romantic reception with these enchanting lanterns. Surround them with succulents and moss for a woodland touch with lots of character.

Flowers: Roses, succulents and moss
From: A Traditional Romantic Wedding in Vancouver, British Columbia
16. Dappled Luster
Don't be afraid to mix and match. Scatter small votives and wider hurricane candles amid greenery for an effortless, elegant glow.

Flowers: succulents and gardenias
From: An Elegant, West Coast Wedding at a Private Residence in Montecito, California
17. Alluring Candles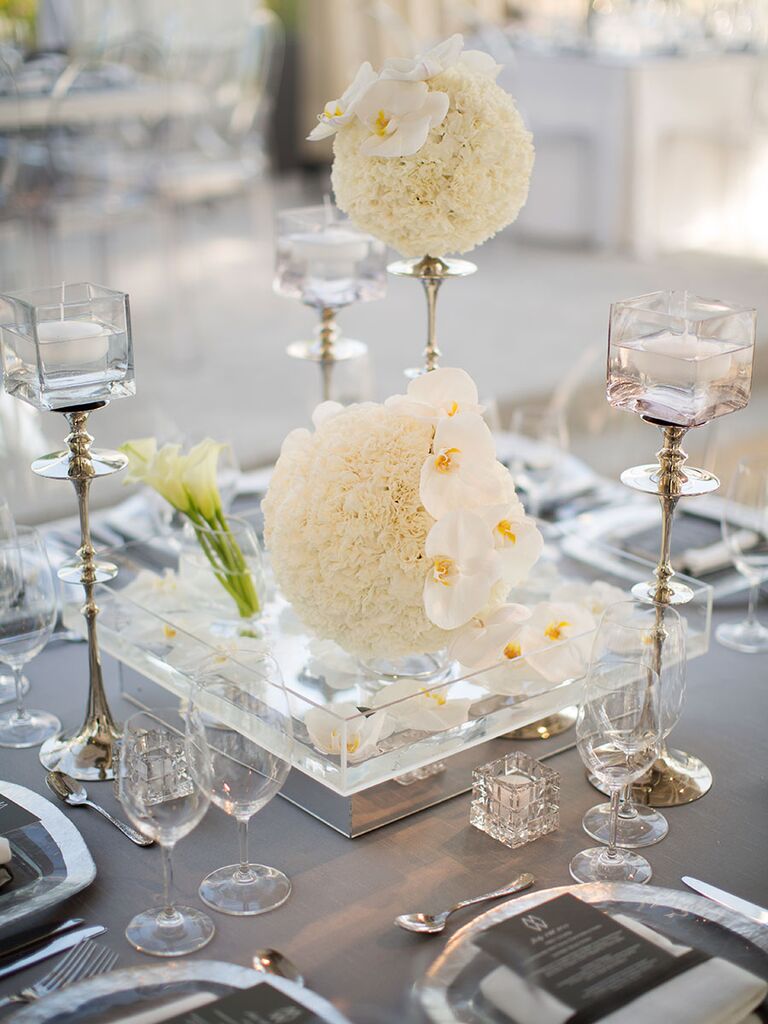 Set the mood for your romantic reception with silver candlesticks. The simple flames will look gorgeous beside your glamorous florals. There's something absolutely romantic about this candlestick look.
Flowers: Hydrangeas and orchids
From: An Elegant Backyard Wedding at a Private Residence in Bannockburn, Illinois
18. Simple Tapers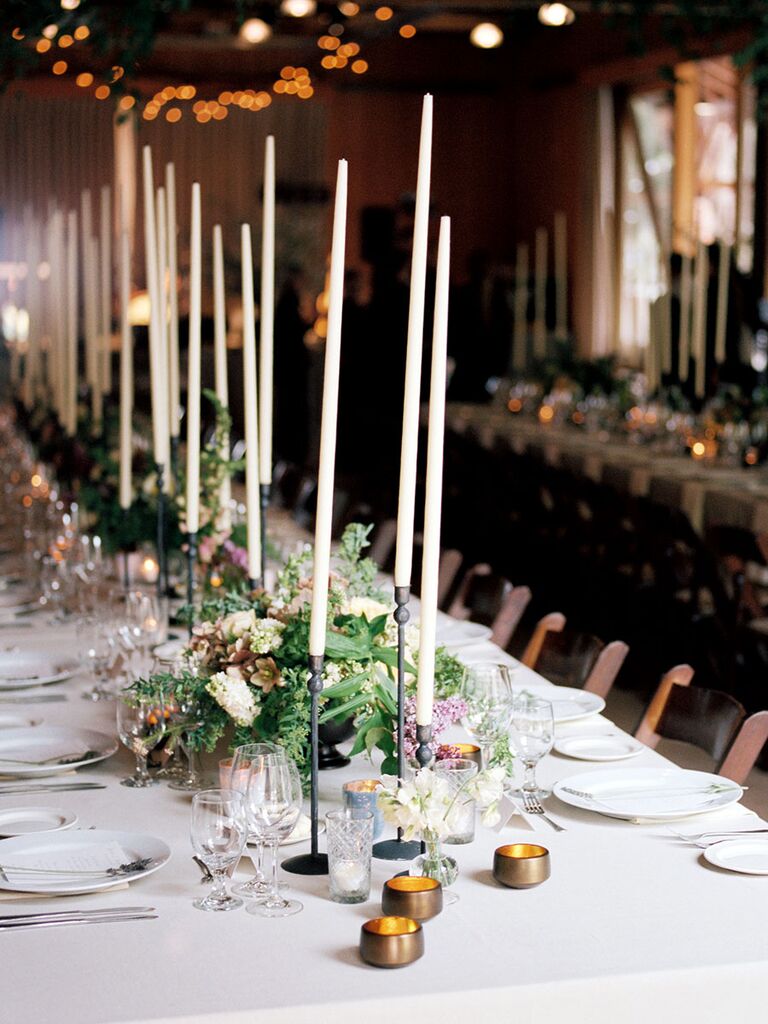 Use tall, slim taper candles to line your rustic tabletops. The long candle stems create a striking and dramatic look. Don't be surprised if you get compliments left and right when you run with this amazing candle centerpiece idea. 
Flowers: roses and greenery
From: A Winter Wedding at Sundance Mountain Resort in Sundance, Utah