The 38 Most Common Wedding Cake Decorating Techniques, Defined
Including the difference between fondant and buttercream.
You already know that your cake is going to be a major part of your wedding day—not to mention looking at cakes and trying different flavors is one of the most fun parts about planning, right? If you're in the process of choosing a wedding cake baker or deciding exactly how your cake should look, it can be helpful to know the basic wedding cake decoration terms and techniques. We've outlined the most common ones below (and included some real-life wedding cake ideas as examples) so that you can go into your tasting appointment feeling confident and ready to describe your vision.
1. Basket Weave
This wedding cake decorating term refers to a piping technique that mimics a wicker basket, with interwoven vertical and horizontal lines. It's a cute pick for rustic cake designs and casual wedding themes.
2. Beading
A border of icing dots resembling a tiny strand of pearls along the perimeter of a tier. Beading can be placed at the top of the tier, the base of the tier or both.
3. Buttercream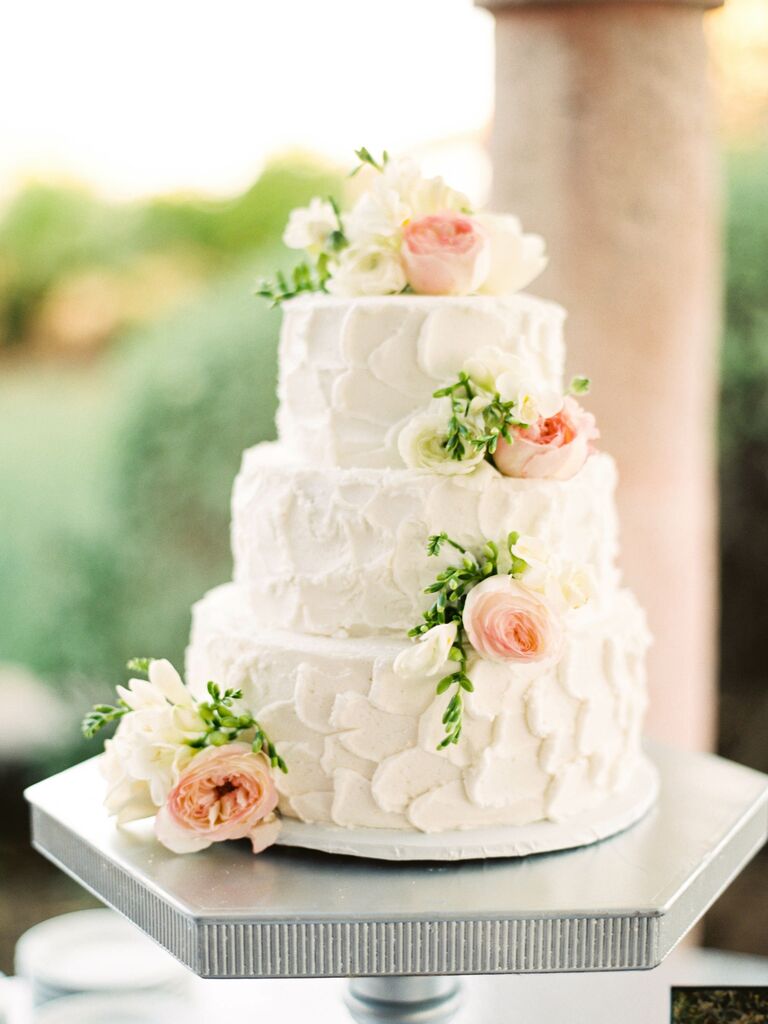 This is a smooth, creamy frosting made from sugar and butter (hence the name) that stays soft and can be colored or flavored. Cakes can be entirely coated in buttercream, but this soft mixture is also commonly used for hand-piped wedding cake designs, as well as a filling in between cake layers. Because it's made using butter, buttercream is more susceptible to melting in heat, sunlight and humidity.
4. Cake Board
The cake board is a sturdy piece of cardboard, coated in a layer of plastic or foil, that's placed underneath the bottom tier of the cake. It's essential for when your cake baker needs to pick up and move the cake during the decorating or delivery process. If the cake board is visible on the finished product, you can cover it with flowers, frosting or greenery.
5. Cake Knife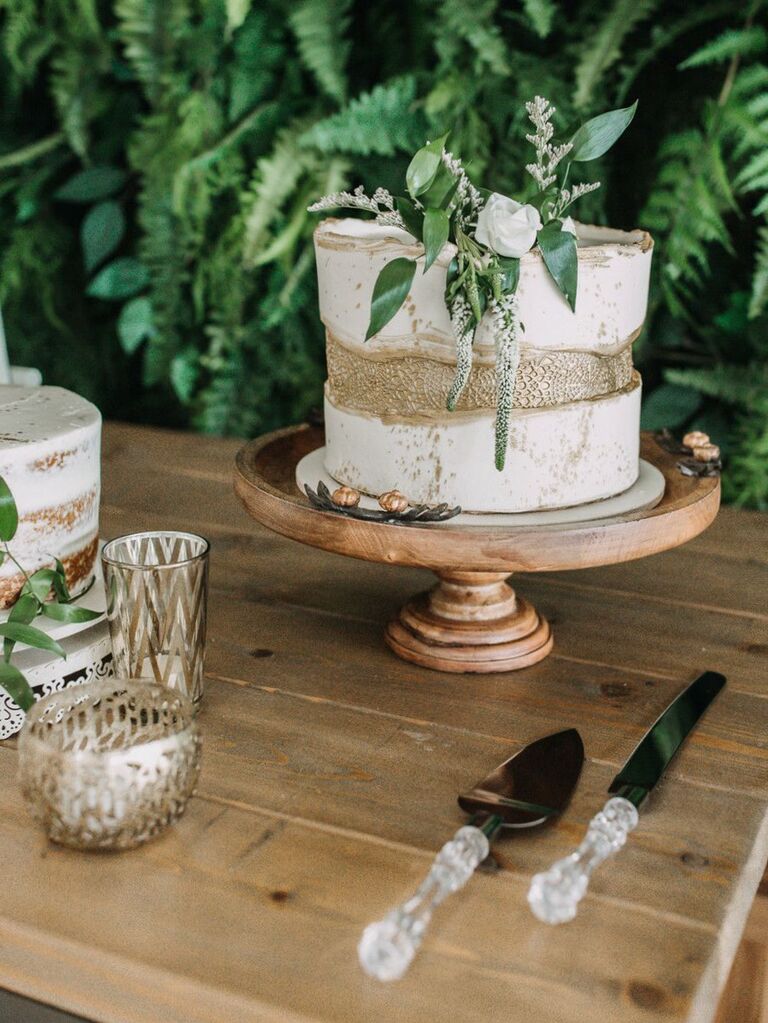 Take it from us: Don't try to cut your wedding cake with an ordinary table knife. Cake knives are designed to be longer, allowing you to slice all the way to the center of the cake in one motion—plus, cake knives aren't serrated, which will help keep each slice intact, rather than making the whole thing crumble. You can buy a special wedding cake knife and serving set to save as a keepsake.
6. Cake Stand
A short, round or square pedestal used for displaying the wedding cake at the reception. The cake stand typically sits at the center of the dessert table, sometimes surrounded by other sweets, like cookies and cupcakes.
7. Cake Topper
As one of the most popular wedding cake decorations, you might already know what a cake topper is. This decorative item sits on the top tier of your wedding cake and serves as another way to personalize the overall design. Traditionally, wedding cake toppers were miniature figurines resembling the couple, but modern-day cake toppers range from classic monogram letters to kitschy clay animals, romantic phrases and even fresh flowers.
8. Cascade
This wedding cake decoration typically involves flowers, greenery or other embellishments that "cascade" down the side or front of the cake in a waterfall effect. Skewing more traditional when it comes to cake design, cascade cakes are popular for classic and formal wedding themes.
9. Cornelli
Achieved by hand-piping icing onto fondant in thin, squiggly lines, cornelli is an elaborate wedding cake decorating technique yielding a lace-like pattern that covers the cake. Cornelli can be done in the same color as the fondant underneath, or you can use a contrasting color to make the pattern stand out more noticeably.
10. Dragées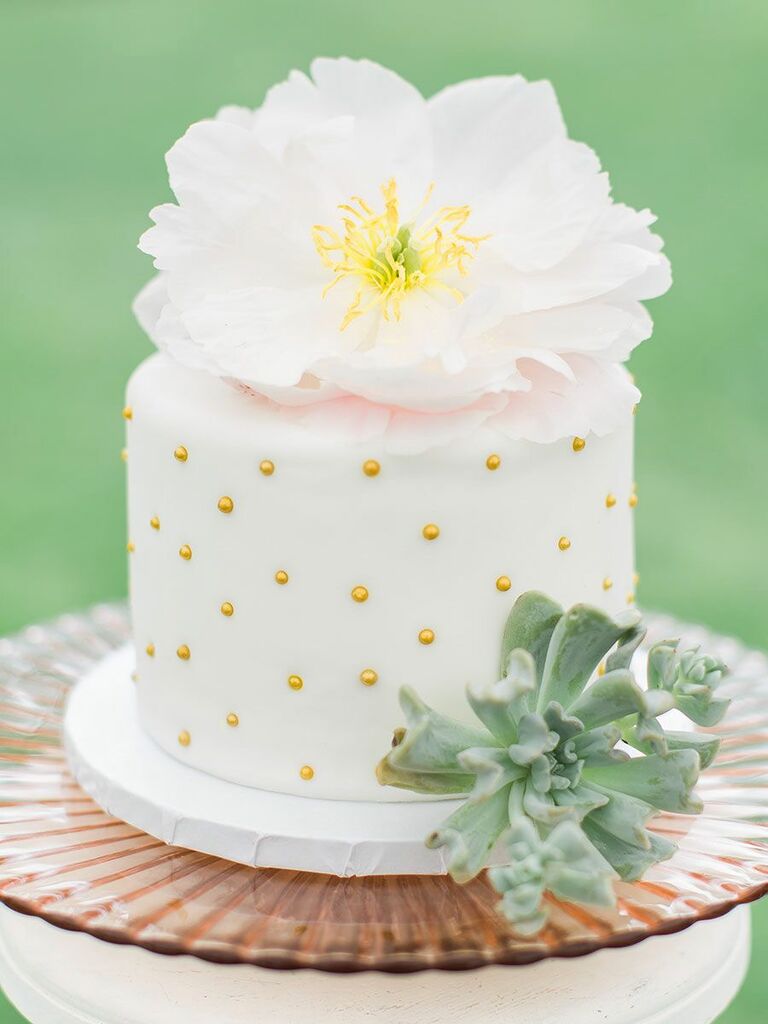 These edible sugar balls are typically coated with silver, gold or colorful chocolate. The pearl-sized sweets are used for a variety of decorative purposes, either in clusters (like sprinkles) or individually placed around the cake, creating a studded effect.
11. Faux Bois
A popular type of cake decoration for rustic wedding themes, faux bois, which is French for "fake wood," mimics the texture and appearance of tree bark. It's created using either fondant that has been painted with a wood grain pattern or buttercream that is intentionally left textured and rough.
12. Filling
The filling is what goes in between the layers of the wedding cake. Popular fillings include buttercream, cream cheese (mascarpone), ganache, jam or fresh fruit.
13. Fondant
Fondant is a sweet icing made of sugar, corn syrup and gelatin. Unlike buttercream, which is spread onto the cake using a spatula or piping bag, fondant is rolled out flat (similar to pie crust or cookie dough) and draped over the cake like a cloth. The result is a smooth, seamless finish that's ideal for sugar flowers, hand-piped or painted designs and other embellishments, like dragées.
14. Ganache
Ganache is another type of soft, spreadable wedding cake frosting that is used either as an icing or a filling. It's made from chocolate and is more dense than a mousse but less dense than fudge. Heads up: Most ganache recipes include heavy cream, which means this frosting will quickly soften in warm weather.
15. Glaze
A very thin, watered down frosting that is used to lightly coat the outside of a wedding cake. Common glaze flavors include chocolate, caramel and fruit (like raspberry or lemon).
16. Gold Leaf
Perfect for adding a bit of luxury to your wedding cake design, gold leaf is a metallic foil that can be applied to both buttercream and fondant. It's typically used in tiny, abstract flakes to create a shimmering effect, as if your cake is dusted in gold glitter. And yes, it's real gold—the foil is made from 24-karat gold, which is pure enough to eat and is harmless in very small doses. If yellow gold doesn't match your wedding decor, you can choose from edible silver or rose gold leaf instead.
17. Groom's Cake
You may have already heard of this popular wedding cake tradition, which is especially common in the South. The groom's cake is given as a surprise to the groom by his spouse, and it's completely separate from the actual wedding cake. The groom's cake is traditionally designed to showcase his interests and hobbies, such as a favorite sports team or color.
18. Gum Paste
Made from sugar, cornstarch and gelatin, this clay-like paste is used to mold realistic-looking fruits and flowers to garnish the wedding cake. Gum paste decorations are finished with edible paint or gold leaf, and if you're feeling sentimental, they can be preserved for years as wedding keepsakes.
19. Hand-Piping
This popular wedding cake decorating technique is created using a pastry bag (filled with icing, like buttercream or ganache) and a metal tip. The icing is squeezed out of the pastry bag through the metal tip to create various designs, including borders, swirls, basket weave patterns, dots, flowers and words.
20. Latticework
Resembling a wooden lattice fence, this piping technique features diagonal lines that criss-cross in a diamond-shaped pattern. Latticework is one of the most elegant wedding cake designs, especially when added to fondant icing.
21. Layer
Not to be confused with a tiered cake (more on that below), a layer is a single 'sheet' of cake. Stacking three or four layers of cake will create one tier, with filling in between each layer.
22. Marzipan
This hard paste is made from ground almonds, sugar and egg whites. It's most often molded into edible flowers or other shapes, but it can also be rolled into sheets, like fondant, and used as an icing for the wedding cake.
23. Naked Cake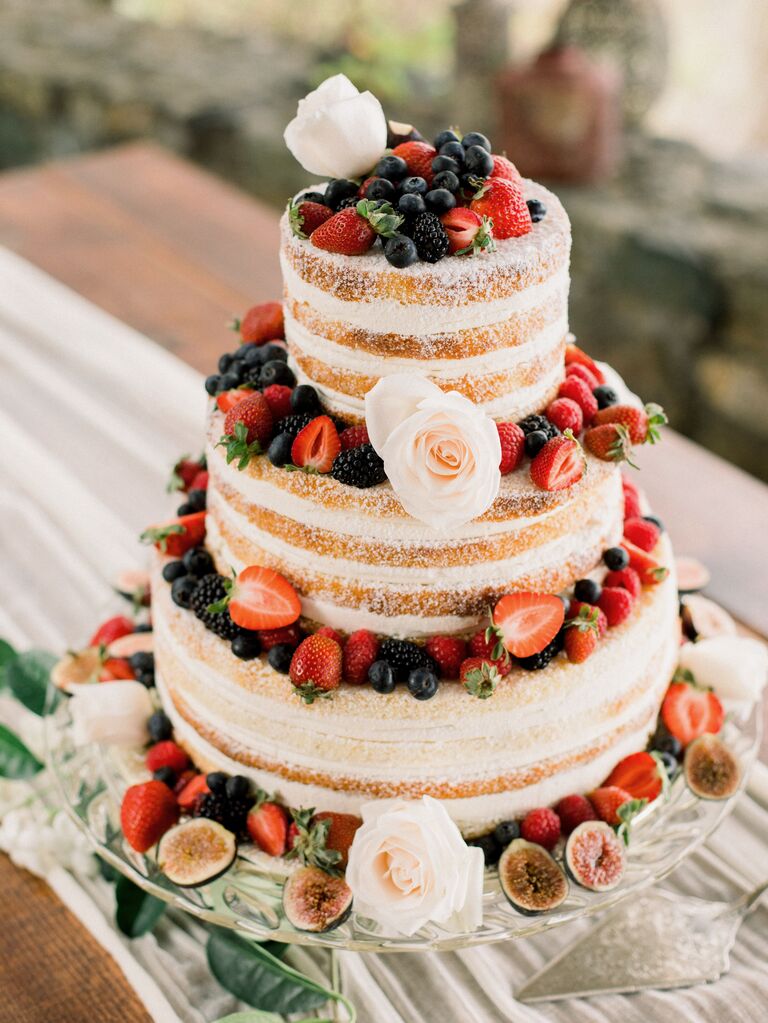 This unique wedding cake design started as a trend and is now popular for boho themes and summer weddings (especially if you want to avoid a buttercream frosting meltdown). The naked cake is intentionally unfrosted, leaving the layers and filling of the cake totally exposed. Cake toppers, fresh flowers and eucalyptus branches are just a few ways to decorate it.
24. Ombré
A technique that blends multiple colors (or light and dark shades of one color) in a gradient-style design. Ombré wedding cakes are a fun option if the basic white wedding cake isn't your thing—your baker can create the effect using both buttercream and fondant.
25. Petal Dust
Also called "luster dust," petal dust is a loose, glittery powder applied to wedding cakes, cookies, sugar flowers and other sweets. It adds iridescent sheen to the dessert and is available in practically any color.
26. Pillars
Most notably used in retro wedding cakes from decades past, pillars are placed in between the tiers of a wedding cake, creating a towering effect. They're made of plastic, wood or acrylic and can be found in several heights to achieve your desired look.
27. Pulled Sugar
A technique in which boiled sugar is caramelized and stretched to create flowers, ribbons or bows. The finished product can be used as a cake topper or other adornment, and various colors of sugar can be blended to create a striped effect.
28. Rosette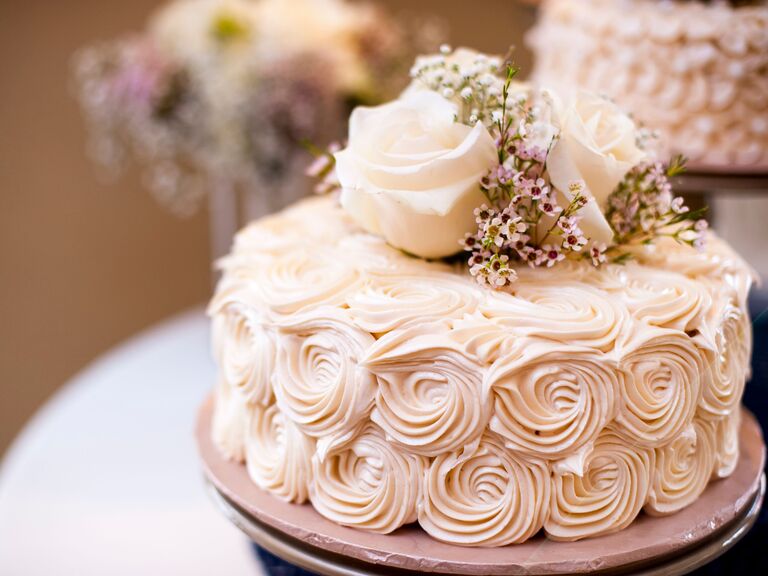 Rosettes are created by piping buttercream into a swirled, rose-shaped pattern, giving the illusion that your wedding cake is covered in tiny frosting flowers. They can be used as an allover wedding cake decoration or to make a tier stand out next to the others.
29. Royal Icing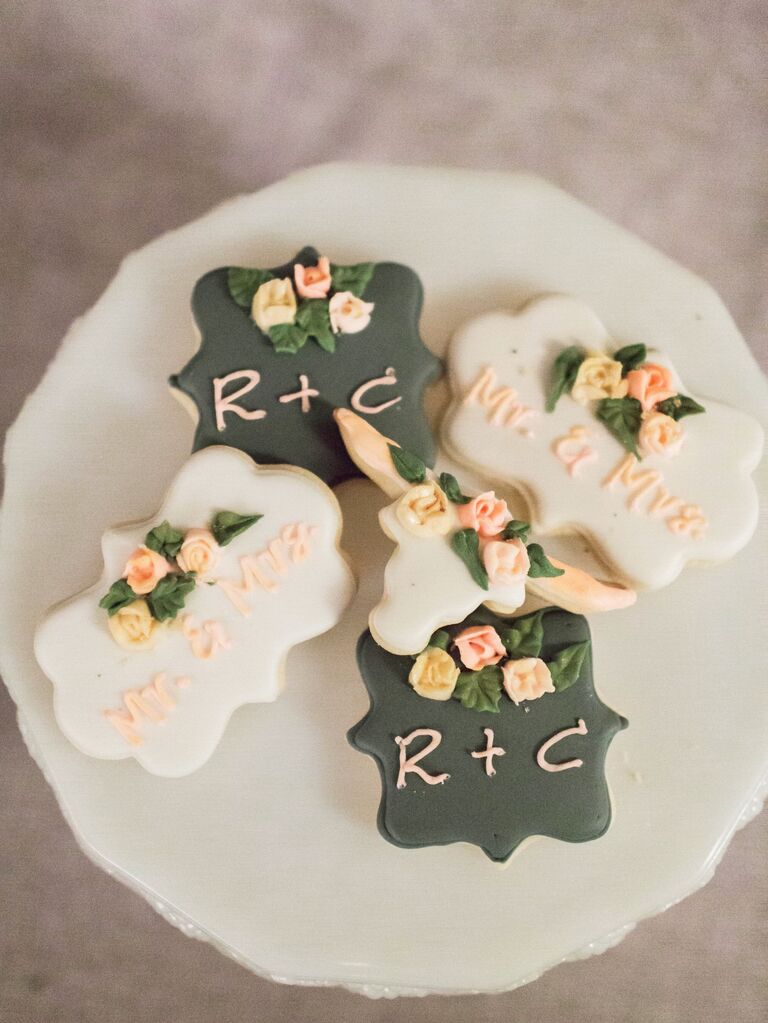 Made of egg whites and confectioners sugar, this icing starts as a soft paste and hardens into a smooth covering when exposed to air. It's most commonly used to decorate cookies or is hand-piped from a pastry bag to create latticework, beading, flowers and other patterns on a wedding cake.
30. Ruffles
Using a special piping tip, your cake baker will squeeze icing or cream from a pastry bag to create 3D "ruffles" around the circumference of the wedding cake. Ruffles are often piped in the same color as the rest of the cake to create the most seamless illusion, but you can add petal dust or gold leaf to the edges for a bit of dimension.
31. Semi-Naked Cake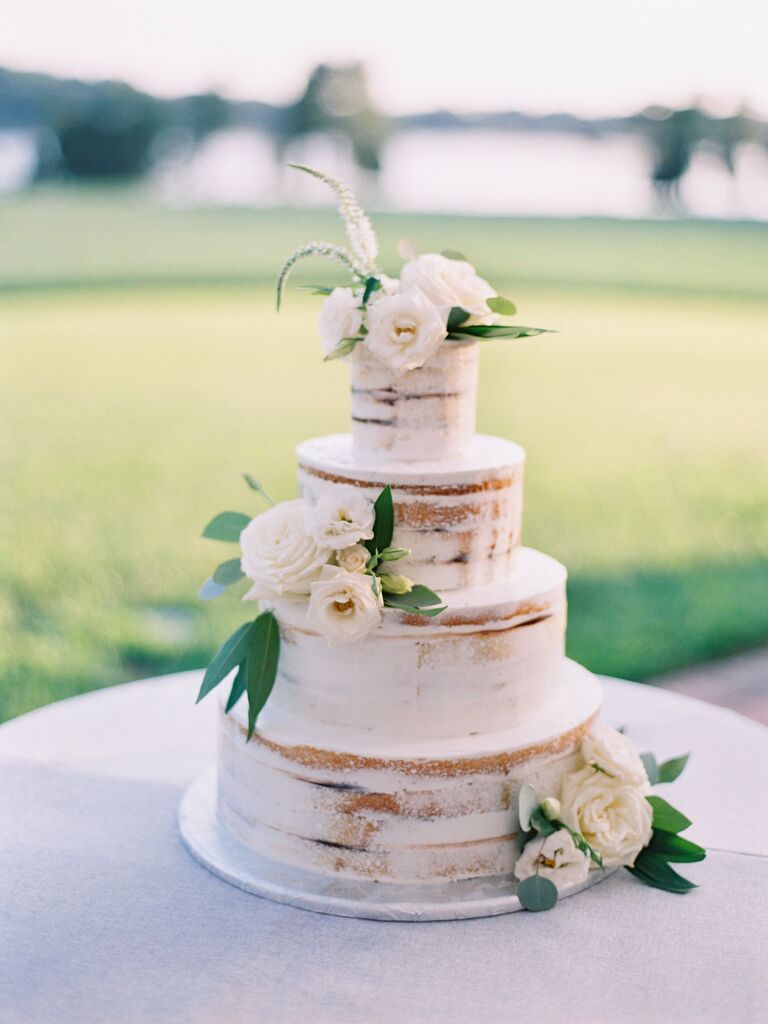 Unlike the naked cake, a semi-naked cake is slightly frosted, leaving only some of the cake layers and filling uncovered in certain places.
32. Spackled
If you've ever tackled a DIY project filling nail holes in your walls at home, you'll be familiar with this term, which has a surprisingly similar technique when it comes to wedding cake decorations. Using a tiny spatula, the cake baker spreads a dollop of buttercream onto a smooth cake, spinning the cake so that the buttercream flattens until it runs out. The point is to layer various colors of buttercream in an abstract way to achieve a textural, watercolor effect.
33. Sprinkles
You might associate sprinkles with birthday cakes, but they have their place when it comes to wedding desserts too. They're great if you love a whimsical look—cover a white buttercream cake in rainbow sprinkles for a playful take on a traditional dessert.
34. Stenciling
Consider stenciling if you want a very precise pattern on your wedding cake. With this technique, your cake baker will use a stencil and edible ink to decorate fondant icing with your chosen design, whether it's a floral motif, geometric print or a lace pattern. Stenciling can also be done using royal icing to create a 3D finish.
35. Sugar Flower
If you don't want to use real blooms, sugar flowers are a gorgeous alternative for floral wedding cakes. The baker will mold the flowers by hand or use frosting to pipe them directly onto the cake—you'd be surprised at just how realistic they can look.
36. Swiss Dot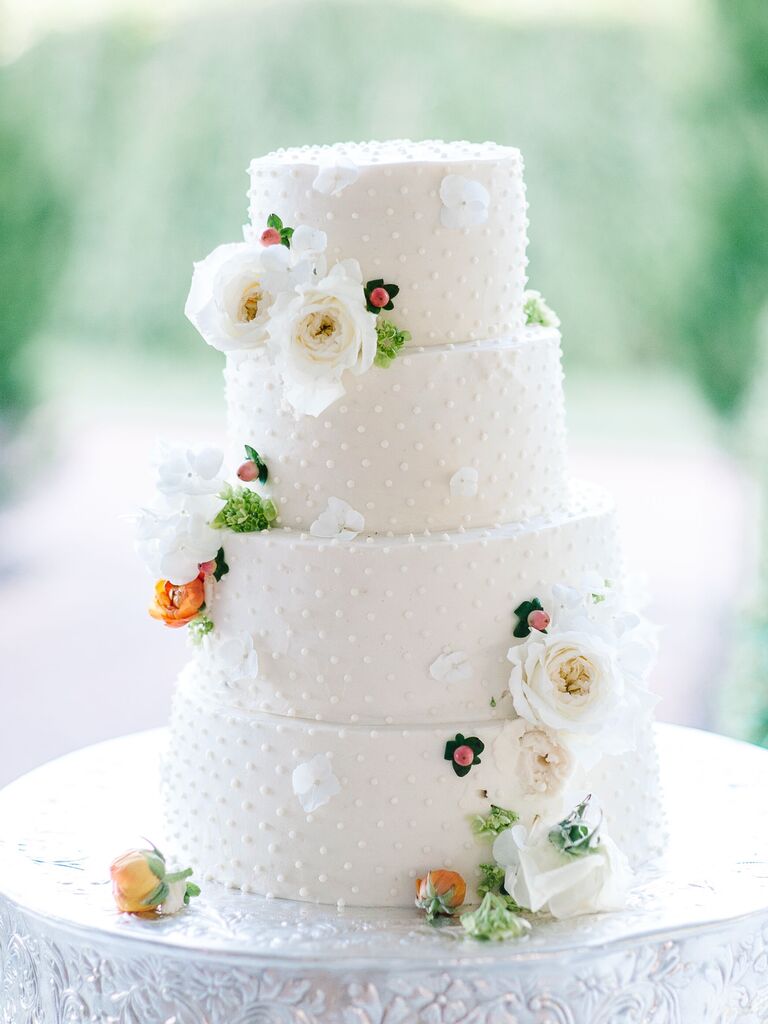 A piping technique that forms tiny dots in rows or clusters (it also resembles the wedding dress fabric by the same name).
37. Tier
A tier is a section of the wedding cake. Most designs are multi-tier wedding cakes, with at least two or more tiers, depending on how many guests you need to serve. Each tier is made from multiple layers of cake that have been stacked on top of each other, with a type of filling in between each layer. If you're all about following wedding traditions, you'll want to save the very top tier of your cake for your wedding anniversary.
38. Torte
A dense cake that does not use leavening agents like flour, which is used for most other cake recipes. Chocolate tortes are a popular option if you love French patisseries and European-style desserts.