7 Beautiful Buttercream Frosted Wedding Cakes
You might not think of this frosting as the most versatile, but it can do more than you think.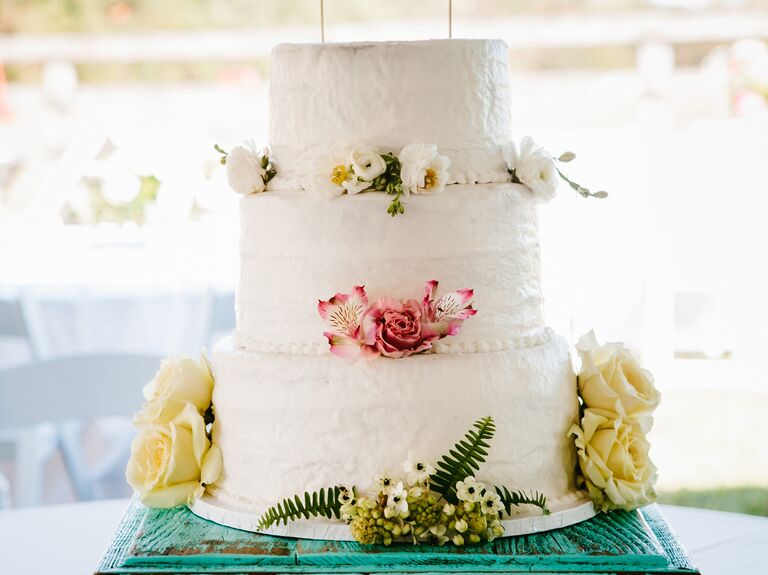 Mark Williams Studio
When it comes to your wedding cake, it's all about personal preference—which is why we love the versatility of buttercream. Everything from the ingredients, to the flavor and color can be crafted to fit any couple's style and tastebuds. And not to mention its reputation for crowd-pleasing deliciousness! Pull some confection inspiration from these 7 totally unique real wedding buttercream cakes.
Preppy Rosettes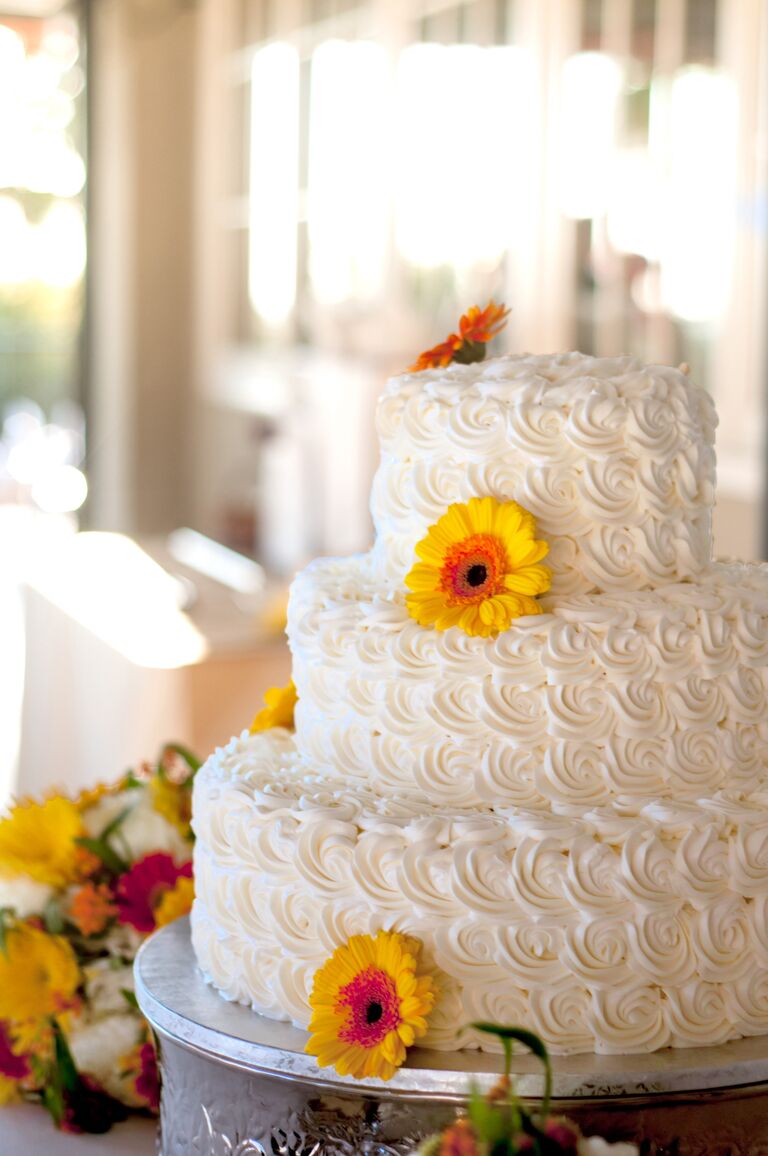 Rosettes are having quite the moment right now, and for good reasons. The rosettes can be modeled after small or big blooms, giving the baker some flexibility in labor time. And since they're a total package as far as cake decor, you really don't need any additional embellishments (though we love the gerbera daisies!).
From A Waterfront Fall Wedding at the Charleston Harbor Resort and Marina in Charleston, South Carolina
Floral Romance
Maybe it's the twinkling lights and sequin table cloth, but we're mesmerized by the romance of this cake. It's sweet and simple, and the small cascade of Juliet garden roses, dahlias, anemones and fresh greenery is the perfect accessory.
From A Romantic Barn Wedding at Cottonwood Barn in Dexter, Michigan
Rustic Chic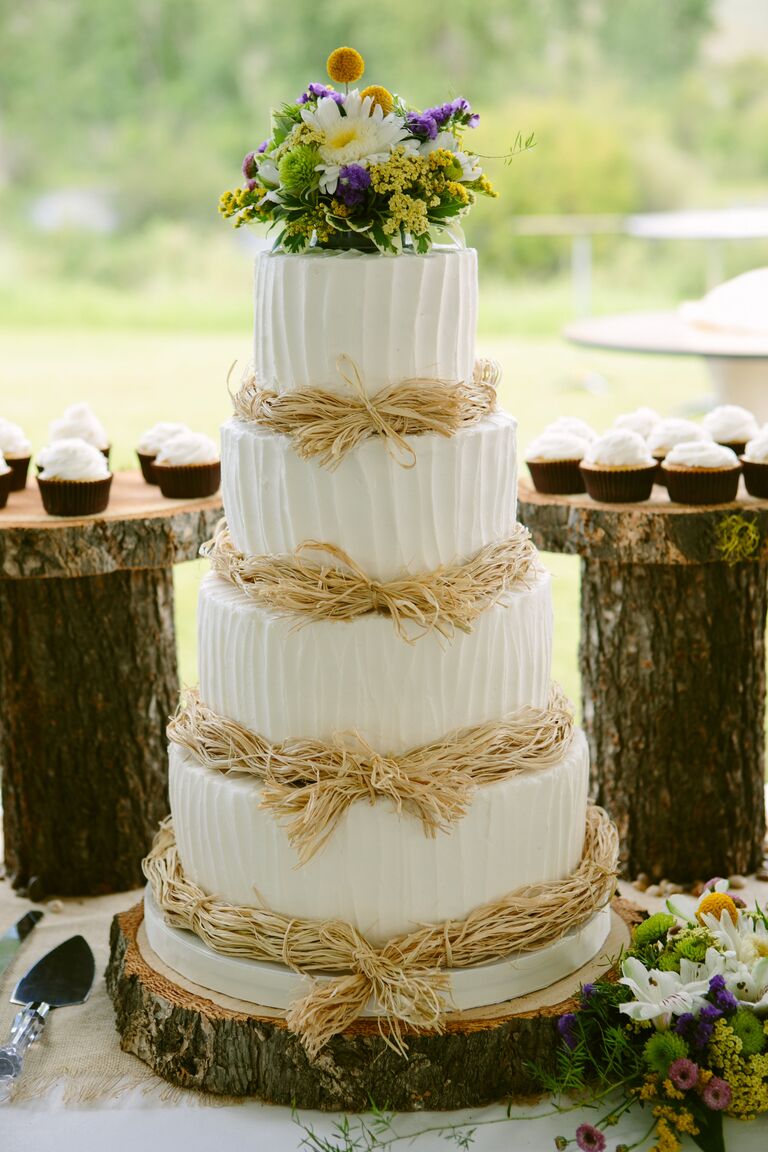 Tall tiers never go out of style, and the vertical frosting design here gives the grand illusion of even more height. We especially love how the design mimics the texture of the surrounding bark, and the dried straw pulls it all together for one shabby chic dessert table.
From A Shabby-Chic Wedding at The Complete Fly Fisher in Wise River, Montana
Intricate Lace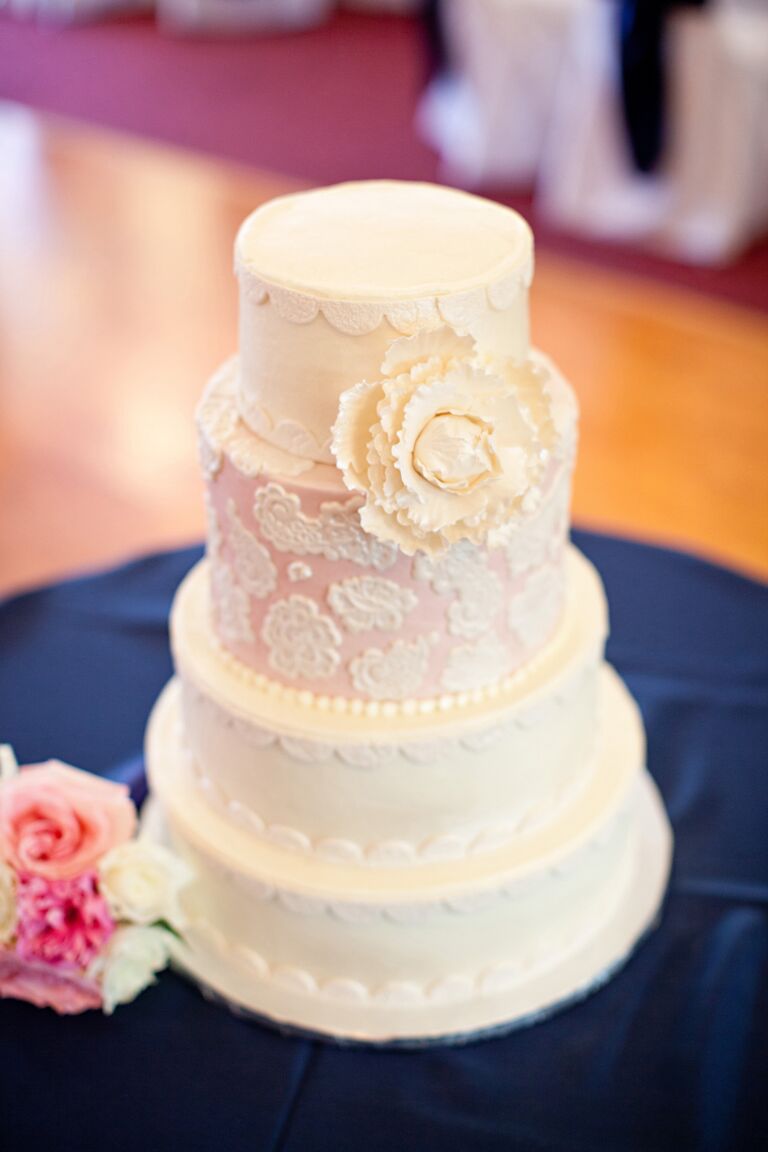 Yes, you can get lacy with buttercream! Either opt for a few fondant accents, or go with decorator's buttercream—a thicker version of the classic frosting—which stands up to higher temperatures and holds it shape for long periods of time. (Keep in mind it's not totally invincible to heat! Check in with your baker for specific storage instructions to prevent any "runny" frosting.)
From A Romantic Modern Wedding in St. Louis, MO
Simple Swiss Dots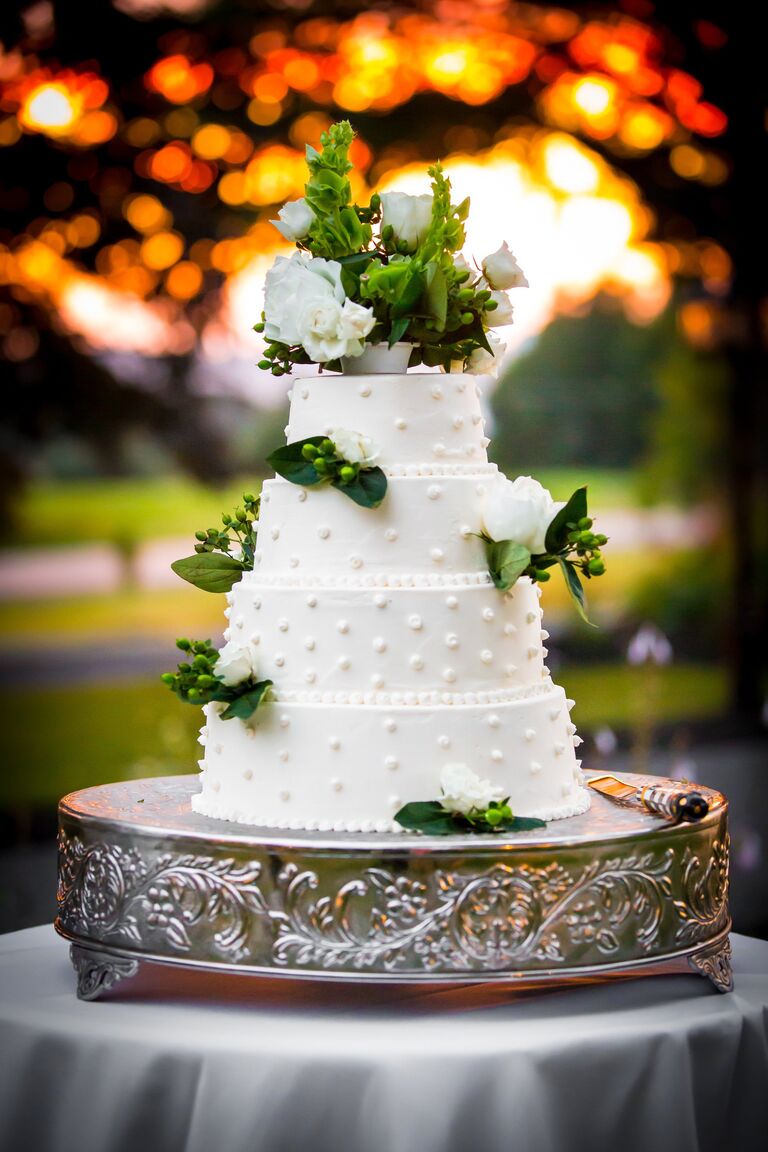 Swiss dots and white roses are definitely a winning combination. Since the dots are such a timeless and versatile element that can be dressed up or dressed down for any type of theme or setting, it's the cake stand and topper that really inform the style.
From An Elegant Outdoor Wedding in Ithaca, NY
Vintage Garden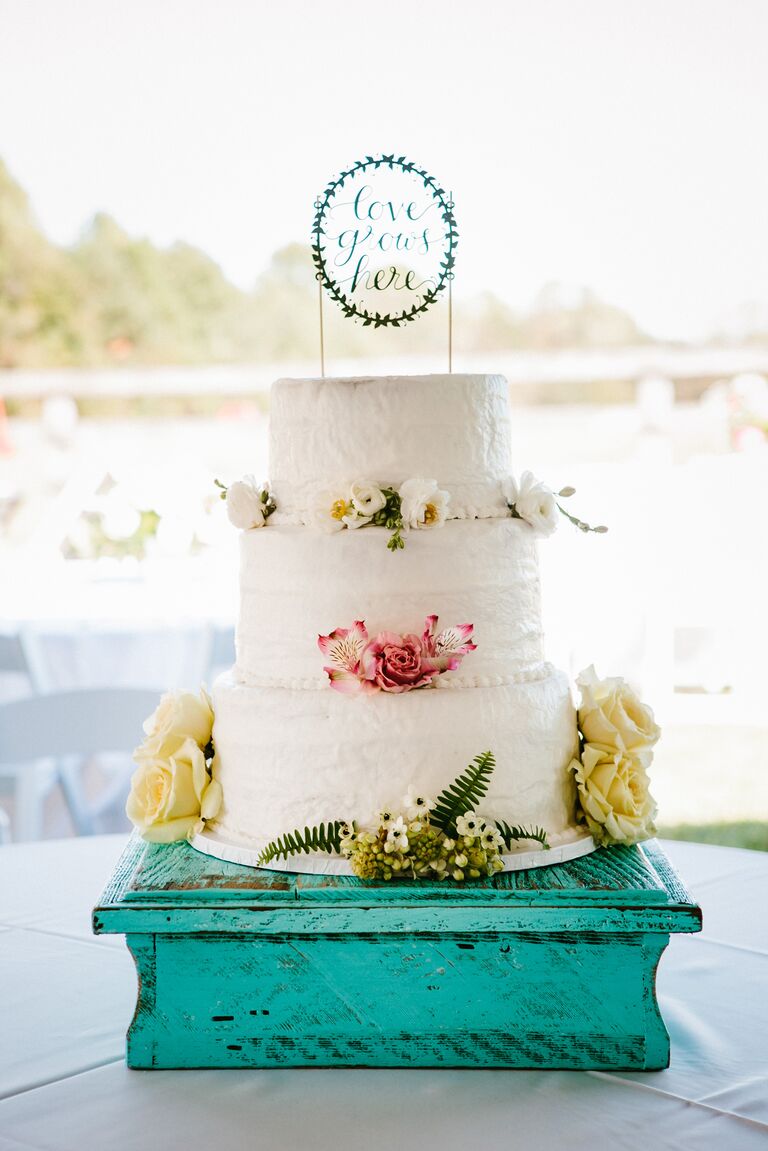 The subtle texture on this cake still speaks volumes to its design—it's one of those little details that can fly under the radar, but once it's noticed, you can't help but applaud the craftsmanship. A few strategically placed blooms and a bright, vintage-looking cake stand completes the whole look.
From A Bohemian Backyard Wedding at a Private Residence in Claxton, Georgia
Elegant Ribbon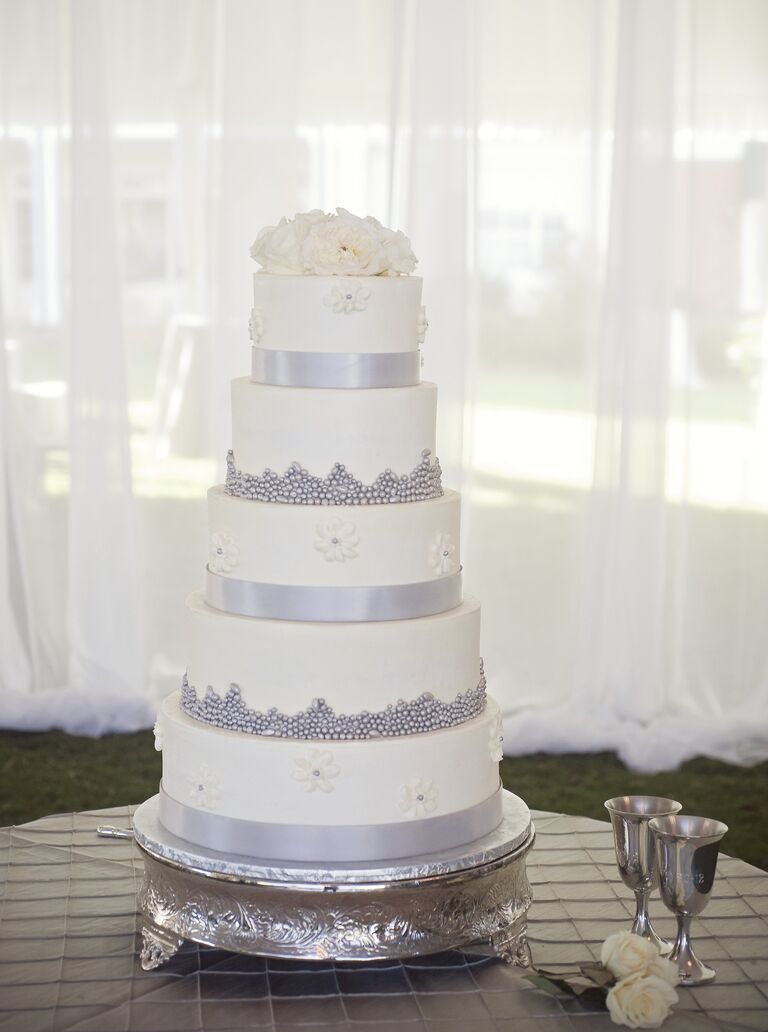 Alright, this one has just a little fondant. Rather than using sugar pearls, which would have been one uniform size, the pewter fondant pearls add a unique, hand-made element to the cake. The smooth ribbon details and antique silver cake stand round it out for a very classic looking confection.
From An Elegant Country Wedding in Rome, GA