34 Ways to Decorate a Buttercream Wedding Cake
This classic frosting is more versatile than you think.
When it comes to your wedding cake, it's all about personal preference—but there's one thing that continues to be popular year after year (and for good reason). Buttercream wedding cakes are the top choice for many couples, thanks to their versatility and style. Everything from the ingredients to the flavor and color of buttercream can be crafted to fit any couple's preferences and taste buds, which is what makes it such a constant while other wedding cake trends come and go. And not to mention buttercream's reputation for being yummy and crowd-pleasing, since it has an old-fashioned taste (think: your grandma's homemade cakes and desserts). If you're preparing for a meeting with your wedding cake baker, brush up on the basics of buttercream wedding cakes and check out some of our favorite ways to decorate them.
In this article:
Buttercream Wedding Cake Frequently Asked Questions
What is buttercream frosting?
Buttercream frosting gets its name from—you guessed it—the large amount of butter that goes into creating the mixture. Each cake baker has their own recipe, but in general, buttercream is made by mixing powdered sugar, butter, milk and a hint of vanilla to create a rich, sweetened cream.
Can you add flavors to buttercream frosting?
Cocoa powder, peanut butter, liquor, lemon juice, and other ingredients can all be used to flavor buttercream depending on the recipe. In most cases, adding a flavor will change the color of the buttercream as well, but you can also use food coloring.
Does a buttercream wedding cake need to be refrigerated?
Buttercream is oil-based (hello, butter), so it does need to be refrigerated to prevent the frosting from melting. Bring the cake to room temperature by removing it from the refrigerator about 20-30 minutes before serving. The risk of buttercream melting is more likely in warmer settings, so be sure to ask your cake baker for their specific advice.
How long will a buttercream wedding cake last?
If you're planning to follow the tradition of saving your wedding cake, it's important to properly package and store it. While most buttercream cakes only last a few days in the fridge, you can preserve yours for several months in the freezer by using plastic wrap and an airtight container.
How do you decorate a buttercream wedding cake?
The great thing about buttercream wedding cakes is that they can be as simple or as intricate as you want. Spreading the buttercream onto the cake naturally creates a textured look that your baker can leave as-is or use special tools to smooth out. The buttercream can also be grooved, striped or swirled depending on your preference. Fresh flowers, hand-piped details, fresh fruit, sprinkles and colorful icing are some of the most popular ways to decorate buttercream cakes.
Simple Buttercream Wedding Cakes
1. Smooth Buttercream Cake with Flowers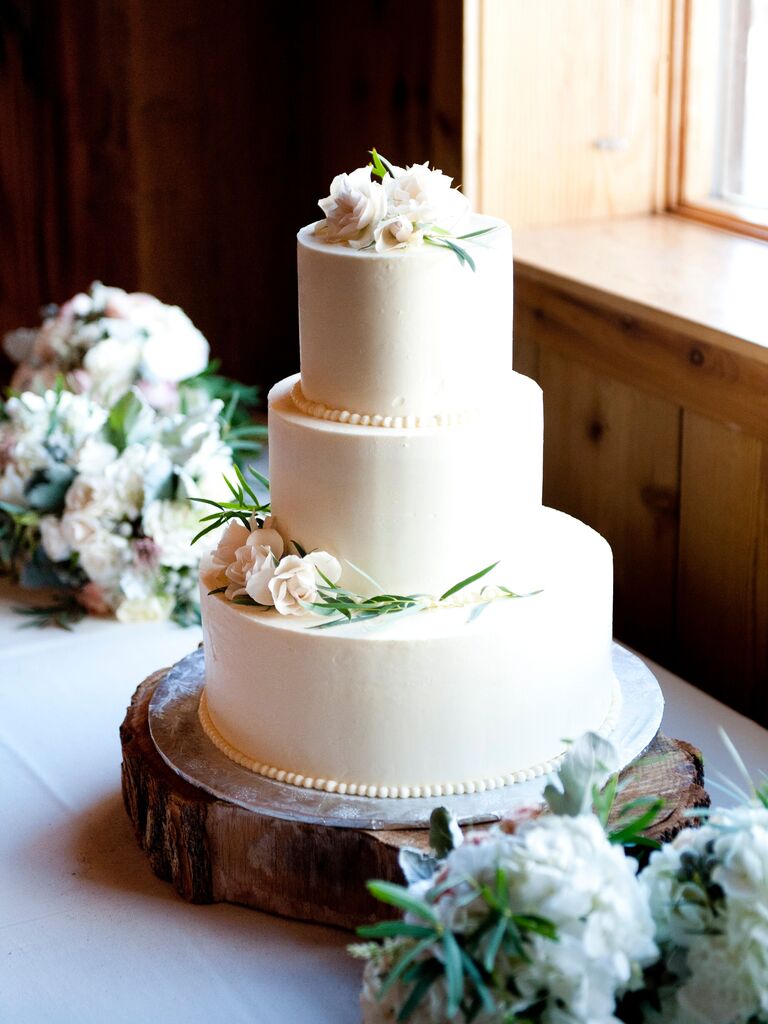 This smooth buttercream looks similar to fondant but still gives you the buttercream taste. Stick with the understated design by adding just a few flowers here and there.
Find your kind of venue
From barns to ballrooms, discover reception venues that feel like you.
2. Buttercream Wedding Cake with Vines
Delicate, trailing vines will stand out against white buttercream frosting without overpowering the cake with too many colors. We love this idea for a chic spring garden wedding theme.
3. Textured Buttercream Wedding Cake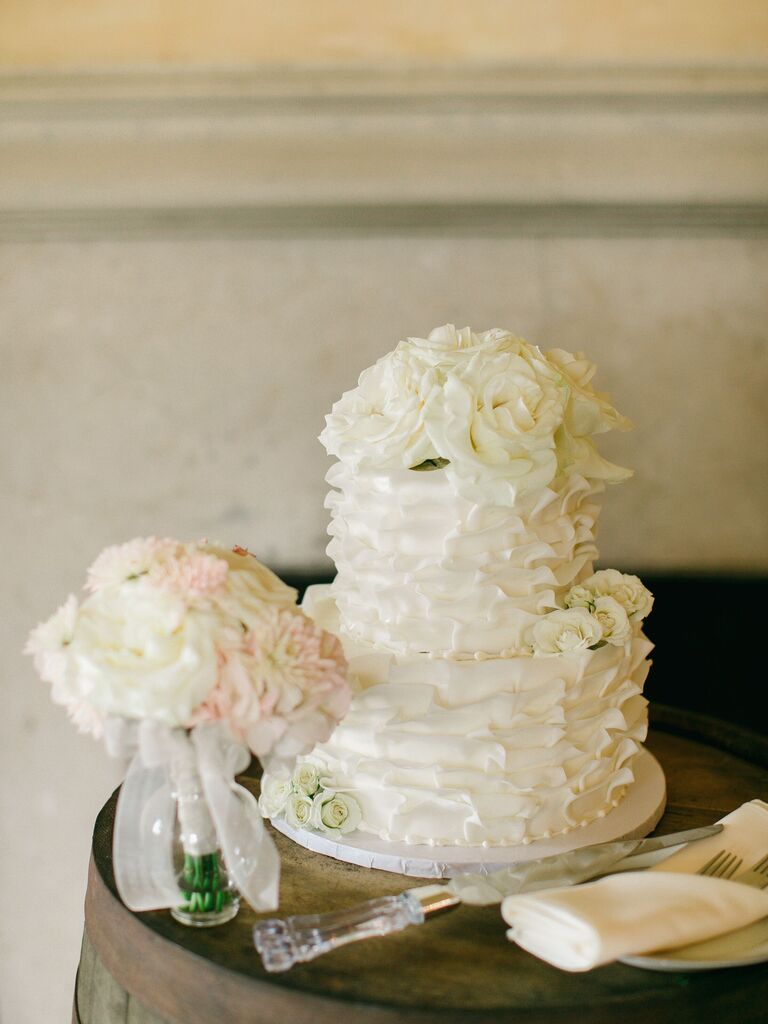 With this ultra-textured buttercream, you won't need many other embellishments (if any at all). Top off the cake with white flowers for a monochromatic finish.
4. Two-Tier Wedding Cake with Ribbon
A silk bow complements this cake's very subtle blush hue, balancing classic and whimsical elements.
5. Semi-Naked Wedding Cake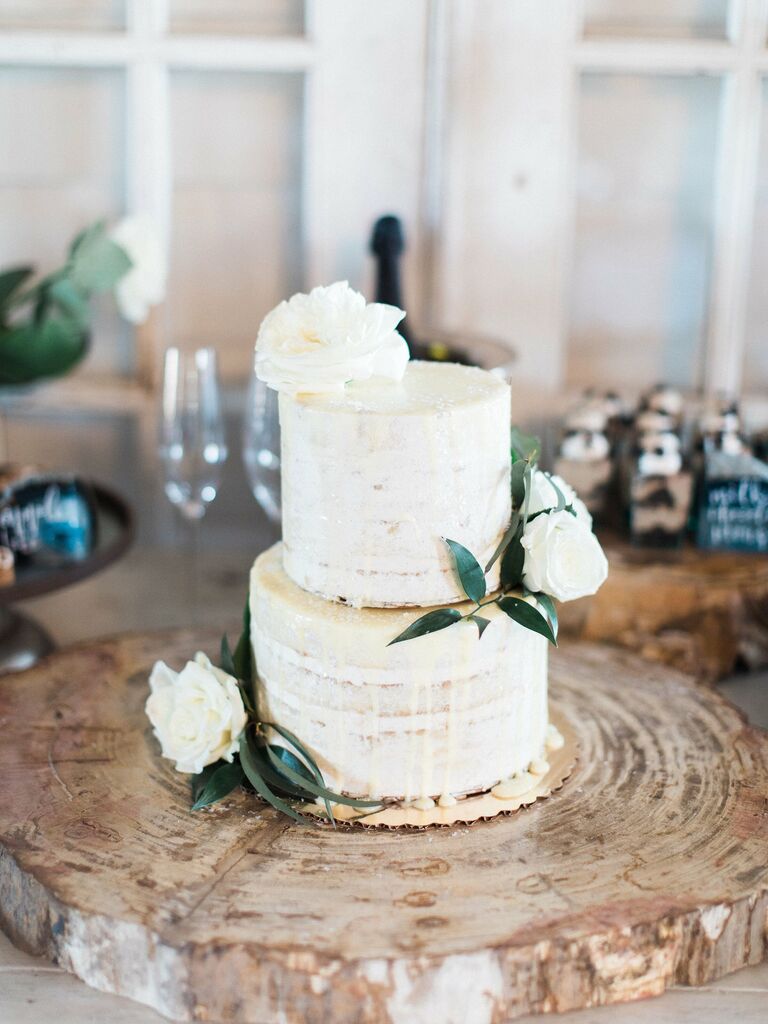 Go light on the details—and the frosting—with a semi-naked buttercream cake. This technique leaves the cake partially showing through for a rustic look, which you can emphasize with a wooden cake stand.
6. Chocolate Buttercream Wedding Cake
There's nothing vanilla about this simple buttercream cake. The chocolate frosting is all the detail that this one-tier confection needs, thanks to the flawless stripes (created by using a cake comb) and meticulous piping on top.
7. Swiss Dot Wedding Cake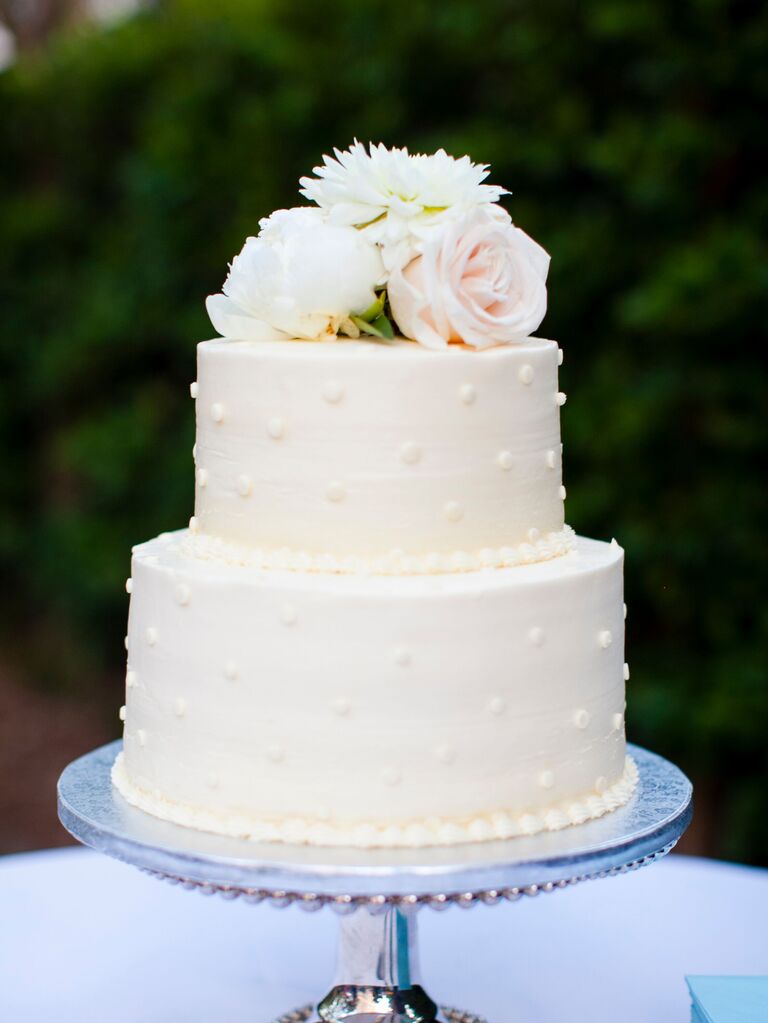 Swiss dots and fresh flowers are a classic combination. Since the dots are such a timeless element, you can leave them as-is or add more details to the design, depending on your desired style.
8. Monogrammed Wedding Cake
Add a final touch of personalization to a textured buttercream cake with your monogram or last initial piped on top.
9. Hand-Piped Buttercream Cake
With smooth buttercream as the base, the bright flowers and vertical piping stand out as the main details on this cake.
10. Simple One-Tier Buttercream Cake
Sliced fruit, such as a pear or pomegranate is a simple and seasonal way to decorate your cake for a fall or winter wedding.
Buttercream Wedding Cakes with Flowers
11. Three-Tier Cake with Garden Roses
Sliced fruit, such as a pear or pomegranate is a simple and seasonal way to decorate your cake for a fall or winter wedding.
12. Fall Buttercream Wedding Cake
Concentrate the fresh flowers in the center of the cake to maximize their impact—even better if you add a statement flower, like this dahlia, as the main focal point.
13. Scalloped Buttercream Cake
Show off an interesting buttercream pattern by consolidating the fresh flowers to one side of the cake.
14. Pressed Flower Wedding Cake
Love the dried wedding flower trend? You can adapt it for your cake by using edible flowers, such as pansies, nasturtiums and lavender buds. Work with your florist and cake baker to figure out if you'll be responsible for drying and pressing the flowers yourself.
15. Ombré Wedding Cake
Pile on the color with ombré buttercream frosting and bright blooms on top of the cake.
16. Boho Buttercream Cake
Stick to fresh greenery and flowers with mostly earthy tones if you're going for a boho style.
17. Pink and Yellow Flower Wedding Cake
Take a unique approach to decorating your cake with flowers by choosing unusual blooms, like these blushing bride proteas, dyed bunny tails and coneflowers with the petals removed.
18. Rippled Buttercream Cake
We can't get over the amount of detail that went into this gorgeous design. From the intricate ruffled buttercream to the delicate sugar flowers, this four-tier confection is a true work of art.
19. Two-Tier Cake with Pastel Roses
These pastel yellow and peach flowers are perfect for a spring wedding, but you can recreate this textured buttercream cake with any blooms that match your wedding season or color palette.
20. Wildflower Wedding Cake
The subtle texture on this cake adds to the rustic, laid-back vibe of the bright yellow, pink and purple wildflowers.
21. Minimalistic Wedding Cake with Flowers
No need to go overboard with flowers on your wedding cake—two or three larger-sized blooms will give it just the right amount of flair.
22. Naked Buttercream Wedding Cake
Buttercream isn't just for the outside of your wedding cake. It's also commonly used as a filling in between the cake layers, which you can leave exposed for a distinctive look. Finish the cake with fresh flowers, berries and a sprinkling of powdered sugar.
23. Buttercream Cake with Red Roses
Getting married around the holiday season? Red roses are a natural pick for Christmas-themed weddings and Valentine's Day nuptials.
24. Peony Wedding Cake
You can't go wrong with these beloved blooms. Whether you opt for smooth or textured buttercream, peonies are a go-to flower for classic themes and spring weddings.
25. Colorful Flower Wedding Cake
Build off of a bright summer wedding color palette by adding equally colorful flowers to your cake, like these yellow, pink and orange mums.
Tiered Buttercream Wedding Cakes
26. Six-Tier Buttercream Wedding Cake
You'll wow your guests with a six-tier wedding cake like this stunning buttercream design. Since the height of the cake is impressive enough, you can keep the details fairly simple—white roses, greenery and votive candles for a bit of ambience
27. Wedding Cake with Alternating Floral Tiers
Make your wedding cake stand even taller by adding fresh flowers (which conceal the structural cake separators) in between the actual tiers.
28. Berry-Topped Buttercream Cake
For a garnish that's both decorative and delicious, skip the flowers in favor of berries instead. The rich colors of strawberries, blueberries, raspberries and blackberries will pop against white buttercream frosting.
29. Classic White Buttercream Wedding Cake
This white-on-white cake is already on the traditional side, but a silver cake stand adds even more formality to the design.
30. Four-Tier Wedding Cake with Piping
Thanks to the super-smooth buttercream and minimal embellishments (read: no flowers or cake topper), this four-tier wedding cake feels classic and contemporary at the same time.
31. Painted Buttercream Wedding Cake
These abstract "brushstrokes" are made by using a miniature spatula to layer colorful dollops of buttercream around the tiers of the cake. The end result resembles a painter's palette and is totally one-of-a-kind.
32. Buttercream Rosette Cake
Piped buttercream rosettes can vary in size depending on the look you want. And since they easily cover the whole cake, you really don't need any other embellishments (though a few fresh flowers on top are always pretty).
33. Textured Buttercream Cake with Initials
This monogrammed emblem is a simple but sweet way to personalize your cake if you're not using a decorative cake topper.
34. Vintage-Style Wedding Cake
Inspired by vintage cakes found in British bakeries, intricate buttercream piping is coming back as a major wedding cake trend. Techniques like scalloped patterns, piped beading and stringwork are all utilized together for a maximalist look.