Your Guide to Choosing the Perfect Wedding Cake Flavors
From vanilla buttercream to coffee and cognac, here's how to make the tastiest pick.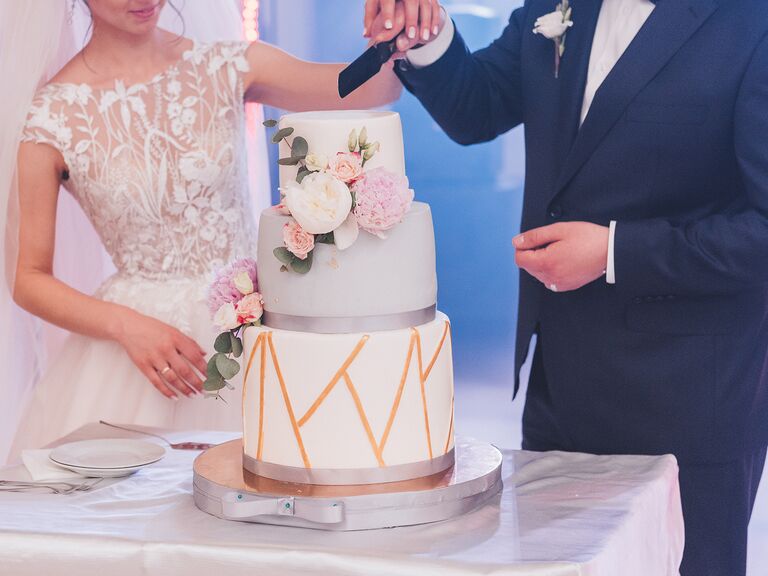 Anastasiia Chepinska/Shutterstock
You've probably been scrolling through cake photos like crazy, dreaming up the ideal look. But what about what's inside that gorgeous dessert? Wedding cake flavor options are vast, and preferences are personal—some couples want to go traditional and others want to experiment with new and tantalizing tastes. If you're feeling a bit of pressure or uncertainty when it comes to making your picks, you've come to the right place. We talked to some of our favorite bakers to find out how to choose the best wedding cake flavors for your event. They also gave us some delicious and creative cake flavor ideas you'll totally want to try.
Getting Started with Cake Flavors
First things first, you'll want to work with a cake baker whose work not only looks good but tastes good too.
"Choose a baker you can really get behind—their ingredients and design aesthetics. It should be someone that you genuinely vibe with and trust," suggests Emily Lael Aumiller, owner and chef of Lael Cakes in Brooklyn, NY. "Remember that the yummy cake tucked away behind the pretty design is equally as important."
You may have to stop in a few bakeries to sample the goods before you find the right baker for you. There are definitely worse things than that! Find a bakery that offers tastings—the best part of wedding planning! Over your tasting you'll sample delicious cakes, meet the person behind the apron, flip through inspirational photos and dream up a beautifully decadent cake."
The Best Flavors for Wedding Cakes
The best flavors for your wedding cake are the ones you enjoy most. "It's your party, your day, your cake—go with your top favorites," says Lael. "Usually it's the cake that's completely devoured by the end of the tasting."
At your tasting, you'll want to sample several cake-and-filling combos that sound most appealing to you. The good news is that you won't have to do any mental math trying to figure out which pairings will work out together. Your baker will likely already have suggestions and options of which filling options complement each cake flavor. You may simply get handed a menu of delicious pairings to choose from. "We pair our cakes with the fillings that we think go best," says Lara Halabi, owner of Fluffy Thoughts Cakes in McLean, VA.
"Leave it up to the professional, and ask your baker what they recommend," echoes Lael.
You and your future spouse should attend the tasting together, so you can find a cake and filling you agree on, or at least can compromise on, if you have different favorite flavors.
How to Choose Wedding Cake Flavors and Fillings
There are a few things you'll want to consider as you're weighing flavor combinations. Of course, if you taste one and just know it's the winning combo, just go with it. But if you're torn, there are a few things to consider, including:
Texture. "I've found that when alternative ingredients are handled and paired properly, it can elevate a dessert, creating a delicate texture and flavor profile that releases slowly as you eat it—nothing like you've ever tasted before," says Lael.
Scent. "Don't forget to consider the aromas of the pair. If they don't smell good together, odds are they won't taste good together," says Madison Lee of Madison Lee's Cakes in New York City.
Several options. Just because you've got one wedding cake doesn't mean you have to have one cake flavor cake and one filling flavor. So if your future spouse loves decadent dark chocolate cake with espresso filling, and you're more into carrot cake with cream cheese frosting, then have the cake made with layers of each.
"I always recommend offering a couple different flavors, so your guests will have options and you won't have to worry about pleasing everyone. Besides, it's too hard to narrow it down to just one flavor!" says Lael. Some couple's even choose to have a groom's cake with different flavors. For example the wedding cake could be a traditional white cake, and the groom's cake could be a chocolate cake with a decadent chocolate ganache.
And while it's very considerate to consider guests who have food allergies, it's not necessary (or even realistic) to take every single person's taste preferences into account when choosing wedding cake flavors.
"I would say, do not feel like you have to please everyone. It's your wedding day so choose what you like!" encourages Lee.
Traditional Wedding Cake Flavors
If you're a classic couple that wants to stick with tradition, you may want to choose a vanilla cake with vanilla buttercream. Some other tried-and-true options include lemon cake with raspberries and strawberry shortcake, says Halabi. "These are known to be liked by many and are a safe way to go if you have a less adventurous crowd," she says.
Lael says you can experiment with other flavors that have personality while still creating a flavor profile that doesn't stray too much from tradition. "We offer light cakes but pair them with more bright unique fillings like our vanilla cake with caramelized peaches and vanilla bean icing or our lemon drop cake with lavender rosemary icing."
"Sometimes you might have a hard time convincing your parents or older relatives to be as adventurous as you and your partner," says Lee. "This is when you can, and should, have the best of both worlds and go with two flavors, one more traditional and the other go wild!"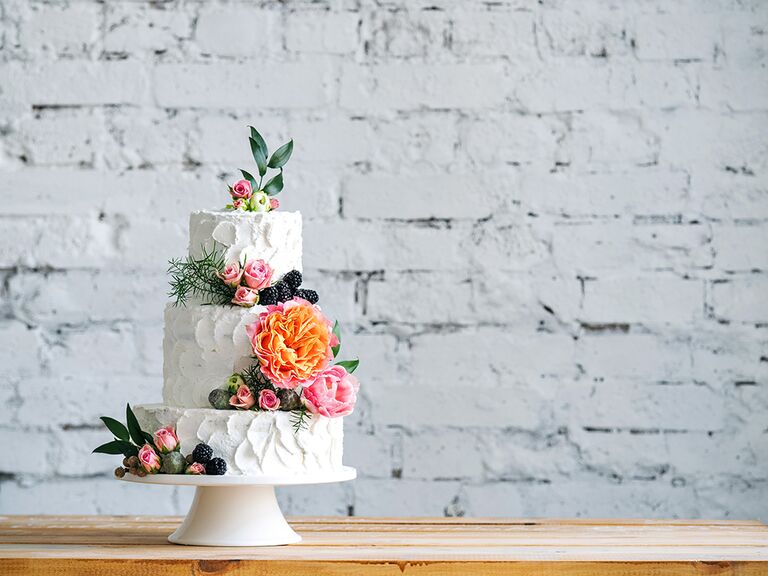 Popular Wedding Cake Flavors for 2020
What's new, next and a little bit bold for wedding confections this year? Here are some wedding cake flavors our pros' clients are currently loving:
Earl Grey olive oil cake with fresh figs
Spiced pear cake with salted caramel and chai tea icing
Banana coconut mocha
Dark chocolate matcha with berries
Strawberries and pink peppercorns
Coffee and cognac
Ginger and passionfruit
Funfetti
Pistachio cake with honey buttercream and caramelized pistachios
Cookie dough
Hazelnut cake with chocolate buttercream
Seasonal Wedding Cake Flavors
Want more cake flavor inspiration? Consider the season your event is taking place. "Seasons usually come into play when planning a menu," says Lael. "Usually for the hot summer weddings you'll want something on the lighter citrus side. Warm spices are great for fall, and decadent chocolate flavors are perfect for the winter months."
Fall Cake Flavors & Ideas
Pumpkin cream cheese frosting
Apple spice cake with salted caramel
White chocolate cake with cranberries
Winter Cake Flavors & Ideas
Mint chocolate
Cinnamon dulce de leche
Chocolate cake with coffee caramel
Red velvet cake with cream cheese frosting
Spring Cake Flavors & Ideas
Lemon cake with lemon curd and fresh strawberries
Vanilla cake with passionfruit curd
Vanilla cake with raspberry filling
Summer Cake Flavors & Ideas
Strawberry shortcake
Coconut cake with mango curd
Almond cake with cherry filling
Find the Right Fit
There are even more places you can look for wedding cake flavor ideas and inspiration. For one, you'll want to consider how your cake will fit into the rest of your reception menu.
"You should take into consideration the type of dinner you are serving," says Halabi. For example, "a really heavy meal should probably end with a light fruity cake rather than a heavy chocolate cake."
Also, consider any other desserts your venue or caterer may be serving on the big day. "If your venue is serving a chocolate tart, then I would suggest not going chocolate with the cake," says Lee. "You have to keep in mind that the wedding cake is meant to be an extension of the entire meal served. So keep that in mind when making your final decision!"
You may also want to choose cake flavors that are a nod to your or your future spouse's heritage. "We have a Middle Eastern flavor with pistachio, figs and sesame pieces," points out Halabi. "A lot of Asian brides tend to pick almond cakes with salted caramel and vanilla Italian cream. A lot of our Indian brides love to choose our coconut cake with mango. It's nice to add a touch of your culture to the wedding."
In the end, your wedding cake flavor choice should be one (or several) that you adore. Don't stress about it, and if you're unsure, remember that you always have the option of choosing multiple flavors for the different tiers.
As Lee puts it, "the cake is meant to be enjoyed, so just have fun!"