How to Deal With Wedding Dress Shopping Stress
Terry Hall, fashion director at Kleinfeld Bridal, explains some of the stress triggers that may come up while you're shopping for your wedding dress, and how you can avoid feeling overwhelmed.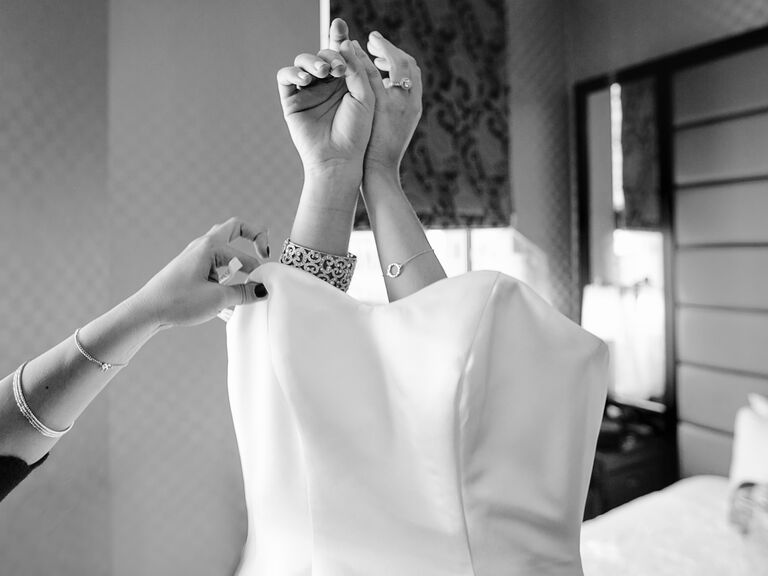 Love Life Images
Problem 1: You Don't Have a Wedding Date or Venue
You haven't made a single decision about the day, but you know exactly what type of dress you want, so you already booked your salon appointment.Solution: Don't go shopping quite yet. We know you're eager to try on dresses, but it's really important that you have a date and venue picked before you start shopping. "Knowing your date allows the consultant to know your time frame and which designers are options for you," Hall says. "Remember: More time before your wedding equals more options."
Problem 2: Everyone Wants to Come Shopping With You
We get it—your bridesmaids, your mom, your BFF, your in-laws—everyone wants to see you try on dresses and "ooh" and "aah." But even if they promise not to say a word, having all those people there can be a lot to deal with. "You should bring only one or two people with you whose opinions you really value," explains Terry Hall, fashion director at Kleinfeld Bridal in New York City. "The fewer the guests, the fewer the opinions—therefore, fewer frustrations!"
Solution: Keep your dress shopping on the DL. Don't talk about your upcoming shopping trip with anyone who isn't invited. If you don't bring it up, chances are they won't ask to attend. This also means you shouldn't flaunt your day out on social media. Avoid Instagram and Facebook so you don't hurt anyone's feelings if they find out they weren't invited while browsing your feed.
Problem 3: You Encounter a Pushy Salesperson
You L-O-V-E the dress you just tried on, but are a little nervous to take the plunge and buy it. You want to think on it, but your salesperson keeps pushing—and pushing.
Solution: Leave! "Shopping for your first wedding gown is a once-in-a-lifetime experience and is about finding the gown, not buying a gown," Hall says. "It's a very emotional experience. A great consultant knows she's helping create a memorable moment, and it should be a great one!"
Problem 4: You Can't Decide on a Dress
You've been trying on dresses for a few months now and the pressure is on to find one. You're waiting for that "ah-ha" moment, but you're not sure if it's ever going to come.
Solution: "Sometimes, walking away and sleeping on it is the best decision and perhaps you will dream about that one stand out dress that you loved!" advices Hall. "That said, not every bride has that overwhelming moment where she connect with a dress and tears up. Some brides approach the decision making process more methodically, which is just as real. If your dress meets your criteria and it feels like you, get it!"