The Biggest Wedding Dress Shopping Mistakes From Real Brides
Here's what real brides-to-be wish they'd done differently during their dress search.
by The Knot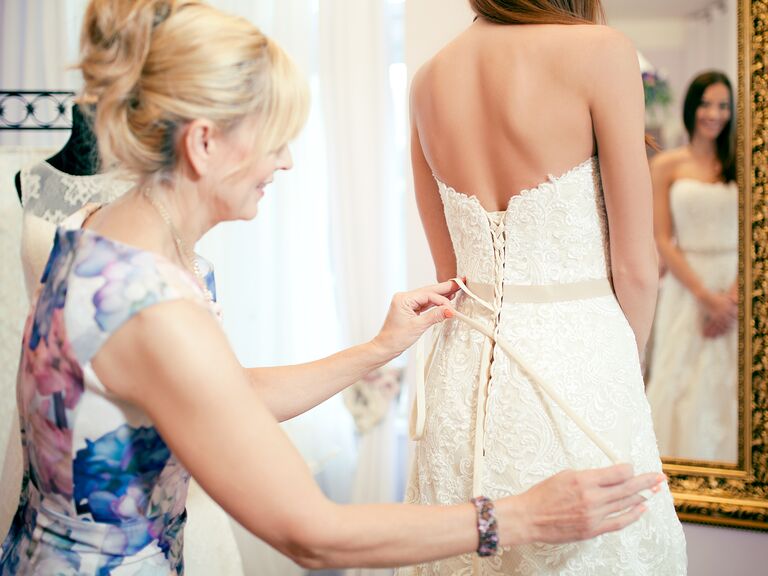 Wedding dress shopping can be a real roller coaster of emotions. How many people should you take with you? How many different wedding dresses are you supposed to try on? How will you know when you've found the right gown? While there are some things you won't learn until you experience it yourself (everyone's shopping experience is different, after all), you can learn a thing or two from soon-to-be brides who've been through it already. Below, real brides, straight from our Facebook group The Wed Thread, reveal their top wedding dress shopping mistakes and regrets.
"I had 10 people with me and everyone liked something different. I had a dress in mind when I went in, tried that dress on and loved it. It came down to two dresses, and I didn't choose the one I went in for because no one liked it. I regret not getting the dress I loved." —Kelsey
"Honestly, [my mistake] was thinking it was going to be a big, transformative experience. At the end of the day, it's just a dress." —Jane
"The one dress shopping mistake I made was not having the right people there with me. Always remember to include the loved ones whose opinions matter most." —Kaylyn
"Underestimating how much it costs for the bridal outfit. I forgot to take into account the alterations, shoes and jewelry." —Stephanie
"Not giving my bridal party more warning—now only my mom can come out of the [four others] I wanted there." —Jessica
"I wish I'd asked more questions [and been more educated about the process] when I arrived." —Carol
"I think [my mistake] was mostly the [number of dresses] I tried on. I visited too many stores to get an idea of what I wanted, but the more I tried on, the less happy I was with anything." —Emily
"The mistake I made was going with my [future sister-in-law] who doesn't know my personality or style. It made it so much harder than it had to be." —Kayla
"[Not bringing] some decent shapewear when trying on dresses. The shapewear the place provided did nothing for me. Had I had on some decent shapewear, I would have maybe tried on more dresses and felt more confident." —Kristi
"Mine would be that I [went dress shopping] too early. I absolutely adore my dress, but my wedding is in a month and it doesn't fit me." —Nikki
"I waited way too long to start trying [dresses] on. My wedding is [in] May, and I didn't start my search until the end of January!" —Ashley
"Not researching best [dresses] for my body type." —Susan
"[Not taking enough pictures.] I wanted to show my photographer so she could start brainstorming ideas with my theme and dress and I could only show her the selfie and a stock photo (which looks completely different)." —Melissa
"I made too many appointments in one day. Go to one bridal shop per day." —Julia
"Trying on a dress without seeing the price first—my dream dress is $1,500 out of my budget. Always get a price first!" —Haley
"Being closed-minded about different styles and silhouettes. I ended up getting a mermaid-style [gown] and said I never would! Go in and try on different silhouettes. Once you pick your silhouette, the process becomes easier." —Melissa

Before shopping for your own wedding dress, read 10 things no one tells you about wedding dress shopping.
Ready to find your dress? Search bridal salons in your area now.