9 Things Not to Do During Your Wedding Dress Appointment
Avoid these common mistakes.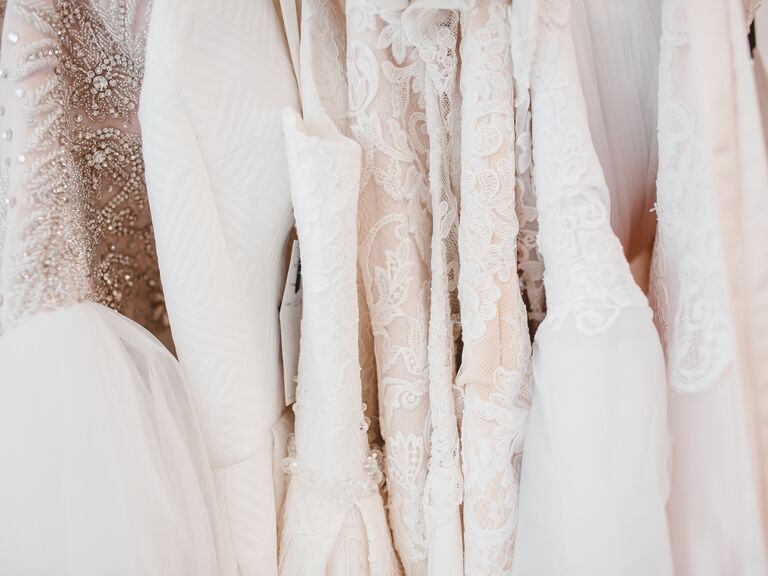 Shutterstock
Whether you've been dreaming about your wedding dress since you were little or have no idea where to start, working with a bridal consultant at a store is helpful. Consultants are professionals who can help you find your ideal wedding day outfit since they know what works best for different styles and budget ranges. But there are some wedding dress shopping mistakes you'll want to know about before booking your appointment.
We consulted experts to find out what those common blunders are so that you can make the most out of your appointment. See the top wedding dress shopping mistakes not to make, below.
1. Wear Bright Undergarments
Keep in mind that most wedding dresses are white (or some shade of white), and some of the sample dresses in store can be quite sheer. To ensure you get the most of your shopping experience, swap out your colorful undergarments for nude ones instead. "Seeing your bright blue underwear can be distracting to say the least," says Addie Reese, senior consultant at Mira Couture in Chicago.
2. Bring Too Many People
Wedding dress shopping is a big event, so it may be tempting to to invite all of your friends and family. But Reese says more isn't always better when it comes to your shopping support group. "Some brides worry about hurting people's feelings, but you don't want to roll in with a group of 15 including your neighbors and mom's friends. Too many opinions can make for an overwhelming and frustrating experience."
Reese recommends limiting your guest list about three or four people, such as your mom, sister and maid of honor. (In fact, many bridal salons won't allow you to bring more than a few people.) "We even recommend to our brides to use our store's group size limitations as an excuse. This helps keep your bridal shopping experience intimate and special."
3. Bring Coffee
Most bridal salons don't allow coffee, so it's best to be mindful about bringing in beverages that could stain the dresses. If you absolutely must bring a cup of joe to your wedding dress appointment, drink it outside and make sure you have an extra secure lid for when you're near the gowns.
4. Bring a Full Meal Into the Store
Wedding gown shopping can be exhausting, so some to-be-weds might want to bring a snack. But it's important to check with the store before bringing food. Lisa Fuhrman, bridal consultant for Kleinfeld, tells The Knot that they don't allow for any food or beverages except for water. Reese says Mira Couture allows does allow small snacks, but nothing huge. "Don't bring a Thanksgiving meal and a case of beer, but a small snack like a protein bar and a juice is fine."
5. Get Frustrated With Initial Fit
"Rarely do sample gowns fit anyone to perfection," Reese says. "While trying on a gown that's too large or too small can be frustrating, it's important to remember that your gown—when ordered in the correct size and altered to your body—will be spot on." Her advice? Focus less on initial fit and more on the details of the dress, like the silhouette, the neckline and the detailing.
6. Fall In Love With a Dress Way Over Budget
This one may seem obvious, but it's a major wedding dress shopping mistake you want to avoid. If you're dealing with a strict budget, then it's best to be conscious of the price of a dress before trying it on (and potentially falling in love with it). "The last thing bridal consultants want to happen is have a bride try on an aggressively over-budget gown, fall in love with it, and then realize she can't have it. It's happened, and it's heartbreaking." Reese says.
7. Let Others Sway Your Opinion
While input from family and friends can be helpful, Reese says it can also make things more difficult and confusing. Your wedding dress is yours, which means you should get something you feel best in. "One of the most frustrating aspects of the business is when a bride falls in love with a dress and then brings in her support group and they tell the bride they don't like it."
Luckily, consultants are absolute pros when it comes to sticky situations. Reese says your consultant can find another dress that makes the whole group happy—but she says brides should trust their gut feeling. "I don't think nay-sayers always have the bride's best intentions in mind, sometimes I think her first choice really was the one."
8. Limit Yourself During The Appointment
Scouring the internet to find the perfect dress is helpful for consultants, as they can gage your style preferences and price point. But Reese says brides should be careful of limiting themselves to just one dress or style during the shopping process. "So many times a bride sees a gown on a rack that's polar opposite of their vision," she says. "I always encourage them to try it because there's a reason it caught her eye—and sometimes it ends up being the one."
9. Encourage Your Wedding Party to Pick Out Dresses
Your support group should be there to help you narrow down your options and find the perfect gown. But Fuhrman says your support group shouldn't go shopping on their own. "If guests browse around the showroom floor and start pulling dresses for the bride, they might be choosing something that is over budget, might not fit the bride's requests or could injure themselves or the dress in the process."
If they do see something they think the bride would like, Fuhrman recommends pointing it out to the bride or consultant. After all, consultants are pros who understand the various styles and fits, know the stock well and are aware of prices.