The 31 Best Gifts for All the Hiking Lovers in Your Life
Anyone who enjoys a mountain stroll will appreciate one of these gift ideas.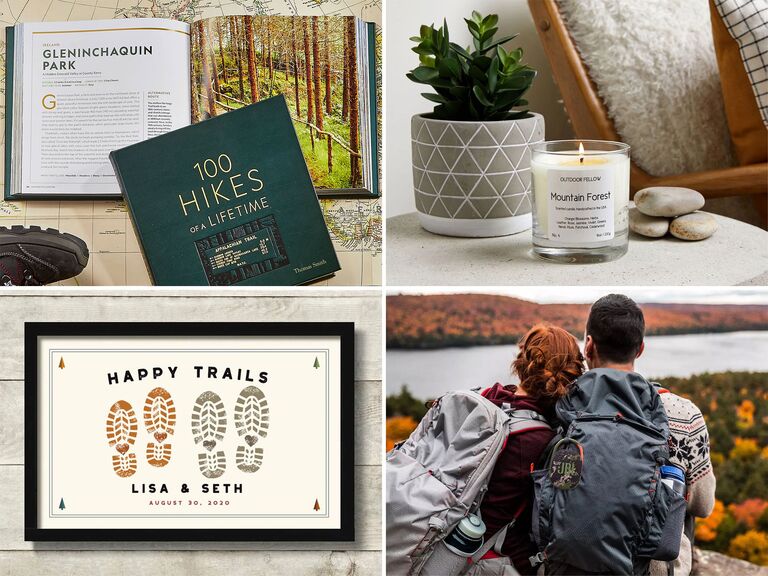 We have included third party products to help you navigate and enjoy life's biggest moments. Purchases made through links on this page may earn us a commission.
We all know one person (or pair) that can't get enough of the great outdoors. They're always inviting you to take a day trip to the mountains—and they always claim the trail is easier than it actually is. Know the type? Need a gift for them? Whether you're shopping for a holiday or birthday gift for your active spouse or a wedding present for a couple of adventurers, these are the best gifts for hiking lovers.
Before you drive to your local sporting goods store, make a plan for what to look for—shopping for this type of gear can be overwhelming. Most hikers already have a lot of basic supplies, like boots, a rucksack and a first aid kit (very important!). While they can always use more wool socks or would definitely appreciate gear upgrades, you can feel free to get a little more creative, too. There are a lot of unique and handy tools to browse that will help take their nature walks to the next level. Or, choose something personal over practical, like topographic art of their favorite peak. Below, we've rounded up the best gifts for the hiking enthusiast(s) in your life. Bear in mind, they might mistake your thoughtfulness as an RSVP to their next hike.
Personalized Hiking Book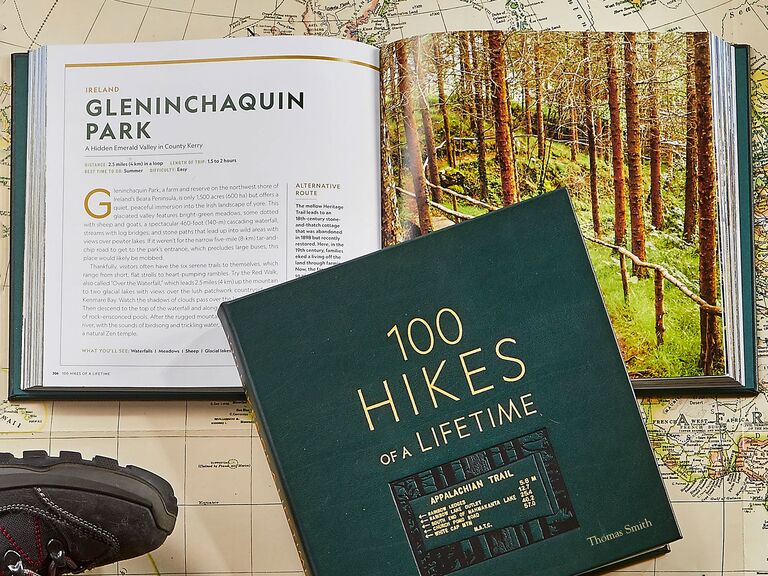 If your husband, wife or friends are always looking for a new hike to try, this book will be their biggest inspiration. Fittingly titled "100 Hikes of a Lifetime," it provides expert commentary on some of the most beautiful trails around the world, alongside stunning National Geographic photography. Whether they use it to decorate their coffee table or plan a trip, the innovative guide will be their favorite gift this year. Best of all, the leather cover is personalized with gold stamping.
Trekking Poles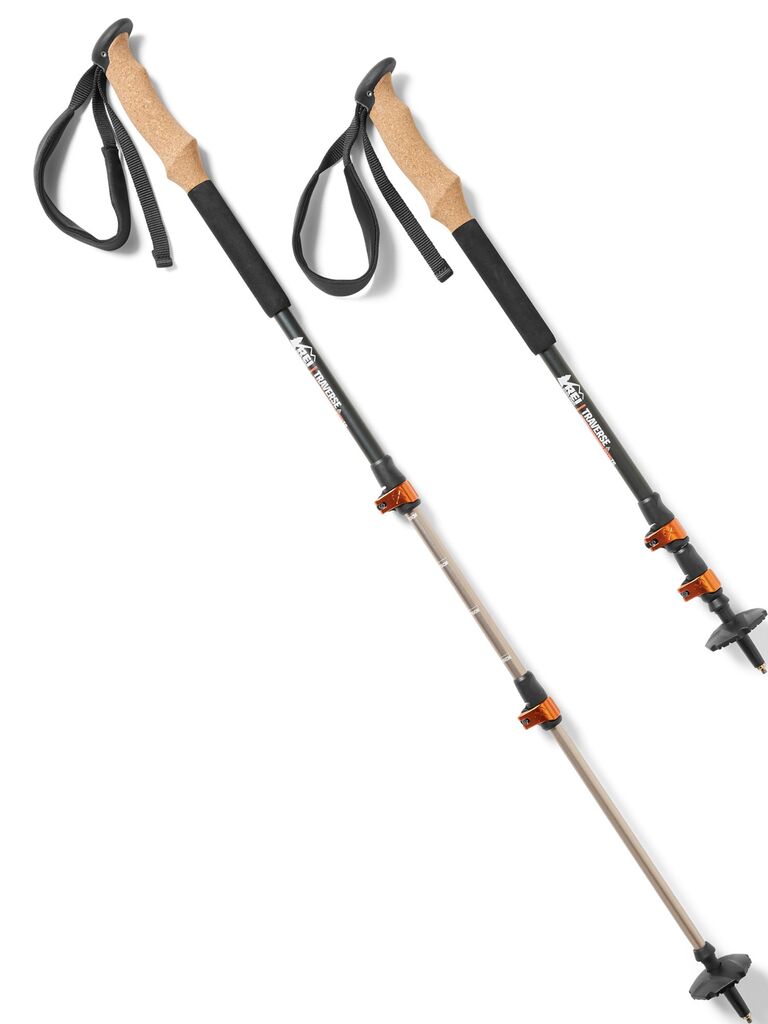 Unfortunately, there isn't a perfect walking stick at every trailhead. Instead of leaving it up to nature, ensure they can confidently take on the terrain with these award-winning trekking poles. They're lightweight and buoyant, with natural cork grips and padded wrist straps for comfort and adjustable locks for adaptability to the user. And don't let them think hiking poles are just for the weak; they protect knees from the impact of walking, especially downhill, increase speed and endurance and aid in balance. Basically, they'll be able to go on even bigger hikes much easier now.
Performance Sunglasses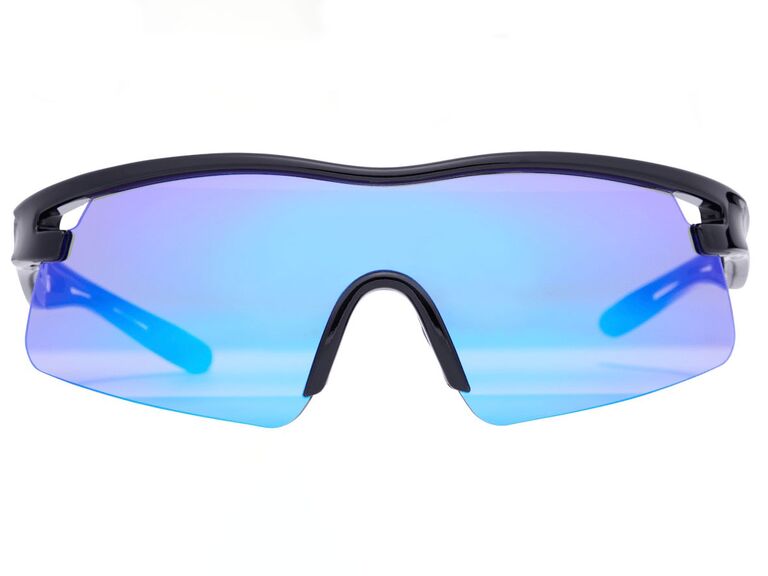 Fitness influencer Brian Mazza has teamed up with LensDirect to create trendy and practical performance eyewear that will allow your pal to hike (or even run) up a mountain without needing to adjust their sunglasses. The Flow mirrored shades wrap around the eyes for 100% UV protection, while the non-slip frame and impact-resistant lenses will keep them in place. Plus, they look super cool.
Flannel Beer Koozies
If we had to guess, the hiking enthusiast in your life probably also likes beer—we can't blame them, a cold one after a long trek is refreshing. Make sure their drinks stay cold while they climb with these adorable can koozies that are made to look like flannel jackets. Grab two to make a cute gift for couples who love to hike together.
Personalized Hiking Print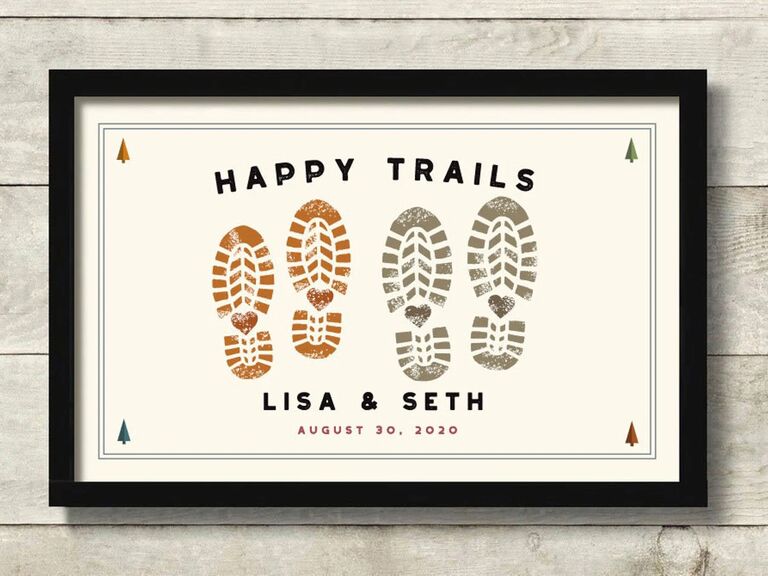 Celebrate never going hiking alone with this sweet yet simple personalized wall art. Whether you're shopping for a bridal shower or wedding gift for the hiking couple or an anniversary present for your spouse, they'll love this sentimental print. It reads "Happy Trails" with two pairs of footwear impressions, the couple's names and established date. Aww! Just make sure to get it framed yourself before handing it over.
Portable Speaker
Now they can now bring their favorite tunes anywhere—even the woods. This wireless, Bluetooth speaker is outfitted with a carabiner hook to easily clip to their backpack while the compact size (it barely weighs half a pound) ensures it won't add too much weight. It's even water- and dustproof, making it ideal for the outdoors. Just make sure to be respectful to the other hikers on the trail and not play music too loudly.
Outdoor Blanket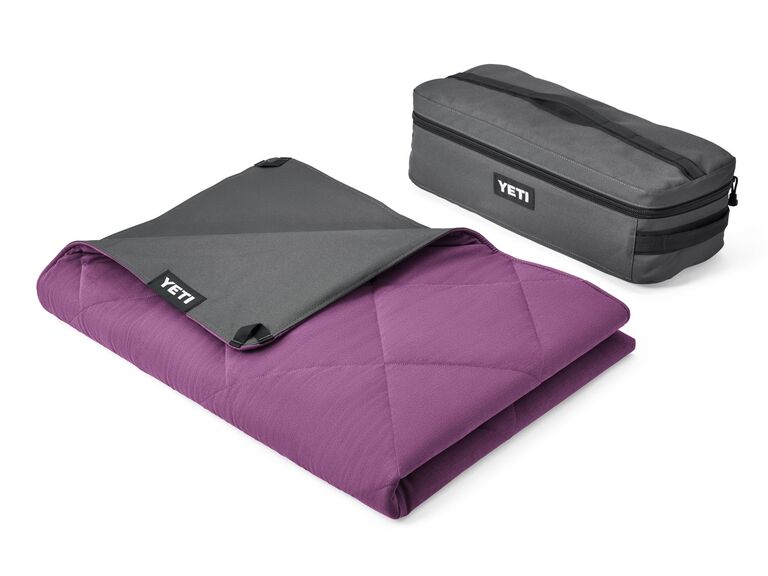 You probably already know that YETI makes coolers, but did you know they also have outdoor blankets? This all-terrain toss is not only waterproof but also designed to repel dirt, burrs and pet hair. It's super soft, insulated and fits two—the perfect size for hiking couples. They'll definitely pack this whenever they want to have a picnic at the vantage point.
Multi-Tool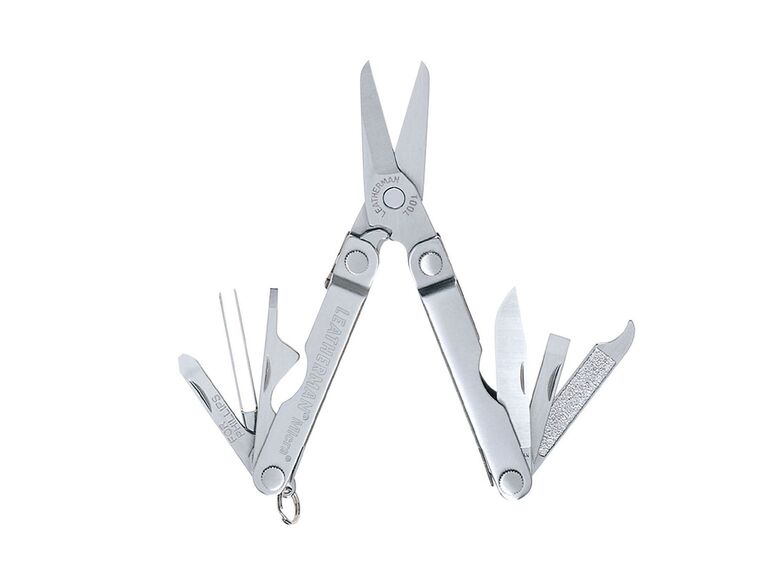 Scissors and screwdrivers and a bottle opener, oh my! This stainless steel multi-tool is small but packs a punch, with 10 different utensils—from a knife to a nail file—so you can ensure your hiking-loving spouse is prepared no matter what they face on the trail. The handles are completely customizable so you can add a pattern, image or message for a personal touch.
Shoe Ice Spikes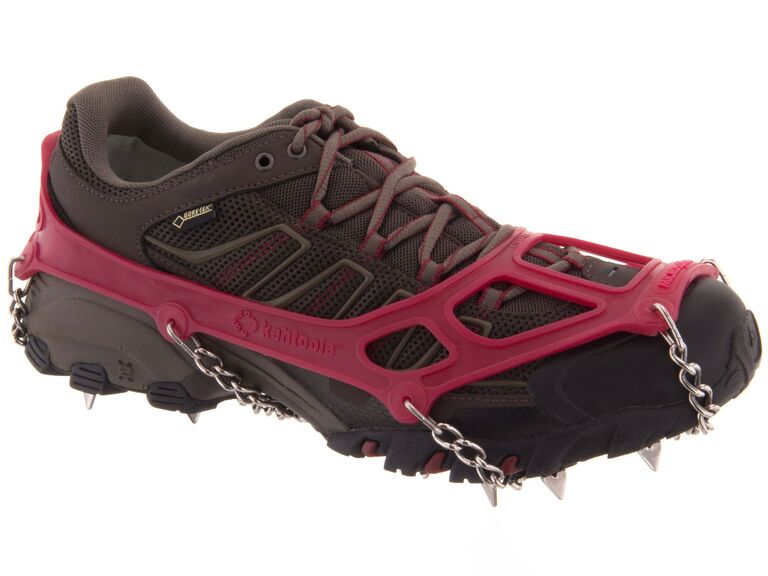 The winter months shouldn't inhibit adventure. If they want to take to the snow-covered trails, make sure they're equipped for the slippery terrain with shoe spikes. They easily fit onto almost any boot to increase traction and prevent snowballing during the winter months. They may be cold, but at least they'll be prepared with this gift for winter hiking!
Mountain-Scented Candle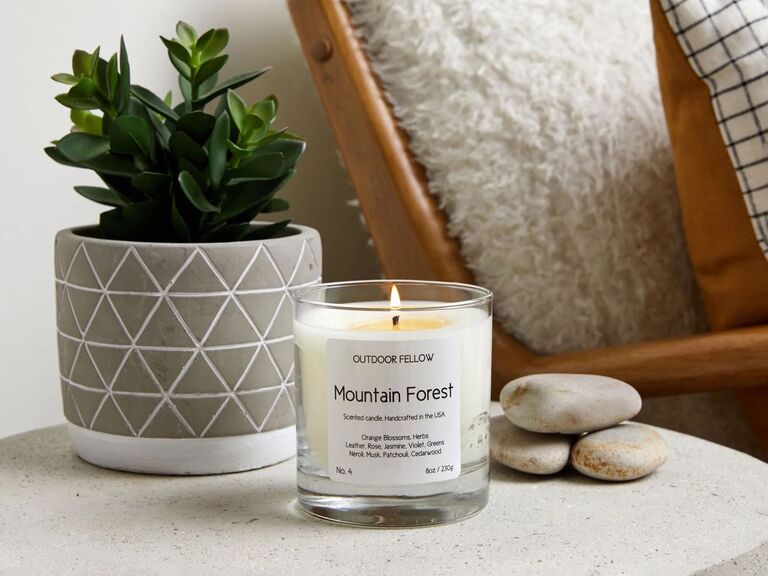 There's nothing quite like the smell of nature—except now there is! This candle bottles the scent of a mountain forest, making it the perfect gift for people who like hiking. It has top notes of orange blossom and herbs mixed with leather and floral accords and the classic woodsy aroma of cedarwood. Plus, it's a purchase you can feel good about. Outdoor Fellow donates 5% of every purchase to The Trust for Public Land organization, which fights to protect public parks. And each jar is reusable once the candle burns. That's a whole lot of wins!
Wanderlust Bracelet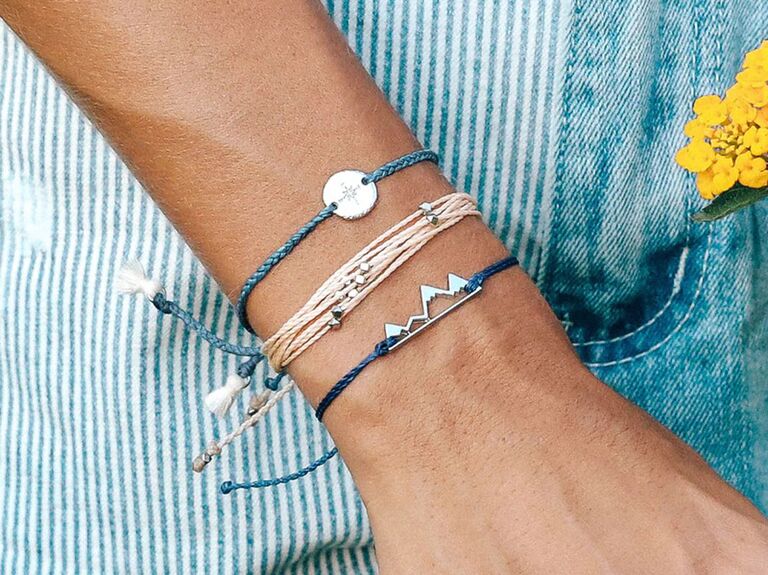 Here's an unexpected but totally loveable hiking gift for her or him. This bracelet set from Pura Vida (aka the well-known eco-friendly jewelry brand) will inspire their wanderlust. It comes with three braided bracelets, one of which features a mountain range charm and another a compass. We bet you'll see these in their next Instagram post.
Hiking Journal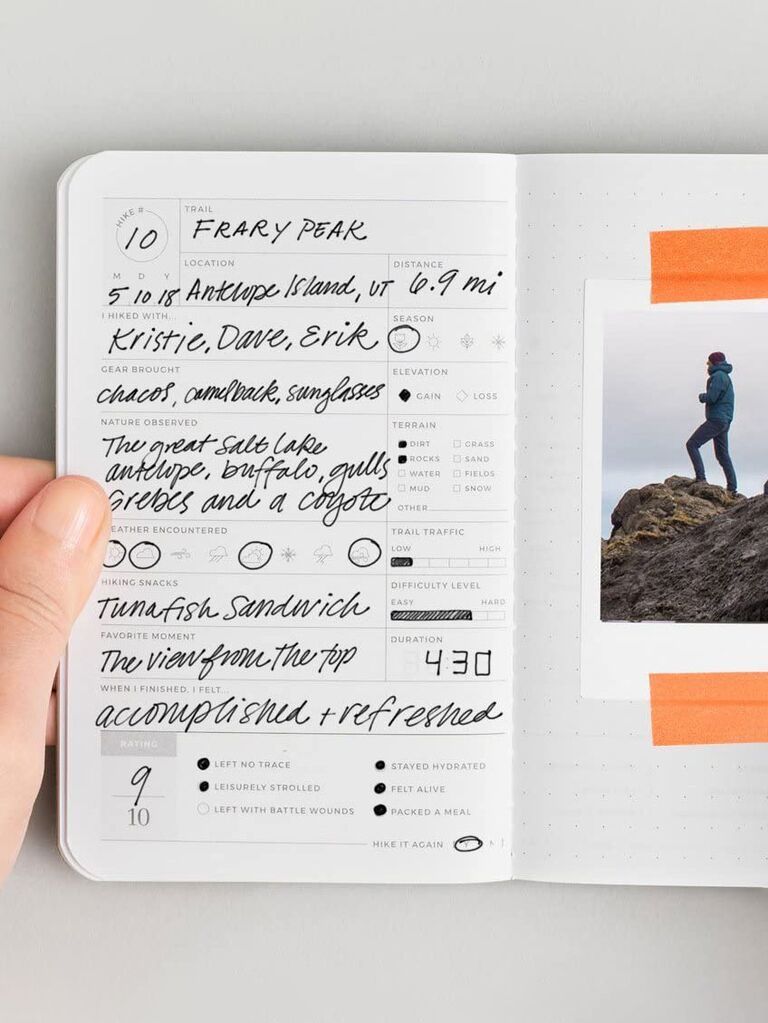 If you need a stocking stuffer for hiking lovers, look no further than this affordable pocket-sized trail journal. Each entry page has prompts for the hike's details alongside what they saw and how they liked it. It's accompanied by a blank page for more notes, a photo or a drawing of the view. They also have specific journals for bird watchers, fishers, climbers and campers.
Insulated Jacket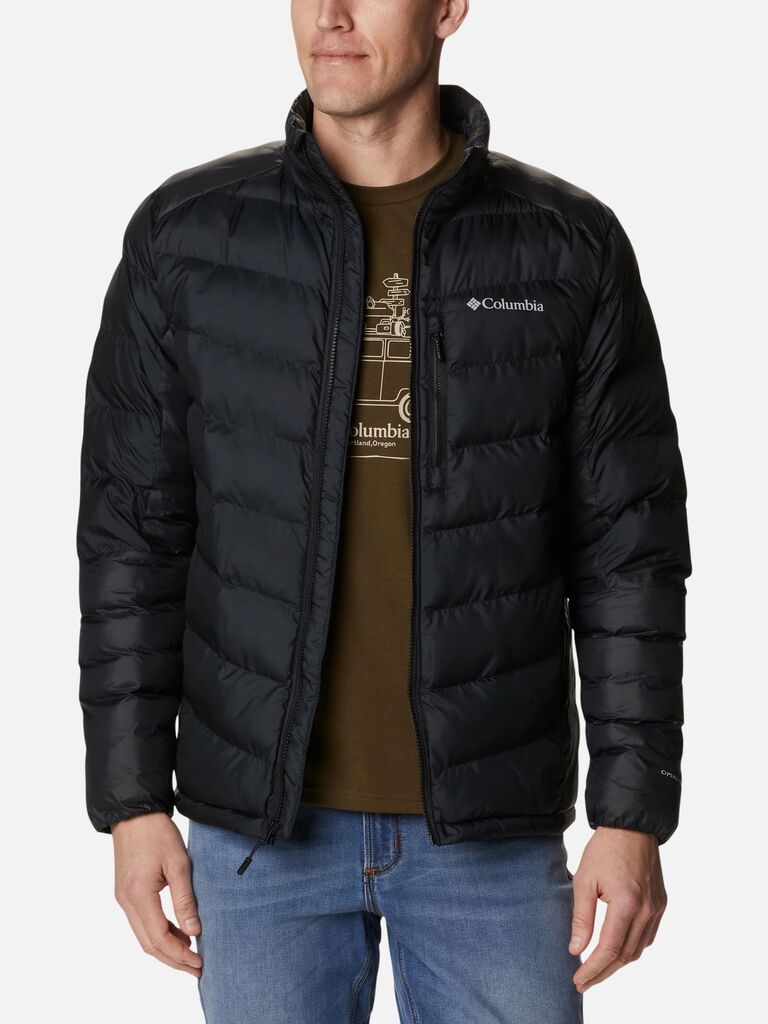 Puffer jackets never go out of style, especially for hikers. This water-resistant, insulated jacket with a gold thermal-reflective lining will keep your outdoor-loving partner, friend or family member nice and toasty, even on a cold hike. And in proper wilderness fashion, it squishes down for easy packing. Find in men's and women's sizing.
Heavy-Duty Socks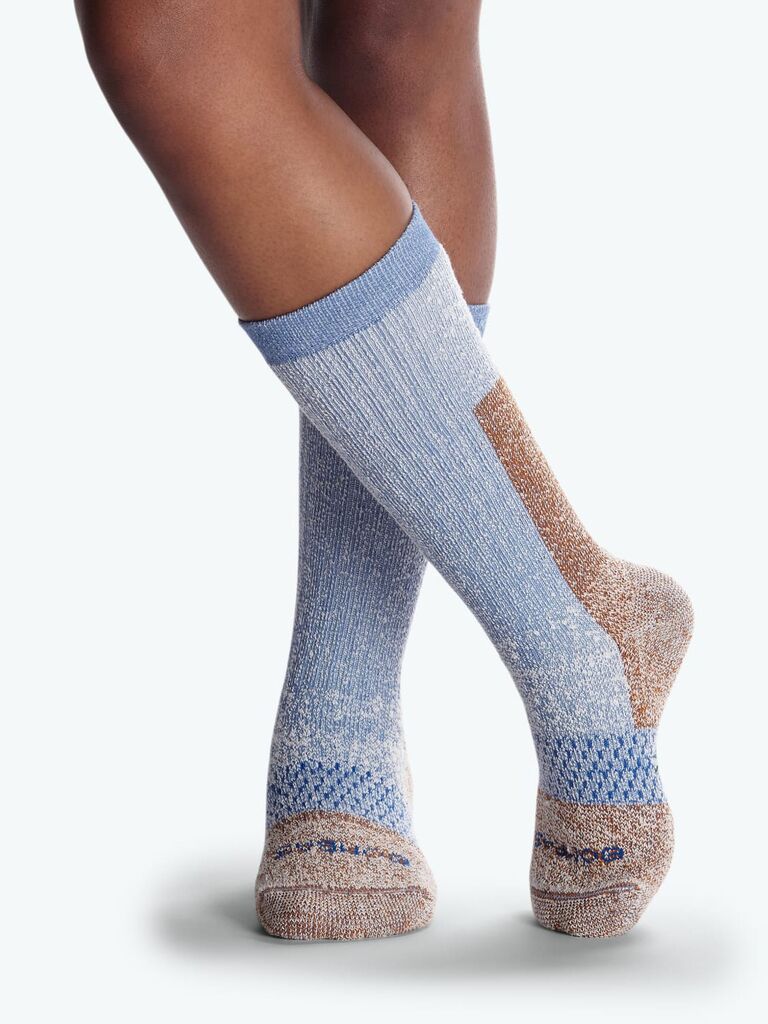 Trust us, people that love hiking always need more socks. These heavy-duty calf socks will keep the blisters at bay even after a long hike. Though thick, the material is breathable and moisture-wicking for all-purpose performance.
Hiker's Journey Glassware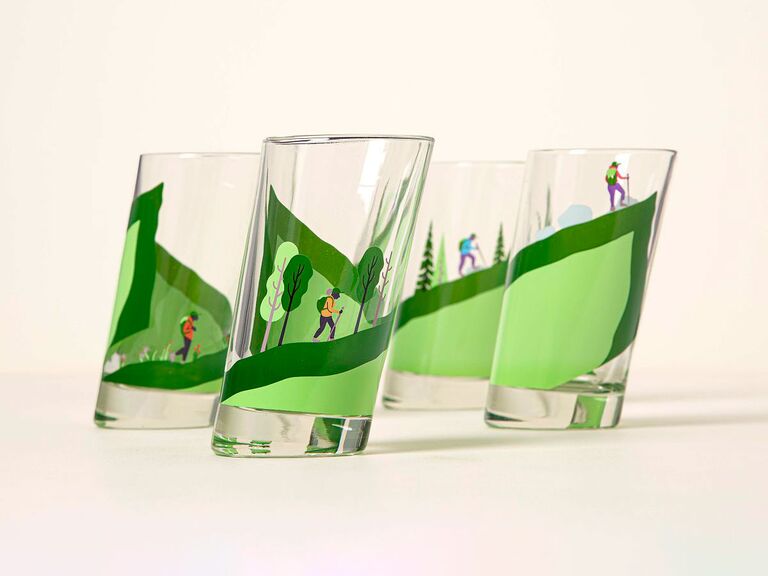 Tableware is a classic bridal shower or wedding present, but if you're looking for an extra special gift idea for the couple that loves hiking almost as much as they love each other, these glasses are a fun twist. The set of four depicts a hiker's journey from low-grade grassy fields all the way to the rocky summit—they're even slanted. Too fun!
Wood Hiking Sign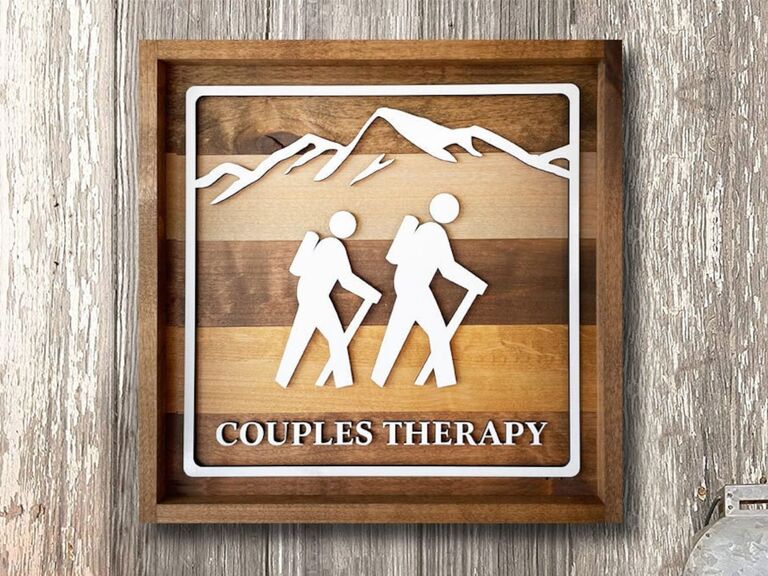 Help decorate hiking enthusiasts' homes to show off their hobby with this creative wall decor. It's handcrafted from natural alder and beechwood and shows a pair of hikers with the phrase "Couples Therapy." It's a charming gift for hiking couples whether you need something for their wedding, anniversary or a holiday.
Traveler's Hip Pack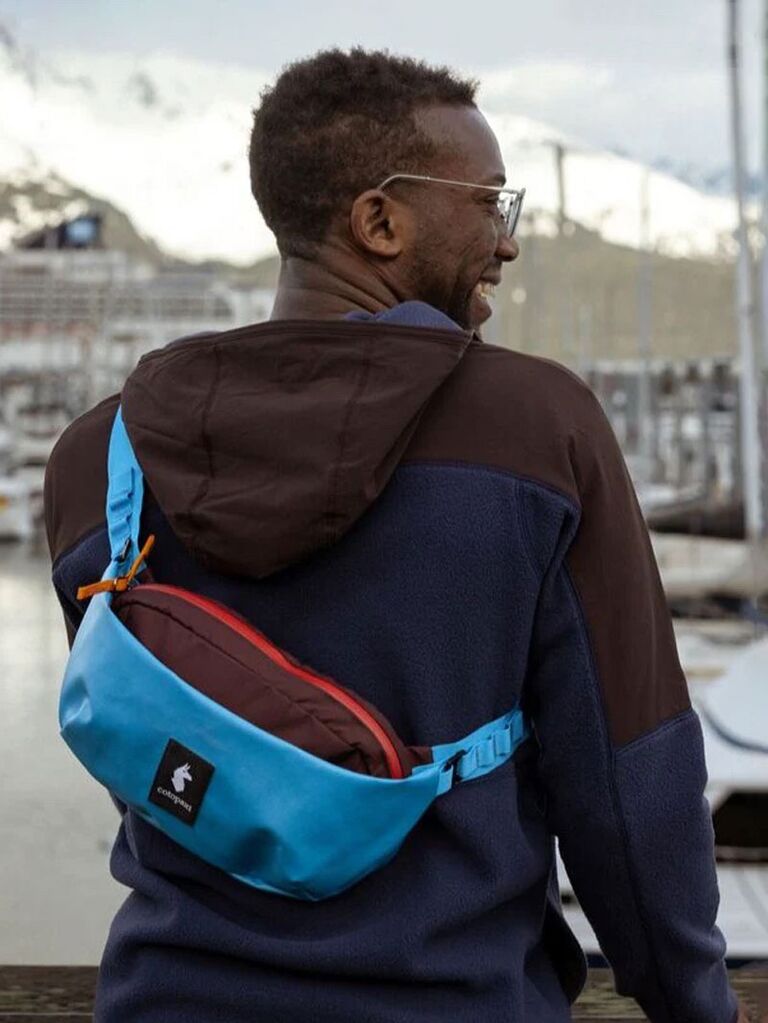 The trendy belt bag got a hiker's upgrade. This 100% recycled pack is water- and stain-resistant and boasts an expandable outer sleeve and two zippered pockets to keep belongings secure. It's great for short hikes or just everyday urban use.
Portable Massage Gun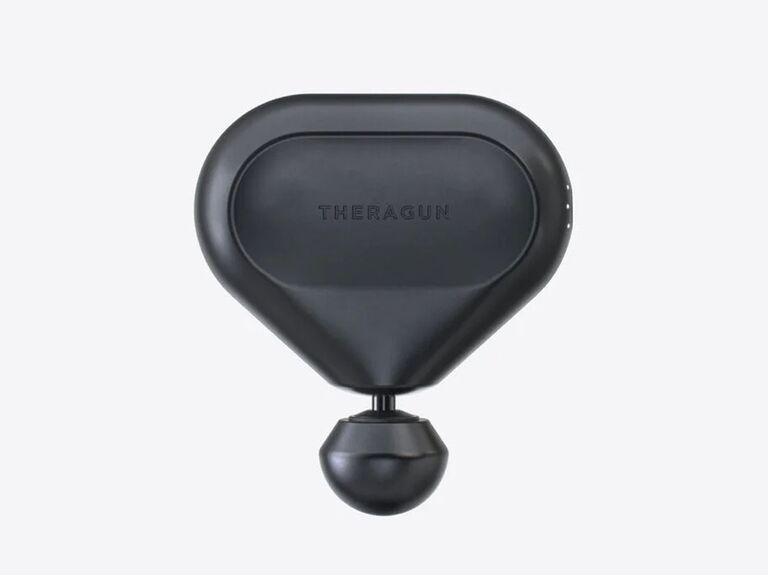 Sometimes the best gifts for hikers aren't items they'd necessarily think to pack for a trip. Therabody's handheld massage gun will become their best friend after a strenuous mountain excursion. While they can just keep it in the car to relieve muscle tension before driving home, you never when cramps will strike. This massager is compact and portable if they do want to take it on the trail with them.
Headlamp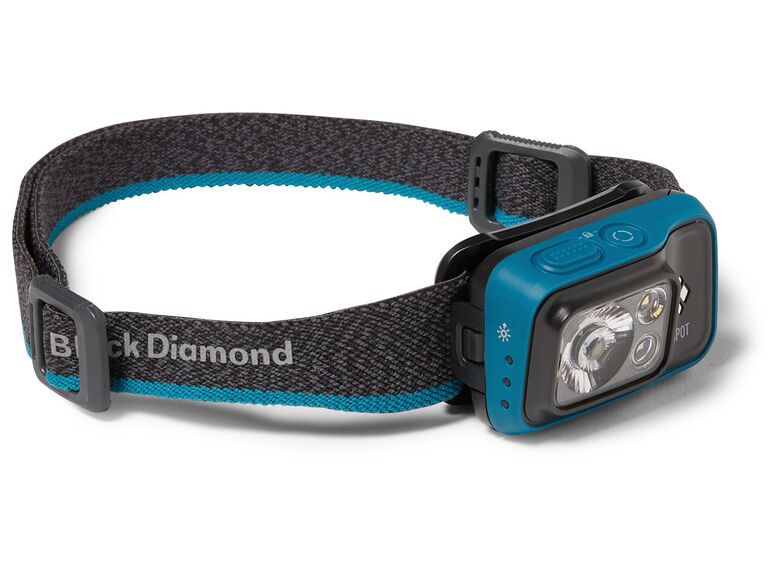 Sunrise hikes are gorgeous, but in order to reach the summit by first light, you have to walk in the dark. Don't let that fact deter your favorite hiker! With a 400-lumen beam (that's super bright) and a red light function, this headlamp will light up the trail for them.
Utility Bracelet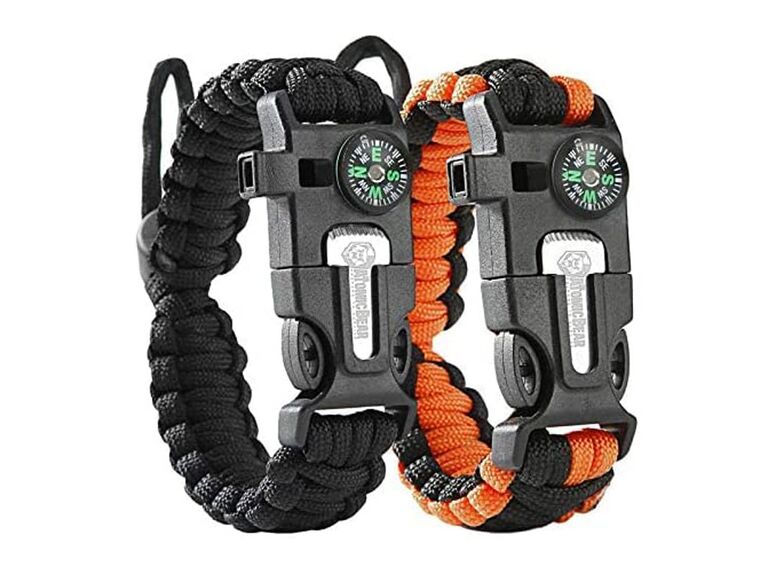 You can never be too careful when embarking on a hike. Make sure they're prepared for anything with this rugged and tactical bracelet. This survival bracelet is an affordable hiking gift for you but can be invaluable for them. It's made from 12 feet of military-grade paracord (which can uncoil to help build a shelter), with a clasp that doubles as a compass, a loud whistle, secure flint steel and a Ferro rod striker for starting a fire. Safety first!
Zip-Off Overalls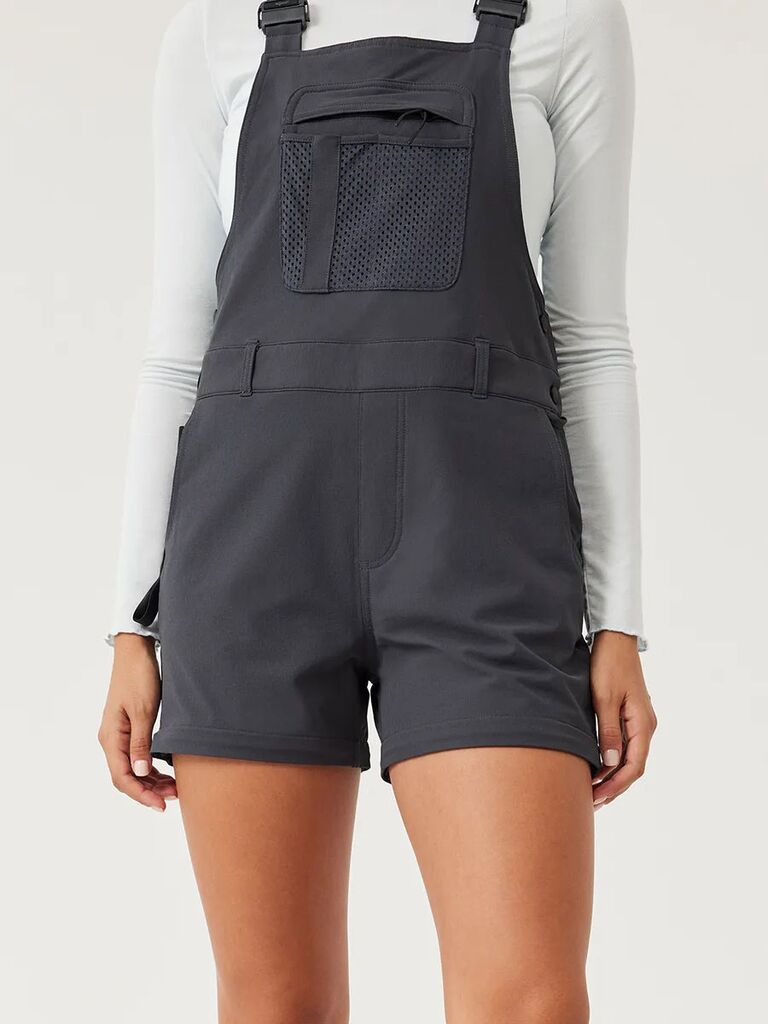 Novices and experts alike will love sporting these recreational (but cute) overalls. They're not just durable and water-resistant—they also have zip-off legs to accommodate any and all weather conditions. Plus, they have 10 pockets (yes 10) and a mini backpack. Looking for a hiking gift for men? They're also sold as just zip-off pants.
Funny Coffee Mug
If you've ever gone hiking with your nature-loving spouse, friend or parent, you've probably heard this line before: "It's another half mile or so"—and they just keep saying it for the next two miles. (At least the views are worth it.) Pay tribute to their favorite catchphrase with this coffee mug that's sure to get a laugh. It's made from stainless steel with a thematic carabiner handle and can keep hot or cold beverages insulated for hours.
Single Serve Coffee Bags
Wildland Coffee was made for adventurers. Their coffee bags work like tea; just steep their pouches in hot water for about eight minutes (depending on desired strength) then sip and enjoy. It's the perfect pick-me-up on overnight hiking trips and makes a super unique stocking stuffer.
Assorted Snack Bars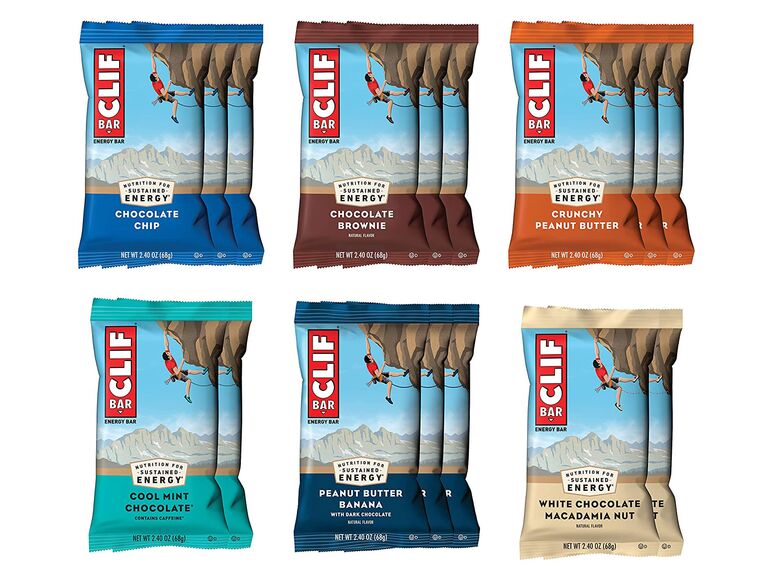 We have no doubt your hiking buddy already has a stash of energy bars in their rucksack—but they can always devour more. If you're looking for a small hiking gift idea for him, her or them, how about a gift basket of their favorite trail snacks? This assortment of CLIF Bars will deliciously fuel all their upcoming adventures.
High-Performance Binoculars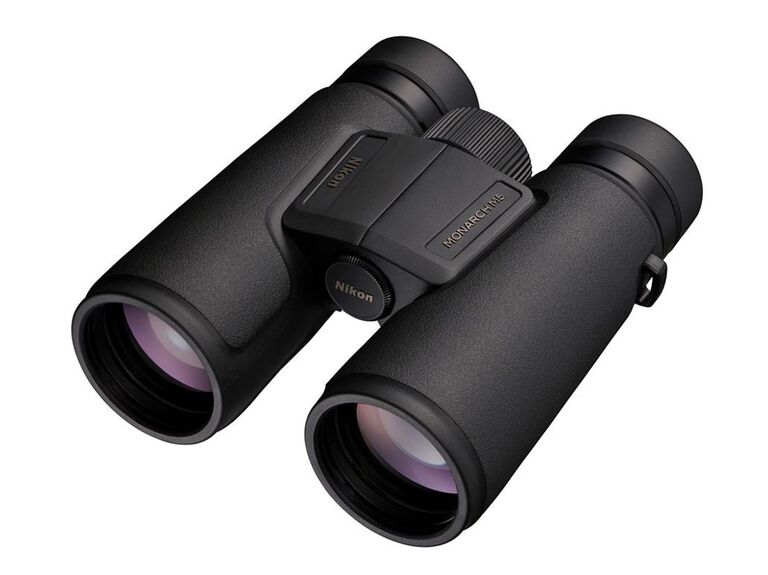 Make sure they can really take in the sights, near and far, with this classic gift for hikers. The Nikon Monarch M5 binoculars provide superior viewing quality with three magnifications for different field conditions. They're lightweight and waterproof, so they can be used in any weather.
Satellite Communicator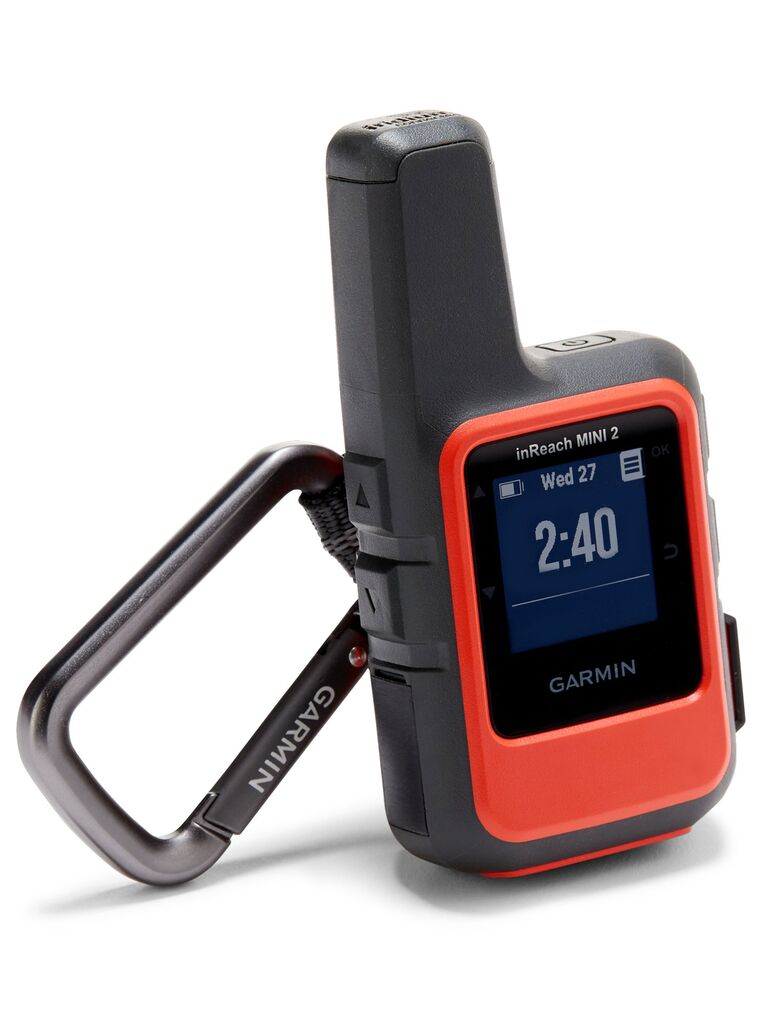 Nothing says "I love you" quite like the effort to keep them safe. If you're worried about your spouse or parent getting lost while hiking, this compact satellite communicator with two-way communication, tracking and interactive SOS capabilities will be a valuable gift for both of you. It's not just good in emergencies though; it has a digital compass and can pair with a smartphone so they can download trips, access topographical maps and create waypoints. It'll just be their Christmas and birthday gift this year.
Collapsible Dog Bowl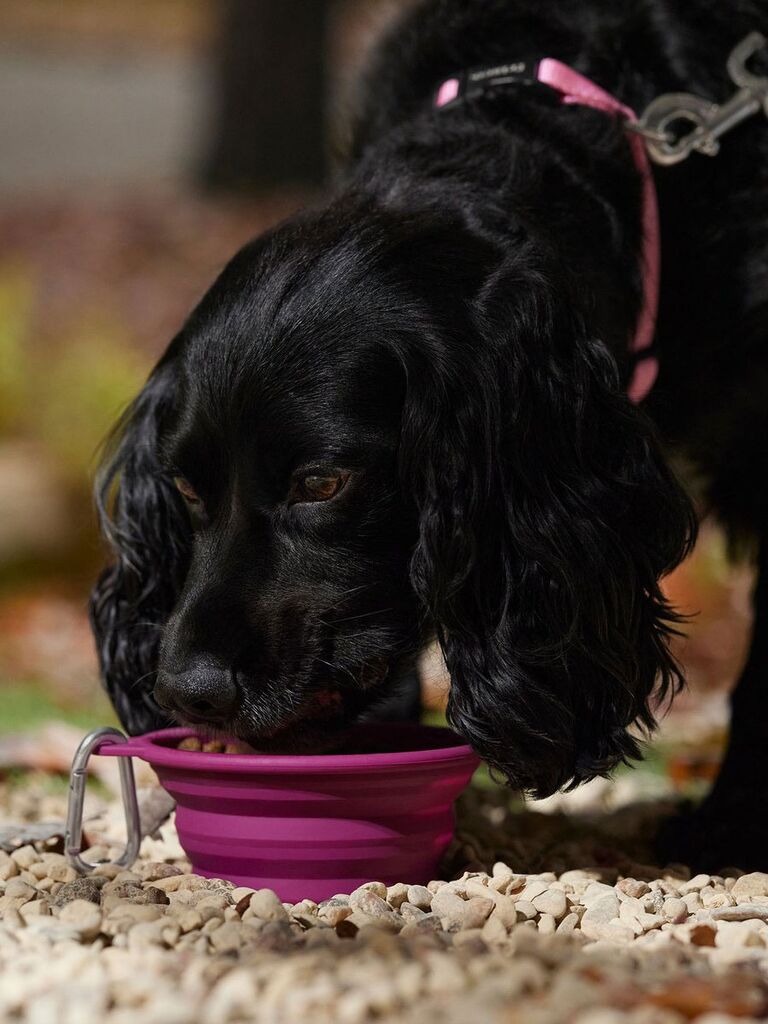 Is their favorite hiking companion their pet? This silicone, BPA-free bowl is a great gift for anyone hiking with a dog. It stores completely flat, then folds open to create a 12-ounce bowl for their food or water. Plus, it comes with a carabiner so they can easily hang it on their pack—or, pair it with a doggie backpack so their furry friend has their own travel gear. So cute!
Straw Water Filter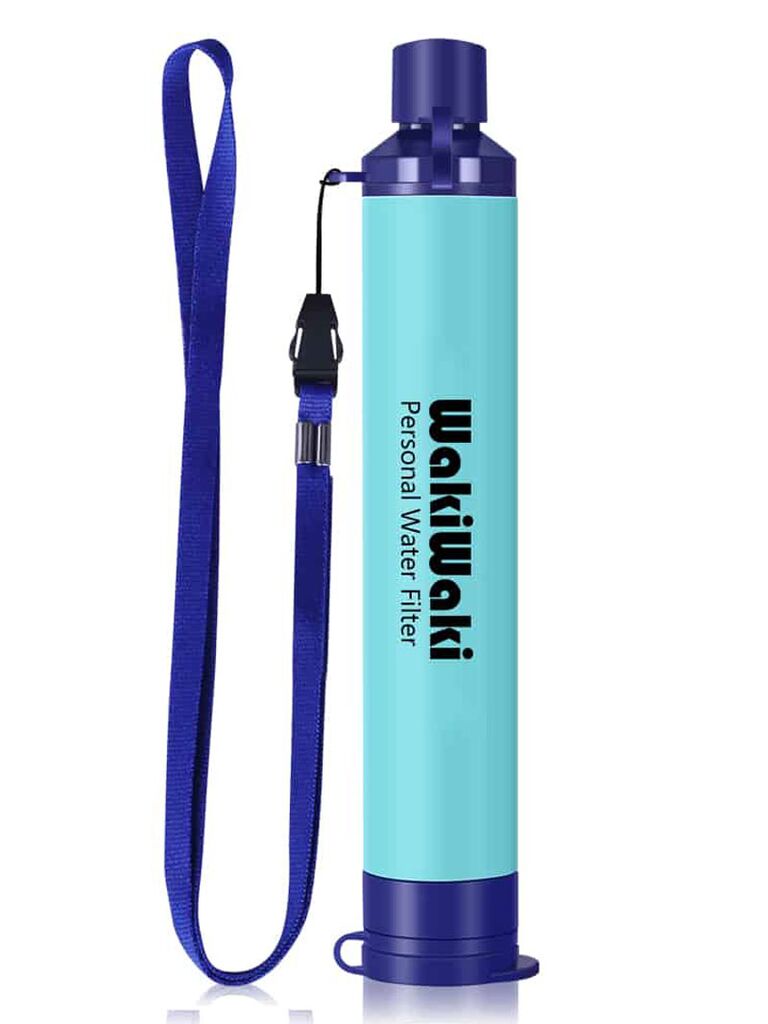 Scouts 101: always carry a backup water source. This outdoor portable straw can filter up to 1,320 gallons of water so they can stay hydrated in any wild environment. Simply insert the device into a water source, be it a bottle or running stream, then blow it out after each use to backwash it and extend its life cycle. This gift for hikers will make them want to spout!
Topographic Whiskey Glasses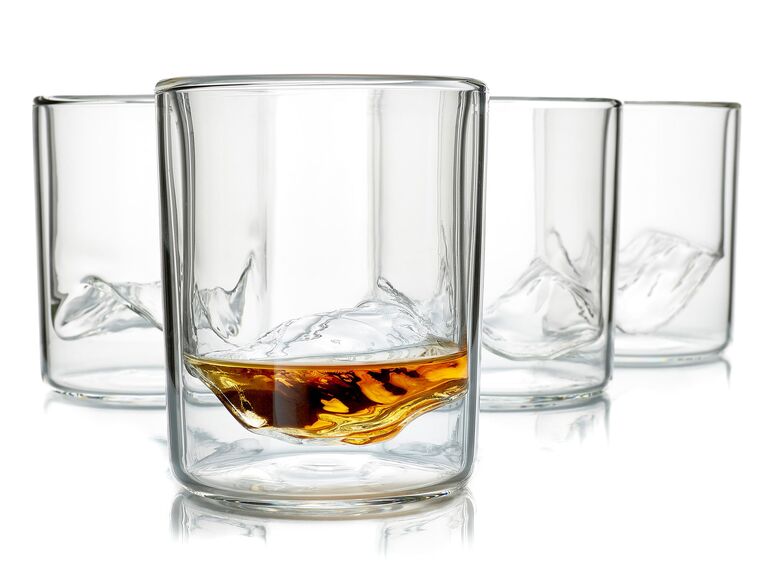 Searching for a gift for a hiking lover and whiskey enthusiast? This unique hand-blown tumbler set from Huckberry combines the best of both worlds. Each set of glasses features miniature topographic impressions of famous natural landmarks, like the Rockies, Zion, The Grand Tetons and so many more.
Custom Collage Print
Did they get engaged at the top of a mountain? Let your wedding gift for the couple honor their favorite date idea: hiking! Design this custom collage print to match the lovebirds' likeness, then include their names and a sweet message like "For all the adventures to come." Have it come framed so it's wall-ready upon unwrapping!
National Parks Pass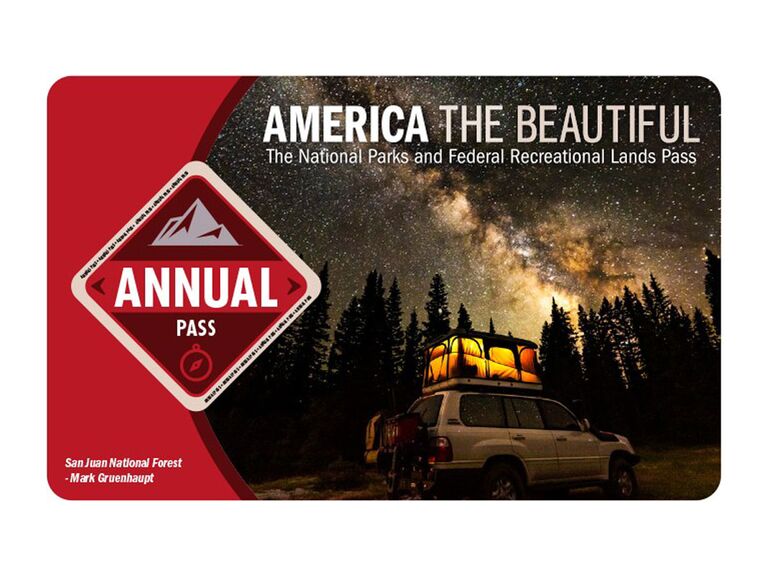 Shopping for a holiday gift for someone who loves hiking? Help them start the new year on the right foot with an annual park pass. The America the Beautiful pass will grant them access to over 2,000 federal recreation sites including all the national parks. They'll definitely want you to come along on one of their trips!