Hate Your Wedding Day Hair and Makeup? Here's What to Do
Here's how to shut a wedding beauty emergency down.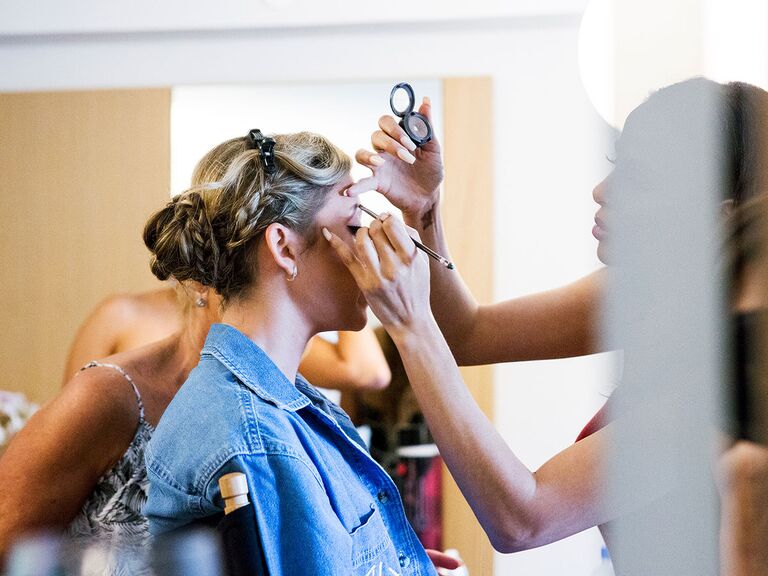 A Guy + A Girl Photography
The morning of your wedding should be as stress free as possible. While you might be dealing with some expected last-minute details, all you should really be doing is chilling with your wedding party, mimosa in hand and spouse-to-be on your mind.
In short, no one wants to face a fashion or beauty emergency. But what if your hair and makeup doesn't go as planned? What if your beautician goes totally rogue—and even though you specifically asked for an elegant updo and natural makeup, you end up looking like a strange hybrid of Cindy Lou Who and the Joker from Batman?
Not good. But it happens! So don't panic. Your day isn't ruined, your marriage isn't doomed to fail and, we promise, there's no need for water works.
Here's how to gracefully handle a wedding day beauty emergency.
Take Preventative Measures
To minimize the chances of this happening on the day of, we always recommend going for a hair and makeup trial (or two!). Most vendors do charge for trials, but it's so worth it. Collect photo examples of looks you love. Instagram, magazines, Pinterest and even good old Google images will do the trick to help give your pros a sense of your beauty vision. If you have a celebrity hair or face doppegänger, in other words, a star with a similar hair texture, complexion or face shape, do a little research about what looks they rock on the red carpet that could work for you.
Say Something
On the day of, if you don't like something about your look, it's important to speak up. You don't want to go through your entire celebration (and your wedding album in the years to come) regretting wearing something you're not comfortable with or just flat out dislike. Even if you're shy or feel guilty asking your stylist to redo something, you have to be vocal. Don't feel bad—it's their job to make you look and feel your absolute best, and you'll both be so happy once everything's fixed and satisfactory. You can also leave them an extra generous tip or send a nice note (or gift) to say thank you for being so accommodating and patient.