Vegetarian Wedding Menu Ideas That All Guests Will Love
Calling all veg heads.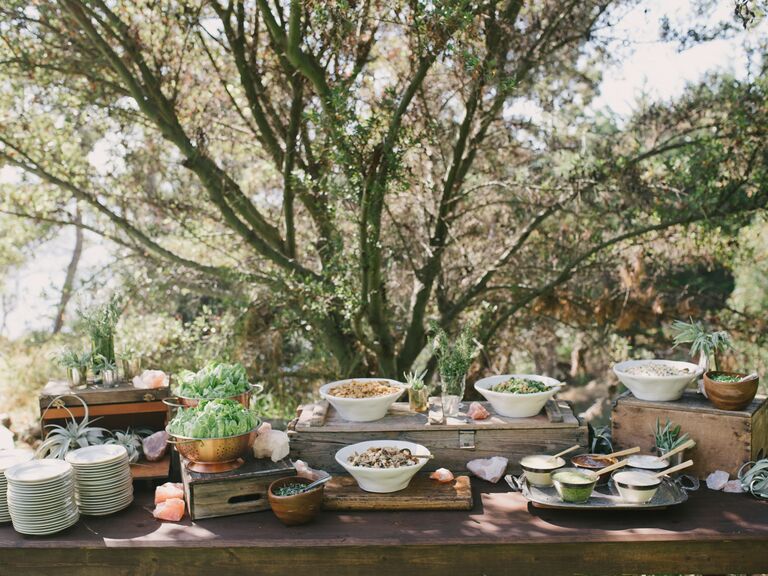 FONDLY FOREVER PHOTOGRAPHY
If you're a vegetarian couple, you might wonder if you need to provide your guests with meat at your wedding. While the decision is up to you, we believe your wedding should be all about what makes you happy. That's why we've rounded up vegetarian wedding menu ideas that all guests, even meat lovers, will appreciate. Whether you're a veg-head for animal rights or for health reasons, you should serve what you want on your wedding day.
Couples hosting a sustainable wedding will be delighted to learn that serving a plant-based meal will also cut down on the carbon footprint of the event. Animal agriculture accounts for 18 percent of greenhouse gas emissions—more than transportation exhaust, according to the Food and Agriculture Organization of the United Nations. So whether you're planning an eco-friendly wedding or you're a committed vegetarian, we've got you covered. Here are 21 vegetarian wedding menu options your guests will enjoy (even the ones who love meat). Once you've decided on your veggie-focused food lineup, head over to The Knot to find a vendor who will accomodate your requests.
Vegetarian Wedding Entrées
Pizza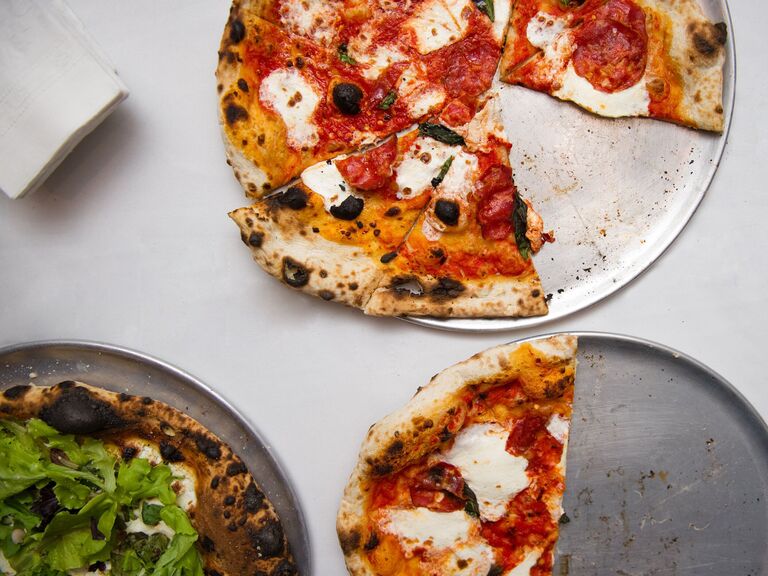 Did somebody say pizza? Whether you order this crowd-pleasing dish from your favorite late-night spot or you go for scrumptious hand-tossed pies, pizza is an easy vegetarian wedding entree that everyone will love (especially if kids are in attendance). Load them up with cheese and veggies to ensure that everyone is fueled for dancing later on.
Eggplant Parmesan
Chicken parm but make it vegetarian. We love this spin on a classic dish because it gives you all the flavor without any of the meat.
Penne Vodka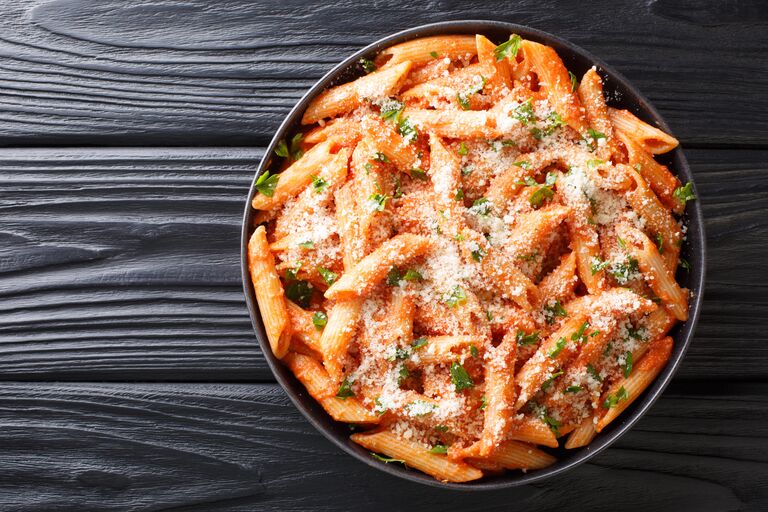 Put a delicious spin on classic spaghetti marinara by opting for penne vodka. Vodka sauce is made from marinara, herbs, vodka and heavy cream. (Read: the hearty sauce will ensure that your guests are satisfied afterwards.) Toss in vegetables like mushroom, onions or squash to make it even more delicious.
Mushroom Ragout
Ragout is a stew traditionally made with meat and vegetables. But vegetarian couples can skip the meat and substitute mushrooms instead. Serve this scrumptious dish over rice or noodles for a delicious—not to mention filling—wedding dinner meal.
Stir Fry
Spice things up at your wedding by serving your guests stir fry. Throw together your favorite vegetables and add on your favorite sauce. Put it over rice and noodles for a unique vegetarian wedding menu that your guests will rave about.
Tacos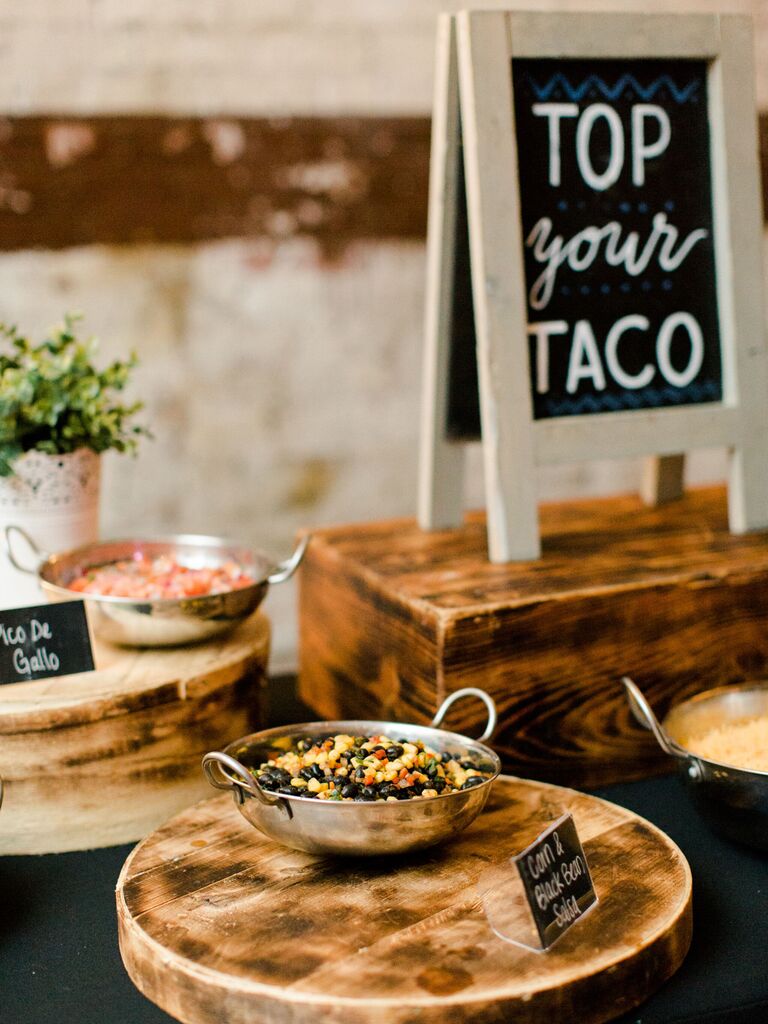 Do you and your partner love Taco Tuesday? Incorporate that into your nuptials by serving your guests veggie tacos. Not only is the dish a crowd favorite, including your favorite foods in your menu is an adorable way to personalize your wedding. Plus, you can complement the dish by serving margaritas as your signature cocktail.
Mac and Cheese
There's nothing quite like some comfort food—especially on your wedding day. Indulge in creamy mac and cheese during your dinner. The dish is simple and scrumptious, so we know your guests will love it.
Truffle Risotto
For a luxe dining experience, consider serving your guests truffle risotto. Risotto is a creamy, filling Italian dish that your guests are bound to love. Plus, who doesn't love truffles?
Breakfast for Dinner
Is Sunday brunch a ritual for you and your boo? Pay homage to your favorite date by serving up breakfast for dinner. It's a creative vegetarian wedding menu idea that will surprise and delight your guests.
Pad Thai
If your ideal Friday night is takeout and a movie, embrace that by serving pad thai. Add in tofu or extra veggies to ensure that it's vegetarian-friendly and filling.
Pho
Pho is a Vietnamese soup that is typically made with bone broth and meat. However, you can make it vegetarian by substituting in vegetable broth and tofu. It's a unique vegetarian wedding entree that will excite your guests.
Veggie Sushi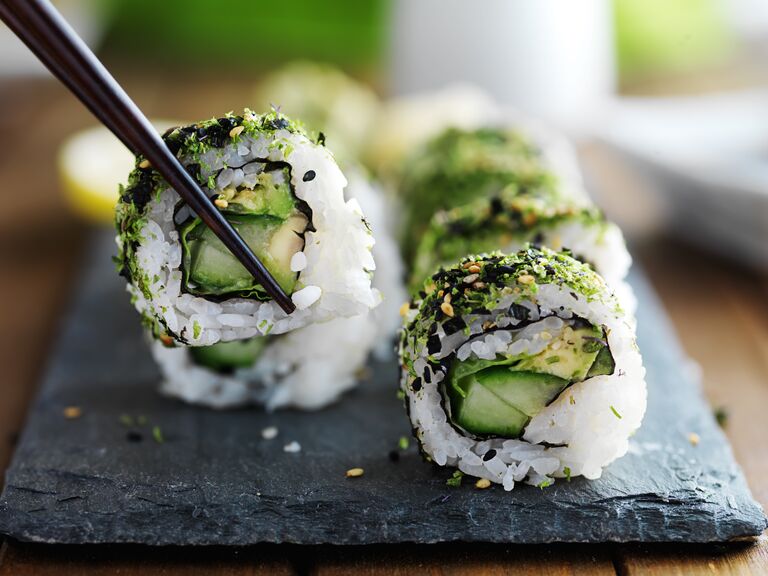 Sushi is typically made of fish, but there are so many vegetarian variations of the popular food. Choose from options like tofu and mushroom rolls or sweet potato and avocado rolls.
Vegetarian Starters for Your Wedding
Grilled Cheese and Tomato Soup Shooters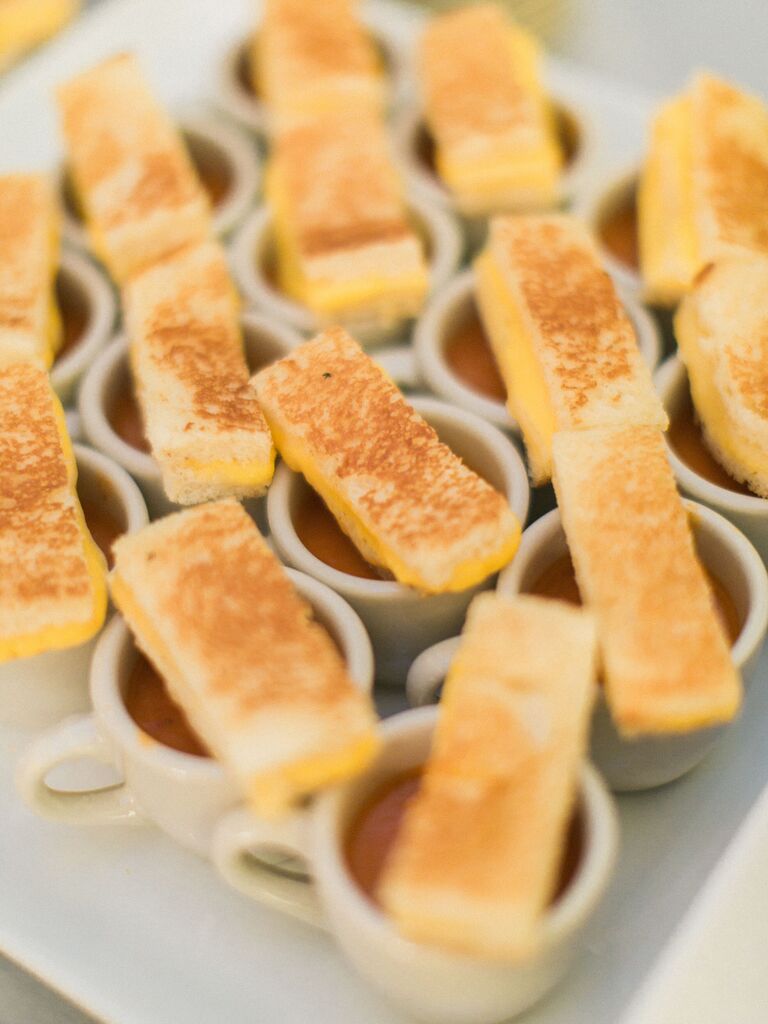 If you're worried about serving a full vegetarian meal to your guests, we recommend sticking to the basics. Pass out mini grilled cheese slices with tomato soup shooters during cocktail hour. It's a basic dish, but it'll be a popular one too.
Spring Rolls
Searching for creative vegetarian wedding appetizers? Consider spring rolls. They're absolutely delicious and they're easy to eat too.
Bruschetta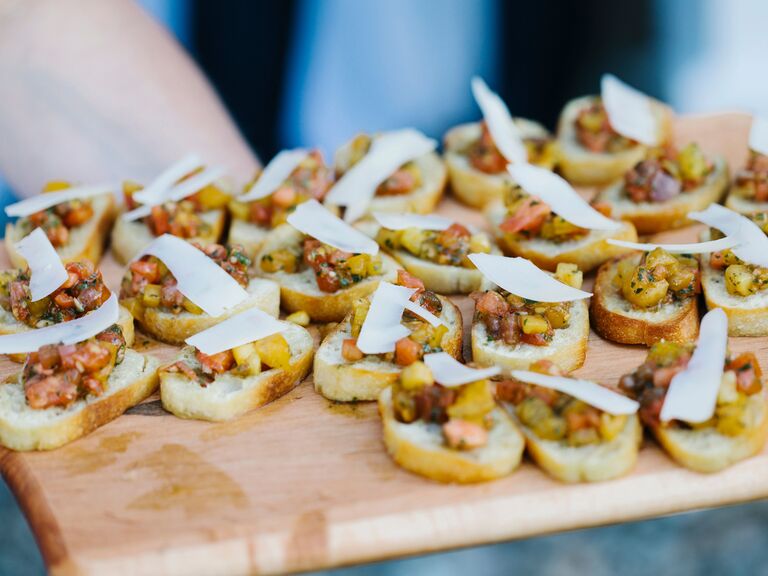 Bruschetta consists of crushed tomatoes on top of bread (sometimes with cheese and basil too). Pass it out at cocktail hour or serve it as the first course. Either way, it's a massive crowd pleaser.
Veggie Burger Sliders
Being vegetarian doesn't mean you can't serve burgers at your wedding. Serve up veggie burger sliders as a delicious meat-free appetizer.
Butternut Squash Soup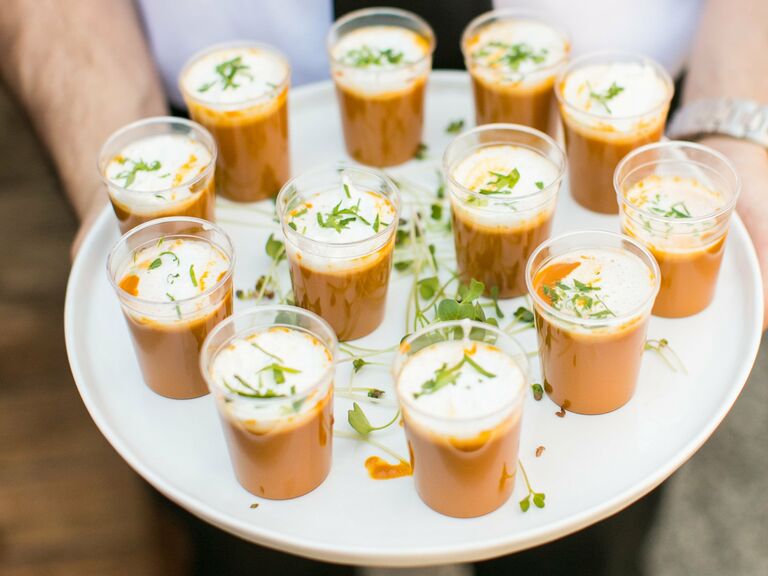 We love soup for a starter, but sometimes they're not very filling. Enter butternut squash soup, a creamy fall-favorite. Serve it to your guests for an appetizer or pass it out in small shooter glasses.
DIY Mashed Potato Bar
We love the idea of interactive food stations at weddings. Not only do they provide delicious food, but they also add on extra guest entertainment (a 2020 wedding trend).
Caprese Skewers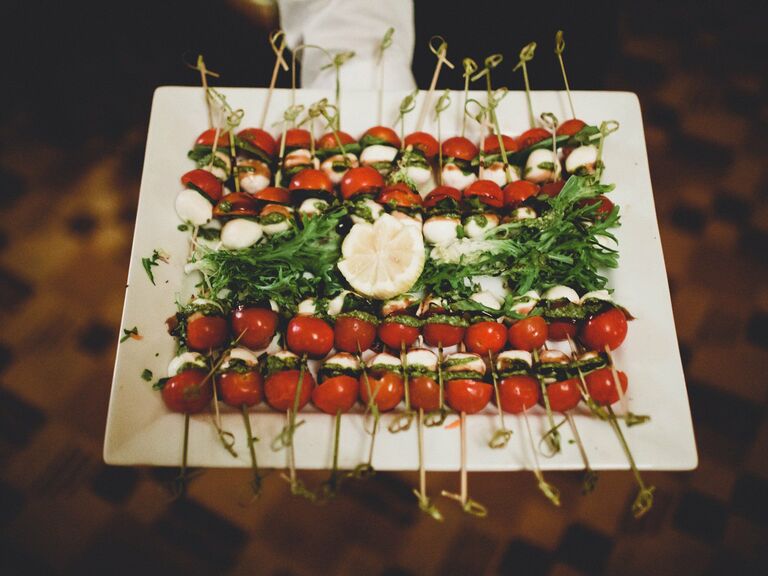 Caprese is easy, which is why we love it for a passed appetizer. Have your caterer pair cherry tomatoes with fresh mozzarella (don't forget the drizzle of balsamic vinegar too) on a little skewer. It's delicious and easy to eat with a drink in your hand.
Avocado Toast
Avocado toast doesn't have to be limited to breakfast and brunch. Pass out mini avocado toasties to your guests during cocktail hour or serve them as an appetizer at dinnertime.
French Fries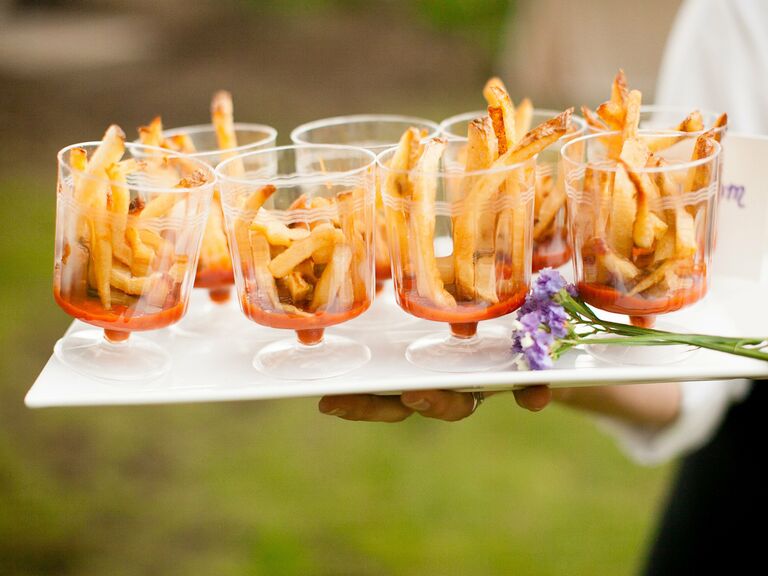 Of course, we'd be remiss to skip over french fries. This OG snack food is perfect for passing out during cocktail hour. We assure you that your guests will be happy!