The Most Unique Wedding Venues in the U.S.
Make your wedding day even more memorable by tying the knot at one of these totally out-of-the-box wedding venues.
If your life motto is "why fit in when you can stand out" then this round-up of unique wedding venues is a great source of wedding venue inspiration. The list we've compiled below has a little bit of everything, from a train station and a distillery to a zoo and a greenhouse, nothing is off the table when it comes to out-of-the-box wedding venues. These unique event spaces and wedding venue ideas aren't confined to one area of the country, from California to Alabama and everywhere in between, no matter where you live, there's a unique wedding venue out there to match you and your partner's distinct style. You'll find outdoor space, indoor venues and venues with a mix of both on our list below. If you're still seeking more inspiration, there are plenty more unique wedding venues where these came from.
Scarlett Belle River Boat in Oxnard, California
Let your love set sail as you tie the knot aboard a river boat in the Channel Islands Harbor. With 360-degree views of the water, there's not a bad view on board. Take memorable photos on the bow while your guests take in the sights on the outdoor decks. When the temperature drops and the sun sets, move inside to the fully enclosed upper deck. Thanks to the walled windows you won't have to sacrifice the view for comfort. The ornate ceilings featuring chandeliers add a touch of elegance aboard the paddlewheel riverboat. This all-inclusive unique wedding venue is complete with a buffet, bar, DJ and a dance floor. Get everything you need with the Scarlett Belle River Boat's one-stop shop for wedding planning and enjoy wedding day bliss as you cruise into married life.
Peconic River Herb Farm in Calverton, New York
Whether you and your partner have a green thumb or you love being surrounded by greenery and nature, this off-the-beaten-path New York event venue is the ideal backdrop to say "I do." Set on the east end of Long Island, this riverfront farm features 8 greenhouses. For a larger group the open lawn area is the perfect place to set up a tented reception. If you're looking for a more intimate wedding, this unique wedding venue offers a glass greenhouse for smaller gatherings. The 14-acre farm offers a plethora of options for wedding photos. You'll get private use of the total grounds and creative control for how your wedding day will look and feel as you're responsible for bringing in rentals, florals, decor, etc. If you're looking to be surrounded by nature on your big day, the Peconic River Herb Farm is a unique wedding venue you'll definitely want to consider.
The Upstairs at Avondale Brewing Company in Birmingham, Alabama
If sipping on a cold one is more your style, consider getting married at a brewery. If you and your partner love tasting craft beers and exploring new watering holes, this might just be the perfect wedding venue for you. The brewery is located in a restored building that at one point was both a pharmacy and saloon filled with historic charm and modern amenities. Upstairs from the taproom where they're crafting delicious brews is an event space perfect for your wedding ceremony or reception. The brick wall interior and wooden beams create an industrial feel that allows couples to create their own event from scratch. Upstairs at Avondale Brewing Company is a great wedding venue for a relaxed and intimate wedding day vibe.
Gem Theatre in Detroit, Michigan
Be the star of your wedding day by tying the knot in front of a live audience, also known as your wedding guests. When the curtain rises on your wedding ceremony, you'll be standing center stage with your partner exchanging vows and your guests will have a front row seat. With two theater spaces and two dining rooms this unique wedding venue can accommodate as little as 50 guests or as many as 275. If you want a breath of fresh air, there's an outdoor patio that is perfect for cocktail hour. Get a memorable photo op in front of the light-up Gem Theatre sign out front surrounded by the 1920s architecture and aesthetic of downtown Detroit. Be the star of the show at this theatrical venue.
United States Arboretum in Washington D.C.
With 500 acres of manicured land in the heart of the nation's capital, this unique wedding venue is used as a research site for the U.S. Department of Agriculture. The plant life is well-attended to and taken care of, making it a picturesque and breathtaking space for an outdoor wedding. There are many points of interest throughout the arboretum for photo ops, including the Bonsai Museum which is filled with stunning bonsai trees. If you're looking for a slice of history on your wedding day, strike a pose in front of the National Columns, which were part of the original United States capital. With five specialty event areas across the venue and a full-service event manager, your big day at the United States Arboretum will be flawless from start to finish.
FivePine Lodge & Conference Center in Sisters, Oregon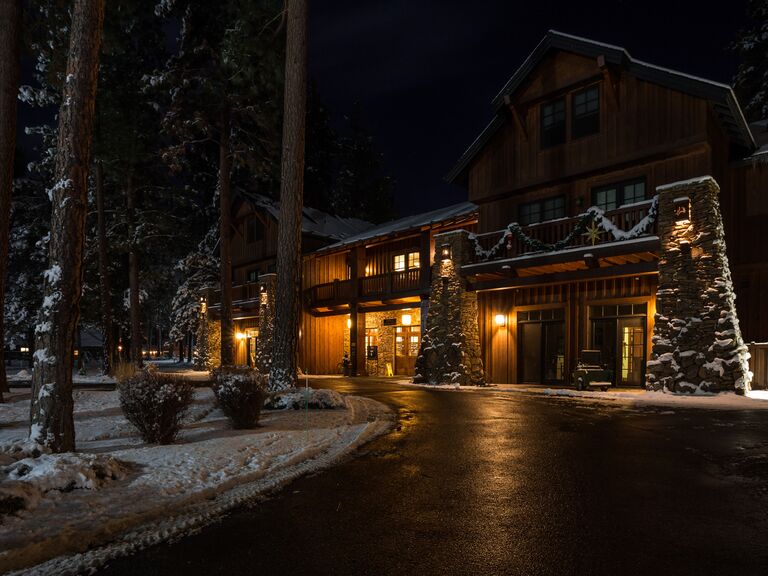 Surround yourself with towering Ponderosa pine trees beside a wildflower landscaped pond in central Oregon as you exchange "I dos" on your special day. Make it a wedding weekend and invite your wedding guests to stay in the rustic and romantic cabins on-site. The event venue offers many unique amenities, from a brewery converted from an Old West livery stable to a movie theater showcasing a variety of films, you and your guests will feel like you're at summer camp for grown-ups. With both indoor and outdoor event spaces, you'll have options for your rustic wedding ceremony location. Get pampered on the day your wedding at the on-site spa and let the FivePine Lodge & Conference Center caterer take care of everything from the wine list to the dinner menu. Your special day just became your special destination wedding weekend!
Arrowhead Stadium in Kansas City, Missouri
Calling all sports fanatics! Why not get married in the stadium or ballpark where your favorite team plays? You'll not only have great memories of big team wins, but your wedding day as well. Snap pictures in the end zone or at the 50-year-line in the stadium where the Kansas City Chiefs play every Sunday. The Tower Club East and West are both event spaces with floor-to-ceiling windows the offer stunning views of the playing field. This unique wedding venue features custom bars and space to hold up to 600 people, so there's no need to trim your guest list at Arrowhead Stadium.
Main Street Station in Richmond, Virginia
If you love Old World charm but want a unique wedding venue that's totally out of the box, consider a train station for your wedding ceremony and reception. This historic venue was built in 1901 and has survived many natural disasters. It was restored in 2003 and boasts two elegant wedding venue spaces. The Headhouse is a French Renaissance-style event space which accommodates 200+ people and features marble floors, high ceilings and tall windows. The Shed is a more modern space enclosed with tall glass and steel. It's high perch allows guests to see the bustling city from a bird's eye view. From a bridal suite, an outdoor plaza for cocktail hour, to a commercial kitchen, Main Street Station is a one-of-a-kind wedding venue.
Treehouse Point in Issaquah, Washington
If you have dreams of a whimsical wedding—look no further. Say "I do" in a four-acre fairytale forest setting surrounded by rustic, enchanted treehouses. This intimate and unique wedding venue allows up to 80 guests. Make all of your childhood dreams come true by spending your wedding night glamping in a world-renowned treehouse surrounded by lush greenery and towering trees. With seven treehouses on the property, up to 20 of your closest friends and family members can make a weekend out of your big day. Looking to elope? Treehouse Point offers elopement packages which include an overnight stay at the magical property.
Grove Event Center at Sundance Trail in Red Feather Lakes, Colorado
Close your eyes and picture you and your partner saying "I do" with aspen groves, pines and scenic mountains as your background. The 140-acre estate offers a number of event spaces for couples to choose from. Whether you're looking to tie the knot in a cozy lodge or surrounded by natural beauty, there are options for every wedding style. Profess your love from one another in the gazebo overlooking a pond in the idyllic Labyrinth Garden. Seamlessly transition from indoor spaces to outdoor at the Carriage House, which opens out on three sides. Get ready with your wedding party in the on-site dressing rooms and fill up on delicious food prepared by the on-site caterer. The team at Grove Event Center at Sundance Trail is ready to help you have the best wedding day.
Fort Worth Zoo in Fort Worth, Texas
Animal lovers, we've found the perfect wedding venue for you. The zoo is a unique wedding location that is available year-round and is a one-of-a-kind event venue that guests are sure to enjoy. Photo opportunities include wildlife in the background or let guests mingle the exhibits during cocktail hour. The in-house catering team can create a menu that leaves you and your guests' mouths watering. The pavilion is a great space for a grander event, while 75 guests can fit into the tranquil garden. The Portraits of the Wild Art Gallery is a unique space to host a wedding reception. The space is sophisticated but still ties in elements of the wedding venue. The event space could also work for a rehearsal dinner. The Fort Worth Zoo is just the place to get hitched for those looking for a one-of-a-kind wedding venue.
Naismith Basketball Hall of Fame in Springfield, Massachusetts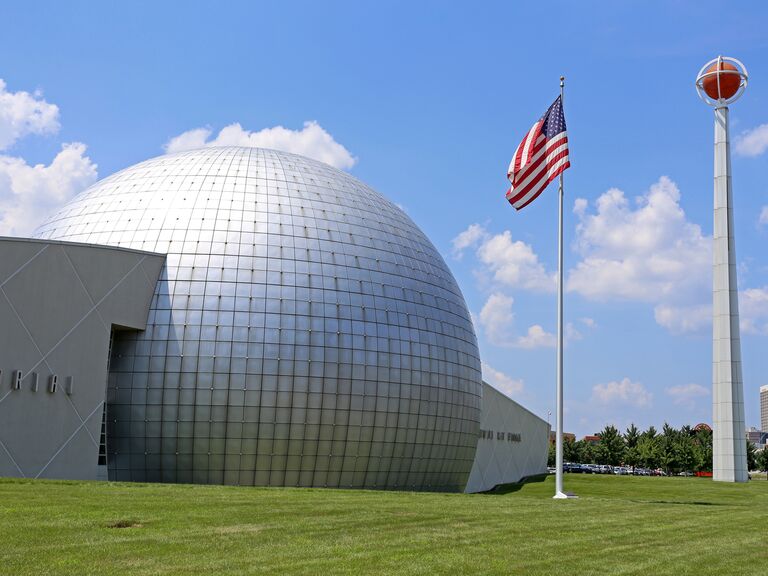 Showcase your love for basketball in an elegant and sophisticated setting. The hall of fame not only serves as a location to celebrate the greatest basketball players of all time, but it's a place to celebrate your love as well. Center Court, the heart of the museum, can be transformed into a picture-perfect grand ballroom. Host your cocktail hour in the special exhibit gallery and enjoy the plethora of photo opportunities around the New England museum. Wedding guests can explore all the museum has to offer while celebrating your big day. The Naismith Basketball Hall of Fame is a unique wedding venue you'll always remember for years to come.
The New York Public Library in New York City, New York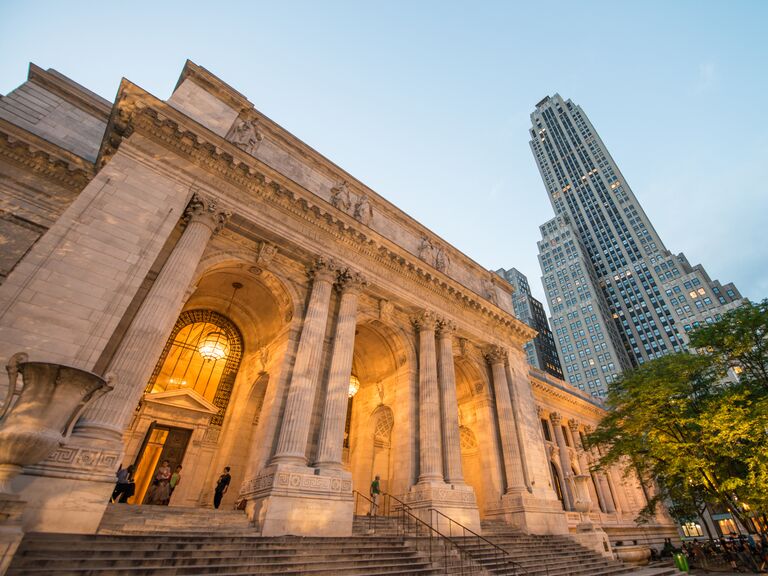 Channel your inner Carrie Bradshaw and get married surrounded by the world's greatest love stories. A quintessential New York City icon, the library is a regal and historic event space for your wedding ceremony and reception. Whether you want a lavish celebration or a romantic and intimate gathering, there are options for weddings of all sizes. Hosting your wedding reception at the library will help sustain it for years to come. In the Stephen A. Schwarzman building there are six elegant spaces to host your event. Getting hitched in the New York Public Library, one of the city's most famous buildings, is sure to make an already special event that much more memorable.