The 17 Most Unique Wedding Venues We've Ever Seen
Pick one of these out-of-the-box ceremony or reception venues for a wedding that's totally unique​.
From the unexpected to the flat-out jaw-dropping, these unique places to say "I do" are guaranteed to make your wedding unforgettable. Bonus: You'll save big time on décor—these supercool locations speak for themselves.
Museum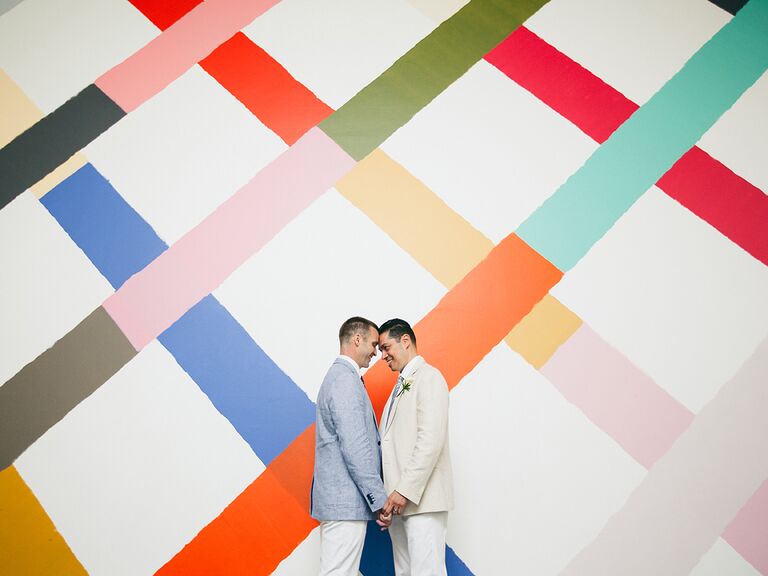 While art museums are a classic choice, there are many more conservatory options worth entertaining. Natural history museums, city museums, air and space museums, and even children's museums often have spaces to rent after-hours. You'll have exhibits as your backdrop (like a historic propeller plane or awesome dinosaur skeleton). Take advantage of built-in guest entertainment and ask if the staff can provide guided tours or open certain exhibits for people to explore during cocktail hour.

Converted Building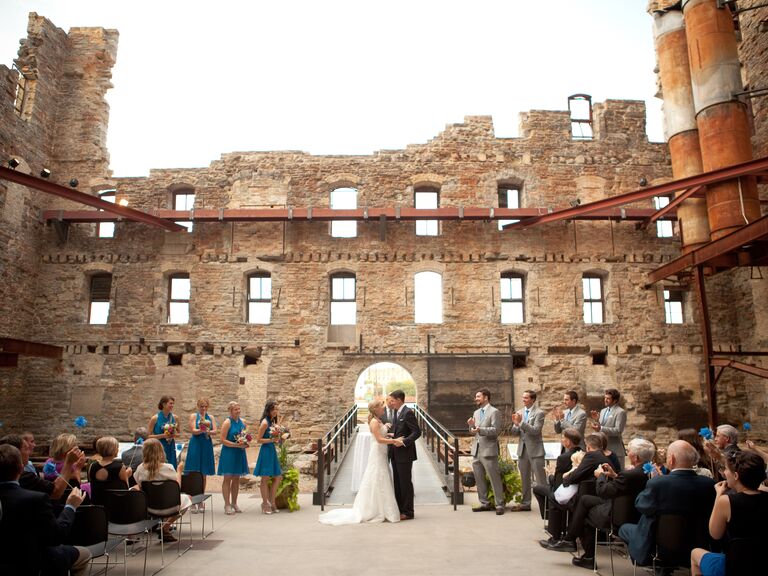 Wedding venues are popping up all across the country in converted buildings, such as former warehouses, monasteries, factories and even airplane hangars, which can be rented out for parties. These unconventional spaces are like blank canvases that can be transformed to fit almost any theme or aesthetic, not to mention that the addition of flowers and décor creates a beautiful contrast. And since some converted buildings are now run by event companies, many amenities (like a kitchen for the caterers) are ready for use. If the space doesn't hold regular events, a wedding planner will be a huge help when it comes to navigating trickier elements like rentals and liquor licenses.

City, State or National Park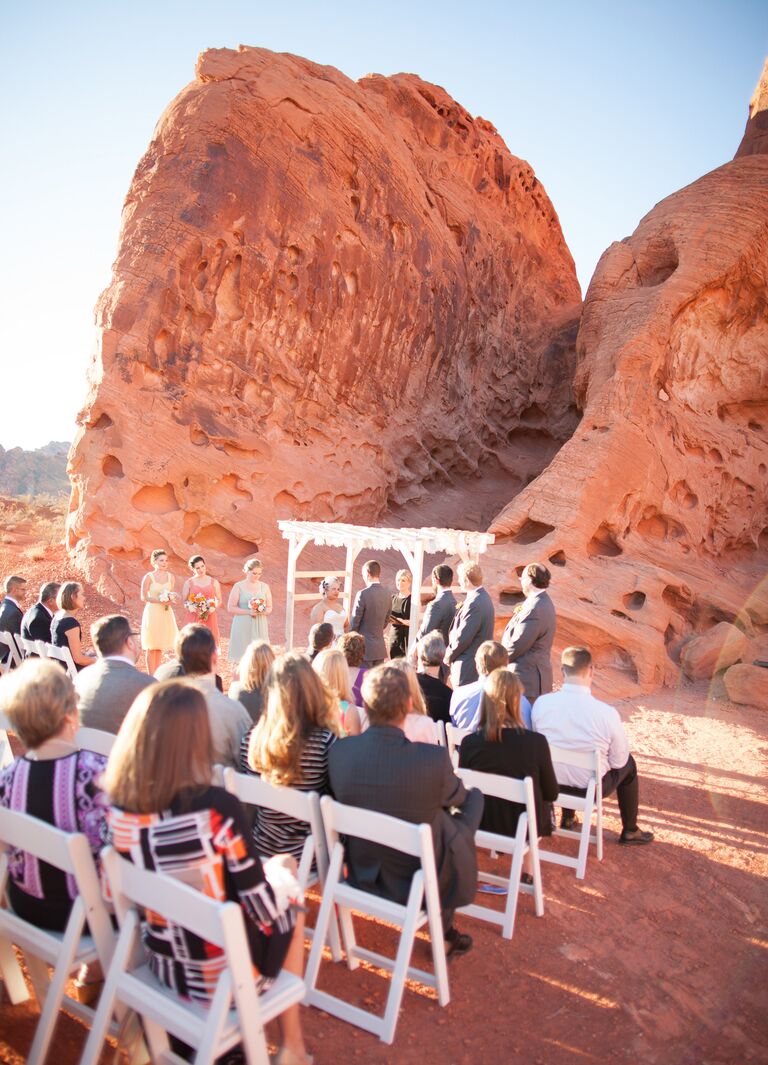 Public parks provide some of the prettiest backdrops you'll find for your fete—not to mention your wedding photos. And while they're the perfect spot for an intimate, casual wedding, pulling off an affair on a grander scale can be done. The trick? Scout out the scene and do your research: Many public spaces require you to apply for a permit ahead of time and will have some restrictions as far as bringing in rentals, sound, equipment, food and drinks. Since you might not be able to set up a tent or book a spot for a long period of time, public parks are typically better suited for your ceremony. As for the rest of your event, research nearby resorts, hotels and restaurants with a view of the spot you love for your reception.
Conservatory or Botanical Garden
If you've always imagined getting married surrounded by flowers, consider having your wedding at a local botanical garden, conservatory or horticulture center. Besides lots of beautiful blooms, of course, many gardens have pretty fountains, tree-lined paths, perfectly manicured flower beds or an ethereal greenhouse where you can have both the ceremony and reception. And with high glass ceilings and tons of natural greenery, you won't need to bring in many decorations.

Historic Library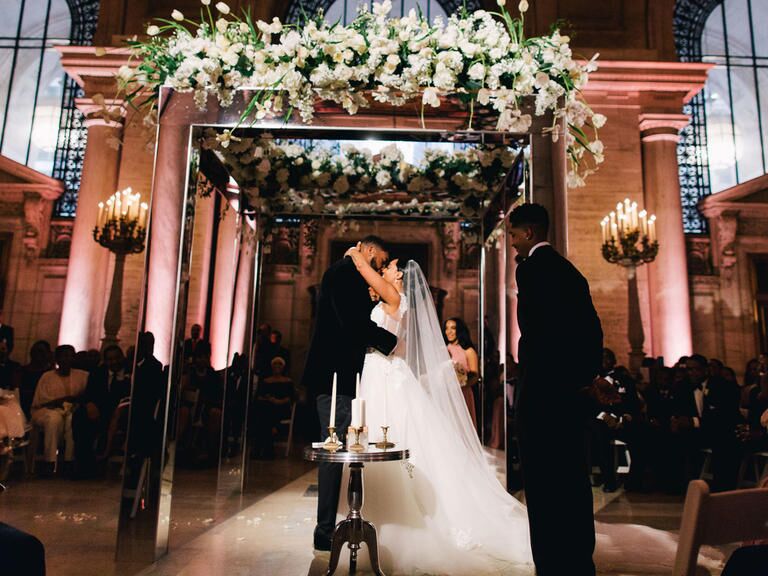 Iconic libraries make the perfect backdrop for a sophisticated soiree, as the spaces are usually historic and sprawling, with beautiful architectural details. If you love literature, you'll totally fall for the idea of marrying amid some of the world's best love stories and classic tales. Take inspiration from your favorite novels to plan your party (maybe a glamorous The Great Gatsby–inspired art deco affair?). Or steal inspo from The Knot Dream Wedding 2016, held at the grand New York Public Library in New York City.
On a Boat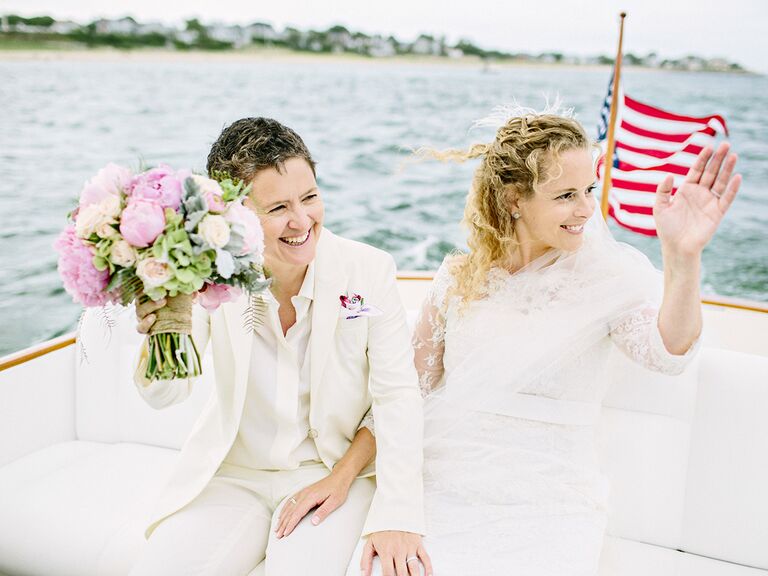 Love the sea? Why not wed on a sailboat, yacht, riverboat or ferry! Your guests will love it, and your photographer will be thankful for the changing backgrounds throughout the day. Remember, marrying on the water doesn't necessarily mean on the high seas. For example, some historic ships or out-of-commission military vessels are permanently docked but open for weddings, if still is more your speed.

Antique Store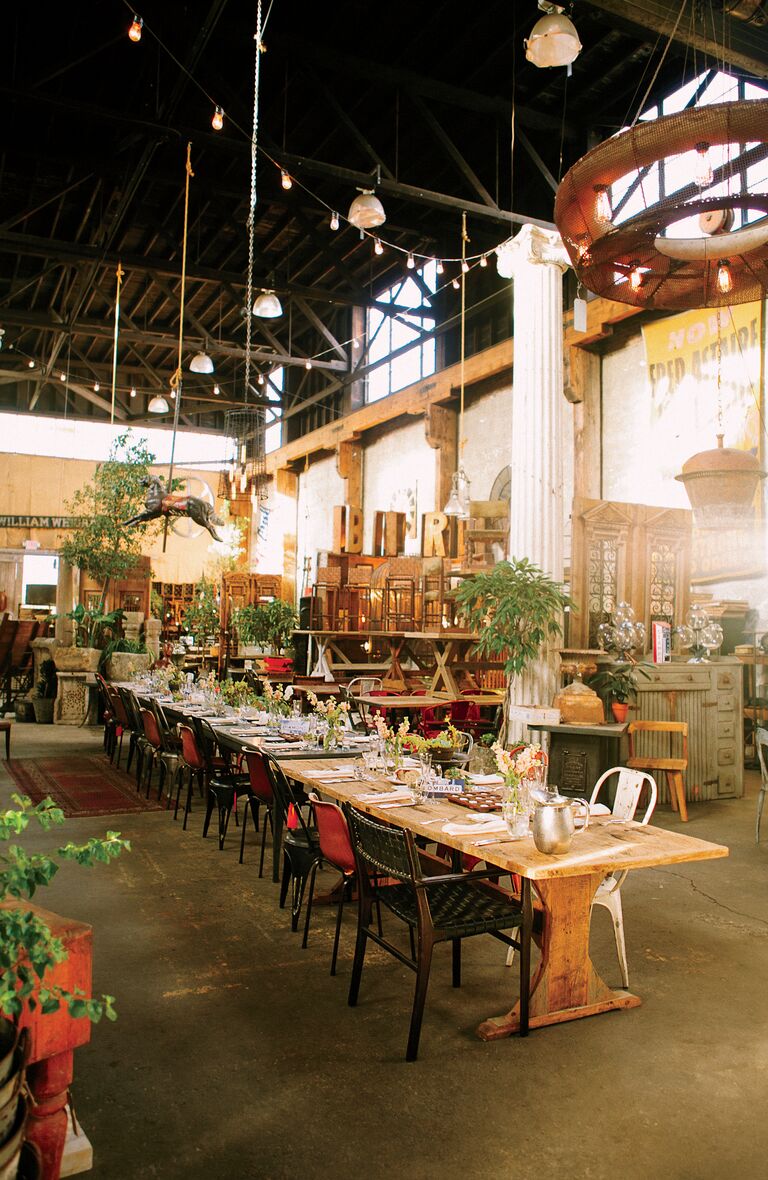 If you spend your weekends antiquing and your house or apartment is filled with flea market finds, then you might be sold pretty easily on the idea of an antique store wedding. Think about it: All that eclectic décor you'd buy or rent anyway is built right in. Mix and match everything on your tables, from the centerpiece vessels to the chargers and glassware, to fit the laid-back vintage vibe.
Tree House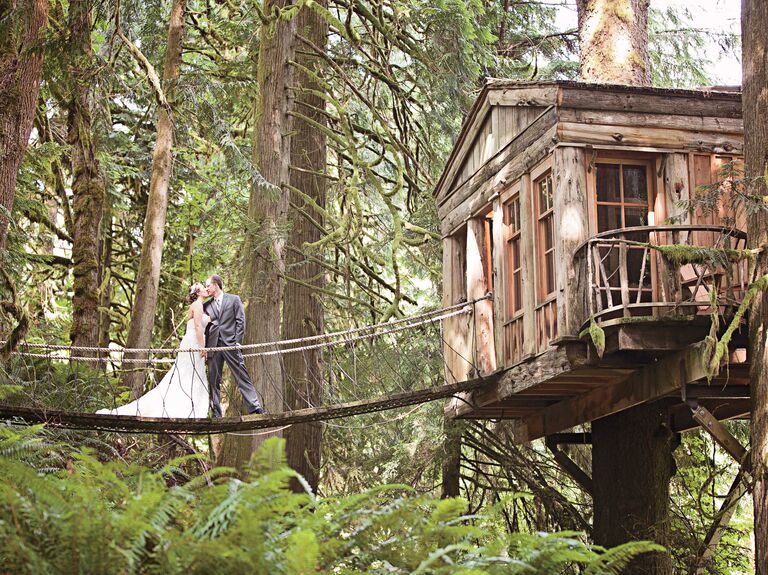 Yes, you read that right. You can actually get married in a tree house. Typically these are cottages on stilts in the middle of a forest with stunning views of the surrounding woodlands. This is a great option for a more intimate affair, as these cottages usually hold a smaller number of guests. Talk about taking the woodland wedding theme to new heights! Plan a rustic, outdoors-inspired wedding weekend full of fun activities like group hikes and big meals (and s'mores) around a campfire.
Theater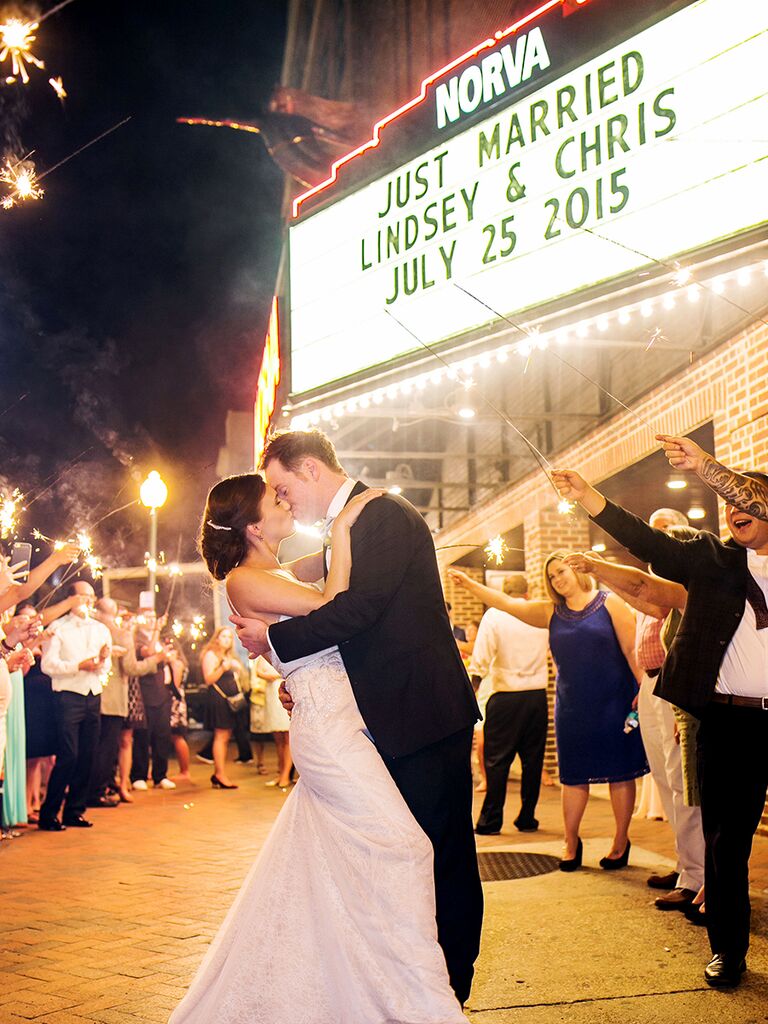 If you're into the performing arts, consider saying your vows on stage. Theaters almost always offer refreshments during productions, including adult beverages, so most will already have a liquor license and the ability for a bar setup. Love the theater but want to get married outside? Look for amphitheaters in your area. Just keep in mind that summer is usually a big time for events, so you may want to consider early summer or late fall.
Theme Park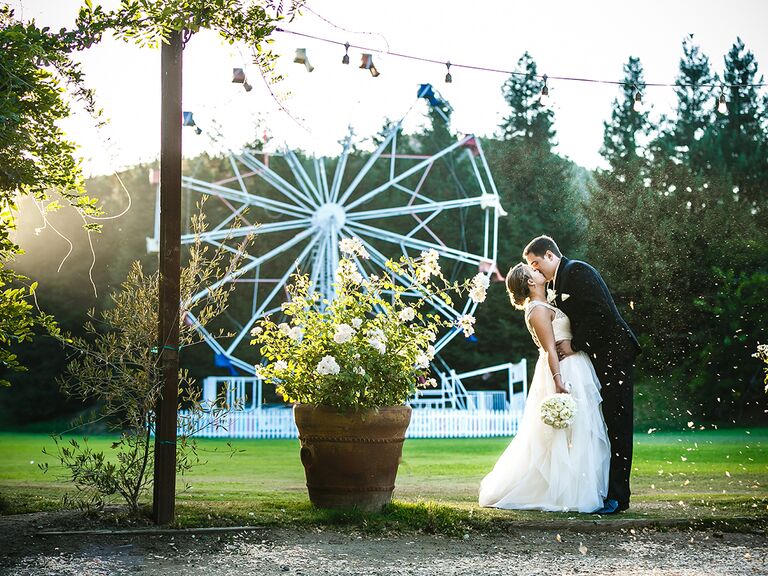 Can't get enough of roller coasters, carousels and cotton candy? Amusement park like Disneyland or Busch Gardens offer different wedding packages to make planning your day as seamless as possible. Just keep in mind that peak season for theme parks usually runs from January through April and they usually schedule weddings and receptions before or after normal operating hours, so plan accordingly. Amusement parks are also fun option for an extended wedding weekend, where guests can enjoy the park's amenities over the course of a few days (just make sure you block hotel rooms on Skipper to make reservations easier for them). You could also transform an outdoor venue into a carnival. As long as you obtain the proper permits, you could be riding a ferris wheel and eating freshly popped popcorn on a lawn near you. 
Christmas Tree Farm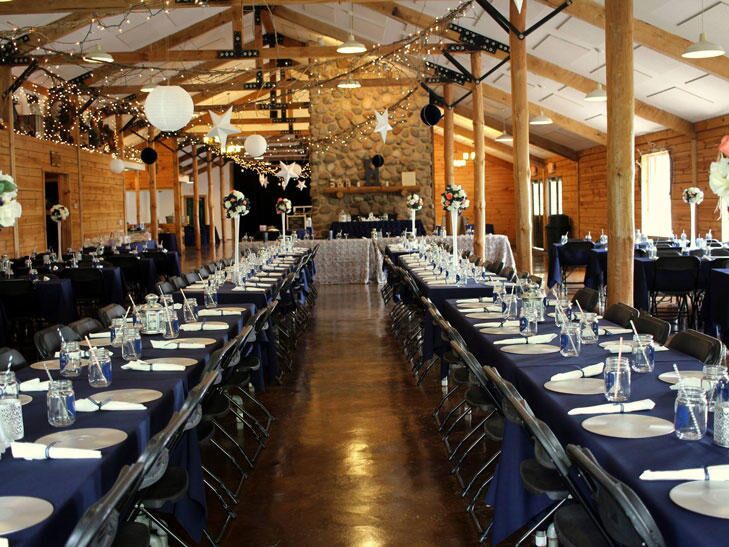 Make the most of the holiday season, or any season really, and get hitched at a lush and festive Christmas tree farm. Nestled in valleys and perched on hillsides, these fir farms have no shortage of greenery—and imagine exchanging vows amid the lovely scent of evergreens. Many are also equipped with a rustic barn or outdoor spot dedicated to events or wedding ceremonies.
Zoo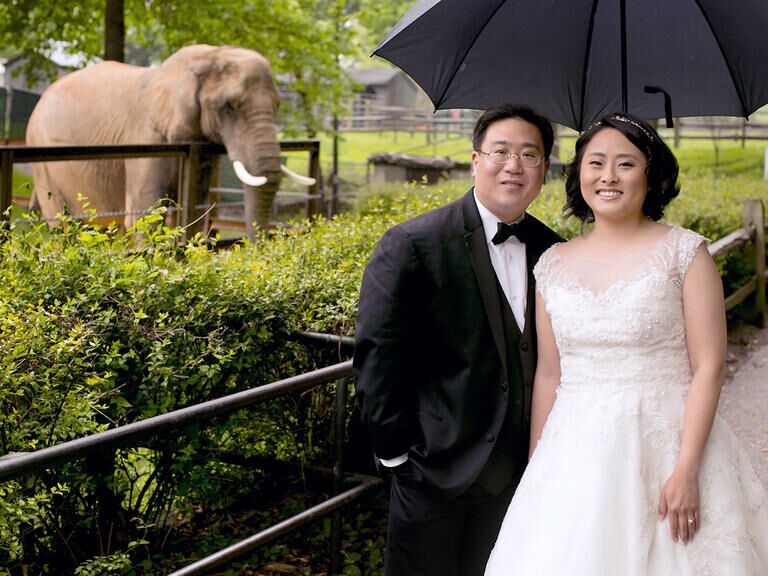 Animal lovers, take note: Many public zoos offer their spaces for special events, which is the perfect opportunity to wed in close proximity to furry critters and stoic reptiles. Play up the venue's built-in vibes by further incorporating a natural or animal-centric theme throughout your wedding décor. And why not make the most of it and have a photo shoot featuring some willing animals?
Aquarium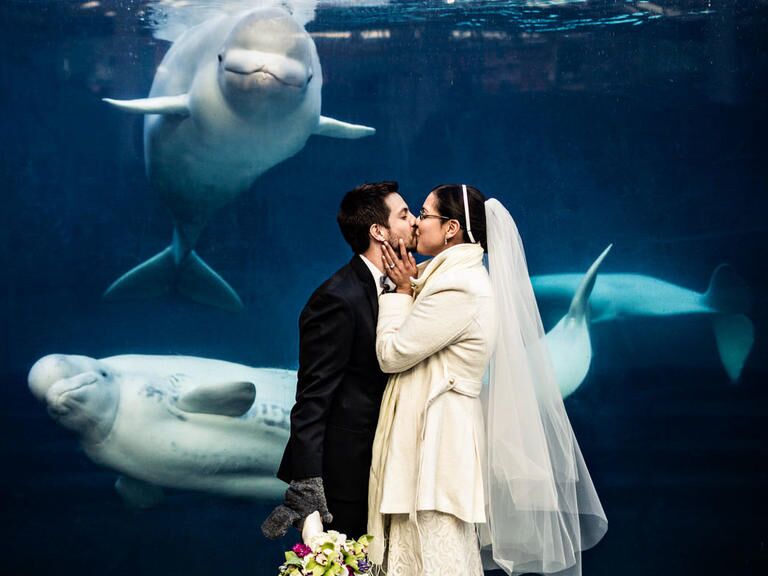 The same as above goes for hosting your wedding at an aquarium. Exchange vows with an unexpected backdrop of swimming sea life—you might even get lucky and score a surprise visit from the aquarium's token animal photo bomber.
Under Water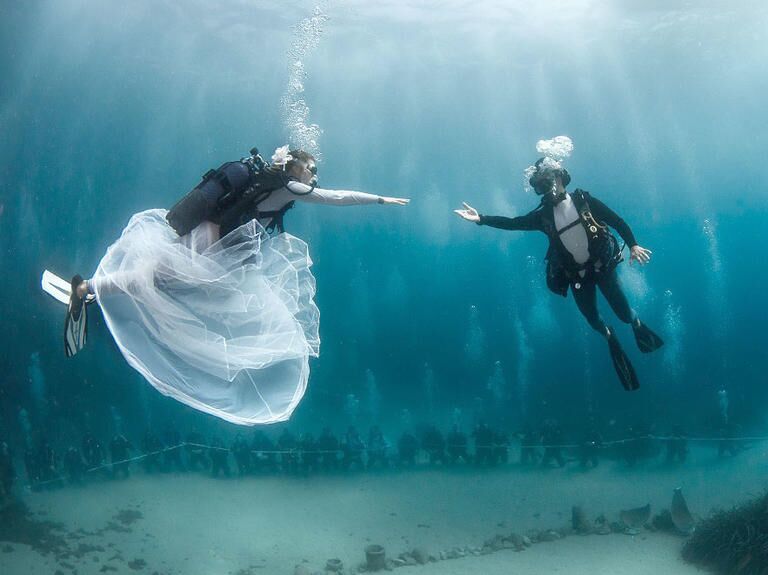 Now this is seriously cool, and another way to take your affinity for the water to another level—a deeper level, if you will. Some aquariums, like the Georgia Aquarium, offer underwater ceremonies for water-loving, diving-obsessed couples. You won't just be surrounded by fish tanks—you'll be in one! If you have more than a few wedding guests, they can look on through the pool's windows while you communicate each important ceremony moment to them with written (waterproof) signs. Can't decide between a destination or an underwater wedding? We know, it's hard to choose. Jet to the French Riviera and hold your nuptials under the sea with the help of  The Hotel Metropole in Monte Carlo for a truly extravagant affair.
Apple Orchard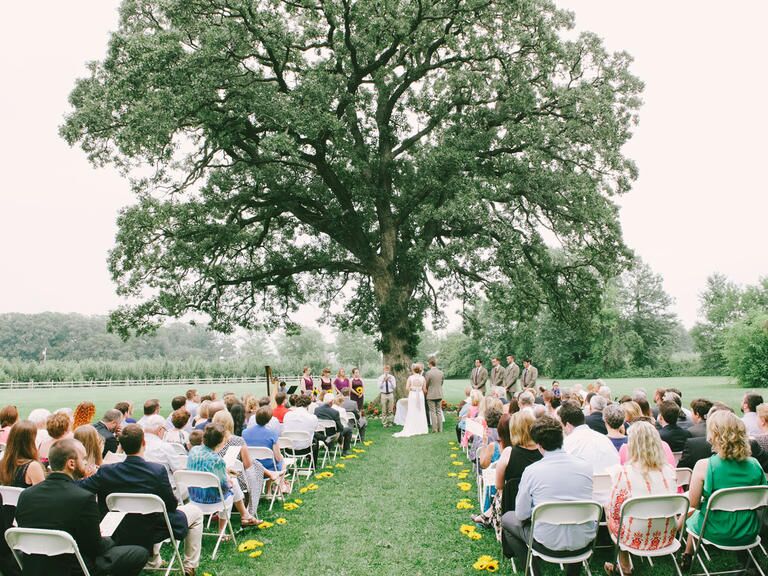 Capture the quintessential, rustic vibe of autumn with a wedding at a gorgeous apple orchard. Often decades, if not centuries, old, these stunning bucolic settings are an ode to nature and homespun details—especially in fall when the leaves boast their fiery hues. And don't be surprised to find that many orchards offer accommodations as well as wedding-specific amenities, like a bridal party suite and fun guest activities like horse-drawn carriage and rowboat rides.
Ice Caves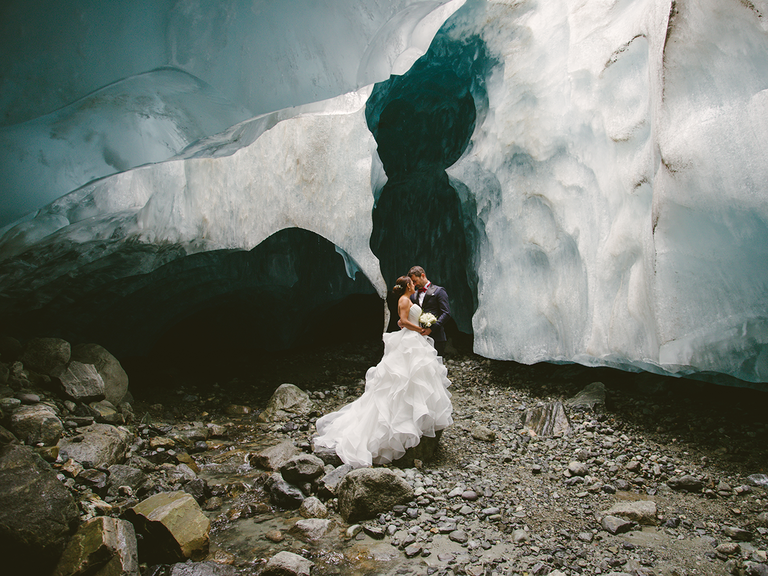 Dare to go somewhere where few couples have gone before, like these ice caves in Canada. Full disclosure, heading to this especially cool and hard-to-reach spot is not for the faint of heart—it'll take an adventurous duo who's down to bring only a witness or two (most likely including a professional guide). But the result is sure to be nothing short of spectacular.
Castle or Palace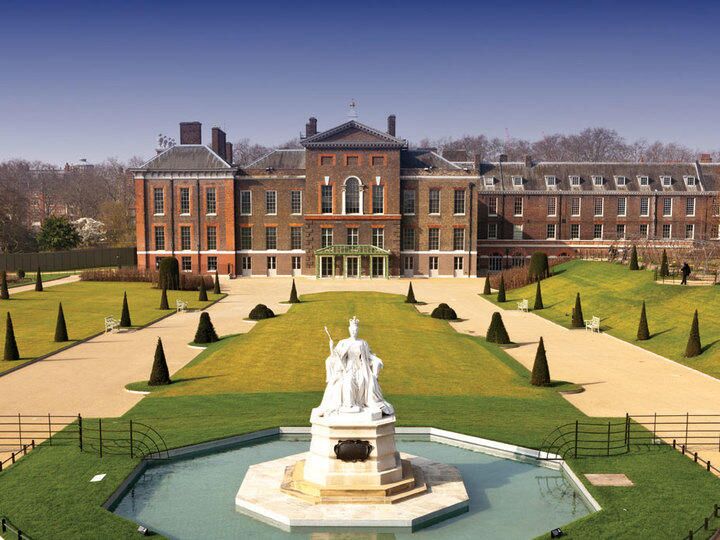 Give yourselves the royal treatment and book an actual castle for your wedding. There are even castle venues available right here in the US, so you can feel like royalty without even crossing the pond. But if you're on the lookout for regal destination spots, consider tying the knot at the royal home of William and Kate, Kensington Palace in London. According to Historic Royal Palaces, lucky couples can book one of the palace's halls, rooms or gardens for an unforgettable royal-inspired wedding.

Inspired by these off-the-beaten-path locations? Find your unique venue here!