30 Thoughtful 8-Year Anniversary Gift Ideas for the One You Love
From bronze and pottery to linen and lace, we've found the best symbolic gifts for your eighth anniversary.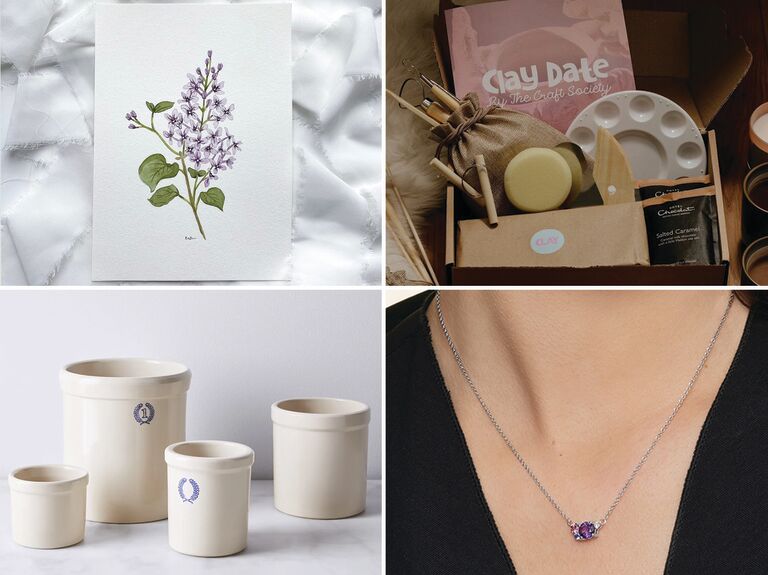 Photos, clockwise: EmmyLucyCo, TheCraftSocietyUK, Brilliant Earth, Food52
We have included third party products to help you navigate and enjoy life's biggest moments. Purchases made through links on this page may earn us a commission.
It's time to celebrate eight years of marriage and what better way to mark the occasion than by picking out a thoughtful eight-year anniversary gift for your other half? As with every other anniversary year, there are a few traditional and modern gifting themes that represent this marriage milestone. We've done the shopping for you, picking out the best gifts that incorporate the eighth anniversary materials and symbols, along with a selection of alternative ideas that break with tradition. Whether you're gifting your wife or husband, we're here to help you find the perfect present for this special occasion.
In this article:
Traditional Eight-Year Anniversary Gifts
The traditional eight-year anniversary gifts are bronze and pottery. Bronze is a material made from copper and tin—two metals that become stronger when paired together—making it a fitting tribute to a loving couple. Pottery, on the other hand, is crafted from soft, malleable clay that is shaped and molded before taking its final form. After eight years of married life together, you and your partner have likely adapted to each other's habits and quirks, building a strong foundation for a lasting relationship. Whether you want to highlight your close bond or nod to your flexibility as a pair, we've got you covered with these meaningful pottery and bronze anniversary gifts.
Symbolic Bronze Necklace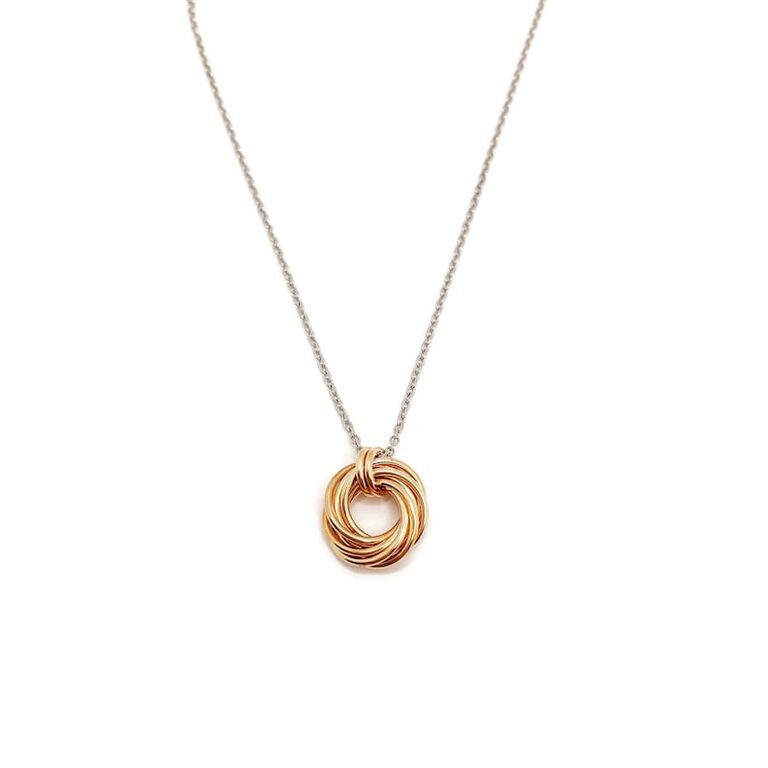 Just like bronze is a combination of copper and tin, this necklace represents the merging of two lives. It's handmade from bronze wire and features interlocking rings that symbolize the strong bond between a married couple. It's a sweet eight-year anniversary gift that'll show your spouse just how much you treasure the life you've built together.
Bronze Sound Wave Art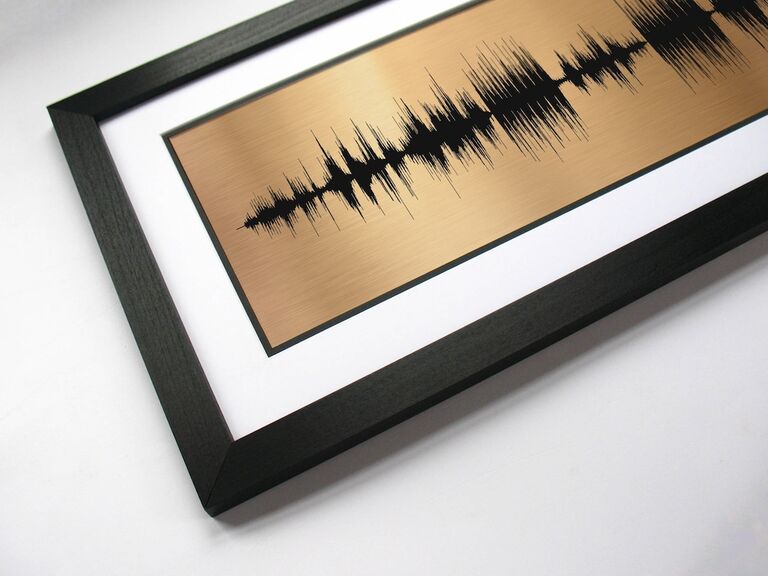 Your first dance was likely a special moment you'll both remember forever—and this bronze wedding anniversary gift lets you display that memory on a wall at home. The sound waves from your chosen tune are laser engraved onto a bronze-colored metal surface, creating a cool tribute to your favorite song. It's a truly romantic anniversary gift that's sure to give your spouse all the feels (and may even provoke a few happy tears).
Personalized Keepsake Dishes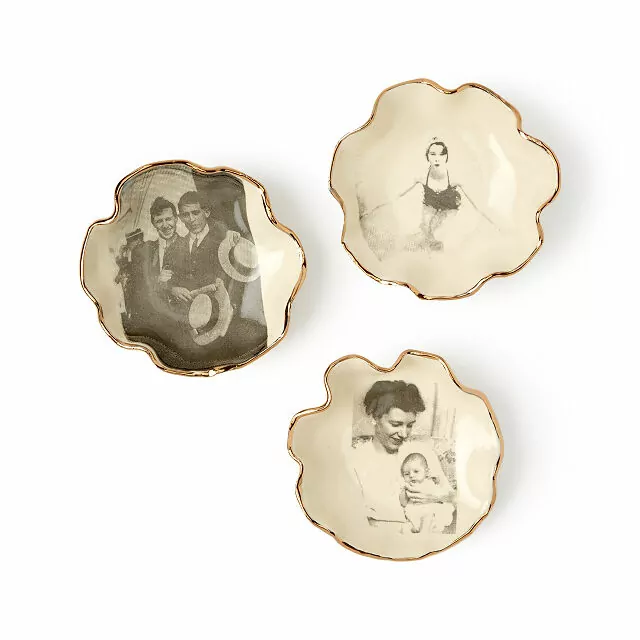 Searching for a traditional pottery-themed anniversary gift? These personalized keepsake dishes are especially sweet. They feature a beautiful gold rim and your chosen photos at the center, letting you commemorate your most cherished memories from the past eight years. Each piece is handcrafted with care for a one-of-a-kind finish that's as unique as your enduring love story.
Casserole Baking Dish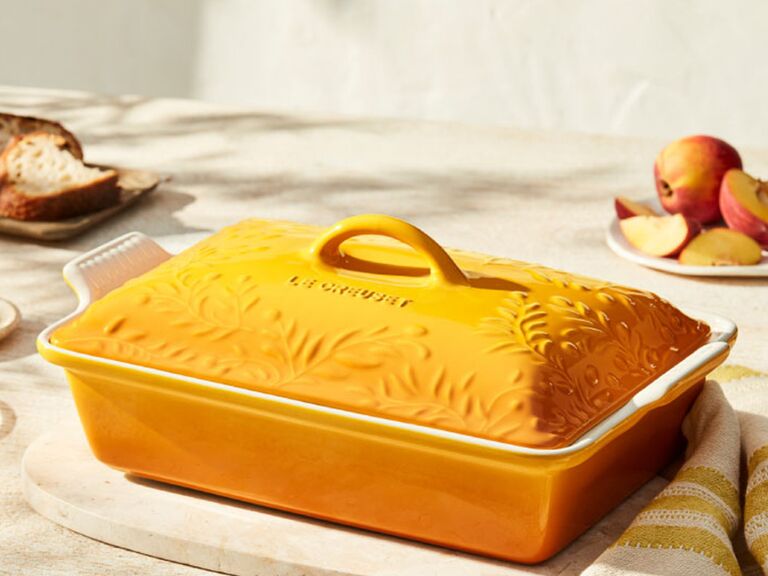 You can never go wrong with Le Creuset kitchenware, especially as a pottery-inspired anniversary gift. This luxe stoneware baking dish is great for cooking casseroles and baking desserts to perfection. It comes with a lid to lock in flavors and is available in a range of punchy hues, so you're sure to find a color that will match your kitchen decor. Who knows, this pretty and practical gift may even inspire you and your spouse to cook up a special eighth anniversary dinner together.
Anniversary Material Art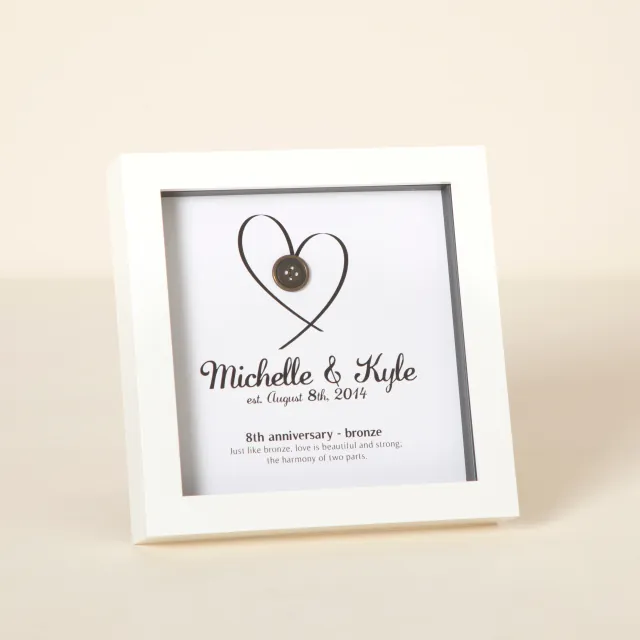 Every anniversary has a designated material, so why not celebrate the sentiment behind your eighth year with a piece of symbolic art? This framed keepsake features a bronze-colored button inside a heart motif and a short message about the significance of this traditional eighth anniversary material. You can add your names and wedding date for a simple yet thoughtful gift that'll look great wherever you choose to display it.
Handmade Ceramic Crock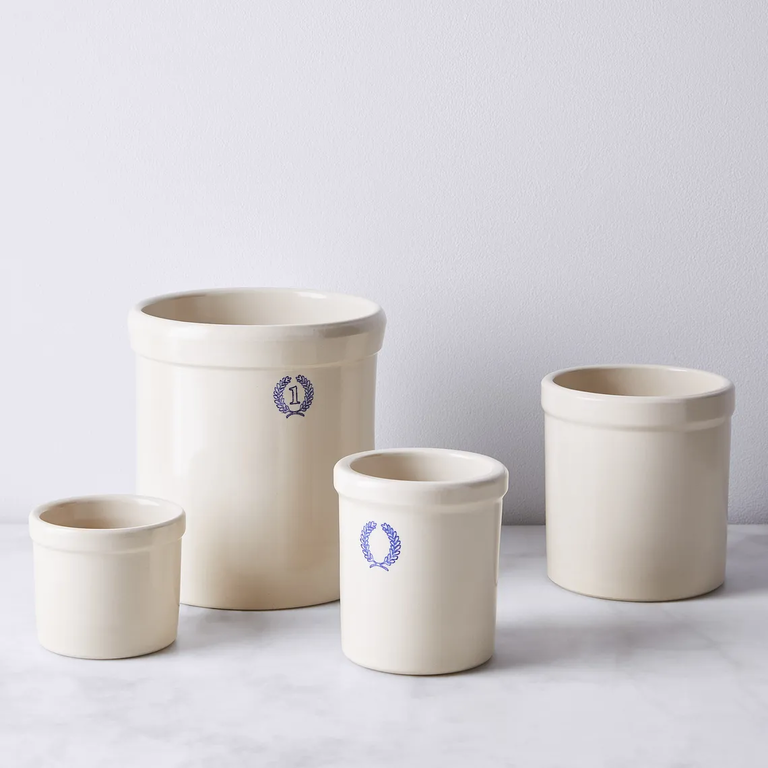 If your partner is drawn to all things vintage, this rustic ceramic crock is a traditional eight-year anniversary gift they'll love. It's made from stoneware clay and features a linear leaf motif in blue that echoes designs from a bygone era. The crock itself can be used for any number of things, from storing kitchen utensils and displaying flowers or holding fresh herbs, making it a really versatile piece of pottery. It's available in four sizes, with capacities that range from a pint right up to a gallon.
Bronze Picture Frame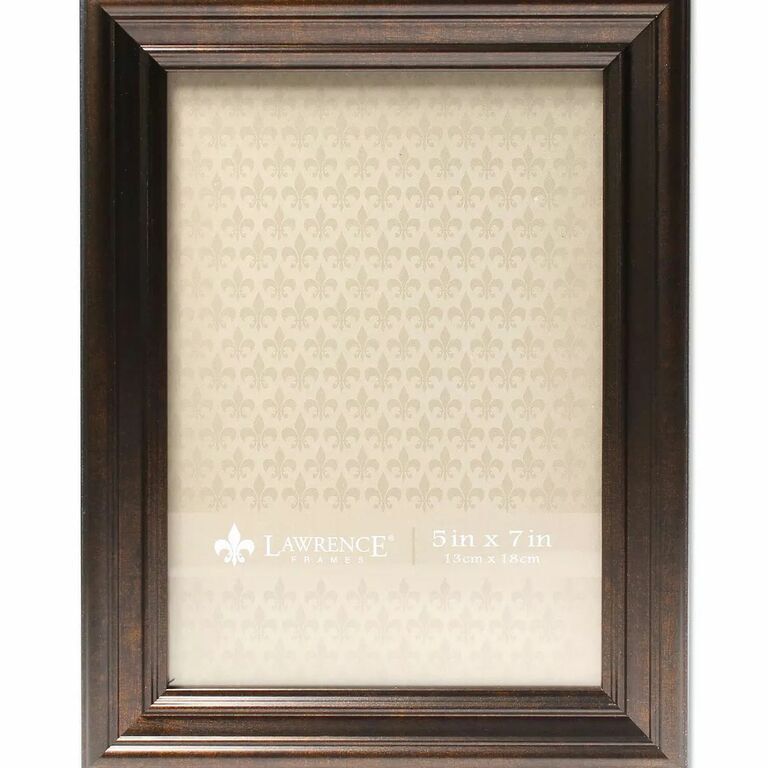 While the number of years you've spent together is growing, it doesn't mean anniversary gifts have to get bigger, too. Sometimes, the most romantic gifts are the simplest ones. A picture frame—particularly one finished in burnished bronze—is a sentimental eighth anniversary gift to give your partner in celebration of your latest milestone. Fill it with a photo from your wedding day or another special memory to make this eight-year anniversary present even more thoughtful.
Rustic Terracotta Vase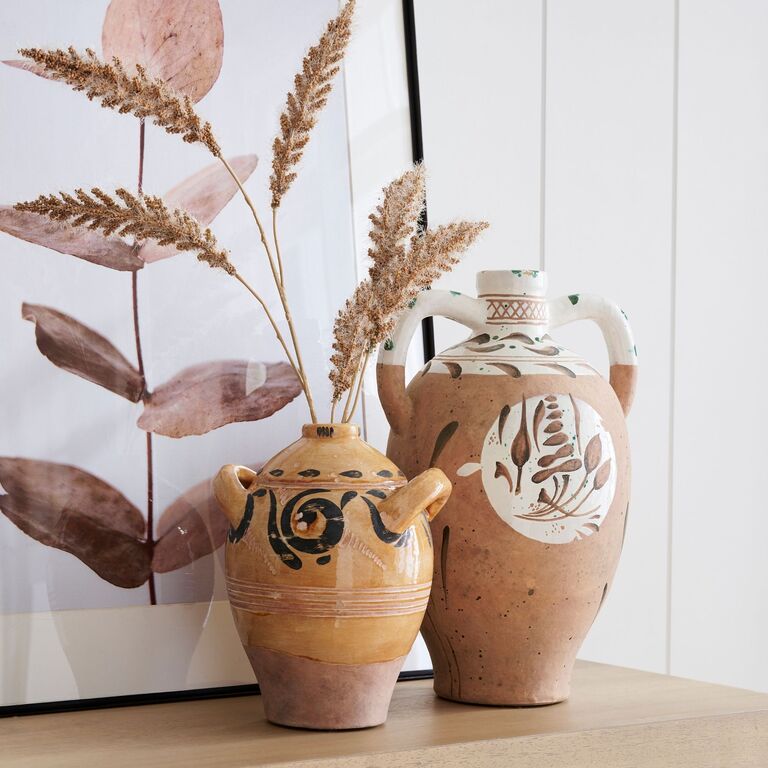 Married to someone who loves decorating their home? This Grecian-style vase will add a rustic touch to any room. Available in two sizes, it's handcrafted from terracotta clay and painted with abstract floral motifs for an artistic finish. Fill it with fresh flowers or dried blooms for a trendy (and on-theme) eight-year anniversary gift for him, her or them.
Pottery Making Kit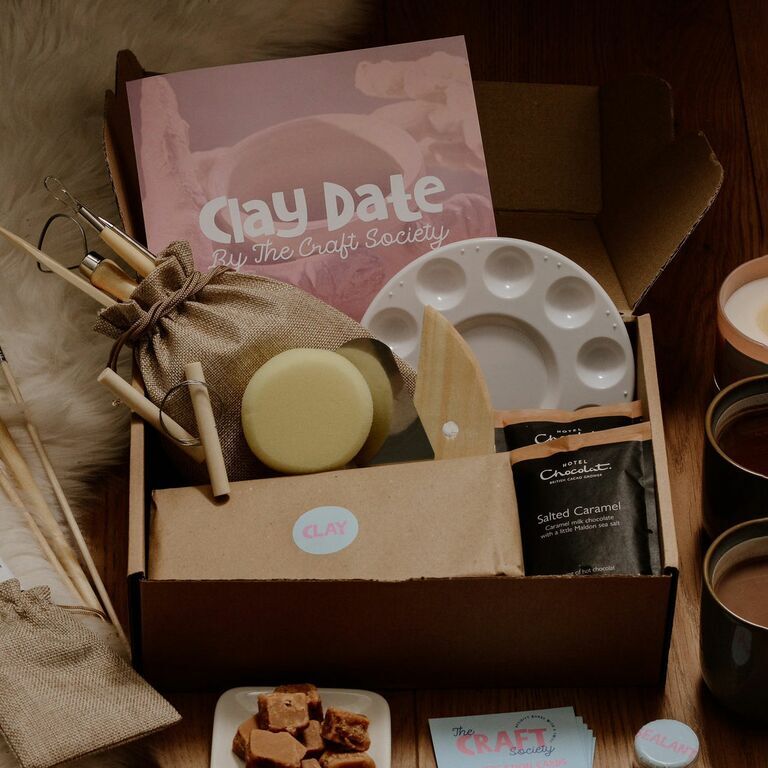 Try out something different to celebrate your eighth wedding anniversary, like a fun activity that gets your creative juices flowing. This pottery-making gift set is specifically designed for date night and includes everything you need (clay, sculpting tools, acrylic paint and brushes) to make beautiful works of art. Such a tactile, immersive activity is bound to help you relax and reconnect with your other half. The kit also includes activity cards, candy and optional hot cocoa for a sweet treat.
Personalized Vanity Tray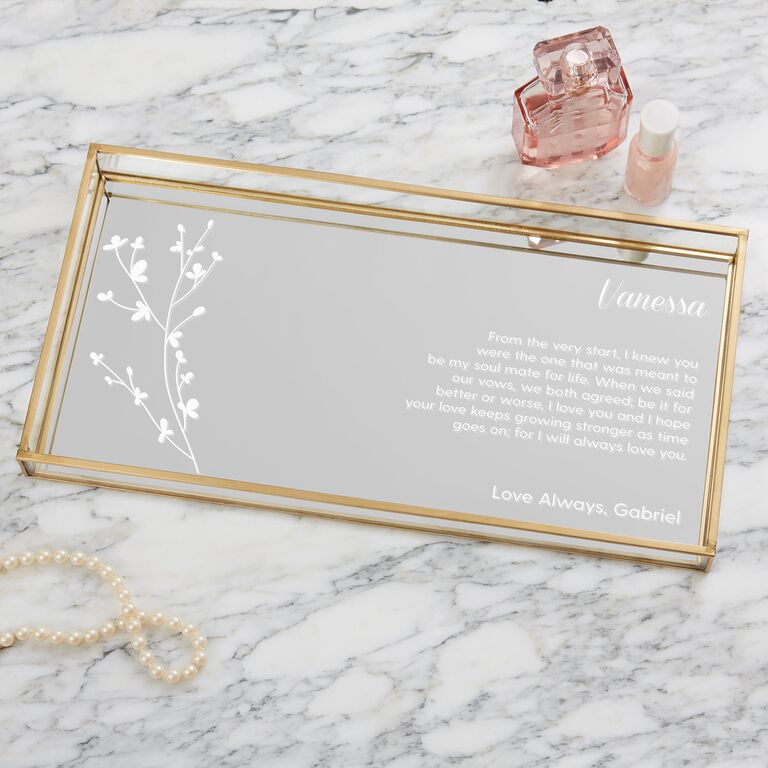 Here's an eight-year wedding anniversary present you can really woo your spouse with. This glass vanity tray can be engraved with a favorite poetry verse (or you can choose from a selection) to remind them of your love. The edges of the tray are lined with a bronzed trim, making this thoughtful gift right on theme for the eighth wedding anniversary. If you want to really up the ante, pair it with a piece of jewelry or a bottle of their favorite perfume.
Modern Eight-Year Anniversary Gifts
If bronze and pottery gifts don't appeal to you, turn to the modern eight-year anniversary materials of linen and lace to inspire your shopping instead. While both fabrics appear light and delicate, they're deeply symbolic of a long-lasting and successful marriage. Linen is said to reflect truth and purity, while lace represents the intricate beauty of true love. The best part? These tactile gifting materials aren't just limited to clothing (although we have included some cool new threads in our roundup). Our picks include everything from bedding and home decor to jewelry and wellness accessories. Read on for our top picks for a modern eighth anniversary gift that'll win you their heart all over again.
Lace and Silk Chemise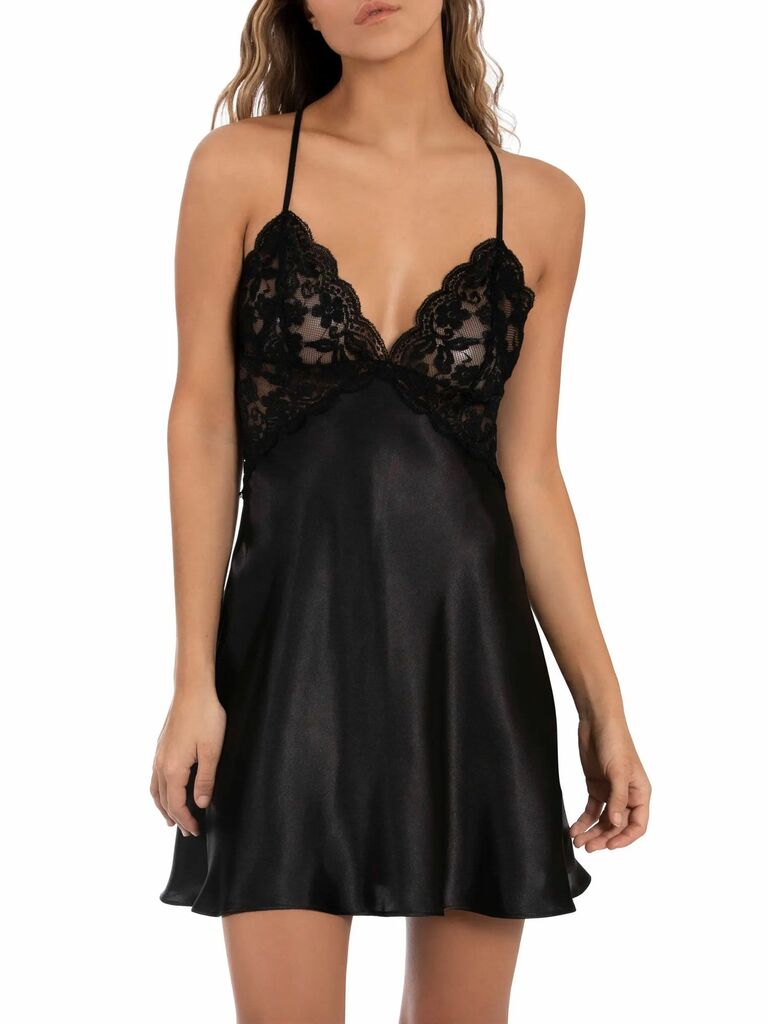 If you're looking for a romantic lace anniversary gift for your other half, this silk chemise is sure to wow. It boasts beautiful lace details on the bodice and racerback and is bound to make them feel like a million dollars. Not only will it add a bit of glamor to their night-time routine, but it's comfortable enough for everyday sleepwear, too. It's available in sizes XXS-XXL in classic black or white.
Gold Lace Heart Earrings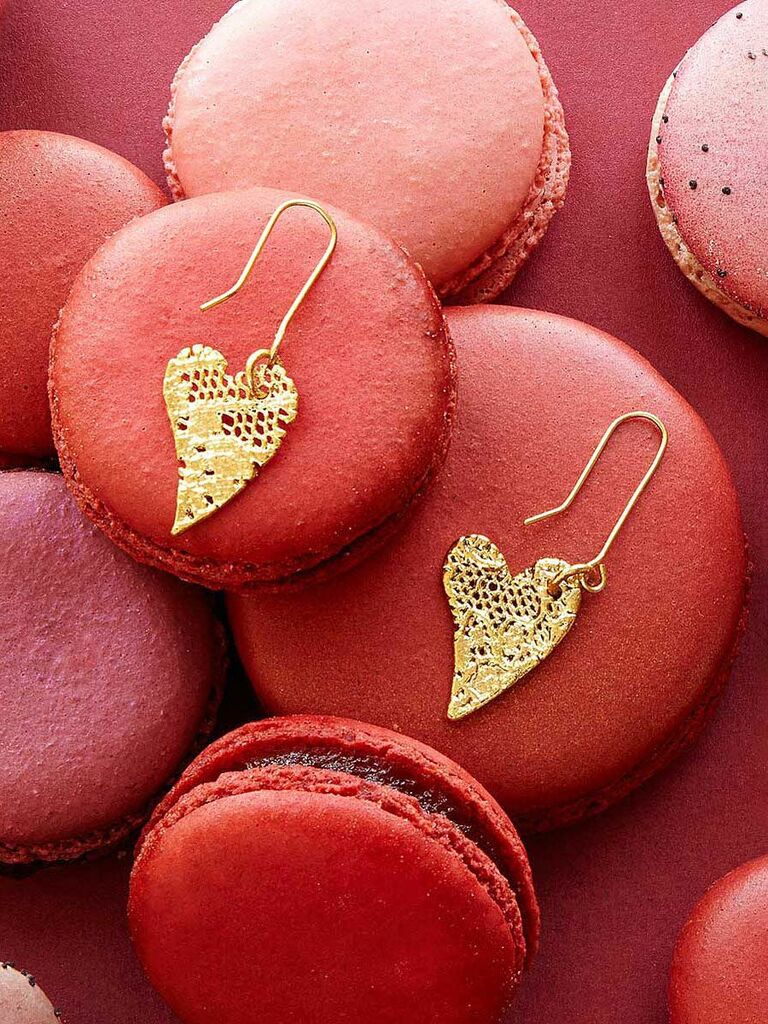 These gold heart earrings are a truly unique take on the lace gifting material. Ornate pieces of lace are cut and sewn to resemble a heart, then dipped in copper and 24K gold to create pretty charms for dangle earrings. We bet your partner will love these striking accessories so much they'll find any excuse to show them off.
Lightweight Linen Bathrobe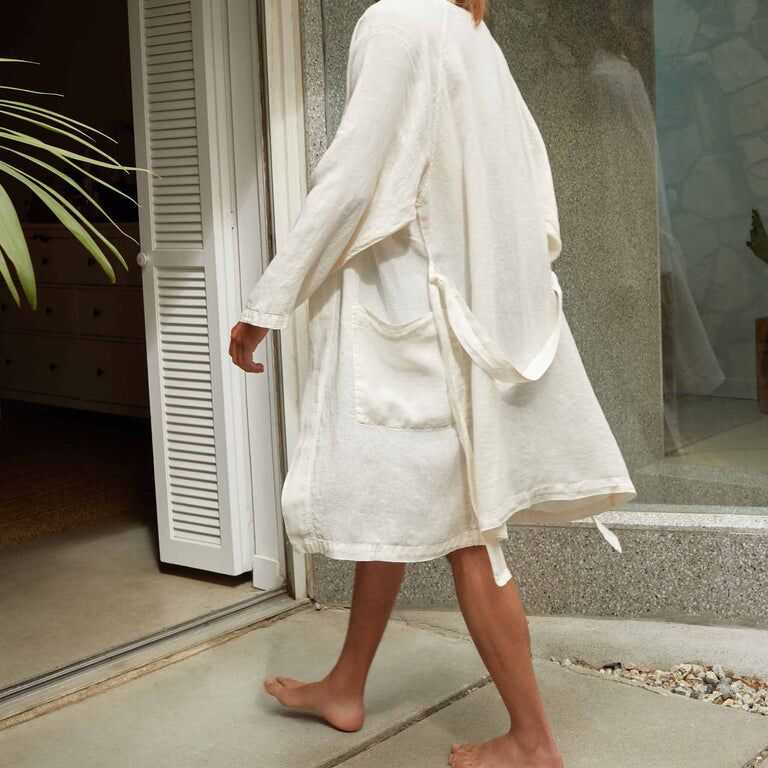 A linen robe is essential for those lazy Sunday mornings at home—and it makes for a great eight-year anniversary gift for your husband or wife, too. This lightweight (and super comfy) one from Brooklinen is made from 100% linen, so it's perfect for lounging in after a shower or a dip in the pool. Bonus: It's one-size-fits-most, so you may even be able to share it with your spouse (if they ever take it off, that is!)
Queen Anne's Lace Pitcher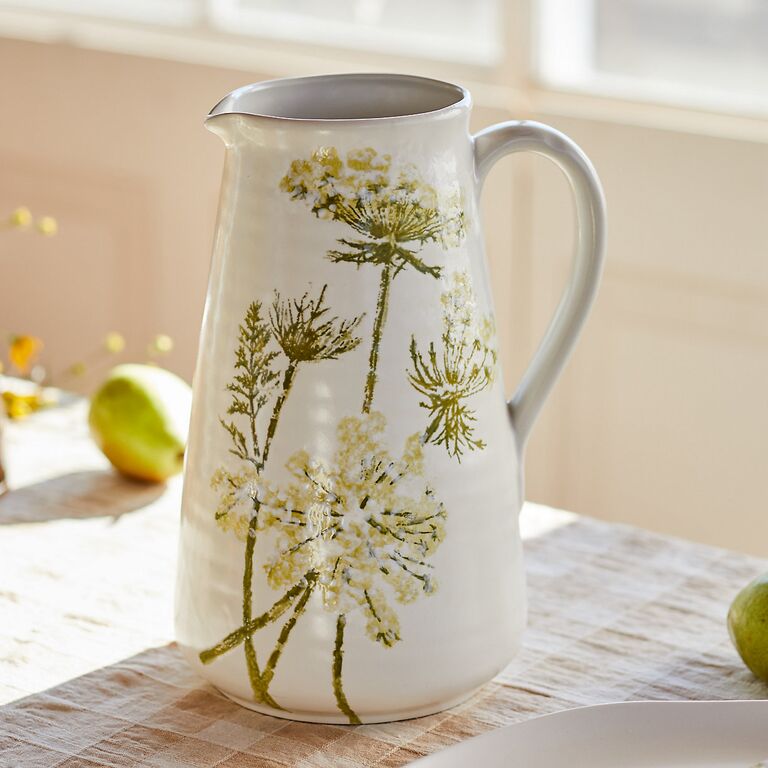 Still stuck on what to get for your other half? You can always stretch the lace theme a little and gift them this beautiful pitcher instead. It's made from earthenware and hand-painted with Queen Anne's Lace—a delicate wildflower representing safety and protection. It's a creative modern anniversary gift that'll show your spouse how secure you feel in your happy marriage—plus it'll bring a touch of nature to your kitchen table.
Linen Bedding Set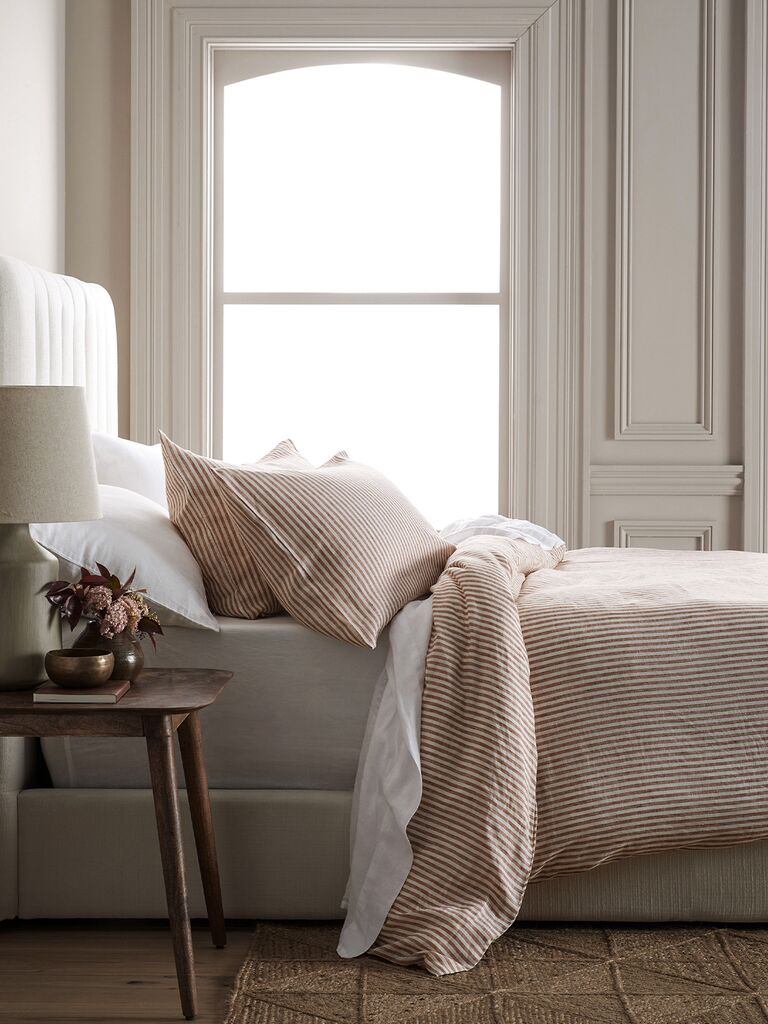 Give your partner (and your bed) the five-star treatment with a luxury linen bedding set. This one from Quince is made from 100% European flax that has been ethically sourced and woven with care. It's available in a wide variety of on-trend colors (think: washed olive and rich Bordeaux), so you're sure to find an option that works with your bedroom scheme. Our favorite is the stripe design, which comes in three earthy shades.
Lace and Linen Table Runner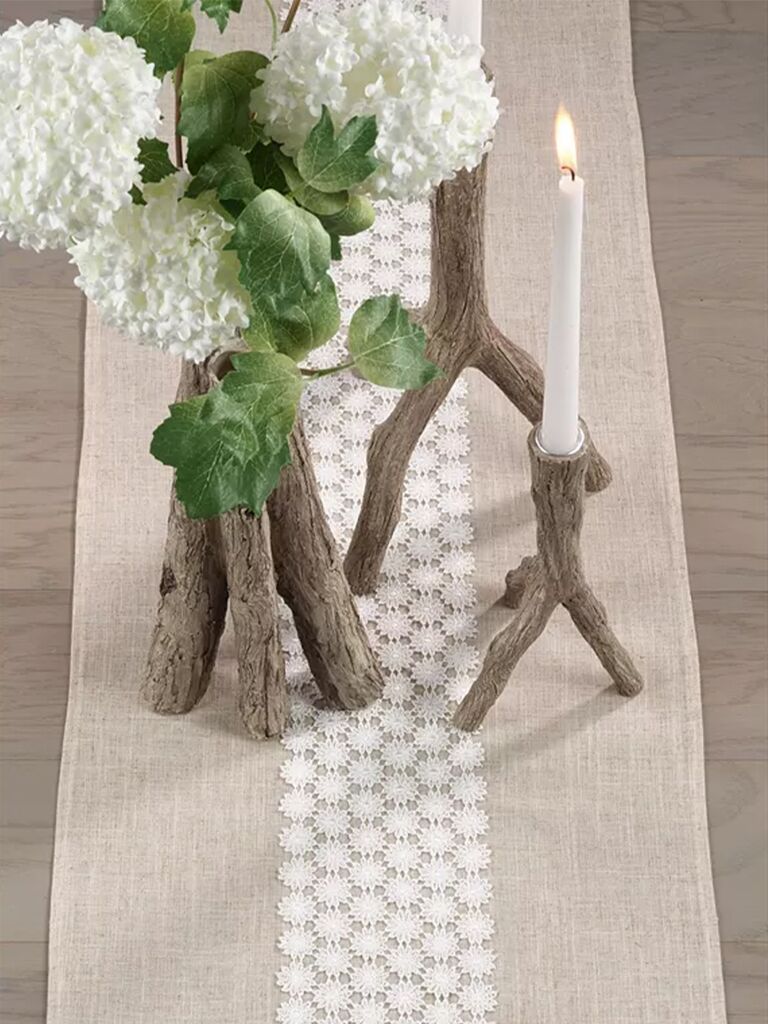 If your spouse loves to host, they'll appreciate a stylish addition to their tablescape. This runner combines both modern anniversary materials, creating a thoughtful (and on-theme) linen and lace anniversary gift they can enjoy on the regular. It's made from neutral-toned blended linen stacked with white daisy lace that'll add a farmhouse rustic touch to any kitchen or dining room.
Lace-Inspired Coffee Mug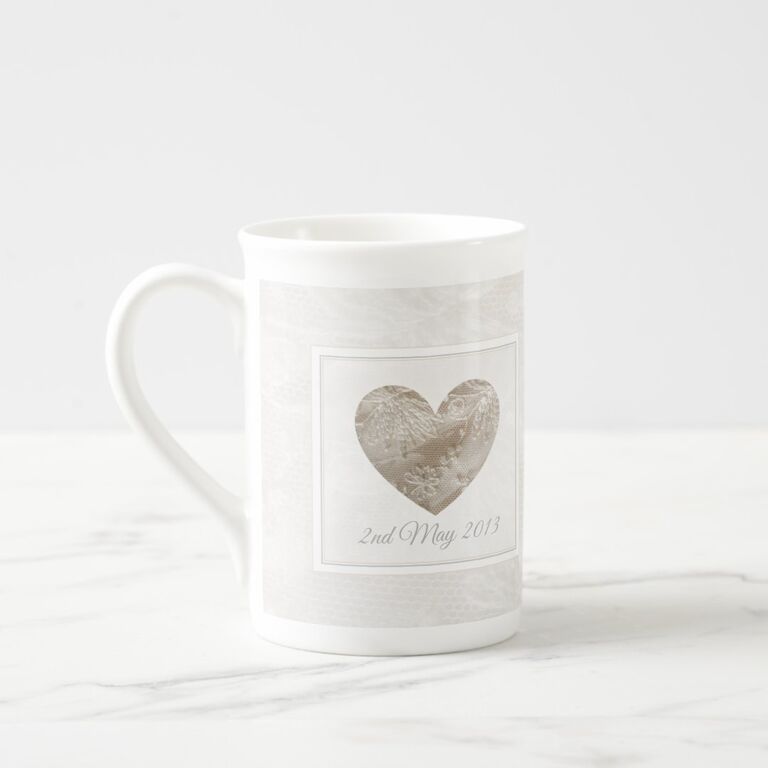 If you're shopping for an eighth year anniversary gift on a budget, Zazzle has a host of personalized (and wallet-friendly) options. This coffee mug features a lace-patterned heart motif that subtly nods to the modern anniversary material. Add your names, anniversary date (and perhaps your spouse's favorite coffee beans) to make this practical gift even more thoughtful.
Wrinkle-Resistant Linen Shirt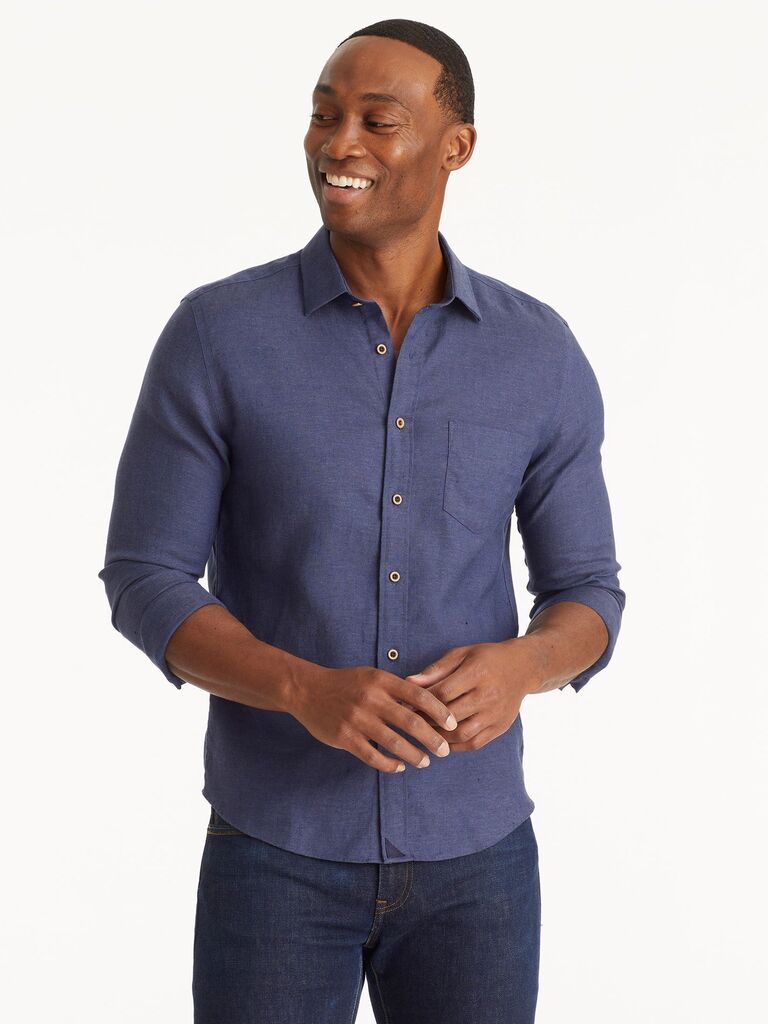 The eighth wedding anniversary is a great time to upgrade your spouse's wardrobe, especially if they don't often shop for themselves. This blue linen shirt is an item they'll reach for time and again, whether they're heading into the office or going on a romantic date with you. It's made from 100% linen that's been specially treated to resist wrinkles much better than traditional linen, so they won't have to spend ages ironing it before getting dressed.
Lace Filigree Cocktail Ring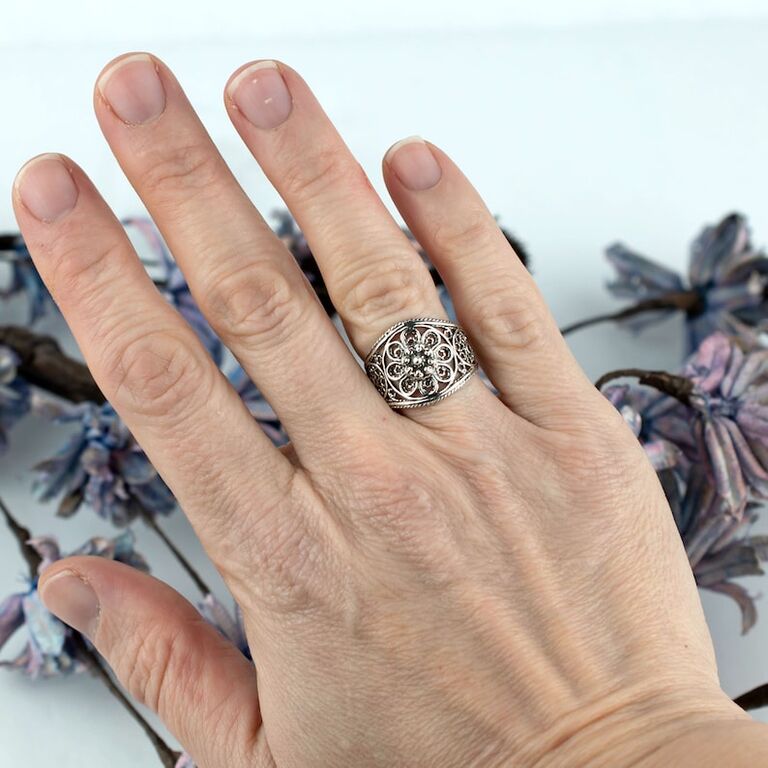 While this eight-year anniversary gift isn't actually made of lace, we don't think your spouse will mind too much. Inspired by delicate lace motifs, this filigree cocktail ring is handcrafted from silver or gold (depending on your preference) and is sure to please anyone with an eye for unusual accessories. Whether they wear it to jazz up their favorite outfit or show off a fresh manicure, this anniversary-worthy ring is likely to draw many compliments.
Linen Acupressure Mat Set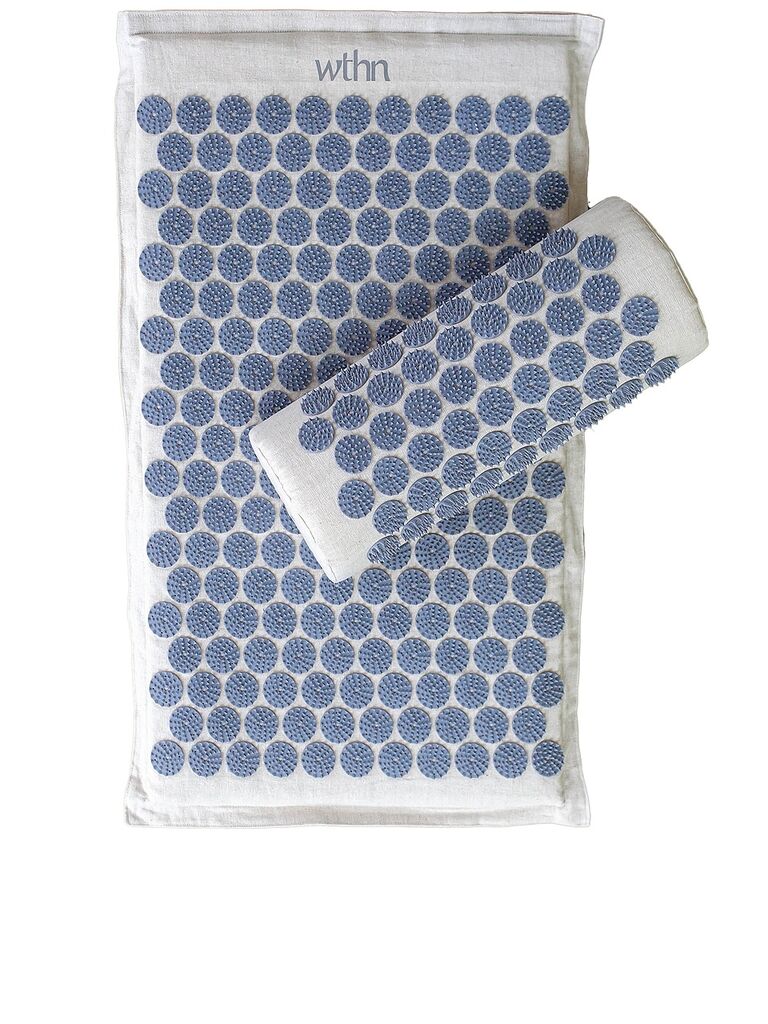 Wellness gifts are exceedingly popular lately, and it's not hard to see why. Busy schedules and always being on the go can take a toll on our health, especially if we don't take time to press pause. Encourage your spouse to sneak in a break and soothe their achy muscles (and tired mind) with this acupressure set. The mat and pillow are crafted from linen and feature raised knobs to target acupressure points all over the body, easing physical and mental tension for a more relaxed state.
Unique Eight-Year Anniversary Gifts
If the traditional and modern anniversary gifts aren't the perfect fit for your spouse, there are other eighth wedding anniversary symbols to consider. Lilac and clematis are the official anniversary flowers associated with this romantic milestone, together representing passion and synergy between two people in a loving relationship. In the jewelry department, tourmaline and tanzanite are two precious gemstones that symbolize eight years of marriage. Finally, bronze (like the traditional material) is the color linked to the eighth wedding anniversary. Even if you don't want to incorporate any of these symbols into your gift, we can help you find something unique and special. Read on to find our selection of alternative gifts for him, her or them.
Personalized Anniversary Candle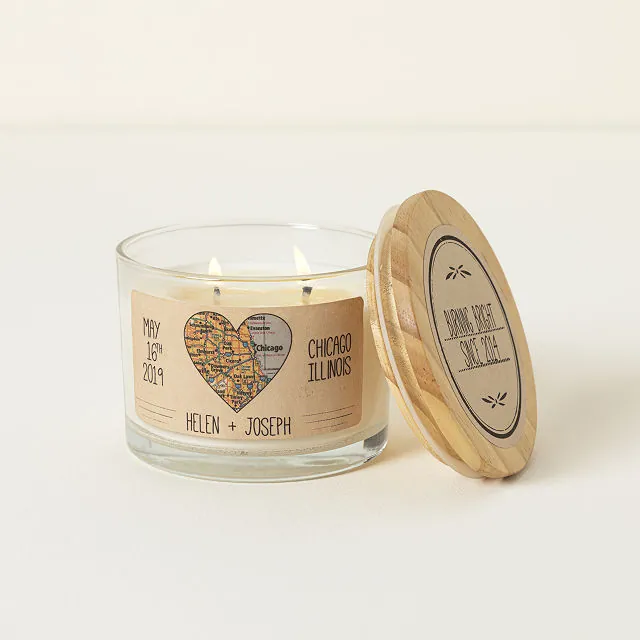 If you don't fancy opening a bottle of bubbly but still want to create a sense of occasion, this candle is the perfect solution. It smells as good as it looks, with a unique champagne scent and a customizable label that can depict a map of a significant location, like your wedding venue or where you live. Add your names, anniversary date and wedding year to make this personalized anniversary gift shine even brighter.
Adventure Challenge Mini Dates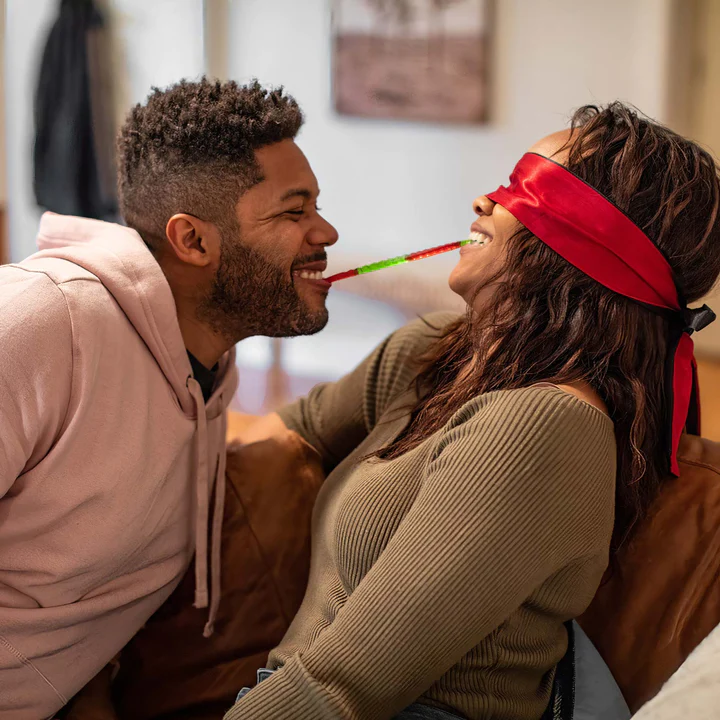 Life can be busy, and romantic date nights may fall to the wayside when your calendar is filled to the brim with other activities. Luckily, we've found just the solution to help you and your spouse reconnect. The Adventure Challenge Mini Dates pack includes 30 awesome date-night idea cards that can be completed in a half-hour or less. They cover everything from enjoying food to playing games, allowing you and your partner to have lots of fun together. Use the code THEKNOT20 for 20% off sitewide.
Mixed Gemstones Pendant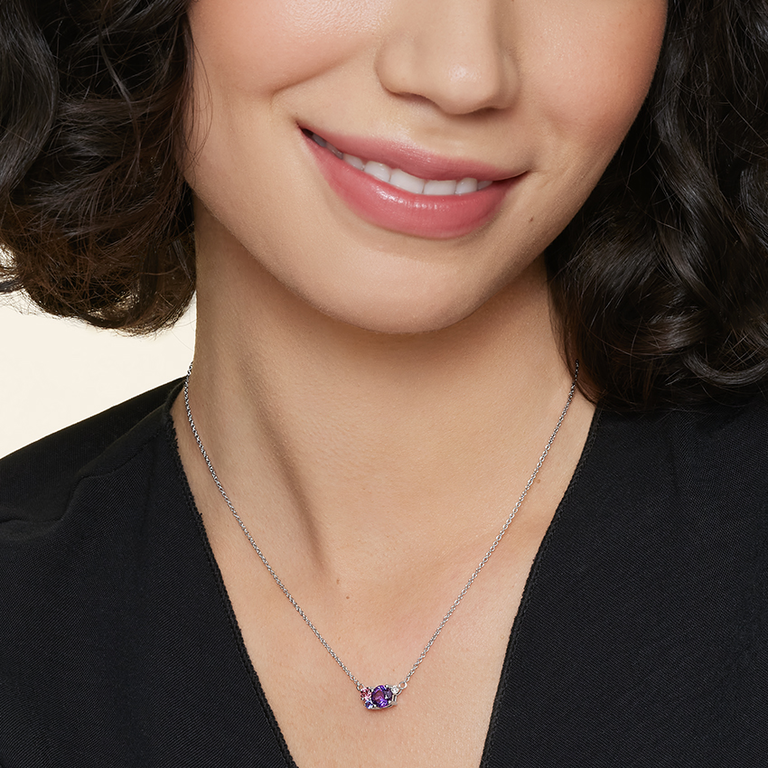 Show your partner just how precious they are with a meaningful (and dazzling) piece of jewelry. This gorgeous pendant is made of amethyst, pink spinel, diamond and tanzanite, one of the eight-year anniversary gemstones. A playful and modern piece like this can add a touch of glamor to the simplest of outfits and is very easy to wear daily. Best of all, it's designed and made by Brilliant Earth, a sustainable jewelry brand that uses ethically sourced gemstones and recycled precious metals.
Luxury Silk Pillowcase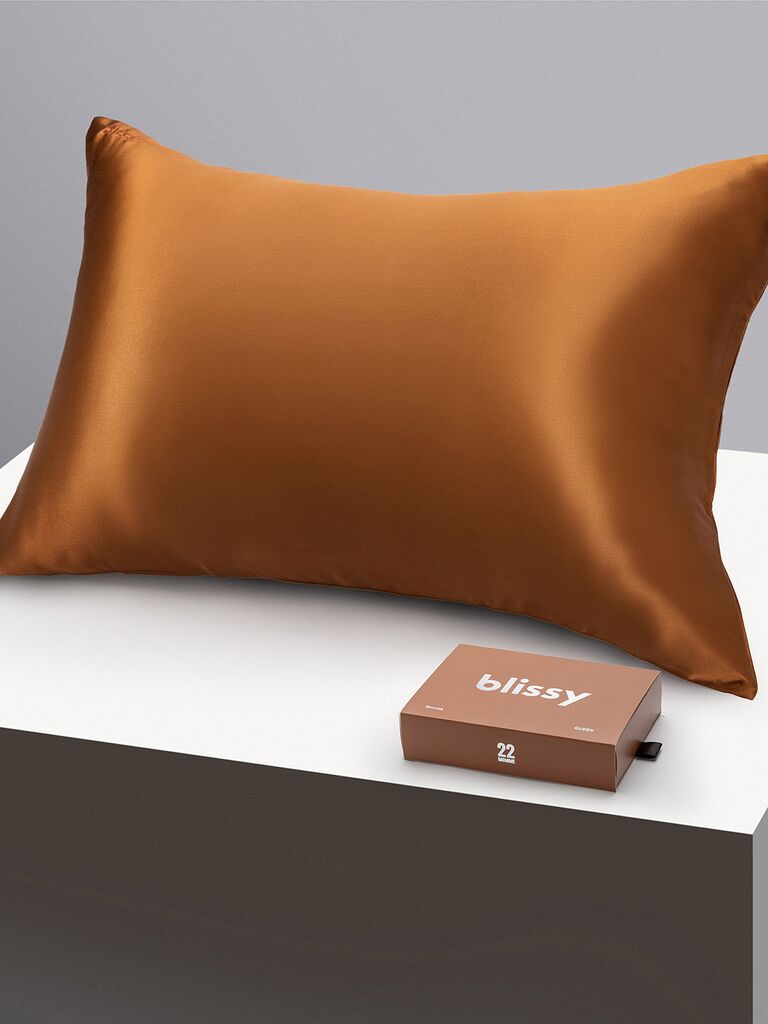 Take your cue from the eighth anniversary color (bronze) when picking out a luxurious gift for your spouse. This gorgeous pillowcase is made from 100% Mulberry silk and is the ultimate treat for anyone who loves to snooze. Not only that, but its hypoallergenic silk fibers reduce friction on the hair and skin, meaning your S.O. can wake up every morning with a smoother mane and a smile on their face.
Mini Massage Device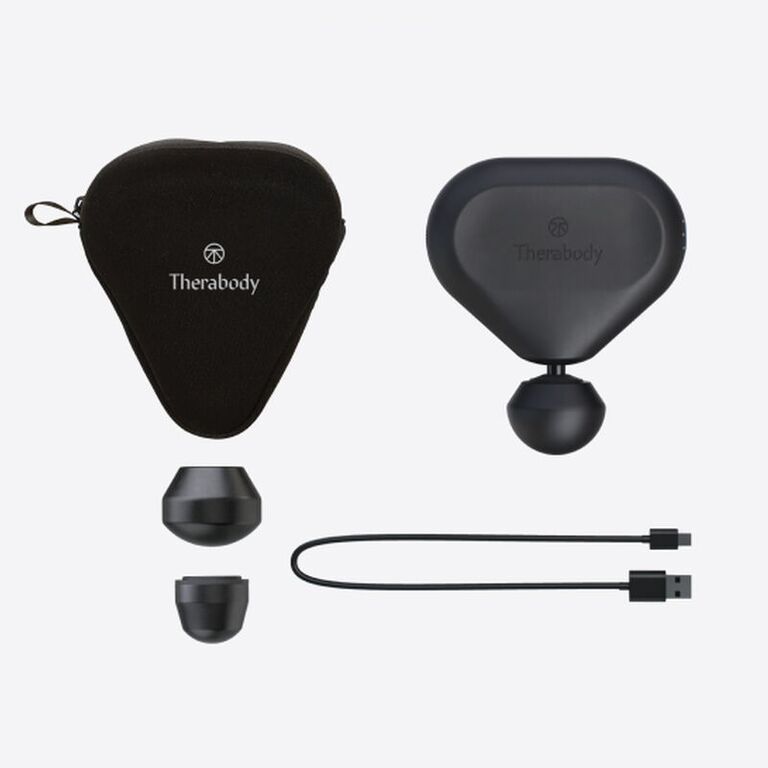 There's nothing more relaxing than a massage—except maybe a massage from the comfort of your own home. This mini Theragun massager will allow your partner to iron out their aches and pains whenever they need to. Whether they use it after a tough workout or as a way to unwind after a week at their desk, it'll help them relax their body and their mind.
Tourmaline Huggie Earrings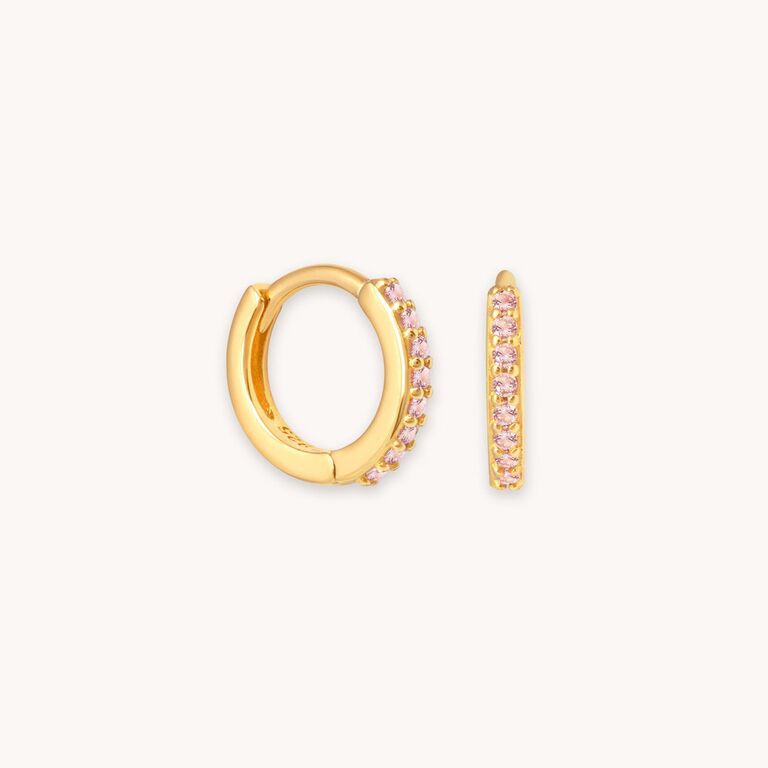 If you're looking for a super special eight-year anniversary gift, why not take inspiration from the milestone's gemstones? These tourmaline huggie earrings will be a welcome addition to your spouse's jewelry collection and may even provoke a few happy tears. The pretty pink stone is available in both 18K gold-plated and rhodium-plated sterling silver at a budget-friendly price. Bonus: A tanzanite version is available, too, if you'd prefer to choose the other eight-year anniversary stone.
Plush Lounge Socks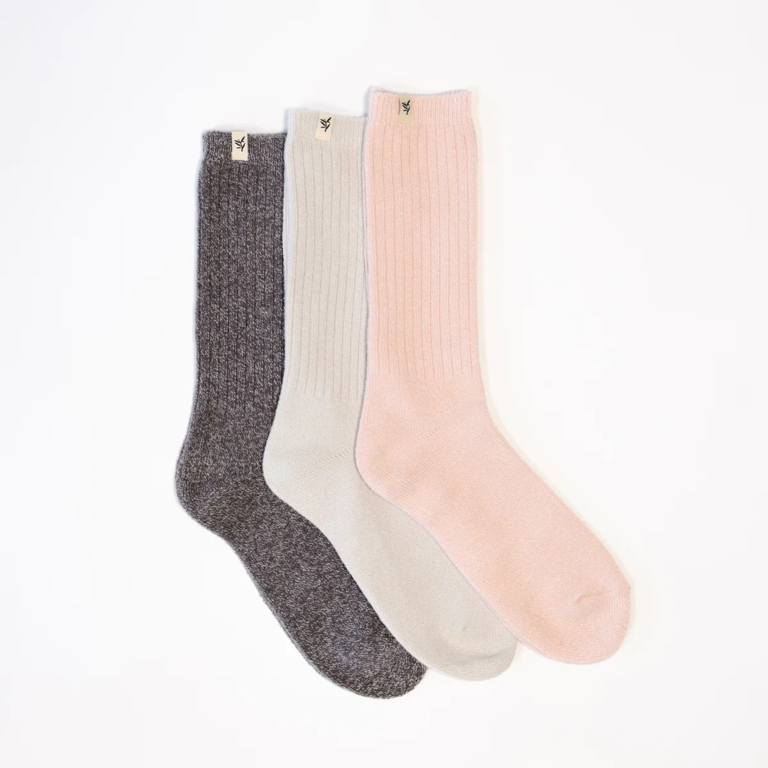 Sometimes keeping things simple is the way to go when choosing a meaningful anniversary gift for your significant other. If your spouse always has cold feet, show them you care with these cute (and cozy) lounge socks. They come in a set of three and are made from breathable and moisture-wicking fabrics responsibly sourced from bamboo. Best of all, they're available in both men's and women's sizes in a range of fashionable colors.
Historic Recipes Subscription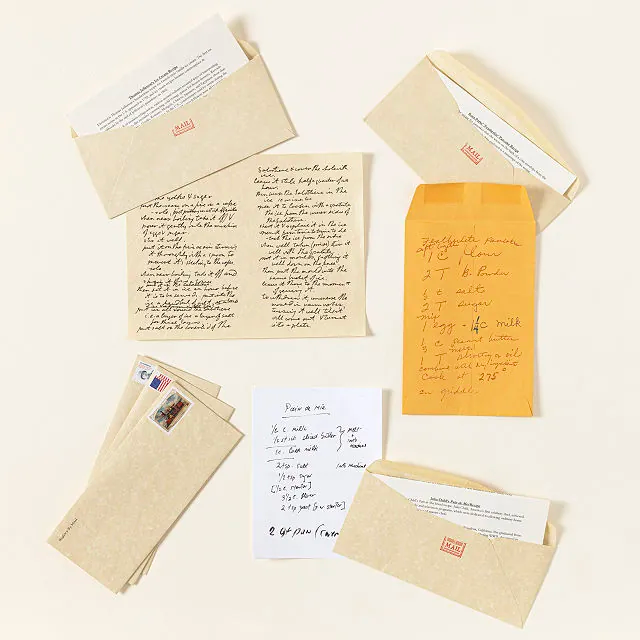 How about a cool recipe subscription for the talented home chef in your life? This unique gift allows them to mix up their cooking routine and delve into history at the same time. Each month, they'll receive a detailed replica of a handwritten recipe from a renowned historical figure, like Emily Dickinson, George Washington or Rosa Parks. Simply choose the subscription duration (six months or yearly) and get ready to make new meals (and memories) with your other half.
Lilac Watercolor Print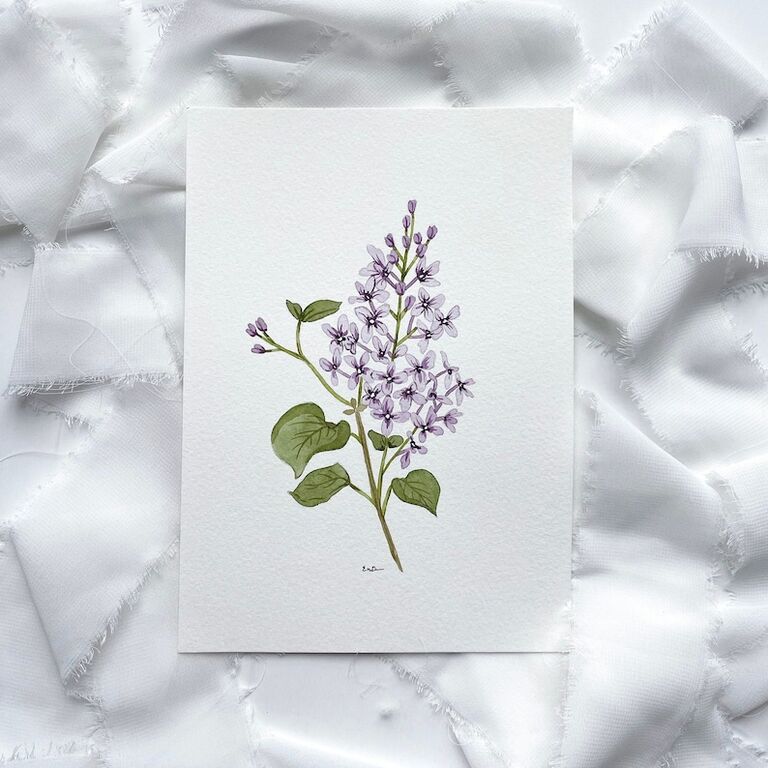 If your partner has a passion for art and flowers, why not combine the two into one thoughtful anniversary gift? This watercolor print features an intricate illustration of a lilac flower (one of the eighth anniversary blooms) and is bound to please anyone who loves to display artwork in their home. Just a note: The piece comes unframed, so you'll want to allow extra time to get your own before giftng it to your spouse.
Iron Clematis Planter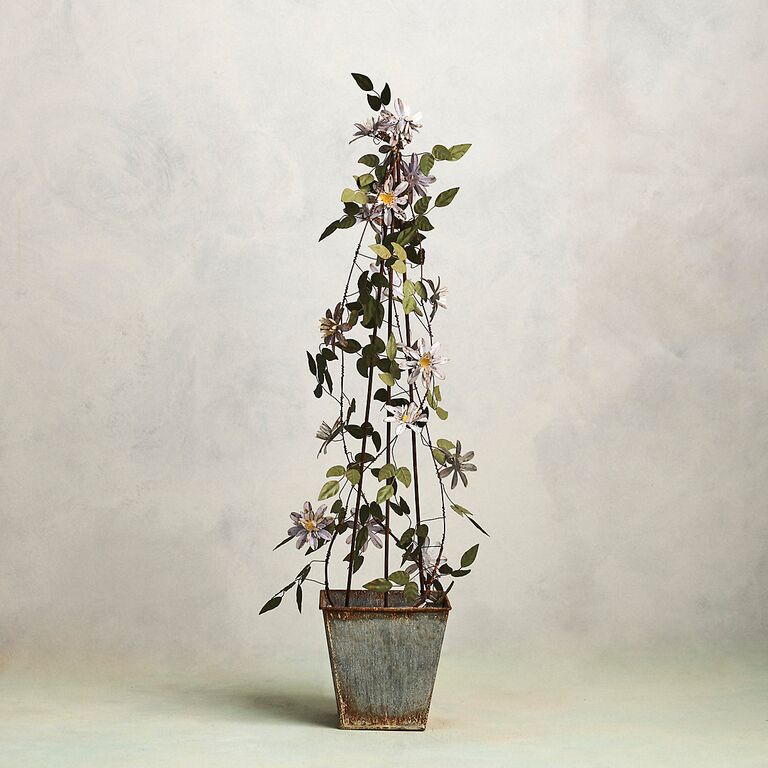 Think outside the box with a floral-inspired gift that isn't a fresh bouquet. This antique-style garden planter features the other eight-year anniversary flower (clematis) handcrafted from durable iron. The painted flowers add a hint of color to this rustic showpiece that's suitable for indoor and outdoor use. Just be aware it will rust if left outside for long periods, so save a spot for it on your porch or sunroom.
Our team received [some of] these products as promotional samples in exchange for editorial consideration and independent review.