30 Traditional and Modern 15-Year Anniversary Gifts They'll Love
Commemorate 15 years of marriage with the perfect crystal anniversary gift.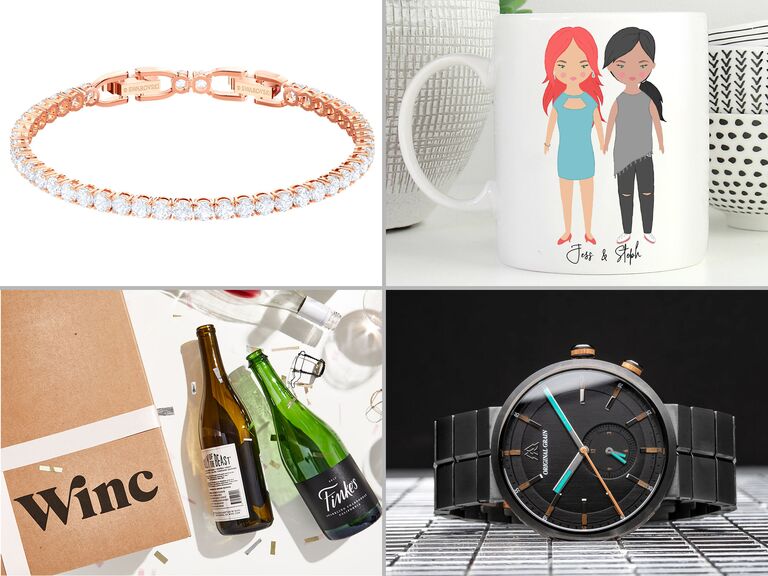 We have included third party products to help you navigate and enjoy life's biggest moments. Purchases made through links on this page may earn us a commission.
A couple that's stood by each other for 15 years has achieved a lot together, and while elaborate festivities and romantic weekend getaways might have to wait for now, there are still lots of great ways to mark the occasion. Picking up a heartfelt 15-year anniversary gift will let your spouse, friends or relatives know you're incredibly proud of everything they've accomplished. Not sure where to start? The good news is that each year of marriage has a traditional anniversary theme you can turn to for inspiration. This time around, it's the crystal anniversary.
There are lots of routes you can go down when it comes to finding a thoughtful crystal present, from ornate wine glasses to sparkly jewelry. That said, if it just doesn't sound like the right fit, don't worry. We're sharing our favorite traditional, modern and alternative 15th anniversary gift ideas right here—go with whatever you think the recipient will love most. (And if you're on the fence, find out a little more about this milestone's unique symbols below before making a decision.)
In this article:
What is the 15-year anniversary gift?
The traditional 15-year anniversary gift is crystal, which is luckily pretty easy to work with. This transparent material demonstrates just how well a couple knows each other after 15 years of marriage—their understanding of one another is crystal clear. Additionally, this stunning symbol represents a love that shines so bright it sparkles.
If you're happy to forgo tradition, the modern 15-year anniversary gift is a watch. A timepiece in any form is a sentimental token of the time a couple has spent together (and the years still to come). Plus, there are so many different styles, so you're bound to find one your S.O. will love.
Want some more inspiration on your hunt for the perfect present? In addition to watch and crystal anniversary gifts, there's also a 15-year anniversary color, stone and flower. The romantic hue associated with this special occasion is red, which also lends itself to the traditional gemstone, which is ruby, and flower, which is—yup, you guessed it—the rose.
Crystal Anniversary Gift Ideas
If you're choosing to stick to the traditional 15th anniversary gift material, we've got some great ideas to help you get started. Whether you're shopping for a whiskey enthusiast, a pop culture fanatic or the sentimental lovebirds in your life, there's something on our list for everyone and every couple.
Commemorative 3D Ornament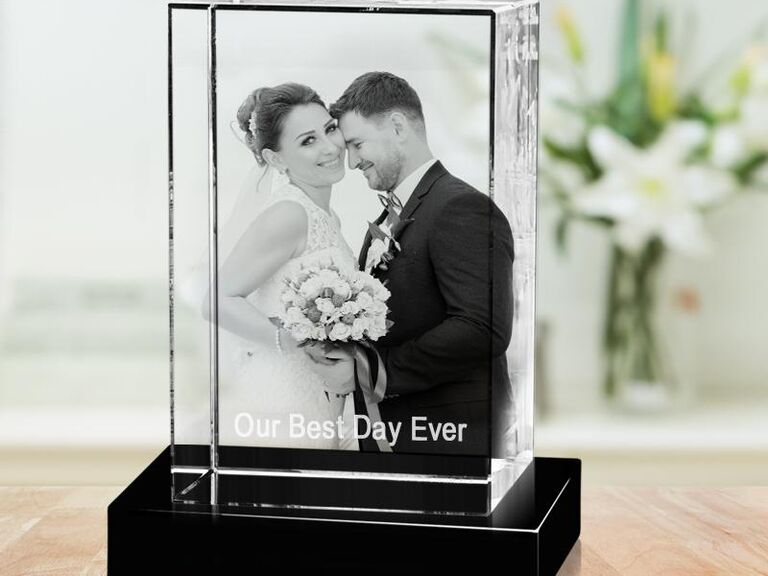 A sentimental ornament showcasing a sweet photo from the wedding day is a winning idea whether you're on the hunt for crystal anniversary gifts for her, him or the couple. The crystal is laser engraved with your chosen picture and can be mounted on an illuminating black-light base or a snazzy rotating LED one. To complete the present, add an optional engraving like "best day ever" or "I still do."
The 3D Gift anniversary portrait, from $79, The3DGift.com
Dainty Tennis Bracelet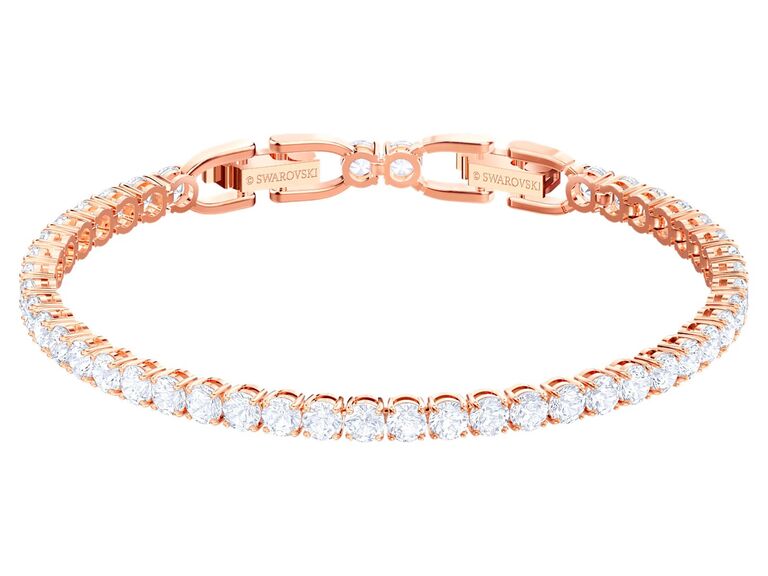 The crystal wedding anniversary only comes around once. Don't be afraid to splurge a little on some sparkly jewelry for your other half. As we learned from Moira Rose, you can never go wrong with a classic tennis bracelet, and this one is especially stylish thanks to the rose-gold hue.
Swarovski rose-gold tone tennis deluxe bracelet in White, $169, Swarovski.com
Sleek Whiskey Tumblers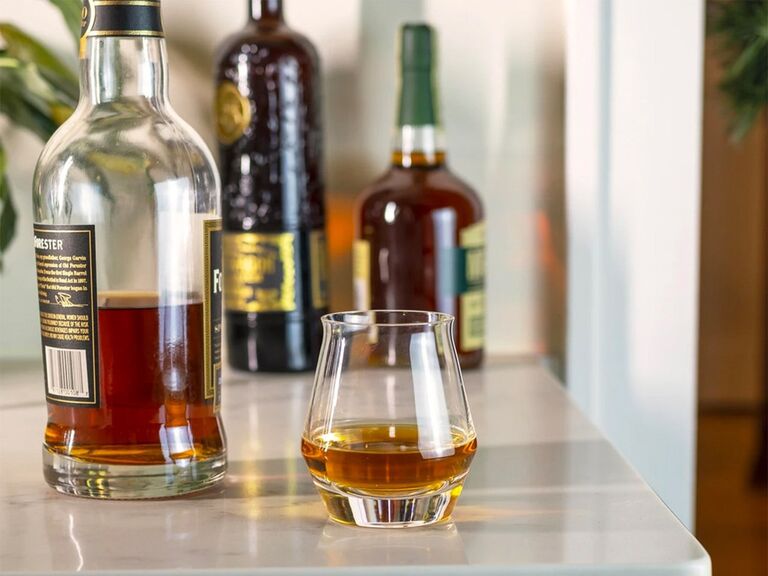 Crafted from lead-free crystal, this chic glassware is perfect for your partner (or favorite couple) who enjoys their spirits neat. Every detail has been carefully designed to enhance each drinking experience, from the size of the glass to its shape.
Aged & Ore neat glass, $36 for a set of 2, Huckberry.com
Pop-Culture Character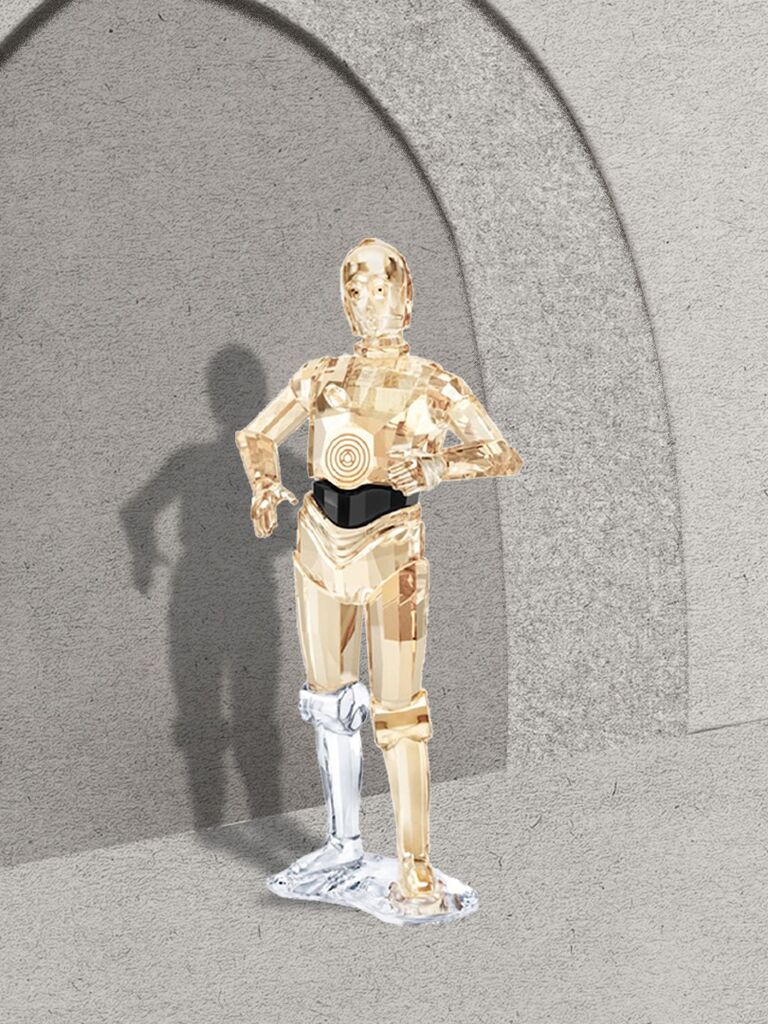 Whether they've always been obsessed with Star Wars or they got drawn in by the adorable baby Yoda, a Swarovski crystal ornament of their favorite character will be a unique and unexpected gift. (Psst, you can get a discount when you buy more than one as a set.)
Swarovski Star Wars C-3PO, $295, Swarovski.com
Statement Cuff Links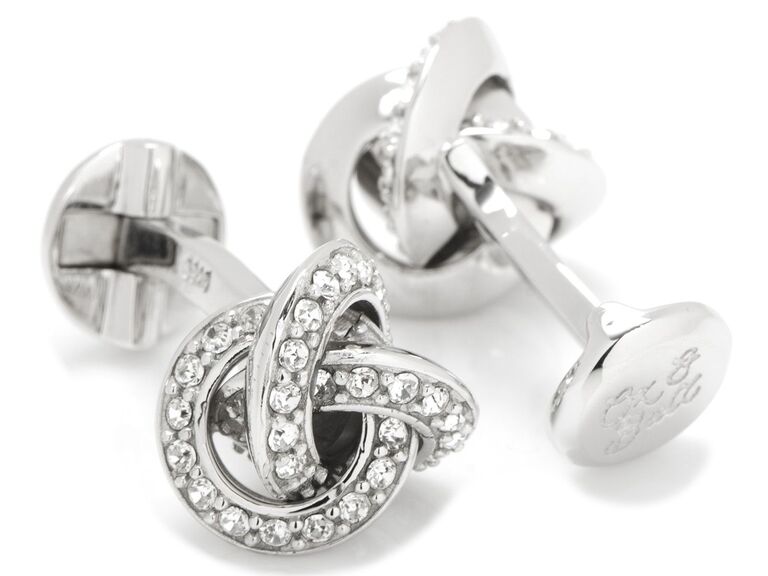 If you can't get to your favorite restaurant right now, don't worry. There are lots of ways to make an anniversary celebration at home feel just as special, like getting dressed up in your best attire. These crystal pavé cuff links will add a stylish finish to your other half's suit and they double as an on-theme 15th wedding anniversary gift. Bonus: The intricate knot design is a lovely tribute to the commitment you made to each other 15 years ago.
Ox & Bull Trading Co. sterling silver Swarovski pave knot cuff links, $220, Cufflinks.com
Intricate Heart Ring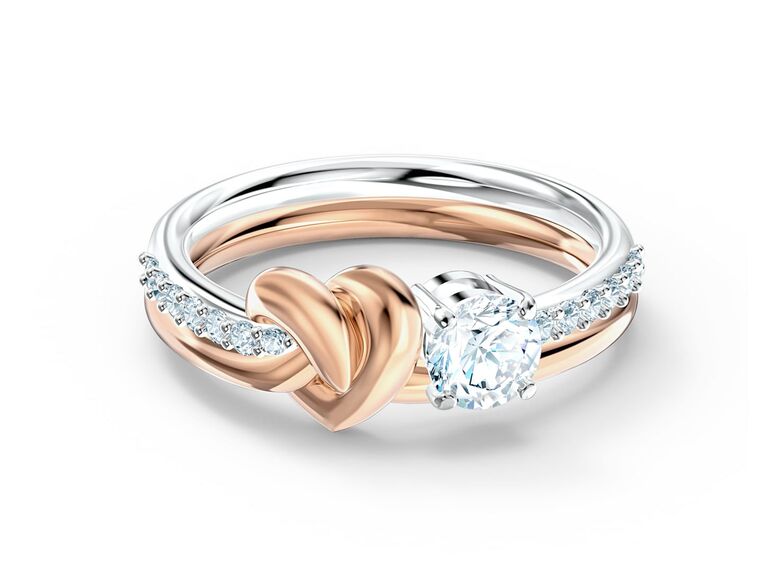 Complement the gorgeous band you gave your spouse 15 years ago with this 15-year anniversary ring in crystal, silver and rose gold. It's a more affordable alternative to diamond jewelry that still makes a stunning impact.
Swarovski Lifelong heart ring in Mixed Metal Finish, $119, Swarovski.com
Stunning Wine Glasses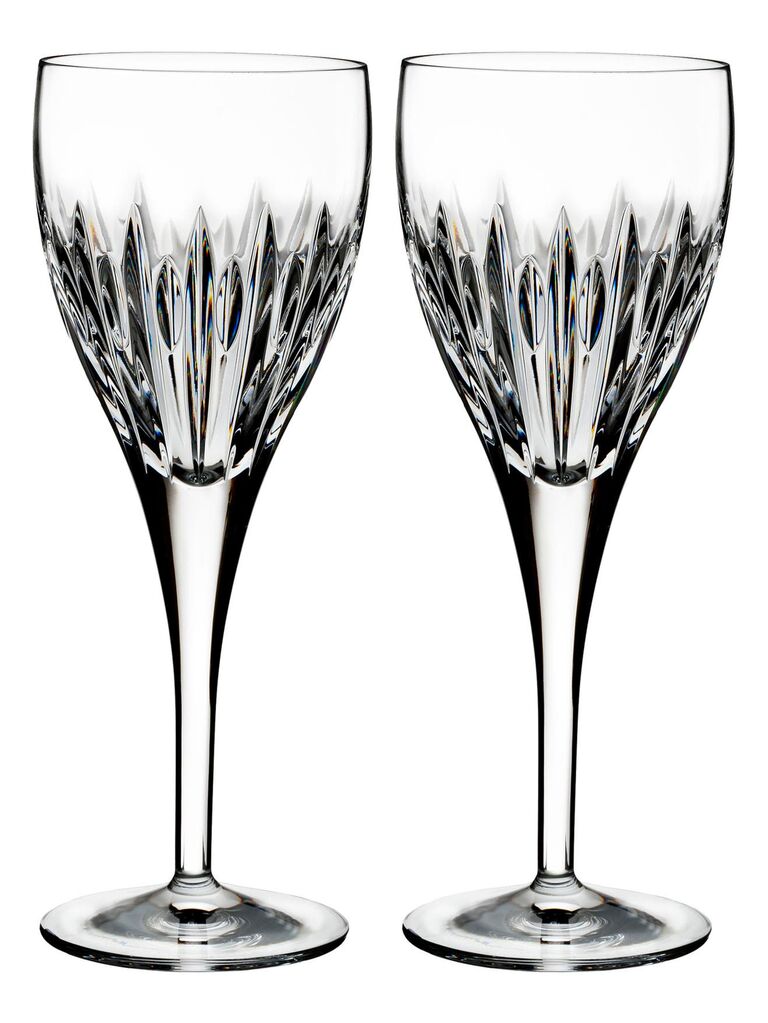 Shopping for a couple? They'll need something to toast with in honor of their wedding day, so why not hand over a set of ornate crystal wine glasses? The mesmerizing cut on this pair is inspired by the ocean.
Waterford Crystal Mara lead crystal wine glasses, $85 for a set of 2, Nordstrom.com
Meaningful Star Map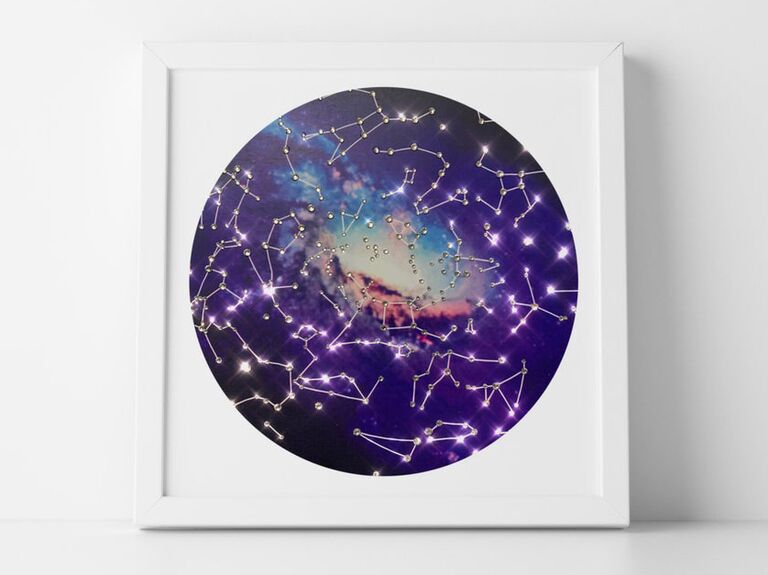 If unique crystal wedding anniversary gifts are what you're looking for, we've got you covered. A custom map of the stars from the day you each said "I do" is a romantic keepsake your S.O. will always treasure. The icing on the cake? The stars are made out of crystals.
Crystalline Star Maps crystal star map, $67, Etsy.com
Gorgeous Glass Vase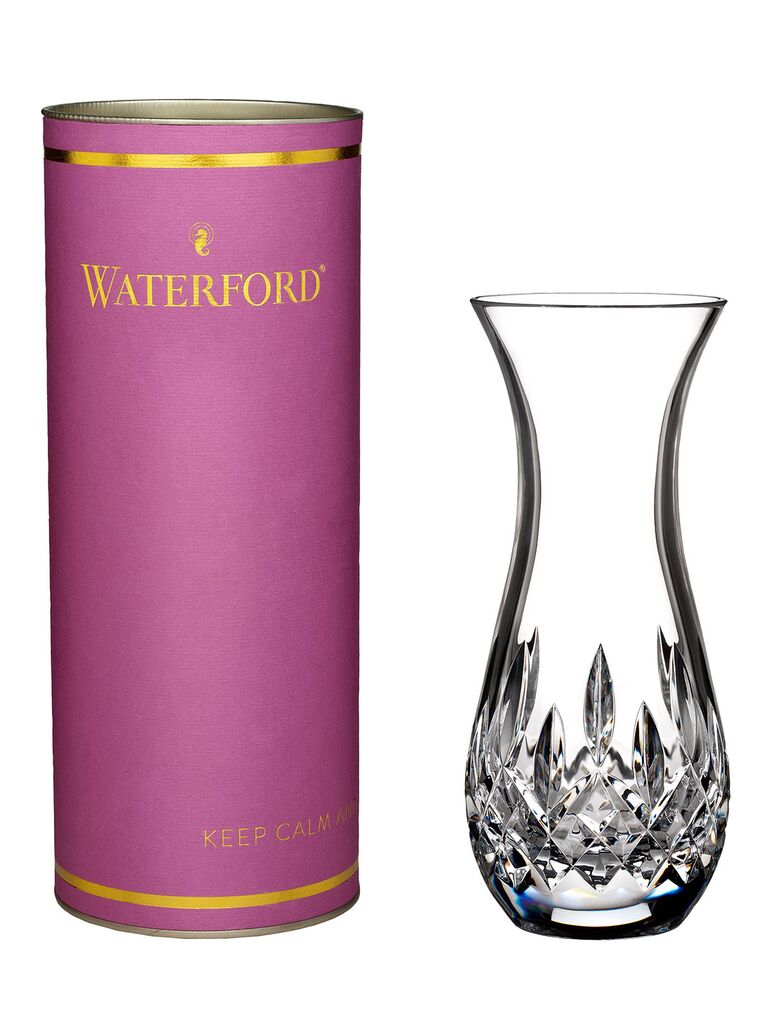 While a crystal vase might not seem like the most exciting present, it's a classic for a reason. Gorgeous pieces of home decor like this aren't something a couple would usually buy for themselves, and it's an heirloom-worthy gift that'll last generations.
Waterford Crystal Giftology Lismore sugar bud vase, $80, NeimanMarcus.com
Dazzling Collar Necklace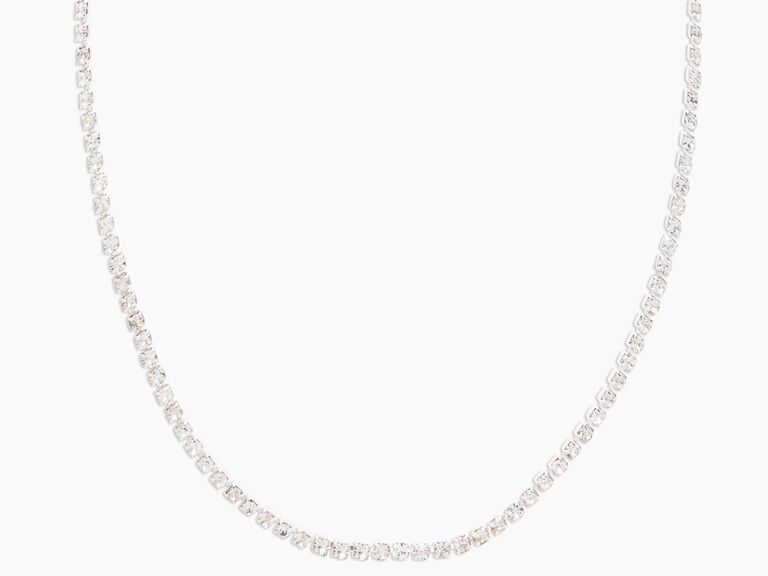 Gorjana is one of our favorite women-founded jewelry retailers. The site has a gorgeous selection of trendy and timeless pieces to suit every style. This sparkling white crystal necklace is just the right balance of glamorous and minimalist.
Gorjana Wilder shimmer collar necklace, $65, Gorjana.com
Watch Anniversary Gift Ideas
The modern take on the 15-year wedding anniversary gift is quite specific—there aren't too many variations of the watch that you can work with. But if you know your spouse loves watches or think they're due for an upgrade, these picks will please every style preference. You're also free to put your own unique spin on the modern gift theme. We've included a few watch alternatives to help inspire you.
Unique Teak Accessory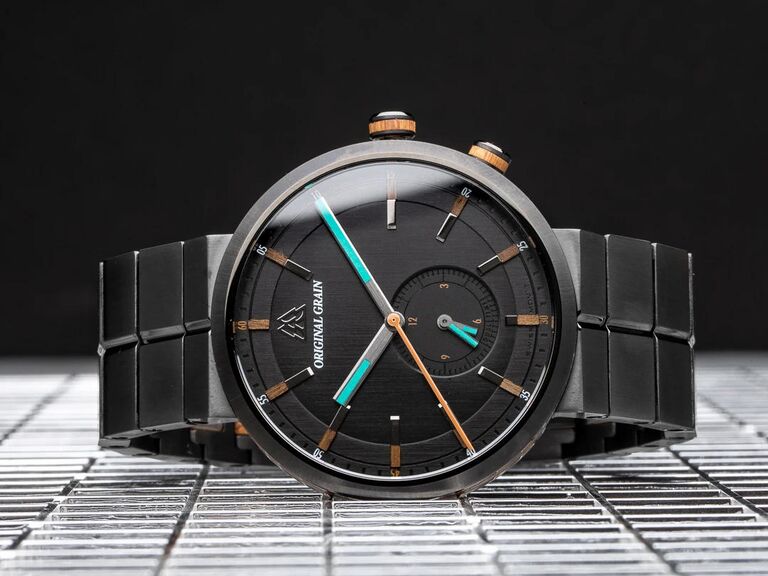 We love the wood-accent watches from Original Grain. This stylish pick is made with sleek gunmetal-plated steel and teak wood. It'll add a unique finishing touch to any outfit. It also has a dual time-zone movement and sapphire crystal glass.
Original Grain 43mm Sport MNML in Teakwood, $449, OriginalGrain.com
On-Theme Crystals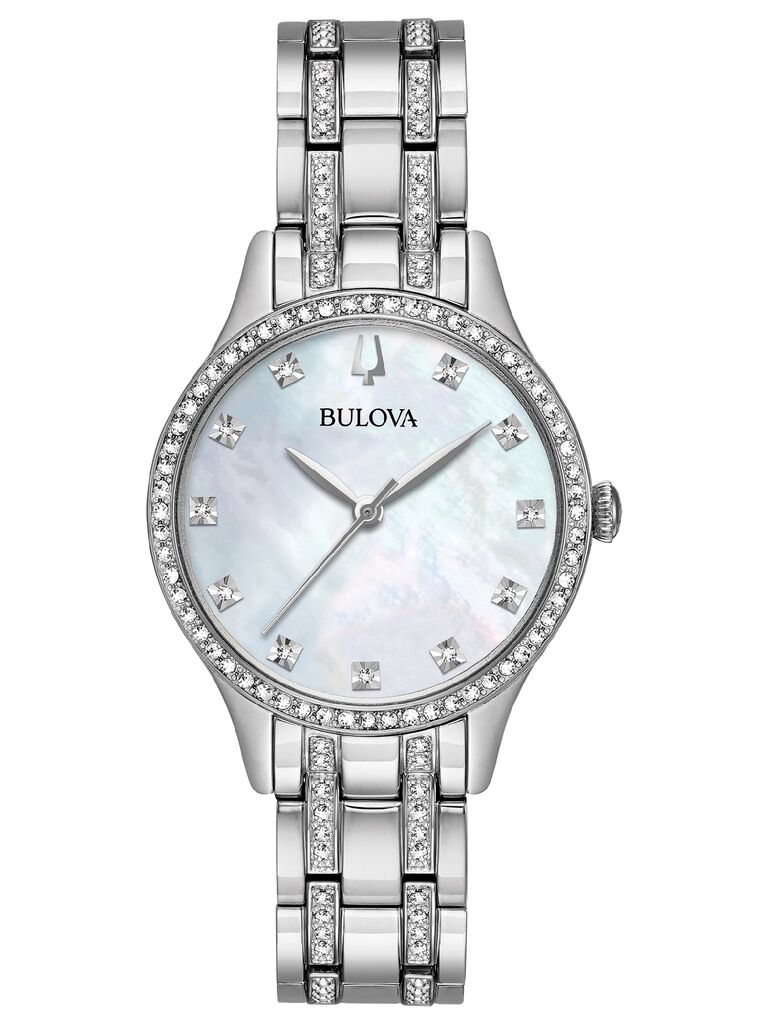 Speaking of the traditional 15-year anniversary symbol, this chic timepiece is covered in dazzling Swarovski crystals. The stainless steel bracelet looks sleek and contemporary, while a mother-of-pearl dial adds a romantic touch.
Bulova crystal watch, $300, Bulova.com
Vintage Pocket Watch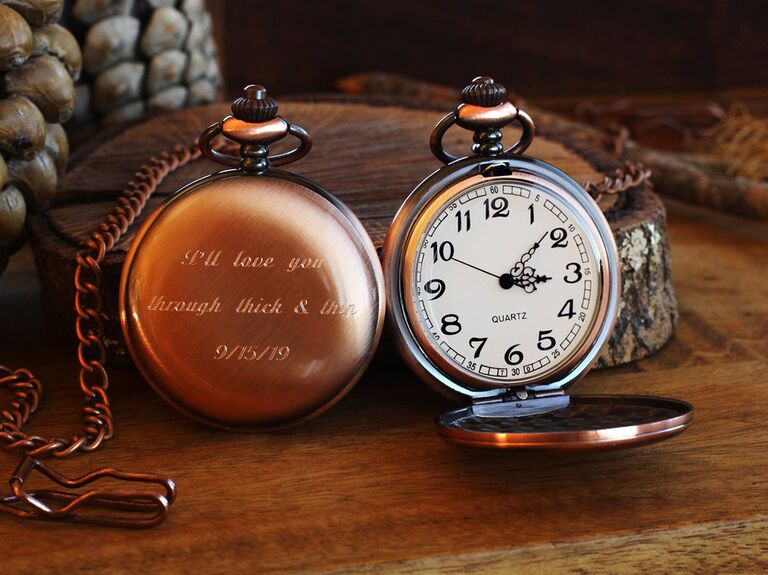 As we mentioned earlier, you're welcome to think outside the box when it comes to finding a memorable gift for your spouse. A pocket watch is a great idea if your S.O. already has enough watches or has a more vintage sense of style. Have it engraved with a sweet, personal message, such as: "I'll love you through thick and thin."
The Engraver engraved copper pocket watch, from $24, Etsy.com
Elegant Twisted Band
A wrist watch that doubles as a stylish bracelet? Yes, please. The sleek black dial beautifully complements this timepiece's unique gold-tone stainless steel band with an elegant twisting silhouette. (And peep those Swarovski crystal accents!)
Citizen Axiom watch, $220, Citizen.com
Mesmerizing Exposed Movement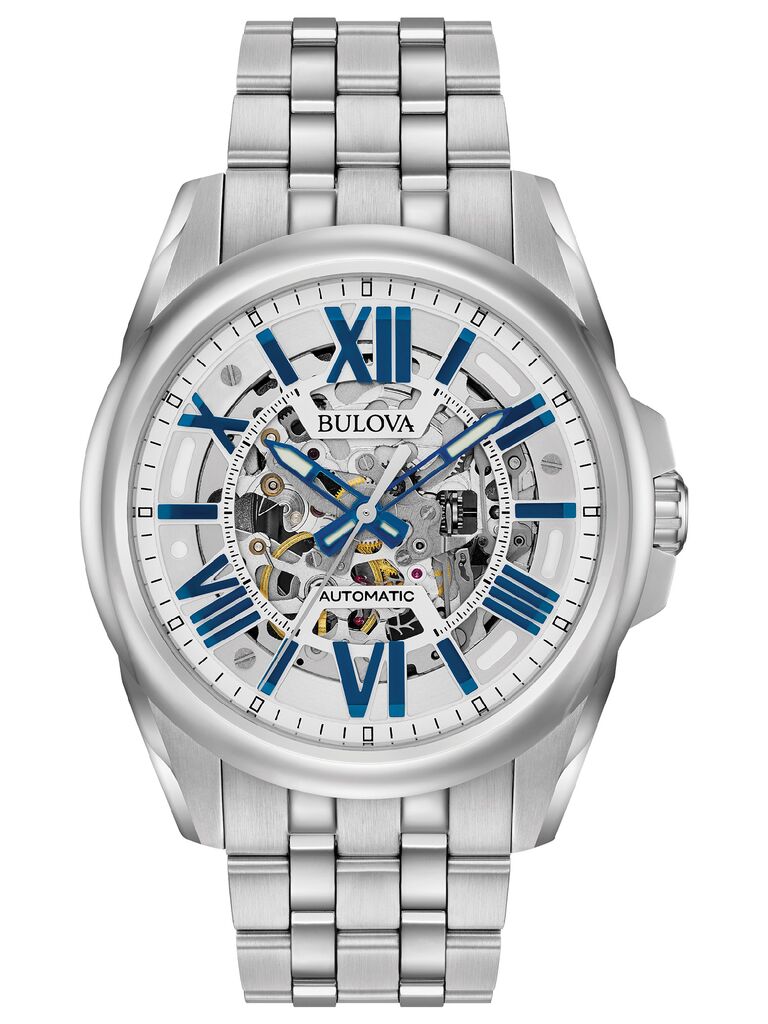 Watches are a great 15-year anniversary gift for him or her—it's all about finding one that suits your partner's personal style. An exposed movement showcasing the intricate inner workings is the ultimate accessory if you're shopping for a watch aficionado.
Bulova Sutton watch, $440, Bulova.com
Pretty Watch Locket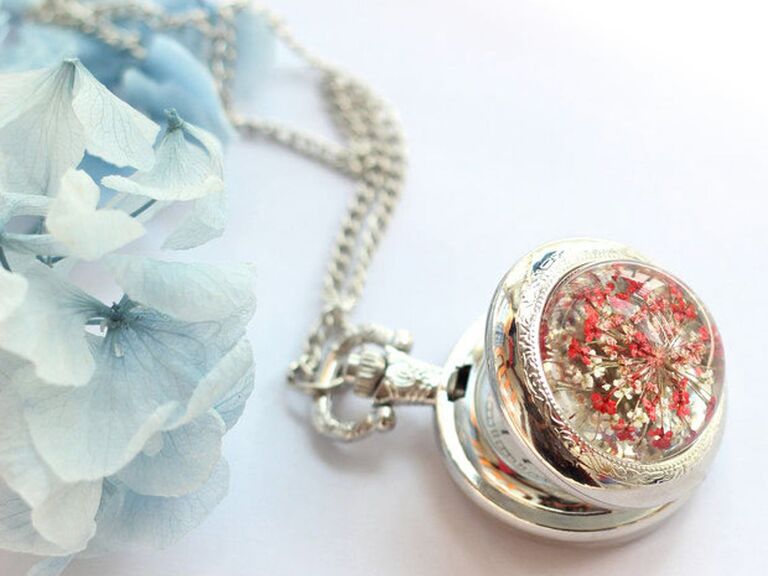 Looking for something a little bit different? Surprise your S.O. with a locket watch inserted with beautiful pressed flowers on a silver-plated chain. You can even stow a photo or personal message inside for an extra-meaningful present.
June Creation pressed flowers watch clock pendant, $34, Etsy.com
Casual Canvas Strap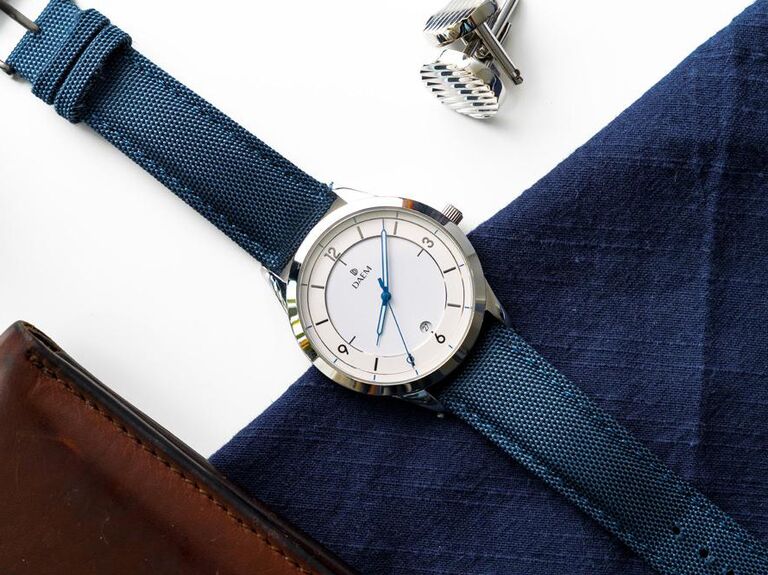 Your trendsetting spouse will 100% appreciate this modern, minimalist timepiece. The stitched canvas band feels stylishly casual, while a dual-layered dial adds contemporary character. Designed in Brooklyn, it features a durable stainless steel case and sapphire crystal glass.
DAEM ROYAL x BLUE watch, $300, DAEMWatches.com
Sleek Gold Smartwatch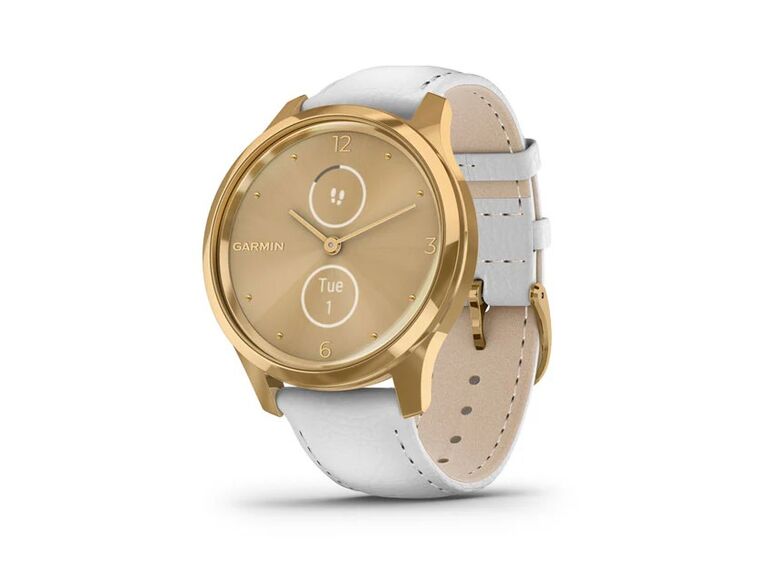 Smartwatches have come a long way in the last few years, and it's easy to see why when they're this fashionable. Another fitting 15-year anniversary gift for your wife or husband, this stunning accessory will let them receive notifications, track their health and fitness, make contactless payments and more—and that's not to mention how good it looks! The gold-plated case and white Italian leather strap are a match made in heaven. Smart and sturdy, it's totally worth the price.
Garmin Vívomove Luxe watch in 24k Gold and White Italian Leather, $450, Garmin.com
Cool Reclaimed Wood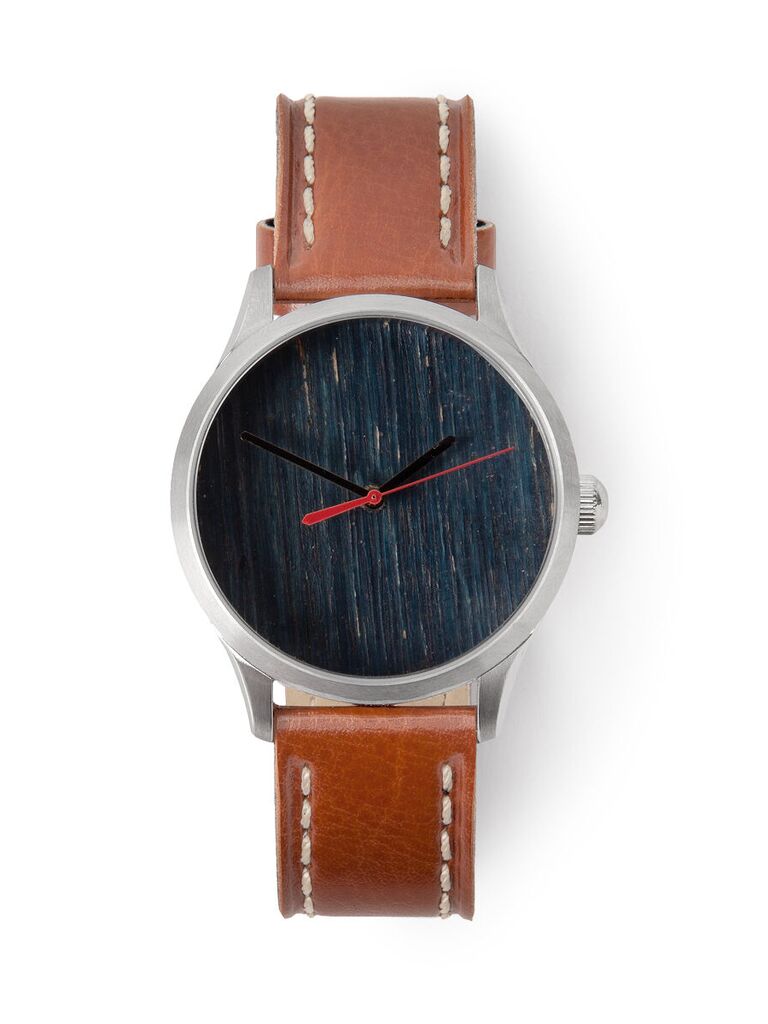 This one's for the die-hard sports fan. Each watch is made with reclaimed wood from MLB stadium seats. Your partner will love using it as a talking point with their baseball-loving buddies. Talk about unique 15-year anniversary gifts!
Ward Wallau authentic MLB stadium seat relic watch, $425, UncommonGoods.com
Chic Heart Bracelet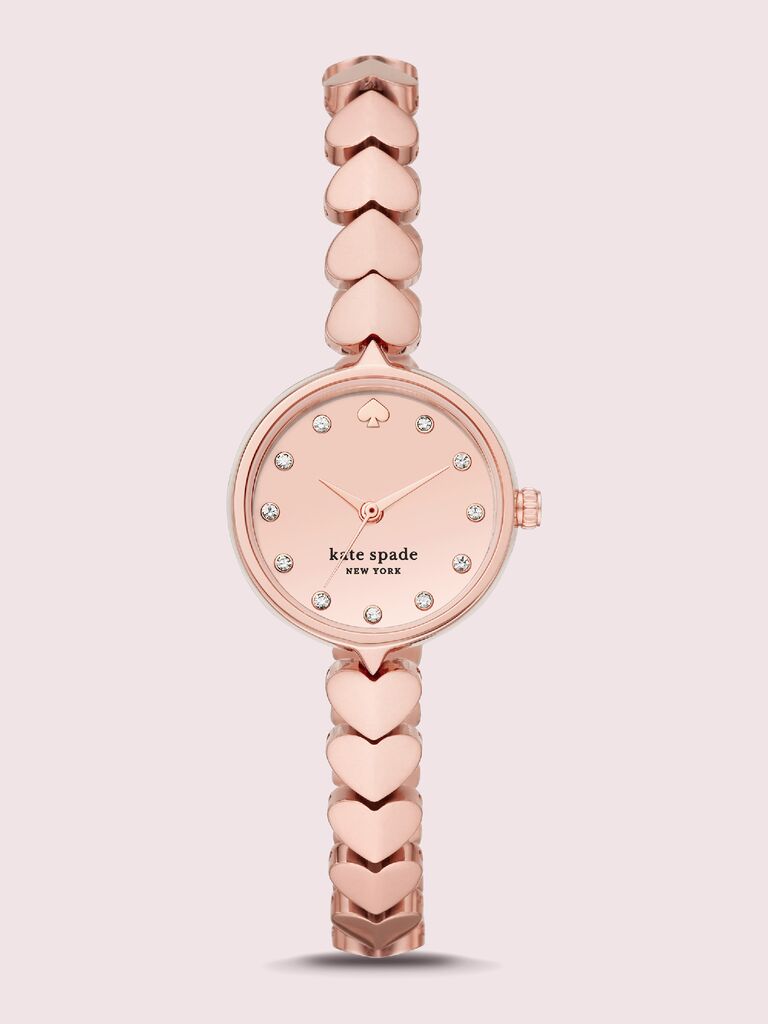 This stainless steel watch feels effortlessly stylish, from the allover rose gold hue to the crystal-studded dial. But what makes it a really great gift for your spouse is the cute heart-design bracelet.
Kate Spade New York Hollis rose gold-tone stainless steel hearts watch, $228, KateSpade.com
Alternative 15-Year Anniversary Gift Ideas
Every year of marriage has certain elements attached to it, but we all celebrate uniquely, so it's totally okay to go off the beaten path and get your spouse, friends or whoever something completely different for this special occasion. Whether they're sweet and sentimental or prefer practicality, one of these awesome presents is sure to make an impression.
Soft Silk PJs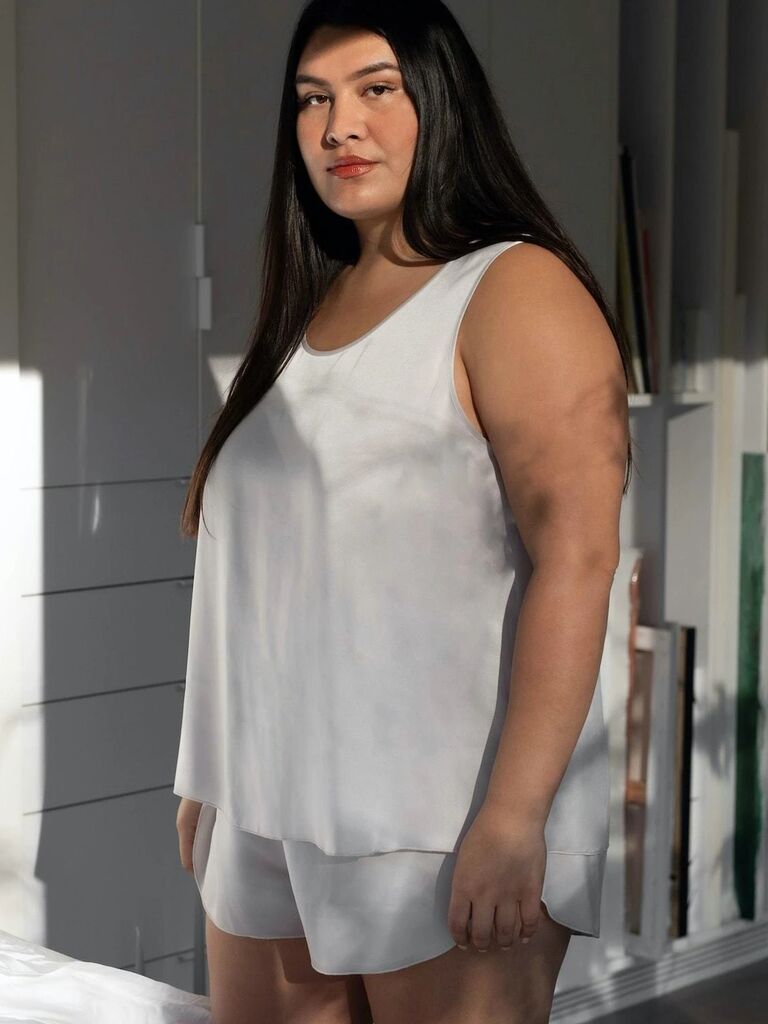 Trying to come up with some fun 15-year anniversary celebration ideas? Two words: spa day. A set of soft silk pajamas is sure to start things off on the right foot. What makes this luxe loungewear extra special is that it's fully machine washable.
Lunya washable silk set, $178, Lunya.co
Smart Leather Wallet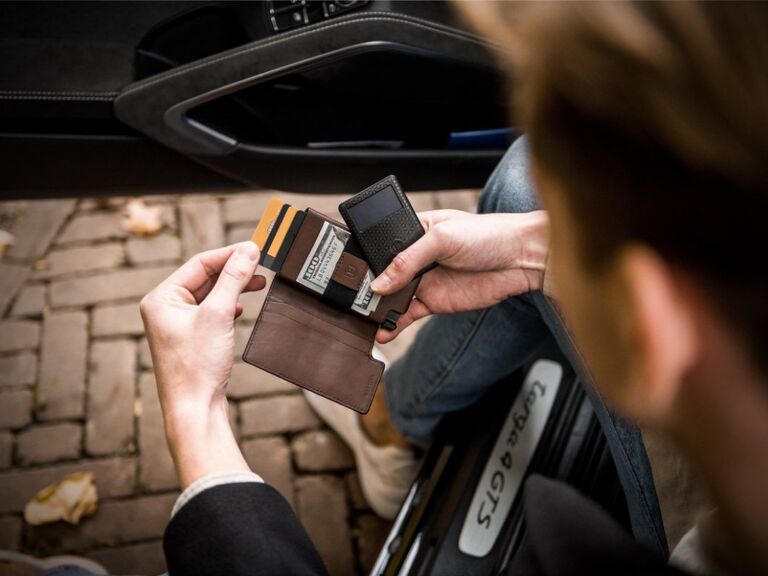 There are so many reasons why Ekster wallets make for great gifts. From the premium leather material and minimalist design to the clever ejectable cardholder, it's a must-have accessory for your on-the-go other half. Plus, you can add a tracker card to make sure misplacing it is never a problem.
Ekster Parliament wallet, $89, Ekster.com
Fun Date Subscription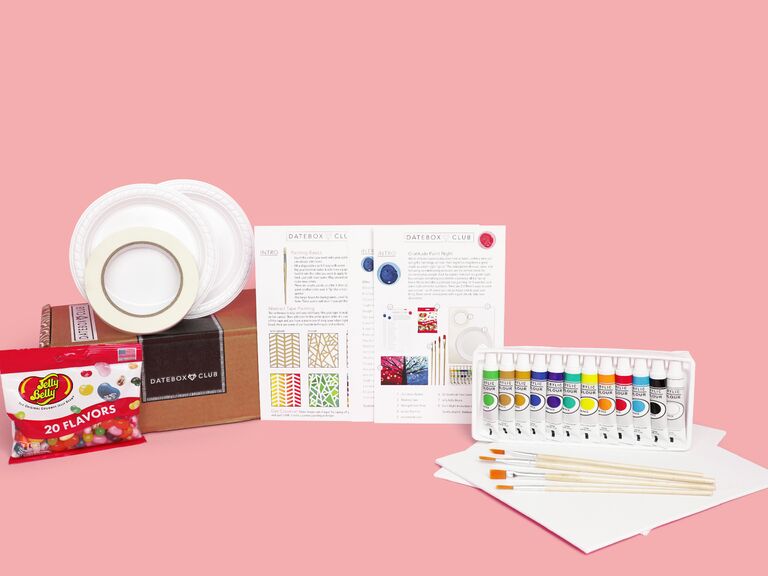 Coming up with new ideas for date nights at home isn't easy, especially after 15 years together. Why not treat the couple to a subscription service that'll organize everything for them? DateBox Club has a new theme each month, from painting to fondue making, that'll be delivered right to their door.
DateBox Club monthly gift subscription, from $34 per month, DateBoxClub.com
Minimalist Ruby Ring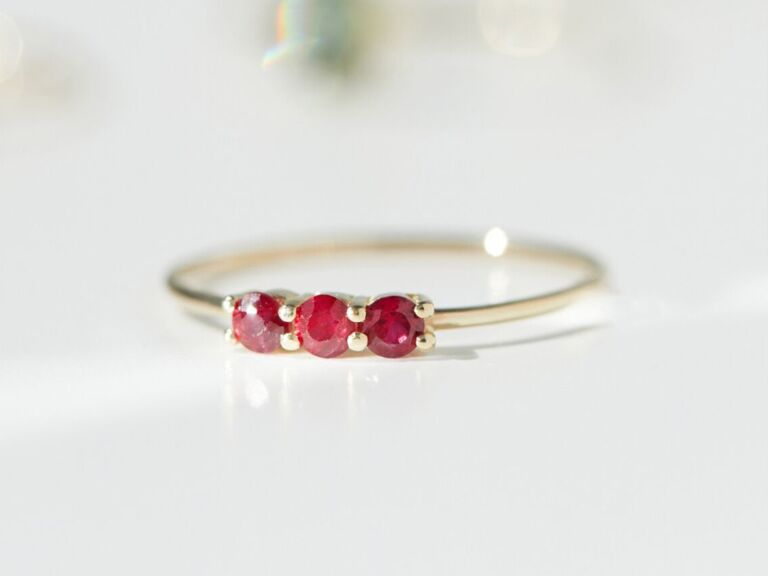 Rubies are another traditional gift for celebrating 15 years of marriage. These bright red stones are a symbol of passion and protection, making them a fitting tribute to your next 15 years together. We just love the unique charm of this three-stone ring. The ultra-thin band is sleek and minimalist, while the symmetrical rubies add a subtle sparkle.
Jennie Kwon ruby Still Life ring, $420, CatbirdNYC.com
Fresh Flower Delivery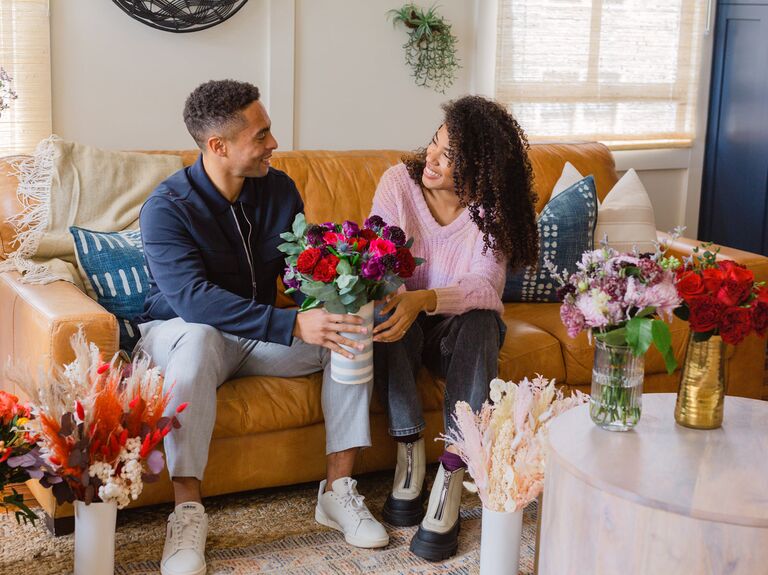 Sure, one bouquet is great, but for such a special milestone we totally get it if you want to up the ante a little. A monthly delivery of flowers is another one of our favorite 15th wedding anniversary ideas for your spouse or couple friends. Choose between three different plans depending on their style and your preferred price point. Bonus: A vase is included with the first shipment so it's like two presents in one.
UrbanStems gift subscription, from $55 per delivery, UrbanStems.com
Decorative Photo Box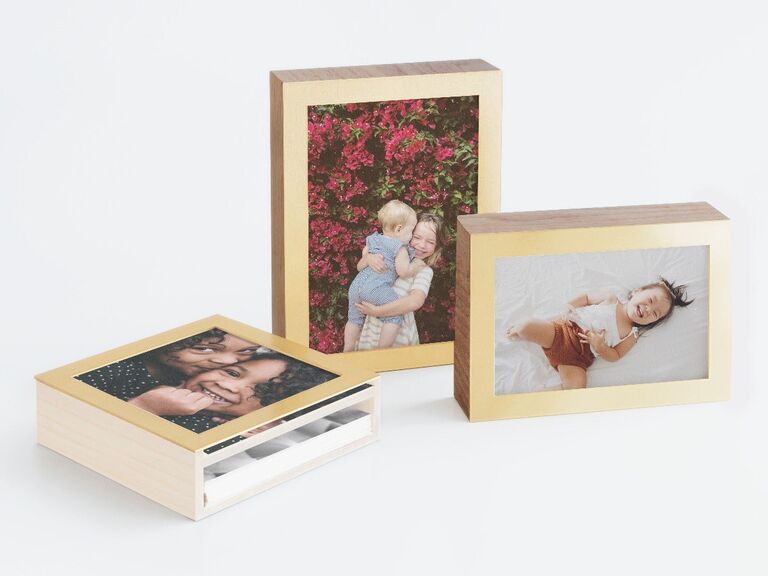 If you're really not sure what to get your other half, photo gifts are always a safe bet. Fill one of these brass and wood display boxes with a stack of sweet family photos from over the years and let your other half choose their favorite for the display window. It'll instantly zhuzh up their desk, dresser or bedside table.
Artifact Uprising brass & wood display box, from $55, ArtifactUprising.com
Celebratory Wine Subscription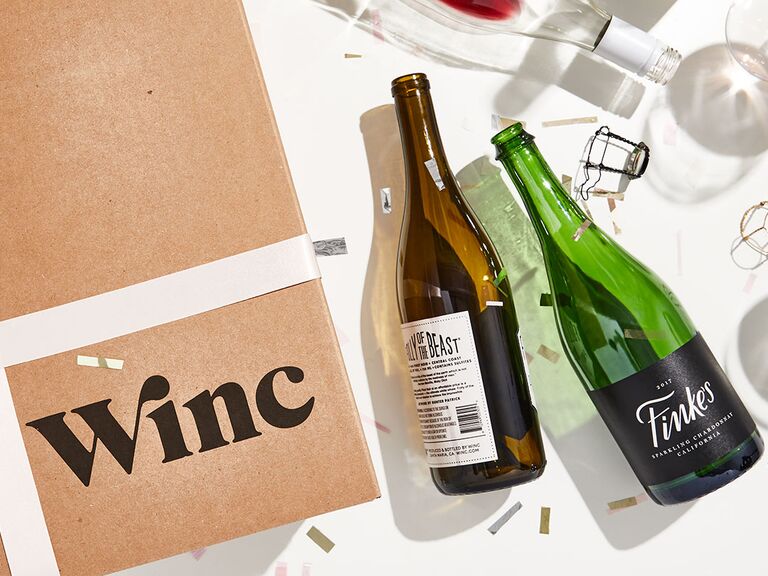 Whether you're looking for a 15th anniversary gift for him, her or the couple, you can never go wrong with a bottle of vino—but you can go bigger. Instead of the usual celebratory bottle, send them a gift card for a monthly subscription. Who knows, maybe they'll invite you over for a fun wine and cheese night.
Winc subscription gift card, from $60 for a month, Winc.com
Adorable Coffee Mug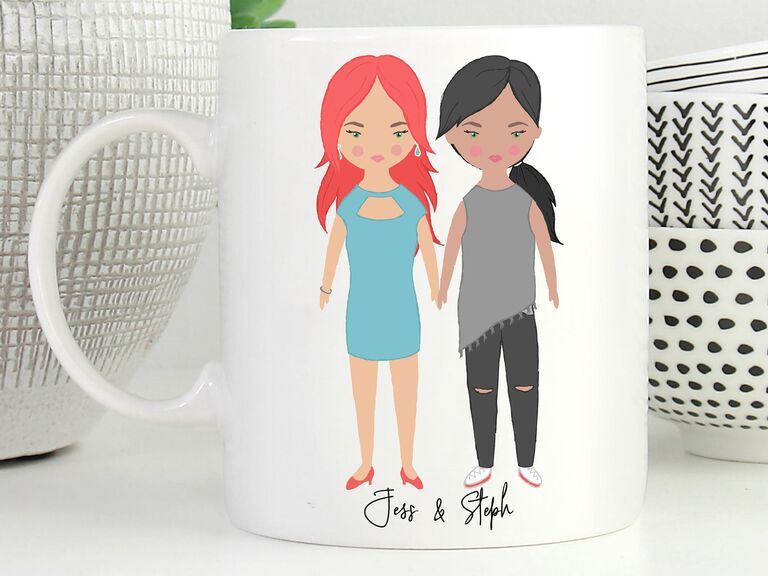 You don't have to break the bank to get your spouse a meaningful, personalized present. If your S.O. is the sentimental type, they'll love drinking coffee from a mug with a fun illustration of the two of you. It's a heartfelt reminder of the memories you've shared with each morning sip.
The Good Print Shop custom portrait mug, $21, Etsy.com
Romantic Preserved Roses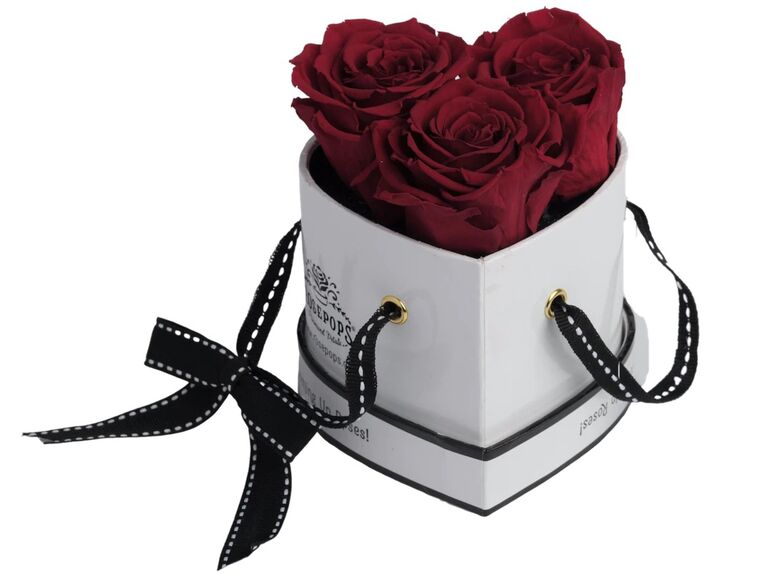 This one ticks the boxes for not one but two 15-year anniversary themes: roses and the color red. Preserved flowers might be a little more expensive than their fresh counterparts, but they're totally worth it. These pretty blooms will last for up to a year (yes, a year!) and they come in a romantic heart-shaped container.
Rosepops The Three's a Charm, from $85, Rosepops.com
Genius Outdoor Slippers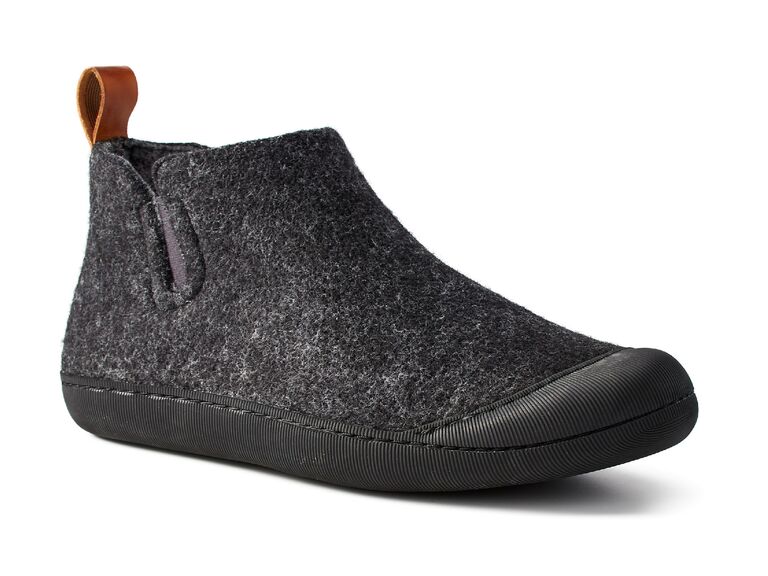 Upgrade your partner's WFH attire with this fashionable footwear they can wear beyond the bedroom. These incognito slippers are sturdy enough for short trips to the local café (and stylish enough to blend in with the rest of their outfit). Soft and breathable wool brings the comfort, while a grippy rubber sole and protective toe box add practicality. What's not to love?
Greys The Outdoor Slipper Boot, $108, Huckberry.com