15-Year Anniversary Gift Ideas for Him, Her and Them
In the blink of an eye, your (or their!) 15th wedding anniversary is here. While you come to terms with the fact that time has passed so quickly, start thinking about what you'll gift for this special milestone.
by The Knot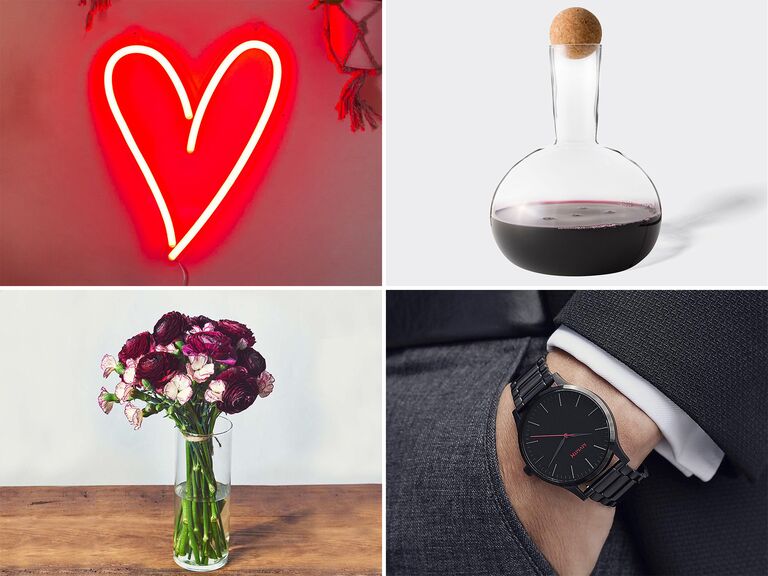 A 15-year anniversary is something to be proud of. So much can happen over a 15-year span, but you and your spouse made it through. Now, you get to celebrate this important milestone with the love of your life, which includes surprising them with a 15th anniversary gift—whether you stick to a traditional gift theme (crystal or watches) or get something more modern. The same goes if you're treating a couple in honor of their special occasion. The more thoughtful, the better. It's your lucky day, because we've done most of the thinking for you! Keep reading for all the 15-year anniversary gift inspiration you need. 
What is the 15-year anniversary gift?
Traditional: Crystal
Luckily, the traditional 15th wedding anniversary gift isn't as old-fashioned or hard to incorporate as some other years. Crystal has been associated with the 15th anniversary because it represents the sparkling love between you two, and it's clear to see by now that you're meant for each other. Crystal can come in many forms: You can give things like crystal jewelry or crystal home décor, but the traditional 15-year anniversary gift ideas don't stop there.
Modern: Watch
The more modern take on the 15-year anniversary gift is a watch. So honor the time you've spent together by gifting your loved one some new arm candy.
In this article: 
15-Year Anniversary Gift Ideas for Him
So you gifted your husband a gorgeous watch on the day of your wedding, and you know no great gift for him will incorporate crystal. Instead, go off the grid and get him something you know he'll love (hint: try gifting an experience). And it goes without saying, but we'll say it anyway—these gifts, and any other gifts in this roundup, can really work for anybody!