30 Awesome 11-Year Anniversary Gifts That Will Make Them Feel Loved
We've found the best traditional and modern presents to celebrate 11 years of marriage.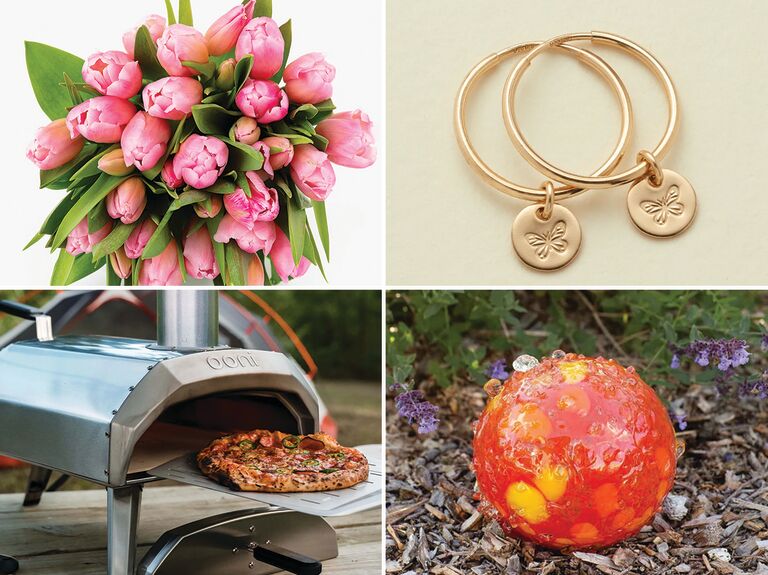 Photos, clockwise: Bloomsybox, Made By Mary, Uncommon Goods, Ooni
We have included third party products to help you navigate and enjoy life's biggest moments. Purchases made through links on this page may earn us a commission.
While the big milestone anniversaries tend to grab the most attention, every year of marriage is worth celebrating. If you and your partner or a special couple in your life have been married for 11 years, you're probably on the lookout for a great 11-year anniversary gift. We've put together a list of traditional and modern anniversary gifts to help you pick a thematic present, along with some alternative options that break the mold. Keep reading to find a meaningful 11-year anniversary gift for your husband, wife or favorite pair.
In this article:
Traditional 11-Year Anniversary Gifts
Traditionally, 11-year anniversary gifts are made from steel, a strong and durable metal representing the unbreakable bond a married couple shares. Steel is also fairly corrosion-resistant, making it a fitting tribute to a love that never dulls. Looking beyond the symbolism, this versatile and sturdy material makes for all kinds of awesome anniversary gifts, like kitchenware, wall art and cufflinks. Whether you're shopping for him, her or them, we're here to guide you toward a stunning steel anniversary gift.
Multipurpose Pan
If you and your spouse enjoy cooking together, this multipurpose pan from Our Place is a gift you'll both enjoy using. This super handy piece of equipment can be used to braise, sear, sauté, fry and boil, making it ideal for saving cabinet space and getting more comfortable in the kitchen. It's available in a wide range of colors and comes with a nesting wooden spatula and stainless steel steamer for added practicality. Once ordered, all you have to do is decide what to cook for a romantic anniversary dinner with your other half.
Multi-Fuel Pizza Oven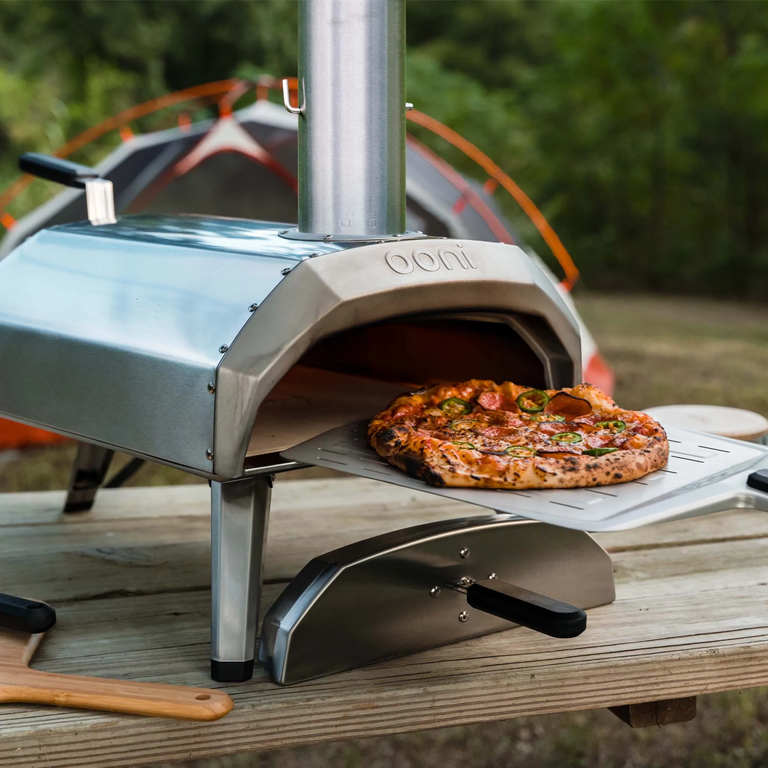 Surprise the pizza lover in your life with a highly-rated pizza oven from Ooni. This trendy appliance can be fueled by wood, charcoal or gas for authentic cooking with minimal effort. Once heated, it will crank out a cheesey, bubbly pizza in as little as 60 seconds. We predict this practical 11-year anniversary gift will become the go-to for fun date nights at home and summer pizza parties with friends.
Steel Haircare Holder
Does your spouse blow dry, straighten or curl their hair every morning? This steel haircare holder will help keep all their tools organized so they can say goodbye to tangled cords (and hopefully tangled tresses!). The best part? It looks like a leafy vine and mounts to the wall for a gift that's as pretty as it is practical.
Self-Cleaning Water Bottle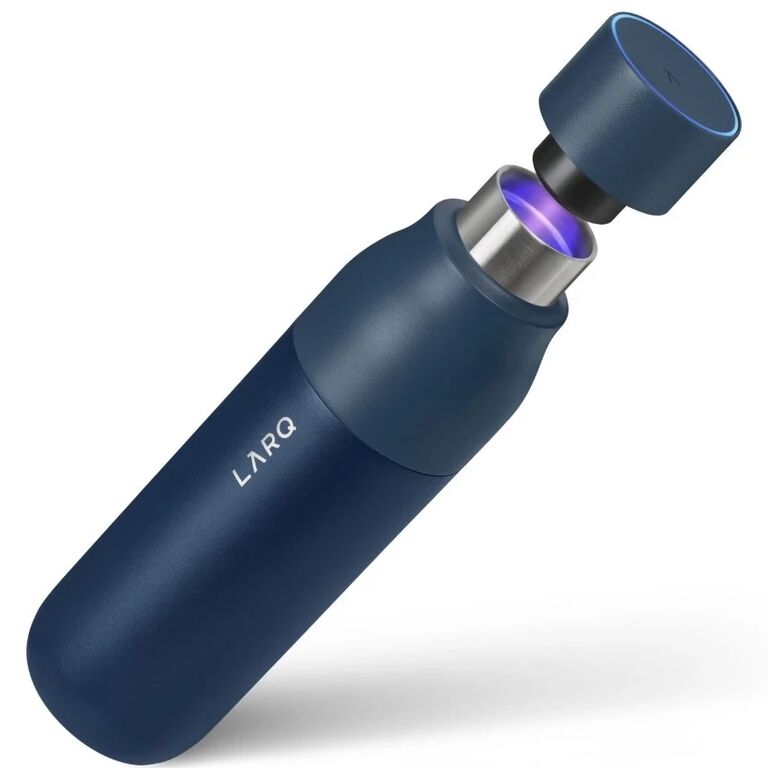 We all know that staying hydrated is important, but sometimes it's a struggle to remember to clean your water bottle. If your spouse has a habit of leaving theirs lying around, we've found the perfect solution in this smart stainless steel design. The self-cleaning and purifying technology eliminates harmful bacteria at the touch of a button, ensuring their drinking water is free from any nasties that may have built up during the day. Bonus: The bottle comes in five colors and can be personalized with your partner's name.
Steel Heart Wall Sculpture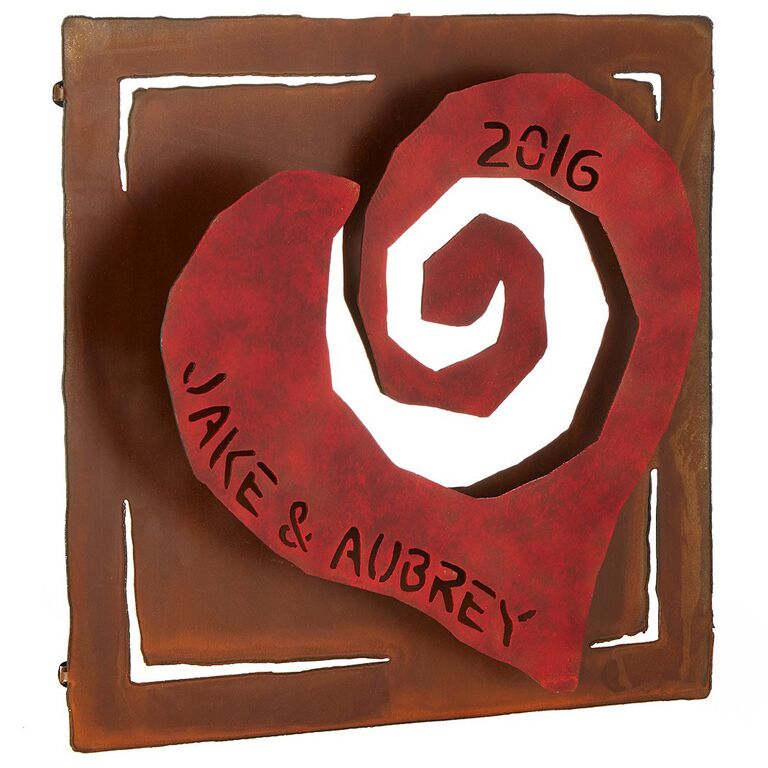 If you're looking for a sentimental gift for the 11th wedding anniversary, here's one that'll make your partner melt. This wall art is handcrafted from steel to depict a red spiral heart that pops off the copper-colored base. It's laser cut with your names and wedding year for a personalized anniversary gift that's super sweet. Just don't be surprised if your spouse wants to hang it up right away.
Horseshoes Lawn Game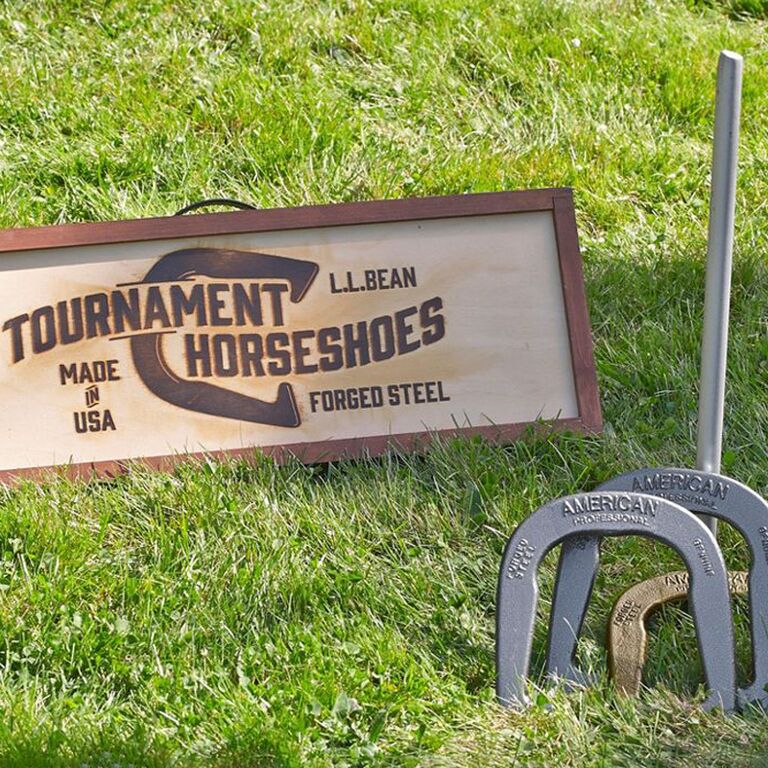 Steel anniversary gifts come in all shapes and sizes, and this horseshoe lawn game proves that. The horseshoes themselves are made from forged steel and come with a handy wooden case for easy carrying. This classic game is great for summer parties, barbecues and picnics and is sure to provide hours of entertainment. Whether you decide to play with your partner or a group of friends, you're bound to have lots of fun trying to hit the target.
Stainless Steel Cuff Links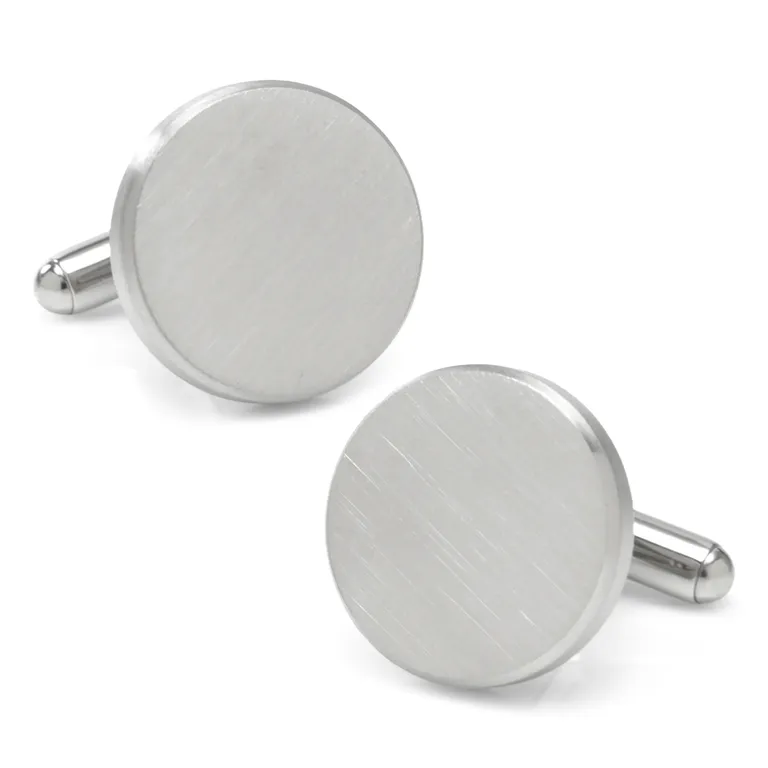 If your spouse likes to dress sharply, a pair of sleek cuff links will help them up their style game. These timeless accessories are made from stainless steel and are the perfect addition to any shirt or suit. We bet they'll want to put them on immediately—perhaps for a romantic night out to celebrate your 11th wedding anniversary.
Swiss Army Pocket Knife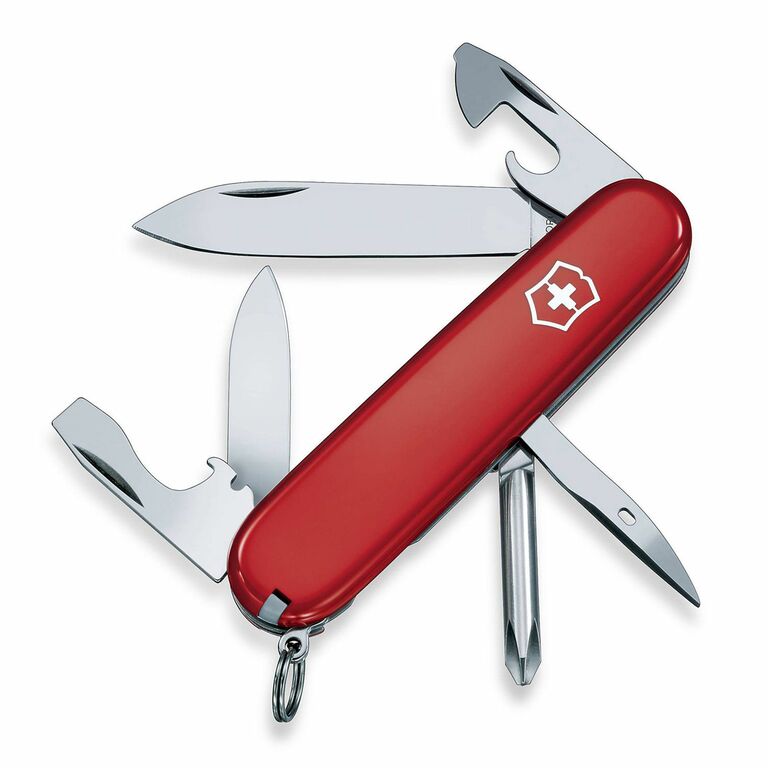 Steel lends itself to a bevy of useful anniversary gifts, which is great for a partner with a more practical outlook. This stainless steel Swiss Army knife features 12 handy tools that they can use to carry out daily tasks and odd jobs while on the go. With everything from a screwdriver to tweezers easily within reach, they'll be able to fix anything in minutes.
Steel Song Lyric Art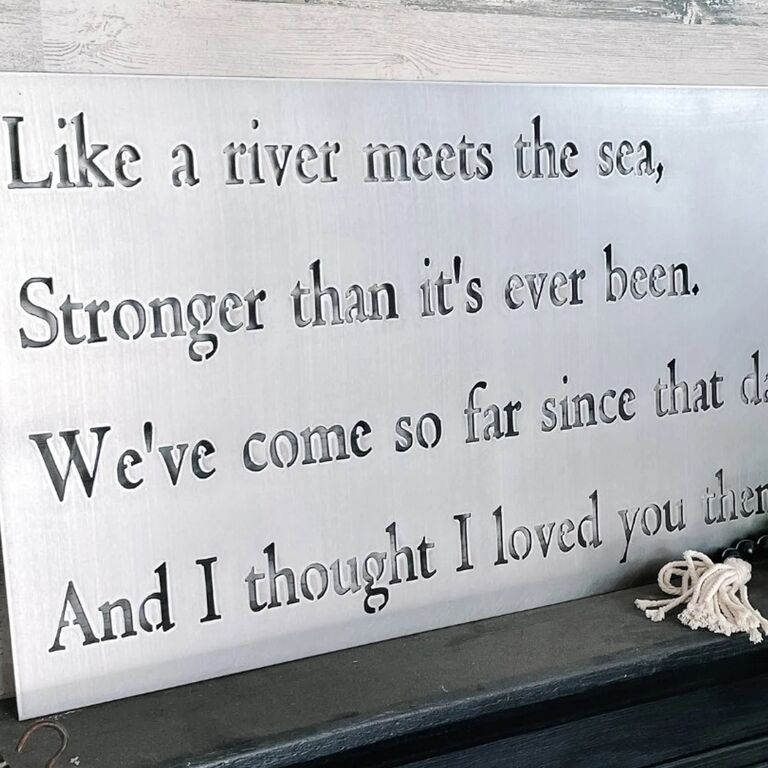 Relive your first dance all over again with this music-inspired 11-year anniversary gift. Made from raw steel, this metal wall art features the lyrics from your favorite song laser cut into the surface (you can also add your wedding date to personalize it even further). Don't be surprised if your spouse wants to serenade you or dance around the kitchen with this hanging in the background.
Steel Fire Pit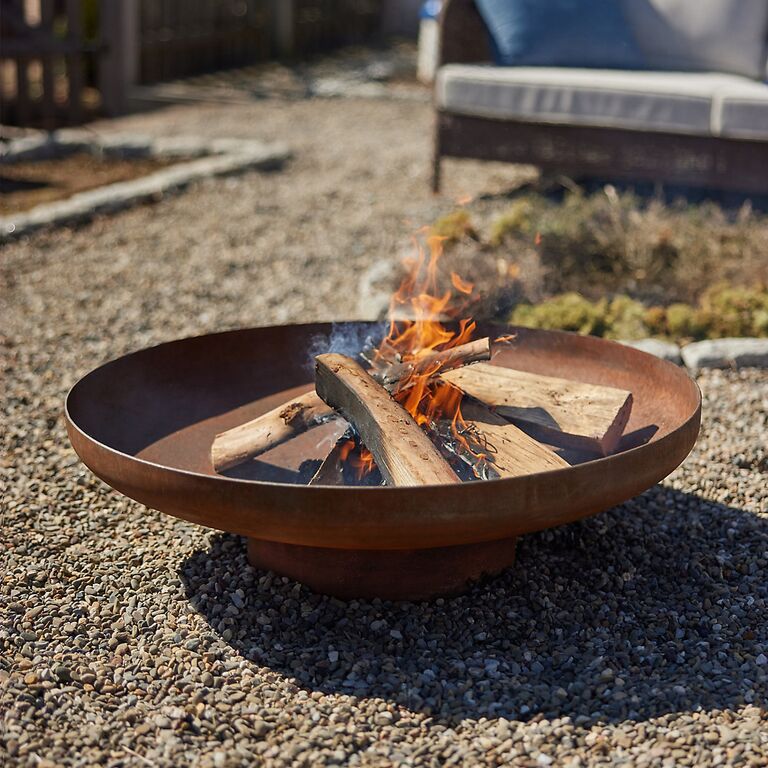 Warm your partner's heart and their backyard with this stunning steel fire pit. It's made from heat-resistant weathering steel and is suitable for burning untreated wood and logs. Once exposed to the elements, the steel develops a rust-like finish, bringing rustic charm to any patio or garden. Grab some marshmallows and reconnect with your sweetheart around the cozy fire.
Modern 11-Year Anniversary Gifts
If you have a stylish spouse to shop for, you'll be delighted to know that the modern 11-year anniversary gift is fashion jewelry. This theme represents the fun and joy life partners experience in a long and happy marriage. It also allows you to be super creative in picking out a present your partner will love. Keep their favorite colors, trends and styles in mind while reading through our gifting roundup for inspiration.
Turquoise Beaded Necklace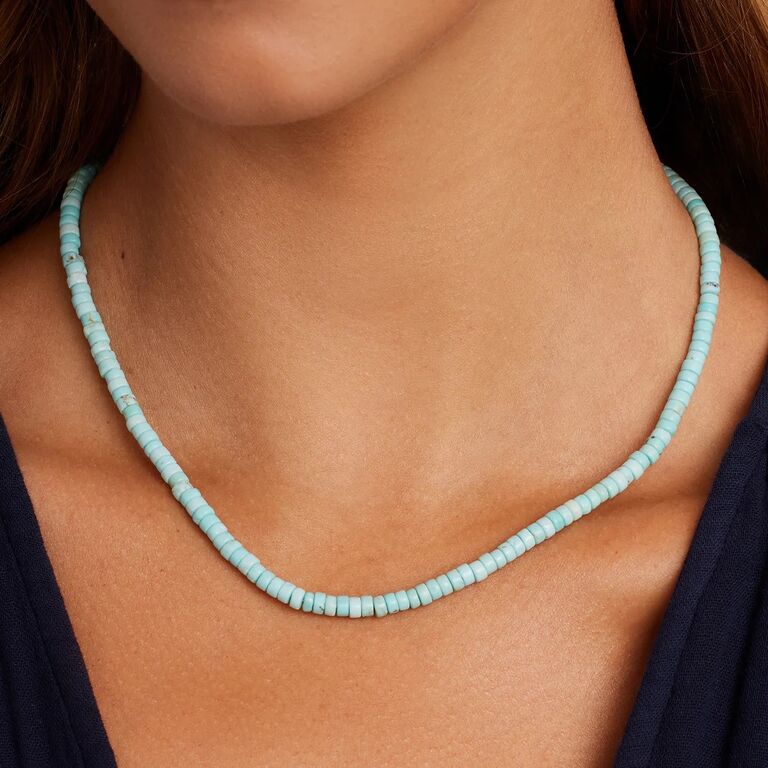 Add a little color to your spouse's jewelry box with this ocean-inspired necklace. Its small turquoise beads give off beachy vibes and remind us of long sunny days by the ocean. Even if the weather doesn't play ball, they'll still look the part with this cute accessory. They can layer it with gold or silver jewelry to add a pop to any outfit.
Personalized Hoop Earrings
Fashion jewelry doesn't always have to tie in with the latest trends—it can also be personalized to the wearer. These stamped hoop earrings from Made by Mary are available in various designs, including birth flowers, plant and animal motifs and cute hearts. To really impress your spouse, choose the month you got married as a sweet token of your love.
Star Sign Ring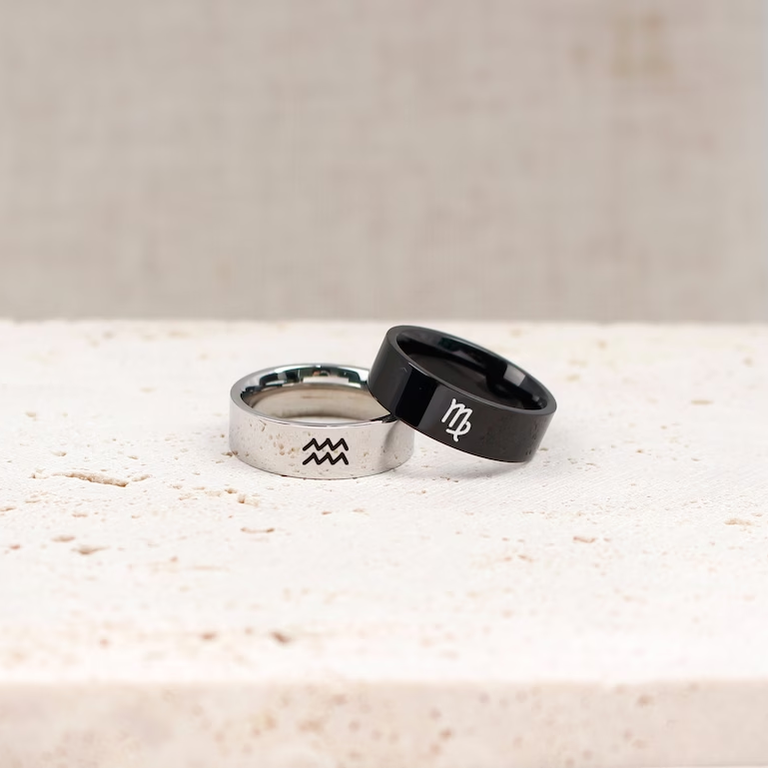 They say true love is written in the stars, and we couldn't agree more. If your spouse likes to read their horoscopes regularly, this star-sign ring will bring a twinkle to their eye. It's made of stainless steel and is available in silver, gold, rose and black. Have it engraved with their sign, name or a sweet message for a thoughtful (and very on-theme) 11-year anniversary gift.
Leather Bracelet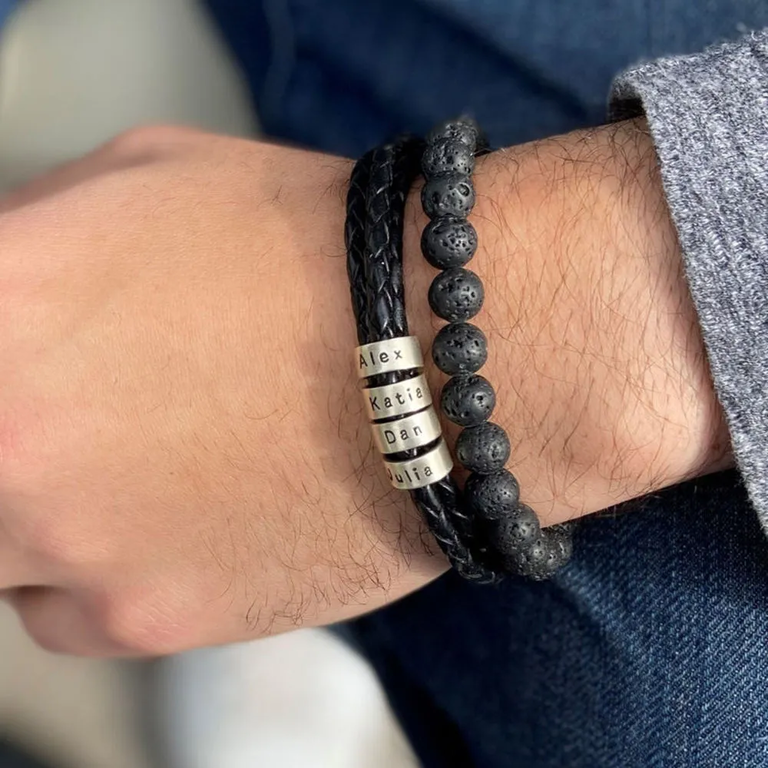 A personalized leather bracelet is a great pick for someone who prefers their jewelry to look a little rugged. This gorgeous band is made from braided leather with customized silver or gold beads. Have them engraved with your other half's initials or a heartfelt message to make this wrist candy anniversary-worthy.
Stylish Ear Cuff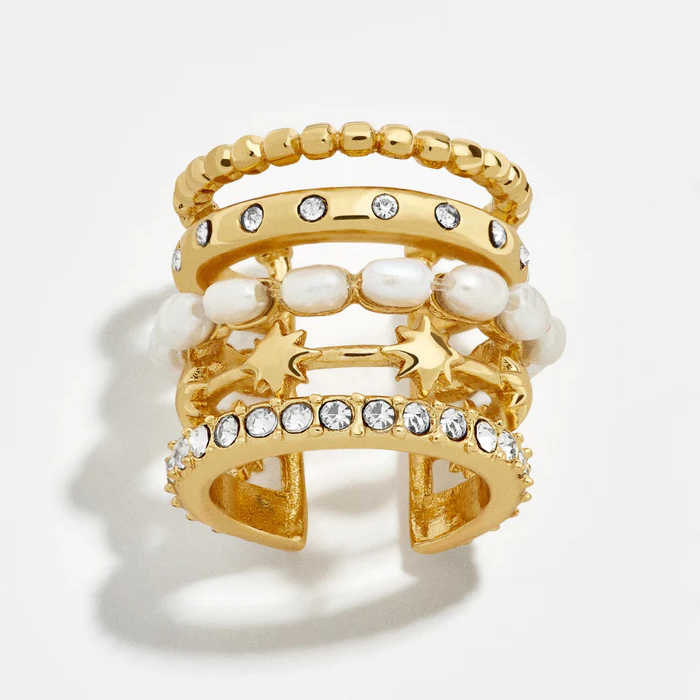 If your partner likes accessories with a bit of an edge, a stylish ear cuff is an 11-year anniversary gift they may not expect (but will certainly love!). With rows of gold, pavé and pearls, this glamorous accessory will make them feel like a million dollars. The best bit? The cuff simply clips onto the ear, so it's great for anyone who doesn't want to commit to a real piercing.
Recycled Plastic Watch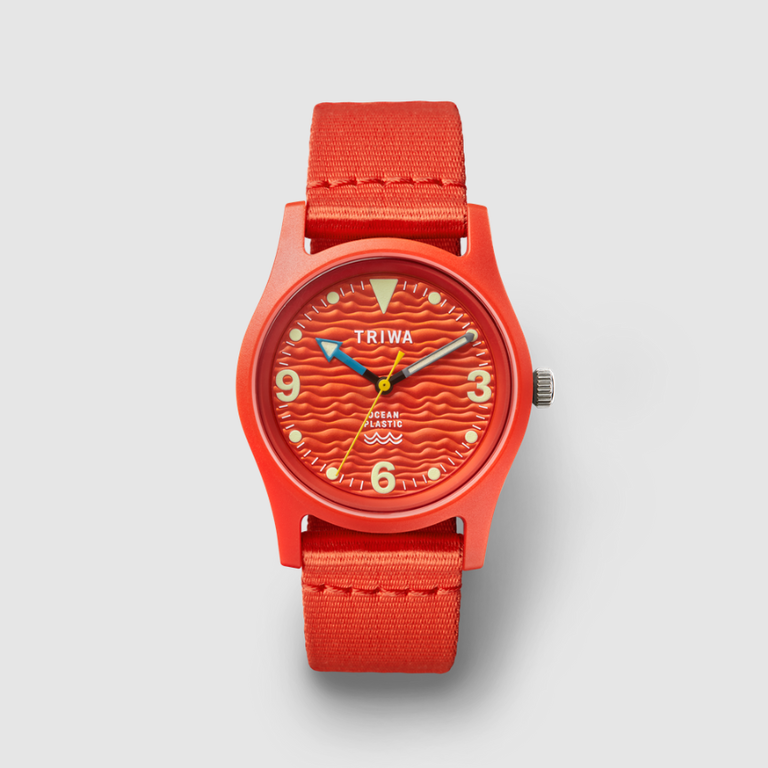 If they're not into jewelry, then they might appreciate the stylish practicality of this sleek watch. Not only does it look super cool, but it's also consciously made from recycled ocean plastic. It's available in eight colors, including neutral shades and punchy brights. This wrist candy is a fantastic 11-year anniversary gift for a sustainably-minded spouse who wants to look good while helping the environment.
Sparkly Designer Earrings
Is your spouse drawn to shiny and sparkly things like a magpie? If so, they'll love these fun and fashionable earrings from Kate Spade. The square studs feature multi-colored glitter in glass set in mixed metal. They're ideal for adding a splash of color to any outfit, whether it's for a fun party with friends or a romantic dinner with you.
Wooden Interlocking Bangles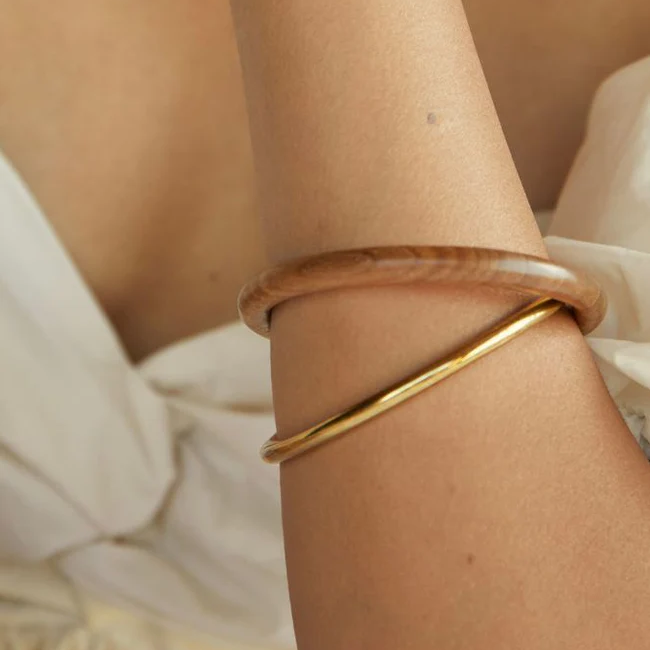 When we think of fashion jewelry, an elegant bangle is one of the first things that springs to mind. These interlocking teak and gold-plated brass bracelets are the epitome of minimalistic chic and are guaranteed to score major points with your stylish spouse. Best of all, they're designed and made using sustainably sourced wood and traditional artisan techniques.
Short Pendant Necklace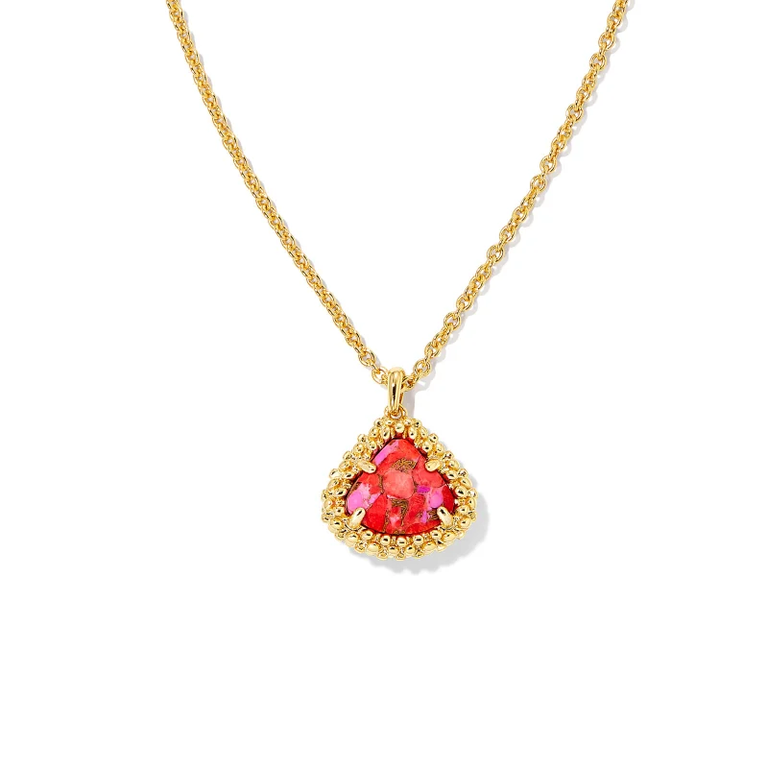 Embracing color is a fun way to update your spouse's jewelry collection, and this vibrant pendant from Kendra Scott is sure to turn a few heads. It's made from 14K gold-plated brass and features a red and magenta magnesite stone that screams romance. We're sure your partner will be dazzled by this gorgeous and thoughtful 11th anniversary gift.
Crystal Stone Necklace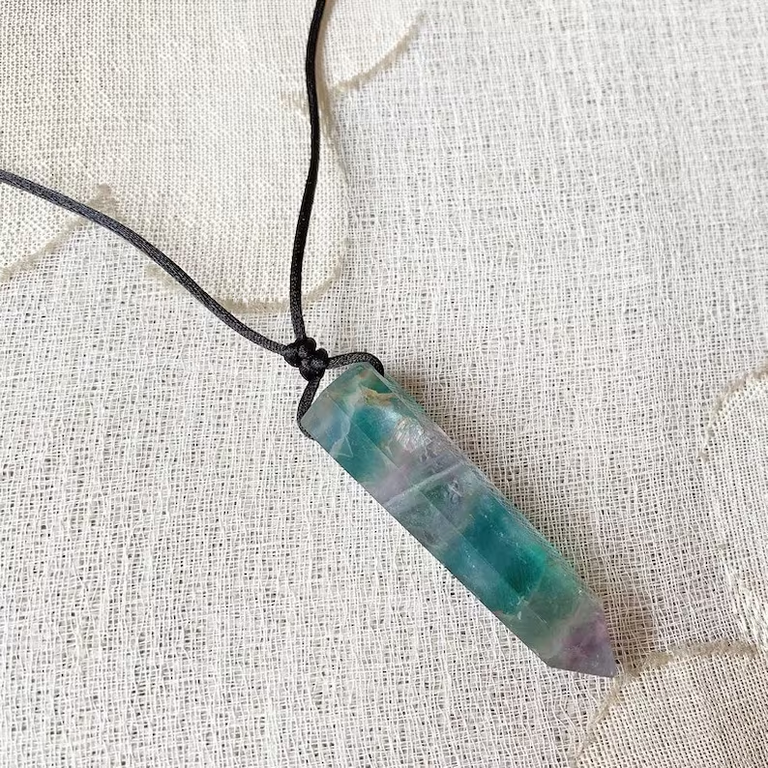 If you're gifting a spiritual spouse, you may not immediately think of fashion jewelry as a suitable 11-year anniversary present. We're here to convince you otherwise with this handmade crystal stone necklace. Your chosen gemstone comes as a beautiful pendant hanging from a black cotton cord, creating a piece of jewelry that's both thoughtful and fun to wear. Choose from a selection of eight crystals, including rose quartz, which signifies trust and universal love (aw!), and lapis lazuli, which is said to bring peace and understanding to the wearer.
Unique 11-Year Anniversary Gifts
You don't have to keep to the traditional and modern gifting themes to find a meaningful or romantic gift for your other half. The 11-year anniversary has other symbols associated with it, including a flower (the tulip), a gemstone (turquoise) and two colors (turquoise and yellow). Tulips flourish in spring and are associated with feelings of joy and enthusiasm, while the turquoise stone represents prosperity and hope. Yellow and turquoise are both uplifting shades suitable for honoring a healthy and positive relationship. If you're still not sold on getting them a themed present, that's ok too. We've found some really unique 11-year anniversary gifts to help you think outside the (gifting) box.
Tinted Wine Glasses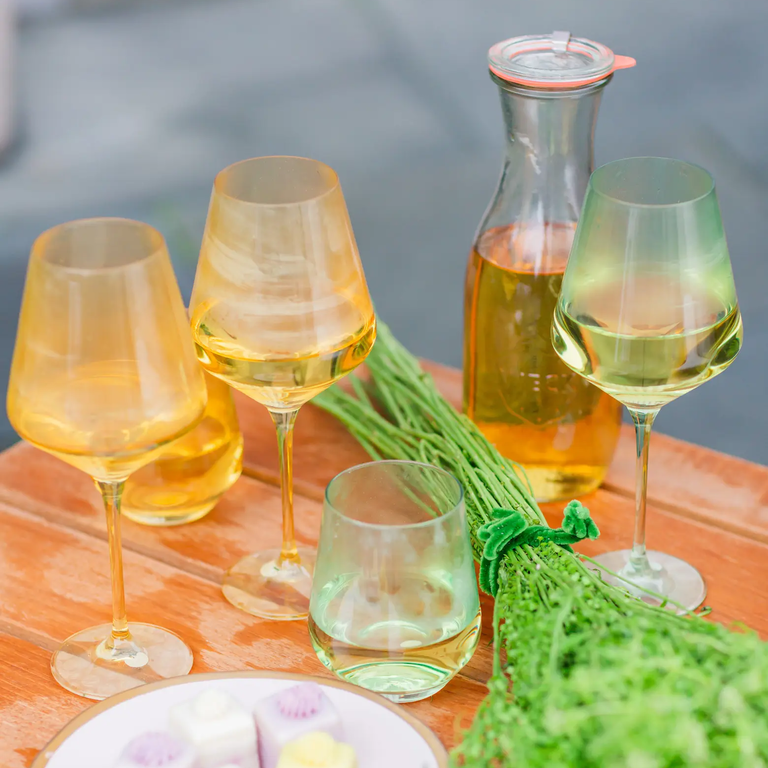 Colored glassware is really on-trend these days and is an easy way to update your homeware. If you and your spouse like to kick back with a glass of wine, these tinted glasses will instantly liven up your preferred nightcap. They're hand blown in Poland and come in two colors: lavender and yellow, which is one of the 11-year anniversary colors. Pair this set of six with your favorite bottle of anniversary-worthy wine and let the celebrations begin.
Romantic Connection Cards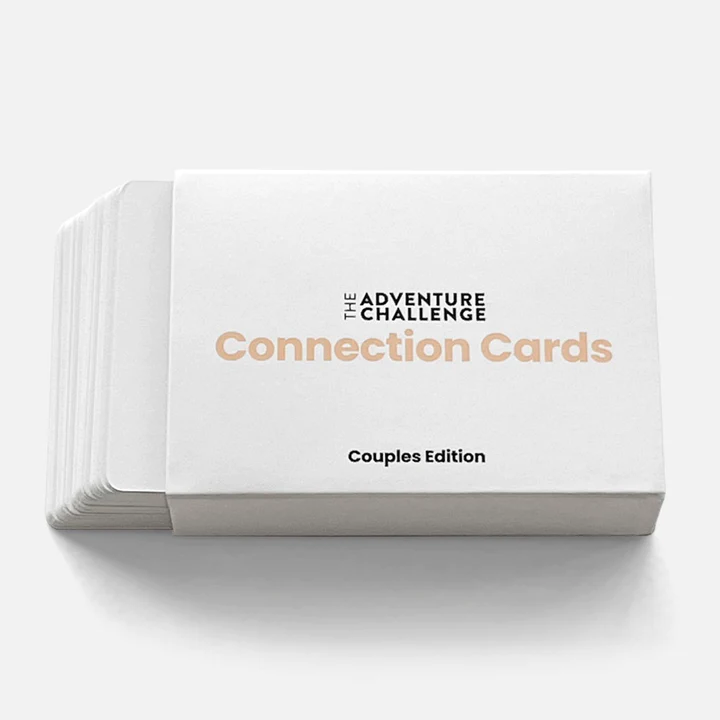 It's easy to fall into the same predictable date night routine when you're both busy with life. These connection cards from the Adventure Challenge are just what you need to reconnect with your partner and spark some intriguing conversations. The pocket-size deck is easy to carry around, so you two can have fun and flirty chats wherever and whenever the mood strikes. Use the code THEKNOT10 to get 10% off your purchase.
Indoor Smart Garden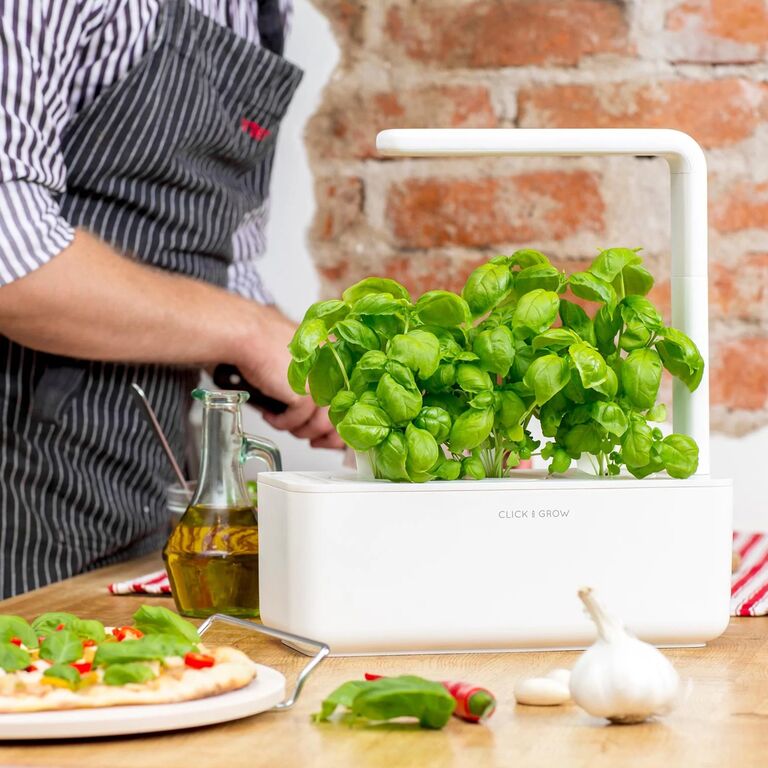 If you're on the hunt for a unique 11th anniversary gift for your S.O. or favorite pair, you can't go wrong with one of Click & Grow's innovative indoor gardens. It's an ideal present for seasoned gardeners and novices alike and comes with everything they need to grow fresh herbs, vegetables and flowers. Smart technology automates watering, light and nutrients for a super-easy gardening experience. This set comes with three basil pods, but you can also purchase over 75 different plant pod varieties.
Custom City Glasses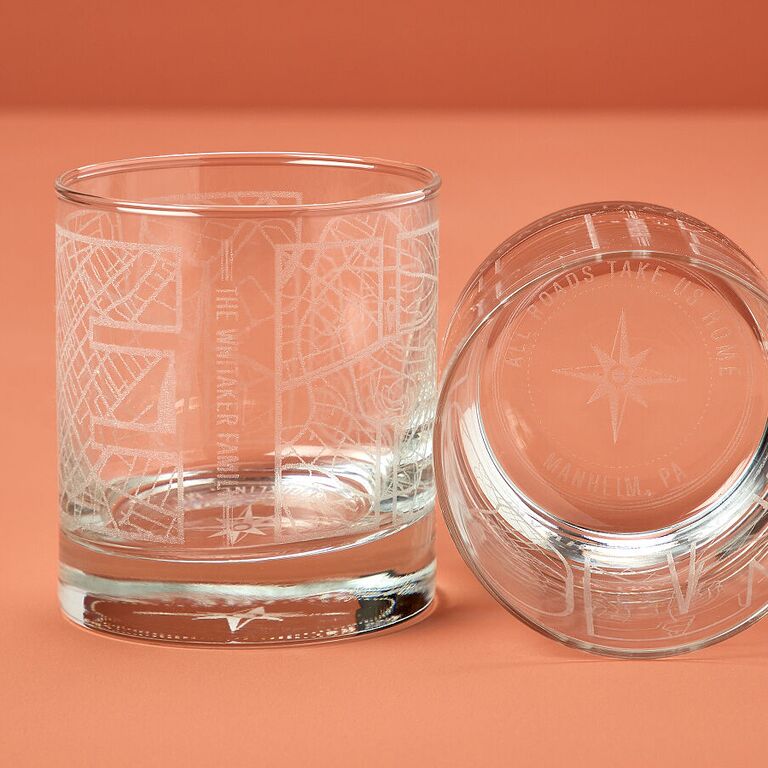 Any city block you and your partner call home can be engraved on these glass tumblers. Maps of your chosen location spell "home" to create a cool 11-year anniversary gift that's both trendy and meaningful. Every time you two sip your favorite beverage, you'll be reminded of the happy life and home environment you've built together.
Tulip Bouquet Delivery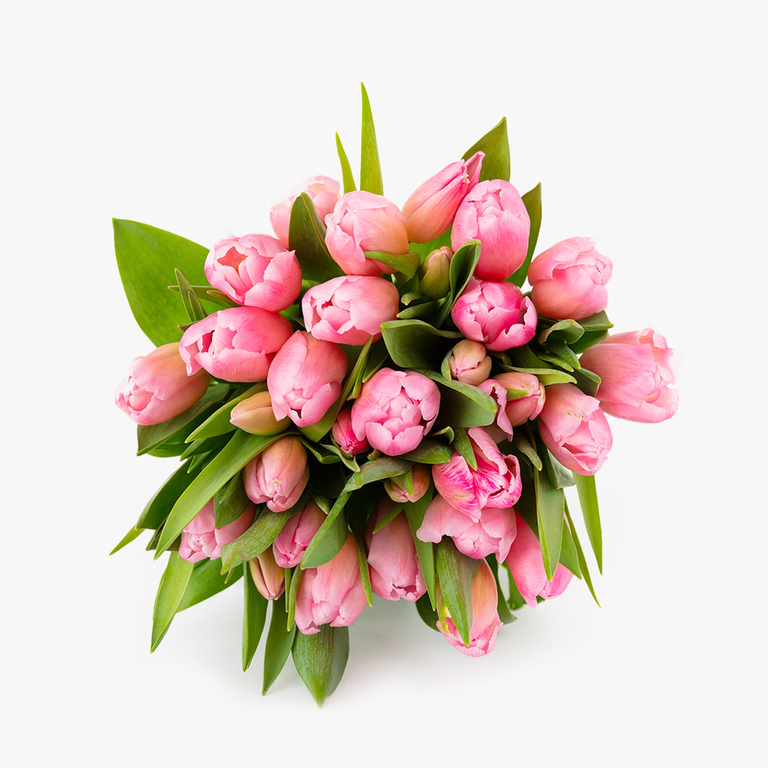 A bouquet of flowers will always be well received, especially if your spouse loves traditional displays of romance. Our suggestion? Take inspiration from the 11th anniversary flower and have a beautiful arrangement of tulips delivered right to their door. Tulips are associated with feelings of joy and love, with the pink variety signifying good wishes and affection to those who receive them. We bet your partner will have a spring in their step once they open up this pretty bunch.
Custom Tree Ring Art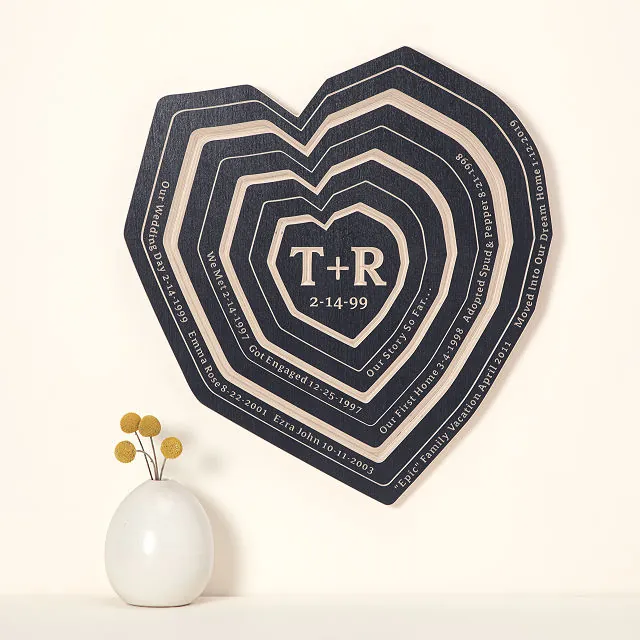 Display every relationship milestone you and your partner have shared with this personalized wooden wall art. Shaped like a heart, but fashioned to look like the concentric circles of a tree, your initials are carved in the middle with eight notable moments added as rings. Think: the year you met, your wedding day and, of course, your 11th anniversary. You can choose from two sizes to showcase your unique love story.
Turquoise Earrings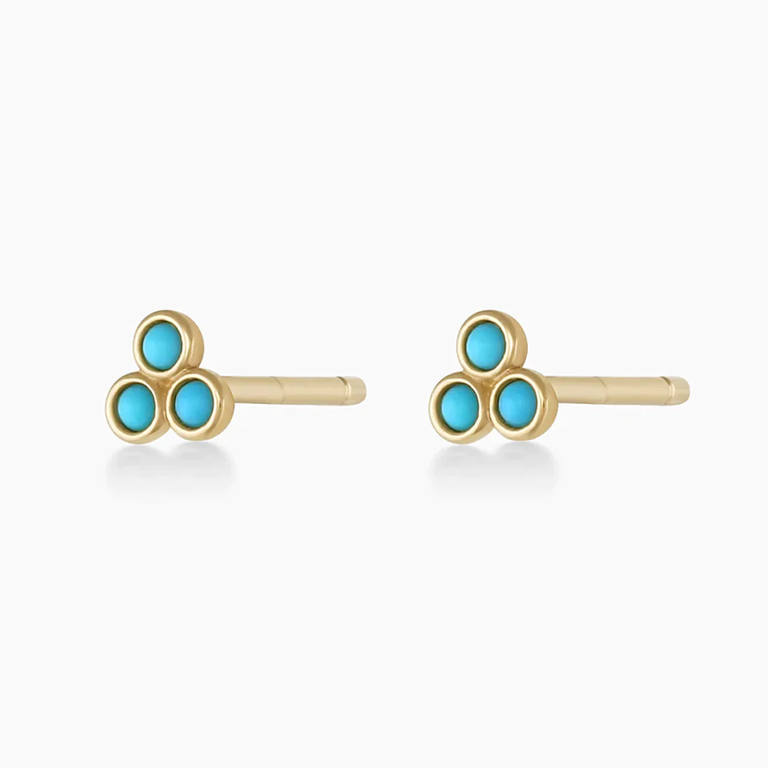 While we've already covered jewelry, this 11-year anniversary gift takes inspiration from the associated gemstone, which is turquoise. This vibrant gem is thought to bring good luck and prosperity to the wearer. These dainty stud earrings combine 14K gold with genuine turquoise stones and are likely to put a big smile on your partner's face.
Bee Drinking Ball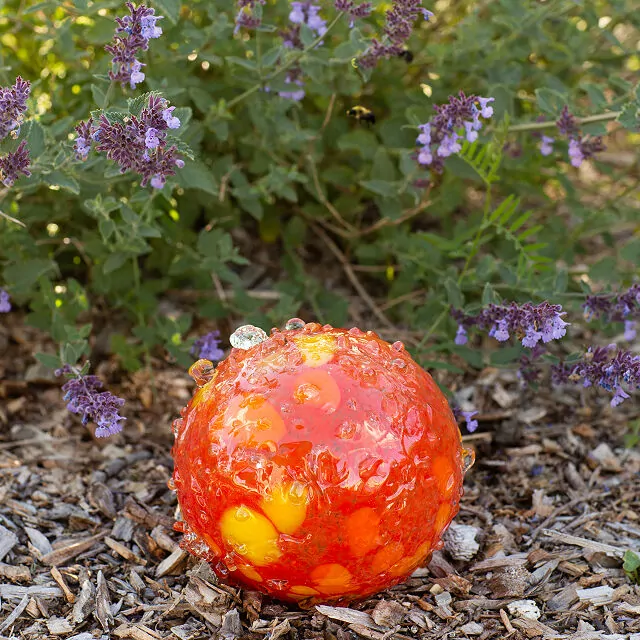 Surprise the gardener in your life with this truly unique (and practical) 11-year anniversary gift. Bees need drinking water to survive (who knew?), and this little glass ball is designed to capture every last drop for busy pollinators. Its textured surface holds water, creating a shallow pond that's not too deep for them to sip from. A gift that looks great in the garden and helps save the bees—now that's going to create a buzz!
Drinks Cooler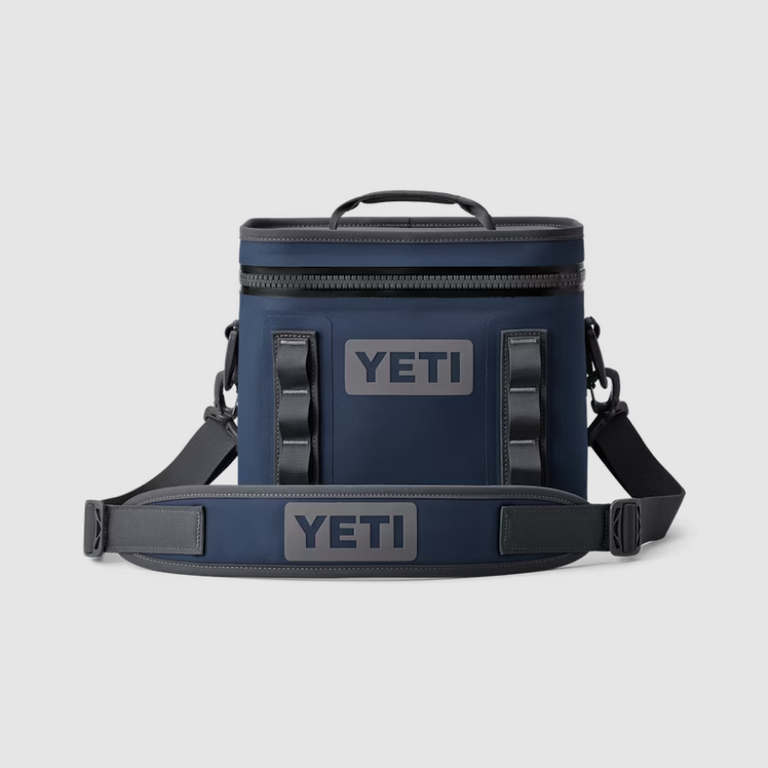 Whether they take regular hiking trips or annual camping vacations, your spouse or favorite couple will love this handy drinks cooler. Designed to keep drinks secure and nicely chilled, it boasts enough room for up to eight cans of soda or beer. The shoulder strap makes it easy to carry, while the full zipper enclosure keeps the contents secure while on the move. Up the ante and fill it with their favorite canned beverages to get them in the party mood.
LEGO Succulent Set
LEGO kits for adults have soared in popularity recently, proving these bright little bricks are not just for kids. If your spouse loves to build things with their hands, this seriously cool set will inspire them to embrace their inner child. It includes all the pieces they need to create nine colorful "succulents" to display in their home office or living room.