20 Camo Wedding Dresses for the Outdoorsy Bride
Looking for a camo wedding dress? We've got all the info you need to find the camo dress of your dreams.
by Libby Maccarthy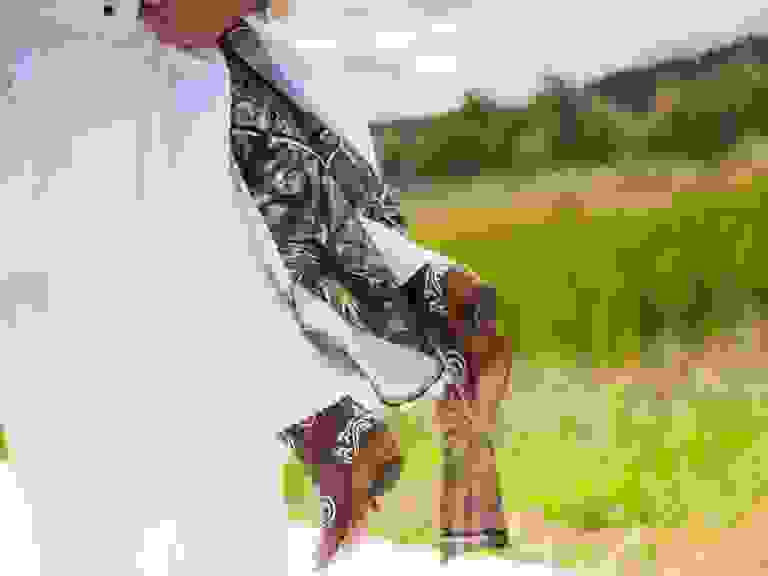 Every bride wants to look beautiful on her wedding day, but that doesn't mean you have to follow tradition (lace isn't for everyone after all). If blending in isn't quite what you had in mind, this is the perfect time to show off your sense of style, because no one wants to look back at their wedding photos and think, "That was so not me!" And if you're a little more country girl than debutante, we say ditch the traditional big white dress altogether and opt for something a little more outside the box—we're talking bold prints and unexpected color. Think: camo wedding dresses.
Whether you've been dreaming of walking down the aisle in our favorite Realtree camo pattern for years or have been toying with the idea of throwing a camo-chic shindig, adding a little camo into the mix is sure to make for a one-of-a-kind wedding. But camouflage wedding dresses aren't the only way to incorporate this favorite print—from camo bridesmaid dresses to camo heels and wedding rings, the options are endless. Don't know where to start? We've got you covered. Keep on reading for all the must-know info to help you walk down the aisle in camo formal style.
A Quick Camo Overview
Before we get to the camo wedding dresses, start thinking about the type of pattern you want for your dress. From snow camo to Realtree camo and everything in between, there are almost as many camo patterns as there are shades of white. Below are some of the most common camo patterns available.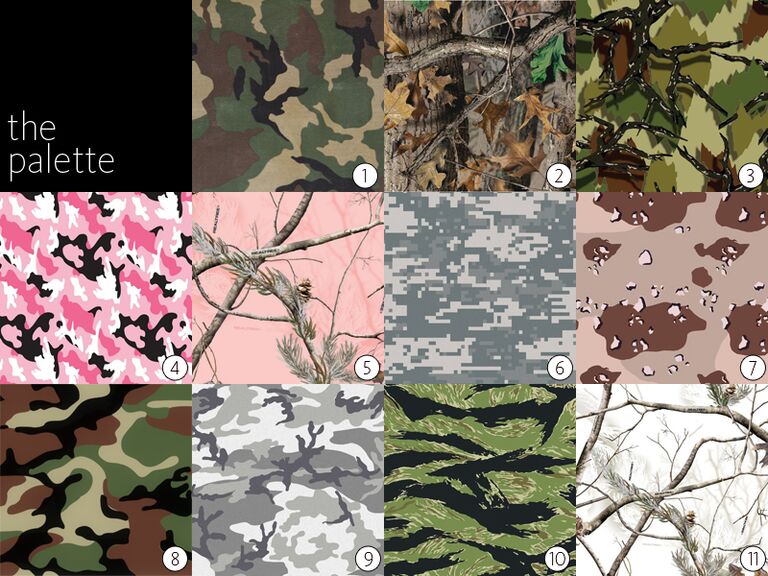 Hunting Camouflage
Hunting camouflage is used by hunters to blend into their surroundings by mimicking a specific type of environment. This type of camouflage uses earth tones as the base color overlaid with images of tree branches, leaves and other types of vegetation, although other colors, like pink and orange, are common as well. Hunting camouflage is a common camo wedding dress fabric.
Military Camouflage
Unlike hunting camouflage, which is characterized by complex and detailed images of vegetation, military camouflage uses intricate patterns and color combinations to render the wearer invisible or difficult to detect.
1. Army Camo
Army camo can refer to two very different styles of camouflage. There's a more traditional concept of camouflage, which is actually woodland camo and the original camouflage used by the armed forces (see description above). It can also refer to the digital camouflage pattern currently used by the military. This camo pattern is characterized by a series of seven colors, earth tones ranging from cream to olive and dark brown, organized into a pixelated design.
2. Realtree Camo
Realtree Camo is a popular brand hunting camouflage known for its wide range of patterns that have a unique, three-dimensional appearance and mimic a variety of different terrain.
3. Predator Camo
Like Realtree camo, Predator camo is a brand of hunting camouflage. Instead of three-dimensional patterns, predator camo uses an open pattern technology, making it difficult to focus on your figure. The patterns are designed for a range of different outdoor environments and are characterized by bold, irregular layering of images of leaves, branches and other vegetation.

4. and 5. Pink Camo
For camo that feels distinctly feminine, but still edgy, pink camo is perfect. From 3-D graphic patterns with realistic vegetation to the the classic woodland style, almost every camo pattern on the market comes in a shade of pink.

6. Digital Camo
Digital camouflage is a modern camo pattern designed using computer algorithms to generate micro- and macro-patterns that have a pixelated appearance. The Universal Camouflage Pattern, the official camouflage of the US armed forces up until 2014, is an example of digital camouflage.

7. Desert Camo

Made to blend into the desert landscape, this type of military camo uses what is known as a chocolate chip or six-color desert pattern. The base of the desert camouflage pattern is a light tan overlaid with broad swathes of pale green and two-tone bands of brown. Clusters of black and white spots are scattered throughout the pattern and are intended to mimic the appearance of pebbles and their shadows. This style of camo is less common in day-to-day life than many of the other camo patterns.
8. Woodland Camo
The most quintessential of all camo patterns, when you think camo, this is probably what you envision. Woodland camo has become fairly mainstream and is the go-to camo pattern for the fashion industry. This type of camouflage uses a four-color, high-contrast, disruptive pattern with irregular markings and earthy neutral tones (sand, brown, green and black) derived from nature. Woodland camo was originally used by the US armed forces between 1981 and 2006.

9. Urban Camo
As the name would suggest, this type of camo is made to mimic urban terrain. Used more in fashion than out in the field, especially in menswear, urban camo has the same high-contrast disruptive pattern as woodland camo, substituting shades of gray and black for woodland's green and brown hues.
10. Tiger Stripe Camo
With a pattern closely resembling tiger stripes, from which it earns its name, tiger stripe camo is designed for dense jungle environments and was used by the US during the Vietnam War. The pattern comprises overlapping brush strokes in shades of green, brown and black that mimic those found on a tiger.

11. Snow Camo
Designed for snowy landscapes, snow camo has a white base as opposed to more traditional camo styles, which use green or brown hues to form patterns. Like other camo patterns, snow camo incorporates seasonal (winter) vegetation into the foreground, such as branches, sage and leaves in lighter, more muted tones. The white color makes it a popular choice for wedding dresses, especially for brides who want to stand out without veering too far from tradition.


Camo Wedding Dresses
Now that you're familiar with all the various types of camo on the market, it's time to go shopping.
Once you've decided to take the camo wedding dress plunge, there are a couple things you'll need to consider. Fit and style are hugely important when choosing a wedding gown, but a bridal consultant will be able to help you discover the cuts and fabrics that are most flattering for your figure. If you plan on buying your dress from an online retailer, we recommend visiting a salon beforehand to get measured and try on a few dresses to familiarize yourself with the fit, feel and look of different fabrics and styles. If you don't have a bridal salon in your area that carries camo wedding dresses, see if the designer you plan on ordering from can send you a sample before you make your purchase. Fit and design vary from one designer to another, so what you try on at a salon might be different from what you order online, even if they appear to be similar.
Beyond fit and silhouette, it's all about the details. What that means for you is choosing a camo pattern you love and deciding on just how much of the print you actually want to wear. Can't get enough camo? Go for a ball gown with a Realtree camo overlay. Looking for something slightly more subtle? Traditional white wedding dresses with camo detailing, like front inserts or camo trains, are for you. Or, you can save the camo for the reception and go classic for the ceremony and then slip into a fun and flirty camo dress for the after-party.
Pink Camo Wedding Dresses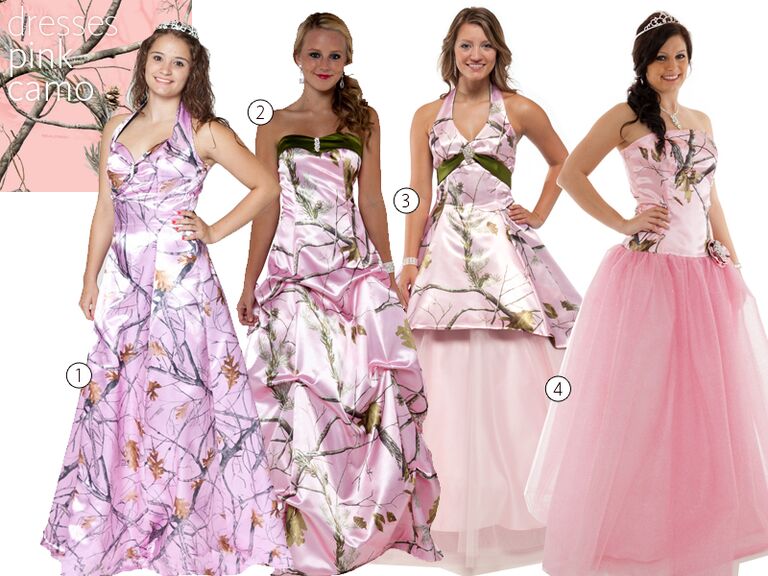 Brides looking for camo that feels both flirty and feminine will find it in pink camo. Mossy Oak, True Timber and Realtree Pink Camo are the most commonly used patterns and come in a light pink hue. Looking for a more military-inspired style? Talk to your local bridal salon about a custom creation or adding camo accents to your gown.
1. Shelby A-Line, Pink Snowfall from Camo Formal
Simple and sleek, this A-line gown by Camo Formal is for the bride who wants a camouflage wedding dress that feels fresh and modern without totally ditching tradition. The dress has a sweetheart halter neckline and is made with Realtree Pink camo bridal satin, although it can also be made in the camo pattern of your choice. A sash or lace-up back detail can be added for a more personalized touch. 
Shop it: Shelby pink camo A-line halter dress, $295, CamoFormal.com
2. Gabby A-Line, Pink Realtree from Camo Formal
With pickups and a rhinestone accented hunter green sweetheart neckline, this elegant strapless A-line gown in Realtree Pink camo satin reminds us of the beautiful ball gown worn by Belle in Beauty and the Beast—only better! This classic pink camo wedding dress is available from Camo Formal, where it can be customized totally customized to fit your personal style. 
Shop it:  $445, CamoFormal.com
3. Olivia Ball Gown, AP Pink Realtree from Camo Formal
This halter style ball gown by Camo Formal is fit for a queen. Bridal satin in Realtree AP Pink Camo is laid over an airy circle net ball gown skirt for a unique contrast that feels elegant and feminine without losing its woodsy charm. The skirt can be removed for the reception so you can dance with ease without having to invest in a second dress. Like all Camo Formal gowns, this dress can be made customized with any of the other available fabrics to create a unique look. 
Shop it:  $675, CamoFormal.com
4. GNFR Ballgown, AP Pink Realtree from Camo Formal
If you loved the style of Kaley Cuoco-Sweeting's bubble-gum pink wedding gown, we think you'll fall head over heels for this camo dress. This classic ball gown boasts a Realtree Pink Camo strapless bodice, which flows into a full glitter net skirt in a vibrant shade of rose. Available at Camo Formal in all camo patterns and glitter net colors. 
Shop it:  $495, CamoFormal.com
Snow Camo Wedding Dresses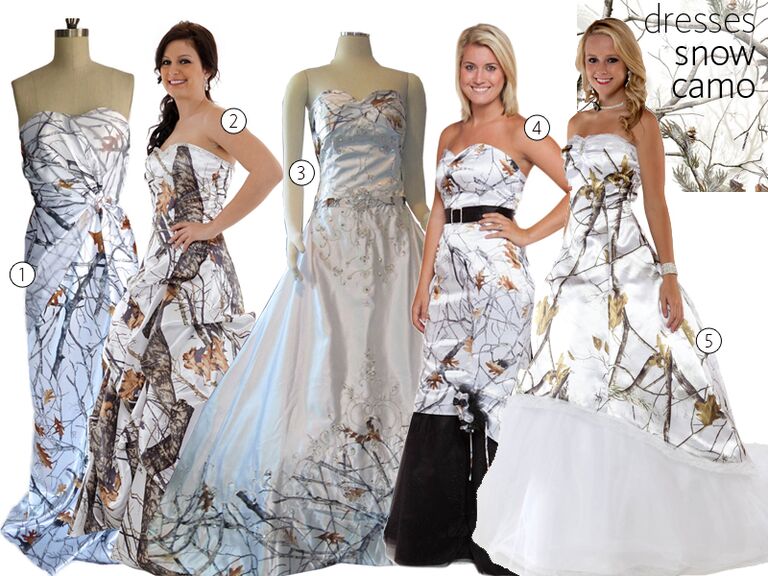 Snow camo is a popular choice for brides going the camo wedding dress route because of its white color, making it more in tune with traditional wedding gowns. Whether you decide on a total camo look or a few camo accents, snow camo is a stunning choice that will allow you to express your style without totally kicking tradition to the curb.
5. Sheath Snow Camo Dress, Miller Bridal
A camouflage wedding dress can be totally glamorous, and this custom creation from Miller Bridal in Michigan proves it. This stunning strapless sheath gown uses True Timber Snowfall satin camo, flattering folds, a subtle slit and train to create an elegant, timeless look that evokes the glamour of old Hollywood. 
Shop it: Price upon request, MillerBridal.com
6. Bobby Jean Strapless Pickup Skirt, Winter, Camo Formal
Rhinestone trim along the sweetheart bodice and a cascade of pickups add a glamorous touch this classic A-line gown in Realtree AP Snow camo. Pair it with delicate white gold or silver chandelier earrings for an extra hint of shimmer. For a little something extra, Camo Formal can add a color sash to the gown—perfect for highlighting your waist. 
Shop it:  $410, CamoFormal.com
7. Anita, Snow Camo, A Touch of Camo
If the dress of your dreams isn't necessarily head-to-toe camo, a wedding dress with camouflage accents like this one from A Touch of Camo is for you. An A-line gown in ivory is utterly classic, but True Timber Snowfall camo accents at the neckline and hem and delicate embroidery bring the gown to life. A simple camo sash and corset back complete the look. 
Shop it: Price upon request, ATouchOfCamo.com
8. Giselle, Snow Camo Mermaid, Camo Formal
A mermaid-style gown is it for girls wanting to show off or highlight their figure. So if you're looking for something a little bit sexy, consider this body-skimming style from Camo Formal. The bright white of the True Timber Snowfall camo gives the dress a classic bridal look, while exposed black tulle feels fresh, modern and a little bit sassy. The camo pattern, tulle and sash colors are totally customizable. Don't want to go strapless? They'll add custom straps to the gown too. 
Shop it:  $455, CamoFormal.com
9. Realtree Camo Wedding Gown
You'll be ready to reign in this snow- white number, one of the most beautiful snow camo wedding dresses we could find. An asymmetric satin overlay in Realtree AP Snow camo gives way to a full tulle cathedral train that's perfect for making a dramatic entrance—we promise all eyes will be on you. The best part of this camo dress? It does double-duty. It can be worn with or without a bridal slip, meaning you can have that classic bridal look for the ceremony and then switch things up for the reception, plus that high-low hemline is totally on trend! 
Shop it: $565, Realtree.com
Classic Camo Wedding Dresses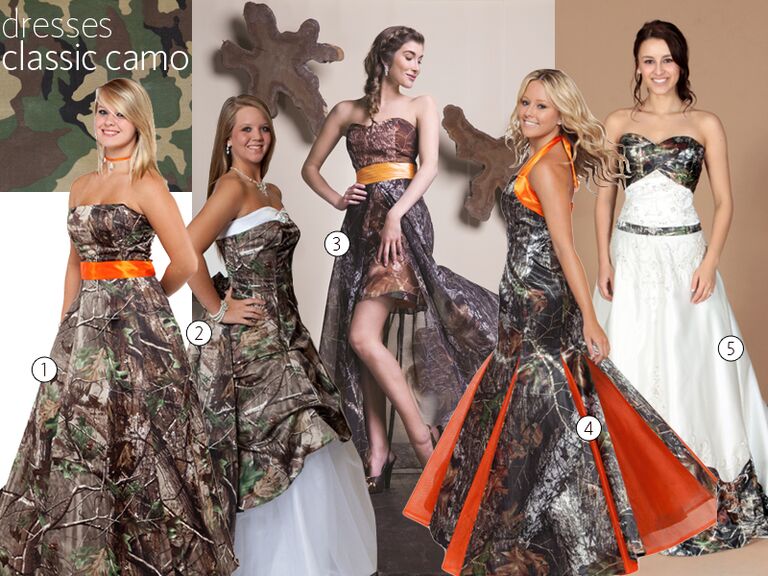 Sometimes it's better not to mess with a classic, and if you come from this school of thought, a wedding dress in a classic camo pattern is for you.
10. Realtree Camo Full Bridal Gown, Realtree
Made with the Realtree APG Camo pattern, this is the quintessential camo wedding dress. Designed in a universally flattering A-line silhouette, this Realtree strapless gown is accented with a hunter-orange sash to highlight the waist and a lace-up corset back. Skip the traditional veil and put the finishing touch on your look with one trimmed with Realtree APG camo for the ultimate bridal camo look. 
Shop it: $575, Realtree.com
11. Rebecca, Camo Ball Gown, Camo Formal
Want to make a grand entrance? A dramatic train, especially when paired with an equally gorgeous gown, will ensure that you do. Using Realtree APG Camo bridal satin, Camo Formal delivers a regal camo ball gown with elegant pickups, rhinestone-accented foldover neckline and detachable cathedral-length train. 
Shop it: $580, CamoFormal.com
12. Carrafina Camo Wedding Dress
This unique camo number is just one example of Carrafina Bridal's exceptional line of camo wedding dresses. A sheer camo skirt is worn over a short strapless dress for a modern layered look. A bright hunter-orange sash accentuates the waist and adds a fresh pop of color to the dress. 
Shop it: Carrafina is a private label designer. Contact your local bridal salon for more information.
13. Katniss Camo Dress, Camo Formal
Fiery orange inserts and a body-skimming mermaid silhouette give this Mossy Oak camo wedding dress (which was inspired by The Hunger Games heroine Katniss Everdeen) from Camo Formal major wow factor. Add your own twist with custom camo patterns—everything from True Timber Snowfall to Realtree AP Pink camo, netting choices and accent colors. 
Shop it: $475, CamoFormal.com
14. Anita Mossy Oak Camo Wedding Dress, A Touch of Camo
Brides wanting a classic gown with camo flair will find it in the A Touch of Camo Anita gown. A satin A-line gown with a sweetheart neckline is given the camo treatment with Mossy Oak camo pattern panels along the bodice, hemline and train of the gown. This is the perfect option if you are looking for wedding dresses with camouflage accents. Beaded embroidery and a corset back keep in line with the gown's classic appeal. 
Shop it: upon request, ATouchOfCamo.com
Short Camo Wedding Dresses
Short wedding dresses are all the rage, especially for brides who prefer a more relaxed and casual wedding. If you aren't one to fluster with long, full skirts, then a short camo wedding dress could be the ideal choice for you.
A short dress could also serve as an excellent reception dress. Many of today's brides are exchanging their elaborate wedding dresses after the ceremony for shorter, lighter dresses that will be more comfortable for the reception.
15. BM8591 Sleeveless Camo Dress, Camo Formal
You might be throwing a camo-themed wedding, but that doesn't mean you want to throw traditional totally out the window. Opt for a tea-length dress that's timeless and sweet, then throw a little camo into the mix and you've got a winning combo for your one-of-a-kind affair. Pair it with a custom sash (or change the color of the dress altogether) in one Camo Formal's 30 different fabrics to play up your wedding's palette.
Shop: $259, CamoFormal
16. 3660SEQ Camo Short Net, Mossy Oak and Pink, Camo Formal
For something a little more whimsical, try this short, strapless dress with layers of airy pink net. The sequin embellished Mossy Oak Breakup camo bodice will effortlessly tie into your wedding's camo theme, while the flirty pink skirt will be a hit among all your guests. Dress this up with a veil or tiara and a pretty sash.
Shop: $360, CamoFormal
 17. Realtree Pink Camo, Camo Formal
Classic, timeless and chic, you will look lovely in this short and sleek A-line dress by Realtree. The strapless bodice features a straight contrast neckline in a deep shade of forest green that pops against the dress's bright Realtree AP Pink Camo satin fabric. A lace-up corset back ensures a perfect fit.
Shop: $315, CamoFormal
18. Payton Short Camo Ball Gown, Mossy Oak New Breakup, Camo Formal
Want your camo wedding to make a big statement? Go for a bold and fun dress that combines classic camo with a punch of bright color. Camo Formal's short camo ballgown with a Mossy Oak New Breakup camo sweetheart bodice and bright hunter orange net skirt is sure to catch the attention of all your guests. 
Shop: $295, CamoFormal
19. Debbie Short Halter, White Snowfall True Timber, Camo Formal
From its rhinestone-studded neckline to its slim-fit and flouncy peekaboo net skirt, this satin, cocktail-length dress from Camo Formal is ready to party. The Realtree AP Snow camo pattern will give you the white dress to complete your wedding at a great price.  
Shop it:  $295, CamoFormal
20. Tessa Short Camo Flare, Winter Breakup, Camo Formal
The fit-and-flare style of this snowy Camo Formal halter dress will highlight all of your best features. The cocktail length and informal style make it ideal for a more laid-back event. Add a burst of color with a pretty sash.
Shop: $279, CamoFormal