13 Rare Photos of Our Favorite Celebrity Rehearsal Dinner Dresses
These pre-party looks were just as good as the main gowns.
Listen, we love a good celebrity wedding dress…obviously. There's something about seeing new photos of an A-lister in a pristine white gown that feels like waking up on Christmas morning. But we live in an era where ceremony dresses are just one piece of the entire wedding wardrobe, which means there are so many other famous looks to obsess over. Take, for instance, celebrity rehearsal dinner dresses. This prewedding event is hardly ever the focus when two stars get married, but that doesn't make it any less exciting—or fashionable.
You might not have seen too many famous rehearsal dinner dresses grace your Instagram feed, but fear not: as experts on the matter, we've dug up 13 rarely-seen photos of celebrity rehearsal dinner dresses that are just as good as the main gowns. Look back on these trendy and iconic looks here, and let them inspire your own wedding capsule collection.
Sofia Richie's Rehearsal Dinner Dress
To be fair, if there's one celebrity rehearsal dinner dress that isn't rare, it's Sofia Richie's. After all, just about every element from her luxurious April 2023 wedding took the internet by storm, so you probably have seen this gorgeously beaded Chanel masterpiece. On the night before her big day, Richie looked as stunning as ever in a high-neck gown with sheer long sleeves, which was dripping in ornate beaded fringe. She wore her hair in her signature slicked-back low bun to show off a dazzling pair of drop earrings, and, TBH, we haven't stopped thinking about this look since.
Sophia Bush's Rehearsal Dinner Dress
This is how you nail Western bridal. If you recall Sophia Bush's summer 2022 wedding, you'll remember that she wore a romantic botanical ball gown by Monique Lhuillier, which was nothing like her rehearsal dinner 'fit. The former One Tree Hill star took the opportunity to experiment with multiple aesthetics through her wedding wardrobe, starting with an "elevated cowboy" dress code for the party before her nuptials. The bride opted for a Roksanda Ilincic rehearsal dinner gown with a draped, cape-like bodice that skimmed over her bare back. Speaking to Vogue, she noted that she enhanced the look with an ivory Heron & Pine Rae Rancher hat that featured an antique sterling silver and turquoise hat band. A vintage silver and turquoise concho belt cinched her waistline, and she completed the look with vintage Cartier diamond and turquoise earrings and an antique turquoise cuff.
Hailey Bieber's Rehearsal Dinner Dress
On the eve of Justin and Hailey Bieber's highly-anticipated South Carolina wedding in 2019, we were blessed with paparazzi photos showing the couple celebrating with friends and family at their rehearsal dinner. Through the grainy snaps, we could tell she donned a trendy off-the-shoulder mini dress with an asymmetrical skirt, which we would later learn was custom-made by Vivienne Westwood. She accessorized her frock with the cutest shoes: a pair of white Jimmy Choo stilettos with tulle bows on the back. The following year, we finally got a hi-res snap of this celebrity rehearsal dinner dress when she shared an Instagram photo dump in honor of her husband's birthday. In the slideshow, the first image shows the couple at their prewedding party sharing a kiss surrounded by their loved ones.
Naomi Biden's Rehearsal Dinner Outfit
Naomi Biden's lace Ralph Lauren wedding gown was about as quintessential bridal as it gets—but before she wed Peter Neal on the White House lawn, she welcomed her guests to the exclusive event with a rehearsal dinner party that also took place at her grandfather's residence. For the welcome party, she wore a custom, strapless Danielle Frankel pantsuit, serving up ultimate cool-girl bridal inspo. She styled the ensemble two ways: first, with a structured cropped blazer overtop and a short veil, and later with a gauzy asymmetrical cape tied over her shoulders with a satin bow in the front.
Simone Biles' Rehearsal Dinner Dress
This celebrity rehearsal dinner dress is worthy of a gold medal in our eyes. Although Simone Biles and Jonathan Owens formally got married at a Texas courthouse in May 2023, they made it official (again) with a destination wedding in Mexico later that month. For her welcome party, the gymnast looked like a vision in her Galia Lahav mini dress that had all the bells and whistles, from feathery plumes to shimmery beading. The bride shared a collection of snaps from the night that showed off her dress, including an adorable shot of her husband holding her in front of a cozy-looking lounge area on the beach.
Priyanka Chopra's Rehearsal Dinner Dress
Priyanka Chopra didn't necessarily have a rehearsal dinner dress, but we couldn't exclude her iconic look from this list. The actress, who married Nick Jonas in December 2018, actually had a handful of prewedding events in honor of her Indian heritage. Before their Christian ceremony, which took place at Jodhpur's Umaid Bhawan Palace, Nick and Priyanka hosted a Sangeet, a celebratory event that involves a lot of singing and dancing. She tapped Indian fashion house Abu Jani Sandeep Khosla for her silver and gold saree, which was covered in dazzling embellishments and sequins.
Kourtney Kardashian's Rehearsal Dinner Dress
For edgy bridal inspiration, allow us to direct your attention to Kourtney Kardashian's rehearsal dinner dress. Before her Italian wedding ceremony, the bride welcomed her crew to Portofino in a form-fitting black bustier-style mini dress, which she paired with black gloves and a black veil lined with blue lace. This prewedding look had a depiction of the Virgin Mary on the front, which would also appear on the back of her wedding veil. Even if this style isn't something you'd picture yourself wearing on your wedding weekend, you have to admit: the pics of Kourt in this statement dress on the back of a boat are pretty magnifica, no?
Nicola Peltz Beckham's Rehearsal Dinner Outfit
Legend has it that Brooklyn and Nicola Peltz Beckham love to match—so when it came time for their Palm Beach rehearsal dinner, they slipped into coordinating white Dior suits created by their family friend (and the brand's Artistic Director) Kim Jones.
Sophie Turner's Rehearsal Dinner Dress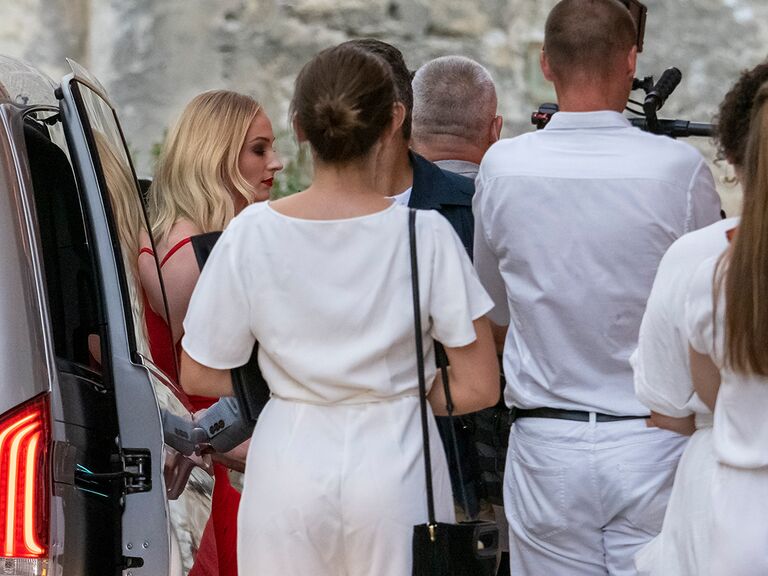 At this point, the Jonas Brothers basically own the term "red dress." (IYKYK.) It was incredibly fitting, then, that when Joe and Sophie Turner hosted their rehearsal dinner in the South of France back in 2019, they asked their guests to wear all-white so they could absolutely stun in—you guessed it—matching red outfits. Unfortunately for those of us who didn't make the guest list, photos of this celeb party are extremely rare. There are only a few paparazzi shots that just *barely* show off Sophie's firey dress. Just take our word: It was iconic, to say the least.
Zoe Kravitz's Rehearsal Dinner Dress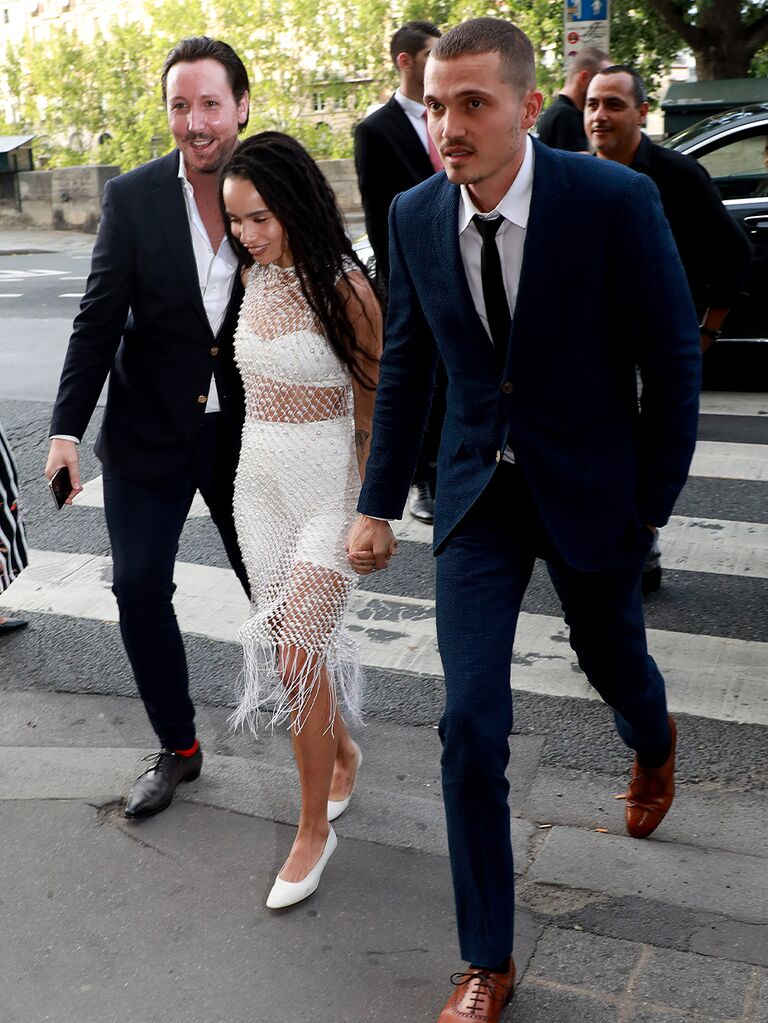 Remember when we said Naomi Biden's Danielle Frankel rehearsal dinner number was the ultimate example of cool-girl bridal? Allow Zoe Kravitz to further solidify our point. Ahead of the actress' Parisian wedding to Karl Glusman in 2019, the duo was photographed arriving to their rehearsal dinner at the romantic Lapérouse Restaurant. The bride-to-be wore a crocheted pearl Danielle Frankel dress, styled over a white silk bra and matching white biker shorts, which we think was très chic.
Kim Kardashian's Rehearsal Dinner Dress
There's nothing quite as lavish as a Kardashian wedding, and Kim Kardashian's 2014 extravaganza was proof. By the numbers, she and Kanye West invited over 600 guests to two European cities for their weeklong wedding itinerary. The day before the ceremony, over 90 cars carted guests around to brunch, dinner and a private tour of Versailles while hundreds of fans cheered from the streets. For the rehearsal, Kim was photographed wearing a long sleeve white high-low dress with a plunging neckline.
Jennifer Lawrence's Rehearsal Dinner Dress
Don't get your hopes up: This is not a photo of Jennifer Lawrence's rehearsal dinner dress! In fact, it's not from her wedding at all. The actress' 2019 marriage to Cooke Maroney was so private that we have yet to see even one photo from the celebration. That said, we do know a few details about her wedding weekend, one of which being that her rehearsal dinner was unlike anything else. The couple hosted 140 guests under a white tent in Newport, Rhode Island for a clambake dinner before the formalities began. We know for certain that Kris Jenner and Adele were there, as paparazzi photos captured them arriving to the venue by boat. Other rumored guests included Bradley Cooper, Nicole Richie and Joel Madden.
Emily Mariko's Rehearsal Dinner Dress
When TikTok sensation Emily Mariko got married in June 2023, she had the entire internet captivated. Mariko, who made a name for herself online thanks to her ultra-viral "salmon bowl" recipe, began rolling out a slew of carefully-curated content after she wed Matt Rickard, giving her followers a highly-anticipated peek inside her wedding weekend. For the welcome party, she wore a white halter-top mini dress by Magda Butrymwith, which had a ruched bodice and two asymmetrical floral appliques on the skirt. She accessorized with a pastel blue Dior handbag—a perfect nod to "something blue."